OTL: Miles Apart
CONNOR: FRIDAY NIGHT AT 1 MAVERICK WAY
Connor Garrett's blue eyes widen as Ricky Seale barrels down the field, tacklers draped all over him, eating up yards of plush plastic carpet. Inside La Costa Canyon's 20-yard line, Garrett has an angle and closes on Seale. Inside LCC's 10, Garrett can almost breathe on him. Seale is Escondido's star, son of a former NFL player. The best high school back in the San Diego area since Reggie Bush, Seale has made guacamole out of the Avocado League this season, rushing for more than 200 yards a game.
Garrett looks like a Pop Warner player next to Seale, even next to kids in the Pop Warner league. Garrett, a starter at cornerback for LCC, the one who draws the opponent's top receiver, gets by more on guile than on physical gifts. The LCC Mavericks have held Seale to 100 yards through three quarters on this late October night. But that was then and this is now, and now it looks as though Garrett will be a 150-pound skidmark left in Seale's wake.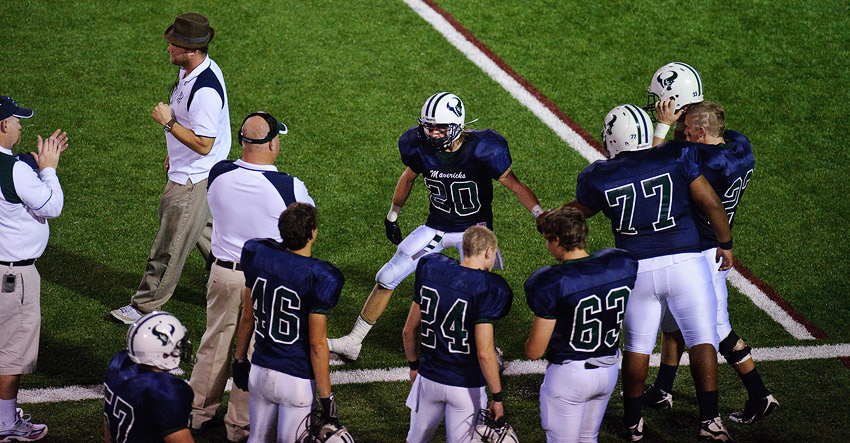 Nils Nilsen for ESPN.com
The starting cornerback for La Costa Canyon, Connor Garrett (20), cannot be judged by his size.
JUSTIN: FRIDAY NIGHT AT 1 PIRATES COVE
Justin Vae'ena reads pass, seven-step drop. The Valley Center Jaguars live by the pass. That's how they've hung in with Oceanside through three quarters. The undefeated Pirates' starters are on the field this late for the first time in eight games, going back to their season opener. Their Valley League games haven't even been close. But it's a lot tougher tonight.
Scrambling one step ahead of tacklers, VC quarterback Tyler Bernard has thrown for a couple of touchdowns and run for another in the first half against O-side's stifling D. Still, down 14 points in the third quarter, Bernard decides to air it out and take the lick rather than eat the ball and look for a soft spot in the churned-up turf. Vae'ena, his hair billowing out from under his helmet like dirty smoke, slips a block and pours in on Bernard. The linebacker has been knocking the oxygen out of the Jags all game long -- he'll end up with 18 tackles on the night -- and he has a free shot at the QB. Bernard is red meat.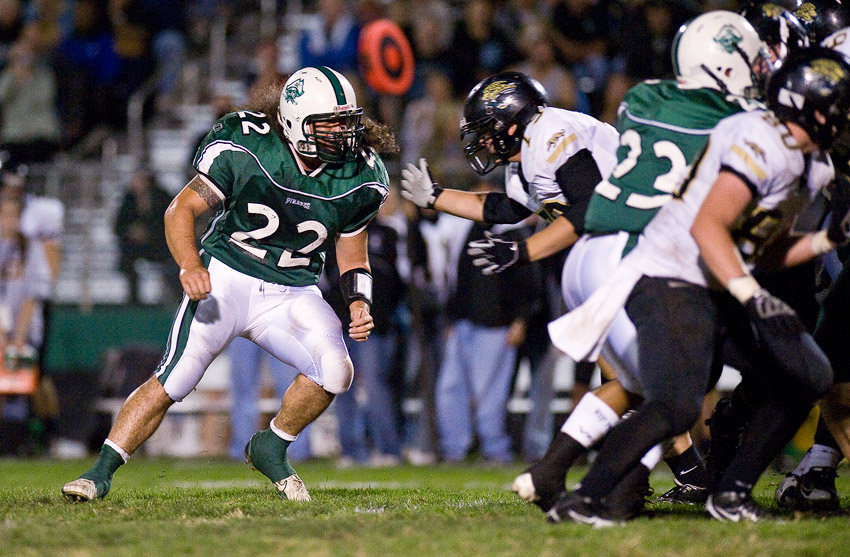 Nils Nilsen for ESPN.com
Oceanside linebacker Justin Vae'ena was all over the field against Valley Center, racking up 18 tackles.
THE STORY: WHAT AMERICANS DON'T LIKE TO TALK ABOUT
The president-elect has told us there isn't a liberal America and a conservative America, just the United States of America; nor is there a black America and a white America and a Latino America and an Asian America, just the United States of America. No red states, no blue states, just ... you know. Nice sentiments, above reproach and refreshing, given Americans' reluctance to talk about class. Still, you don't have to be cynical to believe there are hard divisions between us. No one can agree on what those divisions are. Are we divided into rich America and poor America? Or the haves and have-nots? Or maybe the ownership class and the working poor? It's any and all of those, and more.
Class lines might be clearer in sport than anywhere else in society, and they might be clearest in high school, when student-athletes still either benefit from or endure the circumstances they were born into. Maybe you think there's one brand of football in Texas and another in the Midwest or Northeast. Or maybe you think there's a city game of basketball that's superior to the brand played in small towns by farm boys. That's just so much cheering for the home team. Really, the differences between athletes' lives aren't geographic; they're demographic.
The challenge: To look at class in sports, circa 2008. A story so big it can be captured only in a photograph from a satellite. The alternative: Put it under a microscope. Find two prep teams in the same area code, one where students are constantly reminded of hardship, the other where fortunate sons and daughters might not always be aware of their privileged births. Urban and suburban. And from those teams, find a couple of players, good players, all-conference but not pro prospects -- just a couple of young athletes who are starting to figure out their places in the world, who fairly represent their student bodies. Then, across a typical week in the season, measure the distance between their lives.
CONNOR AND JUSTIN: A SHORT HISTORY
Connor and Justin lined up against each other last year in the first round of the regional playoffs, a game the North County Times ranked as the second-best game in the history of local high-school football. Their schools won't meet this season, though. They were separated by a realignment of leagues. LCC moved back up to Division 1, and O-side, defending state champion, stayed in Division 2. Supposedly, the change was made because LCC's enrollment is a little larger and will likely grow with new developments sprouting up in suburban Carlsbad -- a sign over by the equestrian school advertises condos starting from the low $1,000,000s. The realignment also keeps LCC in a league with its nearest rivals. And when it comes to other sports, LCC rolls out better teams than O-side can muster -- for instance, the Lady Mavericks are ranked No. 1 in the nation in volleyball. But with football, it's one of those cases of school administrators fixing something that wasn't broken.
Friday night at 1 Maverick Way. It's LCC's Parents Night, and Marty and Diane Garrett walk on the field beside Connor before the game. By midgame, Marty is trading golf stories with two other fathers, one a racehorse owner, the other an investment broker. Marty coached Connor all through Pop Warner and steals away from work whenever he can to catch Mavericks practices, like many of the other fathers here. But unlike many parents of student-athletes at LCC, he hasn't set his son up with a personal trainer. Diane, a former homecoming queen and a native of SoCal whose family goes back generations here, is leading Connor's grandparents and a contingent of extended family in cheering No. 20. They wave signs complete with sparkling letters, signs Diane spent the better part of the afternoon making up. She's a stay-at-home mother and is a few months from an empty nest.
Friday night at 1 Pirates Cove. Nuu Vae'ena is too beat up after another long week of driving the company rig, too tense to talk to other parents, so he sits silently in the back row on the visitors side. He knows this is likely one of the last chances he'll have to see Justin play. Although his older son, Jordan, plays at Graceland University, a Division III Christian college in Iowa, Nuu is resigned to the likelihood that he'll never be able to get there. On the home side of the stands, Justin's 5-year-old niece, Lily, is asleep in the lap of his mother, Michelle, who already has put in her volunteer shift at the stadium snack bar. She has had plenty of practice lugging around a sleeping kid, going back to the days when she took Justin to work with her every day, not just as a newborn but right up to kindergarten.
Nils Nilsen for ESPN.com
Marty and Diane Garrett beam with pride as they escort Connor onto the field for LCC Parents Night.
CONNOR AND JUSTIN: MORNING ANNOUNCEMENTS
At LCC, students watch a video monitor in their homerooms and catch what could pass for a well-edited morning show for a local network affiliate: two fresh-faced kids sitting at a professional-looking set and reading scripts that throw to highlight clips of the top-ranked girls' volleyball team.
At O-side, they listen to a scratchy decades-old intercom system linked to a phone in the principal's office, reminding them once again to kindly not litter the campus because of "hovering gulls," which are starting to look like a cross between typical seabirds and well-fed condors.
CONNOR: YOUNG PRINCE OF CARLSBAD
If you are Connor Garrett's friend (and if you know him, you are, and if you meet him, you will be), it's always a good day when he's around. He's at that precise moment in life when he has had a few losses but is still undefeated. To those on the La Costa Canyon campus, his fist bump is like the Queen of England tapping your shoulder with a sword. His whaddup is like the president mentioning your name in a speech and pointing at you in a crowd, then waiting for the cheers to die down.
Connor is the coolest kid in school and was voted homecoming king. If his constituency didn't know he was second-generation campus royalty, everyone could have guessed he was to the manor born.
Nils Nilsen for ESPN.com
There aren't a lot of clouds in Connor's blue-sky world.
Monday, 7:17 a.m. Connor rolls out of bed, insta-showers and runs down the stairs into the foyer. He slams the front door on his way out, as if he's straight-arming a tackler, almost hard enough to rattle the chandelier. He gets behind the wheel of his black Jeep, backs out of the driveway of the last house in the cul-de-sac, and rolls down the avenidas lined with McMansions, a few featuring walkways laid down by Garrett Construction with stone from the yard of Carmel Valley Materials, Marty Garrett, Prop.
7:30 a.m. He does a 4.7 40 into his homeroom just in time for the announcements on the video monitor. Principal Lewis goes through his state-of-the-union speech with the futile attempts at humor only principals make. Heads turn to the back row where Connor sits when Principal Lewis says: "Our homecoming dance was a success, and I want to thank you for dancing mostly appropriately."
Connor might sit in the back row, but he's not a back-row student. He has a 3.65 GPA, but tells his folks and teachers that it's gonna be 3.75. One minute he says that he'd like to study business law (a nod toward what he thinks his parents and other significant adults want to hear), the next minute that he'd like to work with animals (a claim appreciated by his golden retriever, Duke). Connor's favorite book is "The Outsiders," the story of a bunch of poor kids, "Greasers," who are targets for sneers, bullying and abuse from the "Socials" ("Socs" for short) and all right-minded pillars of the community in small-town Oklahoma. Connor doesn't see anybody like Ponyboy and Sodapop Curtis hanging around LCC. It's all Socs. No friction with Greasers or any other real outsiders. He doesn't know a senior who won't go to college next year. No lost souls. No victims. He's not into "Catcher in the Rye," and he ain't Holden Caulfield. He's happy and wants everyone to be happy.
The darkest cloud to pass through Connor's sky came in his sophomore year: the death of his beloved aunt, Kathy. She had battled cancer for six years. He was inconsolable. He told his parents he wanted to go to church to pray for her. It wasn't that his parents pushed him toward church. His idea. In fact, he got Diane and Marty going to Mass again.
When Connor was playing Pop Warner, he dreamed of going to USC or another Division I powerhouse where his name would echo through packed stadiums on Saturday afternoons. He didn't grow much, though, so now he's looking at the Ivy League. He could go to other schools on a lacrosse scholarship -- he's a midfielder on LCC's team, No. 4 in the West last season -- but football is his priority. He has choices, but the best are all out East.
This has forced Connor to imagine life without surf and sun. To find Connor's soul, you follow the path that starts at "Endless Summer" and, when you hit "Dogtown and Z-Boys," keep going. Still, he has managed to park his surfboard and his skateboard every football season, so it's reasonable to expect they can survive in his family's three-car garage while he toils through four school years in the cold, land-locked gloom 3,000 miles from home. He's at peace with it. He talked it over with his parents, told them: "It's my one chance to live away, because I know that I'm gonna spend the rest of my life in California."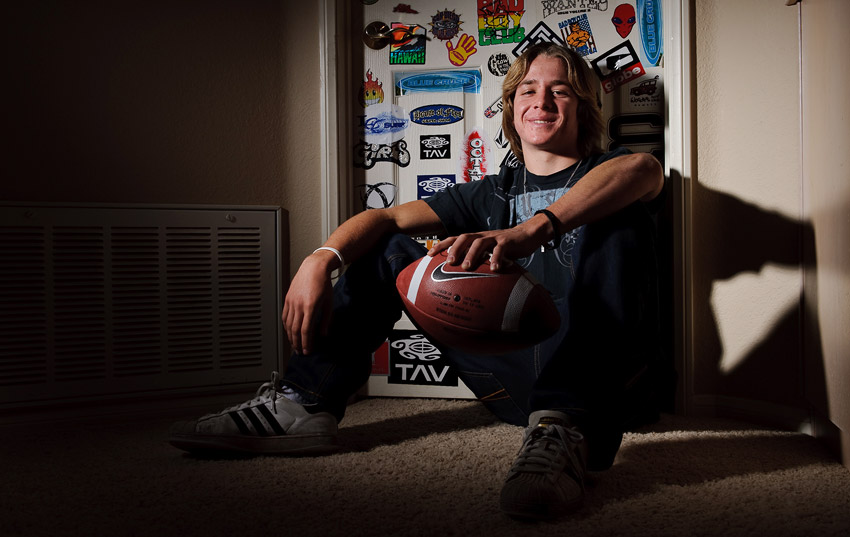 Nils Nilsen for ESPN.com
Living the life of a California surfer dude, Connor is an eternal optimist.
JUSTIN: PLAYING AGAINST TYPE
A poster honoring select stars of last season's varsity baseball team is tacked up on the bulletin board in Oceanside High School's athletic office. All but one of the players is smiling. The eye goes to the exception: Justin Vae'ena glowering behind a goatee and a 5 o'clock shadow. He could pass for the class bully. He also looks five, even 10 years older than the other players. Turns out, he's the only underclassman pictured.
Monday, 1 p.m. Between periods, the sun-drenched and gull-hovered O-side grounds are crowded with kids -- Hispanic, Asian, black and white. Some are counting the minutes until they'll catch a bus home. Others will just walk to trailer parks near the campus. Most qualify for the school lunch program. Many are military tumbleweeds whose parents are stationed at nearby Camp Pendleton and might be deployed to Iraq or Afghanistan next. When Justin silently walks by, those who don't know him step back and halt their conversations. The football program lists him as 6 feet and 225 pounds, but that sells him short and light. From his thick neck, his shoulders slope like ski jumps, bisected by a Samoan braid that's as thick as a tug-of-war rope. A tattoo ring his upper arms. His T-shirt reads "J-Duo Stuff It," but no one works up the nerve to ask him what it means.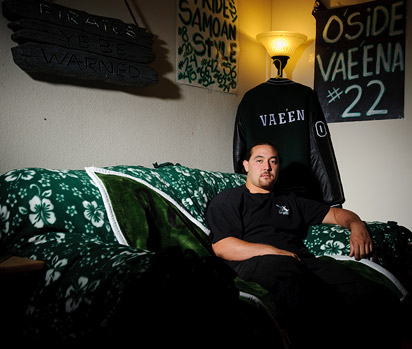 Nils Nilsen for ESPN.com
Justin's older brother, Jordan, plays college football at Graceland University in Iowa.
State Department of Education stats show Oceanside's graduation rate is higher than 90 percent, but the North County Times reported that schools in the region use fuzzy math and that the numbers are pumped up by a loose definition of dropout students. Conveniently, the state's graduation formula spares the school district penalties under the No Child Left Behind Act. Really, about 40 percent of the kids in Justin's freshman class won't be graduating with him this year, plenty left behind. Some who do graduate won't get a sniff of college.
Throughout the grounds, the school has stationed security officers. The town of Oceanside is lousy with gang violence: There are Hispanic gangs, black gangs and Samoan gangs, among others. A trial is in progress in Vista. The accused is a Samoan kid, a gang member, facing life without parole on a charge of murdering a police officer, himself a former Oceanside student and son of a former Oceanside principal. The kid was just 16 when he was charged. Justin would have run into him around campus and at Samoan community gatherings. He knows a lot of people in Oceanside look at him and think of the gangs. Especially whenever he goes to the fast-food places on Mission Avenue -- a five-minute walk from the school -- heavy gang turf. Even at home, he's only three miles from Vandegrift Boulevard, Gold Drive and Arthur Avenue, O-side's meanest streets.
1:05 p.m. Justin beats the buzzer. He walks into the classroom and finds his seat in the front row. Baritones in the front to the tenors' left, a couple of steps from the piano. The back row looks down from a riser, the sopranos. Altos in the middle row. Forty kids in all. The teacher tells them they can stay seated as long as they sit up straight. Justin's braid stays clear of his seat back. Mr. Langen puts them through scales to warm up, then refers them to the sheet music. They break into song, Christmas carols in preparation for the Oceanside Sound Waves' concert at Disneyland.
The song list also features "The Dreidel Song," a nod to diversity that maybe only the teacher and Justin fully understand. A few just mouth the words. Not Justin. It's as though Troy Polamalu has wandered onto the stage for "A Charlie Brown Christmas." When he misses a note, he grimaces, embarrassed, and snaps his fingers and carries on. The kids go from one song to the next for an hour with barely a break to catch their breath. When another student -- Josh, a pale kid whose gelled hair spikes up like a fistful of nails -- takes a seat behind the piano, Justin applauds, his beefy hands making a sound like thunderclaps. The teacher hits a key down at the end of the keyboard. "Who can hit this note?" he asks. Others try, but only Justin can go that low.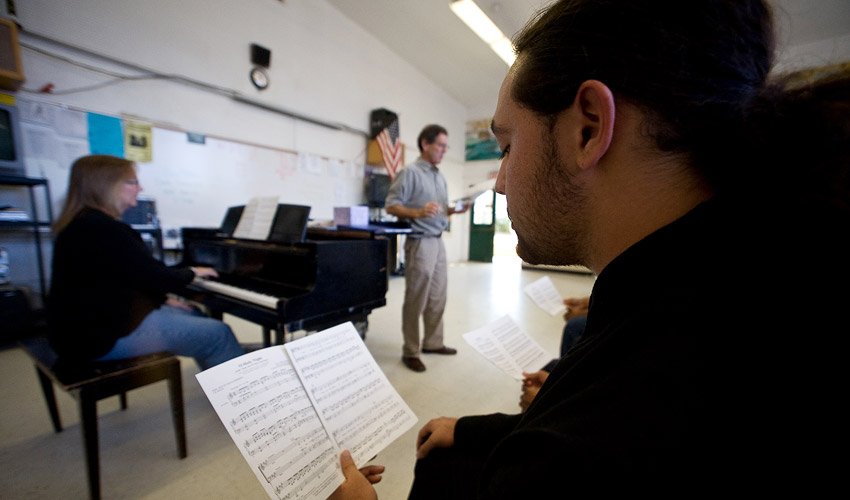 Nils Nilsen for ESPN.com
Justin takes his musical performances just as seriously as football.
CONNOR: PUNT RETURNER AND T-SHIRT DESIGNER
Monday, 2 p.m. The varsity football team walks past the tiles on the gym walls, the hundreds of names of families that have made donations to LCC, including the funds needed for the new artificial turf. Then the Mavs pass a bulletin board where players of the game are posted weekly. Connor's headshot always gets laughs, his chin thrust out with a confidence that doesn't have much physical collateral. Like a bullfrog, he creates the illusion of being thick-necked.
The players convene in the weight room for the last class of the day, phys ed. A pudgy tackle rolls up his sleeves and stands close to the mirror doing dumbbell curls, admiring his work and oblivious to teammates holding in their laughter. "You goin' to the beach?" one finally cracks. The players wear T-shirts that bear the La Costa Canyon crest on the front and the team motto across the back: UNBREAKABLE BROTHERHOOD. The coaches had a contest to come up with a team motto. Connor won.
Connor ducks his head into the coaches' office. He's curious about his grades from Friday's game. He's reasonably confident they're good, considering La Costa Canyon beat San Pasqual 34-7. Some coaches would chase a player out the door with rising volume and blood pressure. Coach Darrin Brown sits at his erasable board diagramming plays and doesn't even look Connor's way. "You'll have to wait," he says calmly.
2:20 p.m. Coach Brown closes the blinds to darken the weight room, and the players assemble chairs in a semicircle around the screen for video of the San Pasqual game. Connor moves from the back row to the front when his punt return comes up. A blocker is pancaked -- Coach Brown plays it, stops, replays it, replays it again, and the players shout and groan. The coach then lets the play run out. Connor is sprung for a 70-yard touchdown run. "Takin' it to the house," he shouts. Before the players head to the dressing room, they get their grades: DBs overall 83. Connor 90. Up in the 3.75 range.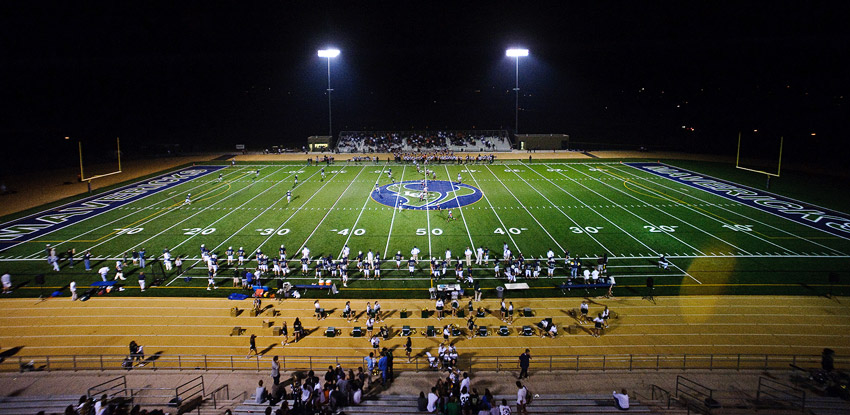 Nils Nilsen for ESPN.com
With a newly renovated playing surface, the field at La Costa Canyon provides a fast track.
JUSTIN: HIS BROTHERS HANK, LOU AND THE OTHER MIKE
Monday, 2:40 p.m. No film of last week's game. No point. Final score: Oceanside 62, outmanned Orange Glen 6, the Pirates' second string played the whole second half. Coach John Carroll doesn't refer to the game once. Or to one newspaper ranking Oceanside No. 25 in the nation. Justin didn't even see that and won't look tomorrow. It's all about this Friday, Valley Center.
A small bit of chatter while Coach Carroll sets up the video of Valley Center: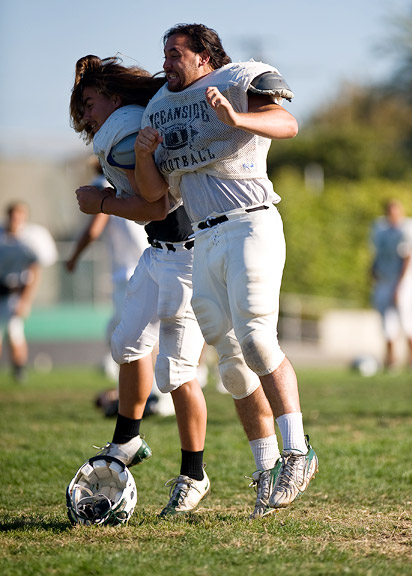 Nils Nilsen for ESPN.com
Justin and teammate Jake Fely, the other "Mike" and the other half of the J-duo, enjoy getting revved up for practice.
"Long hair don't care," says Sam Niu, a linebacker whose fuzzy locks hangs down past his shoulders.
"Long hair don't care," the chorus goes up.
It's their team motto, a rallying cry, appropriated even by those who aren't Samoan and have short hair. But it also sounds menacing.
"Long hair do care," Justin says in a low, low whisper.
Coach Carroll looks ticked off. "Pirates, refocus," he barks, and the room falls quiet. "They run a lot of naked boots, and the quarterback's creative and escapes pressure. We have to contain him. ... Please introduce him to Pirate football."
X's and O's go up on the blackboard. Hank and Lou are the names given to the outside LBs, the inside backers are Mikes. All Samoan or at least part-Samoan, even with one starter, Sam, sidelined. The Samoan kids at O-side all want to be Hank, Lou or the Mikes, been that way ever since Junior Seau starred there back in the '80s.
As tough as any of them have it, they know it's not as bad as Seau had it: His boyhood home was so small he had to sleep with two of his brothers in the garage. Now big new homes are going up down by The Strand and South Coast Highway, and Seau's is the biggest, close enough to the ocean to hear waves crashing. They can see it when they train with him on the beach at the foot of Mission Street. When Seau's not surfing in the offseason, he runs with the Pirates in the sand or up the steps beside the band shell. He's famous throughout football for awards and All-Pro status with the Chargers and lately the Patriots, but around Oceanside he's not just a local hero but also a mentor and benefactor. He has helped finance a few former Oceanside students' college tuitions. They're just part of Seau's family. It seems as though everyone is related to him. Justin's connection to Seau is more distant, by marriage, but others on the team are related by blood.
Justin doesn't think in terms of family trees. He believes every Samoan in O-side has to be an uso, a brother, to another Samoan. When one of his Samoan friends -- relative or not -- has family troubles, Justin brings him home to Nuu and Michelle and the friend will stay, sometimes for a day or two, sometimes months. What might have been an emptying nest keeps filling back up, Lily being just the latest to land there while her mother was deployed to Iraq.
Justin will be responsible for VC's halfback in an offense that passes a lot more than it runs. Coach Carroll diagrams it: Justin's "M" lines up across from the center's, quarterback's and tailback's generic "O"s. Justin's Mike will be the one talking in the huddle, the one everyone will turn to when things go wrong.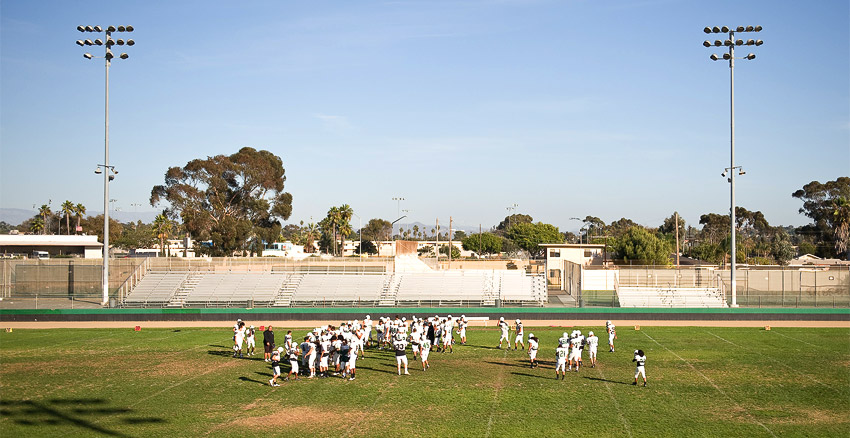 Nils Nilsen for ESPN.com
The well-worn field at Oceanside has been home to some of Southern California's top players.
CONNOR & JUSTIN: CHARITY
LCC students are competing with students at other schools in a drive to send thousands of books to Uganda.
Students at O-side are supposed to bring in nonperishables -- cans, jars, whatever -- to send to a local food bank.
CONNOR: DINNER AT THE BEACH HOUSE
Monday, 8 p.m. Marty, Diane and Connor sit out on the patio of The Beach House. The sun has set, but the lights from the restaurant still bring the beach, the ocean and the birds into view. The waitress brings Connor his lobster bisque and a second Shirley Temple. Marty and Diane are talking about college, but Connor says nothing while his bisque cools and just looks out to the horizon. His parents ask him a question. He points to the surf. "Look at that set," he says.
JUSTIN: A FAMILY CONVERSATION OVER BREAKFAST
Tuesday, 6 a.m. Justin's cell phone rings. It's his father, who left the house at 3 a.m. for the two-hour drive to L.A., where he drives a truck for Nabisco. Nuu had planned on commuting to work for two years. It has been 20 now. Every other Saturday, he changes the oil and tunes up his car, looking to pass a half-million miles on it. Every weekday morning, he calls Justin to make sure he's up for school -- every day, except for Fridays during football season. That's when he juggles his shift to get to Justin's games.
" 's cool," Justin always says, with a silent L. "OK. ... Bye."
Justin's at the kitchen table. He usually skips breakfast, but today it's a chocolate chip muffin. The house is quiet and the kitchen dark. The Vae'enas' one-story home has a northern exposure without a backyard; another home is attached on the south side. History fills in for direct sunlight. By the front door, in Justin's line of sight, are photos of Nuu among a group of Samoan teenagers in the White House, where they danced for LBJ. Justin knows the story chapter and verse: His father had never worn shoes until he was selected to join a dance troupe to represent Samoa at the World's Fair in New York in the '60s. Over Justin's left shoulder: Dog tags hang from a photograph of Nuu's platoon in Vietnam. Boot camp was the first time Nuu regretted his decision to stay in the U.S., but not the last. Fear gave way to disappointment when he came home and had to take odd jobs to make ends meet instead of heading off to college.
Beside Nuu's dog tags hangs a hint that Justin's story isn't so simple: a Star of David. Michelle grew up in Long Beach, but her grandparents had come from the other side of the world, too, what is now Israel but was then Palestine. Which explains why Justin's favorite meal is his mother's chicken matzo ball soup. Michelle is running out the door, too, taking Lily to kindergarten, then heading off to her job working with developmentally challenged adults, where her work hours are dwindling as the economy deteriorates, meaning the Vae'enas' finances are tightening.
Justin's phone rings again: a cousin asking for a ride to school.
" 's cool."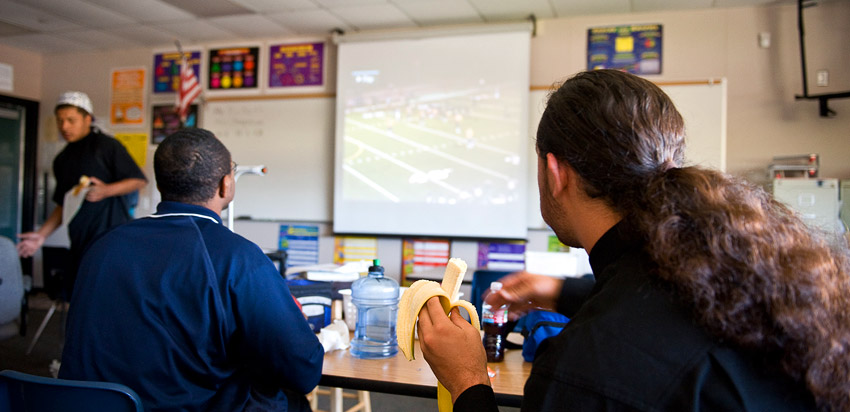 Nils Nilsen for ESPN.com
Watching film, Justin and the Pirates prepare to shut down Valley Center.
CONNOR: BALANCING ACT
Tuesday, 10 a.m. Connor and 26 other kids hustle into earth science class. Mr. Trust looks as though he spent his youth following a Dead tour in his VW microbus. He sports a Fu Manchu, a turquoise T-shirt festooned with butterflies and khaki hiking shorts. He's dressed as casually as Connor, who's wearing baggy striped shorts, a tie-dyed T-shirt with designer tears and frays and a LiveStrong wristband.
The first order of business: The teacher announces a change of dates for community tree planting and a composting project, an ongoing effort to tighten the students' eco-footprint. Connor marks this in his day-timer. On to the day's lesson. A flip of the switch on the overhead projector: How stuck are we on oil? An accompanying article: A Crude Awakening.
"I don't think you guys realize how stuck we are on oil," Mr Trust tells the class. He PowerPoints a vintage photo up on the screen. "This is what it looked like during the '70s oil embargo. I was a student and there were lineups for hours for a tank of gas."
Out the window, you can see the parking lot for the students -- more luxury cars and SUVs in the students' lot than in the teachers'.
Connor signs his name to an assignment due today. The title is in all caps across the top: THE WORLD IN BALANCE. He catalogues facts: One in two children in Africa bear children by age 19. ... Almost one in three in Kenya have AIDS or HIV. ... Asian mothers and fathers work long hours while their children are in day care. The hardships and tragedies he lists are on the other side of the globe, maybe he strikes a balance this way.
His last line is underlined: The choice is ours.
Connor's interest in the less fortunate is not feigned for grades. His isn't a social conscience of convenience. Another day in earth science class, he talked about his experience of going to Mexico and building homes for the homeless. "A whole house in a day," he told them, still excited, still amazed. In Connor's world, where a simple house can be put up with boards, hammers and nails in a day and where -- just since he was a kid -- beautiful homes with pools and designer landscaping went up where there used to be desert, anything seems possible and the choice is his.
CONNOR: A DIFFERENT DUDE
Tuesday, 3 p.m. Coach Brown doesn't raise his voice to deliver his message in a speech before practice on the field: LCC needs a victory over Escondido to have a shot at a bye and home-field advantage in the playoffs. He doesn't know whether the players did the math or picked up on the message. That has been an issue all season -- how to reach them. Coach Brown doesn't have a player who can give him a read of the room. It's not Connor. He's the dog whose tail always wags. His mood isn't the team's mood. His way of doing things isn't always what they draw up on the blackboard, but he gets the job done. His coach says Connor often chooses his own road "but he seems to land in the right place."
It's a bad practice. Missed assignments. No energy. Wideout Kenny Stills, son of former Green Bay Packers defensive back Ken Stills, has a sore hip, but his teammates suspect he's babying it. He sits on a bench on the sideline, talking with injured kids in their street clothes about "Madden NFL '08." "I beat that guy so easy I was text messaging at the same time," he says.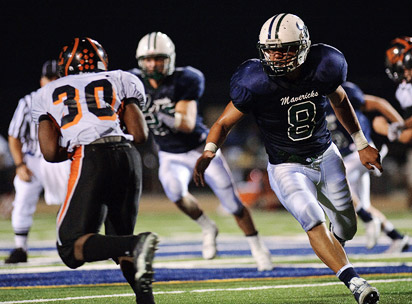 Nils Nilsen for ESPN.com
Because of his famous bloodlines, Ian Seau (8) brought big expectations to LCC.
In Stills' mind, he's the biggest talent on the team. Others think it's Ian Seau, unmistakably Junior's nephew, easy to pick out of any crowd, easier at LCC. Ian is a man at 15, at least physically, a 6-foot-4, 235-pound sophomore, last week's defensive player of the game. The Mavericks still talk about his scooping up a fumble and taking it to the house, pulling away from a wide receiver. Ian lives in Oceanside but commutes to La Costa Canyon. His teammates figure the Seau name would have put a lot of pressure on him at O-side. He told them his parents didn't want to have him hanging around with family at Oceanside. He doesn't mention the gangs in O-side, but the Mavericks know all about it from the papers. They might even know that one of Junior Seau's brothers went to jail for an assault with a baseball bat. Ian doesn't talk about O-side He wears his hair short, like his uncle Junior's.
3:30 p.m. With the starters on defense against the scout offense, Ian turns right when he should have turned left, and Jacob Driver, a linebacker and the defensive captain, gets in his grille. "How many times are we going to have to run it?" he says, his words liberally salted with disgust and profanity. Ian whips off his helmet, and the coaches have to separate them.
"That's it," Ian says. "I quit." And with that, he stalks off the field and up the hill to the dressing room. Nobody seems surprised. Nobody tries to stop him. The players' reaction: Big deal, happens every couple of weeks. Finally, an assistant coach runs up to Jacob. "His captain wasn't there for him," he says forcefully. Be a leader. "Do you understand?"
Jacob, the absent captain in question, seems shocked, as if he had never before heard a coach raise his voice. He jogs to the dressing room. Backups fill in for the two starters. Practice carries on indifferently. None of this fazes Connor in the least. He doesn't come off the field. Defensive first string, special teams. On his way to the house, he dodges phantom tacklers and in the end zone he bounces, raises his arms and does a 360.
JUSTIN: CONTACT TUESDAYS
Tuesday, 4 p.m. Simcox Field -- crooked goalposts, turf all churned up -- is more drab than spartan, overlooking Interstate 5, the glamour-free Ocean's Eleven Casino and a few fast-food joints. The Pirates line up for warm-ups, and Justin leads them through a haka, their version of the Maori tribes' ritual chanting and dancing before going to war. They haven't done it before a game this year. They're saving it for the league championship.
Tuesday is Justin's favorite day next to Friday: Contact Tuesdays are always intense. It's firsts versus firsts. No spare parts. The Pirates have only six players dressed who are not running plays, and they stay on the field behind the coaches, each taking a knee, waiting to get called in. Injured players stand on the sideline and watch in attentive silence. The players tee off on one another rep after rep. Helmets pop on pads, followed by grunts that even the rush-hour traffic on I-5 can't drown out.
Justin's cousin Rene Siluano, the team's first-string back, hits the hole behind the right tackle, and Justin knocks him reeling. Hit 'im again, Justin. The contact and the trash talk don't produce tension, just whoops and laughter. No pauses, though. The temperature is creeping up toward 80 degrees, and the sun is beating down, but the reps go at the pace of a two-minute drill.
No questions about the Pirates' hearing Coach Carroll. Coach has been Coach for 20 years at O-side, and sometime, at least 19 years ago, he misplaced his sense of humor. If he ever has warm and fuzzy feelings, like about seeing players go on to college, he snaps out of it when he thinks about talented kids who messed up. Coach is wound even tighter than usual. His son, a player on the freshman team, underwent surgery in the morning for an ACL injury. Only a couple of times all practice does his voice soften to a hoarse shout. He's fine with his players teeing off on one another on Contact Tuesdays. If somebody gets hurt, there's hope that he will heal by Friday. If he doesn't, well, that's just the price of priming the team for a fight.
7:45 p.m. Justin is on I-5 making his way to the city's south side.
8 p.m. Justin is bench-pressing giggling 12-year-olds to the ceiling of a classroom in Generation Church in South O. So is Will Buttler, the strongest lineman on the Pirates, a half-Guatemalan kid with cornrows. When they started this youth group with help from Will's pastor last year, just one kid showed up. Tonight, 20 middle schoolers in T-shirts and jeans from Wal-Mart have turned out, a lot of them latchkey kids from single-parent homes. Justin and Will will stay late, well past 10 for the kids whose mothers are working a night shift.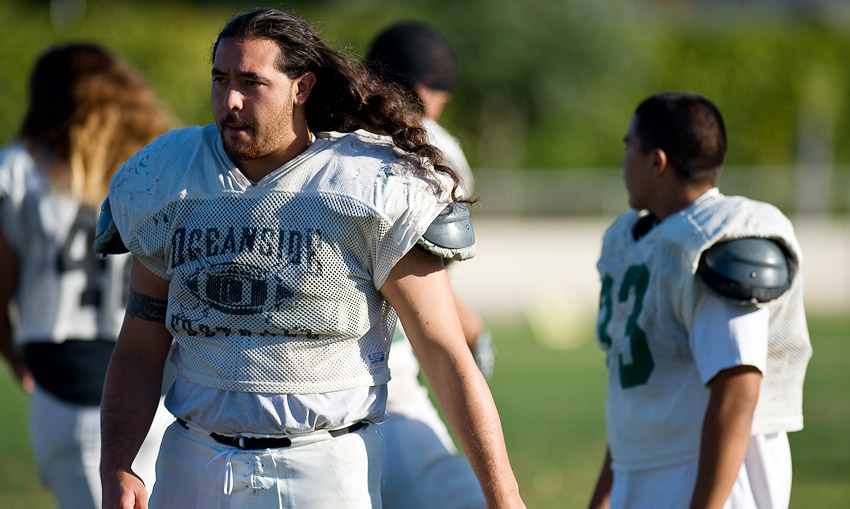 Nils Nilsen for ESPN.com
Justin and the Pirates turn up the intensity for practice every Tuesday.
CONNOR & JUSTIN: FAMILY TRIPS
School Breakdown
A quick comparison of the two high schools, which are 15 miles apart:

Founded
Oceanside High School: 1906
La Costa Canyon High School: 1996

Student body (2007):
Oceanside: 2,330
LCC: 2,545
State average: 1,247

Ethnicity (2007):
Oceanside: 53 percent Hispanic, 28 percent Caucasian, 11 percent African-American, 8 percent Asian/Pacific Islander.

LCC: 77 percent Caucasian, 16 percent Hispanic, 5 percent Asian/Pacific Islander, 1 percent African-American.

State average: 46 percent Hispanic, 34 Caucasian, 11 percent Asian/Pacific Islander, 8 percent African-American.

District household income (2008):
Oceanside:
$150,000-plus: 6.4 percent
$100,000-$149,999: 12.1 percent
$75,000-$99,999: 12.7 percent
$50,000-$74,999: 21 percent
$30,000-$49,999: 22.6 percent
$15,000-$29,999: 15.9 percent
$0-$14,999: 9.3 percent

LCC:
$150,000-plus: 33.2 percent
$100,000-$149,999: 19.2 percent
$75,000-$99,999: 11.5 percent
$50,000-$74,999: 12.8 percent
$30,000-$49,999: 11.3 percent
$15,000-$29,999: 7.3 percent
$0-$14,999: 4.7 percent

Students whose parents attended college (2008):
Oceanside: 47 percent
LCC: 88 percent
State average: 56 percent

Sources: schoolmatters.com (income), schoolwisepress.com (all others).


Marty Garrett took his family to Ireland a few years ago. The whole family on Marty's side went -- a bigger deal than it sounds, given that he was one of eight Garrett kids. Connor has worn a small silver Celtic cross ever since. Diane ordered it online for him. Within two years of the trip, two of Marty's siblings died, so the Ireland trip turned out to be their last time together -- not in Iowa where Marty was born, not in California where the family moved when he was a teenager, but in County Clare where his grandparents lived after the turn of the 20th century.
A few years back, the Vae'enas went to Hawaii for a family reunion. Nuu's mother is too old to travel to the U.S. mainland and didn't want to leave Samoa at all for fear that she would die away from home. She agreed to meet Nuu's family and her other children and her grandchildren halfway. Justin realizes it might have been the only chance he'll have to see his grandmother. Last year, another reunion fell through when not enough of the siblings could get airfare together. A recruiter from the University of Hawaii told Justin he's high on the school's list, so he holds out hope of her coming to see him or even his going to see her.
CONNOR & JUSTIN: LUNCH
Wednesday, noon. Connor lines up to buy a taco from the LCC food-services window. He then sits under a covered walkway with his girlfriend, Amy, so perfectly Californian she seemingly appears on every page of LCC's yearbook. Their regular seats on a shaded bench have been taken by a bunch of shrimp freshmen who just don't know their place. Connor and Amy would have never done that as frosh.
Wednesday, noon. Justin brings in a container of cold sliced chicken with barbecue sauce and shares with his cousins who meet at The Spot, the turf the team has staked out beside the gym. Stats in the principal's office indicate that Samoan kids are only 2 or 3 percent of the student body. The Spot is 75 percent usos. They rib him about his outfit -- black dress shirt, black dress pants, black-on-black Nikes that might pass for oxfords at a distance, and a fluorescent red tie. Professional dress day in his business class.
JUSTIN AND CONNOR: ROCKIN' THE VOTE
Diane has pushed Connor to register to vote. His teammates ride him about that. LCC's student-run Web site (recently named the third-best in the nation) publishes its poll: Barack Obama won by 355 votes, about 22 percent. LCC students say their top two campaign issues are taxes and the economy. Connor makes plans to attend a prayer meeting the Saturday before the election: TheCall is holding a rally at Qualcomm Stadium for those who support Prop. 8, which would outlaw gay marriage in California.
Justin's music teacher tells the class he hasn't backed a winner since Eisenhower. Silence. "Who's he?" someone asks. The teacher passes out slips of paper for the students to write down the candidate they're backing. A couple of African-American altos, both from military families, lobby for John McCain. As president of the choir class, Justin has to tabulate the votes. One slip has Justin's name, misspelled. A spoiled ballot.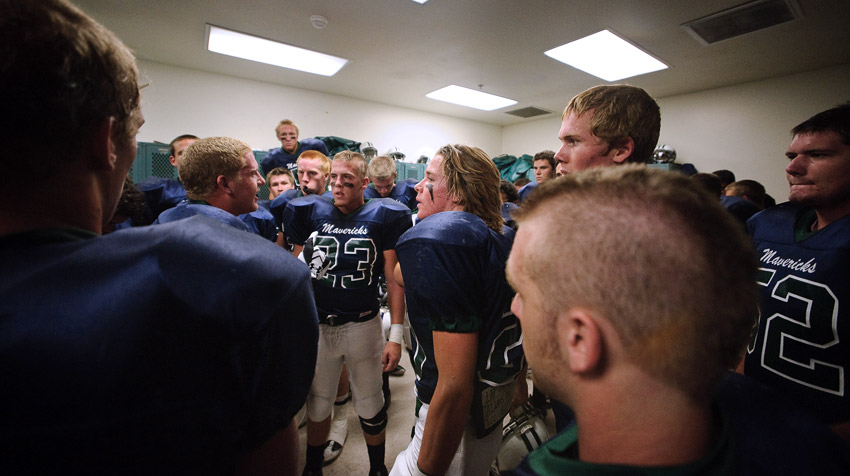 Nils Nilsen for ESPN.com
Connor isn't a small presence during the Mavericks' pregame motivation.
JUSTIN: TESTIFYING
Thursday, noon. Justin stands at the front of an unlit classroom, the only light coming in through an open door, maybe so the smell of pizza will draw someone in. He's standing at the front of a meeting of the Fellowship of Christian Athletes. He's O-side's president of the FCA.
He shuffles and stutters at the start.
"I was born ... I'm Samoan and Jewish, my father Samoan, my mother is Jewish," he says. "I was born 75 percent deaf, and for the first 200 days of my life I lived in a hospital due to severe asthma. Until seventh grade, I had my own asthma machine because I had constant asthma attacks. Sports wasn't a big part of my life until I hit around third or fourth grade, 'cause it was hard for me to do it. Getting older ..."
His voice cracks.
"... I didn't go to youth groups. I wasn't Christian. I didn't do any of that stuff until I hit my eighth-grade year. I started going to a youth group at a church. ... It gave me a foundation of who Jesus Christ was and what he meant to people in that church. It made me want to go out and find out who he is for myself. When I came here in my freshman year, I was doing all that ..."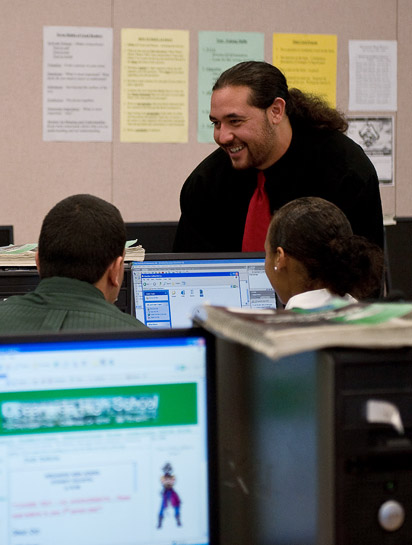 Nils Nilsen for ESPN.com
By telling his story, Justin hopes to help other kids avoid the pitfalls he experienced early in high school.
They know what he means. Even if they didn't do all that, they see all that all around them.
"... still living the regular life, partying. I was drinking. I was doing all the stuff that you're not supposed to do because, because ... the world, what the world tells you to do. So my 10th-grade year came. I'm an athlete. I play football and baseball. I was hoping to play varsity my sophomore year. They were looking. They needed an extra person. And I tore my ACL. At that time, I was going to another group called Young Life, a nondenominational outreach group for students, Christian-oriented ..."
Justin is interrupted by an announcement over the intercom. He doesn't wait for it to end.
"… so I tore my ACL. ... A lot of athletes bank on going to college. For me, that was a big deal. I don't have the richest family. I don't have enough money for my family to send me to college without a scholarship. When I tore my ACL, it put me back six months ... I was basically blaming God for what happened. Football is a big deal for me. Thankfully, the Lord blessed me, and I'm a varsity football player."
Justin leaves out some hard stuff. About crying when he went to the airport with his parents to send off his big sister, Beth Ann, who had signed on with the Army. He was 9. He was coming out of middle school when she shipped out to Iraq. About his brother, Jordan, getting into trouble, hitting a guy at school, getting suspended, running with the wrong people, being the wrong people. Compassion: He has gone through it and believes he can see that sort of trouble on the faces of kids in his classes or on the team. He doesn't have to ask a military brat whether someone in his family has shipped out, he can just tell. Impatience: He thinks kids who don't have trouble at home but still screw up are just stupid. That includes teammates, kids who might get scholarships but are letting their grades slide.
5:30 p.m. Michelle and other Pirates mothers have set up shop in the snack bar in the stadium to prep spaghetti for the team meal. There's nothing in the athletic department's budget to help out, so meals are put together on a shoestring and through the kindness of strangers. Michelle persuaded a bakery to donate loaves of bread every week.
While the water boils, the players shower and change and file into the stadium. They get their steaming platefuls and take their places in the stands. The end of the season is in sight and on their minds. Twenty-one straight wins. If confidence counted toward carbs, they wouldn't need the spaghetti. They talk about the road to the state championship last season, how this year's team might be better, should be better. How the team wasn't great, maybe not even that good in the championship game: Oceanside 28, Novato 14. "It was easy," one of them says.
They avoid talking about what was hard: their first game of the regional playoffs last year, the 14-10 victory over La Costa Canyon. Not that anyone could forget it: a driving rainstorm, Oceanside's field was 120 yards of unheated stew, 15 fumbles between the two teams. The run to state almost ended in the mud. LCC was up 10-7 in the last minute and O-side was down to a fourth-and-9 at midfield. Justin would lose his appetite if he thought about the measurement, about the chains being brought out on the field, about the feeling of helplessness when standing on the sideline with the rain beating down on him, half the length of the ball keeping Oceanside's season alive.
They talk about things they want to remember, things that might not be as important as the things they keep filed away. They keep the conversation light though not their plates. The linemen go back for seconds.
CONNOR: GOOD TIMES, FARAWAY LANDS AND COLD LASAGNA
Thursday, 7:30 p.m. The Mavericks break into groups by position for their meals the night before games -- O-line, backs and receivers, D-line and DBs. Each group goes to a different player's home for a big spread. Necessity: Just too many bodies on a no-cut team. Luxury: The players' homes are great for entertaining. At Connor's home, Marty will work his massive backyard grill and everyone will bring swim trunks to get into the pool or the hot tub after chowing down. But it's not Connor's turn tonight; that honor falls to another DB, not a starter.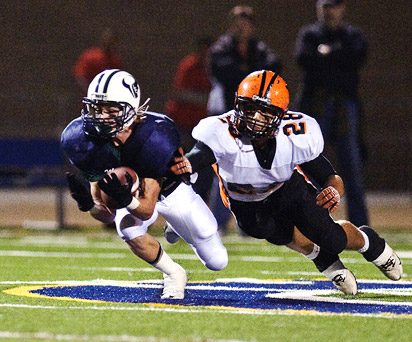 Nils Nilsen for ESPN.com
The Mavericks usually ask Connor to shut down the opponent's top receiver.
The players check out the tricked-out Triumph the DB's father keeps shiny, practically dust-free, in the garage. They fetch lasagna out of the kitchen and gather in the backyard around the firepit. They talk about Division I, about every conference, about the Big East with colleges in cities and states most of them have never visited. John Aponte -- who transferred from a New Jersey school to LCC when his mother moved to San Diego for work -- tells them about West Virginia, about his relatives there, about people who work in the coal mines, about a scrap yard he saw that was up a mountain. It's like Marco Polo coming back with tales from China.
After Aponte, it's Connor's turn to hold court. He talks so much that his lasagna goes cold and has to be reheated -- twice. Everyone else has finished dessert, and he's halfway through the main course. Connor's a free-association, random conversation generator. He talks about his brother, Brendon, who's up at the University of California at Santa Barbara "doin' real well." He talks about surfing in Hawaii, where his uncle rides big waves, too big for Connor, as it turned out. "I was never thrown around like that, ever," he says.
Then they talk about beating Escondido to get a first-round bye, about winning the Avocado League. They even talk about that game against Oceanside. "We had that game," Connor says and shakes his head. He leaves it at that. He doesn't go into the one thing that's stuck in the back of his mind: Late in the game, he was covering a punt, first tackler on the return man ... not that the Oceanside return man broke it, just that Connor saw that the drenched ball was being loosely carried and he had a perfect chance to strip it. Connor just wrapped up the return man, brought him down into the slop. Fumble No. 16 might have changed the game, but this was the one time, the one time, he didn't gamble. He regrets playing it so safe.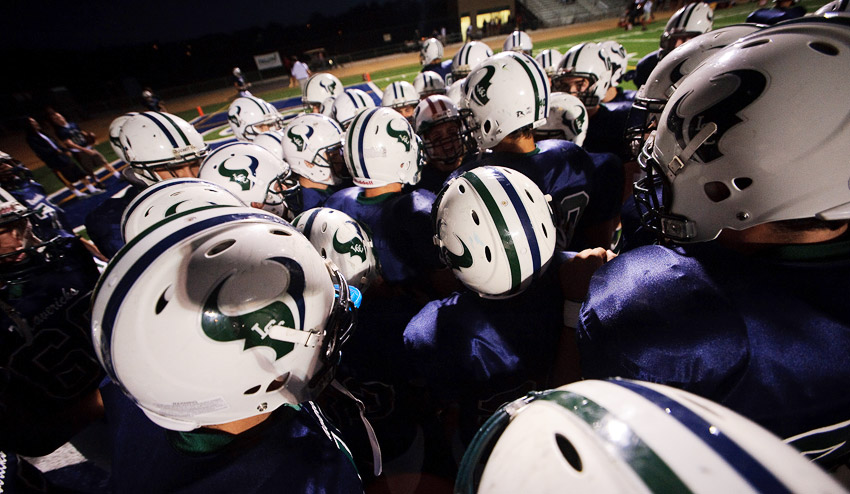 Nils Nilsen for ESPN.com
The Mavericks remain motivated by their 2007 playoff loss to Oceanside.
JUSTIN AND CONNOR: LOCKER ROOMS
Friday, 6 p.m. Justin has his cousin Rene take the braid out of his hair and comb it because he can reach it. Then they kill time playing aki, a Samoan game with stones, like jacks. The O-side dressing room is as quiet and orderly as any classroom even before Coach Carroll makes his entrance.
6:30 p.m. Connor takes a knee in the center of the dressing room. Players only. Same as always, he tries to get the players up for the game. It sounds as though he's speaking in tongues, maybe shouting in tongues. "OK, OK, shut the door, bring it, it's game time, hell, baby, thank God I get to play a game with my brothers, baby, this is for all the haters and whatever we been through, we can go out and fight for ..."
He searches for a word. Lockers slam for percussion.
" ... however long."
Justin discusses the role of religion in his life, then leads the postgame prayer after Oceanside's victory over Valley Center.

A dozen other oh-yeah-babys and hell-yeahs and then Coach Brown walks in.
"Bring it down," he says. The room falls silent.
JUSTIN: "TOO BAD"
Friday night at 1 Pirates Cove. Tyler Bernard is there for Justin Vae'ena's taking. A tackling sled wouldn't give him a cleaner shot. The physics are scary: 230 incoming pounds with 5 yards to get up to speed, waist-high. But as he finishes the tackle, Justin doesn't go after Tyler's knees or slam his helmet into the grass or taunt him. He knocks the QB to the ground and looks back to see the pass fall incomplete before offering Tyler a hand up. Long hair do care. He competes, but without malice.
Tyler doesn't take Justin's extended hand. Or can't. He stays down, writhing. Justin's back in the huddle by the time the Valley Center trainer comes out to help Tyler, doubled over, off the field. He misses a couple of plays but comes back into the game, though he's no threat to run the rest of the way.
The Pirates extend their lead and win going away. The clock ticks down to zero. Nuu and Michelle, her arms full with her sleeping granddaughter and blanket, walk down onto the field but know the routine and have to wait. Justin takes his helmet off and walks to the center of the field. Players from both teams take a knee around him and bow their heads. "Thank you, God, that no one was hurt," he begins, then pauses while memory and conscience kick in. "That no one was hurt too bad," he amends.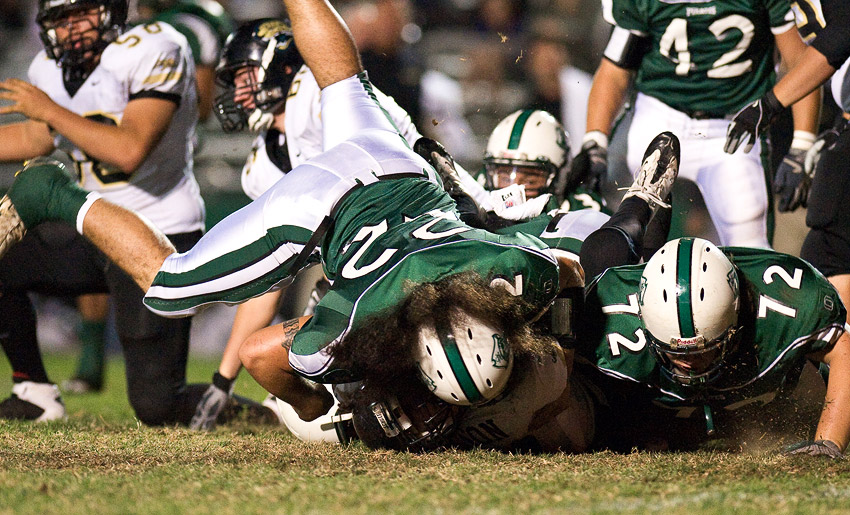 Nils Nilsen for ESPN.com
After playing with reckless abandon, Justin's softer side re-emerges following a game.
CONNOR: STAYING DOWN
Connor and his family bask in the glow of La Costa Canyon's victory over Escondido.

Friday night at 1 Maverick Way. The Mavericks have hit Ricky Seale all night long, but he has bounced off them, whether it's Ian Seau or Jacob Driver or any combination of the seven others in the box. Connor is just a small blur Ricky sees out the corner of his eye. Ricky has to believe the only danger at the end of this long run is the harm he's about to do to this little pencil-neck corner. Not even worth stiff-arming.
Connor takes aim at the hard plastic over Ricky's left temple on the dead run. A helmet-to-helmet hit ensues that sounds like two bowling balls slamming into each other. Diane Garrett tenses. Marty Garrett holds his breath. Garrett family pom-poms stay in Garrett family laps. They can't help but think of Brendon, whose football career was ended by a neck injury he was lucky to walk away from.
Out of the collision, a player's helmet rolls away. Ricky's.
Connor jumps right back up and stands over him like Ali over Liston. Connor's teammates can hear him say, "Stay down, Ricky." Ricky does stay down until Escondido's trainer comes out on the field, picks up his helmet and helps him walk woozily away. His last yards on the field would be a 50-yard stumble to the sideline.
The Mavericks go on to win 21-17. A photographer from the North County Times has a digital image on file that will land on the front page of the sports section tomorrow: Connor celebrating after a first-quarter pickoff. Maybe a photo of Ricky lying helmetless and dazed would have been too graphic. And Connor standing over him ... too misleading, especially if it caught the expression on his face. No one would believe that the homecoming king could have blood that runs that cold. Or that a kid with so much to look forward to could play like he had nothing to lose.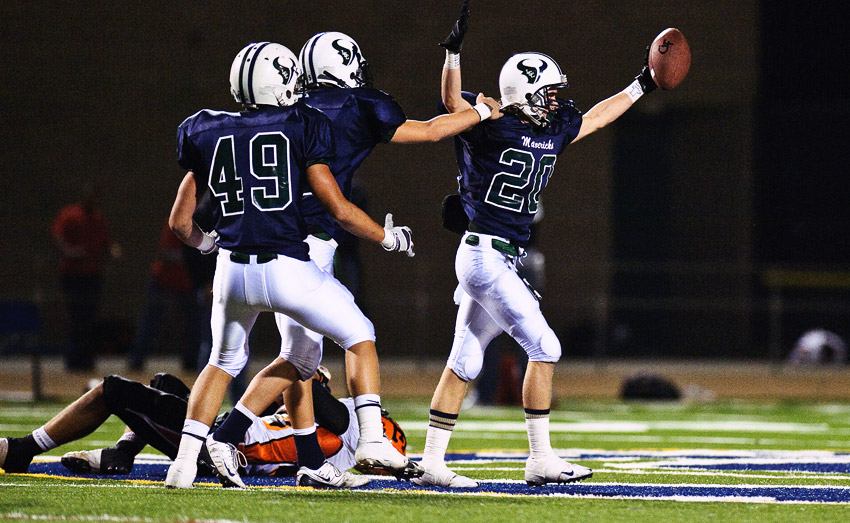 Nils Nilsen for ESPN.com
Connor's interception against Escondido helped LCC claim a tight victory Oct. 31.
Postscript
Connor Garrett and Justin Vae'ena won the final home games of their high school careers Friday night. La Costa Canyon defeated Carlsbad 33-14 to advance to the section finals for the first time in school history. Connor sustained a stinger injury but played through it. Oceanside defeated Scripps Ranch 49-14 in a game delayed two hours by a power outage. Justin tweaked a hamstring but stayed in the game.
The section finals will be played Friday at Qualcomm Stadium. The Division I championship will be a rematch, with LCC facing Escondido. In the Division II final, Oceanside will play Helix, the team that beat the Pirates in the first game of the 2007 season, the last time O-side lost. The Pirates hope a decisive victory would earn them a second straight invitation to the state championship game.
The North County Times named both Connor and Justin to the all-North County team.
Gare Joyce is a regular contributor to ESPN.com and ESPN The Magazine.
Join the conversation about "Miles Apart."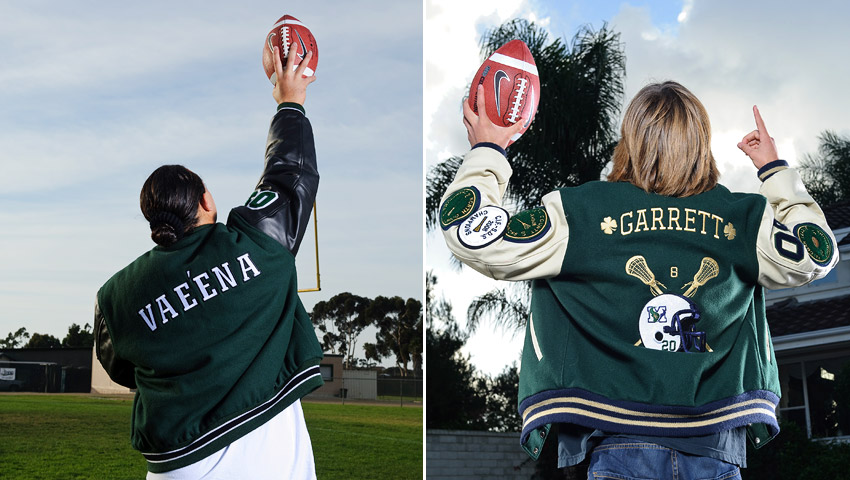 Nils Nilsen for ESPN.com
Justin and Connor will both play in the section finals Friday night at Qualcomm Stadium.