OTL: The Worst Year Ever

EATTLE -- It is early June and Lorin Sandretzky is where so many of his beloved Seattle teams will spend 2008: flat on his back and in dire need of medical help.
Big Lo is Seattle's biggest sports fan, both figuratively (local stores sell his Super Fan action figure) and literally (he stands 6-foot-8 and has weighed as much as 500 pounds). In fact, he is so big a fan that the only reason he has never worn a Mariners replica jersey is because the team has never made one large enough to fit him.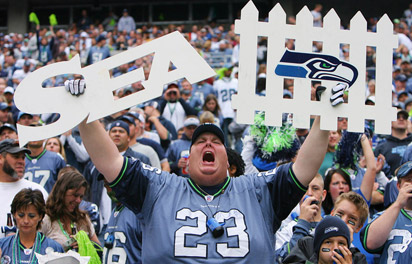 Scott Cohen/US Presswire
Lorin Sandretzky's first surgery in May laid him so low, friend Bryan Murphy says, "It was like it wasn't really him -- it was a shell. There was none of his enthusiasm, none of his personality. We're so used to seeing Lo so positive and cheering everyone.''
At the moment, however, he is in Seattle's Harborview Medical Center and his kind face is twisted in pain. Following two emergency surgeries in the past three weeks, IV needles prick Lo's massive biceps, while five ulcerated abscesses, including a horrific one that is 6½ inches long, 4 inches wide and 4 inches deep, disfigure his swollen left leg. He has severe Type I diabetes, but no job and no medical insurance. But he does have hope. Amid all this misery (will he lose his leg?), one thought keeps Big Lo focused on the positive, one thought keeps him motivated to fight through the pain and anguish: The Mariners are due back from a road trip.
"My thought throughout it was to go to a Mariners game and to do what I had to do to get better," he says. "That kept me going. That I could go to a Mariners game."
You know a city is having a bad year when its biggest fan is forced to draw inspiration from the possibility of watching Jose Vidro, Willie Bloomquist and Richie Sexson play the last-place Washington Nationals.
The thing is, though, Seattle's sports year isn't even that bad yet as Big Lo lies in the hospital with summer approaching. The Mariners aren't even halfway to becoming the first team to lose 100 games with a payroll of more than $100 million, nor have they fired their first manager of the season, let alone their second. The Washington Huskies have yet to suffer a single one of their historic 12 losses or fire their coach or get called for delay of game on their first play from scrimmage. (Delay of game on your first offensive play of a game -- how is that possible? What, did Kenny G play the national anthem?) The preseason magazines hitting the newsstands are picking the Seahawks to win the NFC West for the fifth straight year, not lose 11 games (and counting) on the way to saying goodbye to their coach, Mike Holmgren. And most importantly, the SuperSonics trial over their lease has yet to begin, so there still is hope they will remain in Seattle rather than move to Oklahoma @$&%ing City.
So it's probably best Big Lo finds himself in the hospital in June before the year really gets bad for Seattle, before the year repeatedly reduces him to tears and before he starts routinely asking, "Did we do something wrong?"
It's also probably best that he doesn't know the Mariners will come home and get swept by the Nationals.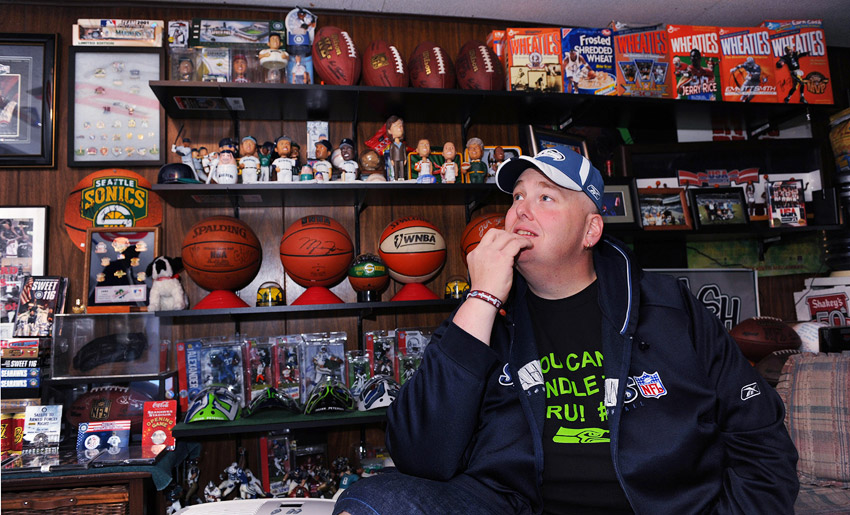 Rod Mar for ESPN.com
As Seattle's biggest sports fan, Big Lo has had his loyalty tested in 2008 -- but he's not about to abandon his teams.
Worse, even, than Cleveland
"This is what I call the 'What the Hell?' season," Big Lo will say months later. "Everything that happens is 'What the Hell?.' The Sonics are moving. What the Hell? The Mariners are losing. What the Hell? The Seahawks are 2-8. What THE HELL?'"
My, oh, my. What the hell did Seattle do to deserve 2008 anyway?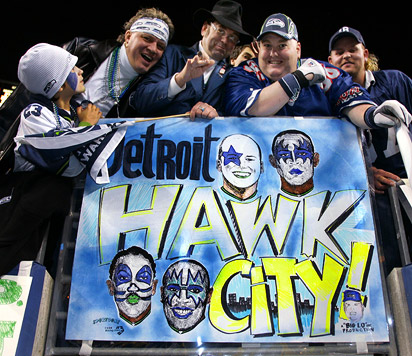 AP Photo/Ted S. Warren
In happier times, Big Lo and his pals celebrated Seattle's Super Bowl run in January 2006. Just don't ask them about what happened in Detroit.
Has any city ever endured a year in sports like the one the Emerald City is just completing? A 101-loss, last-place baseball season, despite a payroll of $117 million; a 62-loss, last-place NBA season; a 12-loss, last-place college football season (the first 0-12 season in the history of the Pac-10); an 11-loss (and counting) NFL season; four coaching/managerial changes; one general manager dismissal; and, of course, the hijacking of its basketball team to Oklahoma @$&%ing City. Sure, other cities have lost their teams or endured epic losing seasons, but for it all to happen in one calendar year? To end December without a single head coach or manager who was employed in January returning for the next year? It's enough to make Seattle fans feel as if Cleveland fans have had it good. As bad as it was for Cleveland when it lost the Browns in 1995, at least the Indians reached the World Series that year.
And this is the thing. We're not talking about a city such as Boston or New York or Los Angeles blessed with multiple championships in various sports over the years. The Mariners are the only active team which has been in one city to have never reached the World Series. The Seahawks have been to one Super Bowl (beaten in 2006 by the Steelers -- and, as Big Lo will tell you, by the refs). The Sonics were the city's only team to win a major pro title (1979) and have reached the NBA Finals three times, but now they're gone.
The depth of this year's misery struck a friend in the gut most painfully when ESPN ranked the cities that have suffered the longest since winning a major pro championship and left Seattle off the list. He was about to complain when he noticed the fine print: "The rankings were only for cities with at least three big league teams."
Yeah, but Seattle HAS three teams. Oh, wait. Yeah. That's right. ... Aw, #%@& -- never mind.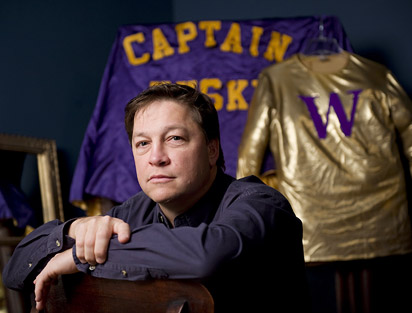 Rod Mar for ESPN.com
As Captain Husky, Barry Erickson spelled out a lot of "L's" during Washington's winless season.
What was the year's lowest moment? Was it when the Mariners -- picked by some to win the World Series -- used a third-string catcher as a pitcher with the game tied (or when he was nearly as effective as Carlos Silva, the pitcher they signed for $44 million)? Was it when the Cowboys sacked Seahawks quarterback Matt Hasselbeck seven times on Thanksgiving Day? Was it when an e-mail from Clay Bennett was made public in which the new Sonics owner wrote he was "a man possessed" with moving the team to Oklahoma? Was it when the refs flagged Husky quarterback Jake Locker 15 yards for unsportsmanlike conduct after he tossed the football in the air to celebrate a last-second touchdown against BYU in early September and the arthritic UW kicker missed the subsequent extra-point attempt that would've tied the game?
The absolute lowest moment? Hell, Barry Erickson, aka, Captain Husky, says he's had four or five absolute lowest moments -- and that's just with UW football.
"It is strange to think how spoiled we were when we were winning," says Erickson, who has performed a team spell-out while wearing his Captain Husky superhero costume at every UW home football game for the past 23 years. "Maybe I took it for granted then, too. Now, if we beat Oregon State or Arizona, I'm going to relish that win. ... Did you ever think you would relish a win over Oregon State or Arizona?"
And bear in mind, Erickson was saying that before the Huskies somehow blew a lead with the ball and a minute remaining and lost to 1-10 Washington State in the annual Apple Cup, the one game Husky fans had felt confident they would win.
"It's a mystifying year for Seattle," Big Lo says.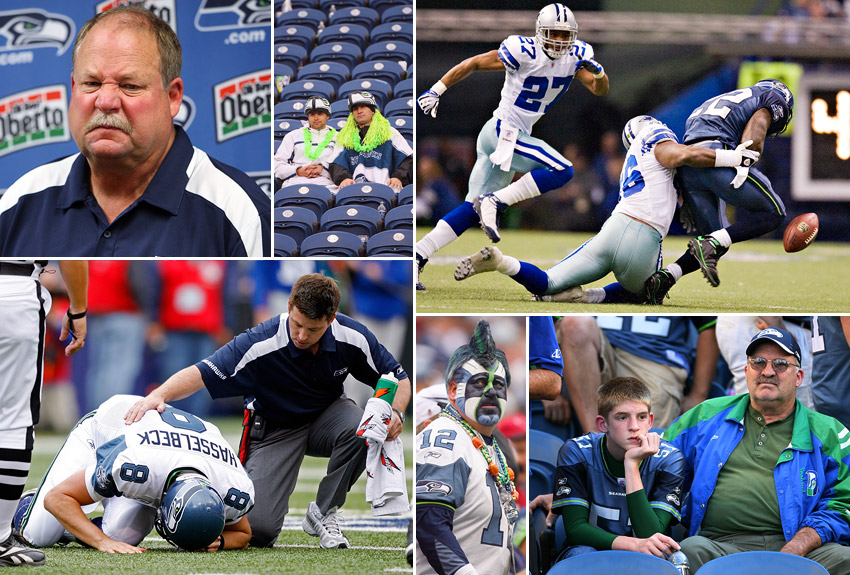 Getty Images
The 2008 season has stunk for the Seahawks, who were undone by injuries and are currently 4-11.
Blue, screwed and tattooed
Months have passed since Big Lo checked out of the hospital but on a brilliant, sunny November afternoon, he is feeling another needle in the flesh: He is getting tattoos of Seahawks quarterback Matt Hasselbeck and fullback Leonard Weaver to join the one of safety Jordan Babineaux.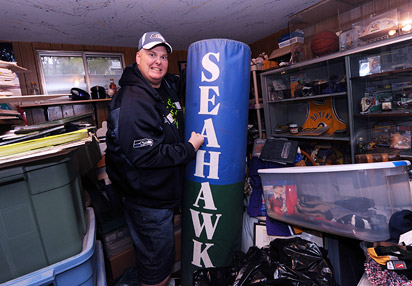 Rod Mar for ESPN.com
Big Lo says he would like to turn his memorabilia collection into Seattle's official sports Hall of Fame.
As he text-messages former Sonic/current Thunder power forward Nick Collison from the Derm F/X tattoo shop south of Seattle, the question is not why a 42-year-old man who once had a flesh-eating virus and whose abscesses are still healing on his lower left leg would get tattoos of three Seahawks on his lower right leg. No, the question is why it took Big Lo this long to do so. It's not as if he is tattoo shy. In fact, the UPC barcode for his action figure is tattooed across the back of his broad, fleshy neck. "I had the woman in the store scan me to see if it works," he says. "And it did. She scanned it, and it came up $12.95. I guess that's what I'm worth."
The Seahawks are smack in the middle of a six-game losing streak and their second-worst season ever, but when you are Seattle's biggest sports fan, that's all the more reason to get the tattoos now. Anyone can show support when the team is winning. The mark of true fans is showing support when their teams are losing. And, boy, has this season provided that opportunity. Indeed, while Lo is getting tattooed, the Mariners are introducing their third manager of 2008.
What will happen when the three players leave the Seahawks, as they inevitably must? Not to worry. Big Lo is uncompromisingly loyal. Unlike all those Seattle fans who turned against Shaun Alexander when he went from NFL MVP to the most-heckled athlete in Seattle in less than two years, Lo never gives up on a player. He is like a dog. Treat him as poorly as you want -- kick him, stop feeding him, draft Robert Swift in the first round -- it doesn't matter. Once Big Lo is your fan, he's your fan for life. "You come to Seattle, you're part of us," he says. "Once you bleed Seattle colors you're a member of the family." So it doesn't matter if the players leave Seattle; Big Lo's loyalty is as permanent as the tattoo ink artist Cody Hart is carefully applying to his beefy leg.
"When a player leaves, it's not like they're quitting on you, they're just taking a business opportunity," Big Lo says. "It's the business of being a fan."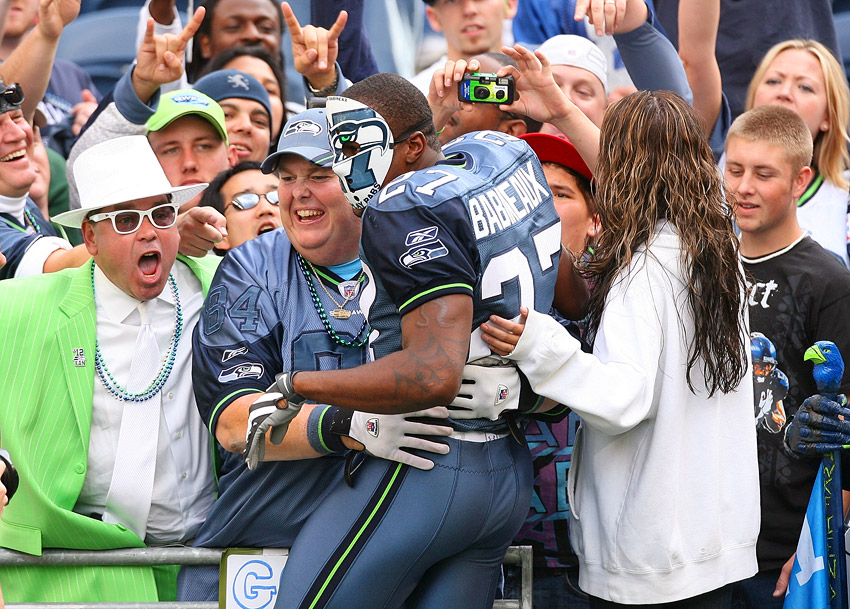 Otto Greule Jr/Getty Images
Seahawks safety Jordan Babineaux got a lift from Big Lo following Seattle's win over St. Louis in September. Babineaux's likeness has been inked permanently on Lo's flesh.
And Big Lo takes the business of being a fan very seriously indeed. He says he hasn't missed a Seahawks game in 18 years and missed fewer than a dozen Sonics games in their final 17. He estimates he missed 20 Mariners games this year, but he had a good reason -- he was in the hospital for many. His sports memorabilia collection is a veritable Seattle sports Hall of Fame, filling almost every available inch of his home from wall-to-wall and floor-to-ceiling with everything from Sedale Threat's game-worn shoes to the goalpost padding from the old Kingdome. He rarely goes out in public without a baseball cap on his head and at least one other piece of clothing with a local team logo.
His devotion doesn't end there, though. Oh, no. He also used to drive to the airport to greet the teams when they returned from a road trip, opening doors and shoveling snow from their cars if need be. One night he was waiting for the Sonics plane ... and waiting ... and waiting. Saying he would wait "only a few minutes longer," he nodded off around 4 in the morning and awoke to assistant coach Dwayne Casey knocking on his window. "It's OK, Big Lo," Casey told him. "You can go home now. We're safe."
There are limits to even Big Lo's loyalty, however. It doesn't extend to watching the Thunder play on TV.
Big Lo reviews all the big lows from 2008 and offers a tour of his Seattle sports memorabilia collection.

"I told Nick I do, but I just can't," he says. "The Thunder invited me down to Oklahoma for their opener, but it just doesn't feel right. I'm Seattle's biggest sports fan. I can't go somewhere and root for a team that isn't mine anymore."
That's the problem with professional sports, though. You can root for a team all your life, miss so few home games you can count them on your fingers, greet the team at the airport and shovel snow from their cars, but the team isn't really yours. Oh, the team relies on your loyalty; in fact, it demands your loyalty, reaps staggering profits from your loyalty -- $149 for a Jose Vidro alternate jersey? -- but it is always owned by some billionaire who seems to have forgotten the Sonics' 1979 championship parade through downtown (say, Starbucks owner Howard Schultz) but buys the team only to sell it a couple years later for a fantastic $150 million profit to some other billionaire with absolutely no attachment to the team or the city (say, Clay Bennett) who immediately demands taxpayers build him a new $500 million arena even though the city already has rebuilt the current arena to a previous owner's exact specifications barely a decade ago. He and the league's commissioner (say, David Stern) argue the team is so important to the city's image, its citizens and its livelihood that the new owner deserves a half-billion dollar arena to keep the franchise in the city where it won a championship, where it played Michael Jordan's Bulls in another NBA Finals, where it has called home your entire existence. And when the new owner doesn't get the new arena, he'll go to court to break his lease, testifying that what he really meant before is that the team doesn't mean much to the city or you at all, that your quality of life doesn't hinge on a dozen basketball players and that he should be able to move the team to Oklahoma despite a contract he signed that specifically states he cannot. And the city's mayor (say, Greg Nickels), who admits during the trial over the lease that he has attended only one game in his seven years in office, works out some incomprehensible settlement that allows the owner to move the team for $45 million, not one cent of which goes to you or any of the other fans who invested your money and your hearts into the franchise under the naive idea that doing so made it yours.
"There were 41 years of legacy and tradition here," says announcer Kevin Calabro, the voice of the Sonics for more than two decades, "and it was just ripped out of the city's throat."
So, no, it's not surprising at all that Big Lo is tattooing three Seahawks into his flesh, regardless of the health considerations ("My doctor wasn't real crazy about the idea"). These tattoos are truly his and an owner will relocate them only over Big Lo's dead body.
And the same applies to the Mariners souvenir miniature train set in his home with the J.J. Putz car and the Mariner Moose caboose.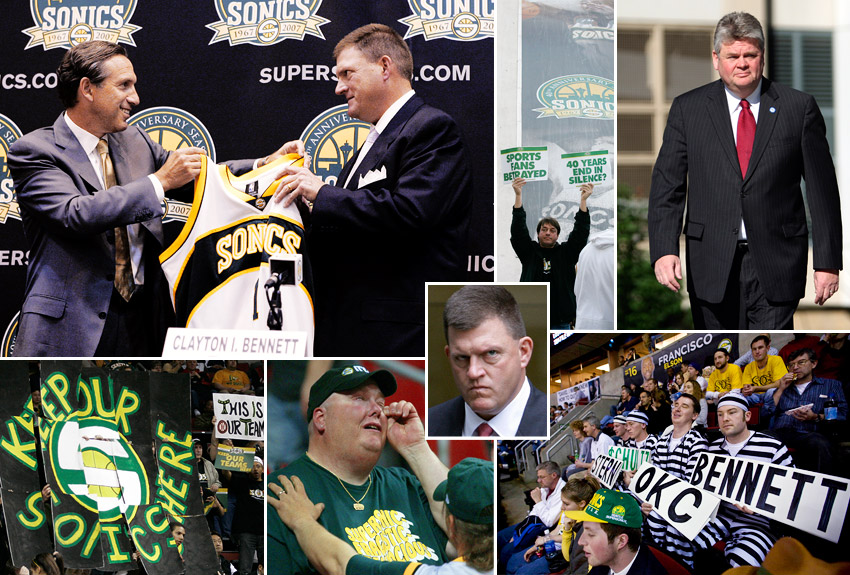 AP photos
When Howard Schultz sold the team to Clay Bennett (from left, top left photo), and Seattle mayor Greg Nickels (top right photo) eventually accepted a settlement offer, it left Sonics fans wondering what had hit them.
Despite all the losing, a healthier addiction
It's the Sunday before Thanksgiving, and the Seahawks are just taking the field against Washington -- a game that will result in their fifth consecutive loss. Big Lo (who, as usual, arrived several hours earlier than the team) is where he is every game, right behind the south end zone, Section 122, Row A, Seat 1, squeezed in between Sea Pimp (the fan wearing the shocking green suit and hat) and Bam-Bam (the fan with the waist-length hair who bends down throughout the entire game to smack the padding -- Bam! Bam! -- lining the stadium wall). Lo is banging together his D-[FENCE] clappers and shouting encouragement to the players. "You're going to win!" he hollers with the faith and sincerity of a child writing to Santa Claus. "This is your big day!" He is Seattle's quarter-ton pick-me-up.
"He's always there. Always," Weaver says. "No matter what, ups or downs, bro, he's in his seat, screaming for us at the top of his lungs, giving us his all. He's the most cheerful, loving, big teddy bear I've ever seen. I can't name a time that I've seen him down. And if he ever is down, I know he'll be up when he comes to the Seahawk game, because he'll be cheering us on."
Just how bad was the sports year in Seattle? In a Page 2 parody, artist Grey Blackwell and writer Jim Caple provide the "autopsy."

Big Lo's season ticket set him back $650, which is a lot for an unemployed man who lives in his father's basement. He has worked as a bouncer at a strip club and a bartender at a sports bar but a near-fatal battle with a flesh-eating virus in 1998 chewed up his savings, and the current fight with diabetes has severely limited his ability to work. He moved back in with his father seven years ago. Such was Lo's devotion to his teams by that point that when then-Sonics coach Nate McMillan learned of his financial problems, he provided Big Lo tickets to every game. After McMillan left to coach the Trail Blazers, the Sonics continued to provide his tickets and Clay Bennett even wrote Big Lo a $1,000 check this year to help cover his medical expenses.
It says something about Lo's devotion to his teams that the owner who tore out his heart also felt reason to help pay for his treatment.
"I have nothing against Clay," Big Lo says. "Clay's a businessman, and he did what a businessman does. He bought something that he wanted to play with in his sandbox. Howard Schultz is the one I'm miffed at. Why in the heck when you have local buyers ready to step up and take ownership did you sell it to a man from out of town?"
There are probably wiser investments Big Lo could make than buying tickets for sports teams that (A), lose far more often than they win, and (B), not only repeatedly threaten to move but occasionally do move. But that's not the way he sees it. He used to abuse alcohol and marijuana, but he found a more satisfying escape in the local teams. "I used to drown my sorrows in drink," Big Lo says. "I'd try to cheer myself up with a bong hit, but I didn't need it. I find such a joy in going to a ballgame, in energizing a crowd to root for a team. It's definitely my drug of choice. It's medicinal." No matter how much he has spent over the years, he says it all has been worth it for the memories and friends he has gained, both in the stands and on the field -- the highest honor for a Seattle athlete is to join those who have provided the message on Big Lo's voicemail.
Hey, this is Gary Payton. Me and Big Lo can't get to the phone right now. We'll get back to you if we feel like it.
Hasselbeck, badly aching from a bulging disk in his lower back, throws a pass that former Seahawks cornerback Shawn Springs intercepts to seal Seattle's ninth loss of the season. Hasselbeck limps off the field. The fans, many of whom watched Washington lose the Apple Cup the previous day, exit the stadium quietly at the end of yet another weekend doubleheader of Husky and Seahawk losses. Big Lo, however, remains at his seat, chatting with the occasional player, telling one and all that the team will "get them" next Sunday, still supporting his Seahawks even as workers begin cleaning the stadium. He is often the last fan to leave.
"It's just the fact we get to go to the ballgame," Big Lo says of what he gets out of cheering a team no matter its record. "It's being part of the atmosphere, part of the energy of getting players up. There's nothing else like it. It's just a great, heartfelt feeling. Being at the final game when we won the Western [Conference] championship and seeing Sam Perkins climb up to shake my hand -- he gave me my nickname -- that brought tears to my eyes. Seeing Michael Jordan playing in front of you. That brought tears to my eyes. ... I could go on a whole day long about the times I've cried at sporting events. That's sports. There are tears of agony, just like tears of joy."
Especially this year in Seattle. Though not so much the tears of joy.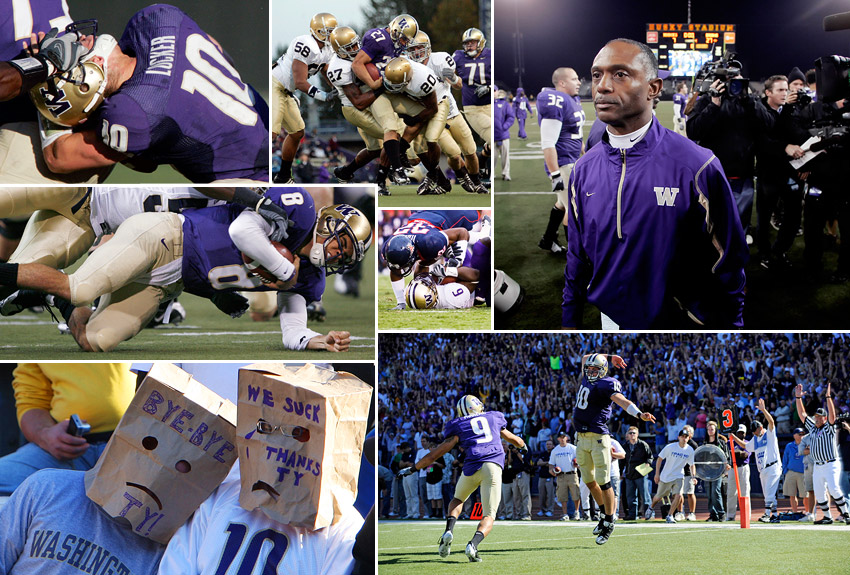 US Presswire
Washington football endured its worst season ever, going 0-12 to extend a 14-game losing streak. The "highlight" of the year was Jake Locker's late TD run against BYU (lower right photo), but alas, a penalty for excessive celebration doomed the Dawgs.
The day the music stopped
A wet, gray November storm blows in from the nearby Pacific and over the Olympic mountain range, drenching Seattle with nearly an inch of rain by day's end. That precipitation, however, is nothing compared to the tears pouring down Big Lo's cheeks inside the Seattle Event Center, where a lone tuba is set up in front of a lectern.
If there was someone who was more of a fixture at Seattle sporting events than Big Lo, it was Ed McMichael, the Tuba Man. Beginning around Ken Griffey Jr.'s rookie year in 1989, Ed played his tuba outside Seattle games and concerts for almost 20 years. Didn't matter the weather or the team's record, he was outside on the sidewalk, wearing a goofy Dr. Seuss hat or a construction helmet on his head, a smile on his face and the tuba in his lap. Chest heaving, Tuba Man serenaded fans as they walked by, earning a very modest living through the tips they tossed into a bucket at his feet. He was an accomplished musician who had played with the Bellevue Philharmonic, and he could perform anything from "Louie, Louie" to "Jupiter'' from Holst's "The Planets.''
Every Seattle fan knew Ed's music and his slow, booming voice, everyone loved the Tuba Man. How can you take your troubles seriously, how can you not feel happier -- even if the Mariners have lost 10 games in a row, the Seahawks are out of the race and the Huskies just gave up 55 points to Oklahoma -- when you hear a man playing the "Chariots of Fire" theme on his tuba?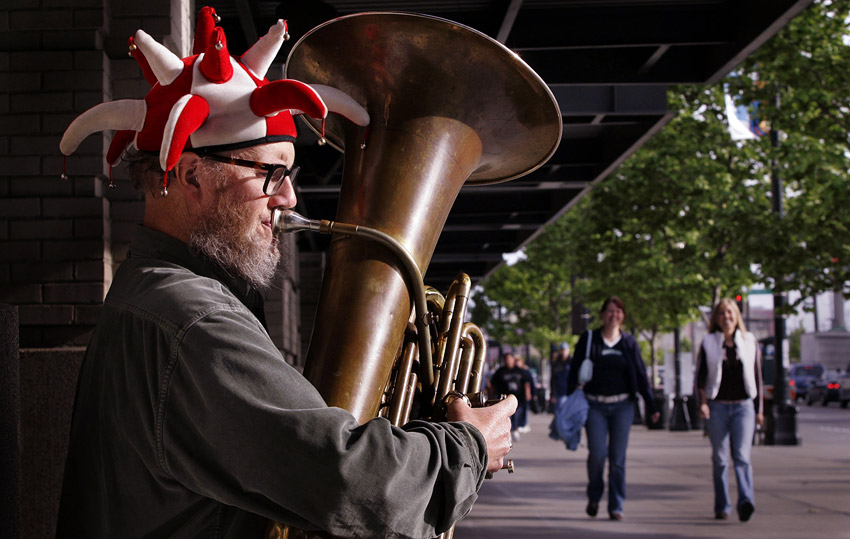 Rod Mar/Seattle Times
Ed "Tuba Man" McMichael playing outside Seattle stadiums was as dependable a sound as "The Star-Spangled Banner."
Whether it was the bad teams driving away fans -- Mariners attendance dropped to its lowest in 13 years and the Huskies played to perhaps 25,000 empty seats their final home game -- or the deteriorating economy, the Tuba Man's donations were off significantly this year. His brother, Kelsey, and sister, Joyce Baker, worried about Ed and encouraged him to get a real job and get off the streets. "I'm sure there were plenty of other opportunities for him to at least audition for major orchestras, because he was gifted," Kelsey says. "But he didn't want to leave Seattle. I tried to get him jobs delivering mail, driving a bus, you know, a 9-to-5 job . But not Ed. He was not a conformist. And I guess that's what people liked."
The night of Oct. 25, five teens attacked Ed on his way home from Seattle Center, kicking him repeatedly in the body and in the head. He died in bed a week later in his apartment. "I guess it just fits in with the year and how bad the Mariners and Seahawks have been," Kelsey says.
Seattle was shaken by the killing. When Seattle Post-Intelligencer columnist Robert Jamieson informed the city about Ed's death in a column, readers flooded his inbox with e-mails of outrage and grief. "He was one of the first that my wife and I announced our engagement to," John Stockman wrote Jamieson in a typical message. "He would always play, 'The Wedding March' for us." Local radio and TV stations mourned his passing. The Husky marching band formed a TUBA MAN spellout at halftime of the UCLA game. And an estimated 1,500 people crowded the memorial service at the Event Center, where they wept and smiled, a tuba band played and the Seahawks, Mariners and Huskies honored Ed with jerseys bearing the name "Tuba Man."
Kelsey was overwhelmed by the city's reaction, saying he had no idea how much his brother meant to Seattle fans, how many lives he touched. "The Monday morning I found him in his room, I was no good that whole day. I wanted to die," Kelsey says. "But I pulled myself together. I knew I had to get busy and clean up his room. I went out and got some cleaning supplies so I could get there Tuesday morning to clean his room. And as soon as I walked in that door at 7 in the morning, there was a reporter there. We talked for an hour, and when we finished there were two more. I talked until 3 in the afternoon. That's the way it was. People just wanted to talk about Ed. It just blew my mind. I asked, 'Why was Ed so popular?' The same with my sister. 'Ed just plays a tuba in the street.' It was a shock to see what he meant and truly an honor to see that from the people of Seattle."
Ed just plays a tuba in the street? No, he did far more than that. He provided a city with its soundtrack.
As Big Lo listens to the tuba band and Kelsey's eulogy, he thinks about all the times he had passed Ed on his way into the Sonics games and how now he and the team were gone, never to return. "It's tough. There's an emptiness there now," he says. "Ed meant a lot of smiles to Seattle."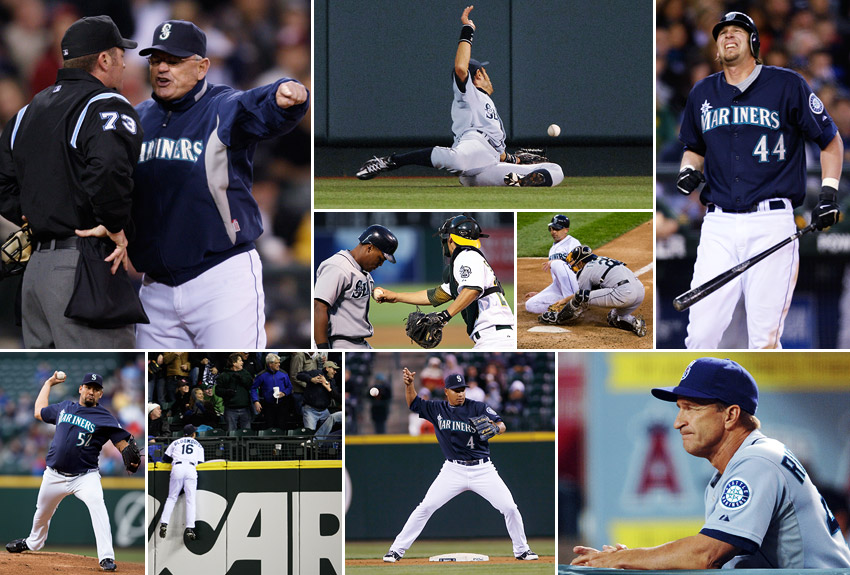 Icon SMI
The Mariners had a nine-digit payroll, but posted a triple-digit loss total. Managers John McLaren (top left photo) and Jim Riggelman (lower right photo) were both discarded in 2008.
The incredible shrinking big man
As it turns out, the first team Big Lo sees play after his release from the hospital is not the Mariners but the Storm.
There is some dispute in Seattle about whether the Storm's 2004 WNBA title counts as a major pro championship. Most fans don't consider it so, maintaining it wasn't in one of America's big four pro leagues. Big Lo disagrees. He supports the Storm just as passionately as he does the other local teams -- he ranks them third ... er, make that second ... now that the Sonics are gone, below the Seahawks but ahead of the Mariners. He attends almost all the Storm games, yelling, "Larry Who? We got Sue!" for Sue Bird and "There's a STORM COMING!" at the opponents. He owns a collection of Storm bobblehead dolls so complete it includes former coach Lin Dunn.
The Storm are a bright spot in a dark year. Before Bennett moved the Sonics to Oklahoma, he sold the Storm to local businesswomen who are committed to keeping the team here. The Storm also reached the playoffs though, in keeping with the year, the team lost in the first round after Lauren Jackson opted for season-ending ankle surgery.
So, this year hasn't been all bad. Mariners broadcaster Dave Niehaus, the most beloved sports figure in the city, entered the Hall of Fame. Former Husky goalkeeper Hope Solo helped the U.S. women's soccer team win the Olympic gold medal with a shutout of Brazil in Beijing. The UW women won the NCAA cross-country championship. Seattle University -- Elgin Baylor's former school -- which is returning to Division I status, defeated its first D-I opponent in three decades. Seattle's new MLS team will begin play this spring with play-by-play to be provided by Calabro, who gave up his NBA gig because he just couldn't abandon Seattle.
And not only is the Oklahoma City Thunder 3-25 and getting booed, co-owner Aubrey McClendon lost a reported $2 billion in investments in the financial crash. Ah, sweet schadenfreude.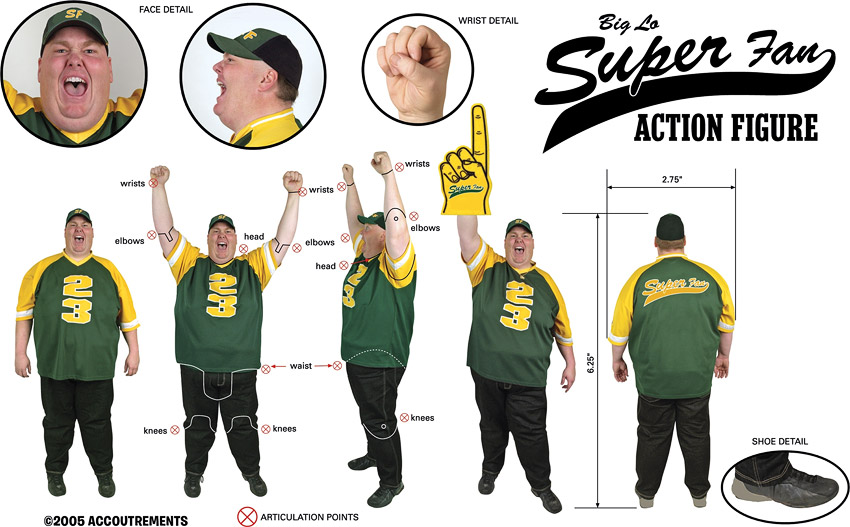 Courtesy of Archie McPhee Toys, Gifts and Novelties
The schematic for Big Lo's action figure is true to life -- but there's a little less of the big man in late 2008.
Big Lo, meanwhile, is enjoying a personal winning streak with his body's health. The once massive abscess on his leg has healed to the size of a nickel. He's working out five days a week. His hemoglobin A1C level has dropped from 13.9 to 5.8. He was healthy enough to play in a Turkey Day flag-football game. He has lost 137 pounds to go from a 60-inch waist to a 48, and plans to lose 100 more pounds, which would equal the biggest drop of useless weight in the city since the Mariners released Sexson.
"That's as big a victory as any one of my teams has ever had," he says of his weight loss. "But I can't say as big as it ever will have, because we've never won the Super Bowl or a World Series. So I don't know what that feels like. But it will happen soon. I have faith."
Best of all, Lo's shirt size has dropped to the point that he should be able to fit into the largest Mariners replica jersey.
"I could be depressed, but I live in the most beautiful city in the world," Big Lo says, rooting on his city as vigorously as its teams. "We do have the bluest skies you'll ever see. We're an hour's drive from the mountains. We're an hour and 45 minutes from the ocean. We're an hour and a half from one of the world's most beautiful mountains. And if you need a really good cup of coffee, we've got it. Just don't make it Starbucks."
What is most important for Big Lo -- and for so many Seattle fans, if they can only bring themselves to admit it -- is not that the Sonics left town in 2008, but that the Mariners, Seahawks, Huskies and Storm are still here (the Huskies might want their own $300 million stadium remodel, but it's highly unlikely they'll move to Oklahoma #@$&ing City). And while almost all those teams had tear-inducing bad seasons in an historically horrendous 2008, there is always next year -- "2008 wasn't so great, but 2009 will be mighty fine," Big Lo says, testing out his latest slogan -- and the new year will be better if only because it can't possibly be worse.
After all, there is one less team that can finish in last place.
Jim Caple is a senior writer for ESPN.com and a longtime Seattle-area resident.
Join the conversation about "The Worst Year Ever."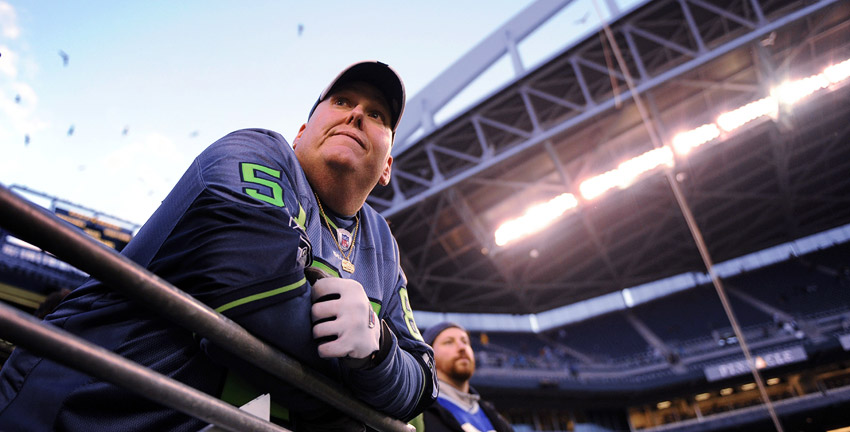 Rod Mar for ESPN.com
"Not only did the Sonics leave but he also had the health issues that were a real struggle for him physically and financially," Murphy says of Big Lo. "I don't think you could have had a worse year. It would have ended most people."