XFORD, Miss. -- Two friends, both unhinged football fans, got married earlier this year. During the wedding reception, the bride's father somehow got the Ole Miss band to march into the room, a blaring chorus of starched uniforms and shining brass. The groom conducted. The crowd stomped and cheered. You'd have thought folks were celebrating a 12-play scoring drive, not holy matrimony.
Soon after the wedding, I watched video of this event. Immediately, I recognized the feeling deep down in my gut. It's something I've felt in so many cathedral-like stadiums. I closed my eyes, and the familiar notes sent me rushing months into the future, longing for a tailgate that escalates from simmer to burn, for the chill bumps that always come in the moments before kickoff, for the evening breezes rustling the white oaks when the game is done. My body sat in front of a computer screen. My mind was in a stadium. It was only April, and I longed for September.
I missed football season.
As you might have guessed, I live in the South, a little town named Oxford, which means my life is governed by a set of rhythms as familiar as the white-columned mansions up and down Lamar Boulevard. I love air conditioning, and I love cocktails in the gloaming on the City Grocery balcony, and I love a plate of shrimp and grits when the sun finally goes down. I love honking at Faulkner's grave on the way home from the bar. I love cruising 18 miles an hour through campus, the speed limit set in honor of Archie Manning's college number, passing pretty blondes driving foreign cars, courtesy of Daaaaddy, and seeing a boy sporting khakis and an SEC haircut and realizing our fathers looked just like that a half century ago. I love "Dixie" played slow and the Bob Dylan song. I love the magnolias blooming in the late spring and the incandescent heat of the summer but, mostly, I love the insanity of the fall.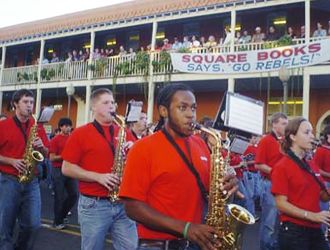 Bruce Newman for ESPN.com
Available to play weddings for diehard Rebels fans: It's the Ole Miss marching band.
The entire South is about ready to explode as summer ends and autumn begins. Football's coming. The preseason magazines appear. Wallet-sized schedules materialize on gas station counters. Meals out are eaten over the soundtrack of folks predicting wins and losses -- and not just sports fans with fantasy teams and chicken wing sauce on their chins. No, grandmothers in Chanel and pearls get worked up -- I mean fired up, brother -- about beating LSU.
I love the hope of those preseason predictions. I love 0-0. I love talking about Archie like he played yesterday, because the past isn't dead; it isn't even past. I love game day, the cars hurtling north from Jackson and Biloxi and Vicksburg and Meridian. I love Hermés ties paired with Widespread Panic hats. I love gin and tonic for breakfast and bourbon and Coke for lunch, each faithfully mixed and swilled in those red (or blue) plastic chalices that as a child I simply knew as "Grove cups."
I love "ARE YOU READY?" and all the other SEC football idiosyncrasies, too, because they come from the same kind of passion: Mississippi State's cowbells, the Vol Navy, an Arkansas fan using the Freedom of Information Act, the way the crowd sings along to "Sweet Home Alabama" on a warm Southern Saturday at Bryant-Denny Stadium. In Birmingham, they love the gov'nah, indeed. Me, too, even if I don't know a single thing about him. That's what football can do. It can even make me love Steve Spurrier. That rat bastard, I love him so.
I love most everything about Southern football, but more than anything else, I love for it to begin. This year, the twinges hit hard in mid-July. A work trip takes me to Cayce, near the South Carolina campus, where I find myself sitting at the counter of a local restaurant called the Kingsman. It's one of those places that seems as if it has been there forever, like the planets, or Styrofoam. I order a pimento cheeseburger. The Kingsman's famous for these gobs of cholesterol-laden goodness. They're messier than a small-town divorce, but damn, they're good. A woman works a hot griddle covered in sizzling, dancing meat. Then, apropos of nothing, she turns to a waitress who's calling in an order. The spirit's in her. And it's got to come out.
"Only 52 more days 'til football!" she hollers.
They've both stopped work for a moment. The waitress shakes her head.
"It's 51!" she hollers back.
The wait is almost over.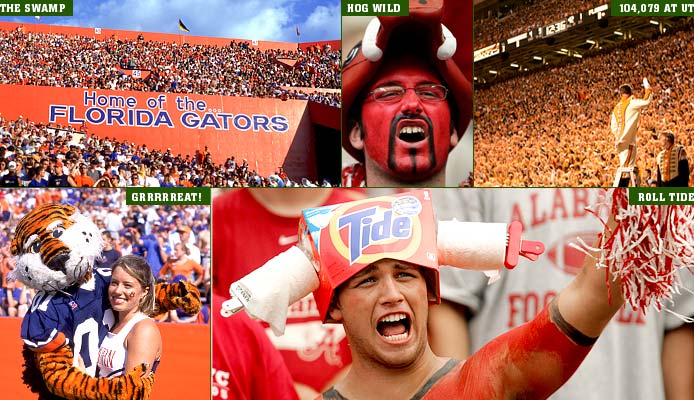 The Swamp: Scott Halleran/Allsport; Hog Wild: Streeter Lecka/Getty Images; UT: Brian Bahr/Getty Images;
Grrrreat: Scott Halleran/Allsport; Roll Tide: John David Mercer/AP Photo
WINTER AND SPRING
In the winter, when football season lies dormant, we are warmed by our memories. Well, there's recruiting, but memories, too: Catching passes as a young boy in the soft green grass outside Vaught-Hemingway Stadium. Meeting legendary coach John Vaught, for whom it was named. Crying when we heard the story of paralyzed former Rebels cornerback Chucky Mullins whispering, "It's time."
The good people of Louisiana can remedy the boredom of baseball's spring training with memories of the white hot noise in Tiger Stadium -- "Chance of rain? Never!" -- and the Phil Collins song drifting up and out over the Mississippi River: I can feel it coming in the air tonight. Once, the crowd got so loud the seismograph in the geology building a few blocks away registered an actual earthquake. Those corn whiskey-fueled Cajuns literally made the ground shake. Former Tigers quarterback Rohan Davey tried to explain to me once what it was like to run out of the tunnel there. "Everyone is screaming," he said. "Everyone is going crazy. You can smell the bourbon."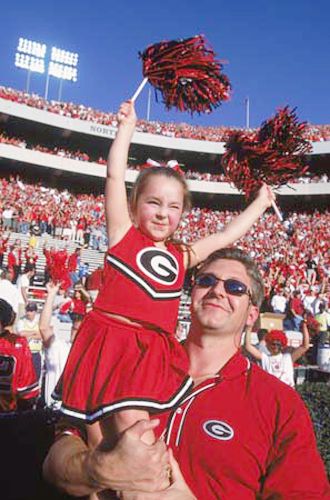 Bruce Newman for ESPN.com
The passion for Southern football begins at an early age.
In Knoxville, when football season seems like it might never arrive, they can laugh about the fans who've almost sunk a boat in the Tennessee River. They can sing "Rocky Top." In Arkansas, they can let a "Pig Sooie" fly, like a maintenance drink for a boozehound. A few states over, a War Eagle or Rammer Jammer can keep a man (or woman) from going insane. That's a struggle we've been having for generations. Why? Well, there are a thousand theories, many having to do with a lack of any other entertainment, but the one in Tony Barnhart's book about the obsession makes as much sense as any: Dominating at football offers a chance for Southerners to feel equal, a chance to avenge past defeats on the battlefield, which is admittedly bizarre, since no one else in the country ever thinks about the Civil War. In the book, former Georgia coach Vince Dooley describes beating Michigan in Ann Arbor in 1965. "I didn't just hear from Georgia people," he says, "but from people all over the South. To go up there and invade the North and come back a winner was the greatest thing for a lot of people. It was as if we had had a chance to go to Gettysburg again."
So these memories are important, a part of our martial DNA, though some memories are a bit hazier than others. My cousin ran out between the hedges in 2000 after Georgia beat Tennessee for the first time in nine years. He tore off his white dress shirt, ran right over to two players sitting on the Volunteers' bench and screamed, "Go back to Knoxville!" (The family's very proud.) Here's another one I just heard: Two ol' boys were in Baton Rouge, all decked out in LSU gear, tailgating all day. Then, after hours of drinking peacefully next to each other, one guy suddenly jumped the other, quickly getting the upper hand, punching and kicking like a madman. Then he pulled out a knife, apparently to finish the job. Before they were pulled apart, the aggressor screamed at his defeated foe, "I can't believe you named your little girl Auburn!"
Every Southern football fan has a story like that, just like every group has a set of shared experiences. I've never rolled Toomer's Corner after a big War Eagle win, but the people who have will never forget it. New York Times sports columnist Selena Roberts sure won't. Today, she's one of the most respected voices in the world of sports. But when she thinks back to her days as a student at Auburn, she can still see the ribbons of white hanging from the trees. She remembers stealing toilet paper from buildings and walking through the knee-deep sea of tissue. "It looks as close as a white Christmas as you can get in the South," she says.
Each school has its legends. There's the time a potential game-winning field goal was blown back by a sudden gust of wind, costing Mississippi State a victory over Ole Miss in the Egg Bowl, removing any doubt which team God himself pulls for (though Alabama fans might argue by quoting Ezekiel 20:29 ... look it up). There's Billy Cannon's punt return which, almost 50 years after he ran into the Louisiana fog, is still played on the radio in Baton Rouge. There's Spurrier reminding us all that you can't spell Citrus without "U" and "T". There's Buck Belue to Lindsay Scott, and if you need an explanation, you've probably never eaten barbecue cooked at a gas station.
These are the stories told in January deer camps and in spring break condos and over graduation weekend grilled cheeseburgers at Rotiers in Nashville. They keep the dream of football alive until winter and spring give way to summer.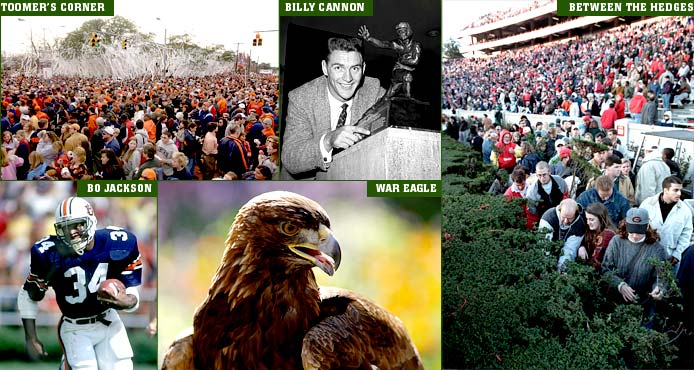 Toomer's Corner: Todd J. Van Emst/AP Photo; Billy Cannon: Jacob Harris/AP Photo; Between the Hedges: Manny Rubio/WireImage;
Bo Jackson: Scott Cunningham/Getty Images; War Eagle: Matthew Stockman/Allsport
SUMMER
There can be no joy of the fall without the brutal heat of June, July and August. Here in Mississippi, it's like you're living inside someone's mouth.
Oxford, as is the case with most college towns, is quiet in the summer. It's resting. The students are gone. The tables are easy to come by. The live music is mellow. You can find parking around the courthouse square. Some restaurants and bars close for a bit to gird for the fall.
We sit inside and make plans, too. My alma mater, Missouri, is coming to Oxford this September (don't tell anyone, but I'm pulling for the Rebels). I've invited all my friends. We've rented an extra house, planned a big party, with a bartender and hot tamales. Planning for the weekend has consumed our summer. We're far from alone. Most every big decision made below the Mason-Dixon Line is made with the distant season in mind.
"I do think that in the state of Alabama," says Crimson Tide diehard and "Forest Gump" author Winston Groom, "anybody planning a wedding is gonna get out a schedule, because the worst damn thing you can do is have your wedding on the Alabama-Auburn game or the Tennessee game, because nobody will come to your wedding. They had one here like that, but they put up a big old huge TV at the place where they had the reception. One of those big giant things, about eight feet tall."
He laughs.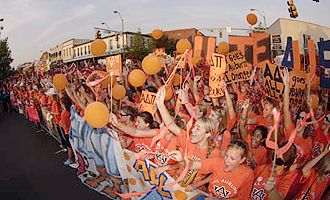 Bruce Newman for ESPN.com
Don't plan your wedding during the Auburn-Alabama game: These folks have a previous engagement.
"As a matter of fact, in the state of Alabama, I wouldn't even plan a funeral when Alabama is playing Auburn," he says. "You can die, but you're gonna wait 'til Monday."
In the summer, the season is close enough to smell the chicken frying. The good restaurants start taking reservations for ballgame weekends; the City Grocery in Oxford begins June 1. And yet everything is on hold, like a dragster spinning its tires. The tickets haven't come yet. The giant rock-and-roll tour buses sit parked in driveways around the South, many with bumper stickers like, "On the way to see the Kentucky Wildcats play!"
The hardest damn part of the summer is not jumping the gun. Fans are like players: You can't peak too early. Right after the Fourth of July, the hype begins building up steam, with all eyes pointed toward the annual SEC media days in Hoover, Ala. -- a three-day extravaganza of all things Southern and football. The South devours newspapers during media days. It was always when the season began for me, first as a fan, then as a beat reporter covering the LSU Tigers for the New Orleans Times-Picayune.
Then, soon after that, practice will start, the clacking of pads echoing in the afternoon heat. The closer the season gets, the more the mood of a town changes. Things move a bit quicker, with a little more intensity than the day before. The local hotels are painted. Coeds shop for dresses short enough to get dates to the games but long enough to hide the booze. The luxury condos that set rich fans back upward of a million dollars for six weekends a year are cleaned and stocked. Even the oaks seem different.
"The shadows they cast will change directions," says Widespread Panic drummer Todd Nance, a Georgia alum but a lifelong Tennessee fan. "Outside, the shadows look different. I can always tell fall is coming, and then all the crazy people come to town and go nuts."
One morning, everyone awakens to find football season has arrived on the outskirts of town, a savior, like rain on a parched crop.
It's time.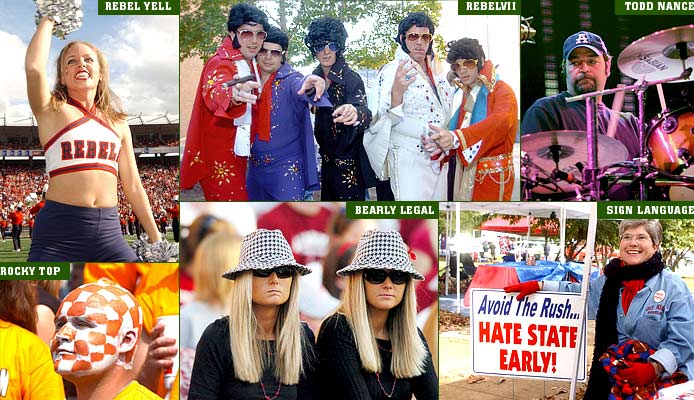 Todd Nance: Robert E. Klein/AP Photo; All other photos: Bruce Newman for ESPN.com.
SUMMER TURNS TO FALL
The jet engines sound like a roaring crowd. A white Cessna Citation, call sign N1UM, revs on the runway, the pilot standing on the brakes, building up the rpm's. Inside, Ole Miss coach Ed Orgeron is poured into a seat, ready to take off for SEC media days. Just before the wheels leave the ground, Orgeron smiles at me. He's almost shaking with excitement. I am, too. Finally, the countdown has ended.
"I knew it was a big day," he says. "Kelly got up and ironed my shirt this morning. It happens one time a year. Media day."
Show time. We fly over northern Mississippi, over the little farms and towns, places with names like Thaxton, Skyline and Shiloh, the brown dirt roads snaking through green fields. Orgeron makes notes: 1. Excited to start camp. For Coach O, as he's called in Oxford, the smells and the sounds are the things he misses most during the other three, insignificant seasons. Cut grass is his favorite. "There's nothing like a football field in August when you first walk out on it," he says.
In no time, we're on approach to the small airstrip in Bessemer, Ala. Already on the tarmac is the University of Georgia jet, which brought in coach Mark Richt earlier. We'll be parking next to it.
"It's on," Orgeron says. "It's rolling. The energy and the excitement here gets you going. It's sorta like game day."
The Wynfrey Hotel in suburban Birmingham is a zoo. Kenny Stabler is doing live radio. Television cameramen surround players, back-pedaling to catch shots of them walking. Fans press together in the lobby and crowd around the escalator to catch a glimpse of the SEC coaches, most of whom could get elected governor in their state. Kids beg for autographs. One fan musters up the courage to speak to Coach O. I am from a little town in Mississippi, but this guy talks so country that even I am not completely certain I understand.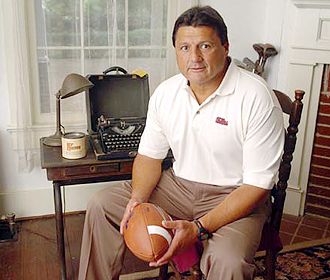 Bruce Newman for ESPN.com
Ole Miss coach Ed Orgeron, posing in front of William Faulkner's typewriter in Oxford, Miss., can't wait to write the story of the 2007 season.
"I got off at 6 o'clock in the morning waiting for you," he says. "I work for the railroad. My wife's been giving me hell. She's all pregnant."
Orgeron finds his way into the big ballroom. It's packed with Saturday night poets, men like Scooter Hobbs, who's as important in Lake Charles, La., as the Washington Post chief political writer is in the District. The room is lit with the glow from 500 laptop computers, reporters' fingers sitting on keys, waiting to praise or to hang.
After hours of questions, the day is over. There's no turning back now. The ease of summer is gone. The pressure of fall has arrived. Before leaving the hotel, Orgeron runs into Richt. I watch the two coaches smile. Today, they are friends. Tomorrow, they will be enemies again.
"Good luck, Coach," Orgeron says.
"You, too," Richt says. "We'll see you at our place."
We ride back to the airport. Richt has left on the Georgia plane, but the Tennessee plane is parked in its place, a big orange "T" on the tail. At least they're here; a few years back, coach Phil Fulmer couldn't come because Alabama fans were threatening to subpoena him if he set foot in the state. Pursuing a defamation lawsuit against the NCAA, they were gonna serve him on the podium.
Longtime Ole Miss sports information director Langston Rogers chuckles.
"Coach Vaught would probably blow that plane up," he says.
The pilots welcome us aboard.
"Y'all enjoy yourselves?" one asks.
"We're still undefeated, baby," Orgeron says, a grin on his face.
It's only 30 minutes back to Oxford, and that smile never goes away. I am ready for toe to meet leather, as a friend puts it, and so is Coach O. Cool air blows from the vents. Tupelo and then Pontotoc flash beneath us, U.S. Highway 78 just a thin trickle of asphalt.
"You spend most of the summer relaxing and all of a sudden ... boom!" Orgeron says. "It's energizing. You get a charge from it. Your thoughts immediately change from vacation to football."
Orgeron looks up at us from his seat in the middle of the Ole Miss jet.
"Monday morning," he says. "lock the doors."
"No interviews Monday," Rogers assures.
"Lock the doors," Orgeron says. "Turn off the cell phones. The vacation's over."
All photos by Bruce Newman for ESPN.com
FALL
I close my eyes.
The air smells like sweat and fresh grass. Behind me, Vaught-Hemingway casts shadows over the Ole Miss practice field. Today, they are painting "Rebels" on the outside of the stadium. They are cleaning the inside, stocking it, as if for a long voyage. Big dragonflies circle like fighter jets. The sky is Ole Miss blue. For a moment, I stand there, just letting the sounds of football cover me. A thump of a foot on a ball. Toe to leather. A sudden shriek of a whistle. The screams of a linebacker: "Tall right! Raider! Raider!" A coach screaming even louder: "Tempo! Tempo!" The calm, measured words of the quarterback: "Blue 43 ... Blue 43 ... hut-hut."
Orgeron claps and the entire team claps with him, the sun shining off the blue helmets, young men from all over the country, from California to the Mississippi Delta, young men who can never truly appreciate how many hopes and dreams hang on their actions every Saturday afternoon. Orgeron understands. "Nowhere to hide," he yells. "Nowhere to hide today. We're watching everything you do. Everything counts. Let's rock and roll."
I leave practice for a moment, wandering inside the cool belly of the stadium, then out into the bowl, working row by row, section by section, over to my family's seats. Section O, row 61, seats 1-4. There are about a dozen folks in the entire stadium when I sit down, relaxing in the shadow of the upper deck, picturing this place full, and other places like it across the South, imagining what that holy noise will be like. Chill bumps run up and down my arm. The only sound today comes from the gas-powered pressure washers, pushing 3,700 pounds per square inch, making sure this place is spotless when the Missourah Tigers come to town.
I love these seats. I love that Stephen Wiley Vaught sits just a few rows over from us. He was my daddy's college roommate, maybe his best friend in the world, and not long ago he summed up attending the installation of a new Episcopal bishop thusly, without irony: "I haven't seen anything this impressive since Archie Manning's junior year."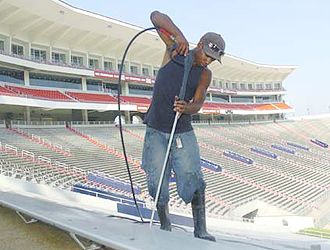 Bruce Newman for ESPN.com
The seats inside Vaught-Hemingway Stadium can use a little extra attention. They'll be rocking all fall.
I love how people who get it are standing up in their office chairs right now ready to get it on and people who don't are scratching their heads and wondering what in the hell is wrong with these rednecks. I love seeing former Ole Miss coach Billy Brewer jog past with his shirt off. Once, he'd been king of this town. Then scandal, a firing and a lawsuit against the school tore down his throne. But I love that he still comes here. I wonder whether he hears the echoes. I imagine we all do. I think he does for sure. Once, he asked a stranger to sit in the cab of his pickup truck and listen to Elvis Presley sing "Dixie." Yes, he remembers. I love that he's stopped on a concourse, peering down into the heat, watching another coach scream at the Ole Miss Rebels, "No free lunches out here."
Practice comes to a close -- just a few weeks until the first game. The town is alive. Classes started last week. Football season's not coming any longer. It's here. A few hours later, I stick my head into the first band practice of the year. "Pride of the South," it reads on the side of the building. They're in a semicircle, starting with flutes and piccolos, working up to the shining sousaphones in the back.
Finally, after months of waiting, it happens. The first slow "Dixie." The name on the sheet music says, "From Dixie with Love." The drums start first. Then an A-flat, an F, a D-flat and we're off. The trumpets and mellophones come in. Then the bass drums, big heavy booms. The snares rattle, the drummers jumping up and down. Rising tidal waves of brass, each reaching higher than the one before, carrying everyone along for the ride.
The band is going full speed, game-day speed, low to the ground and accelerating, a trombone player tapping his foot. Cymbals crash, the notes bouncing around the room, playing a song for our fathers and for our children. I love almost everything about the South. I love the beautiful weirdness of it. I love the burn of catfish right out the grease, and I love the heat of a late-night juke joint, all the songs about heartache and sorrow and pain. I love the mustardy tang of Carolina barbecue on a Sunday afternoon. But right now, I love this moment most.
I close my eyes once more, and I see an ocean of red and blue, grandmothers in Chanel and frat boys in Widespread Panic hats. I see Stephen Wiley Vaught in seersucker and white bucks. I see the green grass of the Grove and the young boys wearing replica jerseys. I see the beautiful scenes of fall in the South, from Lexington to Tuscaloosa, from Fayetteville to Baton Rouge. I see the Vol Navy, and a hand ringing a maroon cowbell, and a cute little girl in pigtails screaming, "Tiger Bait!"
I see football season.
Join the conversation about Wright Thompson's ode to Southern Football.
Wright Thompson is a senior writer for ESPN.com and ESPN The Magazine. He can be reached at wrightespn@gmail.com.