KUMEU, New Zealand
-- Sitting on his deck
in his trademark sandals, shorts, tank top and
baseball cap, Steve Williams is eating strawberry ice cream.
Not from a bowl, a cone or a sundae dish, but straight out of
the carton. He doesn't care how this looks. Doesn't care what people
think. Every man has a weakness, Williams explains, and ice cream is his.
As Williams indulges in his creamy dessert, his 2-year-old son, Jett, climbs out of his high chair and walks to the narrow patch of grass in front of their home where a miniature golf club lies. The boy picks up the club and starts hacking away, smiling from ear to ear as he sprays plastic balls all over the yard. A few pelt an orange Ford Falcon in the driveway. Jett laughs. So does his dad.
Steve Williams talks with Lisa Salters of "E:60" about life, racing and his bond with Tiger Woods.

"I've never shown him a thing," Williams says. "Never said a word to him about golf."
"He's picked it up from watching Tiger on television," Jett's mother, Kirsty, adds. "They'll show Tiger, and he'll see Steve's leg or something and then start yelling, 'Daddy, Daddy, Daddy.' Then he looks at me and goes, 'Golf, golf.'"
The kid's swing is nearly flawless, eerily reminiscent of the swing Woods himself introduced to the world when he appeared on "The Mike Douglas Show" as, yes, a 2-year-old.
But perhaps more jaw-dropping than the kid's preternatural mechanics are the actions of his father. For one thing, Steve Williams is sitting still. The man who can't sit through a movie is patiently absorbing one of the finer moments of fatherhood. He isn't yelling. He isn't competing. He isn't chasing down cameramen or wearing his emotions on his logo-covered sleeve.
No, Williams is merely observing. It's a rarity in the life of the world's most famous caddie, a moment of escape from a lifelong quest to always be the best. At everything. It started when Williams was 13. Too young to drink. Too young to drive. Too young to vote. But old enough to have life figured out.
Watch "E:60"

For an in-depth look at Steve Williams' relationship with Tiger Woods, watch "E:60" on Tuesday, April 15, at 7 p.m. ET on ESPN. For more on "E:60,"
check out the show's video hub
.
Back then, he didn't want to be a doctor, a firefighter or a rugby star. No, the confident teenager who despised school wanted to spend the rest of his life carrying someone else's golf clubs. He loved washing cars and mowing lawns, tasks that, upon completion, gave him immediate gratification. Caddying provided the same satisfaction, plus it paid a lot better and required a complex variety of subtle talents.
"I could see that the guys I caddied for did well," Williams says. "I enjoyed it more than playing. Once I decided that's what I wanted to do, I was willing to do whatever it took to be the best."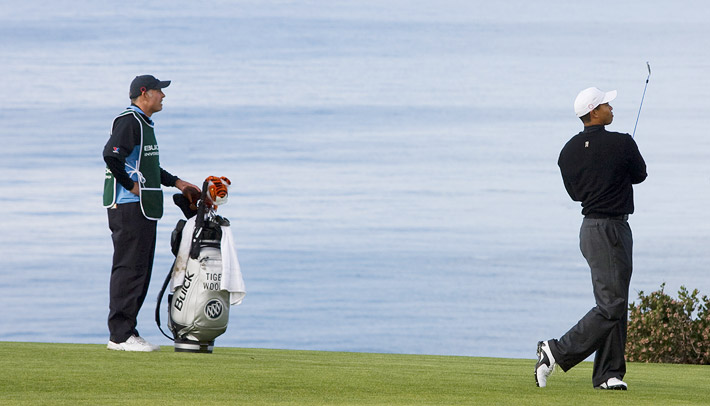 Ross Dettman for ESPN.com
Steve Williams knew at a young age that he wanted to be the world's best caddie. He ended up with the right golfer.
It took quitting school, working in a butcher shop and selling fresh mushrooms on the side of a road. It took leaving home before his 16th birthday, moving in with a taxi driver in Australia and creating many a sleepless night for his mother back in Wellington, New Zealand.
"I worried about him all the time," Kay Williams says. "I told him, 'No. Absolutely not.' But it wasn't like I could block the door. He was so focused, so driven. Once Steve's mind is made up, that's it."
The Masters on ESPN

Watch the first two rounds of the 2008 Masters live on ESPN this Thursday and Friday (4-7 p.m. ET and 8-11).
Also, you can watch the Par-3 Contest live on ESPN and ESPN360.com on Wednesday at 3 p.m. Click here for ESPN.com's coverage of the year's first major.
And it took lying to Greg Norman about his age to get his first big break.
Meanwhile, 6,000 miles and a continent away, another hardheaded, ultrafocused young man had begun chasing his own dream. Tiger Woods was only 2 at the time, too young to know if New Zealand was a country or a town.
Fast-forward three decades and here's the now gray-haired 44-year-old Williams, standing on a perfectly manicured tee box, handing a driver to arguably the greatest golfer ever. Here he is, after swearing he'd never get close to another golfer after he and Norman split in 1989, carrying the bag of the best man at his wedding. And here's Woods, after meeting a writer who is working on a profile of his caddie, taking a playful jab at the Kiwi.
"A profile?" Tiger quips. "Good luck trying to make him sound intelligent."
While Woods is the reason Williams has become famous, his story is about more than the Tiger pictures, flags and golf bags that dominate his trophy room. It's about a hard-working, blue-collar millionaire who is just as comfortable on the back stretch of a dirt track in a late-model Mustang as he is reading putts on the 18th at Augusta National. It's about a fiercely competitive, win-at-all-costs perfectionist who takes nine hours to mow his four-acre yard because he chooses to use a push mower. And it's about a man who has become a hero in his homeland, not for carrying a famous man's golf clubs or winning a racing championship, but for an astonishing display of generosity.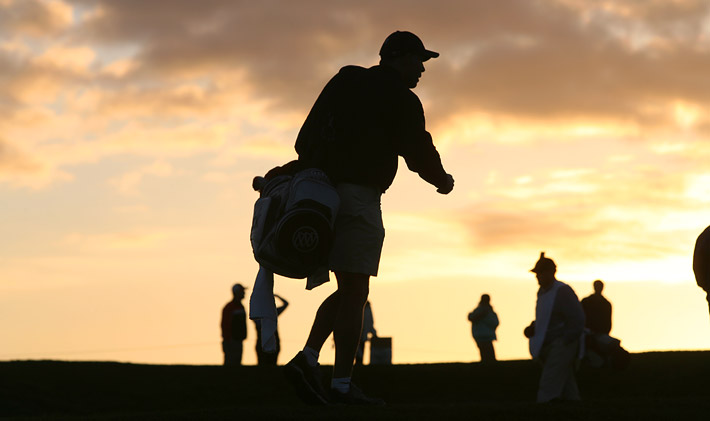 Ross Dettman for ESPN.com
Working with Tiger often means early mornings, something Williams doesn't mind one bit.
THE TONY STEWART OF NEW ZEALAND
The atlas says we're at the bottom of the world, in an exquisite and breathtaking country filled with snow-covered peaks and pristine, crystal-clear waters. But here at Auckland's Waikaraka Speedway, a small track just outside the city, Guns N' Roses is blasting over the PA system, spectators are running around in Levi's, and late model Corvettes and Mustangs are waiting to tame the quarter-mile dirt track. Whereas in golf the grass is manicured and the trousers and polo shirts are perfectly pressed, here the shirts are wrinkled, the jeans have holes and everything -- from the cars to the ground to the people -- is caked in mud. Whereas in golf excessive noise is frowned upon, here the air is polluted with the roar of some 50 352-cubic-inch engines, which not only makes conversation impossible, but sends a never-ending reverberation down your spine.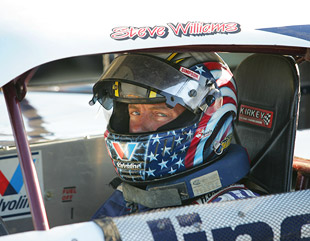 Ross Dettman for ESPN.com
Williams can't explain why he loves to race as much as he does. It's just simply in his blood.
Here, Steve Williams is the star. Though his team is called "Caddyshack Racing" and a sticker on each of his two cars reads "HOOK A KID ON GOLF," Tiger is far from his mind.
"I hate when I go to a race and I'm looked at as Tiger's caddie, because here, I'm not Tiger's caddie. I'm Steve Williams, driver of the No. 21 Mustang," he says. "And a pretty damn good driver at that."
Sitting on a trailer in the back of his stall, Williams is lacing his racing boots and preparing for the inaugural New Zealand Saloon Car Championship. It's the only time he sits down. Otherwise, the man is in constant motion, walking in one direction, pacing in another. Whether or not he's carrying a bag of golf clubs over his right shoulder, the walk is the same -- his left hand swings back and forth, his right hand hangs motionless. Williams is focused. He says barely a word. "He's always like this on race days," Kirsty says. "He gets nervous."
So does she, especially when the night begins with a moment of silence for a driver who was recently killed. Three years ago, Williams severely injured his left hand, peeling the skin back and exposing bone, when his car crashed into a retaining fence.
"My nerves are just like Elin's before a big tournament," Kirsty says, referring to Woods' wife. "The one difference being that, in this, Steve could die."
Steve and Kirsty met eight years earlier, a woman who hated golf and had never been to an auto race and a man who worked as Tiger Woods' caddie and loved racing. Now, they are husband and wife, with Kirsty peeling, scraping and scrubbing the mud off Steve's car between races while wearing her blue jeans, black Caddyshack Racing T-shirt and Prada sunglasses.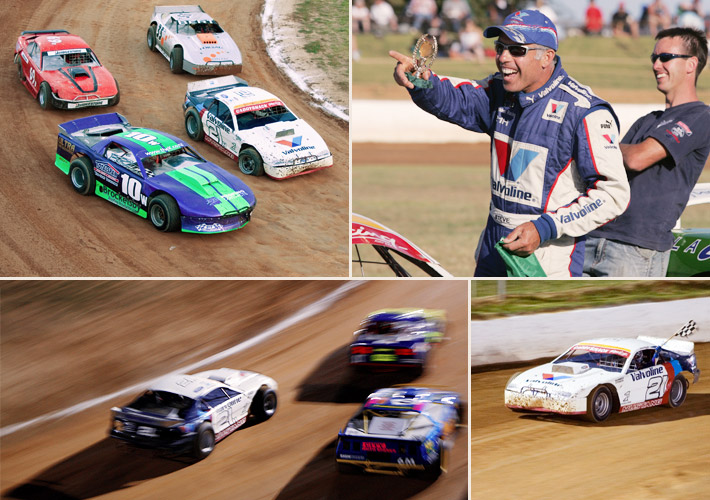 Ross Dettman for ESPN.com
The Tony Stewart of New Zealand, Williams (No. 21) is a polarizing figure for some in the Kiwi racing community.
Around these parts, Williams is the "Tony Stewart of New Zealand" -- fans, officials and other drivers either love him or hate him. On one side is all that he does to increase the visibility of the sport, bringing major sponsors like DHL and Valvoline. There are nights like when he shared his victory lap with friend and fellow driver Murray Guy, who had finished second.
But then there's the passion, fire and competitiveness that can rub people the wrong way. And the jealousy. While most of the teams are sponsored by mom-and-pop pizza shops and auto parts stores, Williams is sponsored by Valvoline. He's the only driver who wears a flashy blue Puma fire suit. Often, when he and Woods win majors together, he builds a new race car at a cost of nearly $100,000.
"Nobody has better equipment," Guy says.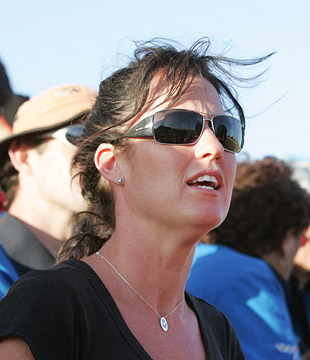 Ross Dettman for ESPN.com
Kirsty Williams nervously watches each of her husband's races knowing full well he'll often do whatever it takes to win.
On this night, in the second of three qualifying heats, Williams bumps his way past one driver, who retaliates by slamming his car into Williams'. The result is a punctured tire and a last-place finish for Williams. The fire is lit.
"G--damn car," he barks after the race. "I was cruising. Absolutely cruising. And it wasn't even close. I was right next to him, then I passed him, and then he pulled that crap? And then to not come over here and say something, not even apologize? That's being an a------."
Guy listens to his friend's rant but keeps his distance. "Steve takes it a bit harder than most of us do," he says. "And that's because when you're married to Tiger Woods, you're only here for one reason -- and it's not second place."
The punctured tire and last-place finish mean Williams has to win the last heat of the night to qualify for the next day's championship. He does just that. "My mentality was pretty much win or crash," Williams says later. "I don't usually drive like that. But I didn't have much of a choice."
The next night, in the final heat of the championship, controversy finds Williams again when he locks bumpers with Michelle Wymer, a teenager he would later refer to as "the darling of Speedway." After congratulating the winner, Williams approaches Wymer to apologize, but her father angrily intercedes, accusing Williams of driving too aggressively and serving as a bad example for the sport. Some 24 hours earlier, Williams was a father gushing over his son. Now his face is red, his body is sore and another father is attacking his character.
But that's not the worst of it for the ultracompetitive Williams. He pleads his case to race officials, telling them the bumping was entirely accidental and he doesn't deserve the proposed two-point deduction, which would drop him from second to third. Some 30 minutes later, the 1,000 or so fans have emptied Waikaraka when Williams emerges from the track office to face his crew:
"We f------ lost."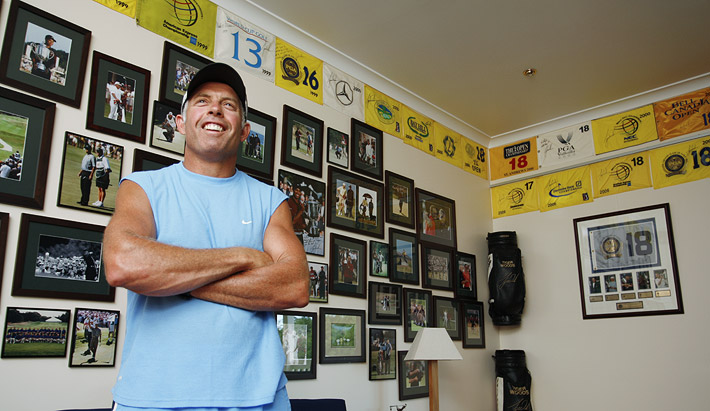 Ross Dettman for ESPN.com
Every picture and flag in Williams' trophy room tells another story about his caddying career.
A MAN WHO ALWAYS KNOWS WHAT HE WANTS
Williams is standing in his trophy room, a hardwood-floored hideaway on the second floor of his home, complete with an oval-shaped wet bar and a flat-screen television. The golf bags of Greg Norman and Raymond Floyd hang in one corner of the room. Two bags from Tiger Woods hang in another. On the back wall sit some 50 framed photos of Williams and Woods in every pose imaginable -- high-fives at Augusta National, tears at St. Andrews, smiles at Torrey Pines. In one shot, Tiger is beaming as he holds the Wanamaker Trophy at the 1999 PGA Championship. An inscription in black ink reads:
To Steve,
Thank you for all your hard work, patience and diligence.
You're the best,
Tiger Woods
Even more impressive: Pressed up against the ceiling are the flags from the 18th green of every tournament he and Tiger have won together. Every flag, dating back to the Deutsche Bank in May '99, is signed by Tiger. And every flag, Williams says, tells a story.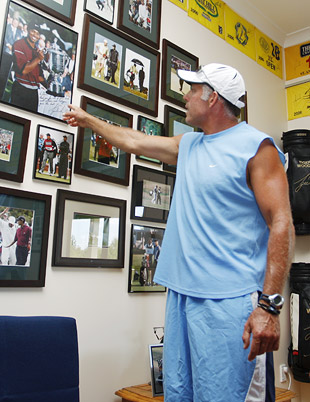 Ross Dettman for ESPN.com
A signed photo of Tiger from the 1999 PGA Championship, the first major he and Williams won together, thanks the caddie for his hard work, patience and diligence.
Bay Hill in 2000: "That was the year they changed the greens. I kept giving him the wrong yardage the entire week. In that final round, I don't think I gave him the right yardage once. And he still won."
The British Open in 2006: "I'm not a person who believes in real spiritual things, but Earl was up there looking over his son. Tiger walked on slippers that entire week. It was special to even have been a part of."
The PGA Championship in 1999 ("Nice read on 17" is written on the flag below Woods' signature): "Tiger had a long putt on 17. He thought it was to the outside of the hole, but I knew it was to the inside. I told him I remembered that shot from practice, but we hadn't taken that shot once. Tiger trusted me, the ball went in and that was that. If that ball doesn't go in, I might not be talking to you today."
Williams periodically visits this room, by himself, to absorb all he has accomplished. How could he not? From the age of 13, this was the dream. Even though he captained the country's under-15 rugby team and seemed destined to play for the All Blacks, New Zealand's rugby equivalent of the Yankees, this was what he wanted from life.
To an outside observer, it might not make sense, deciding as a teenager that your life's ambition is to carry someone else's golf clubs. But five-time British Open champion Peter Thomson, a friend of Williams' father, taught him that caddying was so much more than blue-collar labor. A caddie, Thomson told him, was part strategist, part psychologist, part mathematician and part golf-course encyclopedia. Williams was intrigued. And after he met a group of American caddies who explained he could travel the world, make an honest living and work mostly in perfect weather, he was sold.
So, unbeknownst to his parents, Williams stopped going to school and started saving money so he could leave New Zealand and chase his dream. He never even cleaned out his school locker. "I never went back," Williams says. "Not once. It's not something I'm very proud of. My niece and nephew ask about school all the time -- 'Why do I have to go? Uncle Steve didn't go.' -- but I tell them it was different then than it is now. I try to tell kids that education is hugely important in your life. But hell, here I am preaching that, and I quit school at 13."
By the time he was 15, Williams had saved $20,000 working at various odd jobs. He left for Australia, like he had the previous two winter breaks. Only this time, he never came home. Williams struck up a friendship with the cab driver who picked him up at Melbourne International Airport and moved in with the stranger, making his apartment Williams' home base. He caddied in Australia, Asia and Europe, eventually catching Norman's eye and convincing The Shark he was 20 when he was only 16.
Not until Norman saw Williams' passport two years later did he realize he had been duped. He found it humorous. Williams, who carried Norman's clubs throughout the 1980s, got along with Norman so well that he allowed himself to get too close to The Shark and they both felt stifled by the mutual claustrophobia in their relationship. In 1989, the pair agreed to split. They still remain friends today. Williams then spent a decade with Floyd, helping him become the first player to win PGA and Senior Tour events in the same season.
In the caddying world, Williams had made it. But not until Butch Harmon called in 1999 wondering if he would be interested in joining Team Tiger did Williams reach the pinnacle of his career.
Now, the joke on tour is that Williams is the second-leading money winner, behind Woods. Williams refuses to discuss his financial arrangement, insisting he works to win golf tournaments, not collect paychecks. But in the nine years Woods and Williams have worked together, Tiger has earned nearly $70 million in prize money. A caddie typically pockets 10 percent of his golfer's winnings, which would put Williams' earnings over the past decade in an elegant neighborhood.
And Williams knew just what to do with a good chunk of that dough.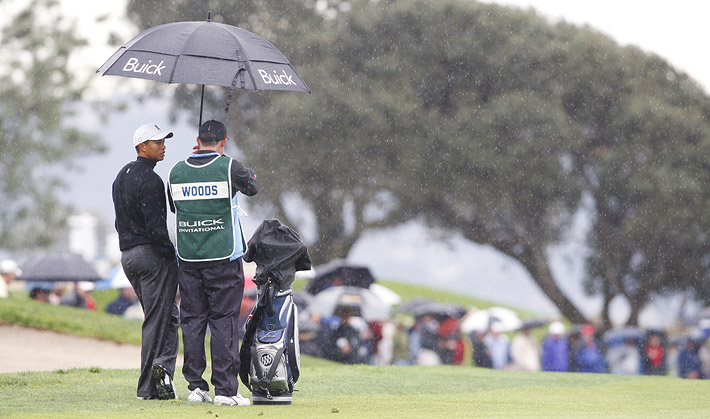 Ross Dettman for ESPN.com
Even when clouds hover over their partnership, like at the Masters in 2003, Tiger has stood by his caddie.
A HEARTWARMING AND LIFESAVING GIFT
Andrew Young, the chief executive for the fundraising arm of Auckland's Starship Children's Hospital, was sitting in his office one day last year when Williams called. He and Kirsty had received a generous amount of money from their wedding and were looking for a charitable cause.
So Young set up a visit to the Starship oncology ward, which was in desperate need of expansion. There were four beds to a room. Parents slept on the floor. Teenagers shared rooms with toddlers. A family that just found out its child had cancer might be forced to share a room with a family whose child was dying from the disease. "It created a huge amount of stress, anxiety, frustration. There's a lot of anger," Young says. "And with oncology patients, you want to keep their spirits high. It was hardly ideal."
Steve and Kirsty took the tour, talking to families and meeting patients. They were especially touched by the emotional meltdown of one 4-year-old boy who kept screaming, yelling and stomping his feet as he headed for treatment.
"When you see these kids that are victims of this disease for no fault of their own, it breaks your heart," Steve says. "They haven't been in an accident, they haven't done anything wrong. And yet this is the life they've been dealt. It's gut-wrenching. I took one look at that boy and told Kirsty we had to do something."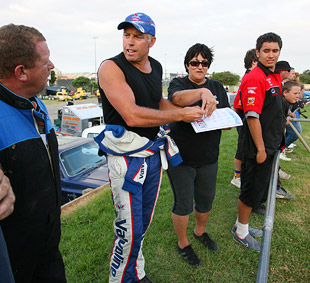 Ross Dettman for ESPN.com
Williams signing autographs, a rare sight at golf courses in America, is common at tracks in New Zealand.
Young could sense the Williamses were touched and felt confident the couple would help out, expecting a donation of about $200,000, an amount Young says would be typical for someone of Williams' stature. But later that day, Williams called back and told Young the couple wanted to make a seven-figure donation, an unprecedented amount in the hospital's history.
"I thought the world of Steve before, but this took it to a whole new level," Young says. "I told him, 'I hope you know that you just helped some kid beat cancer today.'"
It was only the first step. Though many public figures make charitable donations for the publicity, Young had to persuade Williams to hold a news conference, a move that would help the hospital raise even more money. So a few months later, against his wishes, there Steve stood, in a Starship meeting room, dressed in slacks, a black button-down and shoes with covered toes, struggling with his emotions.
"I'm not usually short for words or find it hard to speak, but that day I was fighting back the emotions," Williams says. "When I looked out and saw these kids, their joy and their parents' joy at what we had done, it was amazing."
Because of the donation, as well as the work of the Steve Williams Foundation, which raises money to help support junior golfers and sponsor junior race car drivers in New Zealand, Williams was awarded one of his country's highest civilian honors last summer, when Queen Elizabeth II made Williams a member of the New Zealand Order of Merit.
All this from carrying a bag of golf clubs.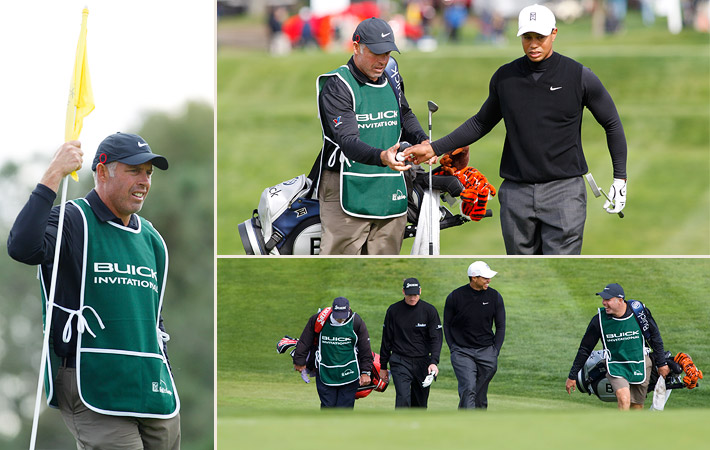 Ross Dettman for ESPN.com
Williams believes few people understand Woods as well as he does, and the same can be said for how well Tiger understands his caddie.
A PARTNERSHIP MADE IN GOLF HEAVEN
From the 12th tee at Torrey Pines for the Buick Invitational Pro-Am earlier this year, Steve and Tiger begin marching down the fairway when Tiger reveals he has never seen his caddie more uptight than the day he and Kirsty tied the knot. "It makes sense," Tiger says. "He over-married."
Steve retorts that he still plans to sue Tiger over accidentally striking him with a wedge during last year's PGA.
"Next time you should just get out of the way," Tiger suggests.
"Whatever," Steve says. "I was in all sorts of pain, not that I was going to let you know that."
Tiger tells Steve that perhaps, for the time being, they are even, because he had never been more sore than the morning after he raced a stock car during his 2005 visit to New Zealand. "And sore in places I didn't even know could get sore," Tiger says.
They're both Capricorns. They're both competitors. And they're both characters. While it's laughter that keeps them sane during the 30-odd weeks they spend together each year, it's trust that sits at the core of this relationship. Tiger knows Steve will do whatever it takes to help him win, even if it means offending a photographer or anybody else, for that matter.
Yes, he threw that camera into a lake. Yes, he kicked that other camera. And yes, if he could have figured out which camera had clicked during Tiger's backswing at the Doral in March, he would have had something to say about that, as well. Steve has no regrets. And anyone who questions his borderline bullying ways, he says, needs to walk in his shoes for a weekend.
"I get offsides a bit with the media," he had told me back in New Zealand. "I can get a bit surly. But my job is to make the playing field for Tiger the same as it is for everyone else. He ain't there to talk to every Tom, Dick and Harry at the course each day. He's there to work. And to win. And if anybody doesn't like it, that's their problem."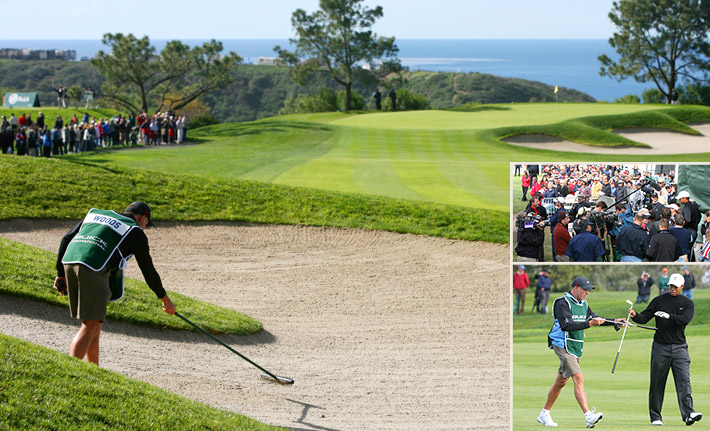 Ross Dettman for ESPN.com
Williams learned at an early age that caddying was more than manual labor -- but there's still plenty of work to be done, and sometimes that work involves running interference with the media.
Steve knows he can say whatever's on his mind -- whether or not it's something Tiger will want to hear -- and his boss will support him. "A lot of caddies, they're yes men," Steve says. "They'll say exactly what the player wants to hear. I'm not that way. I tell him whatever I think."
Tiger wants it that way: "A lot of guys would rather have it as a player and a caddie, two individuals. But we're a team."
And at no time was that teamwork tested more than on Sunday at Augusta National in 2003, when Steve convinced Tiger to hit driver on the 350-yard par-4 No. 3. With a stiff wind at their backs, Tiger was unsure of using a driver, but Steve was adamant. Tiger relented, drilled his tee shot into a bush and eventually double-bogeyed the hole.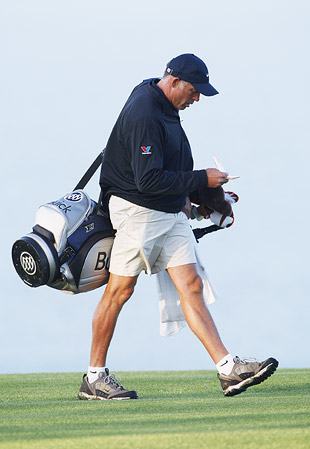 Ross Dettman for ESPN.com
Being a caddie, Peter Thomson taught Williams, is part strategist, part psychologist, part mathematician and part golf course encyclopedia.
The shot knocked Tiger out of contention and created a rare public clash between the two bold personalities. "In a situation like that, you get cursed out left, right and center," Steve says. "But you have to have the personality where it goes in one ear and out the other. That's all part of the job. You can't let it affect you on the next hole."
But six holes later, walking down the ninth fairway, there was Steve, barking back at his boss. "Yeah, when we were on 9, I actually gave Tiger a pretty good talking to myself," Steve says. "A few people overheard me, and the speculation was that he was going to fire me."
But a few days after the Masters, Tiger released a statement calling such rumors nonsense. "We're both extremely competitive, and we're both pretty fiery that way," Woods later explains at Torrey Pines. "I know Stevie is out there trying as hard as he can. And he's not always right. But I know he's only out there trying to help me win. And I appreciate that."
In a sport in which players and caddies break up more often than Hollywood romances, Tiger and Steve have lasted nearly a decade. Steve doesn't believe there are many people who understand Tiger as well as he does. And the same can be said for how well Tiger understands him. Steve and Tiger even proposed to their wives within a week of each other back in 2003. They used to play golf together, with Tiger giving Steve six strokes a side. But not anymore, not after Steve's 2005 racing accident left him without feeling in parts of his left hand.
Despite chatter last summer that Williams would soon retire, he says he hopes to be on the bag when Woods breaks Jack Nicklaus' record of 18 major championships. "I joke with him all the time that 21 is my number -- it's the number of my race car and everything," he says. "So I tell Tiger that he's going to get to 21 and that's it -- I'm going to bail."
As Tiger reaches the 15th fairway on this cloudless chilly morning at Torrey Pines, one of the amateurs in his pro-am group realizes his drive has landed within a few feet of Tiger's. So he bets the world's No. 1 player $100 that he can hit his approach shot closer to the pin.
Tiger tells Steve that he needs a "Thursday" swing on this one, not a "Wednesday" swing. So Steve studies the yardage, analyzes the wind speed and hands Tiger his club. The amateur shoots first, putting his approach an impressive 30 feet from the hole. Tiger then drops his ball within 4 feet. And pockets the $100. As he and Steve stand on the next tee, a par-3, Tiger asks with a smile, "What do you think, Stevie? Wednesday or Thursday swing?"
When the real tournament begins Thursday, Tiger is inconsistent with his driver, sending tee shots everywhere but the center of the fairway. After one errant shot, Tiger slams his club to the ground and Steve tells him to trust his swing. It was working on the practice range and it will work here. "That's my job," Steve says later. "You have to say something. And a little bit of encouragement can go a very long way -- even for Tiger."
Despite his struggles with the driver, Tiger shoots a 5-under 67, setting the table for his second consecutive Buick championship. As they walk off the 18th green together, one of the most critical components of their relationship is revealed when Tiger looks Steve in the eye and says, "Thank you."
"That might not seem like a big deal, but it means a lot to a caddie," Steve says. "Tiger always says, 'Thank you.'"
Next week there's another tournament and then, after an intercontinental flight home to New Zealand, Steve will walk into his house, toss aside his luggage, reintroduce himself to Kirsty and Jett and then disappear for nine hours. It will be time to mow the lawn.
Wayne Drehs is a senior writer for ESPN.com. He can be reached at wayne.drehs@espn3.com.
Join the conversation about "The Bag Man."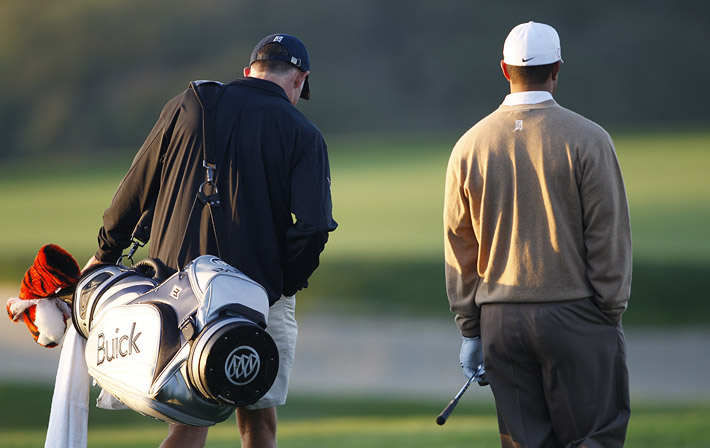 Ross Dettman for ESPN.com
Williams hopes to be on the bag when Woods breaks Jack Nicklaus' record of 18 major championships. How long he continues caddying for Woods beyond that is anyone's guess.