OTL: Game in the Shadows

t was the squishy chicken dinners that brought them back together.
They were local football heroes -- one collegiate and one professional -- and therefore in high demand on the Texas banquet circuit. They turned up on the same dais more than once, and it was while receiving hosannas from civic leaders and businessmen that they became friendly. Despite his rep as a goody-goody, the Cowboy was a good sport with a puckish sense of humor. And the Longhorn? Well, there weren't many who met him who didn't like him right off.
The Cowboy is Roger Staubach, one of the all-time greats. The Longhorn is Duke Carlisle, a name mostly lost to history, except for a few old-timers in the Texas hill country. Forty-five seasons ago, on Jan. 1, 1964, they met in a colossal meeting of No. 1 vs. No. 2 in the Cotton Bowl, Staubach's second-ranked Naval Academy taking on Carlisle's top-ranked University of Texas. The result was unexpected, in both substance and style.
But the game was even more memorable for the shadow under which it was played. Six weeks earlier, President John F. Kennedy had been assassinated in Dallas, just a few miles from the Cotton Bowl. Worldwide antipathy toward the city and the state made the Longhorns the unequivocal bad guys, representatives of a place that became, for a time, a synonym for lawlessness in the 20th century.
And just who came to town seeking to wrest away the title of best team in America? Navy, forger of wartime heroes such as Halsey and Nimitz, men who had fought for the country all over the world, a school whose very name evoked service, a concept prized and famously evoked by the dead president -- himself a World War II naval hero -- in his inauguration speech three years earlier.
To a shocked and saddened nation, the Cotton Bowl was America's Finest against the "City of Hate," one side led by the 1963 Heisman Trophy winner, the other by a rawboned kid nicknamed Duke.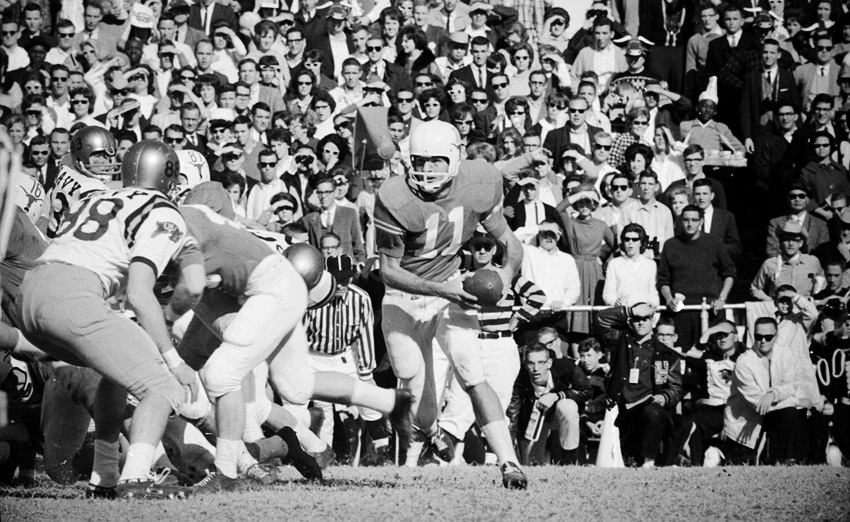 Herb Scarfman/Time & Life Pictures/Getty Images
Duke Carlisle didn't throw the ball often, but he did fuel the potent Texas offense with his legs.
DUKE AND JOLLY ROGER
Emmett Augustus Carlisle sounds like the name of an investment banker, someone who wears sailor hats around the house and plays a little polo in his downtime. But that sure doesn't describe Duke Carlisle. His daddy and granddaddy back in Athens, Texas, were also named Emmett, "so they called me Duke to differentiate me from the others."
Roger Staubach came about his nicknames the old-fashioned way -- from sportswriters desperately trying to one-up each other. There was The Dodger, of course, but also Captain Comeback, Captain America, and the nautically themed Jolly Roger.
Duke was a full-fledged BMOC in Austin; had Frederick Exley gone to Texas, he'd have hero-worshipped the Duke and written "A Fan's Notes" about Carlisle instead of Frank Gifford. They called his posse Carlisle's Crowd, and it seemed to encompass half the senior class. He was tough to miss, the tall, broad-shouldered, blond-haired kid moseying about campus with Penny Lee Rudd, his girlfriend, better known around the state as Miss Texas of 1963. The dream couple wouldn't last, but that was the deep pool Duke was swimming in.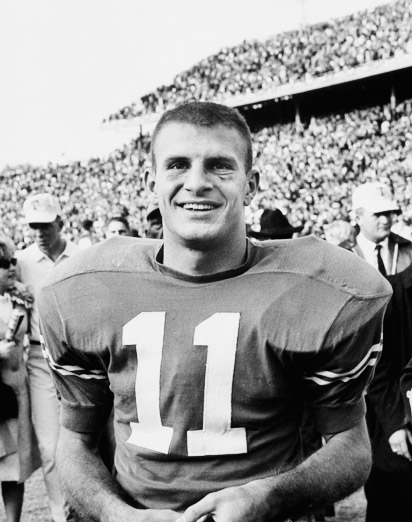 Herb Scharfman/Time Life Pictures/Getty Images
Carlisle was the clear alpha dog on the Austin campus.
Roger, by contrast, lived an ascetic's life at Navy, busting his butt to keep up with the demanding academic schedule, while remaining true to his girlfriend since the first grade, a nursing student named Marianne Hobble whom he would marry and stay with until this day. (Years later, Staubach would famously declare that he liked sex as much as Broadway Joe Namath, it's just that he had it with one woman.) Handsome in a more subtle way than Carlisle, Staubach eschewed the party life, preferring Mass each morning and water balloon fights to let off steam.
Pretty much since watching the Horns take out hated Oklahoma when he was in junior high, Duke had his mind set on going to Texas. Staubach, always the scrambler, naturally took a more circuitous route to Navy. While dominating games in suburban Cincinnati, Staubach was heavily recruited. Ohio State was all over him, but Roger thought Columbus "too worldly." Notre Dame blew its chance by briefly withdrawing its scholarship offer. He loved the idea of the Naval Academy, but his math wasn't good enough.
So Roger trundled off to Roswell, N.M., for a year of junior college at the New Mexico Military Institute. Area 51 wasn't exactly a football mecca, but Staubach learned enough calculus there to qualify for admittance to the academy in 1961. Midway through the '62 season, he took over the starting QB job and never gave it up. Carlisle started as a safety before getting some time at QB as a junior. By '63, he was ready to take over as full-time starter.
Both men were superb athletes. Staubach was a standout on the Navy baseball team, and he once shut down Army's top scorer in a basketball game. Carlisle was speedy, maybe even faster in a straight line than Staubach. Longtime Texas writer Mike Shropshire recalls that Carlisle once outraced in a 100-meter dash a couple of high school teammates who would later play in the backfield at TCU. So what? Duke had hurdles in his lane.
And both were tormented away from the field, Roger by members of his 16th Company eager to enforce discipline, especially during his plebe, or freshman, year; Duke by sadistic Longhorn trainer Frank Medina, who would have his charges run up the stadium steps -- 78 in all -- in sets of 20. ("It was about a week before I could step off a curb," says Phil Harris, the star sophomore end on the '63 team.) "This isn't punishment, it's part of your education!" Medina would scream, usually as an unfortunate player was revisiting his breakfast.
Duke was loose, laconic. His center, future Texas coach David McWilliams, credits Carlisle with making him understand that not all players had to get wound up tight before games. In contrast, wrote Los Angeles Times columnist Jim Murray, Jolly Roger "made Pat Boone look kinky."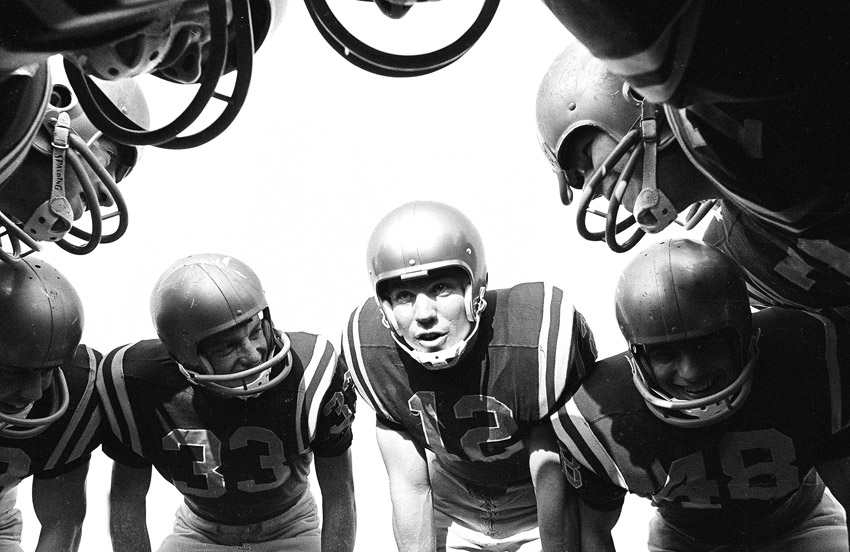 AP Photo/Charles Gorry
Expectations were high for Roger Staubach (12) in 1963, and the clean-cut QB produced a weekly highlight reel for Navy.
LIVING UP TO THE HYPE
Beyond the earth-changing events happening in the real world, 1963 was also a time of myriad beginnings and endings in college football. For the first time, a school openly pushed one of its players for the Heisman Trophy. In this era of marketing campaigns, it is refreshing to recall that idyllic time before Navy sports information director Budd Thalman. "Someone called me 'the Father of Heisman Hype,' and I've been trying to live it down ever since," says Thalman, who in '63 was merely dipping a toe into the waters of a five-decade association with college and pro football. Thalman was awed by Staubach, especially his incredible performance against Army in 1962, when he threw for a pair of TDs and ran for two more in a 34-14 pasting of the Cadets. Thalman put together a "modest" four-page brochure, with stats and quotes from vanquished enemy coaches, and slipped one into every press-release envelope he sent out.
One summer day, Navy's red- (and hot-) headed coach, Wayne Hardin, sidled up to Thalman and suggested he add a weekly trip to the New York Football Writer's luncheon to his duties. So Thalman hopped on a train every Monday morning, passed out his Jolly Roger propaganda and was back in Annapolis, Md., in time for dinner. One writer for The New York Times christened Thalman the "Official Promulgator of Staubachian Statistics." Perhaps it was meant condescendingly, but the strategy would pay off at another New York City get-together in December, at the Downtown Athletic Club.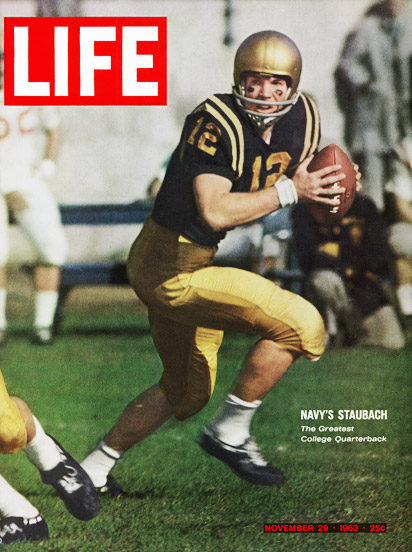 Herb Scharfman/Time Life Pictures/Getty Images
The Staubach hype machine was in high gear from coast to coast.
Hardin was an offensive mastermind with a grim outer shell. He wasn't particularly well-liked in Annapolis, but then again, he beat Army four straight times heading into '63, which made up for a lot. Hardin always wore his lucky green felt hat, and he loved cheesy motivational ploys. In '62, Army's howling defense was nicknamed the "Chinese Bandits." Hardin went to the language department and had "Beat Army" stenciled on his team's helmets -- in perfectly correct Chinese characters.
Navy was stocked with good players, from team captain Thomas Lynch to receiving tandem Dave "Sugar" Sjuggerud and Jim "Soupy" Campbell. But Staubach, harder to corral than a greased pig, was the all-purpose engine that made Navy a title contender, ranked 10th in the preseason AP poll. Many pundits believed Roger could win the national championship single-handedly.
You know that old adage about how three things can happen when a quarterback throws a pass and two of them are bad? Darrell Royal, the coach at Texas, was the guy who actually said it first, which might explain why 1963 marked the end of an era, when football in the Southwest Conference meant running the ball almost exclusively.
"Even by '60s standards we ran it a lot," Carlisle recalls. "We weren't going to throw just to do it." It was said of Royal's bunch: "They don't beat you, they just bore you to death." The coach was already considered one of the smartest guys around, but in 1963, he was still searching for the big victory that would cement his legend. His method was firmly in place -- recruit a bunch of disciplined kids who were "straighter than 6 o'clock," 10 or so at every position, and have them battle for playing time at every practice. "No position was ever safe," Carlisle says. And they weren't the supersized studs of today -- few Horns tipped the scales at more than 190 pounds.
Texas ran the same wing-T option attack as the team Carlisle led at Athens High, back amid the pine forests of East Texas. Duke called the plays, and if the offense wasn't moving, he took it very personally. "I was all about intelligent offense. Run the plays that are effective until the other guys stopped it," he says. Although Duke loves to watch Colt McCoy, Sam Bradford, Graham Harrell, and today's other Big 12 bombardiers bomb away, he doesn't feel as though he missed out on something. "Colt throws more times in a game than I did my whole career. But our style was fun because we won."
Indeed, Carlisle's class would lose only once in three seasons, but the seniors still entered 1963 with something to prove. Although ranked in the preseason top five, Texas wasn't taken seriously as a national championship contender. UT had acquired a rep for being the talented tiger that stumbled when least expected and might not have the stomach lining to take the big prize.
Texas crushed its first three foes, but looked to be significantly inferior to Oklahoma, which blew out USC in the opener and was predicted to win the championship behind devil-may-care fullback Joe Don Looney. The fourth game of the season, the Red River Shootout in Dallas, would surely send Royal's group whimpering back to Austin with another non-title season ahead.
Meanwhile, Staubach was a whirling dervish back East. "I think he won the Heisman in the third game of the season," Thalman recalls. "He had 300-plus yards of total offense in Michigan's Big House, on national TV, in front of the Big Ten media contingent." Navy won that day, 26-13, to go 3-0.
As fate would have it, the Midshipmen's next stop was also Big D.
BIG WEEKEND
Navy actually played in the Cotton Bowl twice in the 1963 season. The first time was against SMU on a Friday night at the Texas State Fair, the night before Oklahoma met Texas. The Mustangs would finish 4-7, but on this night, they shocked Staubach, who was at less than full strength -- he dislocated his shoulder at least twice during the game. With the help of some extremely dubious officiating (the refs were suspended after a review of their shoddy work) and flanker Ed Orr's drop of a sure TD pass in the final ticks, Navy was upset 32-28.
At the same time, the Longhorns rose to No. 1 in the AP poll by whipping the Sooners, although the high ranking was more an obligation on the part of voters than genuine respect for their talent. Most in the media felt the level of play in the Big Ten and among the northern independents was simply superior and certainly more entertaining. Carlisle's stat line against OU wasn't going to change any minds -- he threw exactly three passes, completing one.
DUKE SAVES THE SEASON
In 1963, players still went both ways. These were the dying days of two-way play. Three players could be substituted freely in '63; everybody else played the full 60 minutes. Staubach was one of the specialists, never playing a defensive down. Carlisle was a starting safety as a sophomore. "It was the only way to get on the field," he says. Once he took over as QB, he stopped playing defense. That is, until one crucial moment when he saved the undefeated season.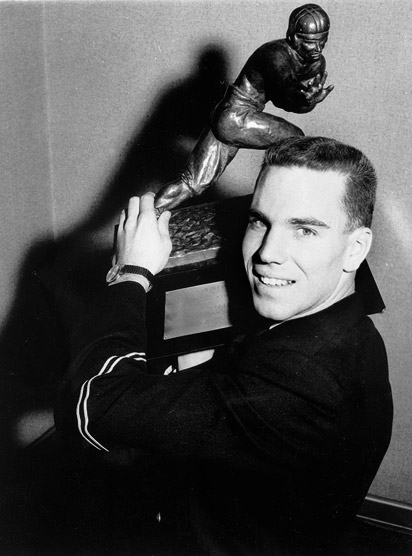 AP Photo/Jacob Harris
Thanks in part to Budd Thalman's campaign, Staubach was a clear choice for the Heisman Trophy.
Texas, then 8-0, was eking out a 7-0 nailbiter against Baylor, the lone SWC team devoted to throwing the football, when Texas fumbled late in the game, giving the Bears a chance. Carlisle was trotting off the field when he saw the coaches waving him back in. Defensive coordinator Mike Campbell had a hunch his veteran had retained enough muscle memory as a defensive back to make a play. Sure enough, in the dying seconds, when Baylor's All-American end Lawrence Elkins broke wide open in the end zone, Carlisle intercepted the pass, a stunning play with the game on the line.
Staubach's magic was taking place on a weekly basis. His individual brilliance, in addition to spurring Navy to five straight wins after the SMU game, ushered in the era of the scrambling, as opposed to running, quarterback. Where Carlisle ran it as a planned part of the attack, The Dodger improvised, riffed, scatted -- most plays, it was hard to know whether a run or a pass had been called.
Even his teammates were bedazzled. "I thought I'd seen it all on the football field, but against [the] Duke [Blue Devils], Roger made a play I still can't believe," Lynch says. Navy had a play in which Staubach faked to the fullback, faded back, then jumped and twisted in midair to throw a screen. "But they saw it coming and were all over it. Three defenders were on Roger. He saw the screen was covered, so he came down still holding the ball, swerved to make two of the Duke guys collide into each other, shook off the third tackler and took off about 75 yards for a touchdown." Even today, Lynch's voice is tinged with awe. The Elways and Vicks who followed Staubach never matched Captain America, insist those who saw him play.
With one game remaining, Texas and Navy were ranked 1-2 in the AP poll. Victory in its last regular-season games would cinch a Cotton Bowl berth for Texas as Southwest Conference champs, and Navy, being an independent, could head to Dallas for a showdown with a win. Momentum was building for the battle when suddenly the polls and football and pretty much everything else were rendered meaningless.
CAMELOT, SHATTERED
When President Kennedy traveled to Dallas in the fall of '63, it felt like more like a foreign journey than a routine campaign trip. Texas was decidedly hostile territory, right there in the American Southwest. For the occasion of Kennedy's visit, thousands of fliers were printed by local right-wingers, depicting the president's photo, mug-shot style, front and profile, with the words "WANTED FOR TREASON" underneath. But the crowds that greeted JFK on the streets of Dallas on Nov. 22 were rapturous. Riding in the open limousine with Kennedy and wife Jackie were Texas governor John Connally and his wife, Nellie.
"No one can say Dallas doesn't love and respect you, Mr. President," Nellie yelled to Kennedy as the people waved and cheered.
"You sure can't," he replied.
Seconds later, the motorcade swept past the Texas School Book Depository.
It was approaching lunchtime in Dallas when Lee Harvey Oswald changed history. Kennedy was due at a luncheon for local bigwigs, and with Texas and Navy eyeballing one another from across the country, a potential meeting in the Cotton Bowl was to be among the topics of JFK's prepared remarks that day. His line, which he never got a chance to speak:
"I like the idea of the Navy-Texas game, personally, and I'd like to do what I can to help, except that I know how you folks feel about federal intervention."
Another scheduled stop that fateful Friday was an hour south in Austin. Kennedy, Vice President Lyndon Baines Johnson, a Texas native, and Connolly were to stop by the Longhorns' practice, JFK having practiced the "Hook 'em, Horns" gesture for the occasion. Royal and several players had signed a ball that the team was to present to the president that afternoon. In McWilliams' memory, the team was about to start drills when a young trainer came sprinting across the field and whispered something to Royal. "I just thought, 'There's something wrong here,'" McWilliams says. Royal dropped his head, silent for long moments. "After a while, he blew his whistle, which was unusual -- you didn't get breaks during his practices. He called us all up, and said, without any preamble, 'President Kennedy has been shot in Dallas.'" Practice was cancelled, "the first time that ever happened."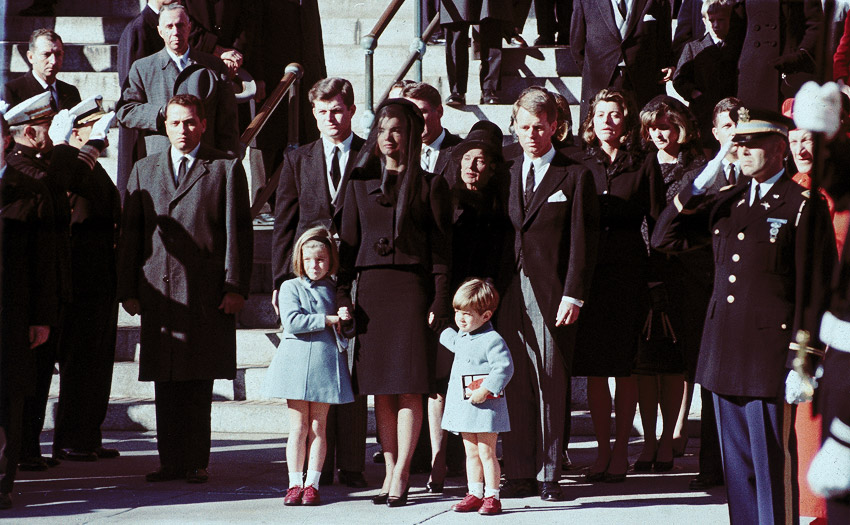 AP Photo
The first family watches the funeral procession two days after JFK's assassination. Jackie Kennedy (center) was instrumental in making sure the Army-Navy game would be played two weeks later.
TO PLAY OR NOT TO PLAY
Although the NFL's decision to play on the Sunday after the assassination is well-known, the more popular college game faced a similar dilemma, without a controlling entity to make a central decision. Some schools played as scheduled 24 hours after Kennedy was pronounced dead at Parkland Hospital. Others chose to postpone.
Texas and Texas A&M were scheduled to renew their rivalry on Thanksgiving Day, six days after the assassination. Although a few stray voices piped up to wonder whether the game should be postponed, there was never any serious consideration given to a delay, which didn't help the state's reputation in the eyes of the rest of the country. The Aggies did tear down their traditional bonfire, built annually before the rivalry game. Texas A&M head yell leader Mike Marlowe said, "It is the most we have and the least we can give."
Texas nearly blew the national championship in College Station. Some student pranksters had burned the letters "UT" onto the playing field, and the damage combined with a monsoon turned Kyle Field into a morass only a razorback could appreciate (the porcine kind, not the Arkansas kind). Texas' offense spun its wheels all afternoon.
With UT trailing 13-9, Carlisle was pulled from the game and Tommy Wade, inexperienced but possessing a big arm, entered. With four minutes left, Wade was picked off, but the intercepting Aggie foolishly tried to lateral, and Texas recovered the ensuing fumble. Given a seemingly divine reprieve, Wade brought the team downfield, only to throw another apparent interception. This time, an official ruled the defender out of bounds despite the long streak marks where his knees clearly had landed in the field of play.
Having been let off the hook twice, Royal took the hint, reinserted Duke and celebrated as Carlisle plowed in from the 1-yard line with a little more than a minute left. Texas escaped with a 15-13 victory.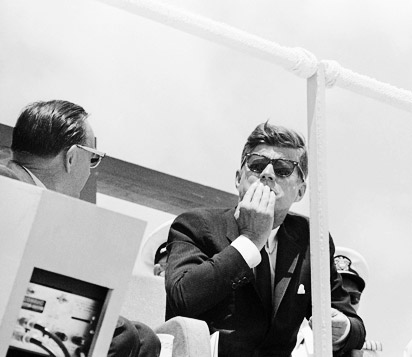 AP Photo/Bob Schutz
A big football fan, President Kennedy always had a keen interest in the Army-Navy game.
The Saturday after Thanksgiving was the traditional spot for the Army-Navy game. But no one in the armed services felt like playing. "Kennedy was one of us," Lynch explains. JFK might not have been an academy man, but his heroics aboard PT-109 cemented his naval legend. Kennedy might have kept a neutral face in public, but at heart, he was a swabbie. In the summer of '63, Hardin had brought the team to Rhode Island for training camp, and the president dropped by to toss the pigskin with the players before his trip to Hyannisport, Mass.
The Army-Navy game was special to JFK. In a letter dated Dec. 2, 1961, Kennedy explained his feelings to the cadets and midshipmen: "It is easy to pick the real winner of the Army-Navy football game: the people of the United States. For the outcome is certain from the great spirit of competition, the lessons of good sportsmanship, and the skill and perfection with which the players of both teams perform, all of which bring to the Officer Corps of our Armed Forces lasting benefit in terms of leadership. From this leadership, our nation is stronger, and the cause of freedom in the world is safer from encroachment."
In his final days, the game was on Kennedy's mind. Just before leaving for Dallas, he sent a note to the Navy team. Referencing his custom of sitting with the Cadets for the first half, the Middies for the second, the note read: "I expect to be sitting on the winning side when the game ends." Now it appeared the game wouldn't be played at all.
But Jackie Kennedy stepped in and asked that the game be played on her slain husband's behalf. It was delayed a week, to Dec. 7, of all days, and the usual pageantry and prankery was dispensed with. No floats, no taunting signs, no chanting from the corps of Cadets and Midshipmen. Just a moment of silence and a coin flip, the ritual JFK had performed the previous year.
Royal made the trip from Austin to watch his likely next opponent from the press box and was impressed by the ferocity of the game. "They're trying to maim each other!" he exclaimed at one point. The game itself is best remembered for the debut of instant replay on television sports, or as we couch potatoes know it, the greatest day in the history of the world. Quarterback Rollie Stichweh's TD run was shown a second time to astonished viewers as play-by-play announcer Lindsey Nelson yelled, "This is not live! Ladies and gentlemen, Army did not score again!" The play cut Navy's fourth-quarter lead to 21-15, and the Black Knights recovered an onside kick with six minutes left, then embarked on an epic drive that seemed destined to deny the Middies a date with Texas in the Cotton Bowl.
With 58 seconds and no timeouts left, Army reached the Navy 4-yard line. Army got off just one more futile play, as Stichweh struggled to be heard over the deafening crowd and confusion reigned. It was just the result the fallen president would have wanted -- a close, hard-fought game won by Navy.
In a subdued postgame locker room, the Navy team awarded the game ball to the Kennedy family. Then Hardin accepted the Cotton Bowl bid.
Royal left Philadelphia's Municipal (soon to be renamed JFK) Stadium a bit shaken by his first close-up look at Jolly Roger. "I had no idea he was that quick," he murmured, aware Staubach hadn't played anywhere near his best game. Then the coach flew back to Texas and into the middle of the country's ire.
OBJECT OF SCORN
Worldwide revulsion toward Dallas and Texas crested in the wake of the assassination, and intensified days later when Lee Harvey Oswald was gunned down at Dallas police headquarters by Jack Ruby. It's important to note that, in 1963, Dallas was not viewed as the worldly, cosmopolitan city we know today. It had a population of roughly 750,000 and was considered backward and distant by tastemakers on both coasts. Mike Shropshire, who has been cataloguing the bizarre aspects of Lone Star state sports for decades, remembers "one reporter on CBS saying what a shocking thing it was that the president was murdered in such a remote part of the country, implying that Texas might as well have been Azerbaijan."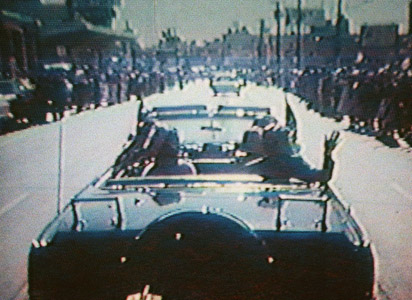 AP Photo
The assassination made Texas the center of worldwide scorn.
To locals, the tragedy was compounded by the belief that such a horrible event seemed predictable. Days before, Adlai E. Stevenson II, the United States ambassador to the United Nations, had been clubbed over the head by a local matron with a placard, and a college student had spat on him. In the wake of that episode, The Dallas Times Herald ran a front-page editorial saying the atmosphere in the city ''is not political, it is psychotic.'' Right-wing organizations such as the John Birch Society were attacked as liberal by folks so conservative they wouldn't even make change, much less consider it. Even the ultimate winner of Texan pork, LBJ himself, was jostled by an angry mob of Richard Nixon supporters during the 1960 presidential campaign.
After the assassination, the phrase "City of Hate" was commonly hurled about, although its first use is disputed. Whether it was Federal Judge Sarah Hughes, who swore in LBJ as president aboard Air Force One after the assassination, or lawyer Melvin Belli, who tossed the phrase at the city's feet like a stinkbomb during the Jack Ruby trial, or a writer of one letter from the bags full of hate mail sent to the city's mayor and chief of police in the winter of '63-64, the moniker stuck. Time magazine reported on a Dallas woman vacationing in Florida who never mentioned her hometown. In London, taxi drivers ordered fares onto the street upon finding they were from Texas. A brigadier general granted honorary citizenship of Dallas during the Korean War mailed the beribboned certificate back to the mayor's office with "Returned with shame and sorrow" written on it. Even the NFL Cowboys were besmirched, nicknamed "The Assassins" by a New York newspaper.
Down in Austin, the players, a bunch of bewildered kids just tiptoeing into adulthood, tried to make sense of it all. "I think [the assassination] was the first time any of us thought about national politics," McWilliams says. Inevitably, their talk turned inward: "Is this war? Will I be drafted?"
Today, the players and coaches recall more sadness than hate from that difficult time. It helped that they lived in a pre-Internet age, and TV had just become a true mass medium over the weekend of the assassination. Disappearing into a pigskin-only bubble was, ultimately, the only thing the team could do; it hunkered down and practiced football. "It was good to be young and dumb," Shropshire says.
"Being part of a team made it easier," says Tommy Nobis, in 1963 just a sophomore at the beginning of a Hall of Fame career. "Our seniors got us together and pointed out that we had the opportunity to accomplish something together, and that would be the best way to combat the tragedy for us."
Amid this storm of vitriol directed at his state, Royal pointed out what seems obvious in retrospect. "What some people out there forget is that Kennedy was Texas' president, too."
WHO'S REALLY NO. 1?
In 1963, and until 1968 (with the exception of 1965 -- don't ask), the AP and the various other pollsters awarded the national championship to the team ranked first before the bowl games were played. So, in point of fact, Texas was crowned as national champion after beating A&M in the muck, and the Cotton Bowl was just icing.
But whereas the system had gone pretty much unchallenged before '63, this situation riled up the country. First of all, the idea that Texas, the place where Kennedy had been slain, would win the big prize stuck in a lot of people's craw. And to folks to whom college football meant more than current events, such as the Eastern sports media, this Southwest Conference team wearing the crown was a ghastly miscarriage of justice and reason.
Loudest in his contempt for UT in particular and Southwestern football in general was a Pittsburgh writer named Myron Cope. Long before Cope invented the Terrible Towel as a Steelers radio commentator, he was a newspaperman who thundered away at the audacity of Texas daring to claim superiority over the brave lads of the Naval Academy. Some choice Cope nuggets:
"Tune in your television to the Cotton Bowl and you'll laugh yourself silly."

"The only way Texas can beat Navy is if someone slips a mickey into Roger's orange juice."

"Texas is a team populated with slow guys with skinny legs and big butts."

"Texas is the biggest fraud ever perpetrated on the football public."
Cope went further out on a limb than most of his brethren, but his views were largely shared. It was in that context Hardin found a favorable audience for a college football first, campaigning for his team to move up in the polls. An annual rite of late fall these days was fresh and surprising in '63, as Hardin insisted a Navy victory over No. 1 should give the Middies the national championship, pre-bowl polls be damned. Hardin was unpopular with the media, thanks to his curt manner and the decision to curtail interviews with Staubach during the season. But he lobbied the media hard, trying to persuade the AP to poll again after the game.
The quarterbacks knew the score.
"If we would have won the game, I would have claimed we were national champions," Staubach says.
"We wouldn't have given back the trophy or anything, but it would have left a sour taste," Carlisle admits.
THE STAUBACH CHASE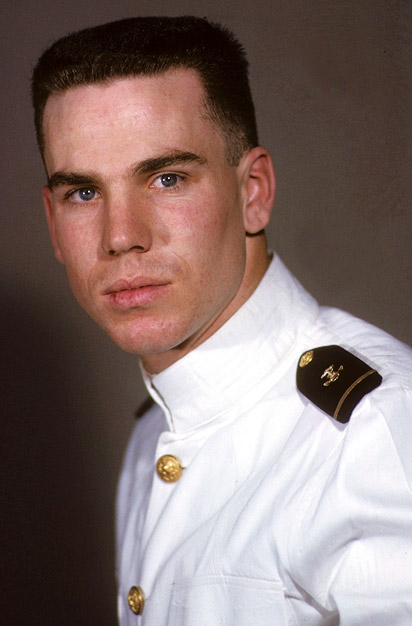 Cliff Welch/Icon SMI
Staubach cut an impressive figure in his naval uniform, but he needed to seek other duds for his night out in the Big Apple.
Navy practiced at the training facility of the fledgling Cowboys, and it was widely suspected by the media that Dallas personnel director Gil Brandt was less than airtight when it came to information he picked up around the office about Navy's tendencies. That's just one of the rumors that abound to this day about Texas-sized skullduggery. Thalman says, but can't prove, that UT coaches deciphered Navy's snap counts. More persistent still are tales that Royal & Co. had broken Navy's defensive codes. The Middies used cardboard signs to signal alignments, signs that were visible on the films the UT staff studied in the weeks before the Cotton Bowl. Ironically, given the Spygate scandal that would dominate sports news 44 years later, Steve Belichick, Bill's father, was a key assistant for Navy.
More important to the Horns' cause was the "Staubach Chase." Texas' defensive ends drilled endlessly on keeping outside containment on The Dodger. Royal had tabbed up Roger's touchdown plays that season, and more than half had come when he scrambled outside the pocket. So Royal and Campbell screamed every time the scout team QB got outside the pass rush.
Navy didn't institute any special practice to contain Duke Carlisle. It was just assumed.
In the meantime, Staubach traveled to New York to pick up his Heisman Trophy. The night of the ceremony, he and Lynch were eager to taste the fruits of newfound celebrity. "They were off to the Playboy Club in Times Square, but Roger didn't have any clothes but his [Naval] uniform," Thalman remembers. "So he made me give him my trousers and sports coat." Cuffs sneaking up his calf, Staubach appeared at the door of the club. "Just tell them who you are, and we're in," Lynch said. But Staubach was too modest to mention that he was the new holder of college football's most prestigious piece of hardware. So the two future naval officers spent Saturday night in the big city drinking milkshakes.
Realizing that a Heisman-enhanced dorm room would bring him nothing but grief at the academy, Staubach asked Thalman to hold the trophy for him. "I kept it in the trunk of my car," Thalman says.
Back in Austin, someone asked Carlisle what it was like to have to play in the shadow of the Heisman winner. "To each his own," he replied with a shrug. Asked to size up Carlisle, Hardin was succinct: "He runs well and passes adequately."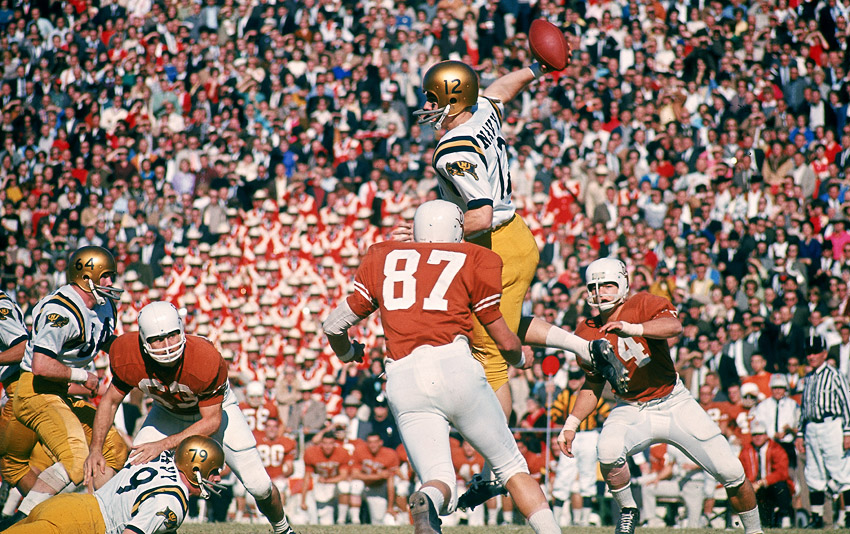 George Silk/Time & Life Pictures/Getty Images
Texas executed its defensive game plan perfectly, bottling up Staubach in the Cotton Bowl.
"WE'RE READY"
A gameday bomb threat on the Cotton Bowl failed to intimidate a full house on a comfortably warm New Year's Day. As the teams gathered in the tunnels, Nelson of CBS gathered the coaches for a quick pregame interview near the Texas players, which had never been done before. Hardin took the opportunity to politick one final time, insisting, "When the challenger meets the champion, and the challenger wins, there's a new champion."
"We all heard what he said," Texas wingback Phil Harris says. "And every neck on every player turned red."
"I thought it was a great pep talk," Royal says of Hardin's remarks. "I wanted to hug him."
All of America sure heard Royal's response: "We're ready." That's all he said, but it was the way he said it -- dead certain, with the soulless stare of a predator sizing up his next meal.
A twinge of unease shot through everyone pulling for Navy. Maybe that ramrod of a coach knows something.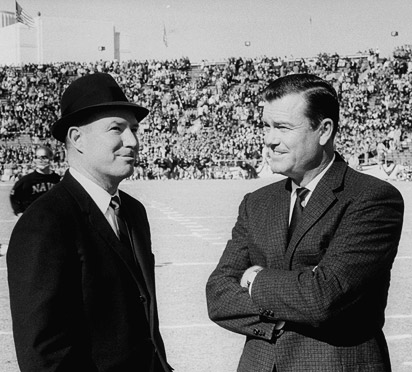 Herb Scharfman/Time Life Pictures/Getty Images
Navy coach Wayne Hardin (left) provided the Longhorns a little extra motivation, but Texas' Darrell Royal (right) knew his team was already up to the challenge.
He sure as hell did, and he showed what on the game's sixth play. After five straight runs, Carlisle called for a pass. He had confirmed Navy was playing a "wide tackle six" defense, with only a single safety deep, just like the decoded signals indicated. So with only a couple of minutes gone by, Carlisle faked into the line, ran right, then stopped and arched one back across the field to Harris. Navy co-captain Pat Donnelly, a fullback going both ways at safety, raced over to try to derail the play. He was successful only at straining a hamstring. Harris caught the pass and raced 58 yards for the touchdown.
A little later, after some more thudding runs into the line brought Navy's defense up again, Carlisle did it again, the exact same play. This time, Donnelly was wary, but the strained hammy had robbed him of his speed, and he managed only to get a couple of fingers on the pass. Harris gobbled up the deflection and was off on another long TD jaunt, 63 yards this time. It was 14-0 Texas on Carlisle's first two touchdown passes of the season. Harris had caught only five balls all season; suddenly, he was Don Hutson. "Navy just kind of sagged after that second long pass play," says Shropshire, who had "damn good seats" for the game.
Meanwhile, Roger wasn't very jolly -- he was too busy running for his life. Staubach would recall this afternoon in the Cotton Bowl as the worst beating he ever took, comparing the Texas D favorably to the famed Steel Curtain and the Purple People Eaters defenses he faced as a Cowboy. Scott Appleton, McWilliams, Nobis and a squirt of a 195-pound tackle named George Brucks "just took my head off, all day long." The ends kept containment, as practiced, and Staubach couldn't make his usual magic happen on the perimeter. On one ignominious play, Staubach collided with the referee and bounced right into Appleton's arms for a loss of 23 yards.
With a two-touchdown lead, Carlisle went back to basics, calling his own number time and again as his offense executed perfectly. He made it 21-0 with a short TD run just before halftime and soon after, called it an afternoon. He took a seat with 213 yards passing, 54 rushing and three TDs. Texas scored again to make it 28-0. The rout was on. Royal was right: Texas was ready.
Staubach padded his stats in garbage time against second-stringers, rolling up a then-Cotton Bowl-record 228 yards passing, and scored a cosmetic TD on the ground to make the final score 28-6. Texas was the undisputed, undefeated champion of college football for the first time. After all the buildup and emotion of the past six weeks, the team and the city let loose with some epic, Texas-sized celebrating. Many in America might not have been thrilled with the result, but the us-against-them feelings engendered by the backlash since Kennedy's death meant it was a victory Texans savored more than most.
"We couldn't do much about the negativity toward us, so we focused on the accomplishment," McWilliams recalls. "The satisfaction far outweighed any negativity, believe me. I'm sure the bad feelings remained nationally, but we just thought about having achieved our goals, finally."
Staubach and Navy went back to Annapolis, deflated and realizing that the business of becoming a Midshipman didn't allow for any wallowing in self-pity. More than anything, what hurt was not playing well in such a big game. "I couldn't even watch the film until a couple of years ago," Lynch says.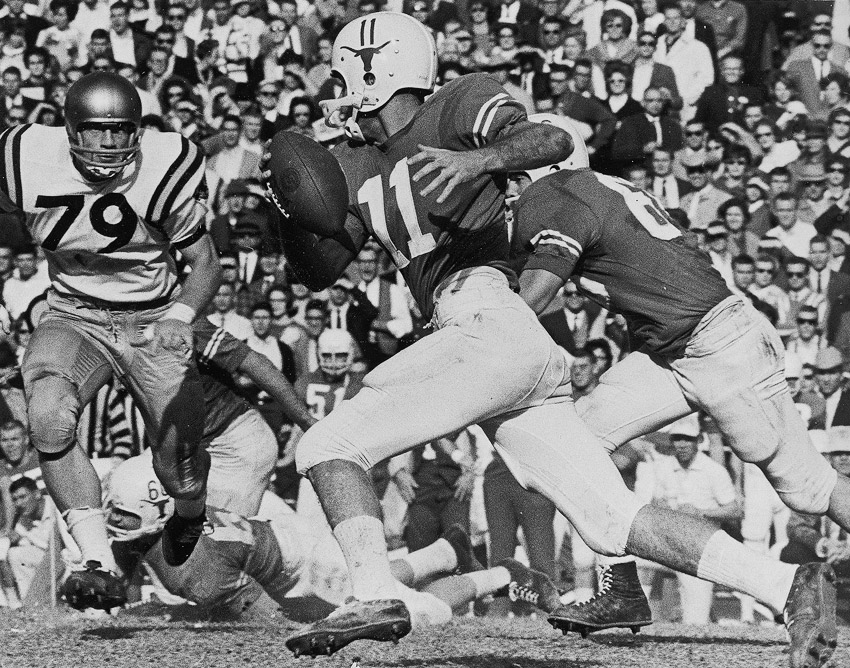 AP Photo
Tackle James Freeman (79) and the Navy defense couldn't contain Carlisle's Longhorns in Dallas.
CAPTAINS OF INDUSTRY
Staubach famously had five long years of naval service before he could play pro football. One of those years was spent in Vietnam, the others playing a lot of touch football to stay in shape. That he even managed to make the NFL was a credit to his remarkable will and athleticism. That he became a Hall of Famer staggers belief. Staubach's derring-do under center for the Cowboys had a much more significant impact than merely wins on the playing field: He helped bring a city back to life.
Staubach's time at the helm of America's Team was crucial in overcoming the stigma of the assassination. "Once the Cowboys started to win regularly, and did so with clean-cut, heroic guys like Staubach and Landry being so visible, people started to think about something else when they thought of Dallas," historian and author Darwin Payne says. Football helped ameliorate the city's self-doubt and guilt, and when the oil money started tumbling in, swagger rushed in to fill the void. Dallas was soon the familiar city of glass skyscrapers, conspicuous consumption and "Who Shot J.R.?"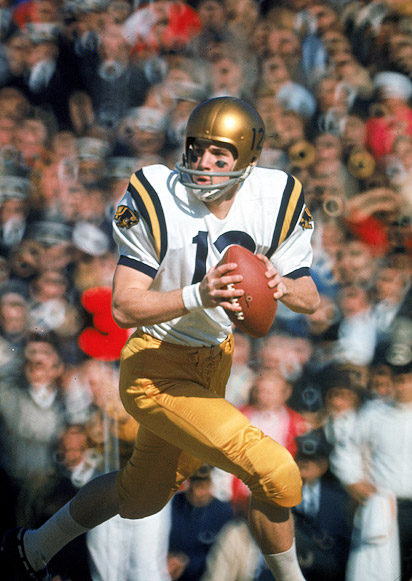 George Silk/Time & Life Pictures/Getty Images
Despite falling twice in Dallas in the '63 season, Staubach would return to rule Big D in the 1970s.
Speaking of oil, Carlisle has made the hunt for Texas tea his post-football life. He was drafted after the Cotton Bowl by Green Bay, where, as Shropshire puts it, "Vince Lombardi was amazed at how much he didn't weigh." He came back home and hung on by his fingernails to a taxi squad gig with Landry's Cowboys, but the writing was on the wall. To Carlisle, it read M.B.A. He took his degree to McComb, Miss., where he has been on the boom-and-bust rollercoaster ever since, making considerably more than he lost, and still is hard at it, knocking on doors, putting together investors, leveraging that national championship every chance he gets. "There are plenty of Texas exes in the business, but once you get in the door, it's 'Get to the point.'" The conservative, risk-free quarterback has been shooting craps for a career, marinating in the risk like a Texas strip steak.
And Staubach, the wild and woolly "No play is over until I take a shot at something" QB, built a business empire by steadily acquiring and appreciating real estate, which sounds like a fair description of Carlisle's playing style. Staubach might have starred as a pro, but he wasn't pulling down the big dollars they make today, so he began casting about for a post-pigskin career while still a Cowboy. A titan in Dallas real estate named Henry Miller brought the QB into the business, and the former Navy man proved proficient with land.
Not long after, The Staubach Company was born. It grew and grew, and this past summer Roger sold it to a Chicago-based commercial real estate competitor for north of $600 million. Not a bad follow-up act to a Heisman Trophy and a couple of Super Bowl rings.
Duke and Jolly Roger are now 66, and every bit as eager to remain at the center of the action as they were as college quarterbacks. They will always be tied together by 1963, and Carlisle's unlikely triumph over an opponent who seldom failed to achieve his goals. After the game, reflecting on the two crushing defeats in the Lone Star State, Staubach muttered, "I hope I never see this place again as long as I live." Fate put him back in Texas, though.
And, over the years, Jolly Roger has taken a more sanguine approach to the place that put him through so much trauma 45 years ago: "I always say we were undefeated in 49 states."
Robert Weintraub is a freelance writer and television producer in Atlanta. He is a frequent contributor to Slate and Play, the New York Times Sports Magazine. He can be reached at robwein@comcast.net or at www.robwein.com.
Join the conversation about "Game in the Shadows."