"I own the restaurant. There are a lot of cooks, waiters and waitresses in this restaurant. They worry about their problems. I worry about all the problems."
-- Mack Brown
Thursday, Sept. 2
AUSTIN -- This is Mack Brown's favorite day of a game week. The work on the game plan is largely done. The staff meetings by this stage are what Brown calls "worry meetings" -- there is no serious strategy left to be mapped out. The heavy practices are over. The tension of game day is still 48 hours away.
It's time to lift nose from grindstone ever so slightly and have some fun with his team.
Texas allowed ESPN.com inside the team meeting Thursday before playing Rice.

So, practice at Texas' full-size indoor bubble -- the school also has a 50-yard indoor facility because, hey, this is Texas -- includes entertainment at the beginning and the end.
It starts with trick-shot archer Frank Addington -- a buddy of Longhorns icon Earl Campbell -- who claims he can shoot an arrow behind his back and hit a baby aspirin in midair. The archer warms up by puncturing a few balloons, to polite applause from the team. Then he goes for the grand finale: nailing three aspirin with three arrows all fired simultaneously.
Everyone in the bubble is skeptical.
The salvo misses. The second salvo misses, and you can see some coaches -- notably ultra-intense defensive coordinator Will Muschamp -- beginning to wonder whether they're going to be here all day instead of getting on with practice.
On the third try, Addington announces success -- "Got 'em!" -- to a surprised audience. Fact is, the aspirin are too small to know for sure whether he hit them. Nevertheless, the team cheers and he gets to break down the huddle, sending the players off to work on special teams. (Every Texas practice follows the same general script: special teams, individual position work, group work and team scrimmage situations.)
While the Horns begin their drills, Brown positions himself at midfield so he can observe the offense to his left and defense to his right. At his side are two booster friends from Dallas, Baker Montgomery and Bill Duvall -- Brown says Duvall hasn't missed a Thursday practice in the 13 years the coach has been at Texas.
Brown chats occasionally with Montgomery and Duvall, but his eyes don't leave the field. If he sees something that needs correcting, he interjects.
"Coaches need to understand I'm paying attention," Brown says. "And players need to know I'm watching."
Several times during practice, he reaches for the pencil and paper in his back pocket.
Mack Brown loves taking notes.
During games. During practices. Watching film. Watching other games on TV. His restless mind is always sifting information and deciding how it can apply to Texas football.
In his office, Brown keeps a bound notebook of practice plans from preseason camp. On the back of each day's plan, he has covered the blank white page with notes. It could range from tiny details (wanting to know why a player is wearing one sock high and one low) to program-shaping decisions (recruiting and future schedules). All his thoughts for the day are poured out in small, neat cursive.
"He sees the big picture," Muschamp says. "Offense, defense, recruiting, public relations, alumni relations. He's always going to say the right thing, whether it's in front of the team, a group of young people or a major corporation. He has a phenomenal way of communicating to all kinds of people."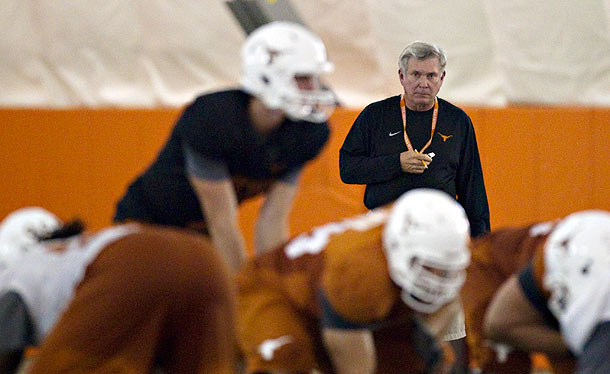 UT Athletics Photography
Brown never takes his eyes off the field during practice.
At the end of practice, the communication to the players is direct: Curfew is 10:30.
"Stay in," Brown says. "You've worked way too hard to screw up now."
Then it's time for more fun. At the culmination of a long run-up to the first game of the year, Brown wants his players relaxed and confident.
Toward that end, associate athletics director of football operations Cleve Bryant has set up a basketball competition inside the bubble. A portable goal has been wheeled in, and the defense will take on the offense -- two players and one position coach from each side.
The competition is close through the first two shooters -- tackle Kyle Hix and running backs coach Major Applewhite for the offense, tackle Kheeston Randall and secondary coach Duane Akina for the defense. But then the last shooter, end Eddie Jones, puts it out of reach for the defense. When Jones swishes his third 3-pointer, the defense erupts and charges Jones, who runs away half in celebration and half to protect himself from his swarming teammates.
From there, the Horns go into the team meeting room for a video montage -- some comedy, some football, some reaffirmation of the week's motivational messages from staff to players. The players, still in their practice shorts and shirts but no cleats, are boisterous and jovial.
They quiet down when it's time for Brown to stand up and reach for the notes in his back pocket. He tells his players the following:
A Miami Dolphins player lost a $50,000 earring at practice and had teammates helping him search in the grass for it. Lesson: Now you know why we don't want you wearing earrings to practice. And we'd hope you would spend your money wisely if you make it in the NFL -- like, not on $50,000 earrings.
An update on the debacle at North Carolina. Lesson: See how devastating selfish decisions can be to a team's goal of success? And this is why we're paranoid about agents and runners.
Only a few thousand tickets remain for the Rice "home" opener in Houston's Reliant Stadium. Brown is buoyant over the orange-intensive crowd his players will see and reminds them of the statewide reach of the program. "How many of you are from H-Town?" Brown asks, counting hands. "We do not want to go back to H-Town and stink it up."
To travel and play with class. To never get outhit. To lead the nation in effort.
"Do we think you're going to play well? Yes," Brown said. "Why? Because we've seen you play well every day in practice. Do we know you're going to play well? No. That's why we're anxious.
"We're very proud of you. We thank you for busting your tail every minute of every day. And we can't wait to watch you play."
With that, Brown dismisses the players to the training table -- freshmen will get a serving of blue rice to devour -- and the assistants to the recruiting trail. He will go home to watch the opening games of the college season on a three-TV setup -- pencil and notepad next to him at all times.