"I try to make my job look really easy. If something arises, take care of it and keep smiling."
-- Mack Brown
Friday, Sept. 3
HOUSTON -- Mack Brown is standing on the grass in Reliant Stadium. It's midafternoon, and his Longhorns are walking through a few plays in sweats. Twenty-four hours from now, they will play Rice here in the season opener.
The coach, dressed in black slacks, black blazer and burnt orange golf shirt, grins broadly. This wasn't the plan at all.
On the three-hour bus ride to Houston, Texas assistant athletic director of football operations George Wynn got a phone call from the hotel where the team was scheduled to stay. A blown generator had started a fire.
There suddenly was no room at the inn. At least no air-conditioned room.
Wynn began working on relocation immediately. While peppering Houston-area hotels with calls about vacancies, he asked Brown to stall for time.
"He said, 'Give me until 3,'" Brown said. "George is good."
Hence the impromptu walk-through of sorts. Brown's original plan was simply to have the players stroll across the surface of Reliant, get a feel for the building and the locker room, and picture themselves beating Rice here the next day. Now they had to fake a miniature practice.
The players are oblivious to the logistical scrambling going on, which is precisely what Brown wants. He and most of his staff have been together forever, and the staffers instinctively assume the upbeat, calm demeanor of their leader.
"That's why it's so important to have an experienced staff," Brown says. "This could've been a huge distraction. The kids don't need to worry about hotels. We do."
After about 10 calls, Wynn learns that the Westin Galleria can house more than 100 unexpected guests that night. And provide them an entire floor of meeting rooms. And a buffet dinner and breakfast.
But it will take some time to pull everything together.
Luckily for Brown, there is an available prop to help stretch things out at the stadium. Former Texas offensive lineman Kasey Studdard -- a member of the Houston Texans and one of a national-best 40 former Longhorns on NFL 53-man rosters at the start of the 2010 season -- is here to greet the team. Brown asks him to speak.
"One of the most passionate Texas players we ever had," Brown says by way of introduction. "He was ready to play every game."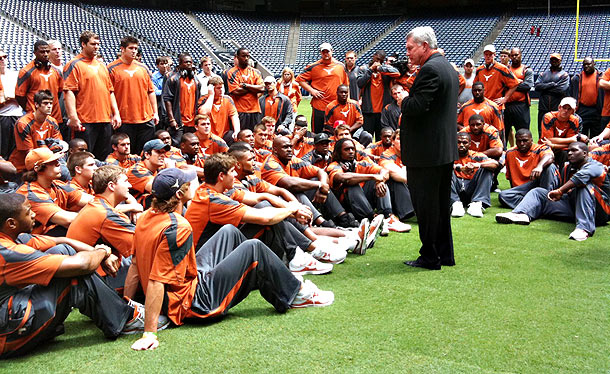 Jan Allgood/UT Football
While his staff made last-minute hotel arrangements, Brown led the Longhorns in an impromptu practice.
Among those who hugged Studdard at the stadium was Brown's wife, Sally. Her Friday ritual: handing out homemade chocolate-chip and peanut-butter cookies to every player and coach.
"Everyone here thinks that what they do makes the difference between whether we win or lose," Brown says with a smile. "For Sally, it's the cookies."
While eating cookies on the bus, Brown is sending out a flurry of texts. He's wishing good luck to college coaching friends, networking with Texas high school coaches and communicating with his staffers who are out recruiting.
Most of the Longhorns assistants went out Thursday night, scouting games and visiting high school coaches during the day today. They'll scout more games tonight. Brown is in close contact with all his assistants, getting player evaluations and getting a read on how targeted prospects are feeling about Texas.
Brown is among the top recruiters in the game for two reasons: He has the natural people skills to excel at it, and he works at it constantly.
"There isn't a day goes by that we don't talk about recruiting," offensive coordinator Greg Davis says.
In the staff meeting room adjacent to Brown's office, there are two big whiteboards. One contains the team's depth chart. The other is the recruiting board -- who has committed and who is targeted, by position and by year. One look makes it clear that the Longhorns are way ahead of most rivals in the talent procurement game.
"Outside of football," Brown says, "everything we do is team-building and recruiting."
There are three signs above the depth-chart board. The first says "Write Your Recruits." To the left of the board is a list of principles that make up the Texas recruiting profile: ability, plus a background in a winning program; good family values (usually including at least one strong male role model in the player's life); a core GPA of 3.0 or better; leadership skills within the team, school and community; confidence and happiness; toughness and competitiveness; and it certainly helps if the player "likes Texas!"
This morning, the video from Thursday's post-practice basketball contest was e-mailed to everyone on Texas' recruiting list. The individualized e-mails also wished players good luck in their games that weekend and reminded them to tune in Saturday to see the Longhorns.
But before the Horns can get to game time, they have to get checked in at their new hotel. It takes a couple of hours for Wynn and the hotel staff to get rooms assigned, so players make use of that time to cruise the Galleria mall, which is attached to the hotel. A team trip to the movies is canceled because the theater is located closer to the original hotel.
Instead, the evening consists of a voluntary team chapel service (attended by about 45 players), dinner and meetings. At dinner, Brown tells the players he appreciates them handling the "sudden change" (a football term) of hotels well. In the unit meetings, Brown sits in the back, mostly listening as his coordinators go through video to make sure the players are mentally attuned to formations and keys.
"I need to have a presence," he says. "I'm there more to be seen than anything else. I walk in, listen, say something so they know I'm here, and that's it."
In the defensive meeting, Muschamp shows a mixture of Rice and Kansas offensive video because the Owls' new coordinator, David Beaty, was with the Jayhawks last year. Muschamp quizzes his players on what their responsibilities are in different sets and says the Rice game plan is unknown enough that Texas probably will keep its defense fairly basic early on.
"Let's get our cleats in the dirt and be ready to play," Muschamp says.
Muschamp wants his defense to establish one thing right away: Texas is there to hit hard all day. Brown, who ran an NFL-style preseason camp of light hitting in scrimmage situations to avoid injuries, strongly reinforces that.
All through August, Brown chided tacklers who took running backs to the ground. He chastised them for invading "the cylinder" of protective space around quarterbacks.
"Light … them … up," Brown says. "I will not mention the cylinder tomorrow, guys. I will not mention staying up."
When the meetings are done, Brown retires to his room to watch Arizona play Toledo and to fire off a few more texts -- some for motivational purposes, some for recruiting.
Mack never sleeps long. The eve of his 37th season as a college coach will be no different.