"I started playing football in fourth grade. For 51 years, I've been involved in football. I'm old as hell, aren't I? That's a lot of opening days. Lot of opening days."
-- Mack Brown
Saturday, Sept. 4
HOUSTON -- Fifty-one opening days, and the butterflies are still there.
"When they're not," Mack Brown says, "it will be time to quit."
The joy, wonder and anxiety of opening day are what he wants his Texas players to appreciate before leaving the Westin Galleria for Reliant Stadium. Brown is a football romantic at heart.
So, in the final team meeting before the buses roll, Mack lets Kenny Chesney do most of the talking. He plays a long, goose-bump-producing video of Chesney's ode to football, "The Boys of Fall."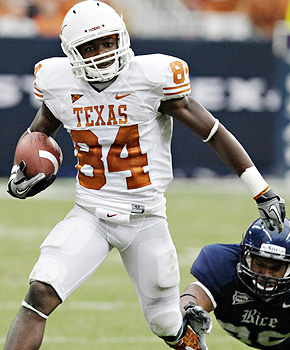 AP Photo/Pat Sullivan
Marquise Goodwin and the Longhorns did what it took to get the first W of the season against Rice.
"This is a dream for you," he says. "This is a dream for your coaches. This is a dream for me. You've wanted this day. Enjoy it.
"I always sit here and wonder, 'Would I rather be coaching this team or that team?' No question, I want to be coaching you."
With that, the meeting breaks. The players pass through a cordoned-off section of the Galleria -- to the shock and curiosity of shoppers -- on their way to the buses. They get a police escort to the stadium.
Among those greeting the bus is a Brown favorite, former Longhorns running back Selvin Young. He played a few years in the NFL and now has opened two restaurants in the Houston area, Bobby Q's. Young has contracted to feed the team after the game, and he's thrilled to see his old coach.
"I've been trying to live off everything he's taught me," Young says. "I still hear half of it in my ear."
Today, Young will hear a lot of Texas cheer in his ear. This Rice home game is anything but. Brown has been lobbying for weeks for Texas fans to buy tickets, and he was thrilled to hear that the game sold out at more than 70,000. You can barely locate any pockets of blue among the burnt orange.
But although lacking a home-field advantage, the Owls have a clear emotional edge. For many, this is the biggest game of their lives. And they have zero pressure.
That's why Brown privately predicted a difficult start earlier in the day. He has relentlessly projected enthusiasm, confidence and excitement to his players, while suspecting that this might not be as easy as everyone thinks.
"You figure Rice will have a trick play to start, will make a play or two, will be so excited to play," Brown said after breakfast this morning. "So you figure the start of the game will not go well, and you have to regroup and go from there."
The prediction was prescient. Rice got the ball first and unveiled a starting quarterback and an offensive set that were different from anything Texas had been expecting. And on the second play, Rice ran a successful reverse to Michigan transfer running back Sam McGuffie, who had split out wide as a receiver.
Taylor McHargue completed four straight passes, and the Owls moved into the red zone before Texas stiffened and held Rice to a field goal.
When the Horns get the ball, it is time to showcase their rededication to power football. After years of watching Vince Young and Colt McCoy operate as primary runners out of the shotgun, the Longhorns will put the quarterback under center more and pound the football with their running backs.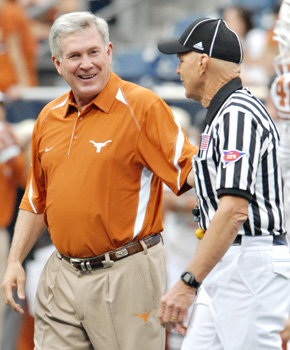 John Rivera/Icon SMI
Brown's legendary people skills even extend to game officials.
That's been discussed so much since last spring that Brown would love to counterprogram the opener.
"The kid in you wants to come out and throw it every play in the first quarter," he said earlier. "Just to mess with everyone."
Texas doesn't mess with anyone, running off-tackle on the first play and sticking with its advertised game plan. But when the Horns cannot convert a goal-to-go power series from the 1, anxiety ripples through Reliant.
Brown had emphasized to his squad the cautionary tales of power teams that weren't ready for their opener -- USC on Thursday night, Florida on Saturday morning -- and now it looked as if the Longhorns might join the list. But they tie the score at 3 on the first play of the second quarter, then vault to a 24-3 lead with a flurry of big plays. Sophomore quarterback Garrett Gilbert, making his first start, looks solid. Rice's only response is a fluke 47-yard deflected scoring bomb on the last play of the half from scrimmage.
Throughout the half, Brown had been making notes. But the first order of business in the halftime locker room is to get fluids into the players while the coaches quickly meet in private.
"Zero-zero, men, let's go," defensive end Sam Acho says. "They got a couple lucky plays, that's it."
The room is split between offense and defense, and when the coaches come in, the coordinators go to work. Greg Davis is quietly analytical on his side. Will Muschamp is not.
"They got one fluke, and they hurt us with the zone read," Muschamp says, stewing on two quarterback runs for good yardage. "That's it. Just do your [bleeping] job. Assignment football. Do your [bleeping] job!
"You're playing your ass off. Let's go."
Brown addresses the team briefly before the return to the field, and he keeps his thoughts big-picture because the coordinators and position coaches have covered the X's and O's.
"Fellas, good first half," he says. "I didn't see the emotion I wanted to see, on the field or on the bench. You're not having enough fun. Let's have more fun. Let's put emotion into this thing."
The emotion never fully takes hold. Texas plays a middling second half, scoring 10 points and giving up a late touchdown by the second-team defense after a fumbled punt deep in Longhorns territory. The final scoreboard says 34-17. The margin should have been about three touchdowns bigger.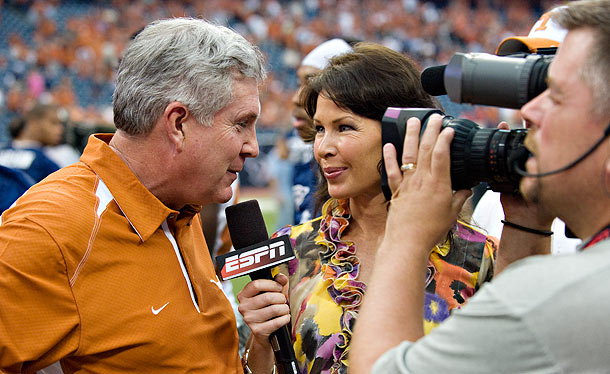 UT Athletics Photography
Brown understands and embraces his role as the face of one of college football's biggest brands.
As he jogs off the field, Brown is weighing all that when a man and his son, dressed in orange, stop him and ask for a picture.
How they reached field level is anyone's guess. And rest assured, Brown does not want to mess with a picture when he's trying to figure out what to say to his players. But, as usual, he stops, smiles and accommodates. He understands and embraces the public demands of his job as well as any coach in the country.
After a brief quiet moment in the locker room, the veterans start jumping and shouting in unison: "Ain't no party like a Longhorn party cuz a Longhorn party don't stop!" Pretty soon the whole team is jumping and celebrating together, and everyone remembers that victories are to be celebrated.
"Congratulations on being 1-0," Brown says. "That's important. Give yourself a hand."
But after that, Brown shifts into critique mode.
"I didn't see as much fun as I thought I would," he says. "We've got a little arrogance about this bunch right now. I shouldn't have said this could be the best defense we've ever had because right now we're a long way from that. I talked about the physical run game; we need to stop talking about that.
"This isn't a 10-win team right now, much less a championship team. We need to get better for next week, not down the road. We won't beat Wyoming playing like that."
Then, as usual, Brown goes in to meet the media and plays a different tune. One thing you will never hear from Brown are harsh public comments about his players. He'd rather swallow a hand grenade than criticize anyone individually.
That's both personal belief and recruiting experience. He knows it plays well with the mamas.
"Really excited to have won the opener," he tells reporters. "There will be an upset today as we look around the country, and it scares you to death."
Brown acknowledges that there is "a whole season of things we need to fix," but notes that the bottom line is victory.
"We've got to be careful sending a message that winning isn't enough," he says. "That's a bad message."
Then Brown is gone to the bus. There is satellite TV onboard, so he'll watch Oregon State and TCU on the ride home. When he returns to Austin, the Rice game video will be waiting.
Even after 51 openers, there's no going to bed before watching the film.