"Mack is the ultimate leader. We haven't lost a whole lot of ballgames, but if we do, it's all on him. He doesn't point fingers, takes total responsibility. That to me is what a leader does."
-- Cleve Bryant, associate athletics director for football operations
Sunday, Sept. 5
AUSTIN -- Texas is 1-0, but there was a momentary postgame ache for Mack Brown as he settled onto the team bus.
"I felt really sad," he says the next afternoon, sitting in his office in the Moncrief-Neuhaus Athletic Center. "I always call Mother right after the games. This was the first time in a long time I didn't have her to call."
Katherine Brown died in February at age 81. She was the nurturing influence in Mack's life, the encourager who counterbalanced his demanding dad, Melvin. And she taught Mack a lot of his legendary people skills.
Brown is almost bereft of the machismo that permeates his profession. He doesn't need the cameras to focus on him leading the players out of the tunnel at the beginning of a game, so he jogs out behind them. And he doesn't need the power trip of ripping any of the people under him in public.
"The perception is we never yell at anybody and smile at everybody," Brown says. "We are really hard on the kids. We just don't need everybody to see us do it."
Same goes for dealing with his assistants. The afternoon staff meeting is the only time Brown shuts us out of anything. He said he needed to get on his coaches for some of Texas' first-game sloppiness, and he was going to do it behind a closed meeting-room door.
During Sunday's team meeting, Brown broke down the game.

That's Brown's way. In public, whatever goes wrong in Texas football is his fault. Whatever frustrations exist, they're usually kept submerged.
"I hate panic guys," Brown says. "We're supposed to fix things. Fix crises, stay positive, move forward."
The fixing of whatever went wrong against Rice begins in the video room with the team this afternoon. Although Brown stressed to his players and the media that winning the first game is the important thing, he also knows that the performance against Rice isn't good enough for Texas and what it wants to accomplish.
"We play to a standard," Brown says, often.
He also coaches to a standard of top-down accountability. It's on display later in the afternoon when the team assembles to watch film of the Rice game.
Assistant Duane Akina, who is in charge of the Longhorns' punt-return team, talking to the room as a whole: "I promise you, this will not look this way next week when we turn this thing on. You've got too much heart and desire and pride."
Assistant Mike Tolleson, stepping forward to dissect video of the Texas punt team: "I have obviously screwed this unit up right here. It is all on me. I promise you, it will get fixed."
Everything on video is meticulously graded by Brown's assistants. Players are given numerous awards for the Rice game, including "player of the game" belts similar to heavyweight boxing champion belts. Linebacker Keenan Robinson, who had an interception and a fumble return for a touchdown, is proudly carrying his belt over his shoulder around the complex.
After the team video review, players meet with their position coaches to go over the video of their specific performances. In the quarterback meeting, offensive coordinator Greg Davis points out one major complication in the Rice game -- the NFL stadium painted the college hashmarks 2 yards too narrow. That fouled up the Texas receivers all game in terms of figuring out how wide to line up.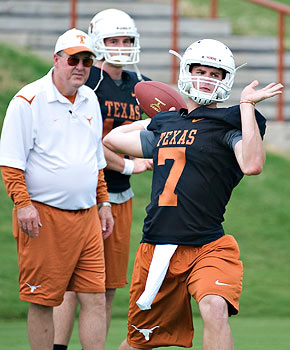 UT Athletics Photography
Garrett Gilbert impressed coaches in his first start, living up to high Texas standards.
Davis also points out to sophomore Garrett Gilbert some of the underappreciated plays he made in his first college start. On a third-and-17 in Rice territory, Gilbert checked down and threw a short completion instead of forcing something deeper into coverage.
"Because of this completion, you allowed Coach Brown to kick a field goal," Davis says. "It's important that you do what the defense tells you to do."
"Good play," Davis says a moment later, when Gilbert throws a ball away under pressure.
At the end of the video, Davis announces that Gilbert had zero N.O.S. plays -- short for "not our standard." In Texas' 50-yard facility a little later, every player who had an N.O.S. has to come to the center of a circle of his offensive teammates one at a time and lead them all in an up-down -- diving to the ground on his chest, then bouncing to his feet -- for each N.O.S. he had.
After walking through all the plays they didn't execute well against Rice, the players head outside into the stadium to run -- sprints for those who didn't play much, a relaxed jog for those who did. Coaches, meanwhile, are monitoring body language and attitude -- looking for players who might be pouting about playing time, or some who might be more banged up than originally believed.
"You have the guy who played, and played well," Brown says. "You have the guy who played and didn't play well. And you have the guy who didn't play.
"You're dealing with a lot of stuff."