"Nothing sits on his desk long. He is not a guy who thinks, 'If I wait long enough, this will go away.' If there's a problem or potential problem, it is addressed immediately."
-- Greg Davis, offensive coordinator
Monday, Sept. 6
AUSTIN -- Today is Mack Brown's wedding anniversary, which makes no sense at all.
What football coach gets married in September?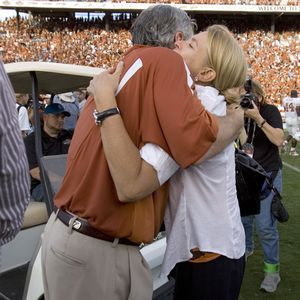 UT Athletics Photography
Mack and Sally Brown's marriage has withstood many football seasons.
It happened rather abruptly, back in 1992. Brown was the coach at North Carolina. He was divorced and trying not to constantly ruin the laundry and burn the breakfast for his two daughters. He'd been dating Sally Larson, a highly successful real estate developer, for quite some time.
Marriage was inevitable, but seemingly not imminent.
But Brown's daughter Barbara began saying she was going to move in with Sally. A coach who finds solutions to conundrums quickly started figuring that he and his kids might as well move in as a team. So one day he told his staff he was leaving the Carolina football facility at noon to get married.
They stopped at Burger King for lunch, then drove just across the North Carolina border to a wedding chapel in Dillon, S.C. You can get married there in 10 minutes, and you can get back to your coaching job later that afternoon.
"Pretty romantic, huh?" Brown says with a smile.
What the wedding lacked in romance, the marriage has made up for in strength. Once a complete football know-nothing -- she'd never even been to a game until she started dating Mack -- Sally Brown is a full partner in Texas football. She is a source of wisdom and support, viewing his job through the fresh perspective of someone not immersed in the minutiae of it. And Mack loves having her around the facility and around his players.
Mack has asked Sally whether she wants to go out for an anniversary dinner, but she knows better. She knows he wants to watch Virginia Tech play Boise State, coached by two of his good friends in the business, Frank Beamer and Chris Petersen. So they settle on dinner at home and a lunch date for the next day.
In the meantime, there is heavy work to be done in the Texas coaches' offices.
Monday is the players' off day, other than for a handful who are asked to appear for the Longhorns' weekly media luncheon. For the coaches, Monday is game-plan day. That means hours spent in a darkened room.
They all watched Wyoming video separately Sunday night. Now they're watching it together, scrutinizing the tape and deciding how to attack the Cowboys.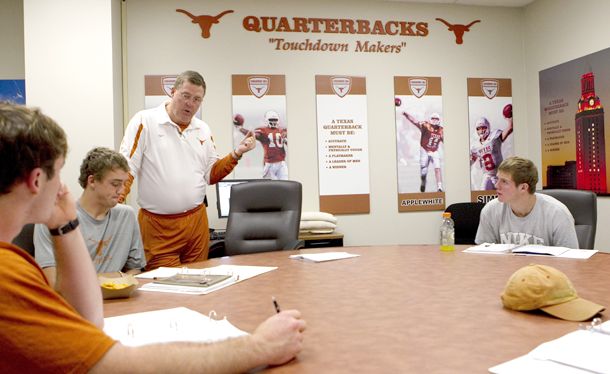 UT Athletics Photography
Assistant coaches take what was discussed in the staff meetings back to their position players.
In the offensive staff room, coordinator Greg Davis sits at the head of the table with clicker and laser pointer at the ready. Receivers coach Bobby Kennedy and running backs coach Major Applewhite sit to his right. Line coach Mac McWhorter and tight ends coach Bruce Chambers sit to his left. All of them chime in with their observations and opinions.
Brown occupies a seat in the corner.
"My job is to simply say 'Why don't we do this?'" Brown says. "I'm the bad guy. They roll their eyes when I leave."
The wall behind Chambers and McWhorter is covered with diagrams of Wyoming's defensive alignments. The wall behind Kennedy and Applewhite is steadily being filled in with plays the Longhorns think can work against the Cowboys.
On the table between them sit notepads, water bottles and a tin of Copenhagen. On a shelf behind them is a jumbo container of animal crackers. Davis works the video. He and other assistants rattle off research statistics that have been culled by Texas graduate assistants.
When facing a certain formation in its opener, Wyoming's right defensive end lined up 93 percent of the time on the outside shoulder of the tight end. McWhorter reports that the Cowboys' defensive line twisted 36 percent of the time in their first game, an increase over last year and a major increase from their game against Texas last year.
There is a mountain of detail being discussed, an avalanche of esoterica. The terminology is completely foreign. It is a humbling reminder of how much more complicated football strategy is than most outsiders believe.
For a strategy wonk such as Davis, this is heaven. Monday is his favorite day of the week.
"It's the beginning of the puzzle," he says.
Brown points out that Davis gets to the office at 7 a.m. on Mondays. The other assistants all laugh at that.
"I was here at 5," Davis says.
By Tuesday morning, Davis will have a "ready list" of plays to present to the staff and players, and the formations they can be run from. This will be the game plan for the week, though it likely will be streamlined after practices Tuesday and Wednesday by throwing out plays that aren't working well.
Texas carried 76 pass plays into the Rice game, and not quite that many runs. The numbers probably will be similar for Wyoming.
Brown and Davis have worked together for 18 years, dating back to their stint at Tulane in the 1980s. Mack trusts Davis with the play calling, keeping his eye more on personnel and big-picture decisions during a game.
"I won't call a play," Brown says. "My place is to say, 'Major, this back is running hot. Think about using him.' Or, 'We've crossed the 40. We're four downs.'"
Down the hall in the defensive staff room, coordinator Will Muschamp is doing the same thing with assistants Duane Akina, Oscar Giles and Mike Tolleson. Brown, whose pedigree is offense, will spend more time Monday with Davis than Muschamp, but he does pay a visit to the defensive room.
Muschamp says that by Tuesday he will have a breakdown by personnel and down-and-distance of everything Wyoming does. Texas did a summer scout on its first four opponents -- going over 2009 game film and breaking down tendencies. That is melded with the information available from Wyoming's first game.
"We broadstroke it together," Muschamp says. "Then we break up individually and hit the fine details by position."
Beyond game planning, Brown and his coordinators have one other major duty on Mondays: meeting with the media. Everything is bigger in Texas, and that includes the fan base and the media coverage.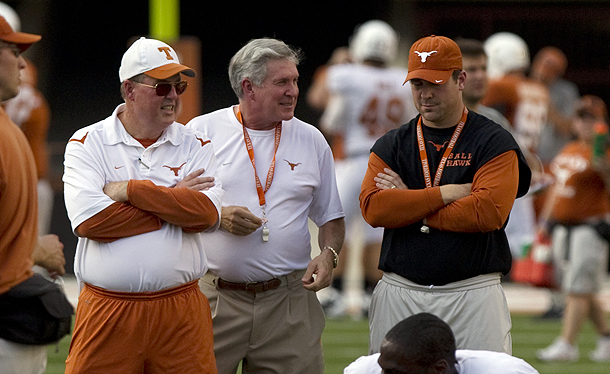 UT Athletics Photography
Brown's willingness to share the credit with his staff, including coordinators Greg Davis and Will Muschamp, is one of the reasons the Longhorns don't have a lot of staff turnover.
Few coaches handle that obligation as smoothly as Brown, who has a thorough understanding of how to create an advantageous relationship with the media.
On Sundays, he meets with media relations director John Bianco -- who, like most of the coaches and support staff and secretaries, has worked with Brown since he arrived in 1998 -- to discuss the primary talking points coming out of the previous game and heading into the next game.
By the time Brown sits down Monday -- first with the broadcast media, then separately with the writers -- he has a printed list of items he wants to cover. And by the time Brown is finished delivering his message, many of the media questions have been answered before they were asked.
When Brown is done -- including a seven-minute side trip to a nearby phone for his spot on the weekly Big 12 teleconference -- Davis and Muschamp have their turn. Some coaches don't let their coordinators talk; Brown has no problem with it, though. He makes an effort to spread the credit and attention to his lieutenants -- which is probably one of the reasons for his remarkable staff continuity.
"Most of this thing," he says, "just runs itself."
That's a bit of a duck statement -- what looks smooth on top of the water is the result of strenuous effort beneath it. When Mack Brown goes home for his anniversary dinner and turns on Boise State versus Virginia Tech, he will have his pad and pencil out, making notes on Texas versus Wyoming.