"I don't think I've ever been around a coach who is more inclusive than Mack."
-- Fred Akers, former Texas coach
Tuesday, Sept. 7
AUSTIN -- Rain from Tropical Storm Hermine is coming in torrents. It is a miserable day for football.
Unless you have an indoor facility. For that, Mack Brown is supremely thankful.
"There are coaches at some schools today who have no idea what to do," he says.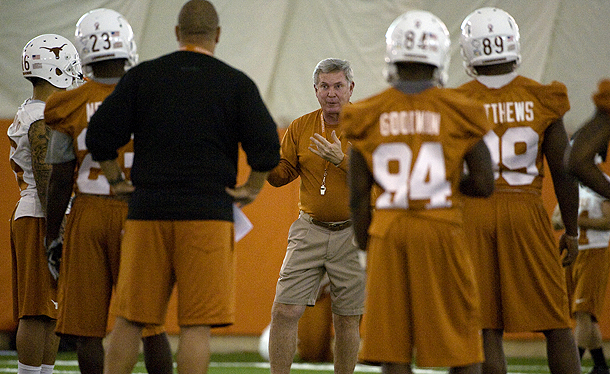 UT Athletics Photography
Brown understands the advantage of an indoor practice facility -- and makes sure his staff appreciates it, too.
With no such worries, Brown is free to conduct a brisk but thorough 9 a.m. staff meeting. He quizzes trainer Kenny Boyd about injuries and about who will be available for practice. He asks ops guys Cleve Bryant and George Wynn about the possibility of adding signage in the stadium commemorating the Big 12 South Division championship -- a suggestion of friend and booster Bill Duvall.
He reads notes from games he watched that weekend. From the Navy-Maryland game, the first half of which ended with clock mismanagement by the Midshipmen, Brown asks offensive coordinator Greg Davis the minimum time needed to line up and run a play with no timeouts at the end of a half or game. (Answer: three seconds.) From the Tulsa-East Carolina game, decided on a Hail Mary pass, he wants video clips shown to the players to remind them that no game is over until the final play. He also wants upset clips of Jacksonville State beating Ole Miss and North Dakota State beating Kansas, reinforcing that an unfocused Tuesday practice can lead to a Saturday disaster.
To Davis, Brown says he wants emphasis on short-yardage running, the one-minute drill and maintaining balance in play calling. To defensive coordinator Will Muschamp, Brown says he wants to stress creating turnovers, to make players aware of the talents of Wyoming's quarterback and receivers, and to "continue to work to get the best guys on the field." On special teams, he wants to re-evaluate personnel in some positions -- especially the wings on the kickoff return team because Rice sky-kicked repeatedly to keep the ball away from Texas' fast deep men.
Tuesday's staff meeting ranged from strategy talk to questions about signage.

"Let's work with each kid to make sure we're playing with energy, passion and toughness," he says to the entire room. "We didn't have any bench enthusiasm, and I'm so tired of that. Everything this week will be about energy, desire, purpose."
Brown asks Wynn to get towels to the bench players to wave in an effort to generate more sideline juice.
In a sudden light moment, Brown notes that this is the birthday of equipment manager Chip Robertson.
"How old, Chip?"
"Double nickel," Robertson responds.
After a few moments of fun at Robertson's expense, Brown asks the coordinators to run through their practice plans. Then he is down to his last two topics: recruiting and motivation.
Brown has a list of all the recruits who did not open last week's e-mail with video from the Thursday basketball contest. He wants follow-up calls with those players, and he will drop them a handwritten note.
On the motivation front, locker-room signs are discussed. Wyoming coach Dave Christensen said last year that TCU's defense is quicker than Texas'.
"Use that," Brown says.
And in the offseason, ESPN analyst Andre Ware picked Wyoming to upset Texas.
"We'll have that all week," Brown says.
Brown wraps up the meeting in 30 minutes. Later in the day, he will remind his assistants to text athletic director DeLoss Dodds, thanking him for their indoor facility. But for now, he returns to an office that looks more like a museum.
There are gifts and tribute from everywhere -- four pairs of Longhorns-themed cowboy boots, Longhorns putters, a model airplane, a collection of coins from generals. There is an aquarium. Not one, not two, but three slide-show photo galleries are in constant motion. The knickknacks are endless. Brown is a collector.
But if there is one thing he collects most, it is music. An iPod sits in a docking station on Brown's desk, and it is legendary.
There are nearly 10,000 songs on it, from every conceivable genre. He uses it as a bonding device.
"I thought it would be cool that if anybody walked in, I could say, 'What do you want to hear?'" he says. "And I'd have it."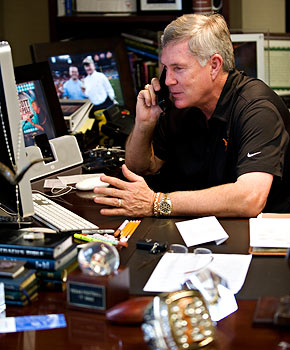 John Rivera/Icon SMI
Brown's office is packed with the many Texas items he has received or collected.
Think it might be an effective ice-breaker with a recruit who comes into Brown's office if the 59-year-old head coach cued up some Drake? Brown says country music is his favorite, but -- just like with the stack of different Bibles on his desk and the rosary hanging from his computer -- he wants to appeal to people from all backgrounds.
Music was one of the key pieces in Brown's building a relationship with Vince Young. When the talented quarterback arrived at Texas, they were worlds apart.
The first time Brown yelled at Young, it didn't go over well.
"I've never been yelled at by a white man before," Young explained.
"I'm going to be white," Brown responded. "And I'm probably going to yell at you again."
In other words: adjust. But Brown did some adjusting, too, learning to appreciate Young's love of hip-hop and dancing. The relationship worked out pretty well, with Brown and Young sharing the stage in the Rose Bowl after winning the 2005 national championship.
Of all Brown's gifts, his ability to relate to seemingly everyone might be his greatest. Watch him, and you see why people say he'd be a natural politician.
On this day, Mack has lunch with Sally at a place called Hoover's, not far from campus. It is a home-cooking kind of place, and Brown digs into his fried catfish and cabbage with gusto. But he graciously indulges fly-by visitors.
Owner Alvin "Skip" Walker is a former running back … at hated rival Texas A&M. Brown doesn't hold it against him. The two have known each other for years and talk football for quite a while. Walker says his old coach at A&M, Emory Bellard, is in poor health. Brown vows to write Bellard a note.
Then a man tentatively approaches the table and hands Brown something that requires explanation. Turns out it is a cross carved out of deer horn. The man says that he once gave one to Colt McCoy and that he'd like Brown to have one.
It is odd, but endearing. Brown responds with characteristic charm.
"How about if I keep that in my back pocket or on my desk the rest of the year?" he says, making the man's day.
On the way out of the restaurant, Brown smiles and says hello to everyone he passes. Greeted by an awestruck look at one table, he claps a hand on the man's shoulder and says, "Mack Brown. What's your name?"
This afternoon at practice, while heavy rain pelts the bubble at the indoor field, Brown hosts former coach Fred Akers. There aren't a lot of visitors at Longhorns practices, but former players and coaches are welcome.
That's part of Brown's 13-year effort to connect with the prodigious Texas tradition, rebuilding bridges that had been burned by previous coaching staffs. One of Brown's smartest moves after taking the job was to strike up a deep friendship with the program's patriarch, Darrell Royal. Brown seems to have memorized everything Royal has ever told him, quoting him on a daily basis.
Akers says that when he succeeded Royal, some boosters did not warm to the regime change. He said the same happened to his successor, David McWilliams, and again to John Mackovic. Since Royal retired in 1976, Akers believes only Brown has gotten everyone on the same page.
"It's awesome when you get all the power and intelligence and willingness of Texas together to try to be No. 1," Akers says. "Mack got 'em all."