EIJING --
Joe Torre has good taste in shoes. I know this because I'm staring at his feet, appreciating, worrying for and, truth be told, coveting a pair of supple, chestnut leather loafers he's wearing. I'm staring at his feet, at these beautiful shoes, because they are, at this moment, sinking in the mud on a truck path behind Wukesong Stadium.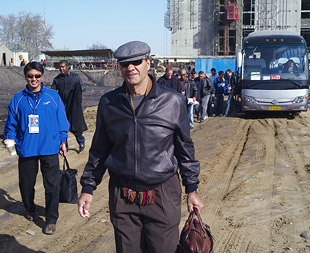 Jon Soohoo/Los Angeles Dodgers
Joe Torre's Dodgers got off to a muddy start when they landed for an exhibition game in China last week.
Torre's surrounded by more than a dozen of his players and coaches at the edge of a soggy construction zone, on the wrong side of a rope, and of two fresh-faced Chinese Security Force officers who won't let the Dodgers party walk down a rutted trail toward the stadium entrance. He's wearing a gray tweed Dolce&Gabbana driving cap, tilted slightly forward, the way he wears a ball cap in the dugout, a colorful striped muffler, a dark gray T, a black leather jacket, chocolate brown slacks and these fine shoes. He's 10 feet back of the rope, watching his translator, Vincent Liao, plead the team's case.
Vincent's getting hot, his voice rising to a bark. The guards remain intractable. Torre breathes in and out like a yogi. Acey Kohrogi, the Dodgers' director of Asian operations and scouting, is losing his religion, pointing excitedly, first at the team bus and then at the promised land on the other side of the rope. The guards are unimpressed. Torre stands still. Two guys with walkie-talkies and blue blazers come running from the stadium, their own shoes taking on mud. The guards wave them back. Another translator -- this one from Major League Baseball, I think -- scurries from up the road we've just driven, literally bowing as he comes. "I'm so sorry. I'm so sorry. You must get back on the bus. Please. Please get back on the bus." Torre sizes him up, turns and walks to the bus door, wiping the bottoms of his shoes clean on the first step as he climbs aboard. We all follow.
The driver begins a somewhat perilous U-turn as Torre, sitting in the first row on the right side of the bus, puts his legs up on the rail in front of him and crosses his feet. The rest of us are standing or leaning, looking out the windows, giving the guards the stink-eye. One of them smiles. And then two teenage girls in skirts and tights appear from god knows where and whisper something to the guards and damned if they don't let them in, right under the rope. "This is bull----!" Dodgers right fielder Matt Kemp says from a seat in the back. "Kuo!" he calls out to his teammate, Taiwanese pitcher Hong-Chih Kuo. "How do you say 'bull----' in Chinese?" Kuo gives him a word I can't make out and Kemp quickly shouts something out the bus window. One of the guards hears him and shouts back, awkwardly but unmistakably, "F--- you!" and starts moving toward the bus. (Turns out Kuo's term apparently roughly translates not to "bull----" but to "dumb p----." Oops.) The bus is a riot of nervous laughter and anxious motion, some of us jumping up, others crouching down.
Torre turns his head toward the window, looking out at the approaching guard, and taps the glass with the knuckle of his right middle finger. "It's all right," he says with a slight smile. "I'm sure this stuff is bullet-proof."

Jon Soohoo/Los Angeles Dodgers
Making his second trip to Beijing since January, Torre arrived as the face of the Dodgers franchise and the face of the game.
UP AGAINST THE WALL WITH MR. JOE TORRE
I expected him to be cool. I'd heard the supremely self-possessed Derek Jeter call him "Mr. Torre," as if kneeling at the feet of an ancient elder, and I'd had Dodgers broadcaster Charlie Steiner tell me, with just the slightest hint of exaggeration, that Torre "is like Neo in 'The Matrix,'" a man capable of moving objects in space with a supernatural flick of the wrist. But what I hadn't quite anticipated is the way Torre's calm confidence seems to radiate, seems available to those around him, like a campfire at which they might warm their hands. Some of that comes from winning four World Series rings; he's quick to say his success buys him time and goodwill with people. But some of it is just this: When you're with Joe Torre, you get the feeling -- though, as a student of postmodern culture and a working writer in the world of sports journalism, I know such things are impossible -- that he might actually be for real.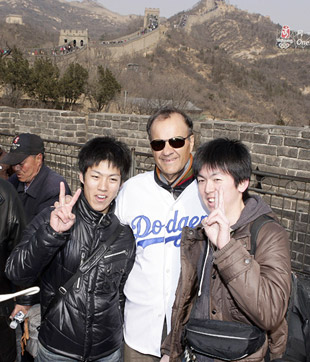 Jon Soohoo/Los Angeles Dodgers
No tourist is turned away when Torre provides a photo-op at The Great Wall of China.
The Dodgers are taking a team photo against a smog-blue sky at the Badaling section of The Great Wall of China. Tourists, most of them Chinese, pass by on their way up a staircase to a nearby watch tower, rubbernecking the mysterious men wearing crisp white jerseys. A small woman with crab apple cheeks tugs at my sleeve: "Please? These are American basketball men?" After team photographer Jon SooHoo gets a dozen or so shots, the players disperse with their own cameras, posing for each other in the Wall's stone archways.
Torre, hands in his pockets, hunched against a swirling canyon wind, pulls his wool cap snug and stands alone. For an instant. Three young Chinese men in American jeans, one with a white bandana tied around his head, quickly surround him, cell phone cameras poised. "Mr. Joe Torre! Mr. Joe Torre!" Torre smiles as two of them position themselves, one to his left and one to his right, while Mr. Bandana aims his phone. Torre wraps one arm behind each fan, gently pulling them both in closer for a better shot.
I'd seen him make this move before. At Torre's first news conference in Los Angeles, back in November, he stood on an ad hoc stage in center field at Dodger Stadium with team owner Frank McCourt and general manager Ned Colletti. As photographers moved toward the stage for the first shots of the new era in Dodger baseball, the new kid in town looked like the gracious host, easing McCourt and Colletti in tight for their close-up, affectionately squeezing each man at the shoulder. "When you're with Joe, even if you're just getting to know him, even if you're meeting him for the first time," McCourt says, "you feel like you're with an old friend."
A husband-and-wife team from Tennessee, both decked out in Volunteer-orange sweatshirts and hats, swoop in on Torre as he's heading for the stairs down the Great Wall. More smiles and pictures. More familiar embraces. "Joe Torre at the Great Wall of China. Joe Torre. I can't believe it," the woman says afterward, shaking her head. "Forget the rest of the trip. I just had my picture taken with Joe Torre. We can go home right now."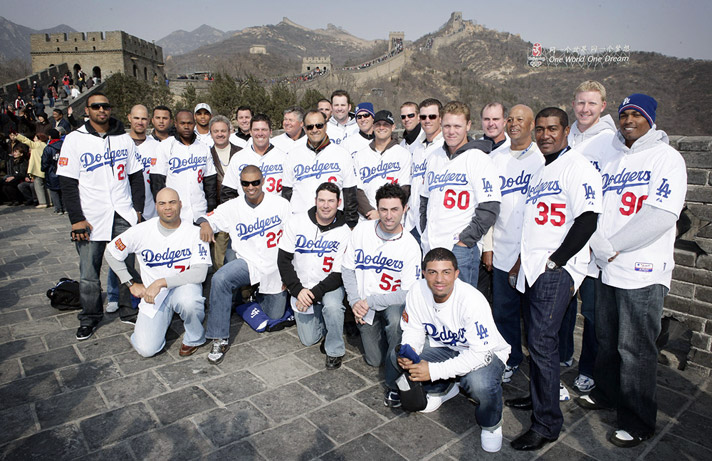 Jon Soohoo/Los Angeles Dodgers
The Dodgers hope the China trip will quickly unite a new roster. "We're all really comfortable with him," says Andruw Jones. "It's great to be with a manager who understands you."
THE MAN GETS AROUND
Torre has better stories than I do. There's one about his old friend Milton Berle (let the record show it was at the mention of the name "Milton Berle," as in Mr. Television, as in the American icon, that I knew I was way out of my league) who was looking to show Torre a good time on an off day years ago and took him to a baseball game. "He calls and says, 'Come on over. I've got tickets to the game. Great seats. You'll love it,' like he has no idea I'm at the ballpark every day of my life," Torre laughs. "But that was Milton. And when Milton called, you showed up."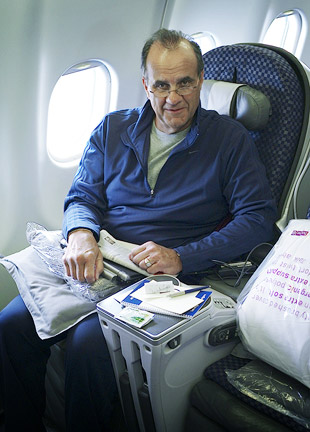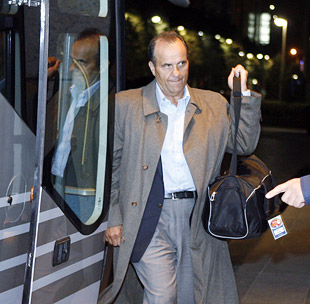 Jon Soohoo/Los Angeles Dodgers
Eighteen-hour trips do strange things to a man's body clock.
There's one about his holdout year (1968 with the Braves), when he started doing radio appearances with Howard Cosell in New York. Cosell was doing "Speaking of Sports" in those days -- "He would lay down those spots, three minutes long, with no script, and they'd be flawless" -- and he'd ask Torre to wait around while he did the show and then they'd go to Tavern on the Green for drinks.
There's one about carrying the Olympic torch in Florence in the summer of 2005 -- "the longest 400 yards of my life" -- and about getting up early in Venice, on his family's last day of the Italy trip, to take his daughter, Andrea, who was 9 at the time, on a sunrise gondola ride. "She lit up," he says.
And there's one about a film reel Billy Crystal's wife was putting together for Crystal's recent 60th birthday; all his friends played parts from his movies. DeNiro revised the "You. You're good, you" bit from "Analyze This." Torre and his wife, Ali, signed on to re-enact the diner scene from "When Harry Met Sally." "I volunteered to play the Meg Ryan part," he swears, chuckling. Crystal apparently has been struggling with the idea of turning 60, been down about it. "So at the end of our scene," Torre says, "I turn to the camera and say, 'I've had what you're having, Billy,' because I've already done 60, a while ago now, and it all turns out all right."
We've been in the back seat of a black Audi sedan for more than an hour, first winding down the hill from the Great Wall, now inching through the crowded streets of Beijing. Tom Catlin, Dodgers vice president of creative services, sits in the front seat with a digital video camera, ready to shoot the sights. Torre wants to see the Forbidden City and Tiananmen Square. I do, too, almost as much as I want the stream of stories to keep rolling. It's just after 4 in the afternoon. Bicyclists zip by us, inches from the passenger-side doors. Our driver maneuvers left, literally muscling the car into spaces that aren't there, and makes a left-hand turn off the four-lane road we've been, uh, "traveling" on and onto a narrow street lined with small shops and residences. "Forbidden City closed now," he says. We've lost too much time to the traffic. We think we're heading back to our hotel, but we can't be sure. Torre lifts his hands and stretches his fingers, like a preacher reaching out for souls from the pulpit, and says, "We're coming up on something. I can feel it. Can you feel it?"
"Party meeting at Square," the driver says, turning right onto another side street. We hope for a drive-by glimpse of Tiananmen now, but at the moment the view is of a clutch of older women in dusty gray coats, huddled near what looks like a bus stop. Folding a newspaper open to the crossword puzzle, Torre looks out his window and reminisces about first discovering St. Louis: "a strange city, with real definite pockets, real divisions."
He puts his left leg up on the armrest between the front seats. He had knee-replacement surgery in December, and the joint gets swollen and sore when he sits for a long time. He pulls his pant leg up above the knee, revealing an argyle sock, rubbing the tender skin on either side of his kneecap. He bends his knee back so his left foot almost touches his left-back pocket. "Range of motion is coming back." A delivery truck suddenly pulls out in front of the Audi. We swerve a little to the left, just miss. Torre leans his head back on the seat, laughs and takes a deep breath: "That was a good one."
"You can see it in his face. He's been there," SooHoo says the next morning while shooting pictures of Torre during batting practice at Wukesong. "He has all these stories, but they're not about him -- they're about the other guy. He doesn't need to be the show. He's comfortable in his own skin."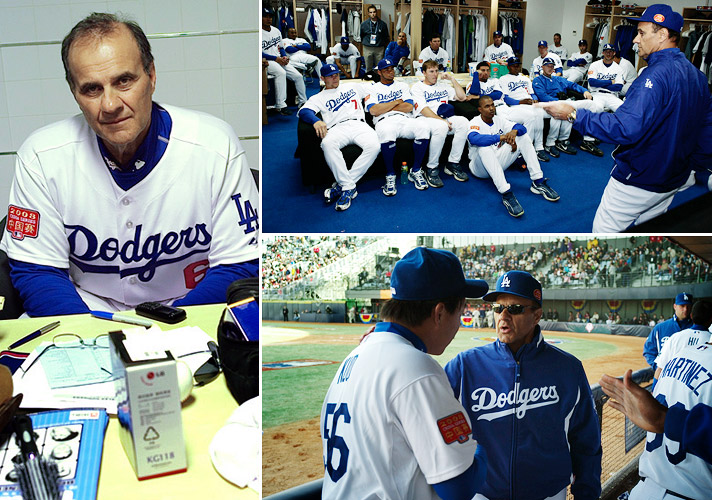 Jon Soohoo/Los Angeles Dodgers
"Players want to play for him," Dodgers GM Ned Colletti says. "They know he's going to put them in a good place."
GENTLE JOE
Torre sits at a small desk in what feels like an even smaller dressing room in the bowels of Wukesong Stadium, his back against the wall, his eyes at half-mast. It's early on Saturday. Or is it late? Eighteen-hour trips from Vero Beach, Fla., to Beijing do strange things to a man's body clock. "I slept great last night," he tells team trainer Rick Lembo. "For three hours." A knit ski cap with the Dodgers logo on it is perched, cockeyed, on the top of his head, as if he were the court jester and not the king. There's a curious elegance in the look, some unself-conscious something that appeals, part mask, sure, but vulnerable, too. "Even in the midst of chaos," Colletti says, "he's always got this gentleness about him."
On Sunday in the same cramped room, Torre and Colletti will meet individually with several Dodgers minor leaguers who have made the trip. Eight will be optioned or designated for assignment when they get back home. First baseman John Lindsey, 31 years old and a 13-year minor leaguer, will be one of them. This trip represents the end of his first stint in a major league spring training camp. He was born in Hattiesburg, Miss., and has played for five franchises in dozens of small towns across the United States since he was drafted by the Colorado Rockies in 1995. And this weekend, he started at first base for Joe Torre's Los Angeles Dodgers in the first major league game played in China. And better still, he got the first hit in that first game, a single to center field in the second inning.
He's still grinning a day later when I ask him what it's been like, what this time with Torre has meant to him. Like his skipper sometimes does, he answers with a story: "I'll tell you what it's been like. First day of camp, I get to the weight room early. I want to get a jump on things. This is my first big league camp, right? And I'm in the room -- stretching, I think -- and here comes Joe through the door and he says, 'How you doing, Big John?' This is the first day of camp. This is a Hall of Fame manager. Joe Torre. And he's new to the job. And I'm new to the team. And it's real early in the morning. And still he says, 'How you doing, Big John?' I swear, I don't even know how he knew my name."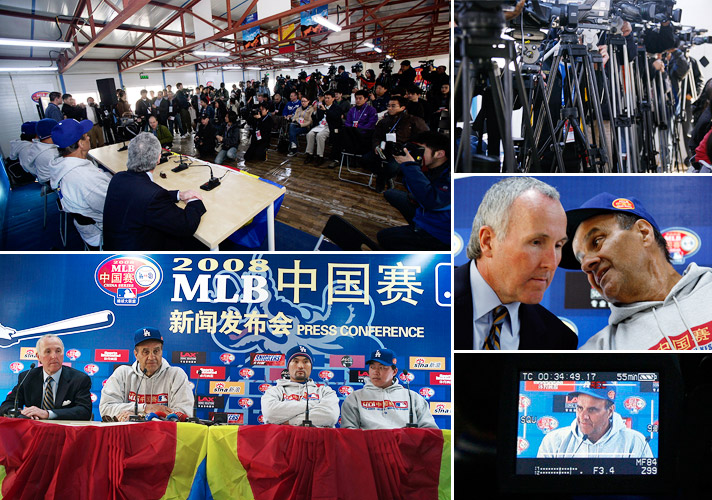 Jon Soohoo/Los Angeles Dodgers
After Torre's 12 years in New York, the media crush in Beijing is a piece of cake.
CONNECTING THE DOTS
It's early Saturday afternoon, after the first game of the series, and Korean-born pitcher Chan Ho Park, who just threw five strong innings for the Dodgers, runs interference for Torre as both men head to the interview room, a trailer behind Wukesong that appears to have been a one-room schoolhouse; hand-painted slogans on the wall read, "Come On!" and "Do Courage!" In the States, Torre and Park would be escorted through tunnels beneath a stadium concourse. Here, they're walking through a parking lot, in front of God and everybody. Fans press toward Torre at the trailer door, waving hats and T-shirts for autographs. Park plays traffic cop, his hands up, holding back the crowd. He and Torre laugh and nod at one another.
Later, after he has showered and dressed, Park comes out of the Dodgers' clubhouse to sign autographs for fans who've come to Beijing from Korea. On alert as riots rage in Tibet, the Chinese Security Forces are lined up three-deep to form a wall between Park and his Korean faithful, having none of it. Park begins at incredulous but quickly escalates to furious, pointing at the guards, stomping between the security line and the doors to the clubhouse. Josh Rawitch, the Dodgers' vice president of public relations and broadcasting, asks a nearby translator to explain to the guards that Park just needs to sign some autographs, that he feels a responsibility to his country and his fans. "I don't now why we're having this conversation," the translator says. "You don't explain anything to Chinese Security officers."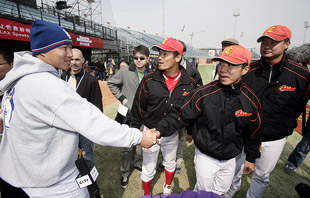 Jon Soohoo/Los Angeles Dodgers
Hong Chih Kuo and the Dodgers went out of their way to accommodate their Chinese hosts -- when security allowed.
Park is livid, standing alone now, looking out at the horizon beyond the guards and fans. Torre comes out of the clubhouse hallway, dressed for the bus ride to the hotel. Rawitch fills him in. Torre calls to Park, who comes his way under a full head of steam. Torre holds his hands up to slow him down. He takes him aside, just inside the stadium entrance doorway. He puts his right hand on Park's left forearm and his left on Park's right shoulder. He leans in, forehead to forehead. Whispers something. Nods. Looks him in the eye. Park nods back. There's no solving the problem. There's no magic to be done. But the contact -- Torre's hands, the look that says they both know this is a righteous beef -- seems to settle Park just a little, just enough.
Torre gets on the bus. Park heads back into the clubhouse for his things and returns with a plan. "Tell the people I'll sign things back at the hotel," he says to the translator. International incident averted. "He was pissed, but he seemed to have a pretty good grip on it," Torre says later. "I just wanted him to know I was there."
It's Sunday morning, before the getaway game, and Torre walks behind the batting cage toward McCourt's wife, Jamie, vice chairman and president of the Dodgers. She beams. He comes her way, arms spread wide for a hug. "Hey, darling." Kisses her on the cheek. "How you doing this morning?" Just the way he did with George and his boys, I'm sure. It's a Carly Simon moment: "These are the good old days." The bounceback from those draining last years in New York is palpable, the contrast surreal. He admits to fatigue and hurt feelings then. He says he became guarded. But here and now, even when here and now is the unfamiliar confines and alien time zone of Beijing, it's his intimacy that distinguishes him. "I'm sensitive," he says, sitting on a bench in the dugout at Wukesong, watching his players take infield. What he wanted more than anything in his last days in New York was to feel wanted. What he loves more than anything in these early days in Los Angeles (and Beijing) is knowing that he is. "Am I too sensitive? I don't know. It's me, whatever it is. It's part of the package."
The day before the China trip, Torre held a golf-cart Q&A with Dodgers beat writers on a practice field at Dodgertown in Vero Beach. Interested in his feel for the team's young talent, Los Angeles Times writer Dylan Hernandez asked Torre to recall his early days as a player. Torre said something to the effect of, "Well, at that time, my whole sense of self-worth was tied up with how I performed on a baseball field." He could have talked about adjusting to the speed of the big league game. He could have talked about how difficult it was to sustain his performance over the long haul. He could have said, in some generic way, that he was nervous in those days. Instead, he opened a little window, offered a glimpse of what he was, and of what he wasn't, of where he came from and where he is now. Instead, he admitted he was once a mess, said he hoped his guys now would see more in themselves than he did in himself. I wrote only one thing in my notebook that morning: "Who talks like this?"
We talked in the car ride from the Great Wall about our daughters; his Andrea, now 12, choosing her new school in Los Angeles based on which one had the best theater program, and my Tess, just 6, making her first trip to Dodgertown and getting a ball as a gift from a groundskeeper early one morning. We talked about how they demonstrate a freaky, intuitive relationship to cell phones and iPods. We talked about Andrea not loving the idea of a move out of New York, "the only place she's ever known," and about Tess telling me to forget about China and to come home with her and Mom to L.A.
As we watch Andruw Jones and the first group take batting practice at the ballpark Sunday, I ask him how being Andrea's father affects who he is and how he does his work. "I have three children from two previous marriages, a son and two daughters," he says. "And I wasn't much of a father to them. I wasn't there. I didn't call as much as I should have. I was too wrapped up in me and what I was doing. Am I proud of that? No. It's something I regret. But I try now to live with that feeling and to be there in a different way than I was before. I try to reach out. I want to connect the dots."

Jon Soohoo/Los Angeles Dodgers
These are the first major league exhibition games ever played in China. "It's a game of so many joys," Torre says.
WHAT, AND WHEN, AND HOW
In the hallway outside his makeshift office at the stadium, Torre leans against a wall, hands in his back pockets, and takes questions from the beat guys.
Did Chin-lung Hu seem to settle down? Which players are being assigned where? What happened to Tanyon Sturtze in the fifth?
We could be anywhere. It could be any day of the regular season.
Out on the field, workers are taking down the bunting and signs off the walls. Chinese fathers and sons are playing catch on the grass where just an hour earlier American major leaguers did the same. The San Diego Padres' dugout is empty, their players and coaches already heading for the airport. The rail in front of the Dodgers' dugout, meanwhile, is crowded with local reporters asking for one last glimpse of the man. Rawitch finds him in the clubhouse: "Can you come talk to them one more time?" Torre steps out to a rush of camera shutters and microphones lifted high. He talks to the Chinese media about planting the seed, about this trip as a beginning for big-time baseball in China. Maybe. But it's more than likely that Torre himself will never pass this way again. A group of young women writers, maybe sensing that, pushes through to the rail, not to ask questions but to take pictures -- with their own cameras. Torre demurs, talks about how well Hu and Hong Chi Kuo played, knowing how important it is for them both to be spoken well of in this context. He doesn't speak the language, but he understands the moment. He talks about kids, about how he hopes they'll start to get a feel "for the rhythm of baseball," the way he did playing ball with his older brother Frank back in the day. The crowd drinks it up. "He's been through so many experiences and made so many decisions," one writer on the trip explains, "that he always seems to know what to say, and when, and how."
Rawitch signals the end of the news conference and Torre turns to go. "Mr. Joe Torre! Mr. Joe Torre!" some of the reporters call out. He's late. He's tired. He wants to get on a plane and get home. But he turns in the hallway, walks back and steps -- just a step -- into the dugout. He doffs his cap to the crowd and flashes a smooth, generous grin, something straight off "Songs for Swingin' Lovers," and then finally takes his leave. Not "Goodbye." But "Thank you, and goodnight."
Eric Neel is a senior writer for ESPN.com and ESPN The Magazine.
Join the conversation about "Cool In Any Language."