The greatest coach in the history of college basketball has a tiny place. John Wooden's Encino, Calif., condominium couldn't be more than 700 square feet, and almost every inch of it is occupied. Piles of books -- volumes of poetry, biographies of Abraham Lincoln, several bibles -- line the hallways. The dining room table is cluttered with Pyramids of Success waiting to be signed and sent to fans. And dozens of photographs and plaques, commemorating 43 years of coaching and 95 years of life, hang on the walls of every room.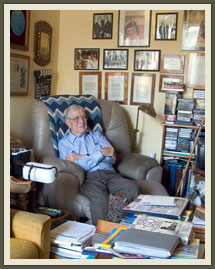 Photo Nik Kleinberg/ESPN.com
"I have a lot of memories to think about," Wooden says softly, sitting up straight in a curved-back wooden chair in his living room, and turning his eyes to a stack of framed photographs on the floor.
Indeed.
An All-American captaincy at Purdue; an 88-game winning streak and 10 national championships as head coach at UCLA; hundreds of student-athletes graduated; a double- induction (as both player and coach) into the Basketball Hall of Fame; 53 years of marriage to his beloved wife, Nellie (who died in 1985); and the birth of two children, seven grandchildren and 13 great-grandchildren who know him not as "Coach," but as "Papa."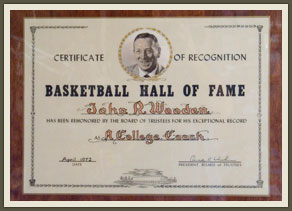 Photo Nik Kleinberg/ESPN.com
It has been a remarkably full life, the kind a man sits with in his den in the afternoon and reflects on at night before he lies down in bed, tasting love and loss all over again, reaching back across the years to the people and places he's touched and been touched by. "I've been blessed in so many ways," Wooden says. "I like to spend time in the past, with the things that have been important to me."
Not what you expect to hear from a man whose work ethic and philosophy are deeply rooted in a Zen-like devotion to the present moment. "Today is the only day," he so often says. "Yesterday is gone." But as you listen to him recite the opening lines of Longfellow's "Hiawatha," just as his father recited them to him by kerosene lamplight nearly a century ago, past and present blur. "He doesn't wallow," says Andy Hill, who played for Wooden in the early '70s and now is a close friend. "He's a child of the Depression. He endures. He keys on happy moments that feed him and inspire him in what he does today."
The objects Wooden keeps open like windows, like portals between then and now.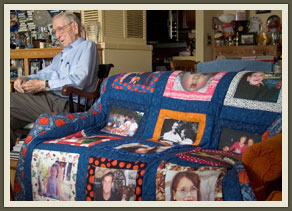 Photo Nik Kleinberg/ESPN.com
In his wallet, you'll find a seven-point creed his father gave him when he graduated the eighth grade. It's one of many copies he had printed after the original wore to shreds. "Be true to yourself," it says. "Make each day your masterpiece, help others, drink deeply from good books, especially the Bible, make friendship a fine art, build a shelter against a rainy day, pray for guidance, count and give thanks for your blessings every day." His bowed, arthritic fingers shake a little as he shows it to you, but he remembers the words by heart and says them aloud. "I was built up from my dad more than anyone else," he says. "I tried to live by this and I tried to teach by it. I haven't always been perfect, but I've tried."
Somewhere buried under the correspondence and the photographs in his den, tucked away in the corner of a desk drawer or maybe slipped between the pages of a book, is a poem written by the student manager of the 1942 Central High School basketball team Wooden coached in South Bend, Ind. "The paper is crippled, but I still have it," says Wooden, who enlisted in the service in 1942 and never returned to high school coaching. "I loved high school teaching. Had I not enlisted, I don't think I would have ever left. That's where the real teaching is done."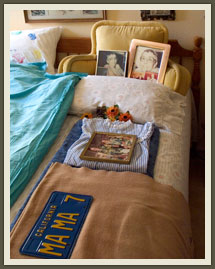 Photo Nik Kleinberg/ESPN.com
And on the left side of their bed, below carved wooden letters that spell out her name on the wall, Wooden keeps a shrine to Nellie -- her nightgown, a photo of the two of them together, flashing the "hang loose" sign at a Hawaiian luau, the personalized license plate from her car. "It makes me feel better," he says. "I know she's there. I talk to her every day." He whispers this, the words half-swallowed. She overwhelms him 20 years after her passing, cuts through his love of poetry and his flair for maxims to some inarticulate well of feeling.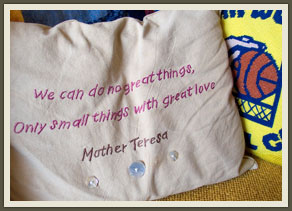 Photo Nik Kleinberg/ESPN.com
In this tiny place, surrounded by these personal artifacts, you notice an embroidered pillow on the sofa in the den. It's a quote from Mother Teresa, one of Wooden's heroes, that reads: "We can do no great things, only small things with great love." Reading it, you realize the greatest coach in the history of college basketball, the man who fashioned success into a pyramid, the man whose rolled-up program and horn-rimmed glasses were for many years the very definition of competitive intensity, the man whose winning percentage is the stuff of legend and whose meticulously planned practices were Exhibit A in the triumph of rationalism over uncertainty, is, at heart, a sentimentalist.
And you don't mean this as a slight. You mean it as high praise. You mean he feels deeply. He loves. He honors. Across time and distance, he connects and stays connected to the people in his life. "Once you're on his team, you're on his team forever," says former UCLA All-American Bill Walton. "He's your coach for life."
* * *