"When it's me," Walton says, "he lets me go and go and go until I fill up the machine." But for all the joking, and all of the casual conversation that flows between them, the players come and call because they feel an enduring bond with him; three decades or more after they played for him, he remains a fixture in their lives. "Outside of my mother and father, Coach is the single most important person in my life," Walton says. "My love for him grows every day."
You can't get a word in edgewise at the birthday table. Walton's riffing on how Wilkes never passed him the ball, and Shackelford's taking a beating for finally getting the musical candle to work. The infield chatter is relentless.
But Washington, who goes to church every Sunday with Wooden, puts a halt to it. "I want to get this out," he says firmly, like he's laying it down for the Congressional Record, like he needs to say it. "To me, Coach has been like a foster parent to us. He's been very important. We were all lucky to have a great, great parent in him, someone who cared about us as people, as human beings."
Coach smiles with pink cheeks. The other players nod and look his way. The moment doesn't last. It isn't long before Hill is accusing Wooden of loving the 3-on-2 drill simply because, "You were standing there watching while we ran," and so on. But a while later, as plates are being cleared and someone is deciding what to do with the cake Paul brought out, Wooden seems to answer back to Washington, not just for today, but for every day.
"It's very nice to be with you," he says, running his thumb over the rounded edge of a table knife and averting his eyes just a bit. "I love you all very much."
* * *
You have to catch Bill Walton between speeches. He's on the road constantly, preaching the Wooden wisdom, lessons from the Pyramid of Success to the Four Laws of Learning (Demonstration, Imitation, Correction and Repetition), and everything in between.
His fascination with Wooden began as a boy in San Diego, the night he went to a neighbor's house (he had no television at home) to watch UCLA defeat a much bigger, stronger Michigan team for the national title in 1965. "The Bruins were just the littlest, skinniest guys in the world," he says. "I thought they'd get pounded. And instead, they ran a clinic that night -- the fast break, the press, the ball movement, the teamwork. I knew instantly. That was it. That was what I wanted to do with my life: move like that, think like that, be like that."
That was 1965. By the early '70s, Walton wanted to be a free spirit, too, complete with long hair and bushy 'burns, protests against the war in Vietnam and devotion to Dylan and The Dead. Meanwhile, his coach at UCLA was the same Indiana farm boy he'd always been, committed to the simple things: hard work, humility, and a pair of socks put on properly, with nary a wrinkle. Needless to say, they clashed from time to time. "He didn't think I had the right to tell him he couldn't wear his hair long," Wooden recalls. "And I said: 'You're right, Bill. I don't have that right. I just have the right to determine who is going to play -- and we're going to miss you,' and that shaped him up."
For all their differences, Wooden's discipline and structure -- practice began precisely at 3:30, profanity was not allowed, players criticizing other players was not tolerated -- resonated with Walton. As he had in lively dinner-table discussions back home, he thrived on the give-and-take with Coach, and as had been the case with his father's rules and regimens, Wooden's limitations were something he could both question and lean on. "I was always in his office," Walton says. "I would always ask him 'Why?' I challenged him on everything."
But Wooden was neither father nor friend to him in Walton's playing days. He was a fierce competitor who drove his "boys" hard (no chairs, no towels, no breaks during practice, and only salt water to drink) and a principled teacher who peppered them with maxims ("Failing to prepare is preparing to fail," "Be quick, but don't hurry," "Never mistake activity for achievement," "Things work out best for those who make the best of the way things work out," "Always try to be better today than you were yesterday") they often found confusing and sometimes found comical.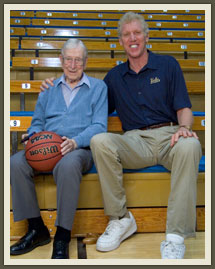 Photo Nik Kleinberg/ESPN.com
"We thought he was crazy," Walton says, laughing. "We thought he was a walking antique. We were waiting for the next Dylan song, and here was this guy out there talking to us about making each day our masterpiece and putting our socks on the right way. We thought he was hopelessly out of touch."
Of course, in a way, it didn't matter what Wooden said or what they thought of him, because the Bruins were winning big in those years. They racked up two national titles, two 30-0 seasons, and 88 victories in a row with Big Bill as the three-time All-American center at the heart of it all.
It wasn't until Walton moved on to Portland and the pros, and struggled to cope with severe injuries and overwhelming disappointment, that Wooden truly started to come alive for him. "The worse things got for me," Walton says, "the more important he became to me. I started to understand all the things he'd been talking about, about how to deal with adversity, about how to stay positive about the outcome of today."
The story's the same for Marques Johnson, whose daughter drowned several years ago: "A lot of that stuff from Coach was buried down deep inside, but it came back to the surface when I didn't know if I could come back."
And for Jamaal Wilkes, who went through a painful divorce: "He told me I had to love in order to live. It was what I needed to hear."