Wooden's quaint phrases had waited on them, had anticipated their hardships.
"They were a gift I didn't open until years later," Walton says. "I didn't realize. I was a kid. Now that I'm a parent, now that I've been through what I've been through [including dozens of surgeries on his ankles and many years of work to overcome his speech impediment], I see that they're not just phrases, they're a philosophy of life, and I can't imagine my life without them."
Andy Hill doesn't have to imagine. He spent 25 years away from Wooden.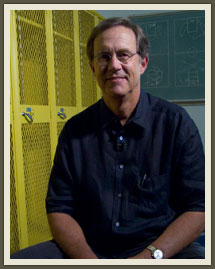 Photo Nik Kleinberg/ESPN.com
A Westwood boy born and raised, Hill always wanted to be a Bruin. He would hum the UCLA fight song shooting hoops in his back yard. He would travel all over the city to see them play in the days before Pauley Pavilion was built. The chance to come to UCLA, to play for Wooden, was his dream come true.
Until he got there.
After a promising year as the leading scorer of the freshman team, it was all downhill. On the court, Wooden felt he had better guards in Kenny Booker and Henry Bibby, so Hill almost never played (he took just 99 shots in three years on the varsity). Off the court, he and Wooden butted heads over politics and the program's treatment of reserve players. At one point, Wooden even encouraged him to transfer.
While Walton thrived in the interplay between himself and Wooden, Hill felt neglected, misunderstood, disillusioned. "Things weren't good with me and my dad," he says. "I think I came to UCLA looking for a father, and I think Coach was just looking for a point guard." The disconnect left him hurt and lost. "For the first time in my life, basketball wasn't fun," he says. "And I was sure this man who I'd idolized just really didn't like me."
So he played out the string, ran through the drills in practice and steamed on the bench in games, ambivalent, after a while, about even getting in. "People used to call Andy 'The man who starts five thousand cars,'" Walton jokes, "because you knew when he got in the game it was over." It was embarrassing, and when graduation came in the summer of '72, Hill couldn't get out of Dodge fast enough. "The day I left school," he says, "I was sure that was the last time I'd ever see Coach."
On a golf course 25 years later, Wooden came back to him. "Before a difficult 2-iron shot, my playing partner told me, 'Don't hurry, get your balance,'" Hill, then a CBS television executive, says. "It was like he was channeling Coach, encapsulating what he taught us. And in that instant, I realized, though I thought I'd put him away, he'd always been with me, his principles had guided my life and my career." In a moment of clarity and calm, Hill knocked the shot stiff, and decided he had to call Wooden and thank him when he got off the course.
Ring.
"Coach, it's Andy Hill."
"Andy? Where are you? Can you come over?"
Eight years later, Hill, who visits Wooden at least a couple of times a week now, helps Coach into the passenger seat of Walton's car in the parking lot out behind VIPs. He offers his left arm, bent at the elbow, and Wooden reaches out his right hand and grabs on. They pause there for a second ("Don't hurry, get your balance"), leaning on each other, before Wooden settles down into the seat. "That phone call was the best decision I've ever made," Hill says. "It changed my life. Once we were away from basketball, from my thinking I should play more, I could see he did care about me. And what we have now goes way beyond the father-son relationship I used to hope for. What we have now is that plus a friendship."
* * *
"Don't call me Wizard," Wooden says. "I'm no wizard." If he were more theatrical, the line would come with a "Harumph!," but instead he just grimaces. He doesn't think there's anything remarkable about him at all. He's just a kid from Martinsville whose daddy told him to do right and do his best. He's no better than you or me. He's a schoolteacher who's been lucky enough to have some exceptional students over the years, end of story. He's kept his nose to the grindstone and he's kept his eyes on the prize, but he ain't special.
Ask him to explain that chock-full calendar of his, ask him why it is that he and so many of his boys have stayed so close for so long, and he'll tell you it's just an extension of what all coaches and players share. "You deal with each other in so many different ways," he says. "You deal with each other physically, emotionally and mentally, and through times of stress, and I think you just get to know each other better."
The boys aren't buying such a mundane explanation. They know he's one of a kind.
They speak of him in hushed tones, with wide smiles on their faces. They gush. Do they risk deifying him? They don't care. They know what they know. Wilkes tells you how moved he was, how much he learned, by Coach's absolute devotion to Nellie. Washington speaks of Wooden's unflinching support of Kareem at a time when the center was marginalized by race, size, politics. Shackelford marvels still at his steady habits of study and preparation. Hill raves about his memory, of names, faces and lines of poetry he loves. Walton, who unabashedly calls Wooden "an enduring flame of hope," says it's all these and more: "It's the totality with Coach. It's the example he sets by the way he does all the little things and all the big things in his life."