Fidelity. The man is simply, steadily faithful, to his God, to his principles, to his family and his friends, to the creed in his pocket, the poem in his den and the shrine on his bed. He knows himself. It's a simple thing but a rare one, against the social grain. "There's a line I like from Socrates," he says. "When he was unjustly imprisoned and facing imminent death, the jailers asked, 'Why aren't you preparing for death?' And Socrates said, 'I've been preparing for death all my life by the life I've lead.'"
For Wooden, planning the jump and jumping the plan means a kind of serenity. "I have peace with myself," he says.
For his players, his uncommon consistency serves, now, as a measure for their own lives, half challenge and half inspiration, as it was in their playing days. "No one's perfect, and of all people, I know he's not," says Hill. "But he's closer than anyone else I know, and by that I mean he really does live in congruence with the philosophy he espouses."
It's not that they agree with everything he thinks or believes. It's not that the points on his creed must be their own. It's that he was there, doggedly holding on to his principles at a time when Walton, Johnson and Wilkes needed something to believe in. It's that, if nothing else, they believed in his believing. It's that he and one of his favorite lines from Mother Teresa -- "Forgiveness sets you free," -- were there, 25 years later, when Hill needed to hear them on the other end of the line. "Love is giving," Wooden says. If his boys give him, especially in the years since Nellie passed, a home place, he gives his boys himself. Every time. That's why they come and call, so often and for so long now. That's why they love him like they do.
Well, that and the way he slices and dices Walton over scrambled eggs and bacon.
* * *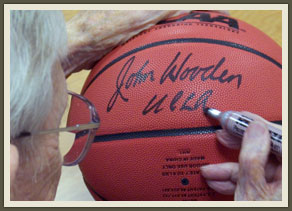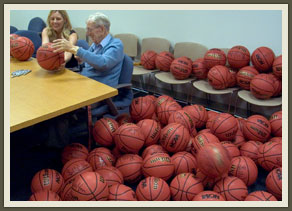 Photo Nik Kleinberg/ESPN.com
It's Wednesday afternoon now, in a conference room in the athletic complex at UCLA, and Wooden is at a long table, surrounded by some 300 leather basketballs. He's got a Sharpie, and every ball needs his signature for some alumni fundraiser or other. An athletic department assistant is lining up the balls to his right; he's signing them with a ridiculously steady hand for a 95-year-old man and no-look flicking them to the floor at his left. "You know, you'd have probably benched yourself for that pass," you say, knowing he doesn't go in for the fancy stuff. He laughs. "I could use the rest," he says. He's kidding. The balls keep coming and keep getting flicked away. You're amazed at his energy, and you find yourself wondering how long he can keep it up. It's no great leap from that thought to thoughts of mortality, to hoping there are many more signatures and breakfasts to come. "I'm always struck by these incredibly dissonant emotions when I leave him, and he's standing there on the balcony of his condo, waving," Hill says. "I'm elated that I just got to spend time with my dear friend and the greatest coach of all time and at the same time there is the momentary dread of feeling how our time together is like sand running out of an hourglass."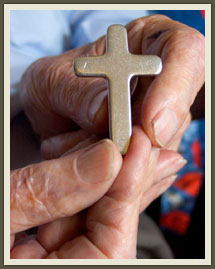 Photo Nik Kleinberg/ESPN.com
Watching the signed balls go by, you think again of Wooden's mementos. In his pocket, to this day, he keeps a small steel cross, given to him by his minister when he enlisted in 1942. It has an alpha and an omega embossed on one side, and a heart and a monad (a symbol of unity) stamped on the other. Beginnings and endings, love and order. This cross has been with him for 63 years, through triumph and loss, through joy and sadness. You see how it's been worn smooth by his busy fingers, and you imagine how it's grounded him, provided him some measure of comfort and counsel, reminded him of who he is and what matters to him.
Walton keeps something, too. He opens his wallet and takes out a card. "Timeless wisdom from a godly father," he says. "Never lie, never cheat, never steal. Don't whine, don't complain, don't make excuses." "Just do the best you can," Coach chimes in. They're Wooden's father's words. And you hear the two of them reciting from memory, it seems, and you think: This is the bridge. Not just the card but the impulse to keep it. Not just the card but the ideas printed on it. You realize in this moment that the vagaries of age and failings of the body notwithstanding, Wooden will live on.
"He'll always be with us," Hill says. "His lessons, his concepts, his philosophies are deeply ingrained in all of his former players." Breakfast at VIPs is a testimonial event, you think. It speaks to how deeply people can affect each other. Maybe it's a Frank Capra thought, maybe it's straight out of "It's a Wonderful Life," but you think it, you believe it, and you're intoxicated by it.
* * *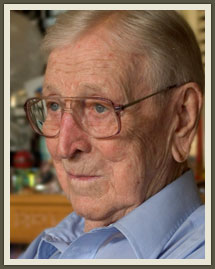 Photo Nik Kleinberg/ESPN.com
You drive Coach home at the end of the afternoon. You open the door on the passenger side, and hold your left arm out, bent at the elbow. He reaches out with his right hand, grabs on, and lifts himself to standing. You walk him to the gate and watch him head to the elevator in the parking garage. You wait. Hoping to see him appear behind the glass door at the balcony. The sunlight bouncing off the glass makes it hard to see inside. You wait. Finally, you see him moving behind the glass and you wave. You feel a twinge, a hint of that mix of joy and worry Hill must feel, and you turn to go, with your hands in your pockets, wishing you had some token.