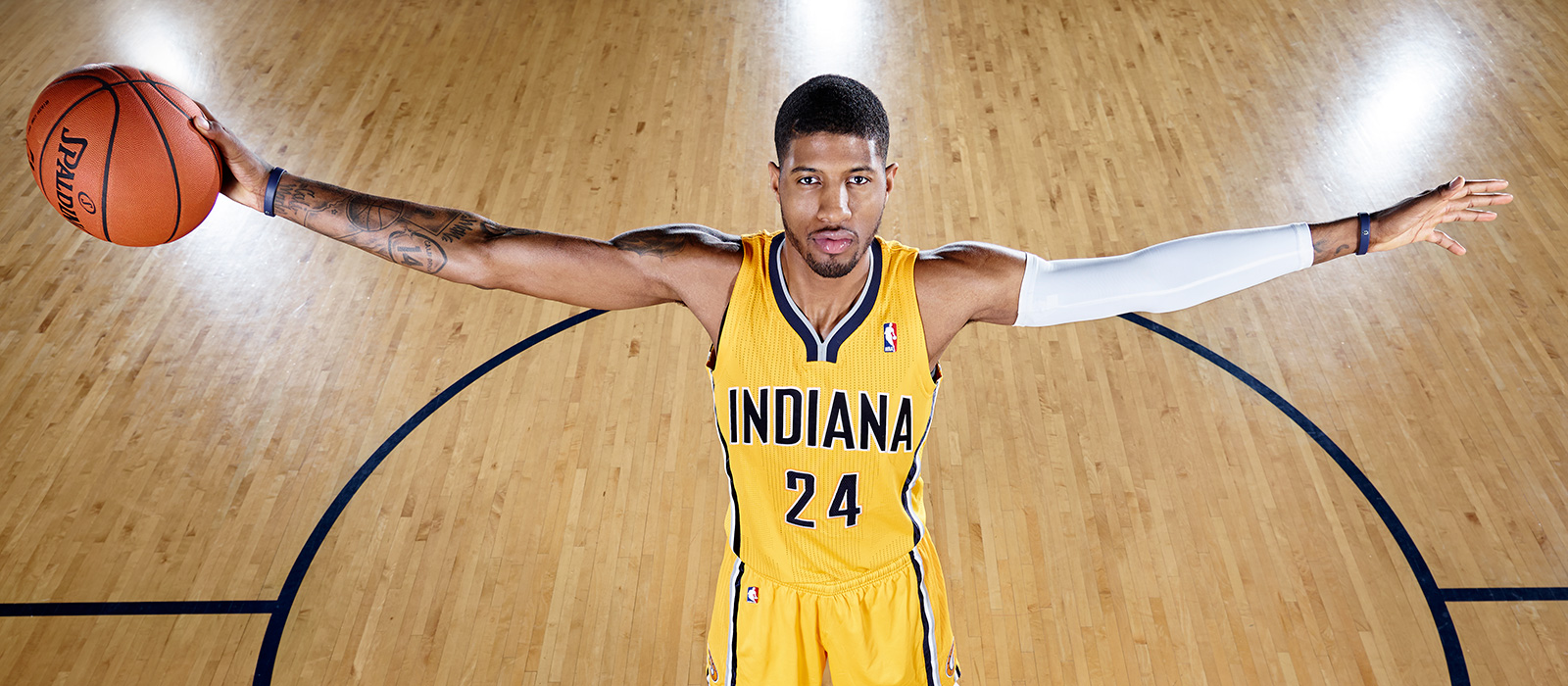 The Grand Unified Theory of Paul George
If Pippen's PER + Duncan's DWS + James' net rating = Paul George, then how many seasons until he becomes the NBA's best two-way player? (Trick question: He already is.)
THE NBA'S MOST anomalous superstar is headed to lunch. It's a snow-flecked, hundred-yard saunter from Bankers Life Fieldhouse to Kilroy's Bar n' Grill in Indianapolis. Not long ago, Paul George swears, he could make this trek for a platter of Indy's finest stuffed breadsticks with nary a notice. But on this January day, no such anonymity. A Bud Light truck driver climbs out of his window to bellow "PG!" upon spotting the 23-year-old. In the restaurant, a man beseeches George for an autographed napkin; another requests a picture. By the time a lady thrusts a phone in George's face -- so her friend can hear him breathe, apparently -- the point is clear: These breadsticks are going to take time.
Squeezing himself into a booth at Kilroy's, George exhales. What were these walks like, say, a year ago, before he became the best player on the NBA's best team? "To be honest," he says, grinningly sheepishly, "when I walked around downtown, people thought I was a college student. They'd tell me, 'You must play for IU.'"
Ignore, for a moment, that the campus of Indiana University resides an hour's drive from downtown Indianapolis -- or that Occam's razor suggests that a 6'9" man a block from the hometown arena might, in fact, play for the local NBA franchise. That a man now universally regarded as a leading candidate for league MVP could have been so anonymous a mere 12 months ago is enough to raise its own question: Has anyone in the NBA ever become better, faster than Paul George?
With an 83-inch wingspan on an 81-inch frame, he's the Platonic ideal of the modern swingman. His 22.2 points, 6.4 rebounds, 3.4 assists and 1.8 steals a game (through Feb. 12) scarcely hint at the astonishing depth of his all-around game. "I watch Paul George now," one Eastern Conference scout says, "and the physical tools, coordination and underlying biomechanics are all there, and there in abundance. In terms of talent, there's almost no limit to how good he could be." But what most separates George from the rest of the NBA elite is the anonymous nobody he used to be. Since the advent of the Internet and the glut of scouting databases that emerged to service the billion-dollar NCAA and NBA, every American superstar-to-be has been tagged and identified as such in puberty. Poll talent evaluators around the league and to a person they agree that George qualifies as the only domestically produced wunderkind to emerge from this much obscurity in at least a quarter of a century.
So ask yourself, and answer honestly: Did you really have any idea four years ago who the hell Paul George was? And then consider the really fun question: How the hell did this guy happen?
---
FOR THE ANSWER to that, we begin at the beginning; and in the beginning, there wasn't much to Paul George. A physical late bloomer, he ventured no further than the local playground for years. His game was literally forged by rejection, his shots swatted up and down his street in Palmdale, Calif., by his older sister Teiosha (a future Pepperdine starter). He didn't play organized hoops until he was a 6'1" freshman at Pete Knight High. "There wasn't a lot of meat on the bones," coach Tom Hegre says with a laugh. He didn't even know to join an AAU team until he was a rising senior. "At his first practice," George's mother, Paulette, says, "people were saying, 'I've never heard of you.'"
Nowhere close to a top-100 recruit, not even the best player in his AAU program -- that was current Pelican Jrue Holiday -- George surfaced at nearby Fresno State, a WAC school under probation for recruiting violations. With little to lose, Fresno could roll the dice on a reedy, high-flying project with two big asks: to play A) right away and B) on the perimeter. "Paul had a vision of himself that even his coaches and teammates didn't fully understand," former Bulldogs coach Steve Cleveland says.
By his second season at Fresno, George had grown in game and in stature (to 6'8"). But even though he repaid Coach Cleveland's faith in him with a 16.8/7.2/3.0/2.2 sophomore season, the red flags were scattered all over his bio. Fresno's 15-18 record, George's multisegmented jumper and his woeful 0.9 assist-to-turnover ratio meant few draft analysts projected him higher than a mid-first-round pick.
Still, not since Scottie Pippen, drafted out of Central Arkansas in 1987, had a U.S. prospect bloomed as dramatically, or as late. The 6'8" Pippen also had a delayed growth spurt, also had leveraged a wingspan around seven feet, also had made his bones as an oppressive perimeter defender. One man, at least, noted the resemblance. "There are a lot of similarities to Scottie," says Pacers president Larry Bird, who played alongside Pippen as an Olympian and against him as a Celtic. "He's got a good chance to do a lot of things that Scottie's done."
It was with that hope that Bird plucked George for the Pacers with the No. 10 pick in June 2010. Little did he know that George did not want to be as good as the great Scottie Pippen. He wanted to be better.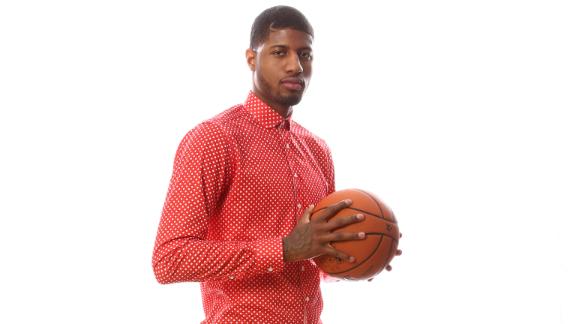 TWO YEARS AGO, in Brian Shaw's first spring coaching with the Pacers, the three-time NBA champion invited George and his father aboard a pontoon boat Shaw had bought on Craigslist. George, an avid angler, had been intrigued months earlier when Shaw had served fried, allegedly home-caught fillets to lockout-starved staffers. Now the three men floated out on Indy's Lake Clearwater, bonding over bluegills, crappies and a shark named Kobe Bryant.
As a storm descended, swaying the 16-foot vessel, George confided to Shaw that Bryant was, in fact, his ideal -- the one whose flourishes he'd impersonate while dribbling around the house, the one whose Lakers jersey he'd owned as a kid, the one who'd inspired him to stay out on the perimeter. Whenever anyone had asked little Paul whether he was good at his favorite sport, he had replied, with jarring self-assurance, "You ever see Kobe play?"
But Shaw, who'd watched the second-year player at work, knew idolatry was far from emulation. "If you want to be the best," he told George, "I've been around the best." For a decade, Shaw said, he'd seen Kobe play -- and stretch, and ice, and lift, and study opponents, and polish his footwork and generally start his day long before anyone else bothered. "I told real stories," Shaw says, "and Paul was like a wide-eyed puppy, soaking it all in."
From then on, if George ever threatened to cut corners, Shaw would intone Kobe's name, dangling superstardom in front of his pupil "like a carrot." George, at the time an unreliable fourth option behind Danny Granger, David West and Roy Hibbert, got the message: There's a canyon of difference between being your team's hardest worker and being Kobe Bryant.
George, Shaw says, began doin' work, Kobe-style. He booked office hours with Pacers color analyst Quinn Buckner, a known confidant of Michael Jordan, to learn a killer's regimen: what MJ ate, how he prepared, how he watched film. When he sought out Bird for criticism, the three-time NBA champ hooked him on the exhaustion of full-court one-on-one.
"It all shaped how I prepare for games now," George says. "Before, I'd come in and I'd shoot when it was my shooting time. But now, let's say we're playing at 7 p.m. I'll come into the arena at 3:30, get a nice lift in, upper body and lower body. Then I'll go to the practice court and shoot 250 jump shots. Then, after that, I'll get a massage because I'm so worked up to that point. Then it's game time. I learned that you really get into a mindset: I've been ready since 3:30. And I'm going to rip your head off."
By the end of that 2011-12 season, which ended for the Pacers with eventual champion Miami crushing them in the final three games of the second round, George resolved to make up for his late matriculation into basketball. He adopted a mantra. Over and over, in the weeks after that defeat, he began silently repeating the same phrase: This is going to take time.
"I'm a person who gets better if I'm actually learning," he says. And to do that, he needed to start ripping off heads in the offseason.
DECAPITATION DEMANDS A schedule. And so it is that every summer for George now commences with a customary review with Indiana coach Frank Vogel, a man whose office wall is conspicuously adorned by an oversize photo of three Pacers shielding the rim from Derrick Rose. The caption reads SWARM. It continues with George returning to LA, his offseason home, to break down tape of every second of every Indiana playoff game that year. (Regular-season games, George asserts, reveal little; only the postseason truly exposes a player's flaws.) And then, and only then, notes in hand, does George go back to work.
So it was in the summer of 2012 -- the one after George's resolution -- that he self-diagnosed a case of extreme timidity off the bounce, evidenced by how often he'd caught and swung the ball in the playoffs. "I felt like I let the team down," he says. "I was scared to put the ball on the floor because I didn't want to turn it over." George enlisted Jerry Powell, a ballhandling guru who'd worked with LeBron and Kevin Durant, for two-a-days. Powell told George he'd been dribbling the ball straight up, as if he were still 6'1", and that he needed to stay lower to protect the ball, attack angles, shift speeds and create offense for himself. George went to work. "I had never met a kid that humble, that young," Powell says. "I told him, 'You're a handle away from being an All-Star.'"
That hypothesis would be field-tested that October. On the eve of the 2012-13 season, Granger, the incumbent star swingman, went down with left patellar tendinosis, effectively ending his season and handing George, the understudy, his leading role. A fretful George, who'd averaged 12.1 ppg the season before, went straight online to pore over the numbers from Bryant's third NBA campaign. By then, his idol was already averaging 19.9 a game.
The season looked dead on arrival. This is going to take time. "But thankfully for us," a chuckling Vogel says, "Paul exploded."
Granger -- who has the same agent as George and remains close friends with his teammate -- had a courtside seat to his own transformation into the Wally Pipp of Indy. He watched the new kid proceed to launch 50 percent more shots than he had the year before (up from 9.7 to 14.9 a game), doubling his prior season's beyond-the-break three-point tries, midrange jumpers and attempts in the paint. Deferent no more, George was named an All-Star, just as Powell had predicted. In the playoffs, a regular-season line of 17.4/7.6/4.1 blossomed into an even more efficient 19.4/6.0/5.1 in seven head-to-head bouts with the league's apex predator, James. At times, George appeared to conjure offense at will: draining a 32-footer with 0.7 of a second left to send Game 1 into overtime; blowing by James in Game 2 and unleashing a tomahawk jam that left Chris Andersen on all fours.
But after Game 7, in the hush of the visiting locker room at AmericanAirlines Arena, the NBA's Most Improved Player was all but catatonic. Not only had the same team eliminated George for the second straight postseason, but he'd gone from peak to valley at the most revealing moment of his career, scoring a mere seven points in the Game 7 loss. "I remember, specifically, that he talked about how he hadn't prepared for the role he was in," West says. "We immediately started talking about next year." George vowed to return, in his own words, "a complete package, offensively."
This is going to take time.
And so it was, last summer, that George reunited with Powell and located a new trainer, former Lakers sharpshooter Mike Penberthy, to iron out a hitch in his jumper, widen his stance and condition his body to square up to the basket. ("Paul had this intensity," Penberthy says, "like, man, this guy could hurt me.") George tested his repertoire in pickup games with NBA players at 360 Health Club in Reseda, Calif. A crew involving Granger, John Wall, Taj Gibson and Reggie Jackson was witness to a new ferocity in George, the Pacer howling at himself whenever the others managed to score on him. Then he reached out to development coach Justin Zormelo, the founder of Best Ball Analytics, whose primary client is, not coincidentally, Durant. "Before this season, Paul told me, 'I'm coming for everybody,'" Zormelo recalls. "And he mentioned Kevin and LeBron by name."
And so it is, this season, that upon the end of every Pacers game, Zormelo emails George a link to video of every possession he was involved in and a stats-minded edit of past duels with his next matchup. Since George prepares to guard point guards, shooting guards and forwards, the videos routinely run two hours long -- so long that in December, Zormelo figured he'd test his client's attention by withholding the link after a random game. George immediately emailed him, in confusion. And at his Miami hotel a few days later, before a matchup with the Heat, he pulled a visiting Zormelo aside to make one thing perfectly clear: Yes, indeed, he watches (this ...) every (is ...) single (going ...) frame (to ...) every (take ...) night (time).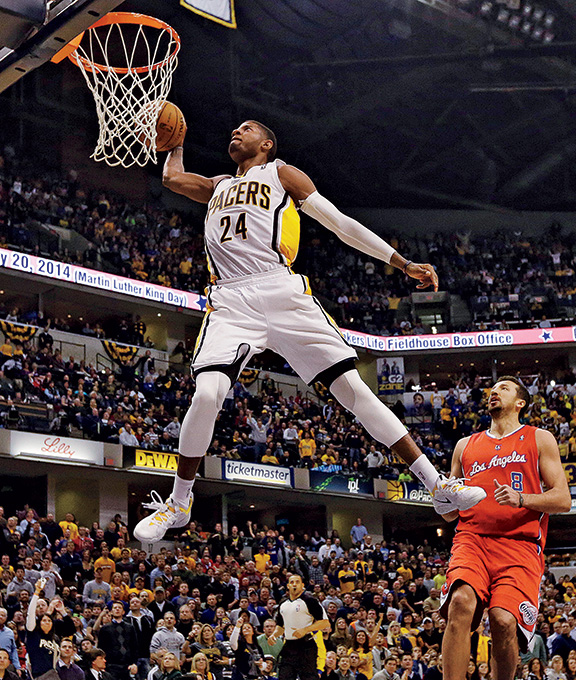 SO EXACTLY HOW good has Paul George become? Funny you should ask -- and good timing too. Because it is only now that George's chosen profession has built the metrics to contextualize how complete his game has become.
Let's start on offense, where this season George's usage rate of 28.2 has conspicuously climbed to 12th highest in the league, while his PER has risen to 27th overall (20.4). He has scored more points than ever (22.2 a game, 11th highest in the NBA), more efficiently than ever (true shooting percentage: 56.3 percent, up from 53.1 percent last year), while turning the ball over less than ever (12.4 times per 100 plays, better than James and Durant). He ranks second in scoring off screens (1.11 ppp); 11th 
in isolation (0.95); ninth in catch-and-shoot (1.27); and sixth in spot-up possessions (1.29). "Honestly," Zormelo says, "Paul scares me," noting that George's 0.99 overall ppp this season mirrors that of the 23-year-old James (1.00) and the 23-year-old Durant (1.06).
But all of this constitutes just half of George's professional life. Consider the other side of the court, where this year's Pacers allow a Scroogeian 96.2 points per 100 possessions, not only the best mark in a decidedly offense-centric league -- the second-place Bulls clock in at 100.7 -- but the lowest in a decade. Since 1978, per NBA.com, precisely zero other defenses have outperformed the NBA average (currently 103.2) by as large a margin as Indiana has this season (minus-9.6).
This is no accident. In Indy there is a culture, implanted by Vogel, who broke in as a Celtics video coordinator and offers no shelter amid marathon film sessions -- sessions that George (note the pattern?) has requested even more of. Bite on a ball fake? Neglect to box out or rotate? "Coach has no shame in calling you out," George says. "If you don't know what you're doing, you're going to get embarrassed." Then there is the personnel, handpicked for length, from George Hill (6'9" wingspan) to Lance Stephenson (6'10") to West (7'4") to the absurdly long-limbed Hibbert (7'9"). And then there is a philosophy that's designed to exploit all those long arms.
Thanks to Hibbert -- whom Vogel plants in the paint like a guard tower, arms up, to capitalize on the resurgent rule of verticality -- Indy's perimeter D is unleashed to "close out, run guys off the three-point line and attack," as Kings coach Mike Malone notes with awe. The result: The swarming Pacers allow the second-lowest three-point percentage (32.9 percent) on the fourth-fewest attempts (960) in the league. And the tip of their spear, policing passing lanes and hounding the most perilous threats over picks, never under? That's George.
Vogel often marvels at how a 6'9" human can move so slickly as to be almost impossible to screen, and the data bears it out. No NBA player guards as many ballhandlers on pick-and-rolls while permitting so little scoring. "If you're going to compete with the Durants and LeBrons, it starts with having somebody like Paul," Vogel says. "If you don't have somebody like Paul, you're probably going to lose."
Of course, somebodies like Paul aren't falling off trees -- or all teams would have one. Consider that George has rated first overall in Defensive Win Shares for two straight seasons while ranking in the top 10 in steals per game for three. Meanwhile, among those who play at least 30 minutes a game, he ranks second in opponent field goal percentage at the rim, barely behind Hibbert. "I don't know if I've ever seen anyone Paul's size defend like he does," says Bird, a man hardly prone to hyperbole. "It's unbelievable."
Shaw sees Bird's disbelief and raises it into blasphemy, christening George the NBA's best two-way player, ahead of James, for a simple reason: "LeBron doesn't always guard the other team's best player." Defense, George notes, used to be the "only way I could get on the floor," and he never shook that survivalist desperation, patrolling both ends as if he's paid on commission, by the step. Simply put, he demands the hardest assignment, on behalf of arguably the most unforgiving defense ever, for most every minute he's on the floor.
"He's got Pippen's body and Iverson's instincts in terms of using his hands to disrupt," Vogel says. "If Paul didn't score a point -- a point -- he'd still be a top-15 player in the game."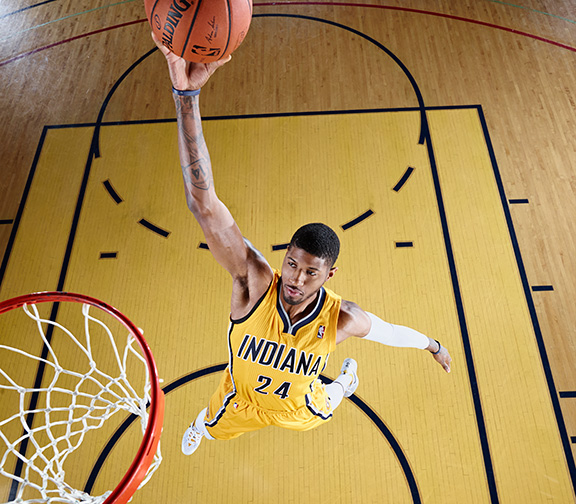 AND YET, FOR all these fancy metrics, it's the NBA's seminal stat that remains its most persuasive. Wins matter. They're why 20 of the past 25 MVPs played for a team with at least the best record in its conference. They're why George's numbers -- even compared with those of James and this year's revolutionary iteration of Durant -- feel far more substantial than the empty calories of a Carmelo Anthony. They're why Granger is comfortable declaring that his replacement will win the MVP award "in one of the next three years, I promise you."
ESPN The Mag Podcast
Ty Wenger delves into the newest edition of ESPN The Magazine to look at the ascension of Paul George and the beautiful mind of an NFL hopeful with Pablo S. Torre and LaRue Cook.

Which is not to say that doubts about George's place in the NBA's upper echelon do not persist. In an informal poll of 20 league sources -- players, coaches, executives and scouts -- seven respondents declined to name George a superstar. When asked why, each cited George's inexperience.
One of those seven dissenters, it's worth noting, was Paul George.
And so it is, back at Kilroy's, once the breadsticks have arrived and the napkin-wielding masses have dissipated, that George is asked to defend a self-deprecation that would be inconceivable to his boyhood idol. "Honestly," he says, "I just feel like there are a couple steps I still need to get to in order to be on that 'superstar' pedestal."
And with that he dips a stuffed breadstick into marinara and pauses, as if suddenly afraid of something essential being misunderstood. As if considering, for the first time, that he's already taken enough time; that maybe the person he's envisioned being could be within earshot of the person he already is.
"I want to be taken seriously," George says finally, breadstick still in hand. "I want to be one of the most decorated players in this league. I want to win the MVP. Be the Defensive Player of the Year. I'd love to be the scoring champion. Be a real champion. Be a gold medalist."
This sounds like a lot, he is told -- for any superstar. And as he looks up, nodding, what he does next feels like a warning to everyone he has ever deferred to, and idolized, and devoted himself to decapitating. "It is," he says, his gaze steady, his voice unwavering. "I want it all."
Follow The Mag on Twitter (@ESPNmag) and like us on Facebook.
Pablo S. Torre is a senior writer for ESPN The Magazine. Follow him on Twitter: @PabloTorre.
Join the conversation about "The Grand Unified Theory of Paul George."