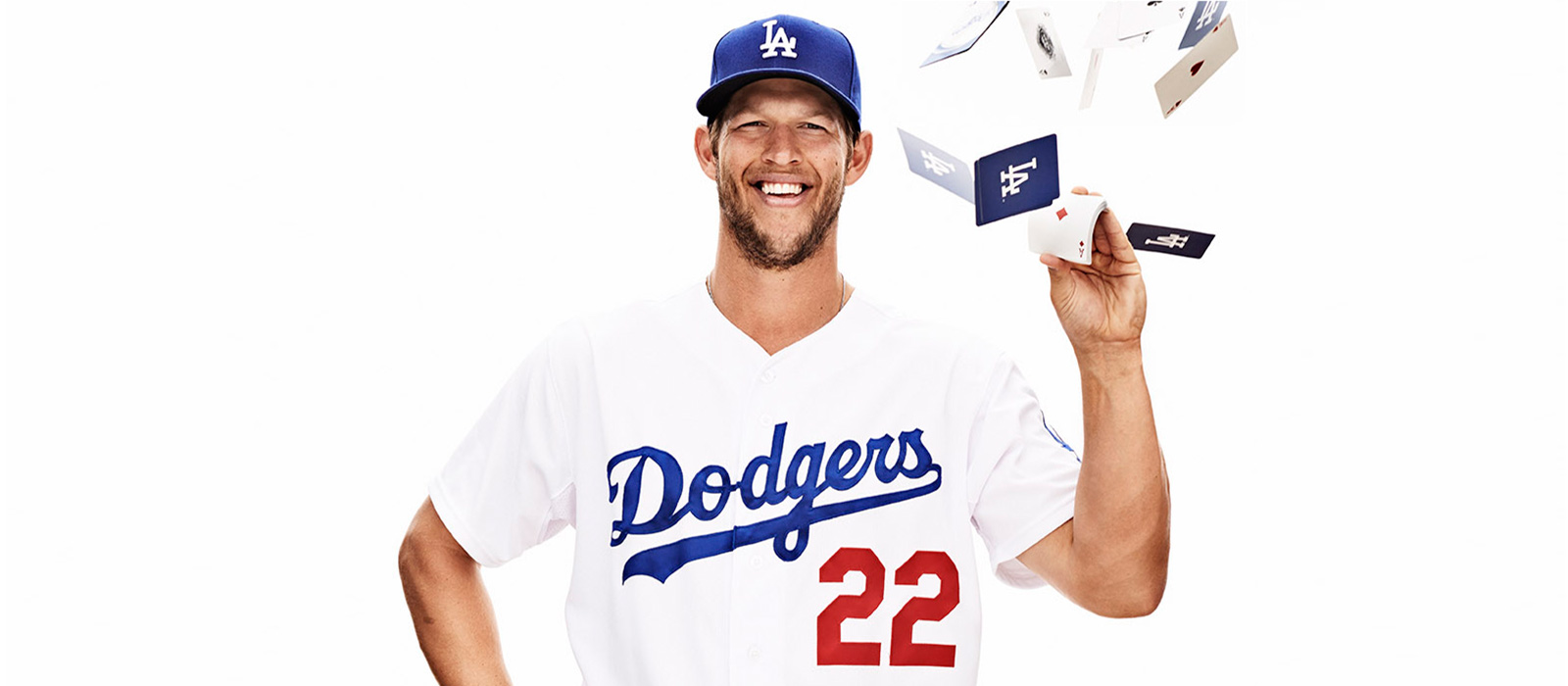 Creative Control
Before starts, CLAYTON KERSHAW abides by an almost comically strict code. Hey, it got him that $215 million deal.
A FAMILIAR ANXIETY will eat at Clayton Kershaw five hours before his first scheduled start this season. He will pull on a Dodgers cap and the glove he's used for all of his previous outings, grab a baseball and slip outside the door of the unfamiliar clubhouse, alone.
He will pick out a wall. Any will do. Particulars won't matter as the Dodgers prepare to face the Diamondbacks on March 22 at the retrofitted Sydney Cricket Ground, MLB's first foray into Australia in 100 years. Using a Kershaw-lite version of his mechanics -- the mid-delivery pause that deceives hitters, the downward angle, a quick low step toward his target -- he will softly short-hop the ball against the base of the wall, catching the ricochet, over and over, the best way he has found to cope with his nervous energy and the impossible standards he sets. Without looking, he'll furl the fingers of his left hand against the seams of the baseball, a different grip for each of the pitches he throws. He will want, in those moments, not only to feel the ball and repeat his delivery but to seek out something that is both ephemeral and central to his being: control.
---
NO MATTER WHERE he is on earth, Kershaw seems to reflexively stalk control -- of his curveball, the strike zone, an inning, a game, the days between starts, his words, his actions, his life. Control allows him to avoid regret. It allows him to build the things important to him.
At 26, he is already deep into a Hall of Fame career. Opponents' OPS against his fastball last season was .596, the second lowest in the majors. When he threw his curve, hitters had an OPS of .192, easily the worst mark against any pitcher who threw at least 400 such pitches. So it's no surprise that Kershaw has led the National League in ERA for three straight seasons. The last two pitchers to do so in their respective leagues? Greg Maddux and Roger Clemens.
Even when he signed a seven-year, $215 million contract two months ago, making him the richest pitcher in the game -- ensuring a permanence of wealth and celebrity -- he remained in control, refusing to dwell on the subject. His mom, Marianne Kershaw, says she learned the details of the deal from the Internet. When she asked him about it on the phone, he said "Thanks, Mom" and changed the subject. When his mother and wife suggested they celebrate, Kershaw blanched. "I don't know if money is something to really celebrate," he said.
He is a human metronome, adhering to a process that provides him, on the mound, moments of deep satisfaction for which no form of currency could be exchanged. During the season, his life operates on five-day cycles, and he has established hard mental lines on what must get done each day. Altering the system is not welcome. This is why he drives the same 2007 Tahoe he bought in the minors. It's why he won't give up his ages-old glove; it's been restrung repeatedly, and Kershaw now tells catcher A.J. Ellis to ease up on the hard return throws. It's why he wears the same old T-shirt and Dodgers shorts around the clubhouse. It's why he warms up between innings the same way.
His routine is so predictable, it's as if he's onstage, performing the same role again and again. "He's an amazing character actor," says Ellis. "He flips on the character, and he does not break."
Except he does, only no one notices. The strange thing about the control Kershaw exerts over his life is that it gives him the license, with every pitch he throws, to compete against the guy standing 60 feet, 6 inches away. His sense of control allows him, at the center of all attention, to be free.
"Baseball is so hard as it is," he says. "For me, if you simplify it, it takes a little bit of the weight off, rather than trying to figure out all these other things. It's just peace of mind."
IN SYDNEY, KERSHAW will have used his bullpen sessions the days before his start to reinforce control. Ellis will not throw him signs in these sessions because the sequence of pitches has been ingrained; Ellis can rattle off the list if you ask, like a flight attendant rambling through pre-takeoff safety instructions. "Three fastballs when I'm standing up. I sit, and three fastballs down the middle. Then three fastballs either side. Three changeups away. Fastball inside. Three curveballs to the middle. Fastball inside. Three sliders to the middle. Then he goes to the stretch position. Two fastballs inside, two fastballs away, two changeups, one fastball inside, two curveballs, one fastball inside, two sliders. Back to the windup, and one fastball inside, one fastball away."
Thirty-four pitches in all.
---
KERSHAW'S SELF-RELIANCE and search for control came early. He was 10 years old when his parents divorced, and he lived alone with his mother. Marianne noticed that when she returned home from work at a Dallas advertising agency, Clayton's homework would be finished. Pretty much anything she asked of him was always completed. He'd do everything he needed to do, then he'd go outside to play with friends, to throw a ball against walls and pitchbacks. When his father and I got a divorce," she says, "some of that anxiousness comes from that. He felt more insecure, and he began to strive more."
In ninth grade, Clayton stopped Ellen Melson in the five minutes between classes -- a neatly finite risk, she notes now, in case the conversation didn't go well -- and asked her to go out with him. She said yes, and he went off to lunch. Their first dates were homework at the Melsons' kitchen table, where Ellen helped him with art sketches and Clayton helped her with math. Kershaw found himself in the middle of a large and warm family. "When he came on our vacations," she says, "he instantly gained 10 cousins, 10 aunts and uncles, and my siblings. It was refreshing for him to come to my house because there was chaos, there was always food, there were always people coming and going."
It was an instant community, something the only child sought. Pitching offered another comfort outlet. He'd played the game well his whole life, but a growth spurt before his junior year and a strong left arm turned him into a prospect. He finished his senior year at Highland Park High with a 13-0 record and a 0.77 ERA.
The Dodgers drafted him in the first round in 2006, and at 18 years old, he left home for places like Vero Beach, Fla., and Midland, Mich. But he maintained his same group of eight friends, some from his T-ball days -- their assessments of him not based on his last start. Kershaw also left home with a faith that had deepened in high school and that would be reinforced by conversations he had in his first years in pro ball, meeting people from other parts of the world, in other parts of the country. His talks with them about faith helped him define his own path.
"It's probably the main part of my life," Kershaw says now. "I feel like I'm doing this for a reason. It's the platform I've been given. With that, you kind of show what you stand for. Maybe I'm not as vocal as some guys, like Tim Tebow, but I feel like my actions speak to that."
After he and Ellen got married in 2010, Clayton began to share her passion for helping vulnerable children in Zambia. In the past four offseasons, he has joined her there to construct a home, a school and water wells. Not satisfied to simply write a check, he would rather control the execution of their vision.
---
FOUR HOURS BEFORE the first pitch, Kershaw will sit next to teammates in a newly constructed visitors clubhouse. The Dodgers will understand the dynamic in place: Kershaw, preparing to pitch, won't want to talk with them; he'll be locking in. But he'll listen to the banter, invested in the community, even though he isn't a cardplayer or big golfer and isn't regarded as a serious connoisseur of movies. His silent presence will be part of the role that the two-time Cy Young winner plays, overseeing a team that is increasingly his own.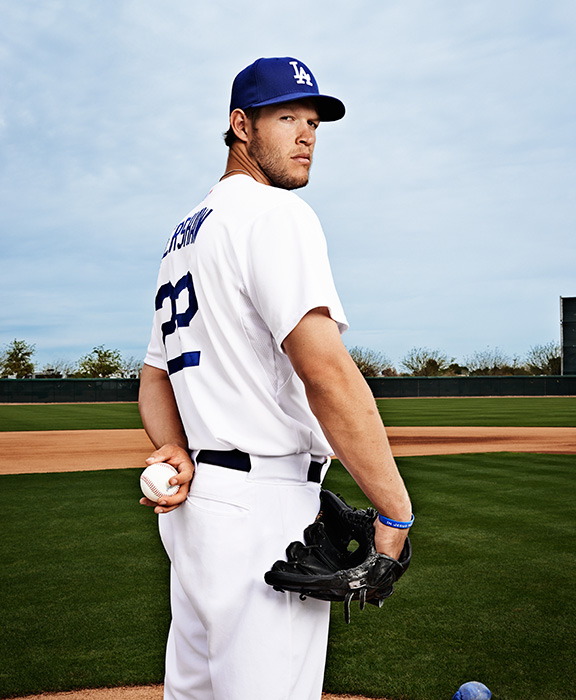 KERSHAW IS A mark in the Dodgers' clubhouse. Sure, he regularly plays pingpong on the table that fills the Dodgers' spring training facility, and he and Ellis do manage a fantasy football team, which has been uniformly terrible over the years. But other players often relate to their leader by goofing on him.
ESPN The Mag Podcast
Joining senior editor Paul Kix, Buster Olney discusses his latest article and interview with Clayton Kershaw, delves into team previews, and questions whether team chemistry is quantifiable.

"Usually, it evolves into all of us ganging up on Kersh and giving him a hard time about something," Ellis says. "He's an easy target because he doesn't fire back. You can't pick on Zack Greinke, because Zack will bury you. If Kersh makes fun of me, I know it's maybe 70 percent true and 30 percent joke. If Zack makes fun of me, it's 100 percent true and I may have to go look in the mirror for a while and think, I might have to make some changes.
"Kersh takes it really well," Ellis says, even though his earnestness makes him a slow-moving target. Ellis remembers meeting Kershaw in the minors. Kershaw approached and asked if he'd seen the movie "Jackbutt."
Ellis looked confused. "'Jackbutt'?"
"Yeah, 'Jackbutt,'" Kershaw said. His piety, you see, forbade him from saying Jackass.
Still, Kershaw's sincerity should not be confused for meekness. On the day he pitches, every Dodger knows not to joke with him. With no one on base, Kershaw likes to work quickly, get the ball and go, dictating the pace -- sometimes, Ellis feels, to his own detriment. An idle mound visit to slow things down infuriates Kershaw and can result in a loud and pointed "Fricken!" -- the substitute cuss he favors. Ellen jokes that she fines him $1,000 for anything stronger. When an outing, or an inning, is not going well, he lets loose with an Are you fricken kidding me? that Ellis has no trouble picking up from behind the plate.
"There are guys," says Russell Martin, who caught Kershaw for three years, "who, when the sixth inning comes around, they look at the bench: 'Help, I'm done.' When Kershaw gets taken out, the manager's coming to get the ball and he looks like he's getting angry, and it's a sincere 'I want this.' If you want to come and get him, you'd better bring a vise grip to get it out of his hand, because he wants the ball."
---
THREE HOURS FROM the first pitch, Kershaw will head to the trainers' room, game pants and spikes already on, laces untied. Kershaw will lie down, and if he's locked in, if he's relaxed, if he's on local time after the four days he will have spent in Australia, and if he's not too bothered by the curious if befuddled questions from the media, he will nap. If not, well, he will know he might be in for a struggle.
---
KERSHAW STARTED THE last game of the Dodgers' 2013 season, Game 6 of the National League championship series, and with two outs in the third inning, he allowed five consecutive hits or walks. By the time Don Mattingly relieved him with nobody out in the fifth, Kershaw had given up seven runs to the Cardinals. The Dodgers' worst-to-first turnaround and Kershaw's own banner campaign -- he led the NL in ERA, WHIP, ERA+ and WAR -- were over. Kershaw was sullen when Ellen and Clayton's group of boyhood friends met at the Dodgers' hotel.
Kershaw and his guys maintain a fraternal chain of text messages and gather weekly for dinner in the offseason, and once a year they road-trip to greet Kershaw. They had come to St. Louis, but no one was comfortable until someone -- Kershaw later recalls it being Ben Kardell, a master of the pointed text message -- said, Wow, were you terrible. The words, delivered from the perfect source, made Kershaw laugh at himself. There would be other days to leave his mark. A month later, after all, Kershaw would win his second Cy Young in three years.
---
SEVENTY-FIVE MINUTES before the first pitch, Kershaw will meet with Ellis and pitching coach Rick Honeycutt to tell them what he plans to do against the D-backs hitters. Kershaw will have done his own scouting, watching video of the Diamondbacks against pitchers similar to him -- Cliff Lee and Gio Gonzalez, for example, because Gonzalez relies on a fastball and curve, like Kershaw does, and Lee has his mechanics. Ellis learned long ago that Kershaw will not want to hear pep talks at this point. If he's done his work, he won't need them.
Exactly 30 minutes before the first pitch, Kershaw will long-toss across the outfield where the Sydney Sixers normally roam before heading to the bullpen behind center, to throw that same 34-pitch sequence he used during his earlier session. He will time his warmup so the national anthem -- the American one, most likely -- plays right in the middle of his routine. Eight minutes before the first pitch, he will walk in from centerfield, Ellis on one side, closest to the stands, and Honeycutt on the other.
---
KERSHAW LIKES THE idea of control, the sense that he dictates the outcome of his life, regardless of the obstacle or the 100-RBI hitter facing him.
Russell Martin played with Derek Jeter, and he sees a commonality between the Yankees captain and Kershaw. "They're not going to put blame anywhere else," Martin says. "They believe they can make it happen every time. Kershaw truly believes he has what it takes to beat you. He believes he can beat you with his fastball. He believes he can beat you with his slider. He believes he can beat you with his curveball."
Though he is of a generation of pitchers raised to monitor their mechanics through video, Kershaw says: "I hate watching myself on video. I don't ever do it." This control freak is, paradoxically, overwhelmed by the thought of studying the endless intricacies of his own form. "I'm just too hard on myself, and I always go away feeling like, Wow, I've got a ton to work on."
Instead, he places faith in his own process, searching out a level of control that is less mechanical than instinctual. He never mentions mechanics during one of his starts.
"Blaming mechanics is a crutch," Martin says. "It's taking the blame from yourself and putting it on something that isn't in your mind."
Kershaw owns every performance, good and bad. "There comes a point when the game starts, it's about competing," Martin says. "If your focus is anywhere else but to compete, you're behind. You should be in the moment. Kershaw is able to do it ... more consistently than anybody."
---
KERSHAW WILL REACH the makeshift dugout, the same spot in the middle of the bench where he will sit when the Dodgers are at bat. Then he will pull on a cap and the glove he has used for all his previous starts and step out onto the field.
The Sydney Cricket Ground will be packed, with tickets having been listed up to $250 online. But the crowd will wait for him; the leadoff hitter will wait for him; the game will wait for him -- its greatest character actor controlling the scene.
And then he will kick his leg, delay it there for a moment, and he will deliver.
Buster Olney is a senior writer for ESPN The Magazine. Follow him on Twitter: @Buster_ESPN.
Follow The Mag on Twitter (@ESPNmag) and like us on Facebook.
Follow ESPN Reader on Twitter: @ESPN_Reader
Join the conversation about "Creative Control."