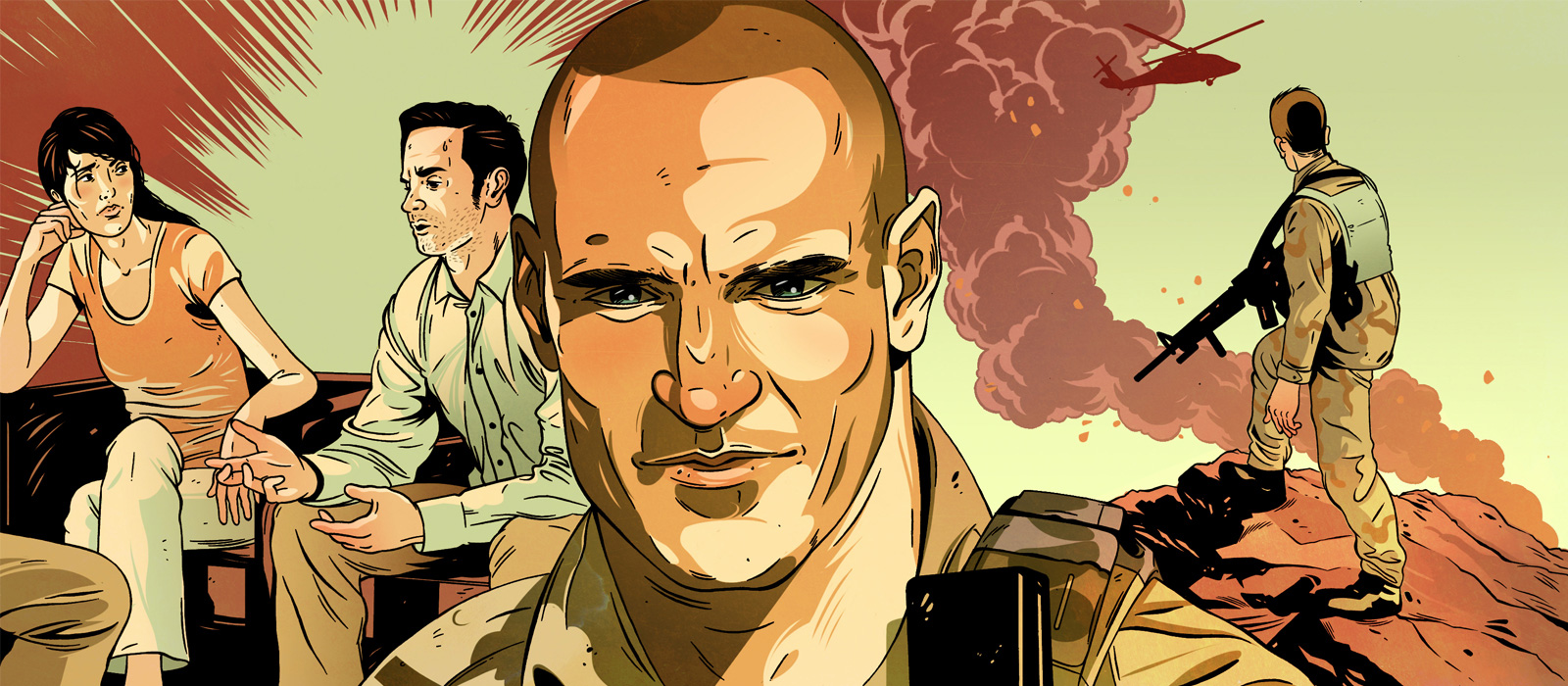 Enduring Guilt
Conflicts may forever linger over how Pat Tillman died 10 years ago, but the gut-wrenching stories of the shooters, the survivors and the Tillmans remain intertwined.
OLYMPIA, Wash. -- The wiry, dark-haired financial planner sitting across his office conference table has lugged around heart-tugging guilt for a decade. I am a good man. I am a God-fearing man who served and loves his country, wife and young daughters. But I, Steven Elliott, may have shot another man dead.
Not just any man; an American sports star who evolved into a cultural icon.
Pat Tillman ... Pac-10 Defensive Player of the Year at Arizona State University in 1997. ... Helped team to Rose Bowl. ... Seventh-round NFL draft pick in 1998. ... Arizona Cardinals starting safety. ... Turned down three-year, $3.6 million contract. ... Left his professional football career and enlisted in the U.S. Army in June 2002 in the aftermath of the Sept. 11 terrorist attacks. ... Joined the elite Army Rangers and deployed for combat. ... Died in the Afghanistan mountains, the result of enemy fire during the war. ... Correction: Died as a result of friendly fire.
Ten years ago -- several minutes before 7 on the evening of April 22 -- Tillman, the square-jawed former NFL safety, was killed instantly by three bullets to the forehead. Sayed Farhad, an allied Afghan soldier standing 10 feet off Tillman's left shoulder, was killed by an initial burst of fire. Bryan O'Neal, a freshly minted Ranger curled up near a foot-high slab of rock in front of Tillman, somehow survived, later walking down a hill traumatized and covered in Tillman's warm blood.
The simple version to a complex story classifies the carnage as fratricide, written up by investigation after investigation as a horrific screw-up by Army Rangers, a fact inexplicably concealed from the Tillman family and the nation for more than a month back then, as military leaders pitched a phony script of embellished bravery and heroism.
Truth is, Tillman's platoon had been ordered divided by superiors just a short time before, and the two groups struggled to communicate with one another in the steep mountainous terrain. A deafening ambush ensued. A squad leader in a heavily armored vehicle would mistake the Afghan soldier for the enemy and open fire, prompting Elliott, then 23 -- a newbie in his first and only firefight -- and two other Rangers to let loose on shadowy images along a barren ridgeline, which they would later learn to be Tillman and the 19-year-old O'Neal.
"It is possible in my mind that I hit him," Elliott told "Outside the Lines" in his first public interview since Tillman's death. "It is very possible that I hit him, but I don't know."
A decade later, the guilt and mental anguish from the most horrific of events resonate not just with Elliott and the shooters, but also with O'Neal, who stumbled away physically unscathed, yet tormented that a bright, pro athlete -- a perceived better man -- wasn't so lucky. Conflicts may forever linger over how events unfolded that April evening, but the gut-wrenching stories of the shooters, the survivors, and the Tillmans remain intertwined.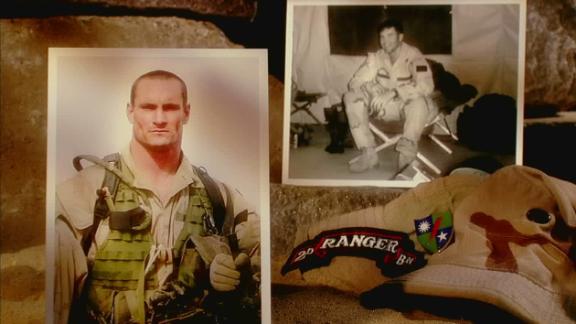 STEVEN ELLIOTT GREW up in the northwestern Kansas town of Hays with his single mom, a sales director with the national cosmetic distributor Mary Kay. His childhood was a "normal small-town, Midwestern existence" -- high school soccer, trips to his grandparents' farm, quail and pheasant hunting. Later, it was Tulsa-based Oral Roberts University, a private interdenominational Christian university, from which he graduated with a 3.9 GPA.
Prior to his senior year and months removed from the Sept. 11 terrorist attacks on the World Trade Center, Elliott -- much like Tillman and his younger brother, Kevin -- did the unexpected in signing a four-year commitment with the U.S. Army. As part of the deal, the Army delayed his entry until after graduation, helped cover some of his student loans and promised a clearer path of entry into the elite Rangers. "I prayed about it and felt really strongly that that is what I was supposed to do," Elliott says. "If I had been engaged or something, I am sure I would have been a lot less courageous."
O'Neal was no big city kid, either, having grown up in a small Arizona border town with his divorced mom, who like her ex-husband served in the Army. He proved a solid student, especially intrigued by history, and easily could have left for college. Instead, a gung-ho O'Neal sought to cast his lot with the Rangers.
The two new Rangers later deployed April 7, 2004, with Pat and Kevin Tillman and the rest of the Black Sheep platoon to the rugged mountainous terrain of southeastern Afghanistan. It would be Elliott's only deployment.
For O'Neal and Elliott, the aftermath and haunting reminders have been hell.
A mundane act of walking past a water fountain initially triggered flashbacks for O'Neal: "The sound it makes when the water is coming out -- that is what it sounded like to me hearing Pat's blood."
Both ex-Rangers dealt with intense guilt. When things turned darkest, Elliott wished he had been killed overseas. O'Neal contemplated suicide.
Elliott, along with the other shooters, was booted from the Rangers several weeks later. O'Neal felt so ostracized, he quit the elite unit for the regular Army. Like others before, they say they turned to alcohol to drown their pain, imbibing to the point of blackouts.
Both abandoned their faith, though Elliott says he has found his way back. Both divorced and married a second time -- O'Neal to a redheaded, cross-country runner whom he had a crush on in high school, and Elliott remarrying his first wife.
"I was emotionally numb for a long time before things really started getting bad," Elliott says of his early post-Afghanistan years. "I remember feeling like, 'I know that it is horrific and important, but honestly, how do I process this?' And it isn't that there aren't people who would be willing to listen, but it feels the more you talk to somebody about something you are going through that they can't possibly relate to, it just makes you feel even more isolated."
But Elliott still offered up CliffsNotes versions soon after his Afghanistan experience. He made an agonizing trek home and told his mother. He confided in his college friend and fellow Ranger, Evan Essenburg. He told his future wife, Brook, on their first date outside a Starbucks in Tacoma. The couple married in the summer of 2005, and Elliott soon was shipped east to finish the remaining two years of his Army commitment, while his wife stayed behind with her young daughter from a previous relationship.
Though he didn't drink in college and remained a rare abstainer among Rangers, Elliott turned to alcohol as a means of self-medicating. Careful and always seemingly focused -- "Business Steve," as his wife calls him -- he stresses that his job performance never waned as he downed three or four beers a weeknight. On weekends, he'd hit it harder. "I had a very difficult time being in public," Elliott says. "I had persistent nightmares. And the only way I could sleep was drinking. ...
"I was a very hurt, very guilt-ridden, angry person, and I was doing all I could to try and medicate that."
It was easy to blame his struggles on the Army. He lived with the notion that once home with his young wife and on the job managing clients' money, the bad stuff would go away. He coped well enough his last two years to juggle his Army job while earning an MBA degree through Oklahoma State's distance learning program. All the while, though, his demeanor and mental state deteriorated. As a husband and father, he was miserable, emotionally unavailable. His all-consuming job as a portfolio manager became his escape and solace from the otherwise constant pangs of grief and guilt.
"He already is an introvert, but he was incredibly withdrawn," Brook says. "It was more and more time by himself. And just more easily agitated."
Elliott sought the advice of a Veterans Affairs counselor, but nothing changed other than taking a defiant hiatus from his faith, a reality that brings him to tears even years later: "That is the ultimate shift of blame: 'It's not my fault, it is God's fault.' "
Eventually, with his marriage in trouble, Elliott sought counsel from a private therapist, who diagnosed and began treating him for post-traumatic stress disorder. He says he had "nightmares, sleeplessness, depression and the inability to feel much of anything but pain."
The therapist, Olympia-based Susan Kravit, practices a method of psychotherapy known as eye movement desensitization and reprocessing, which involves recalling traumatic images -- such as Elliott's recollections of the memorial service held for Pat Tillman in Afghanistan -- while at the same time the patient tracks a bank of flickering LED lights. While it sounds odd, Elliott says, the therapy lessened the recurrence of destructive memories and the accompanying physical ramifications.
O'Neal, who refers to all of the shooters as "meaningless" to him even today, rolls his eyes when told of the unconventional therapy and broader issue of PTSD. For him, it's little more than a go-to bromide: "People that say, 'I have PTSD.' I am like, 'Shut up, grow up.' "
Yet he acknowledges his own life only got better because of therapy, and thus he shares a sense of compassion for what Elliott has gone through.
Whatever Elliott and the other shooters have lived with, though, O'Neal says that he is certain he experienced worse.
"If I didn't have [counseling] I probably would still blame myself for Pat's death, which I did for years," O'Neal says. "Three of us went up there, and I am the one that came down. Nothing happened to me. I didn't get a single injury. Now how I did not, I still -- I don't understand.
"So for years, I was 'Why?' Especially because at that point I was nothing. I was 19 years old. I had accomplished nothing. Pat was this great man. Brilliant, athletic and a natural leader. Just devoted so much of his time to helping us. I don't think there is anything I can do in my life that can ever match what he was. He was just amazing. So for me to live and him to not -- I didn't get it. It is basically how I lost my faith. If there is a God, how could he allow that to happen? So for years I couldn't wrap my mind around, 'Hey, sometimes s--- just happens.' "
The first three or four years after the firefight, O'Neal says, he was in a particularly "bad spot." He describes himself, at his worst, as a "pretty good functioning alcoholic. I would drink in my room, alone. ... It was terrible." The drinking eventually slowed and after some tough talk from a respected sergeant, he recommitted himself to the rigors of the Army. O'Neal, who converted to Mormonism at 15, says the only drink he has had in the past year occurred during his honeymoon.
But he had ample reason to feel alone upon returning from Afghanistan in the wake of Tillman's death. The experience led him to lose trust in everyone. His Ranger buddies and leaders didn't embrace or protect him, even in light of what he had been put through. Instead, they coldly rejected him.
"When you are in the Ranger battalion you are told every single day that you are elite," O'Neal says. "Of everyone in the Army, you are the best that could possibly be. And everybody believes it. I don't want to say brainwash, but that is pretty much what it is. I was no different. That is exactly what I thought. And then Pat Tillman, the quintessential Ranger, gets killed. And then it comes out that he was killed by friendly fire. That, 'Oh no, the Ranger battalion is not perfect. They are not infallible and they can screw up.'
"So I was a constant reminder that a Ranger battalion can screw up. And because I wasn't going to fall into what everyone else did in changing their stories and try to put the blame on something else, a lot of people turned on me. I was alienated."
Oddly, he was assigned to a squad led by Sgt. Kellett Sayre, driver of the vehicle whose gunners had fired upon him. He asked superiors to be transferred, but it never happened. He describes Sayre and other superiors as making his life miserable and a factor in his leaving the Rangers for the regular Army.
He remembers another Ranger leader -- one not there that evening in Afghanistan a decade ago -- as even less tactful, "telling me that I didn't deserve to live anymore. That I was a traitor. That Pat Tillman was a charlatan. He deserved to die. He didn't deserve a Silver Star. Just went off on me."
text
MAYBE WHEN YOU'RE lucky to be alive you lose the filter. You care less about hurt feelings and playing nice. You take on some of Pat Tillman's swagger and persona, as O'Neal has. Tillman's family has your back. And, well, in your mind, you've been damn near the lone, constant voice from day one.
The shooters' stories have evolved over time. Key details ended up massaged through four investigations. Capt. Richard Min Ho Scott, the officer initially assigned to investigate and whose draft report the Army said it subsequently lost, suggested during a later investigation that "stories have changed'' to "help some people."
Lingering still is how far the shooters were from Tillman's position when they fired. Whether Sgt. Greg Baker, whose initial fire triggered the other shooters to follow, was outside the vehicle when he fired his M4 carbine on Farhad, the allied Afghan soldier alongside Tillman. Whether the Humvee drove straight through, or stopped, then repositioned to take better aim. Whether Elliott continued firing into mud-and-stone buildings just beyond Tillman, making him the Ranger who hit the platoon's radio operator.
These questions haunt Mary Tillman, Pat's mother, even today. Her mind and words still race, consistently circling back to the universal question that seems to accompany every unexpected death: Why? Yet she also cannot escape the lack of evidence, the silence, and the inconsistencies that began forming the day she learned her son had been killed, and that have continued for 10 years.
The statements seemingly come every third sentence, elicited with heartbreaking sadness alongside whispers of a vast governmental conspiracy that reaches all the way down to the seconds when Elliott began firing his M240 Bravo machine gun: "I don't know really what to think." ... "I just don't understand." ... "To me, that is very suspicious." ... "I don't understand why that would be the case." ... "That is another reason why I think there is more to it." ... "I don't understand why they behaved the way that they did."
Elliott told "Outside the Lines" he was never coached or told to recast his versions of events in the many investigations into what happened.
Like the other shooters, but unlike O'Neal, Elliott doesn't recall the vehicle he was riding in ever stopping as he fired upon the ridgeline, though he acknowledges it twice stopped earlier while maneuvering through the rocky canyon, and all but he and Stephen Ashpole dismounting the vehicle to fire at targets before coming to the ridgeline. But contrary to the scene described by other Rangers higher on the ridgeline, Elliott says he personally felt a sense of calmness as he came upon Tillman's position after having just survived a deafening canyon ambush that still impairs hearing in his right ear.
"I remember us being in motion," Elliott says. "I remember seeing Greg [Baker] out of the corner of my eye, because I am sitting kind of sideways-oriented. Seeing muzzle flashes out of his weapon. I remember seeing the shape of the [Afghan]. And then as we pulled across seeing really dark shapes. There was no discernible human form or outline of a soldier, if you will. I just saw human shapes. Ashpole fired. I fired, based on the fact that, 'Well, that must be an enemy position if Greg [Baker] fired there.' And based on the fact that in my mind, Serial 1 [Tillman's section of the platoon] was nowhere to be found. I had no idea that they were there."
Elliott disputes the portrayal that he fired wildly, yet platoon mate Will Aker told "Outside the Lines" of nearly being hit by stray bullets kicking up the dirt near his leg - bullets fired by Elliott. "I didn't see who it was [that killed Tillman] but I know [Elliott] was the closest to shooting me," says Aker, positioned 50 to 60 feet above Tillman on the ridgeline. "He didn't have a look of purposeful intent, but of scared survival."

"I saw an Afghan, sir ... he had an AK-47, sir. ... I turned to engage on him, and when [shooters on the vehicle] seen that I was engaged on him, they followed suit."
- Sgt. Greg Baker to Army investigators
Others on the ridgeline told Army investigators of Elliott and Ashpole, his powerful machine gun mounted in the center of the Humvee, continuing to fire upon a tiny village about the length of a football field beyond Tillman's position -- possibly hitting and injuring the platoon leader and radio operator. Jade Lane, the then 19-year-old radio operator, told "Outside the Lines" that the final Army investigation determined through ballistics analysis that the round that hit him in his chest armor came from Elliott's weapon.
"I just don't remember firing there," Elliott says.
For his part, Lane had different reactions before and after Elliott's "Outside the Lines" interviews became public. A few weeks ago, Lane accepted that it was "one big accident," while also coming to understand Elliott's position.
"I actually believe that he doesn't think that he did [fire]," Lane told "Outside the Lines." "... The mind is a very powerful thing, especially in the way people remember things. ...There are all kinds of incidents where people gave testimony that they saw things and then you match their position up on the battlefield, and it is physically impossible for them to have seen it."
But after an ESPN story published Friday detailing part of Elliott's interviews, Lane engaged in a Facebook exchange with former platoon mate Aker: "This is a joke," Lane posted. "Elliott shifting all (most) of the blame ... They fired indiscriminately, for several minutes, even having to stop and reload, while they were driving down the road. That's not just a mistake, that's GROSS negligence.
"... I'm not saying I would never forgive Elliott, or that he deserves to be tortured by this forever. It's malicious intent that makes an act criminal, and I don't think Steven Elliott has a malicious bone in his body. But part of redemption involves acknowledging and accepting one's actions."
Elliott does remember firing at Tillman's position low on the ridgeline. Based on autopsy reports and a series of Army investigations, the caliber of the fatal rounds were either 7.62 or 5.56 -- the calibers fired by Elliott and Trevor Alders, then a 5-foot-5, 140-pound gunner who is now in Army Special Forces. Authorities never did pursue identifying the specific round or shooter - or never revealed such a finding. It remains possible that more than one Ranger's bullet struck Tillman -- even if a sole shooter proved ultimately responsible for his death -- based on the first investigation revealing that his protective vest contained more than 10 entry/exit tears from bullets and fragments.
"To say that we all took it hard would be a gross understatement," Elliott says of the shooters. "And I can't speculate necessarily as to what their life has been like since, because I haven't been in touch with them. But just knowing what I know of them being, I think, people of conscience -- I hurt for them. ... I just can't imagine it has been easy.''
Of the shooters, O'Neal says, he holds Elliott less accountable because he had recently joined the platoon -- referring to him as a "Joe" dutifully acting as he was trained -- yet adds that it was still no excuse for not first identifying what you're shooting at.
"Once you pull that trigger, you can't take that bullet back," he says. "It's still on every person to be accountable for the round they throw. And to say, 'I was just shooting where my leader shot,' you're trying to absolve yourself of any responsibility. Three of us went up there. Two of them died because the shooters didn't take the time to acknowledge what they were shooting at. And they were in no great danger. They weren't getting shot at directly, especially at that point.
"You could take a second, take a tactical pause. You were going to send bullets downrange, you need to know what you're shooting at."
O'Neal reserves his harshest criticism for Sayre, the Humvee driver whom he faults for failing to divert the shooters once he recognized they were firing upon friendlies, and Baker, who wrongly triggered the initial shot from his semi-automatic weapon. And O'Neal says Baker, as the squad leader, should have been aware four friendly Afghan National Army soldiers had joined up with the platoon for a sweep operation of the countryside near the Pakistan border.
"I'm in a whole different position now," says O'Neal, who later deployed to Afghanistan as a platoon sergeant. "When I was a private, I didn't understand the finer skill or art it took to control soldiers in a combat environment. I just did what I was told. I would wonder, 'How could you not control your element? How did you not stop them?' I mean for all intents and purposes, those guys on that truck shot up the entire mountain side. 'How are you as a staff sergeant -- and I am referencing Sgt. Baker right now -- not able to control that?' "
Years later, some in the platoon say O'Neal's harsh stance is tiresome and out of line, particularly as it relates to Elliott.
"It was a huge traumatic event for [O'Neal], but also for [the shooters] in that situation," offers Aker, who was positioned above Tillman and O'Neal on the open slope. "It took huge courage for Elliott to speak, and [O'Neal] should give him forgiveness. It would behoove him not to slam the only guy to come into the light."
Where Elliott and O'Neal find themselves in the same camp is in their rebuff of conspiracy theories that have festered -- from Tillman's death having been ordered by former President George Bush as a means to silence his growing anti-war views to the notion the fatal rounds came from point-blank range.
"There is so much confusion and so much damn conspiracy out there," O'Neal says. "I read something on a website that said I killed Pat Tillman, because I was the only one close enough to put the shot group in his head. Like, really? Me? It is what it is. There are conspiracy theories everywhere."
Elliott adds: "You get conspiracy theorists who claim he was killed by somebody at point-blank range ... I fired at a position that was a friendly position. Personally, I made the wrong choice."
"IF I TOLD my squad leader to 'F off,' I could get a Company Grade 15. These guys went on a shooting spree, smoked two dudes -- killed two guys -- and shot two more, and they get a Company Grade Article 15 and get RFS'd [released for standards from the Rangers]." - Spc. Kevin Tillman
Those were the words of Pat Tillman's younger brother during a 2004 interview with Army investigators, as he verbally lashed out against perceived leniency given to the shooters. Kevin Tillman, a former infielder in the Cleveland Indians' minor league system, like his brother had abandoned an athletic career to pursue a position in the Rangers. He had been assigned to the same platoon, though when his brother was shot, he was several hundred yards away. Kevin was devastated as he headed home to San Jose, Calif., with Pat's body. He only learned the truth 35 days later - that his own guys fired the shots that killed his brother.
A decade later, the family has slowly moved on from the loss, though the hurt never goes away. "Time helps, but there is always this tremendous void," says Mary Tillman, the family matriarch. "This person in your life is gone. It will always be somewhat surreal that he is gone. But time helps. It is not as raw. It doesn't hurt as much."
The family still laments that the shooters weren't brought to testify under oath before a congressional subcommittee or another public body, to ferret out answers to the many perplexing questions. Or that a criminal investigation wasn't initiated right away, though the family's disdain is directed less at the shooters than the military officers higher in the chain of command.
O'Neal, the survivor, laughs about the punishment levied against the shooters.

"... I yelled, 'Cease fire' several times, anywhere from three to four ... they were deaf from shooting in that canyon, sir."
- Sgt. Kellett Sayre to Army investigators
"Clearly, the [Ranger] regiment thought just kicking these guys out was punishment enough," he says. "That is just an embarrassment. I am not saying the guys needed to go to jail ... [but] they got slapped on the wrist."
On June 29, 2004 -- about a month after returning from Afghanistan -- Elliott and the other shooters were summoned to the company commander's office at Fort Lewis, outside Tacoma, Wash., where they were effectively demoted from the Rangers and returned to the regular Army. The major offense: failure to follow the rules of engagement. "Being released from the regiment is a very, very big deal, because you have worked very hard to get there," Elliott says.
The punishment could hardly be considered draconian. The shooters were also assigned extra duty, though Elliott can't recall doing anything beyond the routine. He says the platoon leaders were generally sympathetic to the emotional burden they carried, and once returned to the regular Army, he finished out his four-year commitment on the East Coast serving as driver for a brigadier general and later an aide to a two-star general.
"Were the punishments appropriate? I don't know," Elliott says. "It felt like to me you either send us to Leavenworth [the military prison in Kansas] or you make peace with the fact that we are all going through our own personal hell. It is not like I was an airplane mechanic and I accidentally left a wrench in a plane and killed some people. I worked very hard to be here [in the Rangers] and the most horrible thing that could possibly happen happened. And I have to live with that. That is not to say I am a victim necessarily, but I remember feeling very conflicted.
"I felt on the one hand, well, I have to live with this the rest of my life and that is my punishment. And I also felt on the other hand there were times, particularly during [the Army] investigations three and four -- I felt like, maybe I should go to jail. And maybe if I go to jail I'll actually have some catharsis and be free of this. Maybe if I have some higher level of penance to pay I won't feel so guilty, because that is the overall feeling you have. Just guilt."
text
Elliott acknowledges one of his deep regrets is his failure to seek out O'Neal and Kevin Tillman. Never telling Tillman that his brother was hit by friendly fire, which Elliott incorrectly assumed he already knew. Nor apologizing to O'Neal for the shots fired in his direction.
"Just knowing what I know about what he went through, and knowing that at the very least, even if your rounds aren't the ones that killed Pat, they were rounds that were probably in his area," Elliott says of O'Neal. "And they contributed to the trauma. And they contributed to his experience. You just tell him how sorry you are for that. For what he had to go through. More than anybody, other than the guys that got shot, he experienced more trauma from the whole thing. And that is just not fair."
Those who had roles in the incident have maintained close to radio silence. O'Neal says Ashpole was the only one to express sorrow in the wake of the shooting. "It wasn't so much his words," says O'Neal, who was approached by Ashpole about a year after the firefight. "You could see that he knew he had F'd up and his life was destroyed because of it."
According to Washington state public records, Ashpole may have recently assumed a new name, though that could not be independently confirmed. When reached by "Outside the Lines," he declined comment.
Baker, the squad leader, called Tillman's widow, Marie, soon after returning from Afghanistan. He declined to comment for this story. Years later, the wife of Sayre, the driver, angrily called Tillman's mother, upset about the portrayal of her husband while Mary Tillman was on tour for her book: "Boots on the Ground by Dusk." Kellett Sayre declined comment for this story.
Alders later wrote Army investigators protesting his eventual dismissal from the Rangers, noting he was doing his job as trained when he fired upon Tillman's position. He declined comment for this story, saying, "I am not talking to anybody about what you are inquiring on."
Elliott wondered what good reaching out would do. Selfishly, he thought he'd be doing it more for his benefit than for the Tillman family. Fear factored in, too. And then, he reasoned, his fingerprints were on enough damage already, so why reopen it?
Asked what he would tell the Tillman family, Elliott says: "You tell them you're sorry, for whatever that is worth 10 years later. Maybe that is worth something, I don't know. That is really all there is to say. Just try and express some level of remorse to them."
When the phone never rang and the notes never arrived, Mary Tillman assumed the shooters were under orders from the Army not to contact the family. Even so, she says now it would have meant something had they reached out.
"I do feel sadness for them being so young and have that happen, and so public," she says of the shooters. "I absolutely do. But I don't understand why they behaved the way that they did. I don't understand why they would -- I just simply don't understand."
O'Neal is pleased to hear that Elliott has spoken publicly, but he's not ready to unconditionally forgive the shooters. Someday he may.
"I guess to forgive them would mean I have to acknowledge they exist, and to me they're nothing," he says. "All of them."
What he won't let go of is the memory of his team leader -- Tillman, then a 27-year-old.
On his right wrist, O'Neal wears a "KIA" bracelet in honor of "Corporal Patrick Daniel Tillman" -- as well as another for one of his own soldiers lost during his last deployment to Afghanistan. The tattooed image of a graveyard commemorating Tillman and other friends he's lost is inked on his right arm.
When Saturday rolls around, O'Neal plans to be on the Arizona State University campus, as he was last year, for the start of the 10th annual Pat's Run, a benefit for the foundation overseen by Tillman's widow, Marie. It'll be a day to remember an old mentor, the brother he never had, and from whom he learned self-confidence, a thirst for knowledge and love of books. "I want him to be proud of what I have accomplished," O'Neal says.
The raw, naïve teenager who fell under Tillman's wing a decade ago walks and talks with the swagger of a guy who has earned his stripes. The kid who followed at his heels has grown into a leader of men.
O'Neal last deployed as a platoon sergeant to Afghanistan on April 22, 2011 - then the seventh anniversary of Tillman's death. He returned to the United States a year later -- to the day.
Producer William Weinbaum of ESPN's Enterprise/Investigative Unit contributed to this report.
Mike Fish is an investigative reporter for ESPN. He can be reached at michaeljfish@gmail.com.
Follow ESPN_Reader on Twitter: @ESPN_Reader.
Join the conversation about "Enduring Guilt."