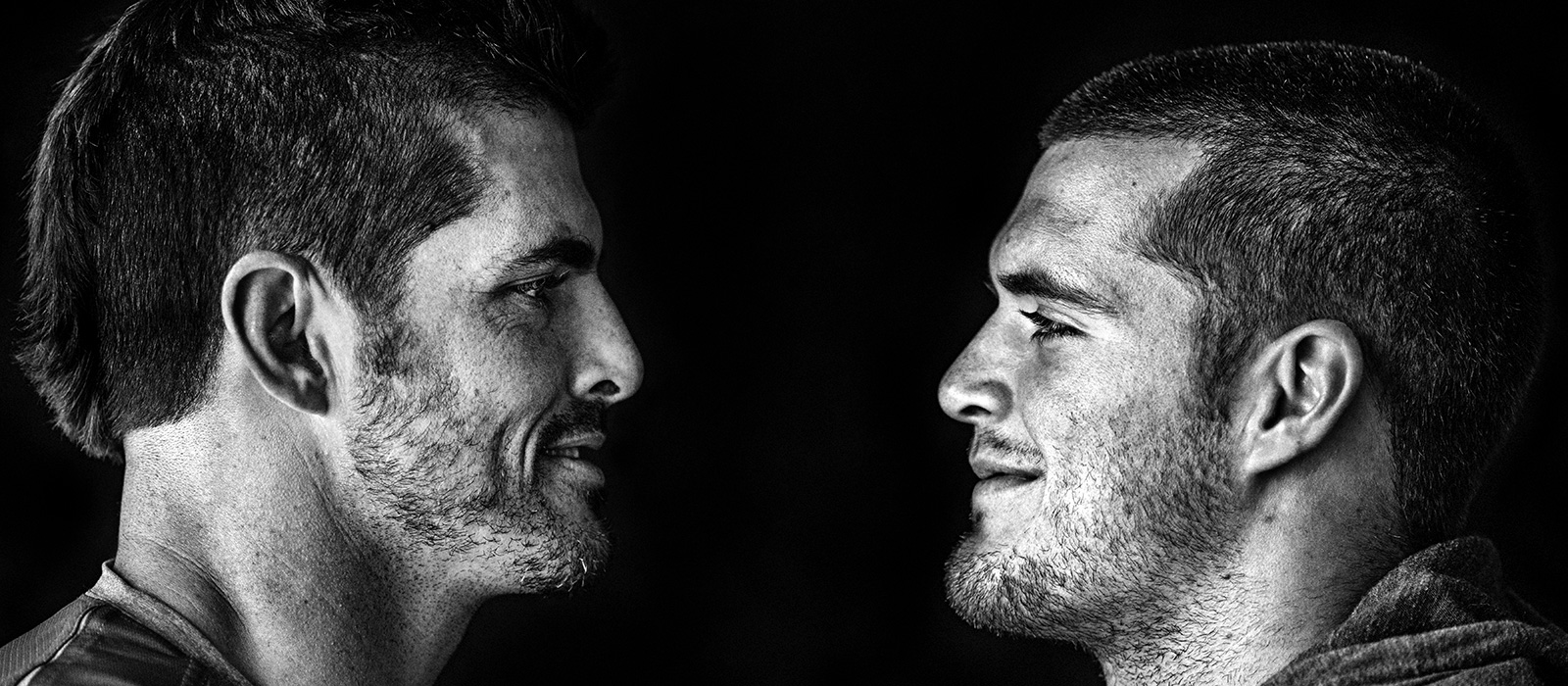 Sins Of The Brother
The same toughness question that haunted David Carr during his NFL career could chase younger sibling Derek out of the first round.
ON THE DAY his big brother's career as an NFL starter ended, Derek Carr threw the ball with David on a high school field outside of Houston. The Texans had just released the elder Carr, five years after making him the first pick in the 2002 draft. David needed to clear his head on this March afternoon, so he grabbed his youngest brother, and they went out to play catch. Derek was 15 years old and a star quarterback at 
Sugar Land's Clements High, and even then he burned to finish what his brother had started. He would choose to play at Fresno State, just like his brother. He would become a devout Christian and marry young, like his brother. By the end of his senior season, he would rack up similar passing numbers and begin to seduce NFL scouts with the same quick release that had sold them on his brother more than a decade earlier. In fact, teams might now consider Derek Carr the top quarterback in this year's draft, if not for one unshakable liability.
His brother.
---
ON ANOTHER WINDY March afternoon, seven years later, David and Derek are once again throwing the ball on a high school field. The stakes have changed. David, 34, has been out of the NFL since last August, when the Giants became the fourth team to release him. Derek, 23, is perhaps the most intriguing quarterback in the draft, often mentioned as a sleeper alternative to Johnny Manziel, Teddy Bridgewater and Blake Bortles. Derek is wearing a Fresno State hoodie and a pair of hideous silver, blue and fluorescent green and yellow cleats that he received at the combine. "I told him he has to get his entire suit for the draft that color," David says.
There are no yard lines on the field at Bakersfield Christian High in central California, where Derek spent his senior year after the family returned home following David's release. The Carr boys guesstimate 10 yards and begin to warm up. Both are tall and strong, and most of their combine numbers are indistinguishable -- David ran a 4.67 40-yard dash in 2002; Derek ran a 4.69 in February. Both have that beautiful lashing throwing motion, almost too fast to track. A lifetime of catch has synced their habits. "We're like an old married couple," David says.
A player who is a near duplicate of a former consensus No. 1 pick would ordinarily have an advantage on draft day. But GMs face a rare conundrum in this case, unsure of how to grapple with scouting reports on Derek. On one hand, his 50 touchdown passes and only eight interceptions last season suggests that he has all the tools to be a franchise quarterback; Browns coach Mike Pettine calls him the "best natural thrower in the draft." But then there are the issues: Below-average poise and toughness within the pocket; will anticipate pressure and look to protect his frame instead of sitting in 
and delivering the ball.
It's a valid rap. It's also arguably a fixable one. And given Carr's talent, it seems strange that pocket-pressure worries might drop him out of the first round. The problem is that his scouting report echoes what teams said about David -- after it became clear that his career was a bust. "It's an issue," says one NFC scout. "If their makeup is the same, then there is concern."
That's why Derek is grateful that someone is entirely committed to ensuring that his NFL career will not end up like David's.
That someone is his brother.
THE ONLY FAMILY that's produced as many gifted throwers as the Carrs is the Mannings, which is fitting because the only precedent for the beating that David Carr suffered in Texas is what Archie Manning endured in New Orleans. Surrounded by expansion-draft castoffs, David absorbed 249 sacks in his first five years. He never complained, even to family. But as years of hits set in, David began to look at the rush before he looked downfield, a quarterback's death spiral. "You try to rack your brain and ask, 'Why?'" he says now when asked about his career. "It was God's plan."
By 2007, David was considered such damaged goods that the Texans had no choice but to release him. After a season in Carolina, he had two stints with the Giants, playing behind Eli Manning. The first time David met Archie, the patriarch of football royalty gave him a hug and said, "I know what you went through, man."
"I'm glad to see you're walking," David responded.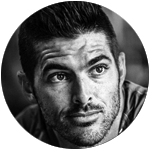 "If I had to take
some bumps so that he doesn't have to,
so be it."
- David Carr
David's time in New York provided a crash course on how an elite quarterback prepares. He watched Eli take ownership of the offense as if he were a coach, working late on Mondays and Tuesdays, most players' days off. He watched how game-planning sessions unfolded under quarterbacks coach Mike Sullivan, where questions flew and debates raged. It was everything David had been missing, and he realized that not knowing how to study had stunted his growth as much as leaky offensive lines did. Had he learned early on how to prepare, he says, "it would have been beneficial not only to myself but to the guys around me. Then you take more of an ownership of the team, and you're not just another guy in the locker room. You're a coach on the field. And that makes you a better player."
By the time he learned, it was too late. David wasn't signed after the Giants released him last August. Late in the season, he received an offer to be a backup -- at the exact moment he was at the doctor's office, where he learned that his 2-year-old daughter, Grace, had juvenile diabetes. He decided to be a dad, seemingly at peace with ending his career after 11 years, 65 touchdown passes, 71 interceptions and a 23-56 record as a starter. He spent fall weekends driving 110 familiar miles from Bakersfield to Fresno and watched from the sideline as Derek set 27 school records, breaking many of his own. He stayed up late with Derek after games, breaking down film. And when he began to hear the knocks on his brother -- the reports that ranked the quarterback with "the quickest release in the draft," in the words of one scout, as merely the fifth or sixth best at his position -- it became clear that Derek was paying for David's career.
After that, Derek's draft became David's cause. Derek moved into David's house in Bakersfield. David hired Sullivan, out of work after being let go by the Bucs, to coach his brother through the process. Driven by pride and regret and love, he put Derek in a cocoon -- lifting in the morning, throwing in the afternoon, film study at night. "If I had to take some bumps so he doesn't have to," David says, "so be it."
text
A FEW HOURS after the brothers' throwing session, David and Sullivan -- everyone calls him Sully -- sit at a Bakersfield Chipotle, going over the plan for tomorrow's practice, the first run-through of Derek's pro day. Usually, a college strength coach runs a pro day, but David asked Sully to plan Derek's, betting that an NFL mind will ensure that no GM leaves with questions. Each weeknight, Sullivan breaks down video with Derek, often until midnight. Sully provided Derek with a four-page work sheet to complete, the same one Eli uses. The questions -- Is the corner midpoint? Which safety is more aggressive? -- are intended to teach Derek how to watch film. David's role is almost that of a parent, a provider and protector who appreciates the instruction in a way his brother can't, all while wondering what if. "I never had any of this," he says.
While his coach and brother work, Derek sits at the other end of the table, telling funny stories about coaching David's 9-year-old son, Cooper, in flag football. (Yes, Cooper is a quarterback.) As affable as his brother is hardened, Derek carries himself with an easy command reminiscent of Tom Brady and Russell Wilson, as if doubt is a foreign concept. He's been riding a wave of underground buzz that began at the Senior Bowl in Mobile, Ala.
College all-star games are usually sand traps for quarterbacks, who are forced to spend all week throwing to unfamiliar receivers. But before the Senior Bowl on Jan. 25, the Carrs hatched an idea: Practice for the practice by gathering two of the receivers in New Orleans the week prior. It was the sort of tip Derek could receive only from someone who had been through it before, and it was a natural fit with the workaholic instincts that led him to arrive for film study at 6:30 a.m. many mornings last season. Derek was sharp in Mobile, and suddenly scouts began to argue that he was the draft's top quarterback: more mature than Manziel, stronger than Bridgewater, more consistent in his delivery than Bortles. Still, that one issue continued to dog him. "The problem," one NFC exec says, "is his genetics."
Of course, Derek considers it an honor to be compared with his brother. David is one of the most famous athletes to make it out of Bakersfield, one of those dust towns that seem to be surrounded by invisible walls. Yet David's pain has always been Derek's. As a kid, Derek would cry after his brother's losses and would join him in the film room to correct mistakes. He admires the way David was always "the same person" whether he was cheered or booed. "His career was not successful in the world's eyes," Derek says. "But to the people we listen to and respect, it was the most successful thing ever."
Derek has traced his brother's path consciously, as if to prove it wasn't the problem. He graduated high school early to get a jump at Fresno State. After partying too hard as a freshman, he rededicated his life to football and faith and was named the starter as a redshirt sophomore. He soon learned that he would be measured against his brother's real and perceived failures. In camp before his junior season, Derek suffered a sports hernia and hairline fracture in his pelvic bone. The coaches told him to avoid hits at all costs. So he unloaded at the first sign of pressure, often off his back foot. Derek still racked up 37 touchdowns against just seven interceptions -- the definition of toughness that scouts claim to crave. But some teams couldn't shake that familiar, familial skittishness in the pocket. "He took some undue criticism," says Fresno State coach Tim DeRuyter. "It was painful, and he never said a word."
And he internalized it all. During informal workouts before his senior year, Derek asked teammates to hit him after he threw. He never told the coaches. A few months later, against Boise State, Derek took a shot in the face as he released. The pass was caught. "The one question they had on me?" Derek says, leaning back at Chipotle and spreading his arms wide. "I answered it."
So he hopes. Until draft day, nobody truly knows how much the specter of David will affect Derek. Scouts swear that they evaluate each prospect on his own merit, but so much of quarterback evaluation is based on gut. So far, it's clear that -- unlike, say, Eli Manning -- Derek isn't getting the benefit of the doubt. At the combine, GMs and coaches asked Derek the ways in which he's similar to his brother. "We're both tough," Derek said. "And we believe that we can throw with anyone." They asked the ways in which he's not. "He's more quiet. I'll walk into a room and get to know eight people."
One coach asked, "What did you think of David's offensive lines in Houston?" Sensing a trap, Derek smiled. "They're all great guys."
The coach chuckled, then tried again: "I didn't think they were very good."
Derek wouldn't bite. "That's your opinion," he said, and they laughed.
---
ALL OF THE questions carry the same message: Prove that we won't be burned twice. It has forced Derek to walk a line between self-preservation and loyalty. He makes it clear that "I'm not trying to be David -- I'm trying to be the very best Derek Carr I can be," and he adds that he patterns his game after Peyton Manning's. But Derek has always been haunted by the question that haunts his brother: What really happened in Houston? He wanted to learn for himself. Without telling anyone, he watched video of some of David's NFL games, analyzing them as a quarterback, not a brother. He saw a career killed in the crib, a victim of historically bad circumstances. "Man, can you get him some help?" Derek says. "I can promise you it wasn't No. 8's fault."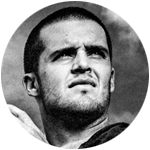 "I'm not trying to be
David. I'm trying to be
the very best Derek Carr I can be."
- Derek Carr
No. 8, of course, has tried to convince everyone that he has no regrets about his career, that he could be happy to live vicariously through Derek. But not even the most bruised quarterback of his era ever fully loses the itch to play. Working with Derek the past few months -- watching his younger brother benefit from his pain -- has "rekindled a little juice," David says. He has a career's worth of wisdom and is in the best shape of his life, an ideal backup. In February, David began to believe that maybe, just maybe, he could not only redeem his career through his brother but perhaps revive it. "Being out here and training and going through this process has shown me that I want to play, absolutely," David says.
---
THAT LEADS BOTH brothers to a Bakersfield gym on a March morning, carrying a sort of kinetic energy: We're gonna pull this off. Their agent has casually pitched them to teams as a package deal, even offering to stage a workout for David on Derek's pro day. David passed on that, not wanting to be a distraction. But he's motivated by the hope of one last chance, and he bolts into the gym in a sleeveless tee, ready to roll. A sleepy Derek is behind him, hoodie pulled over his face.
"How do you feel?" asks Eric Mahanke, their trainer.
"Like a million bucks!" David says.
They lie on foam rollers, ironing out soreness. Framed pictures of David's college and pro games surround them. David leans over to mess with his brother, whose legs ache. "Argh, not my quads," Derek says. "If you press them, I'll cry."
A Carr workout is not for everyone. They sometimes push David's 4x4 through the parking lot. They take pride in being tough after years of being accused otherwise. The other day, they heard commentators lament Derek's lack of pocket tolerance, so Derek downloaded a few plays of his getting leveled and hitting the pass, just to remind himself. "We laughed," Derek says, even if both of them knew that it wasn't really funny.
Back at the gym, Derek and David joke about splitting reps in this afternoon's practice. "If you pull one of those vet moves -- You throw, I'm too sore -- we'll fight," Derek says.
"I'll take the reps so that I can be the starter," David says, deadly serious. Then he shakes his head and smiles. "See, Derek's not ready."
text
A FEW HOURS later, they line up opposite each other on a high school field yet again. It's blustery. David brought his favorite ball, worn and molded at the laces to fit his grip. Derek has a few different footballs and doesn't care which one they use. Scouts would consider that a plus. As he throws, David looks to the sideline and smiles. "The Cobra has arrived!"
The Cobra is their father, Rodger, a fit and tan 61-year-old. He taught the boys how to throw, using Dan Marino as a template. He's running routes today, his usual role. Both of Rodger's thumbs are jacked up after years of fielding bullets. David is responsible for the left; Derek for the right. To catch, Rodger raises his forearm to absorb the blow, which earned him his nickname. The inside of his arm is black and blue. Sometimes it goes numb.
Sullivan asks the brothers to practice shuffling over bags and then firing to Rodger, about 20 yards away. David goes first. He is smooth and polished, his throws quick and hard. A season off has brought him a greater appreciation for a simple drill that he took for granted years ago, a palpable urgency. Derek is slower over the bags, but his release is higher than David's, his passes more catchable. "Nice!" Sully says to Derek. "Nice throw!"
Next is a blitz drill, in which they throw as fast as possible under duress. Nobody mentions the obvious: This is the Carr drill. David goes first again. Out here, on air, he is decisive and smooth and accurate. Derek is rougher -- "I'm heavy metal; he's jazz," he says -- but his arm is lively, too much on one throw for Rodger to catch. "Cobra!" David says, smiling. "Come on!"
Moments later they all stand at midfield, going over the plan for pro day. David is in coach mode, thinking through every worst-case scenario. Derek is not as worried, and there's an ineffable tension between David's desire to control the future and Derek's willingness to overcome the unknowable. After David mentions a concern about what to do if some of Derek's receivers are hurt on pro day, Derek says half-mockingly, "That's like going into a game and saying, 'What if everyone gets injured?'"
"You've got to be ready," David says with an edge in his voice, "because you'll get one shot."
Most legendary quarterbacks share one very specific trait: They not only collect scars, they learn from them. Derek has collected David's scars. That he seems to have accepted and grown from that inheritance is the immeasurable quality that, if years from now he is a success, scouts will lament that they missed. On the field, both brothers are swaying back and forth, itching to throw. Sullivan explains the final route of Derek's pro day, a deep corner. "And that's all she wrote," he says. "That's a full and sufficient workout." "That's how I want it," Derek says, sounding confident.
Now it's time for a run-through. The first pass is a simple slant. David steps up eagerly. Back in 2002, he threw it better than anyone. But before David can fire, he catches himself. Suddenly it seems to hit him that it would be best if he stepped aside. "I can get my throws in anytime," he says, turning away. David kneels to snap the ball to his brother, who fills the void by throwing perfect spirals into the wind.
Follow The Mag on Twitter (@ESPNmag) and like us on Facebook.
Follow ESPN Reader on Twitter: @ESPN_Reader
Join the conversation about "Sins Of The Brother."