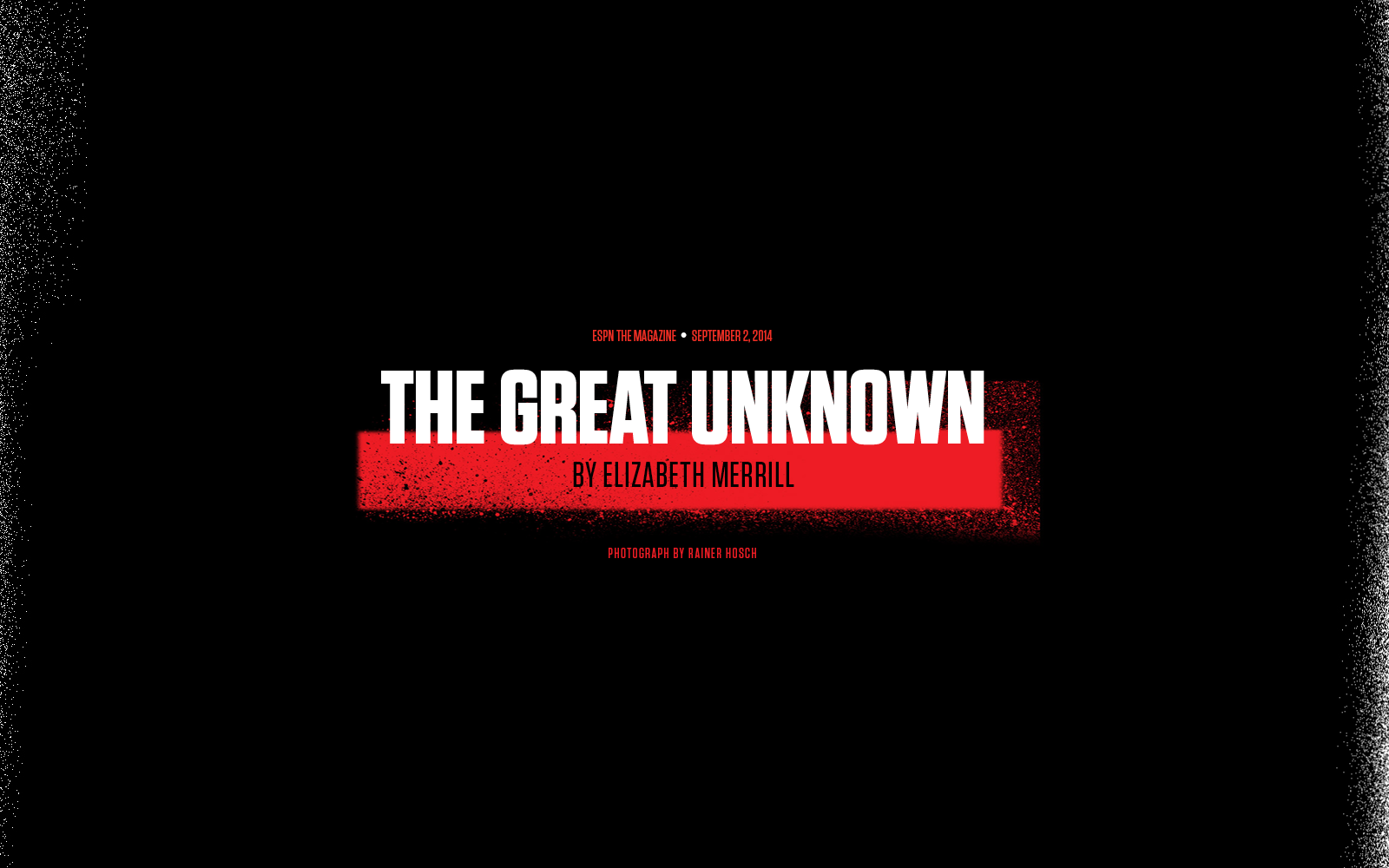 The Great Unknown
What drives one of the game's smartest players to also be one of it's dirtiest? Let's just say it's complicated.
IN THE LAND of 24-ounce porterhouses and innocence, some fifth-graders were assigned to make an oral presentation on someone they admire, and a kid picked Ndamukong Suh.
This didn't go over well with his teacher. Kara Garcia isn't much of a sports fan, but she felt she knew everything she needed to about Suh. She told her student to select another topic -- she does this all the time when someone wants to write about Justin Bieber -- because Suh, stomper and brute, lord of the NFL fines, is not a proper role model.
Alex Strittmatter, a dimple-faced 11-year-old who, it should be noted, fouled out of roughly half of his basketball games last winter, could've moved on and picked a less controversial subject, like Tom Osborne. But he felt strongly about Suh. He'd met him a couple of years ago at a hotel, where Suh said, "Hey," and signed a jersey for Alex and his little sister.
Alex loves the way the defensive tackle plays, his 18-wheeler body steaming along at 100 mph, his middle finger extended at the stop signs. "We can't pick our kids' role models," says Lisa Strittmatter, who emailed her son's teacher and made a plea for her to reconsider. Garcia relented, and for five minutes this past winter, her class at Portal Elementary in La Vista, Nebraska, heard the story of a man who Alex believes is one of the most misunderstood players in the NFL. His material was well-researched; his words were passionate. And when he had finished, Garcia gave the boy an A and said she had been wrong. She didn't know Suh at all.
text
HE IS CLOSEST to his family, but it's complicated. Everything with Suh is complicated.
Even his mom, Bernadette, doesn't always understand what makes him tick. She was at the Packers-Lions game three years ago when he made the infamous stomp. She taught elementary school for more than 30 years and has plenty of experience with young men acting out. But she had no idea how to broach this.
Bernadette tried to talk to her son after the game, to ask him why he'd done it. He didn't want to talk about it. She's found that there are certain places she can't go with him. Besides, Suh is busy all the time now, and sometimes, she says, half-jokingly, she feels as if she has to set up an appointment just to see him. "He knows better," she says about the incident. "It was just an impulsive decision."
Bernadette keeps all the certificates her son earned as a kid, from being an excellent swimmer to a good citizen. She has pictures of him in varying stages of childhood, only many of them look as if a giant, serious Suh head has been attached to a smaller body.
Ndamukong weighed 10 pounds when he was born. His mom had to buy him adult clothes when he was a kid. She insists he'd be even larger now if he hadn't started buying his own snacks when he was in middle school. The cappuccinos and junk food stunted his growth.
---
"I would like people to see me through a lens that is unbiased, unfiltered and true."
- Ndamukong Suh
Suh's father, Michael, is the one who keeps the trophies. He has the Outland and the Rookie of the Year awards in his house near the Portland, Oregon, airport. Michael, a mechanical contractor, stands 5-foot-8 and has a gentle face and a laugh that's almost a giggle. He looks half the size of Ndamukong.
He and Bernadette split up when Ndamukong was 2, but they remain amicable. As a kid, Suh would pedal his bike a mile and a half through back roads, from his mom's to his dad's. He was raised in a strict and protective environment, where the only people you could trust, really, were your family members.
Michael paints a picture of a young man who was something of a loner. While most of the kids were doing silly kid stuff, Suh was often by himself, ripping appliances apart and then putting them back together, studying things to see how they worked. He studied people too and wound up content with the insular world that revolved around his family. Suh now has a coach and an agent and a bank account with numerous digits, but he appears still to be rooted in this world. His sister, Ngum, is his manager.
"Even today, I tell him you've got to be very careful who you trust," Michael says. "Not everyone is honest with you."
Michael grew up in Cameroon, where a young man talked to grown-ups only if he had something to say. His father was a large man who had a stuttering problem, so he hardly spoke. Ndamukong reminds Michael of his father. America is a tough place, Michael would tell his kids. Nothing comes without work and focus.
He knows he sounds biased, but here goes: Ndamukong, he says, has been singled out ever since he was a little boy. Because he was never really little, he generally got blamed when anything went wrong -- by the teachers who pointed fingers at him whenever a smaller kid was crying, and by the soccer parents who were convinced he was 15, not 8.
Throughout his life, strangers have been afraid of Suh. He quit soccer because he was tired of being penalized for things he didn't do. The football field was the one place where he was rewarded and loved for who he was. The joy Suh felt when he started football is still fresh in Michael's mind. "He said, 'Dad, you know what? Now I can hit people and not get blamed for it.'"
In some ways, Michael feels as if his son is back on those soccer fields in Portland, getting red-carded again. He believes Suh's hits look more vicious because he is so fast and strong. He texts Suh before every game and reminds him to watch out for the opponents who'll try to distract him because that's the only way they can beat him. "Watch out for the crazies," Michael texts, oblivious to the fact that most of the world sees Suh as one of the crazies.
text
HE LIKES TO surprise people, finding immense enjoyment in debunking the notion that he's a thickheaded hit man. On several occasions, people in Suh's camp make a point of saying that he didn't get his degree in basket weaving or, say, communications. He matriculated through a rigorous engineering program.
Hickey tells Warren Buffett's people I'm doing a story on Suh, and one morning the billionaire calls. "Have you talked with him?" Buffett asks me. "You wouldn't guess he was a football player except for his size, would you? He does not seem like a guy who's going to knock somebody on his rear end."
Buffett calls Suh a friend. The first time they officially met, Suh was so eager to make a strong impression that he asked Hickey to get him to the appointment 45 minutes early. When they arrived with 25 minutes to spare, Suh was angry. He didn't think it was respectful enough.
text
He lacks pretention, Buffett says. They had plans to meet for lunch in late August in Omaha. Maybe they'll get a burger and a malt, says Buffett, who often eats at a drive-thru joint.
"He's got a lot of good qualities," Buffett says. "He is thinking ahead. LeBron's always thought ahead. There's some that really get quite mature about that very early, and others, they have wealth and fame at such an early age that they don't think much about 10 or 20 years down the road. But Ndamukong does."
William Gerber, CFO of TD Ameritrade, is also a friend of Suh's. So is Junior Bridgeman, a former NBA player who owns and operates almost 200 Wendy's franchises. Suh met Bridgeman at the Kentucky Derby, and they've become fast friends. "If he's not successful [post-NFL]," Bridgeman says, "I'll be shocked."
Every person in Suh's circle has a purpose. Suh wants someday to be known as one of the most successful ex-athletes in the history of ex-athletes, and these guys can help. He studies them and picks them apart to see how they work. He doesn't necessarily want to know how great Bridgeman's company is doing now. He wanted to know what it took to get there.
It is in this environment, among the über­successful, that Suh seems most comfortable. He's surrounded by people who don't want anything from him.
---
"He does not seem like a guy who's going to knock somebody on his rear end."
- Warren Buffett
YOU'D THINK HIS teammates would know Suh because they sweat and ache with him, but they don't. You'd bet Dominic Raiola, who's played with Suh for four years in Detroit and at Nebraska too, albeit at a different time, could figure him out. But he can't. He says teammates call Suh a businessman "because he's all about his work. He knows how to get what he wants."
It's the first day of training camp, and all of the buzz is about Suh, because the Lions have just announced they're tabling Suh's contract talks until the end of the season. It means the lineman has to speak to reporters, which is always an adventure because the writers never know what, if anything, they'll get. They can't figure him out either. But on this particular day, he's almost bubbly.
The local media, of course, are skeptical. Suh doesn't joke around a lot, and when he does, it can be pretty awkward. I ask teammate Andre Fluellen if Suh is generally a funny guy. "Uhhhh," Fluellen says. "Funny is relative."
Normally, Suh doesn't have time for banter. He doesn't play video games, doesn't watch much TV, doesn't sing next to his locker.
Teammates have no nickname for him. He is simply "Suh."
text
SO SUH, IT turns out, doesn't care if I'm in his general vicinity when he's out in public. He just doesn't want to have to answer any questions.
I follow him to Lincoln over the summer as he awards his second annual Ndamukong Suh engineering scholarship at Nebraska. Prominent people are there sipping drinks and eating chicken on skewers. Gov. Dave Heineman moves to the front of the room to speak. He tells Suh that the state of Nebraska is proud of him -- Suh has donated at least $2.6 million to the university -- and then makes a joke about how he's been working with the NCAA to get Suh two more years of eligibility.
The crowd cheers, and then Suh is asked to give a speech. He talks for 1 minute and 40 seconds. His eyes are fixed on the ground. There will be no revealing moments here.
The crowd filters out, and Suh heads to a birthday party for a kid named Isaac Barchus. Isaac is 10 and is suffering from CANDLE Syndrome, a rare, life-threatening auto-inflammatory disease. Suh sneaks in through a back door of the party and scoops Isaac up in his arms. They go outside and play catch for 20 minutes in the dark while Isaac's friends run around, mouths agape.
Isaac met Suh two years ago through Make-a-Wish. It could've ended there, but then Suh invited him to a banquet a few months later, and he held Isaac's hand almost the entire time.
Isaac wants to play tackle football, but he can't. He's broken his back twice, and he's too small and frail. But he lives for the fall, when he can sit in front of his TV and watch the Lions. For three hours, he can forget about being sick.
When Isaac saw the Thanksgiving stomp on TV, he ran outside, crying. He didn't want Suh to get in trouble again.
text
SOME PEOPLE BELIEVE that Suh's big, bad image started out as a way to get noticed. Think about it. The one day a year that everyone watches the Lions, on Thanksgiving, just happens to be the anniversary of many of Suh's misdeeds.
Defensive tackles generally work in anonymity, but here's Suh, with his very own badass brand. We're devoting all this space to him in part because he's dominant, with 27 and a half sacks and three Pro Bowls, but mostly because he's one of the most talked about guys in the NFL. Remember that Chrysler commercial he did, in the rain, wearing a scowl behind the wheel? That's the image Suh wants to project.
"He wants to be an intimidator," says Vikings center John Sullivan, who was blocked in the back of the knee by Suh last season, leading to a $100,000 fine, which is the largest for an on-field incident. "He's trying to create that persona, there's no doubt about it."
His peers, for the most part, don't seem to have a problem with him. Walk into the locker room in Green Bay or Chicago and they'll say they admire Suh's intensity. They'll say he plays the game the way it should be played, going all out on every down.
Even Troy Vincent, the NFL's executive VP of football operations, says Suh is making a concerted effort to play within the rules. He met with Suh this summer and was impressed by his thoughtful demeanor. Of course, that was before Suh roughed up Jaguars QB Chad Henne during a preseason game in August, earning a personal foul.
But do we see only the things Suh wants us to see? He wants to intimidate, but he also seems to have a desire to be liked and a keen understanding of how to create a valuable and intriguing brand out of himself. He shuns the media spotlight, then does a reality show like American Muscle and a potentially embarrassing dating competition called The Choice.
Maybe he's just messing with our minds. The people in Suh's circle won't confirm it, but they won't deny it either. They know he has plenty of bad PR and are eager to get across their belief that Suh, away from the public eye, is just a decent regular fella. I'm told, for example, that he visited Hickey's hometown of Woodbine, Iowa, last year during the Lions' bye week and helped his family harvest corn. He ate a meal cooked by Hickey's mom even though he'd just had brunch. Suh didn't want to be rude.
I tell Hickey that it's hard to understand how one man could have such disparate personalities. It's as if he's two different people. Hickey says something about switches and how a football player can turn them on and off.
He says the best way to describe Suh is as an engineer, analytical and calculating. Everything is a science, from what he eats to whom he chooses to befriend. He says that engineers tend to be socially awkward and that Suh is a private man too. He doesn't let many people in.
"Did it take awhile for him to trust you?" I ask. Hickey pauses. "There's never been a declaration that he does."
Elizabeth Merrill is a senior writer for ESPN. Follow her on Twitter (@MerrillLiz).
Follow The Mag on Twitter (@ESPNmag) and like us on Facebook.
Follow ESPN Reader on Twitter: @ESPN_Reader
Join the conversation about "The Great Unknown."