Big Man Still On Campus
Thank you, sir! May Wisconsin's FRANK KAMINSKY have another season as the goofy face of college basketball?
IN EARLY MARCH, for a class on social media marketing, Wisconsin's fun-loving, soft-shooting 7-foot forward, Frank "The Tank" (aka "The Moose") Kaminsky, did a very college thing. He launched a blog. Like many college blogs, it began forgettably, with some musings on the MVP race and a video of some overexcited D3 benchwarmers. But when the Badgers danced through the NCAA tournament and Kaminsky began writing a game-by-game diary, moosebball.blogspot.com suddenly became a thing.
Kaminsky was fun -- and goofy and heartfelt and irreverent and anything, anything but boring. After their second-round win, unimpressed by the host city, he pitched a sitcom: It's Never Sunny in Milwaukee. Following a victory in the round of 32, the junior announced a vision quest: to turn his four-fingered "Dirty Dub" W hand sign into a symbol "people throw up on the reg." His recap of their Sweet 16 locale was a master class in deadpan: "I've heard that Anaheim isn't the best place in Cali, but I feel it is close enough to the 'good spots' that it should be better." And after an Elite Eight matchup with Arizona's Kaleb Tarczewski -- Kaminsky dropped 28 and 11 in the win -- The Moose mocked recruiters who'd fawned over the center in high school "like he crapped gold."
Kaminsky was named the West regional's most outstanding player. The Dirty Dub went viral. The Sleepy-Faced Assassin -- yes, he's a man of many nicknames -- was blowing up.
Then in late April, after a Final Four loss to Kentucky, after his dominant play had turned him into a possible first-round pick, the unlikeliest star in college basketball returned to his keyboard to do something even more unlikely -- he crafted a 1,219-word defense of staying in school. "I am at the pinnacle of my basketball career, at least in my eyes," he wrote. "I know the NBA has their crazy fans and all, but ... there are games when teams like the Bobcats get hardly any fans, and it looks flat-out boring."
Ours is not a subtle world. And the outsize public reaction to the post made for one hell of a lesson in social media marketing. The tribute to his teammates ("They have become part of my identity"), his choice of new nickname ("Call me Joe College") and his dig at the NCAA ("The thought of not being broke anymore was very appealing") were all lost on the many critics of the post. As forward Duje Dukan, Kaminsky's road roommate, told him, "Well, now you're not going to get drafted by the Bobcats." Most others just focused on that one word: boring. A player on the Badgers, the most soporific team in basketball, whining about boring basketball?
"For years before that, I could say pretty much whatever I wanted and no one really cared," Kaminsky says. But now, with the tap of a "publish" button, he'd gone from goofball antihero to the face of college basketball. Frank the Tank was staying, well, old-school. And it was going to be anything but boring.
IT'S A SUN-SPLASHED autumn afternoon in downtown Madison, and Joe College is soaking in the views of lakes Mendota and Monona from the roof of his triplex apartment. He shares the space with three roommates, including UW guards Jordan Smith and Riley Dearring, and inevitably the rest of the Badgers, five of whom live in the building across the street. On this deck sits a grill. Off to the side, under a bush, resides anthropological evidence of college occupancy: a collection of red plastic cups. Nearby lies a broken yellow Slinky, which Kaminsky won at Chuck E. Cheese's.
"You know those games where the hoop moves further and further back?" the sleepy-eyed senior says. "I can pick the balls up and just put them in the basket and set the high score every single time."
Kaminsky's conspiratorial grin suggests it: He owns that super-shot game. And he's aiming to own the college game too. This season the Big Ten preseason player of the year and Wooden Award contender won't be overshadowed by one-and-done megastars like Andrew Wiggins and Jabari Parker. And none of the 15 players on last season's three AP All-America teams returns; every one went pro. In their stead is a power vacuum tailor-made for UW, which loses just one starter from its Final Four squad. And the notion that it's Kaminsky who might step into that void is ironic, even to him.
Consider that when Francis Stanley Kaminsky III was a kid, bullies preyed on the gangly son of 6-foot-10 Frank Jr., a former basketball star at Lewis University (then an NAIA school), and 6-foot Mary, who'd played volleyball at Northwestern. He can recall making all of one "real" friend in fourth grade and another in seventh -- the latter thanks to a playdate forcibly arranged by his parents. "I didn't have much of a social life until, like, halfway through high school," Kaminsky says. "I'd never really hung out with groups of people."
Even the refuge of sports offered its cruelties; at 15, the 6-3 guard was cut from the travel roster of his AAU basketball team and wept the whole ride home in his dad's car. But as a sophomore at Benet Academy in Lisle, Illinois, he rededicated himself to hoops. And as he shot up to 6-9 during his junior year, Benet coach Gene Heidkamp says, "Frank could still shoot the 3, handle the ball and had great court vision." Local mid-majors Bradley, Northern Illinois and Southern Illinois offered scholarships. Then Howard Moore, a Wisconsin assistant at the time, watched Kaminsky score 15 against Chicago's Simeon Career Academy and Jabari Parker and fell deeply in Badger love: "I thought, 'This is a typical Bo Ryan big.'"
Kaminsky remained a lowly three-star recruit, in part because he looked as if he'd never so much as hoisted a weight in his life. UW wanted him anyway. "I've never cared about a recruiting ranking in my life," says Ryan, who has coached Wisconsin since 2001. "And if I can get a big who can pass, we can work with him."
Kaminsky expected to redshirt his first season at Wisconsin. But Ryan did the unlikely thing, playing the string bean 7.7 minutes a game as a freshman and 10.3 as a sophomore. Meanwhile, he chiseled his body in the weight room. Today the string bean squats 300 pounds. "For his body type, Frank's really quite strong," says Badgers strength coach Erik Helland. "Some guys don't have those natural gifts. He had to manufacture and create them."
ON A RECENT Friday morning inside Wisconsin's 2,300-square-foot weight room, Kaminsky is working to manufacture those gifts in a way that suggests he's not working at all. Heavy bass rattles the hallway windows. Kaminsky and 15 of his closest friends are singing and dancing -- quite badly. The song? Twisted Sister's "We're Not Gonna Take It." The friendly-fire trash-talk? Unprintable but hilarious. No one seems bothered that it's 7 a.m. "If we weren't as tight-knit a group as we are," Ryan likes to say, "Frank probably wouldn't have come back."
"I don't like to think about my last day of college. It will never be the same."
- Frank Kaminsky
But he did -- and to hang with Joe College in his natural habitat is to understand why. These days, if something approaching boredom strikes, Kaminsky will invite himself into the living room of guard Josh Gasser or forward Sam Dekker. ("Everyone on the team knows that if you want to just show up at one of our apartments," he says, "no one's going to care.") Other nights the Badgers grab takeout and retreat to the recliners outside their locker room in the Kohl Center. Or they play table tennis. Or they play video games -- Kaminsky and Dukan ritualistically take a PlayStation on the road for bouts of FIFA -- and occasionally devastate living rooms in the process. Kaminsky and Smith say they received precisely $9 back on their apartment's $3,400 security deposit last year, in part because of the former's tendency to chuck pillows at the blinds after losing in FIFA. A $3,391 habit -- but apparently worth the price. "When I got to college, I was like, 'I can have two friends and do nothing, or I can make as many friends as I want,' " Kaminsky says. The magic of Madison was that he could start from scratch.
So there, this offseason, was Kaminsky flashing the Dirty Dub with Scott Van Pelt after a lunch at Madison's Dotty Dumpling's Dowry. And the dance party that broke out in the locker room to Kesha's "Die Young" after the Badgers beat Michigan in 2013? That was his doing too. And that rumbling noise emanating from the other side of campus? Of course it's Kaminsky, zipping around on a used Yamaha moped that he bought off Craigslist for $1,000 cash -- his graduation money -- then christened with the nom de scooter of Jody. Says Dukan, "The thing sounds like it's farting."
Now imagine: If you could be Frank the Tank, all 84 inches of goofball joy zipping around campus on a farting moped for one more year, wouldn't you? And wouldn't the corporate grind of the NBA sound just a little, well, boring?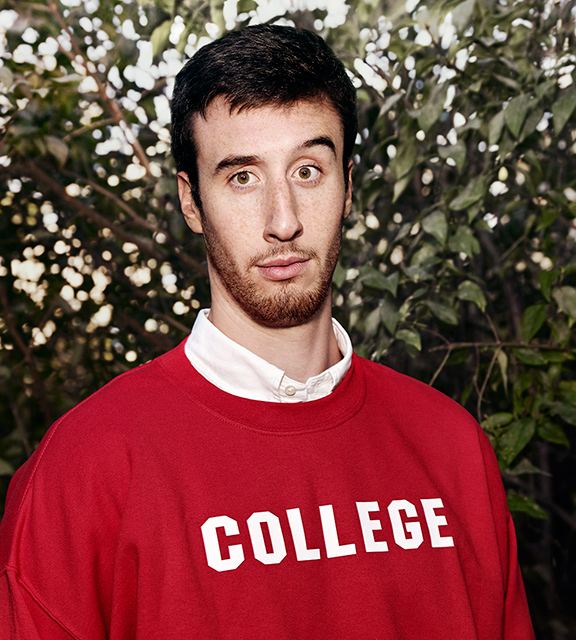 WHICH BRINGS US back to the blog heard round the world and the irony of a UW player accusing the NBA of tedium. When sports fans decry the aesthetics of the college game -- how plodding, how earthbound, how points-barren it is -- the piñata they're whacking at is typically Badger-shaped. But the least boring man in college basketball begs to differ. "I wouldn't call our system boring," Kaminsky says. "Just ... less than exciting. We have a proven system, and so long as we're winning games, it's fun for us."
OK, sure. Wisconsin's average adjusted tempo ranking under Bo Ryan is 304th in the country. And yes, that sounds monotonous -- until you consider the Badgers have also made 13 consecutive NCAA tournaments and six trips to the Sweet 16. "We've also led the nation twice as the No. 1 defensive team," says Ryan, "and we've been [No. 3] in offensive efficiency. We're good in a lot of the right stuff."
Ask Kaminsky to define that stuff and he'll call it a system predicated on the patient execution of basic skills -- cutting, screening, spacing, passing -- to unearth the best shot. He'll explain how each player is expected to post up, maximizing mismatches closest to the rim, and describe how every man must continually move the ball, exhausting the opponent's defense. He'll talk of how the Badgers, who aspire to make more free throws than their opponents attempt, are ultimately seeking to approximate a hybrid of the Spurs' efficiency and a medieval vise.
Then he'll tell you this story: On Feb. 16, Kaminsky had 25 points and 11 boards in a 75-62 win over Michigan, the Badgers limiting the Wolverines to 19 first-half points. Five months later, when he ran into two UM players at the Adidas Nations camp in Las Vegas, "all they talked about was how we just ran the clock down and then hit a 3. And that's when I knew we were in their head. They're thinking about having to play defense for 35 seconds every single time."
Wisconsin's is an offense designed to play four out -- one post player surrounded by four 3-point shooters. And within that system, Kaminsky has become both its greatest enabler and greatest beneficiary. In the fourth game last season, against North Dakota, he shattered the Badgers' single-game scoring record, netting 43 points, shooting 16-of-19. His final season line -- 13.9 points, 6.3 boards and 1.7 blocks per game -- was good for first-team All-Big Ten honors. According to a statistical database maintained by ESPN's Kevin Pelton, no 7-footer in the past decade has even sniffed Kaminsky's true shooting percentage, which takes into account both 3-pointers (he shot 37.8 percent) and free throws (76.5 percent). "Frank has developed as much as anyone we've ever had," Ryan says. "Try guarding him now: He has counters to whatever the defense does."
And he'll need them. Kaminsky's challenge this season will be his success. The college game's unlikeliest star is now a marked man, forced to pre-empt the double- and triple-teams that will be sent his way every game. And he's already seen a preview. In the national semifinal, the game after he demolished Arizona, Kentucky threw wave upon wave of bodies at Kaminsky until he eventually succumbed to the onrushing blue tide. The fulcrum of Wisconsin's swing offense scored a mere eight points on 4-of-7 shooting in a 74-73 loss. "We were right there with them, until the end," he says. That's the part that haunts him still.
ON THIS SATURDAY in late September, though, all is forgotten -- or at least forgiven. Storming the Wisconsin campus with Kaminsky now means enduring a hailstorm of selfies and double takes. He says that a year ago he could blend in on this campus of 30,000 undergrads, unlikely as it seems. "I could go anywhere," he says. "I was 
a regular student." But that Final Four run vaporized any shred of obscurity. And now, before a football game against South Florida, Kaminsky -- flanked four out by Gasser, Dearring, Dekker and Dukan -- cannot make his way from the student union to Camp Randall Stadium without triggering Dairyland Biebermania.
Over the course of a 14-minute stroll, he's asked to pose for pictures 22 times. Sweaty fathers in sunglasses offer their hands in gratitude. Coeds with stickers on their cheeks hug him without permission. Kids tug on his red practice jersey. In front of a three-story frat house, the kind featured in every movie about college you've ever seen, drunk bros break into chants of "FRANK! THE! TANK!" that trail their target into the stadium, echoing through the tunnels and into the chaos of the student section.
"I didn't have much of a social life until, like, halfway through high school."
- Kaminsky
As he climbs atop the bleachers with his sunbaked classmates, Kaminsky can hear every word of the conversation two girls are having directly behind him -- OMG! He took a photo with me! I'm posting it to my Instagram! -- as if he isn't inches away. For someone who had no social life until halfway through high school, so much delirium can seem like a wish granted by a genie, unintended consequences and all.
Make no mistake, there are times when Kaminsky dreams of swapping Jody for a Jeep Wrangler. There are times when a bedroom full of the hand-me-downs former teammate Jared Berggren sold him for a cool $100 -- a king bed, plus a grab bag of shoes and clothes -- seems less quirky than desperate. Times when squeezing into a computer workstation for a class on a Friday, right after a morning workout, is as awful as it sounds. But Kaminsky is a prospect with the luxury of choice -- "I don't need a contract to support my family," he acknowledges -- and what most motivates him cannot be bought.
This is most obvious not on his blog or in the swarming chaos of Camp Randall but back in the quiet of Kaminsky's apartment. "I'm just going to miss having everyone in such a confined space," he says, resplendent in his own red Dirty Dub T-shirt. "My roommates, my friends, all the relationships I've built here."
On a new team, in a new city, he would once again have to start from scratch. So the senior worries far less about a predraft injury or a subpar year sinking his NBA stock than he does about this season -- his college life -- coming to an end. "I don't want to think about that last day before it happens," he says, looking out at downtown Madison as the sun sets. "I know it'll be difficult. When I leave here, it's not going to be the same."
But then he exhales, and that famously goofy grin spreads slowly across his face. He thinks the thing we could all be thinking. The most fun part about this year, Joe College suddenly remembers, is that Frank Kaminsky hasn't left yet.
Follow ESPN Reader on Twitter: @ESPN_Reader
Join the conversation about "Big Man Still On Campus."