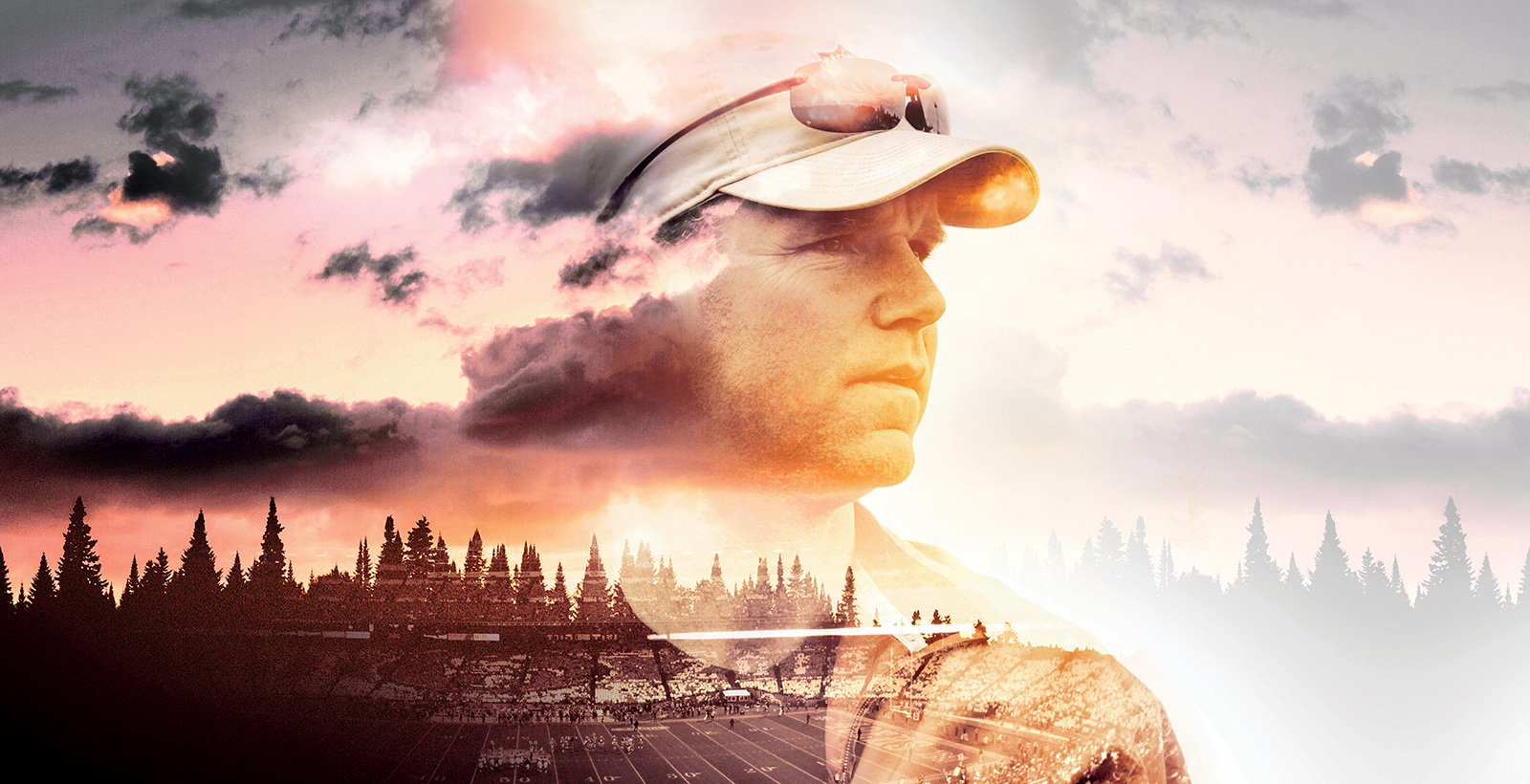 The Far Sideline
Football savant SCOT McCLOUGHAN helped build two Super Bowl champions. Now in exile, will he get a shot to build a third?
IF YOU KNOW what to look for, Scot McCloughan's farmhouse is easy to find. Otherwise, good luck. The land near the Nooksack River in Ferndale, Washington, about 90 minutes north of Seattle, is vast and remote. When I arrive on a November evening, I drive past McCloughan's house to the dead end of a dark road. A nearby farmer sees my headlights and steps onto his porch to ask me politely who the hell I am and what the hell I'm doing. McCloughan moved to Ferndale a few months ago, in a sort of exile from his football life, and though he is well-known in NFL circles -- for his genius and his demons -- most sports fans don't know his name. I tell the farmer that the person I'm looking for just moved here, and he directs me back down the road. After a quarter mile or so, I see, at the end of a long driveway on a potato farm, the glow of a TV coming through the window of a dark room -- exactly the way a lifelong scout would want it.
"Hey, bud!" McCloughan says at the door. He has rosy cheeks and reddish-blond hair and a scar on his right hand from when he punched a window in joy after one of his players intercepted a pass. Considered by many to be football's best talent evaluator, McCloughan likes it out here. He runs a few miles every morning, through the woods and down to the banks of the Nooksack. He has a fiancée named Jess -- he met her years ago, but they got engaged only recently. They just returned from a week in Hawaii, the first fall vacation of McCloughan's professional life. He has a vegetable garden in the back yard. He's 43 years old and feels as if he's at the peak of his abilities. "Life is good," he says, making it easy to forget why he's on a farm in Ferndale, nowhere near an NFL front office.
THERE'S AN OLD JOKE in the NFL that everyone is either born-again or alcoholic. Scot McCloughan isn't born-again. And if the former 49ers general manager and onetime senior personnel executive with the Seahawks wants another shot at a front-office job, he is going to have to prove to NFL owners that he doesn't still have a drinking problem. They will be intrigued by McCloughan because he has all but mastered the ability to determine whether and how a college football player will fit into the NFL. They will have serious questions, too. His battles with alcohol are known in league circles, but it's an issue he has never discussed publicly. Now, considering a return to the game, he has me up to the farmhouse to spend a few days. "Write the truth," he says.
I'm expecting McCloughan to trot out the typical maxims and language of substance abuse and recovery. He has experienced a renaissance of sorts in Ferndale. Although he has become semi-famous around town for helping to bring the state of Washington its first Super Bowl this past February -- the lady at the cellphone store calls him a "hero" -- most of the town simply knows him as Scot. On Tuesday nights, he joins a few hundred other guys at a nearby church. Veterans, farmers, homeless locals. They eat and laugh and read spiritual passages. He has not always been proud of himself and his lifestyle, but right now, he seems especially comfortable in his own skin. "I had a drinking problem," he says. "I'm a good person. And I know how to run a team."
So, how to make sense of the fact that, shortly after I arrive, he sits in an overstuffed recliner in his living room to watch the Thursday night NFL game and opens a light beer?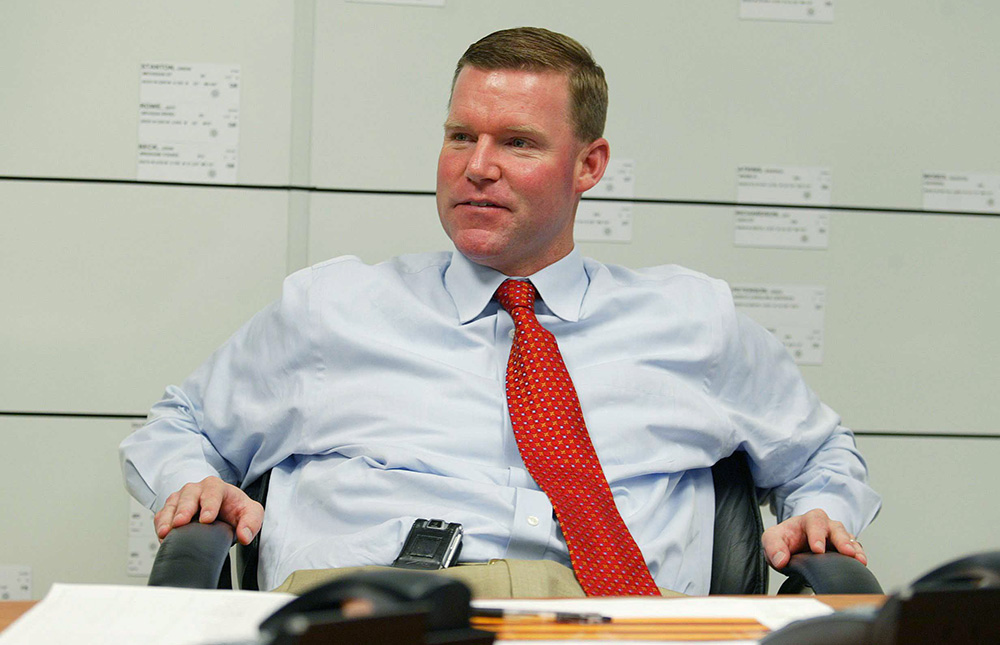 JUST BEFORE 9 O'CLOCK the next morning, McCloughan is checking out college football players on video. He runs his own scouting business and says a handful of NFL teams pay him $75,000 each to evaluate players. He moved to Ferndale from Seattle because the open space reminded him of his hometown of Loveland, Colorado, but his farmhouse has the feel of a temporary residence, the marks of someone straddling worlds. Rented furniture, no pictures on the walls. On the floor are framed photos of his three children from a marriage that began to collapse when his life did. In one, son Caden, 15, leans into his dad's chest as confetti falls after last season's Super Bowl; in another, twin daughters Adison and Avery, 11. They live in Northern California with their mother, Scot's ex, Kelli. He talks to them every day, and before they hang up he asks them to pray.
He has two Super Bowl rings locked in a safe. Each of the three teams for which he has worked in his 20 years in the NFL -- the Packers, two stints with the Seahawks, and the 49ers -- has reached the Super Bowl during his tenure or shortly afterward. McCloughan had a part in drafting six players who were on the Pro Bowl roster last season, including Patrick Willis and Vernon Davis. His report on Russell Wilson for the Seahawks a few years ago read: "Obviously we are really interested in passers with better height, but this guy may just be the exception to the rule. He has the 'it' factor."
So does McCloughan. He has an "exceptional ... uncanny" gift, in the words of his mentor and former boss Ron Wolf. It's why he named his business Instinctive Scouting. This morning, he is consumed with an FBS middle linebacker projected by many to be a sixth- or seventh-rounder. But on a play in which the linebacker sprints to the sideline to make a tackle on a bubble screen, McCloughan sees something others might miss. The linebacker smelled a screen before anyone else and was just fast enough to get to the receiver. "You can't teach that," McCloughan says. He leans forward, quietly rewinding split seconds of the clip again and again.
McCloughan admits he misses on players more often than he hits. But to sit next to him is to be in the company of a kind of football savant, deftly mixing technical observations with X-rated yarns about players and coaches he's met through the years. There is something deeply personal about the way he works, and he often inserts himself into the process, fully aware the NFL isn't a home for the well-adjusted. A few years ago, at the combine, he interviewed a player who had repeatedly tested positive for marijuana. "OK," McCloughan said. "I like to drink beer. You like to smoke weed. Where'd it start?" Disarmed by McCloughan's openness, the player explained that, when he was 5 years old, he had a headache and his mother gave him a joint. It became a way to cope. "That's all he knew," McCloughan says. "It wasn't like he asked for the joint. But you do something long enough, your body acclimates to it and wants it."
In McCloughan's eyes, forthright is more important than letter-perfect. "I'm not sure that people can change from the way they were raised," he says.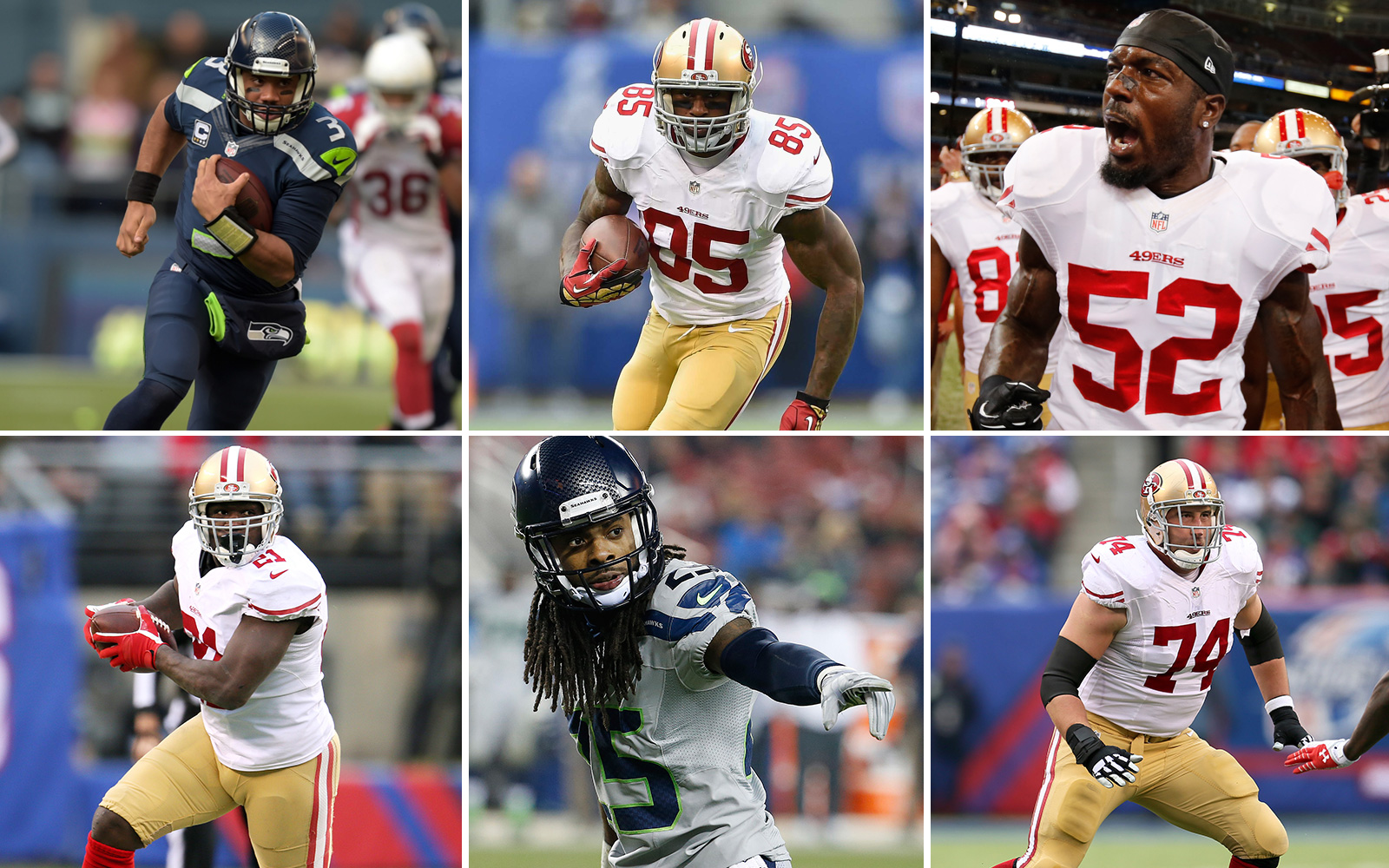 HE WAS RAISED to work hard and play hard and, when in doubt, work harder and play harder. His father, Kent, a former Pro Bowler, played cornerback for the Raiders and was later such a valuable scout for the team that Al Davis wouldn't let him retire. The youngest of three brothers, Scot would join Kent in the basement, where the film projector was set near a bar. Father and son would scout players, sometimes until 2 a.m. When Kent was on the road, Scot would watch film alone and write reports. He'd even skip school to watch the draft, back when it was a weekday nonevent. They had a special bond, but to this day Kent has never told Scot he loved him. "Tough guy," Scot says. "Old-school."
The McCloughans are proudly Irish, and alcohol was part of their weekends. When Scot was 14, he tore up his left knee, ending his football career, which to this day brings him to tears. It was around that time that he first remembers drinking beer.
After knee surgery, McCloughan went on to play baseball at Wichita State and was eventually drafted by the Blue Jays. One day in 1994, as an outfielder in the minors, he got a call from Wolf, then the GM of the Packers and a good friend of his dad's. Wolf offered McCloughan $18,500 annually to be a scout for Green Bay. He took it, and his dad joined him on his first trip. Their motel room was littered with cockroaches. "This is what you've gotta get used to," Kent said.
Scot worked hard and played hard in those early years. McCloughan's first big score was a seventh-rounder from South Dakota State named Adam Timmerman who later became a Pro Bowler. Impressed, Wolf called Kent and said, "Your son will go as far as he wants in this business."
Scot wanted to go further than his dad. Scot wanted to run a team. In 2005, at age 33, he was hired by the 49ers as vice president of player personnel. In 2008, he was named GM. He was the first of his peers to be in charge of a franchise. He owned one suit, which he had so outgrown that he couldn't button his pants for his introductory news conference, but he was now responsible for everything from determining the roster to picking colors for stadium seats.
"Looking back," he says, "I don't know how I did it."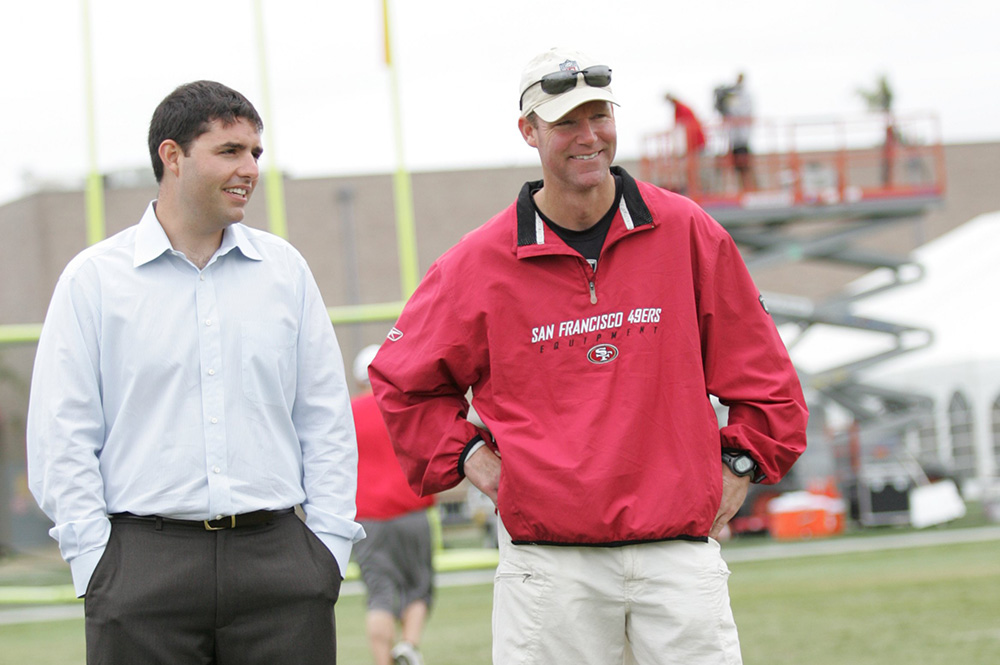 SCOT AND I got to know each other in those years when he was with the 49ers. I admired how success hadn't seemed to change him. In a league of trading favors, he helped me dozens of times, whether it was watching film or dishing the unvarnished truth about a player, and never asked for anything in return. Scouts who worked for him would privately marvel at how he ran a draft room, in total command yet seemingly egoless, and able to cut through the overthinking that too often goes into scouting. Other GMs even called him for last-minute advice on draft day.
We drank together many times at the combine, always at a low-key sports bar. Although he could pound a beer impressively, it never occurred me to he might have a problem. If he did, everybody did. "Scouts would have five beers before dinner, because that's what people do," McCloughan says. "That's who they are. It's a professional sport, drinking -- especially in football."
Sometime in 2008, McCloughan stopped hitting the bars. I assumed he was busy, which he was, and thought maybe he was working out a lot, which was true. But he also was drinking. Alone. The 49ers were losing, and although he was slowly building what many would later consider the league's most talented roster -- spotting middle-round gems such as Frank Gore -- he knew he might have to fire coach Mike Nolan, which he eventually did. It tore him up. He'd see the wives and kids of coaches and feel the weight of their lives, the silent pain of a cutthroat business.
He tried to deaden the pain by logging more hours, refusing to delegate. At Christmas, he watched his kids open presents, then left to go to the office, even though he had nothing to do. He ended up turning back home, but a dull guilt remained. When he was at work he should be at home; when he was at home he should be at work. And he kept drinking, which made him feel guiltiest of all. Work and life "became too much for him," Kent says. His marriage started crumbling. Kelli, who declined to speak for this story, told Kent, "We have to do something." Scot checked into a Betty Ford clinic, hoping to save his marriage. "It worked," McCloughan says. "For a while."
"Scouts would have five beers before dinner, because that's what people do."
- Scot McCloughan
He actually liked the 30 days away. He was forced to unplug. In rehab, he wasn't a GM. He ate well. He says he appreciated that Jed York, the 49ers CEO, visited him. McCloughan meditated and read spiritual passages and discussed the 12 steps. Clinic staffers asked him about his drinking pattern. "I said, 'OK, I'll go a week, week-and-a-half and drink beer every night. Then I'll go three months and not touch the stuff. Not touch a drink.'"
He returned to work a month later with the belief that he had abused alcohol but is not an alcoholic. And he also returned to the long hours of his job. One day, there was a man he'd never met before waiting for him in the lobby of the team building. He shook McCloughan's hand and said, "I appreciate everything you do for the 49ers." Then he handed McCloughan divorce papers. "That's when I went into a funk," McCloughan says.
Beer no longer worked. McCloughan needed something quicker, stronger and harder to detect. He chose vodka. Soon, he was drinking it all day out of a Gatorade bottle. "It'd take me away from reality," he says. "All of a sudden, everything's gone. Just have peace. Everything that was going on with my wife at the time, everything with the kids, everything with the job, it's OK. ... That was my drug. It was a liquid drug."
He started spending nights at work, either on his office couch or in the players' lounge, where staffers arrived to see him asleep one morning. He moved to corporate housing, where he felt worse than alone. If not for work, he says, "I'd probably be dead, I was so miserable."
But work was slipping away, too. Pictures of his family in his office reminded him of a life that had spun out of control. In meetings he says he would sometimes "kill every player, just because I was pissed." He would think, It's all right that she left me. It's all right we're not winning. McCloughan says some staffers noticed he was slurring his words.
A month before the 2010 draft, McCloughan says that York asked him, "Is it time we separate?" McCloughan wasn't mad -- he felt grateful for York's support over the years -- but if someone doesn't want his help, he says, "I'm gone."
text
THERE WERE WHISPERS around the league that McCloughan was in trouble in his personal life -- hardly an anomaly in pro football. But nobody, not even most of McCloughan's friends, knew how truly bad things had gotten. People called to check in. "You OK?" He dismissed any hint of pain, always in a jovial tone, always with the uncompromising conviction of one of his scouting reports. "I'm not going to reach out to people for help, ever," he says. Message boards lit up with mean-spirited speculation about his departure from the 49ers. "You can't defend yourself once it's out there," he says. "It's like you're showing them that it's true. And so I had to sit there and take it."
Seahawks GM John Schneider, one of his best friends dating back to their days as cub scouts with the Packers, saw a chance to help a buddy -- and to add someone he knew as "an excellent evaluator." He offered McCloughan a job as one of the top evaluators on Seattle's staff, and the two of them worked well together, turning the sleeper Seahawks into world champions. McCloughan's name started to pop up for GM openings. He says he didn't drink during his first 13 months with the Seahawks and even served as a designated driver for other scouts. But he was lonely. He lived alone in an apartment in downtown Bellevue, and, scarred by his divorce, he didn't date. "I'd think to myself, 'OK, Scot, why not have a beer? It never affected your life before; you went from being an area scout to being general manager. Don't touch the vodka, don't touch the hard stuff. But if you want to have a beer, have a beer.' So that's where I got to. I stopped going to AA."
That's what he says he will tell NFL teams if they come calling now. He knows he sounds as if he's splitting hairs about the distinction between beer and hard liquor, and he's aware of the fact that conventional wisdom says recovery is an all-or-nothing proposition -- even if some evidence suggests most heavy drinkers, which McCloughan says he's not, are functional. "If I was an alcoholic and had a beer, I'd have two, then four, then six, then ... you know, you can't stop," he insists. "I can. I can have a beer and I'm fine. I don't need any more."
It's a distinction that, in the end, didn't work for the Seahawks. McCloughan resigned shortly before this year's draft. Neither side will discuss the specifics publicly, but Schneider says: "Everybody had to be held to the same standard, and because he's one of my closest friends I couldn't let him get away with things that others couldn't get away with."
Will teams believe McCloughan when he insists he was tired of the travel and the meetings and ready to move on from a job he never planned to hold for long? He's asking to be seen differently, and the NFL doesn't usually like different. But he has also watched other GMs and coaches run teams while secretly maintaining their own vices; one GM even told him he wishes he could manage his drinking as well as McCloughan does. His plan is to be transparent, he says, "about who I am."
Those who've worked with McCloughan all privately say the same thing: They love him and love working with him, and they also worry they might get a call saying he's in real trouble. His departure from the Seahawks brought another round of concern. As in 2010, McCloughan said he was fine. He had thought for years about starting his own business, a chance to scout without the hassles of a staff job. He remembered a two-week scouting trip he took a few years ago with his dad. As soon as they'd get in the car, Kent would fall asleep in the passenger seat, 69 years old at the time and exhausted from the grind. "That's not who I want to be," McCloughan says. He registered an LLC, got a new cellphone number, bought $10,000 worth of equipment and software, relocated to the farm -- and immediately began to wonder whether the world he had set up for himself was enough.
---
EIGHT MONTHS LATER, McCloughan sits in his chair, a dip in his lip, grading players, imagining what's next. "Do I want to be a GM?" he says. "An area scout? Run my scouting service? A director of player personnel? A lot of options."
He truly doesn't know. On one hand, he has found a way to scout while living a balanced life, doing the things an NFL job simply wouldn't allow. The flights he catches now are not for scouting trips but to Northern California to watch Caden's football games. He proposed to Jess in a rental car -- typical scout -- and she said yes. He can earn six figures and sleep without losses swirling in his head and drink a beer without judgment. It would be hard to give that up. "One day I love it, love the free time," he says wistfully. "But the next day..."
The next day he feels almost biologically compelled to work for a team, as if he owes it to his family and to his talent. His father, for one, wanted him to stay with an organization rather than run his own business. It's a longing McCloughan struggles to articulate, which is probably why his farmhouse is livable but temporary. He wants to win another Super Bowl, and he wants to learn whether he can do so and still be his best self. The pressure, internal and external, is slowly creeping up. His name has been floated for expected openings in Oakland and elsewhere. Some scouts, eager to climb on board, have visited him in Ferndale for face time. McCloughan has mapped out potential hires for key positions, a support system of people who accept him, faults and all.
He sits in his recliner, obsessed with that FBS linebacker. He works through lunch, barely uttering a word, rising only to use the bathroom and to exchange an old dip for a new one. He is discovering a player, yes, but he is also connecting with a vital piece of himself. When he finishes his report and gives the linebacker a second-round score -- "I'm the only guy in America who'll give him that grade," he says -- he is so proud that he has unearthed a steal that it's easy to imagine him as a boy, writing reports for his old man. Then he jokes that he should lower the grade so the steal will fall right into his lap come draft day.
Later, we go to a roadside restaurant and sit in a back booth. It's happy hour, and the place has a festive vibe. The sun shines through the windows, and a few patrons at the bar are already well-lit.
McCloughan orders a light beer.
We spend the next 40-odd minutes revisiting the morass of the past few years. It's surreal to listen to him attest to the damage of alcohol over alcohol.
When I tell people who know him I'm going to visit McCloughan, everybody asks the same question: Is he good? In football, it's understood that once someone is "good," they're ready to return to the game. Over the next two days, we will watch more than 20 hours of football, college and pros. On Sunday, he'll root for the 49ers in the morning and the Seahawks in the afternoon. No grudges. He'll drink water. He'll think about which scouts he would hire if he were to become a GM and jot the names of potential head coaches in a small notebook. There are reasons to be skeptical, but his happiness seems real.
Back at the restaurant, the waitress stops by our table.
"Would you like another beer?" she asks.
"I'm good," he says. "I'm good."
Follow ESPN Reader on Twitter: @ESPN_Reader
Join the conversation about "The Far Sideline."