Large lede: facebook.com/NewZealandUrbex From left: Hannah Johnston/Getty Images | Fairfax Media/Getty Images Adam Ferguson | Sarah Ivey/AP Images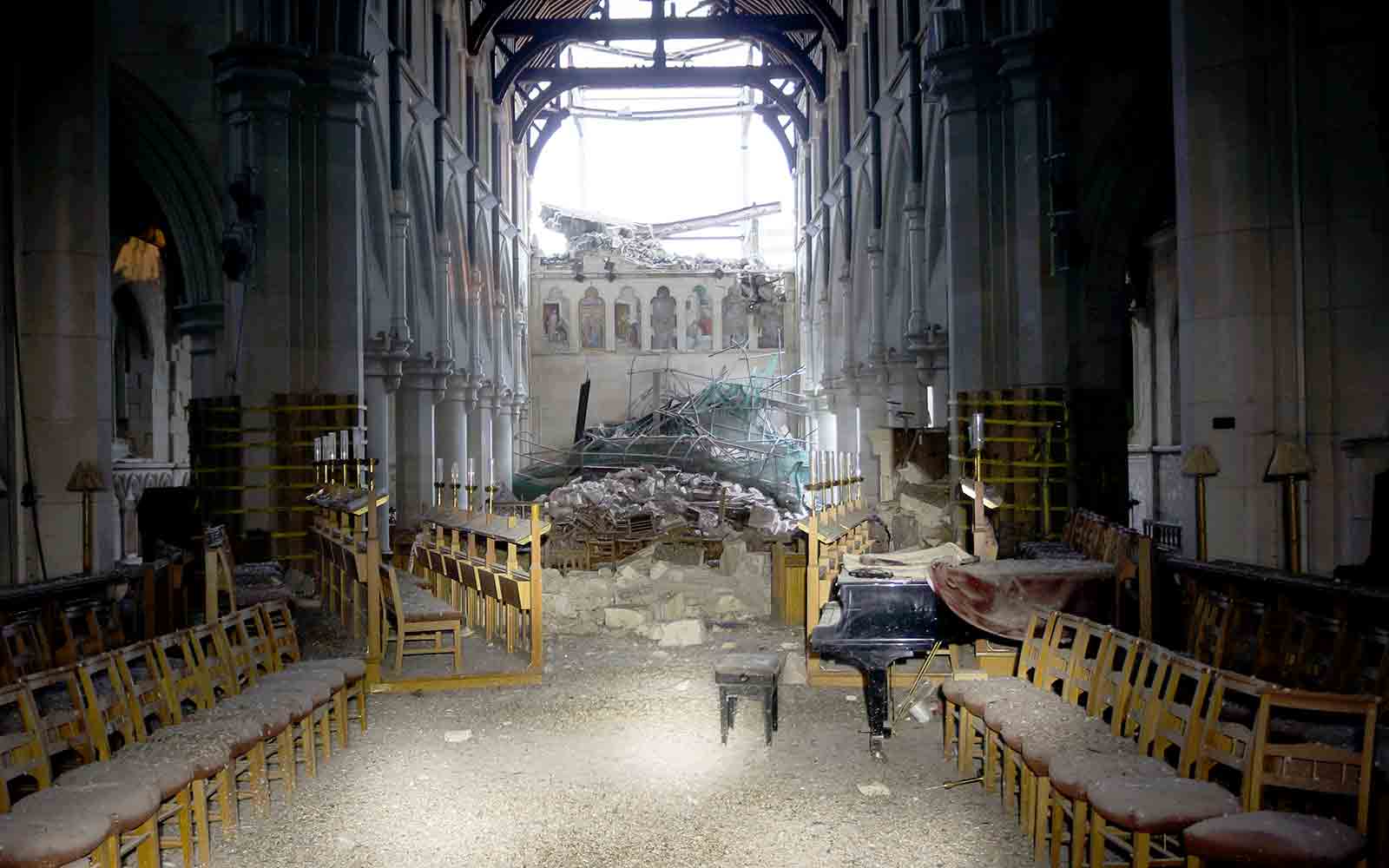 FROM THE GROUNDS UP
IN 2011, AN EARTHQUAKE DEVASTATED THE NEW ZEALAND CITY OF CHRISTCHURCH. CAN THE RETURN OF THE CRICKET WORLD CUP HELP THE SURVIVORS MOVE ON?
HOWLING WINDS RACE along the boulevard, dancing between the vacant lots and boarded-up, dust-covered buildings. Clemency Mutze's easy smile begins to fade. She clings to her olive-green designer purse. They told her the pricey leather bag would last a lifetime. They had no idea. With each step, she draws closer until she can see it -- the tribute to those whose stories didn't end quite like hers. This is ground zero for New Zealand's darkest day. Mutze steps onto the lot where the six-story building once stood. The memories come flooding back, uninvited. The twisted pieces of metal piercing her skin. The ruthless cloud of smoke making it impossible to breathe. And the chilling cries for help that slowly fade away.
"Right there," says the 38-year-old Mutze, pointing a few yards away. "That would have been about where they found me. That's where I thought I was going to die."
Retracing these steps for the first time, she takes a deep breath. She tries to process the weight of the moment. A collection of rocks nearby spells the words i love you.
It's been almost four years since the earthquake that wiped away much of her hometown and forever changed the lives of those who call the city of Christchurch home. But in too many ways, it still feels like yesterday. For all the shiny brochures about the rebuild and talk about what the city will eventually be, there are reminders of what it once was: Playgrounds sit empty, the neighborhoods around them were long ago deserted and buildings wait for their date with a wrecking ball. And at the center of it all, the iconic Christchurch Cathedral. For more than 100 years, it was not only a sacred place of worship but also the city's namesake. Now it's an eyesore, its crumbling facade and out-of-control weeds an everyday reminder of just how complicated it can be to break away from the past in pursuit of a brighter future.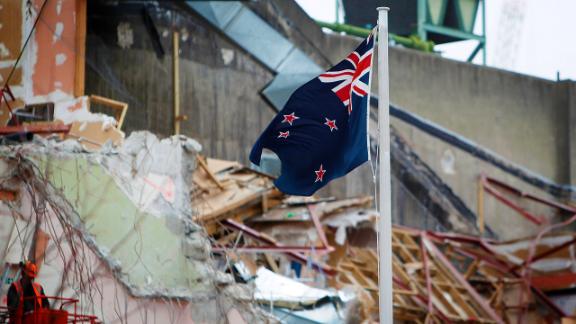 Signs of optimism are elsewhere. More buildings are going up than coming down. Construction cranes dot the skyline. Yet there is an awkward tension between those so eager to move on and those still fighting with insurance companies, desperate to find a new home. They scoff at talk of the sporting event that will cure all.
On Feb. 14, Christchurch will hold the opening match of the ICC Cricket World Cup 2015 (co-hosted by New Zealand and Australia), the city's first major sporting event since the earthquake. After a contentious court battle, the government fast-tracked approval for a new cricket oval in Hagley Park, hoping the World Cup excitement would bring its fractured community back together and alert the world that Christchurch is again open for business. The city's rebuild is expected to cost more than $31 billion, and the oval is the government's first completed major project. What is the healing power of sport? Christchurch is about to find out.
"Maybe it could lead to a lot of people finding happiness and hope," Mutze says of the tournament. "And right now, after everything we've been through, we need that. We need hope."
---
LIKE CALIFORNIA AND Japan, New Zealand sits in the seismically active Pacific Ring of Fire, where 90 percent of the world's earthquakes occur. But few in Christchurch, the country's second-largest city, ever worried about the big one. That was more of a concern in Wellington, the capital, because it sits atop the Wellington Fault. Not Christchurch, the Garden City, home to some 360,000 people. But before dawn on Sept. 4, 2010, a 7.1-magnitude quake centered 25 miles west of Christchurch stirred residents out of bed. Despite widespread damage, no one died. That temblor sparked a sequence of aftershocks, none more troubling than the 6.3-magnitude quake that struck at 12:51 p.m. on Feb. 22, 2011. Centered directly beneath the city at a depth of only three miles, the quake lifted Christchurch and bounced it like a basketball. Researchers later found that the vertical thrust raised some buildings more than four feet.
"It felt like you were in a cage being picked up and dropped, picked up and dropped, picked up and dropped," says 68-year-old Sue Spigel, a Michigan native who was working in the Christchurch Cathedral that day.
The results were catastrophic. Buildings crumbled, and water mains burst. In neighborhoods along the Avon River, a thick sludge bubbled from underground, overtaking yards and roads and moving walls within homes. On the Pacific coastline, tumbling boulders rolled through houses with the ease of a bowling ball plowing over a pin. The death toll climbed to 185 people. Thousands more were injured. Eighty-three percent of Greater Christchurch's homes suffered damage. More than 1,000 buildings in the central city -- a quarter of its inventory -- required full or partial demolition. For two years, a chunk of the city larger than New York's Central Park was categorized as the "red zone," cordoned off from public access during demolitions.
Mutze had a therapist appointment in the Canterbury Television building at 1 p.m. that day. She wondered if she might run into her ex-fiancé, Matthew Beaumont, who worked in the building. The two hadn't seen each other in two years. Maybe today the silence could end, she thought. But as she walked into the elevator and pushed the button for the fifth floor, she didn't see him. Upstairs, while waiting for her name to be called, Mutze thumbed through an old novel and admired the adorableness of a mother playing with her two young children. Then the building began to shake. There was a deafening roar. The floor beneath her gave way. She grabbed her chair, closed her eyes and held on. She lost consciousness.
When she woke, she found herself pinned under a pile of rubble. Drips of blood gathered on a piece of glass beneath her. Her right arm was the only limb she could move. She could hear the cries of so many others, including the mother and those precious children, begging for help. She saw the zipper of her olive-green purse. She heard her cellphone ringing inside, but the bag was out of reach. This, she accepted, was the end. She whispered goodbye to her parents and her husband of less than one year. She thanked God for the 34 years he had given her. Then she waited. Gradually the cries around her turned to silence. She knew what that meant. But she was still alive. She found a piece of metal and began poking it through a tiny hole above her head. "Help me! Help me! Help me!" she cried.
"I decided I was going to say those words until I couldn't say them anymore," she says. "Those were going to be my last words."
After nearly three hours in the rubble, she heard rescuers freeing the mother and her two children a few feet away. Before long, the voices moved closer. Rescue teams lifted scraps of metal and chunks of concrete from above. Suddenly, a man's face appeared. He asked for her hand. She gave it to him and climbed out of the rubble. She had no idea her back was broken.
---
A FEW BLOCKS away, in the Christchurch Cathedral, Spigel was in a fight of her own. An admired quilt maker and artist-in-residence, she worked out of a quiet room in a secluded corner of the church. At 12:43 p.m., her favorite international news program, Worldwatch, came on the radio. Eight minutes later, the shaking began. She tried desperately to get under a nearby table but couldn't move. The cathedral's 200-foot spire snapped, its pieces ripping through the roof and crashing through that table, leaving it in pieces. She lifted herself into a window and beckoned to the street below for help. A newspaper photographer snapped a shot that eventually became one of the disaster's iconic images.
"I had no idea somebody had a camera," Spigel says now. "I wish he had a ladder."
Rescue teams reached Spigel within 45 minutes and rushed her to the hospital. She had a broken arm and blood streaming down her face, but somehow she avoided life-threatening injuries. Four years later, she still battles the emotional scars of that day. And the cathedral still sits in ruins. Visitors can press their noses up against a security fence and see the gaping hole in the roof of the room where Spigel was.
The argument over the cathedral's future divides the city. The government's structural engineers told the Anglican church the building was unsafe and needed to come down. Independent experts countered. Christchurch without its cathedral is like Rome without the Colosseum, preservationists say. Lawsuits have been filed, appeals made. In the end, New Zealand's High Court decided the church can do what it chooses with the building. For now, that likely means following the government's advice to demolish the structure and rebuild.
"I'm exceedingly disappointed," Spigel says. "It could have given people so much hope to see the icon of the city has risen again. But now it's the opposite, and that hope needs to come from somewhere else."
---
ASK MOST PEOPLE in these parts about the relationship between Christchurch and sports and they will insist it's the sporting capital of New Zealand. The Canterbury region, they boast, is the birthplace of New Zealand cricket. Less than a year after the first four ships arrived from England in the mid-1800s, cricket was being played in Hagley Park. Christchurch is also the home of the country's pre-eminent cricket family: the Hadlees. And the Crusaders, the local rugby team, have won more Super Rugby titles than any other club. "Sports are (an immense sense of pride," says Lee Germon, a former New Zealand cricket captain who was born and raised in Christchurch and represented the Blackcaps in the 1996 World Cup. "They were enshrined into the fabric of our society from a very early moment."
Though Hagley Park was cricket's original home, competitive matches moved to Lancaster Park in 1881. Lancaster Park held two World Cup matches in 1992, when New Zealand last co-hosted the tournament with Australia. Later renamed AMI Stadium, the venue evolved into a 35,000-seat concrete monster but was hardly ideal for a five-day Test match. When Germon took over as CEO for Canterbury Cricket in 2009, he sought a return to cricket's Hagley Park roots.
But building anything in Hagley is no easy task. The more than 400 acres that line the center city's western edge are fiercely protected by proponents of the park's natural beauty. It's the Garden City, after all, and Hagley Park is its ageless, untouched gem. Legal consultants told Germon his plan was a waste of time, with too much red tape and bureaucracy.
But the earthquake changed everything. Among the damaged structures was AMI Stadium. A month after the quake, organizers from the 2011 Rugby World Cup had to move the seven matches Christchurch was scheduled to host that year. Beyond the stadium damage was the obvious truth: The city was in no shape to host an international sporting event. "It was like a party we were no longer invited to," Germon says.
"The oval has replaced the cathedral as our gathering place."
- Sue Spigel
Germon later proposed that the city put in a bid to host matches for the ICC Cricket World Cup 2015 even though it didn't have a stadium. The bid included upgrading the existing club cricket grounds at Hagley to international standards, building a 7-foot embankment around the oval and erecting a 400-seat pavilion, at a cost of $9 million. Critics, including a group calling itself Hands Off Hagley, howled.
"I came to work one day and there was an article about our plans pinned to the doors of the office," Germon recalls. "And somebody wrote, 'Get the f--- away from our park, Germon.' Another day, there was a message on my voice mail: 'Keep your hands off Hagley Park. I hope you die of cancer. You deserve to.' I wasn't surprised by the level of opposition. I just had this hope that once we built it people would understand."
Even without approval for the new venue, the ICC provisionally awarded Christchurch the tournament's opening match, provided it had a venue that could seat at least 18,000 fans. Germon and Canterbury Cricket raised the $9 million through donations and global fundraising efforts, but they needed government approval to begin work.
The city council kicked the proposal up to New Zealand's Environment Court, where lawyers argued about everything from traffic to noise to how long porta-potties could be erected. In August 2013, the court ruled that Germon could build his oval but only if he followed a list of 80 conditions. Construction began in December 2013 and was completed nine months later. The list of conditions still sits in a folder on Germon's desk. It includes traffic management plans, rules as to how many international matches the facility can host, and explicit instructions about temporary seating and keeping the grounds open to the public on nonmatch days.
"I'm in that folder every day," Germon says.
In September 2014, Prime Minister John Key officially opened Hagley Oval. And on Dec. 26, New Zealand's national team returned to play in Christchurch for the first time in almost a decade.
"Through everything that's happened, people's self-respect has taken a battering," Germon says. "People have lost their assets; they've seen their properties demolished. They've received poor treatment from companies they were relying on. This is a reminder that our city is worthwhile."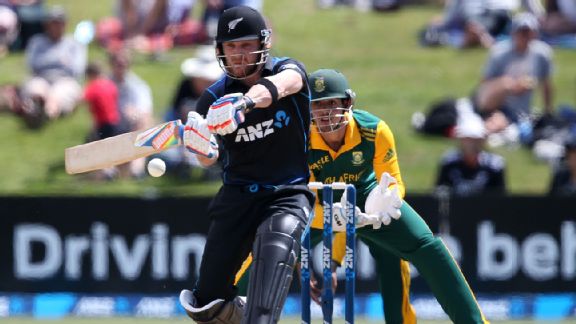 IT'S MID-JANUARY on a sun-splashed summer afternoon at Hagley Oval. New Zealand's national team is hosting Sri Lanka in another World Cup tuneup match. The oval's grass embankments are filled, giving the feel of a Cactus League spring training matinee. Sandals have been kicked to the side, sunscreen has been applied and cold beers are flowing. Behind the embankment, kids play pickup games. The tree-lined tranquillity of the park hides the destruction that sits a few blocks away. Today, long before batsman Brendon McCullum tied a New Zealand record with the fastest New Zealand ODI 50, Garth Gallaway can't stop smiling.
For the past 20-plus years, Gallaway, a well-known Christchurch lawyer, has worked as one of the radio commentators for New Zealand cricket. It is feel-good days like today that Gallaway envisioned four days after losing his home in the earthquake, when he came up with an idea to help people remember how much they loved the city. Gallaway was at his in-laws' house that night, watching the news with a glass of red wine in hand, when he heard the story of Clemency Mutze.
"It just hit me," Gallaway says. "It was one of those things when you're just sort of moved and think to yourself, 'How can I help here?' I wanted people to feel comfortable and give them ownership of the city back."
With the help of a local publisher and newspaper editor, Gallaway created a book locals could sign to pledge their commitment to stay in Christchurch. He asked Mutze and Spigel to be the first to sign. They agreed. And at 12:51 p.m. on March 22, exactly one month after the destructive quake, Spigel took pen to paper, explaining, "I love the hope, the spirit and the vision for the future." A few lines below, Mutze added that she felt connected to the land and its people. "Kia Kaha" (Maori for "stay strong"), she added. More than 27,000 names followed their lead, filling eight volumes of The Pledge. The original leather-bound books now sit on display at the Christchurch City Council building. Gallaway is hopeful the World Cup can help keep the spirit of those words alive.
"For years, people have drifted around pretty aimlessly looking," he says. "We lost that part of the city that brings everybody together. Cricket can help change that."
text
AS THE WIND continues to howl against her, Mutze leaves the former site of the Canterbury Television building and walks two blocks to Latimer Square to visit a massive oak tree. In that day of chaos, it was here, under this tree, where she lay down and tried to ignore the crumbled building burning behind her. She remembers the feeling of not wanting to be alone and begging a rescuer to stay by her side. The tree helped her shut out all the chaos: the screaming and yelling and the helicopters buzzing overhead. "It was just so strong and solid," she says. "It gave me this sense of calm." On this evening, the only sound is traffic whizzing past and a couple of teenagers chuckling on a nearby bench. Mutze now knows she was one of the last survivors pulled from the CTV wreckage. She knows that 115 people died in the building, including Beaumont, her ex-fiancé; fewer than two dozen survived.
"It's all so hard to believe," Mutze says at the site. "It's sad when I come here and think about all those people who died. I was one of the lucky ones. Matty wasn't. And there's this pain I will never forget."
A couple of weeks after the earthquake, as Mutze was recovering from back surgery at home, a policeman showed up at her door with a box. In it was her olive-green purse, a receipt from her appointment that day and the novel she had been reading, Far From the Madding Crowd. Four years later, she's still stuck on page 17. "One of my goals is to actually read from this copy," she says, holding the tattered book in her hands. "But there's something about me that finds this quite hard as well. It's a constant reminder."
Mutze says she plans to be one of the 20,000 fans who will fill Hagley Oval when New Zealand plays Sri Lanka on Feb. 14, knowing what the moment will mean to the city. Spigel, who initially was one of those opposed to the idea of a cricket venue taking over a piece of Hagley Park, agrees.
"The oval has replaced the cathedral as our gathering place," she says. "It raises the spirits of the people. It doesn't matter what they believe in or who they believe in. We all believe in New Zealand."
Follow ESPN Reader on Twitter: @ESPN_Reader
Join the conversation about "From The Grounds Up."