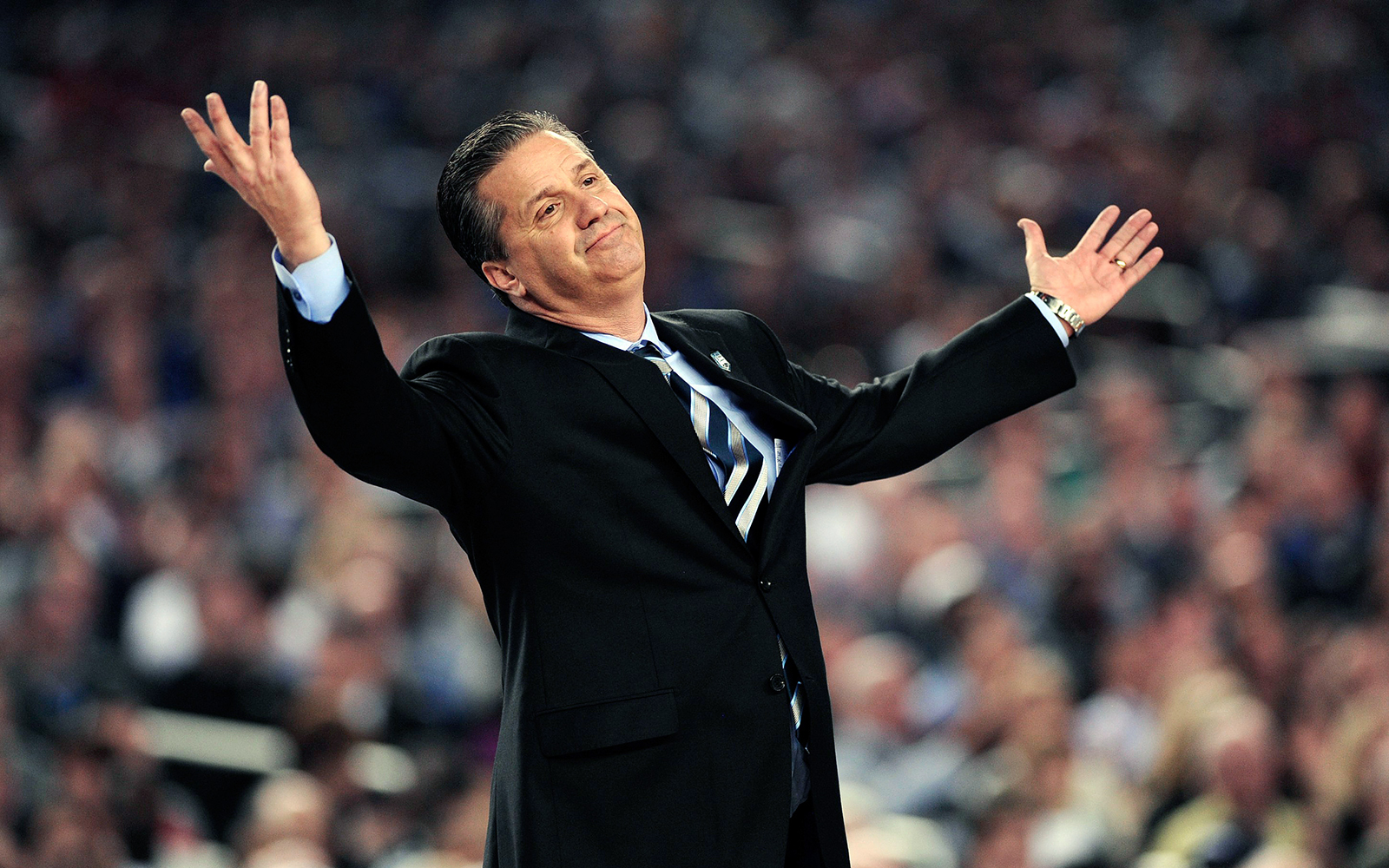 John Calipari Is Not Done Yet
Forget the pursuit of one perfect season. Kentucky's coach is turning college basketball on its head. For better or worse? Now that's the question.
My whole career I wasn't a great player. I didn't play for one of the name coaches in our business. I wasn't a blue-chip player. I didn't have a leg up on anyone. My mom always told me that a person should dream bigger than their surroundings.
-- John Calipari, from his book "Players First: Coaching from the Inside Out"
ATHENS, Ga. -- The coach walks out to the loading dock and turns into a human being. The game is won, the questions are over and John Calipari can just be Cal. For a few minutes, he doesn't have to sell anybody anything. Everybody here is already sold.
The Kentucky team bus is parked down here. It's a safe space. The media, and their talk about Kentucky's perfect season, are behind the closed arena doors. Hundreds of Kentucky fans, and their relentless pressure to win, are watching from the street, behind a barrier. That weary deadpan look Calipari gives the TV cameras is gone. His players are here. Their families are here. He mugs for photo after photo with daddies and mamas and uncles and aunts. Ashley Judd, Kentucky's No. 1 celebrity fan, is back here, too. "Great game!" she says as she gives him a hug.
It was in fact a great game. Georgia played fearless basketball, running right at Kentucky's thicket of big men and scoring at the rim. With just over nine minutes left, the Bulldogs were up nine and the Athens crowd was supersonic. Then the Wildcats came back, sure as the tide. Nothing showy about it. Kentucky found easy shots and made them. Georgia had hard shots and missed. In the end it was 72-64, and the fans in blue -- a quarter of the crowd -- lingered and cheered as the home fans went home.
Calipari was brilliant. It wasn't his plays; it was how he used his players. He changed lineups at just about every dead ball, running in new players two and three at a time, like a hockey coach changing lines. He pulled his 6-foot-11 freshman forward, Karl-Anthony Towns, eight times. Towns might be Kentucky's most talented player, though the Wildcats have so many stars that it's more a matter of taste, like picking your favorite "Fast and Furious" car chase. But Calipari kept yanking Towns, who was in foul trouble, and yelling at him. Once, when Towns committed a charge instead of passing out of trouble, Calipari waited until Towns got to the bench. Then the coach spun and shouted: "TELL ME WHY YOU DID IT!"
At the end, Towns was back in the game. With just under three minutes to go and the score tied, he converted a three-point play. The next time down the floor, he scored again to put Kentucky up five. Georgia never got closer. Inside the last minute, with Georgia down six, Calipari told his guards to feed Towns the ball. He knew the Bulldogs would foul. He wanted to see how Towns would handle free throws in a big game.
Towns made them both.
"'Scared money don't make no money' -- that's what I was saying to them in the huddle," Calipari says.
That's a 56-year-old white guy from Moon Township, Pennsylvania, quoting the wisdom of Young Jeezy.
"I'm not a genius," Calipari will say if he spots a microphone within 100 yards. For a man who talks so much about honesty, this is a bullpile. He is undoubtedly a genius at college basketball in its current form. The only thing to decide is whether he is a regular genius or the evil kind.
---
WE SHOULD PROBABLY decide soon, because Kentucky is about four weeks from history. The Wildcats are 31-0 and nine wins away -- three in the SEC tournament, six in the NCAA -- from the first undefeated college basketball season since Indiana in 1975-76. Since the '70s, the task has become even harder -- more games, more good teams, an extra round in the NCAA tournament. If Kentucky ends up 40-0, you could make a case for Calipari as architect of the greatest team ever.
But Calipari builds his teams to burn. As many as nine of his players could be taken in this year's NBA draft. And Calipari says getting players to the league is his ultimate goal -- more than a title, more than 40-0.
Calipari, who declined a one-on-one interview for this story, has said for weeks that it wouldn't bother him much if the Wildcats lost before the tournament. His friends think differently.
"I've had conversations in the last week with him," says Dave Pendergraft, director of pro scouting for the Dallas Mavericks, who worked for Calipari with the New Jersey (now Brooklyn) Nets. "I said, 'Cal, you need to lose one to learn from it.' Not once did he agree."
Ric Elias, Cal's friend and the CEO of marketing company Red Ventures, is a hoops junkie who played on a team Calipari coached at Michael Jordan's fantasy camp. They've been friends since. Elias sees the same drive in Calipari that he sees in people who run Fortune 500 companies.
"What floats his boat is competition -- not just in sports but in business," Elias says. "There's 50 big-time coaches. Only one wins."
He describes Cal's leadership as "seeing around corners." In 2005, when the NBA and the National Basketball Players Association decided that high school players had to wait at least one year before becoming eligible for the draft, Calipari saw around the corner. He was at Memphis and took a team built around one-and-done star Derrick Rose to the NCAA title game in 2008. In his sixth year at Kentucky, he has maxed out the plan, hoarding elite high schoolers who need a gap year before they can go pro. Kentucky announces itself before every home game as The Greatest Tradition in the History of College Basketball. Now, it's basically Oak Hill Academy for the NBA.
"'Scared money don't make no money' -- that's what I'm saying to them in the huddle."
- John Calipari
Kentucky fans don't seem to mind; the Wildcats have won a national title and been to two other Final Fours since Calipari arrived. The players don't seem to mind; 16 of his former Kentucky and Memphis recruits are playing in the NBA, and they're making $103 million this season alone. Calipari signed a new deal with Kentucky last June for $52.5 million over seven years.
The worry is in the shadows behind those stacks of money. Calipari has never been charged with cheating. But twice -- after he took UMass to the Final Four in 1996 and did the same with Memphis in 2008 -- the NCAA found violations that happened while he was there. At UMass, star Marcus Camby admitted taking money from an agent. At Memphis, there was an investigation into whether someone took the SAT for Rose. Rose denied it, but his score was ruled invalid. The NCAA wiped both schools' Final Four appearances and 42 wins from the record books. Four years ago, when Kentucky gave Calipari a basketball marking his 500th career win, the NCAA sent the school a letter saying his official total was just 458. After some grumbling, Kentucky adjusted its records. Calipari kept the ball.
Corruption in college sports is so common that any team with the talent of this year's Wildcats is bound to draw doubters. But the history of Calipari's previous teams trails him like a shot-blocker running down a fast break. Bob Knight, who coached that unbeaten Indiana team, cited Calipari as an example of how "integrity is really lacking" in college basketball. Judy Rose, athletic director at Charlotte, knows Calipari from their time together in Conference USA. She praises his skill as a coach. So if he were a job candidate, would UMass and Memphis bother her? "If you look at the history, maybe. I would certainly think that the University of Kentucky ..." She pauses. "Cal hasn't been charged with anything, you know?"
But as in the rest of big business, sometimes the deeper issue is what's legal. Even some of Calipari's friends, such as Michigan State coach Tom Izzo, worry that Calipari's focus on in-and-out players is hurting the game. "I think John has done a hell of a job," Izzo said last week. "I'm not sure I'm crazy about the way everything has worked out."
This season, it has worked out fine for John Calipari. On the loading dock in Athens, among friends, he laughs and hugs like the host of the world's greatest party, waving to the fans in the street as he climbs on the bus. The man pays such attention to detail, you wonder whether he picked the bus company himself.
It's called Champion Coach.
I ask the young men entrusted to me to dig deep within and explore what motivates them. "What is your 'why?'" I ask them.
-- "Players First"
IN A PARALLEL UNIVERSE, Calipari isn't coaching a busload of future draft picks. He's coaching LeBron James and Kyrie Irving and Kevin Love.
The Cleveland Cavaliers made a hard run at Calipari last summer, while LeBron was on the verge of becoming a free agent. LeBron is one of Calipari's many celebrity friends, and the Cavs apparently thought he could seal a deal to bring LeBron back to Cleveland. ESPN's Marc Stein reported that the Cavs offered Calipari a 10-year deal worth almost $80 million to be coach and team president. LeBron came back anyway. But by then, Calipari had decided to stay in Lexington.
Elias says Calipari called him for advice about the Cavs' offer. "The untold story of Cal," Elias says, "is that he came back because of all those kids that wanted to come back."
By "all those kids" Elias means five Kentucky players who had solid shots at the NBA: twin guards Aaron and Andrew Harrison, forwards Willie Cauley-Stein and Alex Poythress, and center Dakari Johnson. Kentucky lost forward Julius Randle and guard James Young to the draft, and Calipari had expected most or all of the other five to leave, too.
He signed three elite high schoolers in addition to Towns, who he signed in 2012, to restock the roster. But when the other five came back, all of a sudden Calipari had nearly two full teams of NBA prospects. The first five off Kentucky's bench might make the AP top 10 on its own.
You can see why the players stay. Their dorm, the Wildcat Coal Lodge -- bigwigs in the mining business helped pay for it -- has a lounge full of recliners and extra-high sinks in the bathrooms. Rupp Arena holds 23,500 fans -- more than any NBA building. Kentucky fans love the Cats more than anything, even horses and brown liquor. In some ways it's better than the NBA, except of course for the paychecks.
"I said, 'Cal, you need to lose one to learn from it.' Not once did he agree."
- Dave Pendergraft
Calipari's life is NBA-level, too. He takes a lot of his recruiting trips by private jet. "He's going to travel Laker-like," Pendergraft says. "All the stuff he's allowed by NCAA rules, he's going to be doing first-class." He wears Nike gear and endorses a signature-edition Mustang GT through the local Ford dealer. He gives speeches for $50,000 and up. If you're on a tighter budget, you can get his scripted voice mail greeting on your phone through celebcalls.com for $3.99. He's on their Most Popular list, just behind Mike Tyson.
Why leave for the hassles of the pros? His fingerprints are all over the league anyway. Three former players -- Anthony Davis, DeMarcus Cousins and John Wall -- made this year's NBA All-Star Game. Davis is the best young player in the league and might soon be the best, full stop. Derrick Rose was league MVP in 2011, before his knees started breaking down. "If he keeps putting 4-5 guys a year in the NBA -- that's crazy, right?" Elias says. "A few years down the road, 10 percent of the league played for him?"
The UK media guide lists Enes Kanter as one of the Kentucky players in the NBA. Kanter did sign with Kentucky, but the NCAA ruled him ineligible because he got impermissible benefits while playing for a pro team in Turkey. So he practiced briefly with the Wildcats but never played in a game. He then went No. 3 in the NBA draft and is making nearly $6 million this year for the Oklahoma City Thunder.
In many ways, he is the perfect John Calipari recruit.
text
PRETEND THAT Calipari isn't on the bench. Take the names off the Kentucky jerseys, front and back. Set aside the baggage and just watch them play basketball. In this team's hands, it is a beautiful game.
They excel at simple plays: jump hooks in the paint, passing to the open man, squaring up on defense. Calipari's dribble-drive offense lets any player take his man to the basket, but the freedom only works with discipline. These players share. No one scores more than 11 points a game. Eight players average between 20 and 26 minutes. (That includes Poythress, who played just eight games before tearing his left ACL.) They might have the most pure talent of any college team in history. But they play like a Dean Smith dream.
This is Calipari's most powerful magic. Year after year, he gets the country's best players to mute their egos. NBA commissioner Adam Silver has said he wants the league to change the one-and-done rule and instead make players wait two years after high school before turning pro. Part of his argument is that one-and-done players don't learn how to build a team. Kentucky has been the rebuttal. If you hang around Calipari long enough, you are guaranteed to hear this stat: Anthony Davis and Michael Kidd-Gilchrist, who led the Wildcats to the 2012 title and were the top two picks in the NBA draft, took the fourth- and fifth-most shots on the Kentucky team that year. This year, though, with several players on their second season, they could be making Silver's case.
This season's team has felt historic since day one. Calipari toyed with a platoon system at the start of the season -- running in five fresh players at a time -- though he slowly abandoned the approach after Poythress' injury. The Wildcats have been in real danger just three times: overtime vs. Ole Miss, two OTs at Texas A&M and a two-point win at LSU. They have beaten Kansas by 32, UCLA by 39, Missouri by 49.
And if you hang around this year's players for even a little while, you think: nice kids. Polite and smart. They're like the average guys you might run into at the Kentucky dining hall, except they're much taller, and they will soon be millionaires.
Karl-Anthony Towns, the freshman Calipari yelled at so much in Athens, has an imaginary companion on his shoulder named Karlito. Willie Cauley-Stein, who is a junior and therefore an ancient old man on this team, gives Zen quotes. He said after the Georgia game: "Sometimes teams want to beat you so bad, they just can't because they're trying too hard."
Calipari is such a good salesman that you worry you're going to walk away from him having somehow bought new gutters. But think about the pitch he has to make to players: Come here, work hard, give up your stats, and I'll make you ready for the league. That's a lesson in delayed gratification. Not many 18-year-olds are good with delayed gratification -- especially if they've been stars since they were 10. But he also pitches the pot of gold. "These kids have a future at stake, and it's not a $50,000 job," he told ESPN's Colin Cowherd in a radio interview. "It could be a $100 million job that changes their family and their family's family's family."
Calipari teaches teamwork and sacrifice. His players are successes in their chosen field. Isn't he doing, in most of the important ways, exactly what we want a good college professor to do? Instead of assuming that Calipari is dirty, shouldn't we be praying that he's clean?
This is the problem not just with Calipari but with big-time college sports. You see all the good. You want to believe. But that little Karlito on your shoulder keeps saying: Don't open your heart all the way. The trail is strewn with broken ones.
Saturday afternoon was Kentucky's last home game of the season and Senior Day, which raised a fair question: Kentucky has seniors? It does. Three, in fact: Tod Lanter, Brian Long and Sam Malone. Combined, they have a season total of four points. Die-hard Kentucky fans know them anyway; there's a Twitter feed called Tod Lanter's Biceps.
Most schools start their seniors on Senior Day. Calipari brushed off the idea all week. But sure enough, he sends all three out for the opening tip against Florida.
He pulls them after 22 seconds.
They get another 46 seconds at the end, after another efficient beatdown that finishes 67-50. At the end, the players put on new blue T-shirts:
31-0
NOT DONE
Towns had 13 points, 9 rebounds, 6 blocks and 3 assists in just 27 minutes. Some scouts think he has passed Duke's Jahlil Okafor as the country's top NBA prospect. ESPN's Chad Ford has five Kentucky players -- Towns, Cauley-Stein and Johnson, plus freshmen Devin Booker and Trey Lyles -- going in the first round of the draft.
Assuming they don't stay.
Kentucky already has two five-star players and one four-star committed for next season.
The postgame news conference underneath the stands is packed. There's Ashley Judd again, sitting cross-legged on the floor.
The SEC tournament in Nashville is next. Only bad things can happen to Kentucky there. They could lose. Somebody could get hurt. Calipari hates the SEC tournament. But he has found an angle: Kentucky fans who can't get tickets for home games will go to Nashville instead. "They spend their rent money, mortgage money, their car money," he says. "So we can't promise we're going to win every game, but we want to go have fun for our fans."
We'll probably win, but if we don't, it doesn't matter. It is a masterwork of spin. Somewhere, a D.C. lobbyist sheds a tear of pride.
Calipari says he doesn't see even a perfect record as a punctuation mark. The last day of his season is June 25, the day of the NBA draft. That's how he says he measures his success.
But ... what if you were changing the game? What if you felt that, because you were changing the game, the college basketball establishment was rooting for you to fail? What if you suspected the NCAA was dying to tell you for the third time that you didn't win the games you won? What if 40-0, with more hills to climb than John Wooden or Bob Knight ever faced, would plant you so deep in history that nothing could dig you out?
In the news conference after the Florida game, Cal is hitting the same old beats -- his players have got a lot to learn, but they're amazing, it's all them, he's no genius -- when he stops.
"I want to tell you all," he says, "no one will steal my joy. If you want to attack what we're doing, be nasty about it, have at it. You're not stealing my joy. Coaching this team, with these kind of kids, you're not stealing my joy."
Maybe it was just a shot at the media. But you could read it as a threat to Kentucky's opponents. Define "opponents" however you want.
You're not stealing my joy.
Nobody's taking this one from me.
text
THE GAME HAS been over for 45 minutes, but several thousand fans have hung around at Rupp because Cal is coming back. He chats with fans after every home game as part of the postgame radio show. The folks in front have brought basketballs to sign, but he doesn't have time; he's headed straight from here to Florida for a vacation before the SEC tournament. He walks in smiling and gives them five good minutes.
He teases the fans that they wouldn't be so happy about playing the seniors on Senior Day if the Cats had lost by one. He praises his young players. He says they're dedicating the SEC tournament to the fans. "I hope you enjoyed the game," he says. "I hope you enjoyed this team." He strolls away to a standing ovation.
He wrote in his book: My mom always told me that a person should dream bigger than their surroundings.
Look at his surroundings now. He's the king of Kentucky, working on an eight-figure contract, coveted by the NBA, adored by his fans, regularly hugged by Ashley Judd. He can get just about any All-American he wants. College basketball can't keep up with him. The pros might change their rules because of him.
He used to be John, a middling point guard for Division II Clarion State. Now he's Coach Cal, dominating a sport and tromping on the edge of history.
What's left for him to dream of?
Only perfection.
Tommy Tomlinson is a contributing writer for ESPN. You can reach him at tomlinsonwrites@gmail.com.
Follow ESPN Reader on Twitter: @ESPN_Reader.
Join the conversation about "John Calipari Is Not Done Yet."