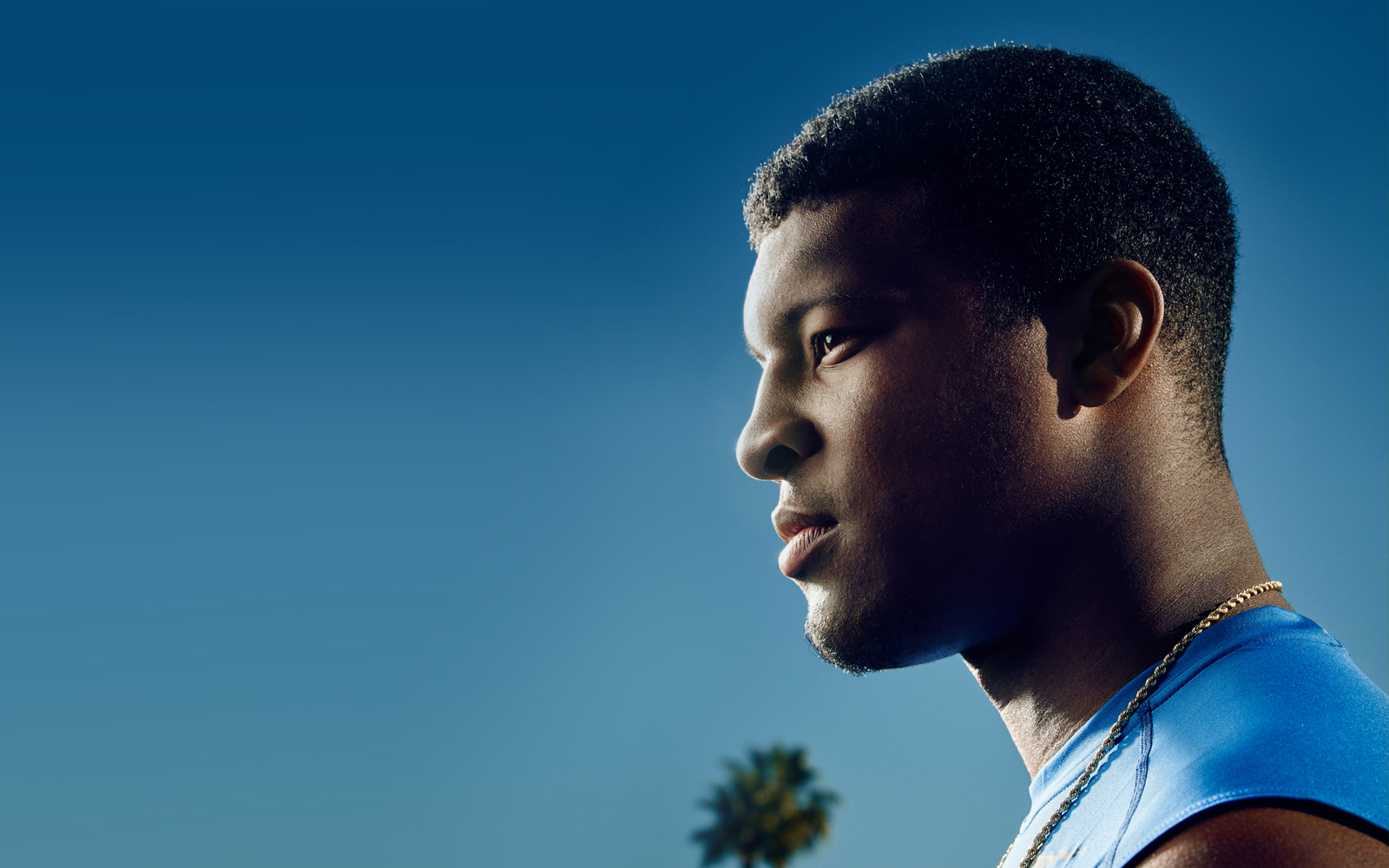 Jameis Winston Is On The Clock
Training days in Solana Beach, a throw-off in Indy and home to Alabama: two months on the pre-draft trail with this year's most polarizing player.
TALL AND 21 and broad-shouldered, the quarterback who seemingly half the world is talking about sits on a bench in the California sun and surveys the field before him.

For weeks, Jameis Winston has been training in Solana Beach with George Whitfield, a former Division II QB who has helped a succession of first-round passers sharpen their skills ahead of the NFL draft. Winston lives with one of Whitfield's assistants in a four-bedroom house with an ocean view.

His day began not long after sunrise, on the beach, with throwing and running drills orchestrated by Whitfield in cool ocean water that lapped at his waist. Here at the football field at Santa Fe Christian high school, there was more passing, the focus on technique and touch, including a dozen throws launched 25 yards over the head of an intern, who held a metal tennis racket as high as he could. Each spiral left Winston's crooked-fingered right hand, arced gently over the top of the racket and descended into the arms of a receiver. Winston did it blindfolded.

"From an early age, I realized I had a confidence that others my age just didn't have," he says afterward on the bench. He shifts the ice packs on his knees. A gnat buzzes by.

When asked if he recognized his skill early too, he simply nods. The gnat swirls past. He swipes at it, catches it, and laughs.

"You see how fast my hands are?"

With his light, brash tone and rounded Southern accent, he can sound like a young Ali. He has the same showman's touch: an ability, through the force of personality, to cast a spell, mesmerizing and perhaps something to be wary of as well.

He tells a story about playing T-ball in grade school. By far the team's best player, he'd leave his infield position and chase down the ball wherever it was hit -- even if he had to snatch it from the glove of a surprised teammate.

"My dad had to tell me, 'You can't do that,'" Winston says. "I couldn't do just whatever I wanted."
---
"I'm not going to be a taker, I'm going to give them everything I got!"

- Jameis Winston

WHAT DO WE make of this prodigy nicknamed Jaboo (pronounced Jay-Boo), a sobriquet from his mother?

How do we square the man with the kid, reconcile his mature talent with the things he has done -- immature and entitled at least, inexcusable at worst?

How do we reconcile the youngster so driven that by sixth grade he was filling notebooks with complex offensive plays, so academically accomplished that he was accepted to Stanford, with the Florida State quarterback he became, cited for shoplifting crab legs, punished for jumping onto a campus table and shouting the crude Internet meme "F--- her right in the p----!" and -- most seriously -- accused of, though not charged with, raping a female student.

Nearly every detail of the rape allegation has been made public. Winston said he met a fellow student at a bar, took her to his apartment and had consensual sex. His accuser, Erica Kinsman, said that she was sexually assaulted on Dec. 7, 2012.

Kinsman has since transferred and is pursuing a federal lawsuit against FSU, claiming an inadequate investigation violated her civil rights. Her legal team did not make her available for this story, but she spoke in The Hunting Ground, a recently released documentary about sexual assaults on campuses. Late last year she also testified at a student conduct hearing at FSU. "[He] raped me," she said. "I'll say it as long as I live because that is what happened."

Winston was never charged, nor was he expelled; a widely criticized Tallahassee police investigation resulted in insufficient evidence. In an interview with The Mag, Willie Meggs, the Florida state attorney who investigated the case, declined to speculate on what happened in that apartment. "It was not a good night for anybody," he said.

As the April 30 draft approaches, Winston's every move is under a microscope. Even his tentative decision to skip Chicago and stay home with family in Alabama for the big day created a questioning buzz: Was he told to steer clear by a commissioner reeling from a year's worth of headlines about domestic violence? Along with a 26-1 record at FSU, his Heisman and his impressive predraft workouts, skepticism about Winston's character will also be part of the backdrop when his name is called.

Yet the league seems poised to move on. The consensus remains that the Buccaneers will, and should, draft him with the top pick. "When somebody would bring him up, I used to think, 'I just can't see how I would like this guy,'" says a high-ranking official with an NFL team. "But we have done a lot of work, and the more work we do, the more I like him." Adds an AFC scout: "Nobody's saying, 'I can't believe the Bucs would consider taking him No. 1.'"

GIVEN THE WAY crab legs have become attached to his name, it comes as no surprise that Jameis Winston's love of seafood verges on obsession. To wit, the heap of shrimp and crawfish stacked on a plate before him at a California Pizza Kitchen in Solana Beach.

It's mid-February, and at the moment, his life centers on the combine.

"I'm prepared for anything they throw at me," he says. "I'm going to be able to tell the truth, you know?"

The swagger from another day's workout has followed him to the dinner table. He sits and begins rehashing his thorny past. He tries to put his troubles into two categories. There are the college high jinks and thoughtless idiocies: what he said standing on the student union table, for example. He cops to this right away.

"I was with my friends," he says. "I was quoting -- it was a meme. Like it's just something people say, and me being, wanting the attention, I burst it out. I got a bunch of laughs. You know, that's childish, but I did it. I'm going to own that. That was stupid."

Then he poses a question: "So what other off-the-field issues am I having?"

Winston pushes at a prawn. He had been hungry. Not anymore.

"So many people try to dehumanize me," he says. "They say, 'Off-field issues.' They say, 'The sexual allegation stuff.' People view me as a convict, and I didn't even do nothing. People say, 'How does he play like this and all this stuff going on?' Like by me playing well during that adversity, that made people think about me worse, thinking I'm a sociopath."

Winston leans forward, closer. He is utterly believable. Then you recall that this is the same kid who before his Heisman-winning season told a room of reporters: "If I get [Johnny] Manziel disease ... get your mics and start slapping me on the head."

"I think I know him, but I think there's a part of everyone that no one knows," says FSU coach Jimbo Fisher, who during the height of tension over the rape accusation remained a steadfast defender. "But I'm gonna say this: I trust him. He has an ability with people to put them at ease."

Winston continues. Of the allegation he says, "It hurts the women that I respect"- -- his mother and grandmother and his girlfriend, a college basketball player at Rice, who is his high school sweetheart and remains by his side.

He pauses, sticks out his chin, hoping to brush past his vulnerability.

"I'm not ..." he says.

A beat passes.

"You know what I'm saying?"

CLAD IN BLACK-AND-BLUE gear inside a gym near San Diego, Winston shouts: "I'm the receiver, I'm the receiver! Gonna make you look good too!"

It's Feb. 11, a week before the combine, where he will be prodded and poked by doctors, grilled by coaches, trotted out in his underwear to be weighed and measured, and participate in a series of drills -- tests, really.

But on this late morning, I'm throwing the passes. Whitfield has given me pointers and put me through warm-ups. I haven't thrown a football in 20 years. Winston waits downfield.

A slant pattern: My throw wobbles. He snatches it.

A simple 15-yard out: I put a little extra on this one, and it's high. He one-hands it, grinning.

There is no sign of the alternately imploring and hesitant kid from the California Pizza Kitchen. This is the Winston who leads title-clinching drives.

Bryce Petty shows up. Some say the ex-Baylor QB will be the third passer taken. He and Winston trade fart jokes. Winston ribs him about being slow. "I thought I was gonna be in trouble until I saw Bryce run," he says. "I got nothing to worry about."

Then comes Marcus Mariota, the former Oregon QB who won the 2014 Heisman and led the Ducks to a resounding win over FSU in a Jan. 1 semifinal. Pundits have long cast Mariota as the anti-Winston. The lanky Hawaiian is said to be calm and quiet and reliably boring, but that -- along with his talent -- might give him an edge over Winston.

The two trade nods. They don't talk much. They are like proud alpha-male lions pacing around the same pack.

"One thing I had to learn: I can't treat every place like it's Bessemer, Alabama."

- Jameis Winston

Later, at the combine in Indianapolis, a scrum 1,000-strong settles under the cantilevered edge of Lucas Oil Stadium. Much of the talk is about the rape allegation and crab legs and whether Winston can be trusted. A photo has spread across the Internet showing him with a considerable gut. Is he overweight? Is he taking his NFL future seriously?

The photo was taken at the start of his training in Solana Beach, before he'd gotten focused and energized and hired a cook to improve his diet. When he wasn't on the field or in the gym, he listened to motivational speakers, NFL players and current and former coaches invited by Whitfield. "Don't be a taker, be a giver!" one longtime offensive coordinator intoned. "You come to work every morning, you bring an 'I give a s---' attitude. ... Bring something to the table every goddamn day."

Winston wrote down the coach's words in a red binder.

On his first evening in Indy, he strides with his slow, stiff-legged strut through a maze of coaches and players at the Omni Hotel. It's been a good day. He weighed in at 231 pounds -- 15 lighter than at the start of Whitfield's drills. But around noon the next day, reports circulate that doctors have found something wrong: Breaking Story -- Jameis Winston Experiencing Weakness in Throwing Shoulder, reads a headline scrolling across TV monitors.

He emerges from a long corridor inside Lucas Oil Stadium, steps through a thicket of cameras and marches to the podium. "First off, before we start anything," he says to dozens of reporters, coaches and players, "I want to let you all know I made mistakes, and I know I have a past, but right now it's about me moving forward and earning the trust of all these 32 teams out there."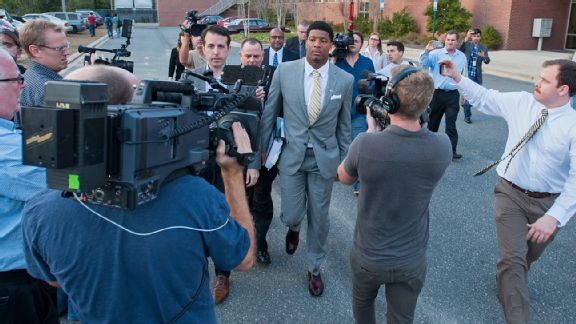 With reporters pining for an opportunity to grill Winston about his misdeeds, he smiles, leans in and infuses his words with country charm, as if he's disconnected from the gravity of the moment. He claims the shoulder is fine, that all these years it just hasn't had much rest with his playing football and baseball nonstop. He promises that he will throw the next day. "A lot of people thought I was fat, but I'm here," he says. "I look good and I know it."

Afterward, he conducts a short radio interview. Once drafted, he is asked, what kind of attitude will he bring to his new team? "I'm not going to be a taker," he says. "I'm going to give them everything I got!"

The answer is either a canned copy of the coach's advice from the red notebook or it's the considered view of a studious kid open to anything he believes will make him better.

At 9 p.m., out of nowhere, Winston, Petty and Whitfield appear in the Omni lobby and summon an Uber cab. They want one more drill, one last rehearsal, before the next day's passing test. They navigate dark and winding roads to Cathedral High School, a brown-brick campus on the outskirts of Indy. A custodian opens the gym.

Winston and Petty toss footballs across a glossy basketball court. Problem is, there are no receivers. Soon enough, the doors open and in walks the Cathedral boys hoops team, fresh off a tough loss in overtime. The bus ride back to school had been solemn, coach Andy Fagan says, but the loss quickly becomes an afterthought. The players run go-routes and fades. One ball nearly impales itself in the chest of a gangly brown-haired kid. Another kid gushes proudly that a pass felt like it had broken his hand.

At the end, Winston hams for photos. Then he and Petty stand side by side. In sequence, they launch footballs into high orbits, aiming roughly 25 yards across the court at a basket. Petty says he'll be the first to make it.

"This is what I do," Winston says. "Every time somebody talking that stuff to me, what happens?"

It's on.

He is in his element: surrounded by fawning kids and a loyal coach, losing himself in the one thing he loves above all else -- a win. In this moment, with the sudden doubts about his million-dollar arm, he seems even more dialed in.

Petty launches a spiral. It clanks off the rim.

"Ohhh!" comes a chorus from the teenagers.

Winston bites his lip, wheels back, turns his hips and unlimbers his shoulder. Another clank. They keep on, ball after ball.

"Hey, Jameis!" a player says. "You gonna get close?"

His jaw tightens. He throws again. So does Petty. Finally, Winston lofts one with just enough speed and distance and arc. Swish. His face shifts from deadly serious to seriously relaxed. "Like I said, that's just what I do."

On the way home, there is a reminder that the win over Petty doesn't silence the voices outside. Cathedral's principal gushed in a tweet that his students joined Winston for the impromptu workout. Riding in a van that is trailing the QB, one of Whitfield's interns checks his phone. A Twitter follower has sent the principal a sharp reply: I didn't know cathedral let illiterate rapists on the premises.
---
"People view me as a convict, and I didn't even do nothing."

- Jameis Winston

THE UNOBTRUSIVE HOME where Jameis Winston was raised sits on a tree-shaded lot on the working-class border between mostly black Bessemer and mostly white Hueytown.

During a weekend visit after the combine, Winston walks from room to room, the walls festooned with awards and newspaper clippings chronicling his exploits at almost every age. The living room, like the house, like this smokestacked Alabama community, is small enough already, but Winston and his achievements seem to dwarf it -- especially the trophies, many of which are on the wooden floor, off to the side, jammed together near a window. It is hard not to wonder what growing up inside a trophy case does to one's sense of self. He seems appreciative of the hardware while oddly unsentimental about it, as if he has never considered not being the very best.

Trailing Jameis is his brother, 7-year-old Jonah. Sitting quietly on a brown sofa in the living room is his mother, Loretta, 43, who works in the claims processing department at a local Social Security office. Standing nearby are Otis Leverette, a deep-voiced, Gandhi-quoting, Nietzsche-reading former NFL lineman who trains and mentors Winston, and a camera crew shooting an ESPN documentary.

Jameis' father, Antonor Winston, 43, known around town as Ant, is there too. He works for Bessemer fixing street signs and traffic signals, and is a local legend, celebrated for his incandescent personality, his coaching of the peewee Bessemer Tigers -- and, of course, for being Jaboo's daddy. The locals say Ant pushed his son hard, but he would step back and let Jameis make his own decisions, and mistakes, as well.

"I'm a full-grown man and I'm always cutting up," he says, eyes sharp, smile wide. "They say he needs to grow up. But he just turned 21. In a lot of ways, I need to mature too. Even when he's 40, he's going to be still just like me."

With his parents watching, Winston continues the tour. Near the front door, stuck behind a coffee table and a couch, are two of the most coveted awards that can be bestowed upon a college football player: the bronze Walter Camp Award for the nation's best player and the Davey O'Brien trophy, given to the nation's best quarterback. "It spins!" Winston says, rotating it. "It spins around! I love that award."

He walks into the kitchen, where next to a dinner table the family keeps Ice, a spotted pit bull mix, in a kennel. Winston points at the white refrigerator, then above it, to a brown shelf partially hidden by half-inflated red-and-blue balloons that have been bobbing since his birthday the month before.

There sits Jameis Winston's Heisman Trophy.

"Don't want everything to be, just, seen so easy," he says.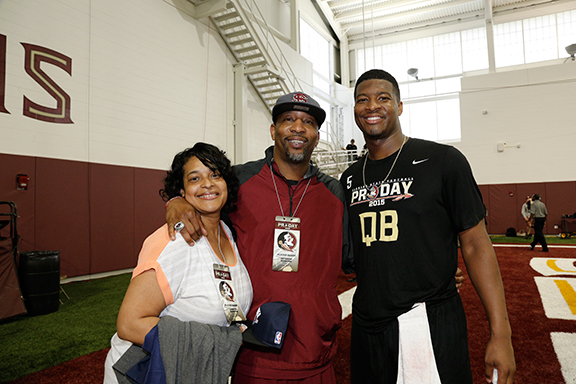 THE NEXT DAY, Winston tours the hangouts of his youth, mostly avoiding Hueytown. His parents' home is in Hueytown, but he does not say that's where he is from. He was the nation's top-rated quarterback there, was among the country's best baseball players and was an honor student. But his connection to this hillside municipality (population 16,000) is strained.

Last fall a local news story was headlined: Jameis Winston has 'embarrassed' Hueytown, residents say. Last summer, for Winston's appreciation day, the concrete stands at Hueytown were half full.

"We all have a perception about the No. 1 QB in the nation, about the level of warmth that should be there for him," says Jeff Sentell, a prep sports reporter for The Birmingham News who covered Winston. "But that just wasn't there for Jameis. When he left, he didn't have a favorite-son type appreciation."

The explanation could be rooted in tangled history: Winston doesn't want to talk about racism -- he shifts uncomfortably in his seat when the subject is raised. He was a bold, confident black kid leading a high school team in a mostly white Southern town. He also snubbed the only schools that matter where he's from, Alabama and Auburn.

But it is hard to find critics these days. Searching for answers, I stop at local restaurants, call rival coaches, the junior high principal, the woman who runs Hueytown High. Nobody talks. Not to an outsider. Not here, where gossiping about what's not your business is as sacrilegious as having a wedding on Iron Bowl Saturday.

"A lot of people were jealous of him," says Matt Scott, Winston's high school coach, who is white. Like his former quarterback, he steers clear when the topic comes to race. "It was an older crowd too. People who are more of the mindset of a whole lot less flash."

Scott describes fiery arguments with his young QB, similar to the battles with Fisher at FSU. "He was one of the only people that had the same mentality I did about winning," says Scott. "But some people saw the way he was, and it just rubbed them the wrong way."

With his mother along for the hometown tour, Winston decides to stop at La-Z-Boy to buy a recliner for his Grandma Myrtle. There is hardly a soul in the place, and he revels in the anonymity. For a long time, the only people who speak to him are an elderly couple. "Jameis, we're Auburn fans, but we want to wish you good luck." He thanks them, then leans back in a chair. It looks as if he could fall asleep.

His mother checks the price tag: about $2,000. "That's a lot," she says. All of her life and all of his, $2,000 would have been hard to swallow.

"Mama," he says, "I'm not worried about the price. Let's just get it."

Soon he is driving through the beating heart of Bessemer, the dusty, low-slung northern neighborhood where his mother was raised and his extended family still lives, where Winston spent much of his childhood. Once home to steel mills and iron smelts and Bo Jackson, Bessemer is now a faded place with a patina hue. The mills and smelts have dwindled. Bo is gone. Jameis remains.

He comes home to get away from the twin weights of accusation and expectation. But some say his troubles also stem from here. "In high school they allowed him to do whatever he wanted," said a local resident quoted in the news story.

When Winston needed a sanctuary from the tension, he came to Grandma Patricia's house, where he often slept as a boy, alongside at least a dozen cousins. Over a mound of sticky chicken wings at the dining room table, he tells his family that he wants to be in Bessemer during the draft. "Life is going to change a lot," he says. "I want to be around y'all that day."

From the front porch, Winston looks out over the big yard full of brown grass and pecan trees, where he and other kids used an empty Gatorade bottle for a football.

His black-and-silver Nikes crunch against gravel as he and cousin Tay Tay walk down the block to a ramshackle corner store called the 12th Ave. Supermarket.

"That Jaboo? That Jaboo?" says a man. "Jaboo, my dog, what up?" Word spreads. Two old friends show up. Then five. Then a gaggle of onlookers. Winston takes time for everyone. "I'm not going to act like I'm better than anybody from my hometown," he says, "or better than anybody at the 12th Ave. Supermarket on the corner."

He will likely be a Week 1 starter for an NFL team. He will possess riches. But he will also be trying to outrun the shadows of Tallahassee. "One thing I had to learn," he says, "I can't treat every place like it's Bessemer, Alabama."

ON SUNDAY MORNING before Winston leaves Alabama, the crowd at Antioch Missionary Baptist Church revels in worship. Deacons sing spirituals, and ladies in the front row shout "Hallelujah!"

Then the congregation quiets and Bobby Chapman, one of Winston's uncles, stands at the pulpit. Jameis and his family walk slowly to the front.

This had been Winston's first church, but fame and infamy have had their way with his schedule. He hasn't been here in a long time. In black slacks, a white shirt with faint stripes and a black tie, he stands before the worshippers, washed in applause. He grips the mic and scans the crowd. He pauses.

"I just thank y'all for y'all's prayers, and, uh, I'm going to keep representin'."

"Amen!" the people shout.

"The sky is the limit right now, and I knew, uh, I made mistakes. Everybody makes mistakes."

"Amen!"

"I always kept my spirit. That all started from the great teachings of everybody here. Y'all been my family, so thank you so much. And, uh, y'all keep watching me on TV. I am going to be on there for a long time."

Winston flashes a smile and waves. It is a small, almost delicate wave, like the wave of a child.
---
ON MARCH 5, a few days after his visit to Bessemer, Winston flew to New York for a six-hour face-to-face with commissioner Roger Goodell and Troy Vincent, one of his deputies. The meeting, which Winston had requested, was meant to be a forum to explain himself.

"It was a great opportunity to be around, so they could get to know me," he says after returning to San Diego. "When you talk to me, it's different. But from the outside, you're just like, 'This kid is a prick. This kid is arrogant. He thinks he can get away with anything.'"

Walking along crowded 10th Avenue in downtown San Diego, Winston's presence far outweighs that of Petty, Whitfield and his interns. The group strolls through the neighborhood surrounding Petco Park. Winston stops in a restaurant to talk to a family. He lifts their toddler and coos at their baby. In the middle of a crosswalk, he starts dancing to a thumping hip-hop beat. He spots a pretty blonde, probably in her early 40s, and as if about to propose, he drops to one knee, looking directly into her eyes. She smiles, gives a twirl of her BMW key chain and says, "May I help you?"

He laughs. She laughs. Winston bounds off.

Given who he is and the scrutiny that will surely surround him as a "face of the franchise," when every move he makes will be inspected -- whether in Tampa or Nashville or some other city -- this kid has to change.

Or maybe not.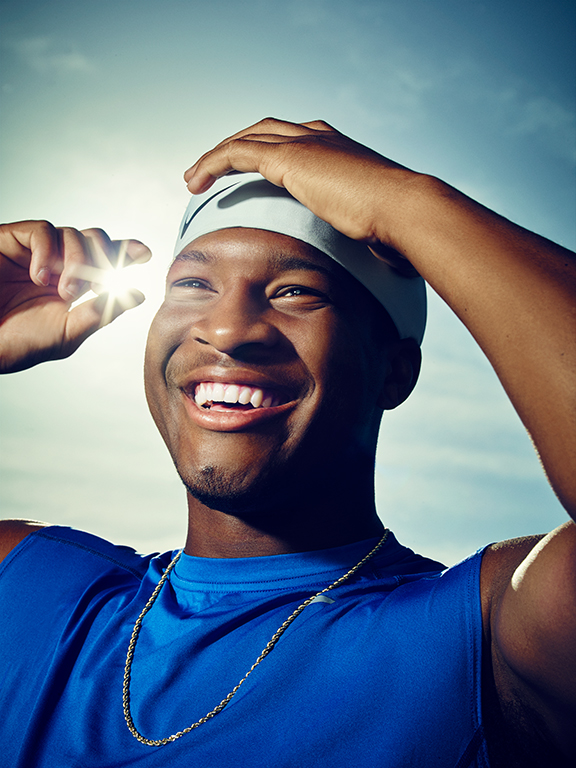 Maybe, for the NFL and its fans, redemption is less about change and more about championships. Maybe people will move beyond his past and focus on his dazzling abilities. They might even embrace his goofy, strut-your-stuff charisma. Or maybe that very confidence will lead to another pitfall.

At dinner, Winston plows through a row of sushi and repeats his sincere need to alter perceptions -- by doing community work, being a good teammate and winning multiple Super Bowls.

He says that part of his problem is that he hates being seen as "different than anybody else." It bothers him that everywhere he goes, on every sidewalk, in every room and even on every football field, there are whispers.

"What can I do?" he says. "I can't go and blame the world. I'm saying to myself, 'Hey, you are ready now. Ready to move forward. You've grown up.' ... I just got to keep being me."
---
ON THE LAST day of March, inside a gleaming indoor practice field at Florida State, Jameis Winston dances and gabs and holds court before unleashing more than 100 throws. Those in attendance say it is the most passes they've seen from a high-profile QB at pro day in recent memory. Almost every one is on target.

An army of NFL coaches is watching, listening and taking notes on everything from Winston's black leather cap to the way he thanks his teammates to the rhythm and accuracy of his spirals. After one of them, he stops dead and seems to smile straight at a soon-to-be rival defensive coordinator.

Lovie Smith, Ken Whisenhunt and all the other assembled coaches watch intently, saying little. They must decide what they're looking at. They must figure out what Winston means when he says: I just got to keep being me.

Follow ESPN Reader on Twitter: @ESPN_Reader

Join the conversation about "Jameis Winston Is On The Clock."