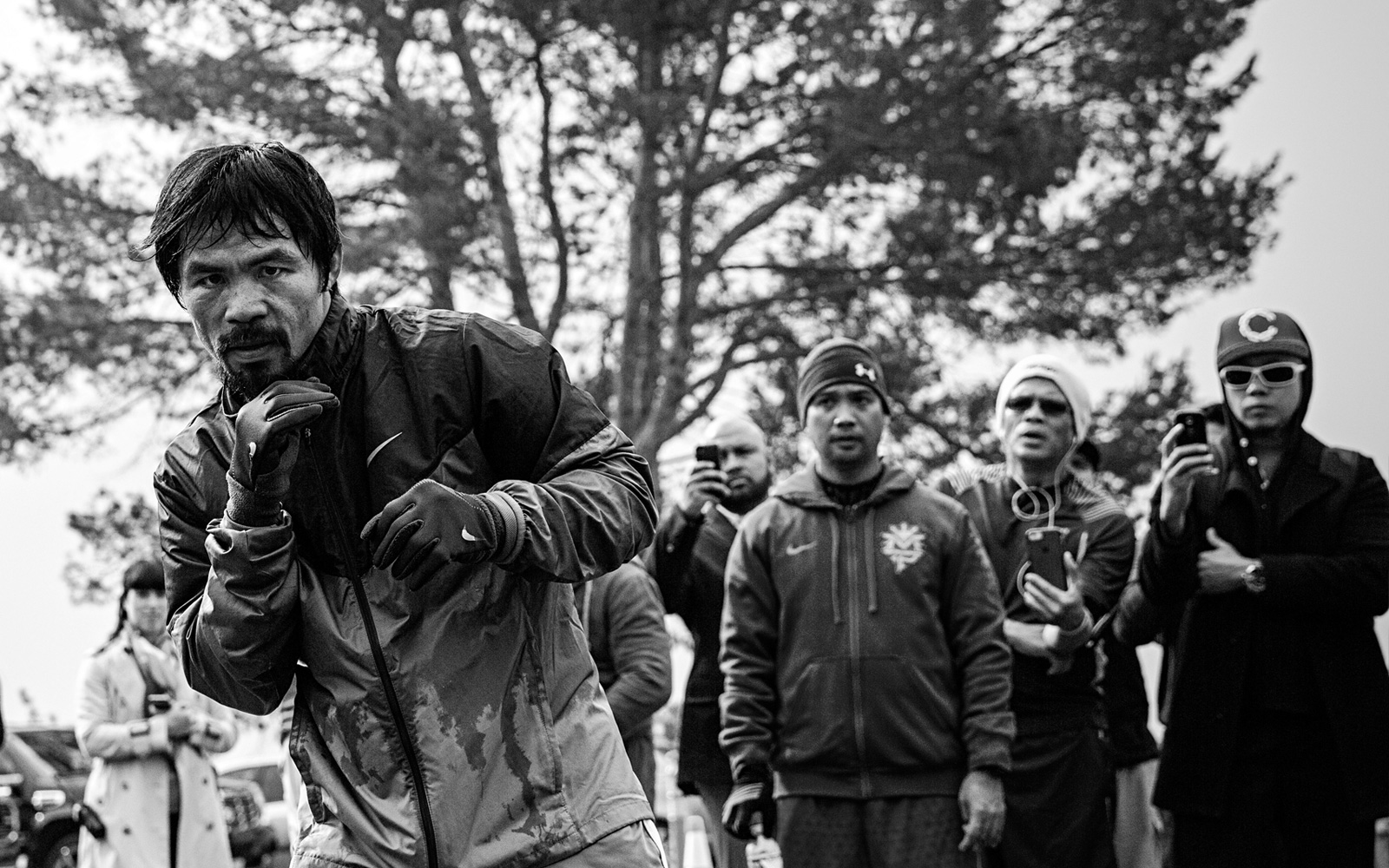 Welcome To Manny's World
Amid the absurdity and violence orbiting around him, Manny Pacquiao is the consummate showman whose desire is to entertain, often at any cost.
LIVING INSIDE the gravitational field of Emmanuel Dapidran Pacquiao, the grinning half of history's richest prizefight, is not unlike orbiting the Earth itself. On an intellectual level, you can never forget how far away you are from normalcy: The boxer happens to be a Philippine congressman who enlists an army of 50 dudes, largely costumed in Team Pacquiao hoodies and sweatpants, to anticipate and encircle his every prematch movement as he trains in Los Angeles. But it is also possible -- and, as with astronauts, psychologically advisable -- to become desensitized to the panoramic depths of absurdity in his world.

"The entourage just grows and grows," says Justin Fortune, Pacquiao's Australian-born strength and conditioning coach. "We'd eliminated a lot of pieces of s---. A lot." Fortune, an ex-heavyweight, chuckles like he curses: nonchalantly. "But a lot of f---ing scumbags came back."

It's 6:30 a.m. on a Monday in L.A., 26 days before the sporting event no self-respecting scumbag could possibly resist, and the ex-heavyweight is talking to me through the driver's side window of his black Dodge Ram pickup. Every day but Sunday, when Pacquiao rests, abstaining from his beloved morning run, Fortune parks at this time and in this spot in front of his employer's ranch-style, five-bedroom house in Hancock Park. And as Pacquiao puts on his customary white beanie, black windbreaker and blue shorts -- ready to traverse seven miles with a smile across his goateed face -- the coach waits, and watches.

Since the pair's first stint together, from 2002 to '07 -- when the unknown 122-pounder with bleached bangs materialized in Hollywood and melded his mind with Fortune's old trainer, Hall of Famer Freddie Roach -- Pacquiao has purged a great many vices from his universe. (To wit: A pastor is seated on the white shag rug of the home's master bedroom right now, leading Manny and his wife, Jinkee, in their routine daily prayer.) But here to stay are the dozens of Filipino guys who shadow their national hero like a flash mob, dispersing across the sidewalk and then springing into, frankly, shocking coordination the second Pacquiao opens the front door. Some belong to that 50-man army comprising California residents Pacquiao has randomly met during past training camps; others belong to the longer-standing, 20-person entourage he flew in from the Philippines. Everyone knows that the congressman -- nothing if not an imaginative job creator -- will personally insist on paying them all.

There are three different men who rub Pacquiao's comically sculpted calves once a day, each taking a morning, afternoon or evening shift. (Like many on this endless payroll, these masseurs aren't trained professionals.) There are the weekly dart tournaments Pacquiao loves staging inside his garage, awarding $100 to those who finish last. (His personal photographer, admittedly awful at darts, is a chronic entrant.) There is the legion tasked with crowd control, already ensuring that when Pacquiao runs his seven miles to Griffith Observatory, he'll have a spot in the parking lot for a gleeful half-hour of situps and leg exercises. (The mob of camera-toting fans will be held at bay by orange traffic cones with rakes sticking out of them and thin rope.)

"Manny likes the noise, the excitement," explains Neil Ricablanca, a Navy vet and L.A.-based medical technician who has been conscripted to help with security for close to a decade. "He doesn't want the quiet. He likes people to be happy."

"Manny
likes the noise, the excitement. He doesn't want the quiet. He likes people to be happy."

- Neil Ricablanca, a Pacquiao security guard

With more than a week spent in Pacquiao's company, Ricablanca's summary, as casual and guilelessly logical as it is, will rank as the most unifying theory of the fighter I've heard since I first covered him seven years ago. In boxing, the Mos Eisley Cantina of pro sports, motive can generally be distilled to money, fame and sex, in some order. (No one, least of all Pacquiao himself, denies that he's had his share of all three.) Sometimes, as in the case of a craftsman like Bernard Hopkins, you'll catch poetry about the art of violence. But listen to the midshipman-turned-security guy again: How else to explain how Manny Pacquiao lives now, at age 36? How else to explain a remunerated entourage, with still dozens more back home in General Santos City, that outstrips anything the most reckless NBA player could imagine? How else to explain the flier another security dude hands me after a morning run, as Floyd "Money" Mayweather's most anticipated opponent depresses the market for his own signature by spending another half-hour autographing every object -- gloves, basketballs, framed photos --entering the rolled-down window of his black Escalade?

B-Side Weight Loss Competition, this flier announces, before enumerating the rules and prizes of a five-week, reality-style contest. The biggest loser nets a total of $12,000; the second-biggest, $7,000; the third-biggest, $5,000; and anyone else who loses 15 percent of their corpus automatically wins $2,000. One of the entry requirements, Pacquiao has decreed, is "mandatory" attendance at something he calls Temptation Night -- an event he has apparently sketched out on a sheaf of notebook paper, in blue ink. He commissioned four of his local guys to stage it this Saturday. (I'm invited.) To the surprise of nobody, 163 people have already registered.

When I finally ask Pacquiao, one-on-one, to explain why he titled this enterprise the B-Side competition, he politely demurs, almost giggling. But later, in his front yard, a driver who doubles as one of the four contest commissioners -- these, too, are paying gigs -- eagerly relays the story.

In late January, when Mayweather and Pacquiao found themselves sitting courtside at the same Bucks-Heat game in Miami, the two die-hard NBA fans traded phone numbers, agreeing to meet at the latter's hotel suite to discuss the match that a cynical universe had long given up on purchasing for $99.95 in HD. Hours later, Mayweather knocked on the door, lowering himself onto the opposite end of the hotel's delicate, light gray sofa and promptly anointing himself any hypothetical match's "A-side" -- the main attraction, the favorite -- thereby putting the national hero of the Philippines in his place.

Nobody was surprised. But Pacquiao, who responded with a simple "OK" to Mayweather's comment, secretly came to treasure this distinction. It is not often, after all, that a showman who collects hangers-on like Imelda Marcos collects shoes gets to play the role of such an underdog. The B-side burden -- just like the $400,000 Pacquiao could spend on this multistage weight-loss contest for his friends, and the friends of his friends, and the friends of the friends of his friends -- felt to the fighter like a badge of honor. Like yet another cost he'd gladly pay in order to entertain.

ABOUT THREE YEARS AGO, when a blood-splattered Juan Manuel Márquez plunged his right hand into Pacquiao's chin, shutting off the brain of the most exciting boxer of his generation, nobody at the MGM Grand in Las Vegas knew whether they all had just watched the most public death in sports history. It was only after two minutes -- or, as it felt in the Philippines, an eternity -- that Pacquiao sat up, alive and vaguely conscious. He would soon see his facedown body photoshopped onto everything from a Slip'N Slide to a Snickers ad ("Not going anywhere for a while?"). And he would soon hear the two women who love him the most do something Mayweather's intimates have never had to do: beg their champion to retire.

One appeal came from his mother, Dionisia, a woman too nervous, as usual, to enter the MGM Grand that night at all. Dionisia had raised a pubescent Pacquiao in the absence of his father, Rosalio, and struggled amid the unfathomable Third World poverty of GenSan, on the southern tip of the Philippines. She was the very reason Manny had tried welding, stitching clothes, selling flowers before church, selling doughnuts in the street and, finally, attempting to box in the first place. The winnings from Pacquiao's very first fight, at age 16, were 100 Philippine pesos, or $2. (The loser, he'd always remember, would still be awarded half as much.)

The other appeal naturally came from Jinkee, the mother of his five children, who had missed only two of Manny's bouts, ever, both times due to pregnancy. The couple had met at a GenSan mall when they were 20, wed within seven months and, mere days before the Márquez fight, renewed their vows and commitment to a more evangelical Christianity and each other. ("I stopped drinking, gambling, womanizing," the formerly Catholic Pacquiao would tell me later -- single-handedly slowing the Filipino tabloid industry since.) Once her husband face-planted, Jinkee pushed toward the ring in mortal terror, finally -- fittingly -- collapsing into the arms of Bob Arum, Pacquiao's longtime promoter. Roach, in the corner, couldn't tell whether Manny was breathing.

But in Las Vegas the very next day, after Pacquiao was released from the hospital, and after his mom and wife had lodged their requests, he then joined both of them for remote TV segments with Filipino stations. The resulting two interviews set sports records for emotional invasiveness, but given how completely the loss gripped the Philippines, Manny still agreed to sit down in front of his country. In one, a rosary-clutching Dionisia breaks down sobbing on air (and exhorts her son not to shun Catholicism). In another, Jinkee winds up weeping into her husband's right arm, midanswer, having just reaffirmed her wish that he stop boxing altogether. At this point, Pacquiao begins to tear up, his familiar smile hardening into a trembling, futile rictus. "He knows what I am asking him," Jinkee says, softly.

"I'm just trying not to cry," Pacquiao tells the interviewers in Tagalog, eyes shifting between the camera and his wife. "I'm OK. I'm OK." He wipes away tears with a tissue. "For me, it's not a problem," Pacquiao continues, glossing over the physical toll of the punch. "But when I see the reaction of the people, the Filipinos, the many who cried, especially my family. ... It hurts me."

For that reason alone, Manny thought to himself, he couldn't do what his mom and wife were asking. "I told them, I can still manage, and I can still fight, I'm still strong," Pacquiao tells me now. "God gave me the strength. And I proved it."

This was never the question, of course. Dionisia and Jinkee understood that Manny had been leading the newly bulked-up Márquez, breaking his nose and knocking him down, when that right hand landed. They figured that Manny could still dispatch a Brandon Rios, or a Timothy Bradley Jr., or a Chris Algieri (all of which he'd do over the next two years). They knew that Manny, like Elvis or David Copperfield, was wired like a Vegas headliner despite speaking English as a third language, crooning into every available microphone -- he's recorded his own walk-up song for the Mayweather fight, on top of two albums -- and inviting the noise of camera-toting mobs to envelop him during situps. ("Manny would autograph a f---ing dead cockroach if you gave it to him," says Fortune, who keeps accumulating $58 parking fines at Griffith Observatory because fans keep taking all the spots.) Dionisia and Jinkee just wanted to know that, on account of his mind short-circuiting, the costs of being the most exciting boxer of his generation now terrified Manny, too.

They did not. You have to move on, Pacquiao kept assuring them. You're talking about the past. And what type of showman was he, anyway?

Mayweather might entertain by withholding entertainment, by picking his battles and leveraging his defensive craftsmanship so expertly that consumers across the world, increasingly frustrated, pay to see him hurt. It is a brilliant, risk-averse business model; over nearly 19 years, spanning 47 matches, 363 rounds and a few threatened, self-initiated retirements, the 38-year-old has neither lost nor even been knocked down, not truly. No boxer has been better at dodging neurological danger, let alone pre-empting it. Not only did Mayweather's superlative speed nullify Márquez's counterpunching in their fight; it also helped the guy knock out Victor Ortiz after a fourth-round timeout, when Ortiz -- continuing to apologize for a head-butt -- dropped his hands after hugging him a second time. The victory was legal and, to pay-per-view buyers, mainly enraging.

But Pacquiao? He became a cult hero by going toe-to-toe against everyone -- including heavy-handed Antonio Margarito, whom Mayweather wouldn't agree to fight. As was the case when Márquez rendered him unconscious, Pacquiao often eschews defense in order to machine-gun concussive punches from weird angles. The best of his 407 rounds have been spent turning contenders into human versions of those animal topiaries from "Edward Scissorhands," cutting them up at a rate that was too fast to process or predict. "Never," Roach says, laughing, when I wonder whether Pacquiao would consider doing what Mayweather pulled off against Ortiz. The job, as Manny has always seen it, is to give crowds what they pay for -- and what they pay for is someone to initiate a replay of Ali-Frazier III, or Hagler-Hearns, or, yes, Pacquiao-Márquez IV. In boxing parlance: a war.

Roach, a 55-year-old ex-lightweight who doubles as one of the planet's more visible people with Parkinson's disease, is a living reminder of the price of combat. As existentially vexed as the National Football League is -- and American sports fans purport to be -- every reputable medical association you can think of already has called for boxing's prohibition. And they did it for the same reason desperate poverty remains the almost exclusive breeding ground for fighters: chronic, traumatic brain injury happens to be the entire point. "This sport gave me this disease," Roach will admit matter-of-factly. And the bespectacled trainer, an all-out brawler who grew up in the projects of Dedham, Massachusetts, is uniquely attuned to pugilism's public-facing warning signs.

Roach recommended retirement to five previous world titlists, all of whom presented behavior suggesting cognitive deterioration: slurring speech, for instance, or repeatedly walking to the wrong corner. For now, to his eye, Pacquiao remains outside those ranks, though Roach once prophesied to me that his favorite pupil, currently 57-5-2, would be out of the concussion business -- and all-in on politics, another blood sport -- by 2011.

"I haven't seen Manny start to slow down," Roach tells me, by way of explanation. In fact, he pledges, Pacquiao is going to knock Mayweather out.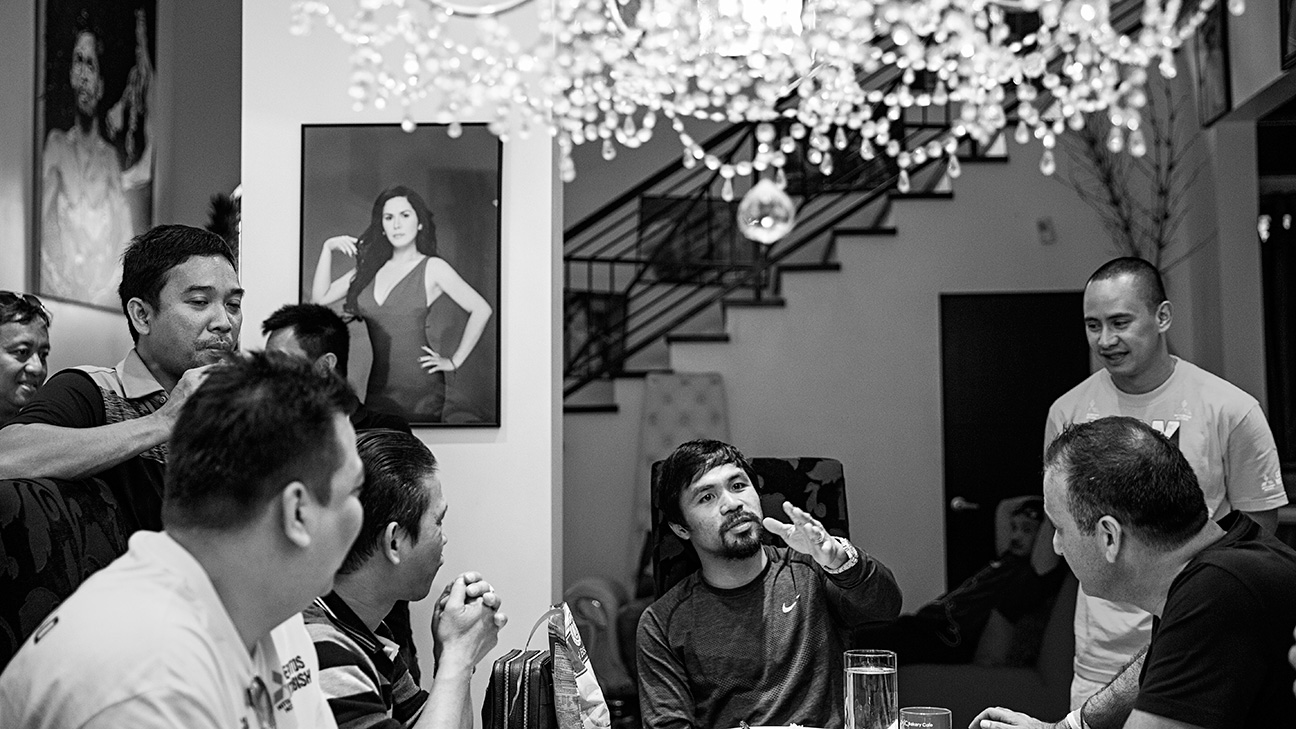 THE GRAY STEEL DOOR to the converted laundromat below the boxing gym is stained and rusted, secured by a spherical camera and a white sign with two instructions: DO NOT KNOCK and WAIT FOR KEY. But inside this strip-mall parking lot in Hollywood, where adjacent signage is for ALCOHOLICOS ANONIMOS and NIRVANA MASSAGE, the message the key-holders wish to convey is even more explicit. "Freddie told me, 'Don't let any m-----f------ in here or I'm going to kick your teeth in,'" says Rob Peters, the Boston-bred bouncer guarding the grounds of Roach's Wild Card gym. "My teeth already look like s---. But they're all I've got."

For years, by Pacquiao's decree, hangers-on, intrigued celebrities and reporters could watch the boxer work upstairs at pretty much any point during training camp; you just had to know somebody already inside. And on a semi-regular basis, whenever it became clear that Pacquiao was performing for the assembled cameras instead of adhering to the game plan -- the whole reason Roach hates training amid the greater madness of the Philippines -- a lockdown would be threatened.

But like kids whose parents never wound up turning the car around this instant, no one can recall seeing the perpetually teeming Wild Card actually clean house. No one can recall a self-described "representative for Miss Universe" verging on tears at the metal gate to the gym's driveway. No one can recall Pacquiao consenting to the mass ejection of his security dudes and masseurs and drivers-cum-weight-loss-contest commissioners and aides, one of whom Pacquiao supposedly forgave for stealing $250,000 in checks and selling counterfeit passes to his fights.

Until today. "And they're all really f---ing angry at me," Peters says, flashing a smile. The ring behind the locked gray door, which first opened before the second Bradley fight last year, is where the Manny they thought they knew will train from now on.

"Manny will never get tired. What's going to win the fight with Mayweather is his foot speed."

- Trainer Freddie Roach

Part of the lockdown's rationale undeniably stems from the mutual paranoia that precedes a megafight. One of those security dudes, a Filipino Krav Maga instructor, is paid to be on alert for anyone who might be instructed to trip Manny during his runs. Peters already booted some guy who claimed he was at Wild Card to serve Pacquiao a subpoena. ("Might've been one of Mayweather's guys," Roach theorizes.) They also banned a would-be sparring partner whose trainer previously worked with Mayweather, fearing skulduggery was afoot. "There's too much money involved for something like that to not happen," Fortune says. "I mean, I would do that. I would make your life f---ing hell."

But behind the gray door, there is tranquility. The room's white walls, mostly adorned with framed photos of Freddie and Manny -- there they are in 2008, triumphant, having knocked out David Diaz for the WBC lightweight title -- echo with the thudding sounds of cooperation. Those welcomed include the rotund Buboy Fernandez, a fellow street kid from GenSan who went from knowing nothing about boxing to being in Pacquiao's corner for two decades; Nonoy Neri, who helps with stretching and is responsible for cooking Filipino dishes; and Bobby Pacquiao, Manny's 35-year-old brother, a retired pro boxer himself. The roll call runs single digits.

Just last week, however, Roach feared that even this innermost circle threatened to distract. The trainer, frustrated with Manny's footwork, grabbed the mitts, furious, and started yelling at his fighter. Bobby then interrupted, talking to his brother in their native Visayan, the dialect not coincidentally spoken by almost every single person Manny has brought into his entourage. "Whatever you're saying," Roach screamed at Bobby, "if you're not agreeing with me, I'm going to f---ing kill you!"

A panicked translation arrived: "No, no, he's agreeing with you!"

"It was really hard with them speaking another language, and having no idea what they're saying," Roach tells me. "I don't need anyone else to talk about how to fight Floyd. It's so difficult, and this is the first time I've been secretive about what we're doing. But from there, we had one of our best workouts ever. We really turned a corner."

That night, I persuaded the most decorated trainer in boxing to skip a preview screening of the "Entourage" movie at Mark Wahlberg's house -- because that is the sort of thing Roach now gets invited to on a Tuesday -- and explain, over dinner at a steakhouse in Hollywood, what "turned a corner" means, exactly.

"We're ahead of schedule," Roach proudly tells me, not long after we sit down. "I told Manny today, 'Don't throw the right hand once. Don't even f---in' move it. Just keep it up, for defense.' That's all I want." After scrutinizing tape of Mayweather, Roach confesses, he'd begun to worry that Pacquiao, a southpaw, might neglect his left hand come May 2. "The right is Manny's favorite shot now," Roach says, ever since Pacquiao repeatedly disfigured Diaz with it. But against the orthodox Mayweather -- who cannot rely on his usual shoulder-roll defense against the awkward angles of a lefty -- the momentum of firing left hooks, uppercuts and straights would do two things. First, it would naturally move Pacquiao's skull away from Mayweather's surgical right hand. Second, it would move Pacquiao's lead foot to the right, planting it on the outside of Mayweather's body, setting up an immediate assault from behind. "You don't need to get hit by Mayweather's right," Roach has told Pacquiao. "You can nullify it with footwork" -- the concept he couldn't bear to have Bobby rebut.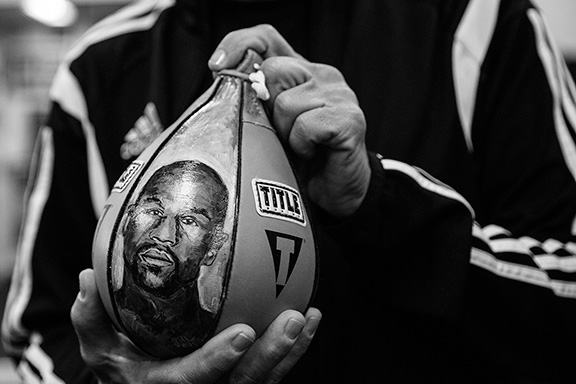 Manny, who has contemplated Mayweather since the fight became nebulously viable more than five years ago, understands. Before this camp, Pacquiao had never even watched film as part of his prefight preparation. But he walked into Wild Card one day recently and informed Roach that he'd studied Mayweather's bout with Zab Judah -- a southpaw who grew exhausted after starting aggressively in 2006, nearly earning a knockdown before succumbing to dissection. "Manny will never get tired," Roach says. "What's going to win the fight with Mayweather is his foot speed. Once Manny stops, and he's flat, he's ordinary. But when he's on his toes?" That's when Roach, feeling the explosion in his fighter's bouncing calves, gets the wind knocked out of him with pads on. That's when he reminds Pacquiao that he'll need unpredictable, five-punch-and-out combinations, no less than three times a round, to drown out Mayweather's defensive exactitude in case of a decision.

But rare volume, which is Pacquiao's forte, must now come with rare circumspection, which is his liability. Roach believes their quarry's preferred fight is, yes, an unexciting one, predicated on points instead of flurries. Still, the trainer does not think of "boring" as a synonym for "harmless." (Modern researchers studying the neurological dangers of subconcussive hits to the head, incidentally, would concur.) Roach predicts that Mayweather is going to try to outsmart Pacquiao by playing possum, voluntarily backing into the ropes and corners, letting him taste the fevered excitement of the MGM Grand and whetting his appetite to start a war.

Roach pushes aside his plate of blue cheese chicken and places the tips of his right hand's index and middle fingers -- signifying Pacquiao and Mayweather, respectively -- on the restaurant's woven tan place mat. Running them around the edges, middle finger first, he traces a path to the A-side's 48th straight win. "When you start following Floyd around the ring, he's going to kill you," Roach says. The trap springs when Mayweather gains enough space to abruptly set his back foot, load up and then catch an unsuspecting Pacquiao, flush in the face. Maybe placing him back on that Slip'N Slide. "Mayweather isn't that big a puncher," Roach says. "But if Manny gets hungry? It could happen. That shot with Márquez is part of his life because he wanted to entertain people."

Now Roach grins because, at the gym, behind the locked gray door, they've been running this drill for weeks, conditioning Pacquiao to recognize and finally restrain his showman's instincts. They've turned temptation into a contest of its own. "Manny can identify four traps now," Roach says. "He doesn't fall for it. He'll walk away, back to the center of the ring. And he just laughs."

BY SATURDAY NIGHT, a poll I've been conducting of the weight-loss competition's entrants yields two leading hypotheses about why Pacquiao is even holding this thing in the first place. Theory No. 1: It's for the cardiovascular betterment of his entourage, which is stocked with formerly underprivileged men who now enjoy a relentless stream of carbohydrates. ("Just look at Buboy," one security dude told me.) Theory No. 2: It's to make the people in Pacquiao's orbit understand how their benefactor sacrifices before a fight. (After the first, vastly smaller edition of the contest, before the fight with Oscar De La Hoya in 2008, Pacquiao weighed in five pounds under the 147-pound limit.)

But on this evening inside the Pacific Community Center in Glendale, as I watch an excited, leather-jacketed congressman step off a crowded gymnasium floor and onto a plastic chair, with a greasy strip of goat meat in his right hand and a microphone in his left, a third theory suddenly occurs to me: Manny Pacquiao is holding this event because it's what Manny Pacquiao thinks an awesome rich person would do.

"Good evening, everyone!" he announces in the accent of an American newscaster, a massive tarp reading "B" SIDE WEIGHTLOSS COMPETITION TEMPTATION NIGHT 2015 hanging behind him. "We call this" -- dramatic pause -- "Temptation Night."

"I can still manage, and I can still fight; I'm still strong. God gave me strength. And I proved it."

- Manny Pacquiao

Six days earlier, on that sheaf of notebook paper, Pacquiao had taken a pen and envisioned this exact 250-person scene. In the rear of the auditorium sit 25 circular tables; in the front, cordoned off by a chain of airport belt barriers, are eight rectangular ones bracketed by two long buffet spreads, each one culminating in the hoofed figure of a roasted goat, horns and all. The night officially kicked off with a Filipino pastor preaching to the congregation. And now, alighting from the chair, Pacquiao joins a Christian band he hired onstage to sing two worship songs with his eyes closed, his left arm pointed to the rafters.

Given his goal -- to use this catered feast to lure entrants into crossing over to the goats and dropping out of the competition -- the whole thing feels decidedly biblical. At one point, a lady in evening wear whom Pacquiao is paying to co-emcee the event asks him something in Tagalog, and he reminds the waiting throng of one more requirement for the contest. "You have to memorize three verses from the Bible, from three different books," Pacquiao announces, back atop the chair. "If you don't, it can disqualify you!"

To anyone who's been around Pacquiao for the past three years, so much Protestantism -- a shift from his previous, essentially cultural allegiance to Catholicism -- is unsurprising. In GenSan, in addition to the hospitals and schools he's already funded, he's paying for the construction of a new two-story house of worship. At Wild Card, he has introduced a swear jar, fining Fortune and Roach $5 for every curse word they utter within earshot. (At last check, they owe a ludicrously meager $45 and $125, respectively.) Every day Pacquiao reads his highlighted Bible before going to sleep with Jinkee -- who, at Manny's urging, ran in and won an election for vice governor of their province in 2013 -- inside the home they share with their three sons and two daughters. He's even speaking at an evangelical service in L.A. the next day, family in tow. "I saw Jinkee the other day and asked her, 'Are you happy?'" says Roach, who remembers when they were on the verge of separation. "She said, 'More happy than I've ever been in my life.'"

The assembled entourage at the dinner vouches for the authenticity of Manny's conversion -- though it's hard not to detect nostalgia for when every one of their nights was a temptation night. In L.A., at a condo Pacquiao used to rent during camps, everyone used to bet on poker games, billiards and the NBA. Back in the Philippines, there used to be a cockfighting farm, a casino and a nightclub in Pacquiao's name. "Manny would stay out all night," Bob Arum told me years ago. "And he f---ed around a lot on his wife." Back during the media tour for the De La Hoya fight, I remember finding my way into Pacquiao's suite at the Ritz-Carlton in San Francisco and seeing bodies strewn across the floor, hungover, from the night before. That same evening, after another party, the boxer passed out, seated upright like some sort of pharaoh, on the couch.

I once asked Filipino writer Winchell Campos, one of Team Pacquiao's longest-tenured members, about Manny's lifestyle. "This man didn't have a childhood," Campos said. "He was one of those people that would die, and no one would see them." Ever since Manny realized that his fists could earn him money, his instinct has always been to throw a grand, raucous party for his friends. No matter what the cost. Given the gallery of individuals empowered to handle the fighter's cash, it is wholly unsurprising to hear that both the American and Philippine tax authorities have raised questions about his debts.

And so here is Pacquiao, gold watch bulging from beneath his left jacket sleeve, suggestively filling his plate with white rice, kare kare (oxtail in peanut sauce), pancit (noodles) and caldereta (beef stew) -- all the things he could never afford as the son of a single mother in GenSan. He sets his dinner down on the rectangular table, egging on a mounting procession of the 61 souls who've agreed to drop out of the contest. "Are you going to quit?!" Pacquiao says, jumping back on the chair, pointing at people in the back who aren't budging. "You don't need to push yourself to finish! The food is tasty!" No taunts could be more paternalistic.

But there is yet another incentive to cross over, besides eating in the same section as the champ. Pacquiao has another surprise, he announces: The people who sit down at these rectangular tables will find, underneath each of their plates, a sealed white envelope. And inside that sealed white envelope will be a mystery amount of cash. "It can be 50 bucks, 200 bucks, no bucks," Pacquiao says, laughing. But they can only find out how much when he officially announces, "You can eat now! Open your envelopes!"

Finally, the announcement comes. And the 61 quitters, cheering and waving their $100 bills in the air, will all report that they each received at least $300 of Pacquiao's money. As at his dart tournaments, as at his very first fight, the boxer maintains that those who lose must still be rewarded. That everybody in the building should go home happy.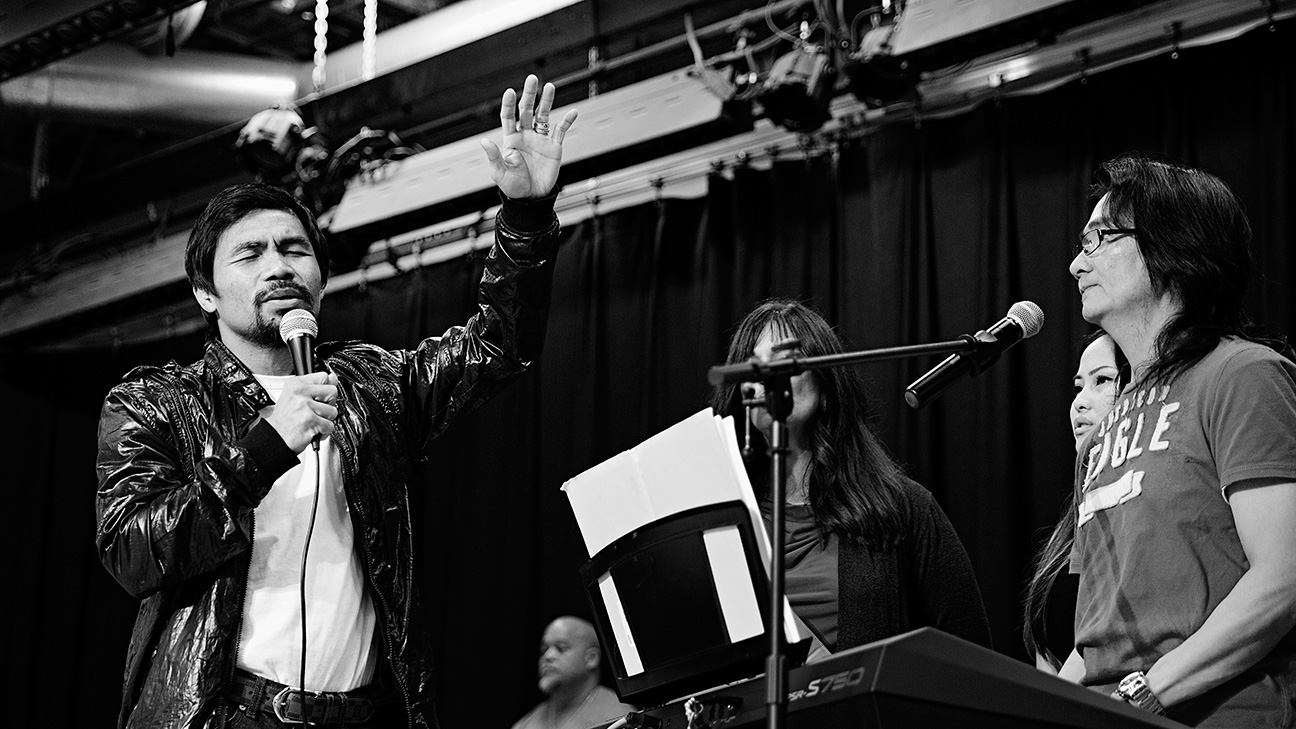 IN MARCH OF 2008, when 27-year-old Bobby Pacquiao was set to fight the unbeaten Urbano Antillon in Las Vegas, one member of the Filipino's entourage could not be persuaded to step inside the arena. It was not his mom, Dionisia, who eventually would go on to gain ringside fame in 2014 for passionately wielding a rosary during Pacquiao-Bradley II. (After Pacquiao-Márquez IV, she decided to show up and take matters into her own hands.) And it was not Bobby's sister-in-law, Jinkee, who tends to weep at fights, her insides twisting at moments of intensity.

The one missing was his older brother. "Manny had to watch on the television back in the hotel," recalls Bobby, who proceeded to get flattened by an Antillon body shot in the first round. "He was too nervous."

It is true that, when it comes to his own livelihood, Manny has never betrayed a hint of fear. When he started working with Roach, the first two fights he showed his new trainer were his two losses, both knockouts, on DVD: a third-round body shot from an obscure, yet undefeated, Thai flyweight in 1999 and a third-round head shot from an even more obscure Filipino bantamweight in 1996. ("Uh, Manny," Roach told him, "show me some good stuff.") But in 2007, two matches before Manny no-showed Bobby's bout with Antillon, he sat ringside at Madison Square Garden and watched Humberto Soto bleed Bobby, who temporarily lost vision in one eye, with left hands. "I was about to climb up the stairs to the ring," Manny tells me now, "and substitute myself." It was torture.

After Bobby's second defeat of 2008, against the 26-9-1 Robert Frankel, Manny pulled him aside and begged him to retire. You don't have to put yourself through that anymore, Manny told his little brother. I can take care of our family.

And so Bobby retired.
It's one of my last days in L.A., and Manny and I are talking about the past inside the dressing room behind Wild Card's locked gray door. No, he admits, he cannot watch any of his loved ones in the ring. He can barely tolerate the very idea right now. "It's too hard," Manny says, shaking his head. "I feel like crying."

I wonder if he would ever want his children to box. "No," Pacquiao immediately replies. "Boxing is not easy." On this topic, he and his wife find themselves on the same page. "No, no, no," Jinkee tells me when I pose the same question to her later. "Other sports, yes. But boxing? No way."

All week, in fact, I've been unable to find any people in Pacquiao's orbit who would want their hypothetical offspring to pursue the profession that underwrites and dominates their lives. Roach said no, noting it's probably not a good idea to watch a relative in the ring. ("I don't really think it's a great place for a family to be.") Fortune also said no, citing the depravity endemic to the business. ("Who needs another boxer?") The unmistakable, widespread sentiment is that the sweet science is a means to reach these panoramic depths of absurdity, not an end.

So it is that the two older and already mustachioed Pacquiao boys, Emmanuel Jr. and Michael, take paid basketball lessons every week in L.A. as their father trains. Their favorite athlete is Stephen Curry (all three Pacquiao men delight in bombing 3-pointers). By no coincidence, the kids and their mother tend to avoid the spectacle at Wild Card, and the chaos of the morning runs, and the tumult of dart tournaments and contests.

But come May 2, when this planet converges on Las Vegas, there can be no escape from the raw absurdity of their father's business. There can be no escape from the singular electricity that always crackles through that strip of desert, dominating every single conversation and credit card bill, in the hours before a long-awaited prizefight like this. There can be no escape from the escalating, deafening demands of humanity, cresting at moments of potential violence, inevitably tormenting Manny Pacquiao's wife and mother wherever they sit.

Those cheers, after all -- by turns beautiful and ugly, often in the same breath -- have a way of turning a 17,000-seat casino arena into the closest thing modern America will ever have to the Coliseum. They can tempt even the most disciplined entertainer into forgetting that the crowd and the people who love him are crying out for different things.

Follow ESPN Reader on Twitter: @ESPN_Reader

Join the conversation about "Welcome To Manny's World."