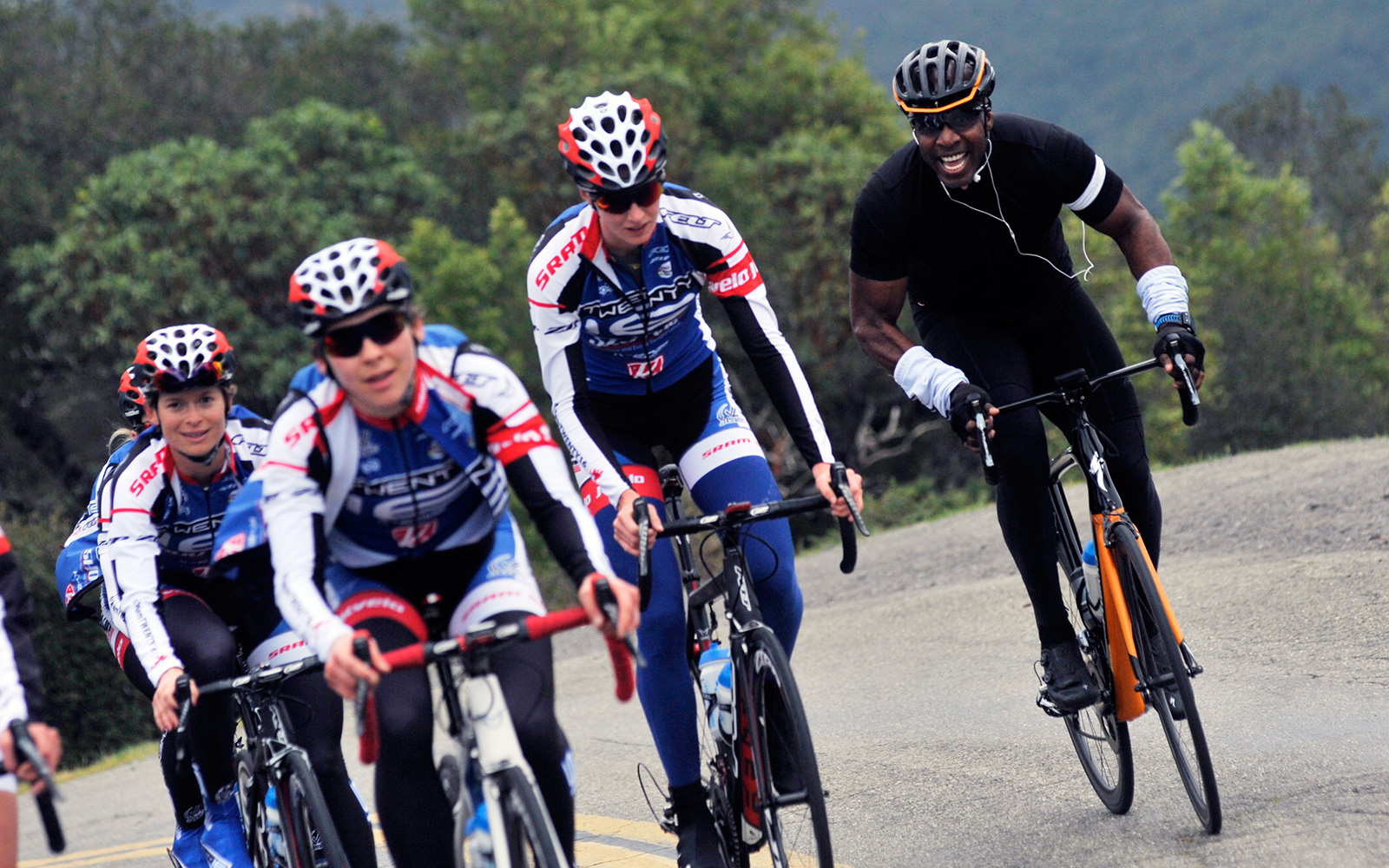 Barry Bonds Is Shifting Gears
Living on the outskirts of baseball, Bonds has turned his energy -- and his money -- toward another sport tainted by doping.
IT TAKES CLOUT to clear the lobby of the Fairmont Hotel for a photo shoot on a Saturday night, but this is Barry Bonds' town and he feels free to swing away. The San Francisco landmark was his refuge during his federal trial on doping-related perjury and obstruction of justice charges in 2011. The general manager is a friend. The cycling team photographer wants the opulent backdrop for a formal portrait. Bonds asks, and it gets done.
Bonds pulls up to the hotel entrance at the wheel of his Tesla. Three female passengers in evening wear pop the doors and get out with him. A van stops and disgorges another dozen women. A few people loitering nearby stare, not at the man in the gray suit and open-necked white dress shirt but at the procession of radiantly fit athletes wearing simple black dresses and carrying one long-stemmed rose apiece.
The Team Twenty16 riders, mid teens to mid-30s, banter as photographer Brian Hodes positions them on and around a long divan in front of an enormous spray of lilies and forsythia. They rode nearly 90 miles through rain and thick fog earlier in the day, and they have just finished a multiple-course Italian restaurant dinner that Bonds arranged. It's about to be past their bedtime, but they are gamers.
Hodes fires off a series of frames, then sends team general manager Nicola Cranmer and sports director Mari Holden, a past world champion and Olympic silver medalist, into the tableau. Bonds, as lean as he's been since the early '90s, extends the arms that cranked out 762 home runs and takes a smartphone photo. He is beaming. The riders start heckling Bonds, agitating for him to stand among them. He shakes his head. Summer Moak, a vivacious, ferociously talented 15-year-old Texan, breaks ranks and quick-steps over to Bonds in her high heels. "Please! Please! Please!" Moak says, her feline face scrunched in entreaty.
"It's not my team," Bonds murmurs.
He relents a moment later and takes a place in the center of the shot, next to and towering over Holden, his significant other of the past few years. His stay is brief. "I'm out," he announces, and darts laterally to his left.
WHAT IN THE WORLD is he doing here? This is Barry Bonds, whose late-career highlight reel features an inflated and imperious athlete under siege: lingering behind a batting cage in a tentlike black workout jacket, lumbering around the basepaths, occupying his own four-locker fiefdom in the Giants' clubhouse with three personal trainers catering to his needs. The more media trailed him, the more space he tried to create. He cultivated alienation and used it as a whetstone to stay sharp.
Once enmeshed in the BALCO investigation, Bonds maintained he had never knowingly used performance-enhancing drugs. His 2011 trial failed to bring real closure to the allegations against him. Prosecutors presented mounds of evidence pointing to PED use, but Bonds wasn't charged with doping. His obstruction of justice conviction was based on evasive grand jury testimony, a finding that in April was overturned by the 9th U.S. Circuit Court of Appeals by a 10-1 vote. The government is considering whether to take the case to the U.S. Supreme Court.
"Cycling took me away from a lot of pain I was going through, a lot of personal problems."
- Barry Bonds
Since the public drama of his trial concluded, Bonds frequently has been sighted on a bike or at cycling events, lighter and seemingly more at ease. Last year, he moved back from Southern California to San Francisco, spent a week with the Giants in spring training and threw out the first pitch at Game 4 of the NLCS. Giants CEO Larry Baer has told several news outlets that the team is considering an expanded role for Bonds.
To see Bonds resurface in baseball is not surprising, but there is something surreal about watching him simultaneously emerge as a financial sponsor of a women's cycling team. Cycling, so badly bruised by doping, is a sport where the irony of Bonds' compromised legacy can't help but club people over the head.
Skepticism and snark are the logical filters to apply here. Bonds is used to that lens. He says he is indebted to cycling for filling the vacuum left by his retirement, and he often tells friends and strangers alike that the sport saved his life. It was the theme of a teary-eyed soliloquy at his 50th birthday party last summer at a San Francisco restaurant, where his cake was molded into the shape of a mountain with the figure of a rider at the base.
"Cycling took me away from a lot of pain I was going through, a lot of personal problems," he says in a January interview with ESPN, sipping a cola in a private room adjacent to a downtown San Francisco hotel bar. He comes alone, with no lawyer, publicist or handler. "With my situation, do I represent something positive? Not based on what the public opinion is. Do I allow public opinion to dictate my opinion and how I feel and what I want to give back to society? Hell no.
"I may have my problems, but I'm not dead. And this is a good thing. If they want to make a mockery out of something good, that's their problem. What, are you mad because I did something good? Or are you just mad? Which one is it?"
He gestures, animated, with none of the defensive body language he often assumed back when he was launching balls out of the stadium down the street.
BONDS IS RIGHT to duck out of the team photo in one sense. He didn't build this team, and he doesn't coach or train it. Cranmer, a 49-year-old British expatriate, former mountain bike competitor and longtime team manager, runs the business end of Twenty16. Holden, 44, directs the riders on the road. The team has a strong roster and an ambitious agenda this season, with athletes racing on the junior and senior levels in road cycling, and others competing in track, cyclocross and Paralympic events.
But Bonds is part of the big picture now, acknowledged with a simple uppercase B on the team's apparel. Cranmer wanted to do something more -- a baseball patch with his uniform number, maybe. He resisted. She slipped the initial onto the team's jerseys and jackets without permission.
According to public documents and records provided by Twenty16, Bonds has donated $104,800 to the team -- roughly half of that through the Bonds Family Foundation -- and raised $96,500 from friends and associates, including Will Chang and Trina Dean, members of the San Francisco Giants' ownership group. Cranmer's management company, Tam Cycling Inc., has 501(c)(3) status, and the team's entire 2015 budget is projected to be under half a million dollars.
Together, Bonds' contributions and a commitment from Sho-Air International -- a company that ships and transports trade show equipment -- have restored the team to financial stability and elite status, two years after corporate sponsor Exergy backed out and left Cranmer scrambling. Bonds also has raised money for a riders' college scholarship fund the team intends to roll out later this year, and his encouragement helped propel Holden into a full-time coaching role in the sport after years of drift and indecision.
But Bonds' patronage, at whatever level, is problematic for many. Cycling is still figuring out what to do with its own past doping transgressors, much less converts from other fields of play. The World Anti-Doping Agency has adopted tougher rules regarding athletes' contact with individuals who have doping-related convictions, although it isn't clear whether those provisions would or could ever apply to Bonds.
In response to an ESPN query about Bonds' financial role with the team, the U.S. Anti-Doping Agency emails this statement: "The prohibited association rule was created in order to protect athletes and we take that responsibility very seriously. Given that there is no longer a conviction, on the face the rule may not apply, however we are fully examining the circumstances and facts surrounding this situation."
Others say the notion makes them uneasy.
"There's part of me that feels he can contribute," says veteran pro rider Robin Farina, CEO and co-founder of the Women's Cycling Association advocacy group. "On the other hand, it paints the wrong picture. We're trying to keep an image of clean sport. The sport does need people of his stature and stardom, but we don't need a mixed message for young athletes." Farina says her view is personal and not a WCA position.
Cranmer is aware that opinions on Bonds run hot both ways, and it exasperates her. "For me, exposure is exposure," she says, describing Bonds as a mentor who helped her strategize as she rebuilt the team's finances. "And if people are talking about it, and it generates energy, and it generates passion, it generates anger, it generates whatever, it's movement, that's something. There's plenty of diplomatic answers I could come up with, but I'm not going to."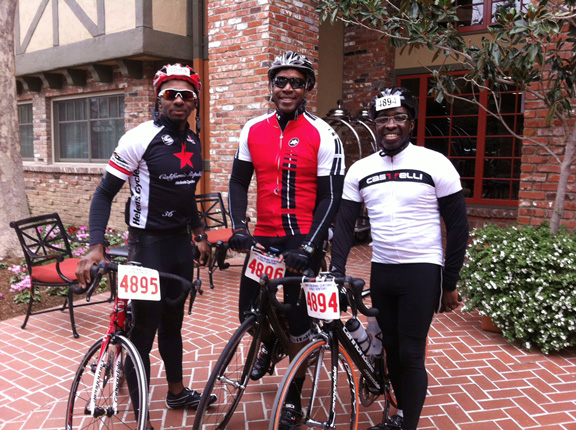 BONDS FIRST WANDERED into a bike shop in 2010. He felt flabby and aimless and cornered in his Beverly Hills mansion, three years removed from baseball, awaiting his federal trial and on the way to a second divorce. His body was barking back at him after surgeries on his knees and elbow and back and hip -- damage that could very well have been exacerbated by steroid use (a theory he won't address). He was mindful of the death of his father, Bobby, at age 57 from a brain tumor and lung cancer.
"I figured if I could take care of my heart, I'd feel better, because some of the men in our family died early," Bonds says over dinner in Santa Rosa in October, the night before he is to ride 61 miles in his friend Levi Leipheimer's GranFondo charity event. "I looked at myself and I didn't like what I saw. I wanted to be active, and I wasn't active in the sport that I love. And I love to train."
Bonds sketches a caricature of himself back then: an oversized load of bravado and ignorance, walking into Helen's Cycles in Santa Monica to look at road bikes and hearing "carbon fiber" for the first time. He purchased a black Pinarello Dogma, and took his first rides on the paved path that runs from Malibu to Redondo Beach, paralleling some of the most famous shoreline in California. "I got out there and this man about 70 years old went past me like I was not even moving," he says. "I knew nothing about shifting gears, nothing about the philosophy of riding or how to ride, I just went as hard as I could. I lasted about 10 seconds and I fell in the sand exhausted. I was embarrassed.
"Do I allow public opinion to dictate my opinion and how I feel and what I want to give back to society? Hell no."
- Barry Bonds
"Me, the type of athlete I am, I'm gonna study this to the T."
Something intrigued him about starting from scratch and having immense room to improve. There were numbers to chase and pricey gadgets to acquire. Initially, Bonds rode with friends and his cousin David, who was already an avid cyclist. He found training companions from local clubs, choosing his company carefully so as not to overextend himself.
Bonds and two buddies signed up for a 50-mile ride in the tourist hamlet of Solvang the following March. He guffaws at the memory. "This is how dumb we looked on a bike," he says, pointing to a photo of friends flanking him with bib numbers stuck on their helmets. "We had no idea what to do. But we did it, we made it."
His federal trial opened nine days later. Testimony from his ex-mistress Kimberly Bell portrayed him as a misogynist prone to fits of rage. Former teammates took the witness stand and described obtaining PEDs and advice on how to use them from Bonds' personal trainer Greg Anderson, who was imprisoned for contempt of court at the time for refusing to testify. It was not a banner time for No. 25, yet Bonds has kept one photograph taken during the three-week trial. He scrolls through his phone to find the photo. "First time I rode across the Golden Gate Bridge," he says. For that time, he felt stress-free.
"It was long," Bonds says of the outing, which would be routine for him now. "Everything was hard for me back then. Plus you can see, I was bigger."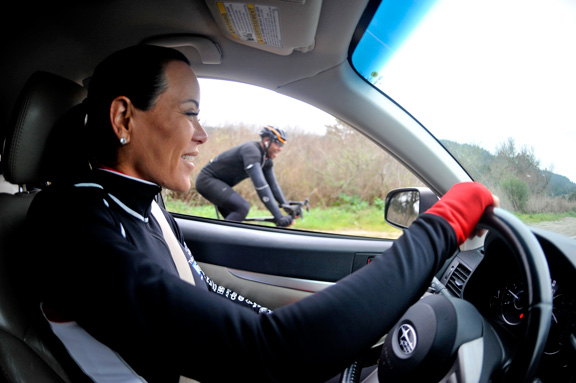 NOTHING IN MARI HOLDEN'S experience hinted that she would find common ground with Bonds. She grew up in Ventura, California, and went to private school in nearby Ojai. Her father was a surgeon, not an athlete, and her mother's parents emigrated from Japan. Mari rode horses as a child, and, when the 1984 Summer Olympics took place a short drive away, she was most excited to see the equestrian events. She built little award podiums at home and stood on the top step.
Holden made the transition into cycling after early success as a competitive triathlete. "I remember going in to the national team coach and saying, 'I want to be on the Olympic team; what do I need to do?' and I had never even done a bike race," she says. "I was so naive about what it takes to get there."
She learned quickly. Holden survived a 13-day women's version of the Tour de France in her first full professional season in 1993. She raced for German and Italian teams, earning a subsistence income, living a lonely hobo's existence of suitcases and pay phones. But Holden was visibly driven. Twice, she received a U.S. time trial gold medal in absentia because she'd been taken straight from the finish line to the hospital with heat exhaustion.
"She's really intense internally, but not outwardly," says her ex-husband and longtime coach Dean Golich, with whom she remains cordial. "Anything she asks her riders to do, she's done tenfold. She's seen it all."
Holden's riding career peaked in the summer of 2000, when she won an Olympic time trial silver medal and a world championship. At USADA's behest, she testified at a 2005 congressional hearing devoted to female steroid use, describing the frustration of competing clean against cheats. She and many other women cyclists tend to believe doping isn't as common on their side of the sport because there is less money on the line, but riders are busted and suspicions percolate in their peloton too. "It broke me sometimes to do things the right way," she says.
She retired in 2007 and spent the next few years feeling directionless, dabbling in marketing and real estate, running a cycling camp here and there. Nothing engaged her the way riding had, but she couldn't see a way to make a living in the sport. "The transition was not easy," Holden says. "Initially I thought I wanted to be away from it. I needed a goal. It's common. It's hard to retire in your 30s."
BONDS AND HOLDEN say they don't want stories about the team to focus on their relationship. The protectiveness isn't surprising, with two failed marriages apiece and his every move potential news. He insists he would put money into the team even if they broke up tomorrow. She politely deflects interview questions that edge toward his baseball career, his personal life or their dynamics as a couple. But it's impossible to untangle their story from the team's, and they both acknowledge that.
They met in May 2011, a month after his trial ended, at a charity fundraiser in Santa Monica a few days before the Tour of California stage race. She was charmed. They made a date to ride in San Diego, where she had a home. Someone who heard them talking warned him: She's a world champion, and she's going to kick your butt. Bonds thought, That little girl?
"Now you got ego right here on my shoulder and you got bigger ego here," Bonds says, tapping first his right and then his left.
They each invited other people along for the outing. The group was climbing when Holden buzzed up next to Bonds, asked how he was doing, then slipped behind him again. He was, in fact, sweating profusely. The next time Bonds heard her voice, she was alongside him again, pushing his cousin uphill with one hand on his seat. They crested the top, and she took off.
Bonds was fascinated by Holden, an elite athlete half his size with more than twice his stamina. They went to a fitness lab for VO2 max tests, which measure the body's rate of maximum oxygen consumption, an important marker for endurance athletes. Hers was superlative. His was mediocre.
But she kept telling him he would get better. Bonds noticed Holden had a knack for motivation, for offering a little nugget of praise when it was most needed, then correcting flaws. It was the opposite of the armor he layered on when he played baseball, giving nothing, viewing even teammates as potential opponents.
Bonds went to the men's Tour of California and the USA Pro Challenge in Colorado, buying spots in VIP cars. He saw fans lining the roads and stood close to the barriers at the finish, marveling at the whoosh of the peloton. He attended women's races and saw sparse crowds.
Holden invited Bonds to a track cycling event and introduced him to Cranmer. "I Googled him, as you do," Cranmer says. "And I thought, 'Oooh, he can't be all that bad because Mari is so sweet." She was struck by his interest in the team. "I had no judgment against that man," Cranmer says. "I didn't consider for a second because of his history that if he wanted to be involved, it wouldn't be OK."
It took both of them to nudge Holden into directing full time last season. Sometimes she felt exhilarated, and sometimes she felt like a scout leader. Occasionally, her biggest challenge at a race was to make sure her riders didn't have to sleep two to a bed.
Before the 2014 Tour of the Gila, a five-day stage race in New Mexico, Holden found a renovated convent that could accommodate six riders and three staff for a week for a thousand bucks. She was elated. Bonds saw photos and couldn't believe how spare it was. A lot of things about this professional lifestyle were foreign to life in a big league bubble: The riders did their own laundry, slept on air mattresses, traveled in a van Holden drove.
Those are standard conditions for the many women's teams that flail from year to year. There is no minimum wage for female pros, and many ride for a pittance or for free. Equal prize money at major events is a work in progress. On the plus side, races are being added to the calendar, broadcast coverage of major events is expanding and international officials have established a women's commission.
The top-tier Specialized-Lululemon team lost both its main sponsors last year despite considerable success, and it turned to crowdfunding to raise part of its operating budget. Now known as Velocio-SRAM, the team survived thanks to the intervention of component manufacturer SRAM and clothing company Velocio Apparel as title sponsors. "That team is a poster child for the craziness of the industry," says Alex Wassmann, SRAM's road sports marketing director. In cycling as a whole, he adds, "There's an unhealthy amount of 'angel backers' as opposed to true sponsorship."
Those benefactors now include Bonds, who said he has no desire to throw millions at the problem but felt compelled to help. "I saw these little girls... and forgive me if I say 'little girls,' they're all so tiny to me -- how much passion they had for something they love to do, for nothing," he says.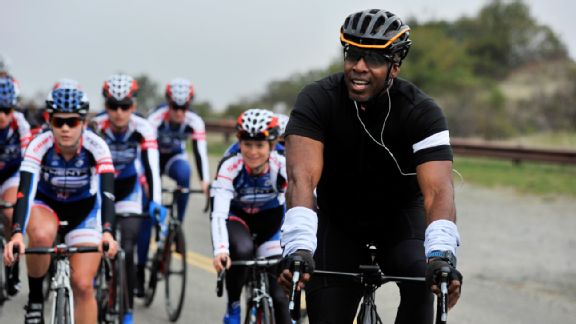 TEAM TWENTY16'S early-February training camp headquarters is not a convent but a spacious house perched on a hillside cul-de-sac in suburban San Rafael, offered gratis by a lawyer friend of Cranmer and Holden's. The team's massage therapist sets up her table in the living room, and the garage overflows with the team mechanic's tools and detritus. A dozen pro and junior riders are in residence -- not nearly the team's full complement of 27 because some are in school or racing in Europe.
At the center of the whirlwind is the perpetually sleep-deprived Cranmer, with tousled blond hair and a purposeful air. What she does in one day would make most people tired in a week: courting sponsors; overseeing contracts and budgets; riding herd over gear, apparel, travel and logistics; promoting riders scattered over multiple continents with a constant stream of social media featuring video and photos she often shoots herself.
Cranmer moved to the Bay Area from her native England in 1986 for what she thought was a temporary stint as an au pair. She competed for a coed mountain biking team and was rankled when the women got better results and less money than their male counterparts. She had to work to be able to race and literally scraped by in a brief stint with an outfit called Bob's Bottom Service, where she removed barnacles and other gunk from boat hulls, using a toilet plunger to cling to them in strong currents.
Industry turbulence has buffeted Cranmer throughout her 10 years as a team manager. Most elite men's teams operate with minimum budgets of $10 million -- albeit with more riders and racing days than the women -- but the imbalance is still stark. Top women's teams would kill for $1 million and most limp along with half that or less, which is why backers willing to write five-figure checks, like Bonds, are critical.
"It paints the wrong picture. We're trying to keep an image of clean sport."
- Robin Farina, CEO and co-founder of the Women's Cycling Association
The team's more stable budget also enabled Holden to commit to directing full time. A college philosophy major (her senior thesis was titled "Fairness in Competition") and self-admitted chronic worrier, she is half tactician and half rolling sports shrink. "As an athlete, you do your thing and then you shut off," Holden says. "In management, you're stressed out all the time."
All her skills come into play on the day she maps an out-and-back 86-mile training ride to the Point Reyes lighthouse. Sunshine gives way to redwood stands, dark before noon, and thick fog that obscures the coast. The riders encounter misting rain, odoriferous manure slicks, windblown mounds of sand and a police officer who threatens to ticket them if they don't ride single file. Holden tutors less experienced riders on some basics, like how to drop back to a team car for bottles or the art of hanging on to a moving car to catch a breather. At one point, she tows a nervous, panting rider on either side as she drives uphill.
Twenty16's two-time Olympic cycling time trial champion, Kristin Armstrong, who recently announced she would come out of retirement, thinks a big motivation for Bonds was seeing Holden happily reimmersed in her sport. But Armstrong -- no relation to Lance -- says Bonds' role extends beyond that personal relationship: "I look at him as a tremendous adviser who's helped steer [Cranmer's] strategy. The talks he has given to the team about upping your game have been tremendous. He wants us to run a professional organization, and he's helping with strength and vision. I know people have questions, but with what he's given our team, I don't find it relevant."
The morning after the training ride, sprinter Lauren Hall sits cross-legged on a bedroom floor. The sinewy 36-year-old Mississippi native won the prestigious Gent-Wevelgem one-day classic in Belgium last year and already has several stage victories to her credit in 2015. She is a natural leader. Does she feel she needs to defend Bonds' involvement with the team?
"Oh, man," she says sighing. "What Barry did in his career is his choice, and I think he's dealing with that, and now that he's found cycling and thinks it's great, I think it's great that he supports us. I know what I'm doing with my career and how clean it is."
But Hall knows those things might not always matter to other people. A picture she posted of herself with Bonds on her Facebook page attracted negative comments, so she decided to remove it as her profile photo.
ON THE OPPOSITE side of San Rafael, just 10 minutes from the team's temporary home, Bonds dispensed hitting knowledge to major leaguers at a friend's facility in the offseason. His pupils included Alex Rodriguez.
Bonds raises the subject himself with no prompting toward the end of his January interview in the San Francisco hotel. He had nothing new to teach a 39-year-old player with 600-plus home runs, he says. Their sessions were more about the mindset Rodriguez would need when he returned to the Yankees from a season-long doping suspension, jumping into a poisoned well of his own making. This is what Bonds says he told Rodriguez: "Who cares, man? We love the game, we love competition, we love competing. Let's go back. Sometimes you have to move backward to go forward. Let's go backwards, son. Why did we play this game?"
Bonds doesn't connect the dots, but he could have been talking about himself and the reset button that riding pushed. His numbers in baseball are frozen, but his lifetime mileage on Strava, the online community where riders log their routes, times and attaboys, is a fresh, ever-lengthening tread mark. The bike turned him into a gushing fan, in the seats with regular people. He likes it there.
"I have the best of both worlds now," he says. "I got to play baseball and be in this cage, and I got to put on the best show. [Now] I'm this below-average cyclist with a helmet on, trying to make it up this hill, suffering and dying, and when we all get to the top, we're like, 'Man, that sucked,' or 'It was hard.' I get to be normal."
A waiter who has been faithfully refilling the glasses of ice water on the table requests a photo with Bonds. He sidles up later, after Bonds leaves, and asks, "Is he thinner?"
Yes, but still toting baggage. Bonds' most casual asides can have a jangling reverb because of the damage doping has inflicted on both sports -- like his oft-expressed admiration of Spanish cyclist Alberto Contador, whose 2010 Tour de France title was stripped after a positive test for a banned substance.
The flip side is that Bonds might have found some degree of acceptance in cycling because the sport is far franker than most about its recent history after 15 years of more aggressive PED testing and policing. Doping offenders frequently re-enter the sport after their suspensions end, and some have prominent roles in management, broad-casting and sponsorship. Professional peace, however uncomfortable, has to be made.
Bonds said he knows little about doping scandals in cycling or the details of Lance Armstrong's downfall, and has met the deposed superstar only in passing, but understands the sport is still challenged from an image perspective.
How can Bonds possibly, credibly insist he is part of the solution and not the problem?
"There was wrong in my sport, and there was definitely wrong in cycling," he says. "You can't sit there and say, 'This person did wrong, we're gonna put him in prison; this person did wrong, but he gets to go have another career.' It's sick. Who gets to choose that? We're either gonna forgive or not. That's bottom line."
It is a natural segue from there to the topic of Hall of Fame voting, where Bonds' tone turns serene.
"I don't really get caught up into the wrong of how it's being done," he says. "They're wrong, bottom line. I believe it'll turn. Just -- time. I think it's just time. But do I belong there? There's no doubt in my mind."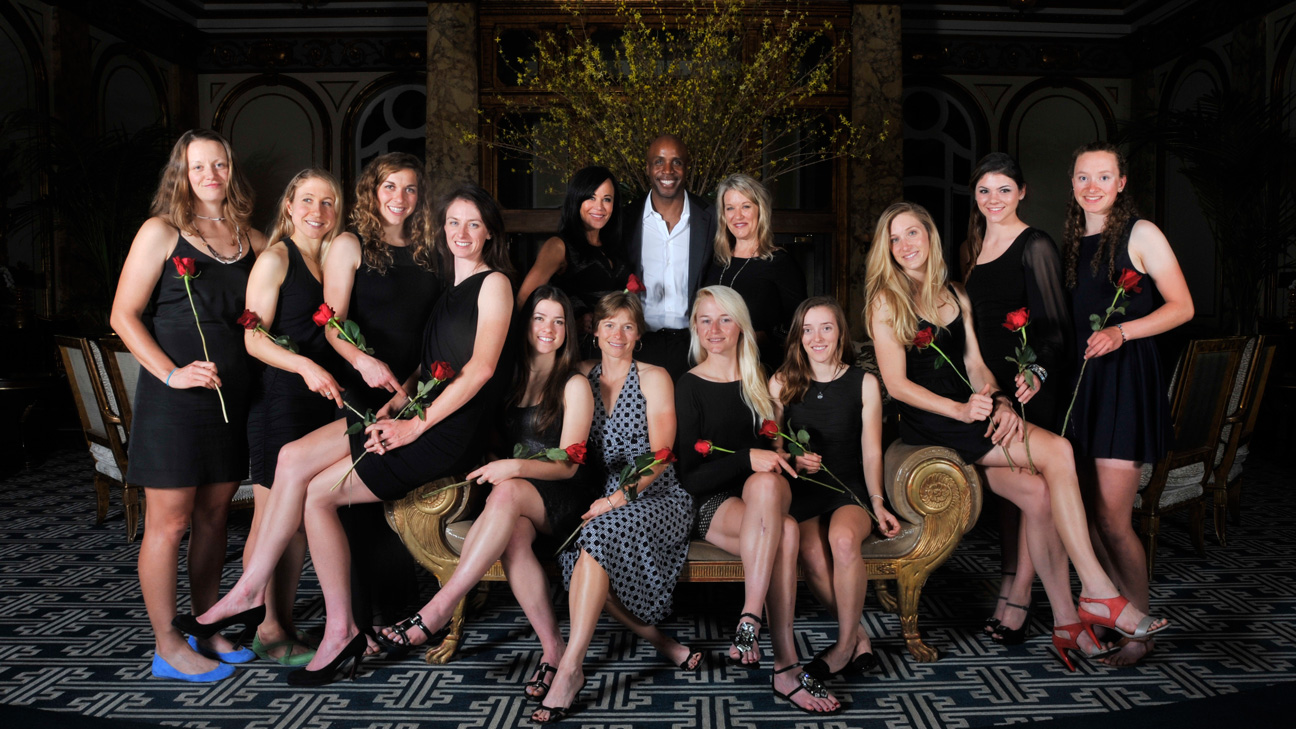 GLITTER AND ROSE petals are sprinkled down the center of the white tablecloths at Allegro Romano, a one-room trattoria in the Russian Hill neighborhood of San Francisco where Bonds is sponsoring a dinner for the team. He seems slightly on edge, anxious for everything to go as planned. The passenger van he sent to Marin County to transport the team is supposed to leave there at 6:40 p.m., and at precisely that time, he calls Cranmer to check.
Later, Bonds sits at a table with Holden, Cranmer and Danny Molieri, his boyhood friend and occasional one-man security detail -- a reminder that Bonds comes from a world where he sometimes wants a buffer. Servers swoop in with beef carpaccio, caprese salad, asparagus topped with Parmesan, white truffle tortellini smothered with pesto, a halibut dish and veal scaloppine. Proprietor Lorenzo Logoreci makes sure Bonds gets a plate of gnocchi with Gorgonzola sauce and asparagus tips, advertised as his favorite in red lettering on the menu.
Bonds relaxes once he starts eating. Logoreci appears and asks, "Can we sing a song with the girls?" The lyrical strains of opera in the background cut out and are replaced, at maximum decibel level, with Dean Martin's version of "That's Amore."
"Those that don't know it, fake it," Bonds calls out. "Don't be shy, girls. I know it's outdated." He hums a little bit himself, then looks around, delighted, as most of the riders join in the chorus.
"This is starting the year off right," Bonds says to his table. "You know what I mean? They deserve it. I love this."
Holden slides out of the banquette, asks for everyone's attention and reads a quote from Henry David Thoreau: She continues with her own remarks, choking up a couple of times. "I always get emotional talking about things I care about, and I really care about you guys," she says. Bonds looks down at his folded hands and nods. "It's good for them," he says softly.
"I'm not supposed to tell Barry how much it means to me, but I really can't help it," Holden says.
Cranmer takes over and voices a similar theme. "Barry never wants to be thanked for anything, and he has honestly scraped me up from the sidewalk," she says.
If any riders are ambivalent about who Barry Bonds is or who he was, it's not evident. They applaud. A green ceramic vase filled with roses has materialized at the far end of one table. More flowers are stacked alongside, their stems rolled up in damp paper towels. Bonds scoops up an armful and walks among the tables. The smile freeze-framed by millions of camera flashes over the past 30 years now carves a bright crescent in the dimly lit room. A couple of the riders smiling back at him are old enough to remember him in a Pirates uniform, young and ropy-armed. Some have mental snapshots of the touring circus that began in 2001 when he hit a bulked-up 73 home runs. The youngest never saw him play.
This team's collective memory starts now.
He hands each rider a rose and says, "Be careful of the thorns."
Follow ESPN Reader on Twitter: @ESPN_Reader
Join the conversation about "Barry Bonds Is Shifting Gears."