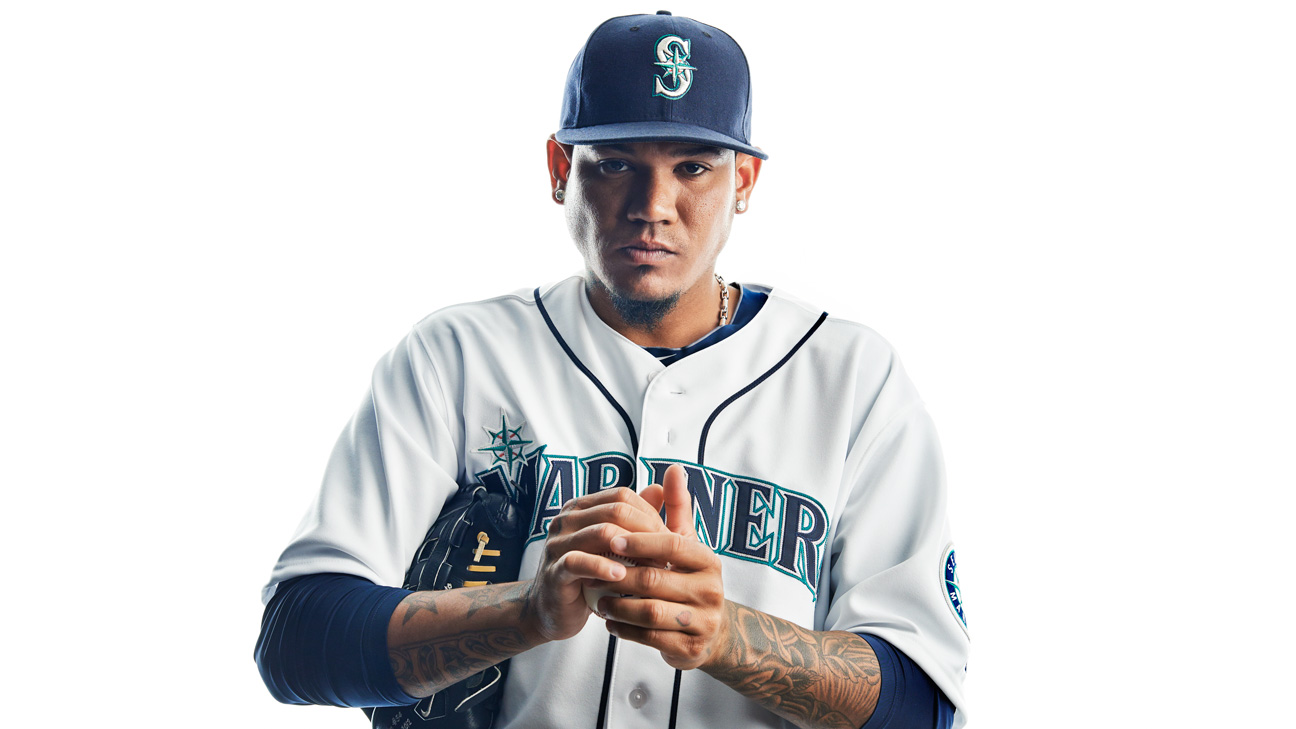 The Untouchable Felix Hernandez
From the clubhouse to the mound, we trailed the Mariners' Felix Hernandez, MLB's best right-hander, during one of the most anticipated starts of his career. All hail the king.
THE TIME HAS COME, at last, for Felix Abraham Garcia Hernandez to get his mind right. The man Seattle calls King Felix closes his eyes for a moment, inhales a single deliberate breath, exhales quickly and then digs his cleats into the red clay.
It's April 6, Opening Day. There is a light rain falling, of course, and fireworks explode 200 feet above his head. Certainly odd surroundings in which to seek serenity, but tucked away in the Mariners' bullpen, this is how he steels himself for his moment.
Hernandez feels suffocated by silence on days he is pitching, so the first thing he does on those mornings when so much will be asked of him is bear-hug his two children, Mia, 9, and Jeremy, 6. They're his shields against the quiet, his own two tiny firecrackers. Jeremy is a ballplayer like his father but a budding power hitter. Sometimes after games, you can spot Jeremy in the tunnel with a foam bat, roping line drives off the concrete walls, sprinting to imaginary bases while the family waits for Hernandez to be done. They do not call him King, nor do they call him Felix. To blood relatives, he goes by Abraham, or Papi, and in private, he confesses that he likes this distinction. He's King Felix when he's out on the mound, throwing lightning bolts. He's Abraham when he's at home, striving to be a good father, husband, son and brother.
On start days, Hernandez blasts hip-hop, salsa or merengue music on the 15-minute drive to the ballpark from his home in Clyde Hill. Once in the clubhouse, he makes his way around the room like the host of an afternoon pool party -- his body crackles and hums with a current of energy. He converses with his teammates in a rapid-fire mixture of English and Spanish, pops a toothpick in his mouth and has a grin for all those who cross his path. There are superstitions that must be adhered to: three sticks of bubble gum refreshed between each inning; three cups of water that no one can even touch; same shirt, same underwear worn every time.
Hernandez's opportunity to help his team, as a pitcher, is limited, and he knows it. He might take the mound 33 or 34 games a season, and every time he does, it is essential he pitch well. The Mariners have not made the playoffs in 13 seasons, the second-longest streak in baseball. They missed out on a wild-card berth by a single game in 2014, and the expectation this year is that the streak will be broken. The weight on Hernandez's shoulders, as a result, is colossal. For years he's had abysmal run support, and while he's optimistic that will improve in 2015, his margin for error remains thin, especially against today's opponent, the Angels, also expected to contend in the AL West.
Efficiency, however, is not his goal each time it's his turn in the rotation. It's transcendence. He's not shy about admitting it either. "Every time I go to the mound, I'm trying to throw a perfect game. For real, man. I am."
WHEN HE'S DRESSED -- uniform crazy baggy, jersey unbuttoned at the neck, cap always tilted purposefully to the left -- he shuffles to the bullpen, where Mariners fans line up three rows deep to get a closer look at the King, pressing their faces against the chain-link fence and holding $9 Schofferhofer Grapefruit Hefeweizens and Laurelwood Workhorse IPAs. They will see him move through a series of throws, fiddle with his grip, practice his waist-high leg kick, study the ball as it leaves his hand. Fastball. Slider. Changeup. Curve. He works through them fast, catching a rhythm, his intensity climbing. Each throw sounds like a whip cracking as it slams into the mitt of catcher Mike Zunino.

"Every time I go to the mound, I'm trying to throw a perfect game. For real, man.
I am."
- Felix Hernandez
Hernandez tries to ignore the low murmur of awe from the crowd, the buzz that's always about him, but he knows what it means. These are his people and have been his for close to a decade now, since he was a chubby homesick teenage prodigy with only a few words of English.
As Hernandez begins to throw his final warm-up tosses, the park fills with the voice of singer Aloe Blacc, the first note of which whips the stands into a minor frenzy. Towels are held up and twirled like tiny helicopters. This, for nearly a year, has been part of the show. As Hernandez steps onto the field, he bobs his head to the lyrics, with what must be half the stadium singing along.
Go ahead and tell everybody
I'm the man, I'm the man, I'm
the man.
"It gives me chills when that happens," Hernandez says. "Every time. I think to myself, 'You see all those people with their eyes on you? Now go do your job. Make it happen.'"
When he reaches the mound, he makes the sign of the cross, then steps onto the rubber. Hernandez had looked awful in spring training (0-3, 10.22 ERA), and a rumbling anxiety has been quietly building. This start will set the tone for the entire season, and it is time, at last, for him to deliver.
ON THE RIGHT day, a great pitcher, like a great jazz musician, can conjure up a performance so magnetic it's like he's freezing time. That's what it feels like to watch Hernandez riff his way through the Angels' lineup on Opening Day. As if to punctuate the point, there's even a Seattle jazz band, Tubaluba, performing outside Safeco Field.
And so it seems right to learn that the word "jazz" might actually owe its origins to the game. In 1912, Ben Henderson, a long-forgotten minor league pitcher, dubbed his new pitch a "jazz ball" for the way it wobbled and baffled hitters. The term caught on within the sport, and when baseball-loving musicians eventually took it to Chicago and New Orleans, it flourished in different ways.
Hernandez begins his day -- and his season -- by striking out Angels outfielder Kole Calhoun on three pitches. At two strikes, most of the crowd is on its feet shouting "K! K! K! K!" -- an organic tradition that began years ago and now sounds like a war cry. As Calhoun watches Hernandez's four-seam fastball dive at his knees, the fans erupt and King Felix turns his back to the plate, gazes toward the outfield seats and soaks up the thundering roar.
To this crowd, Hernandez is not just the best pitcher in the AL -- though he is that. He's also the one who, finally, unexpectedly, stayed, signing a five-year, $135.5 million contract extension in 2013. "There was no reason for him to stay," Mariners fan Joe Bergin says while nursing a beer near the entrance to King's Court, a special section where fans pay $30 for a seat and a bright yellow T-shirt (a nod to the team's original colors) emblazoned with a crown with spikes spelling out Hernandez's first name. "He could have just played out his contract and then gotten more money from the Red Sox or Yankees or any team, really. The fact that he loves Seattle as much as we love him, this is the first time we've had that. Griffey left. A-Rod left. Randy Johnson left. We finally got a Hall of Famer who reciprocates the love we have for him."
King's Court, the brainchild of the Mariners' marketing department, began in 2011 as one small section in the left-field corner of the stadium. It has since ballooned to three sections, with fans showing up dressed as royalty and holding up giant cutouts of Hernandez's face. The seats' occupants have become, over time, more jubilant than any others in baseball, with heavily tattooed hipsters exchanging gleeful high-fives with North Face-clad, Subaru-driving dads after every Hernandez strikeout.
"I'm superstitious, so at first when they talked to me about a special section, I was like, 'I'm not sure I like that,'" Hernandez says. "But the first time we did it, I thought, 'Wow. That was awesome. That was loud.'"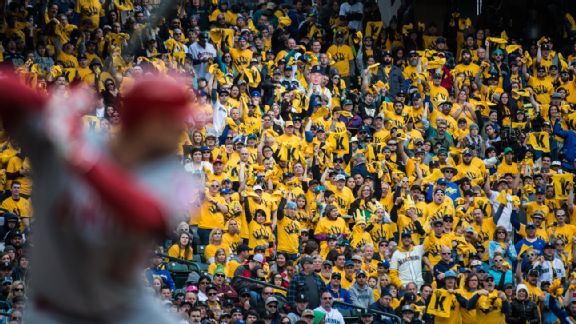 SOMETIMES IT'S DIFFICULT, Hernandez concedes, to resist the desire to throw harder when the count reaches two strikes and the fans in King's Court begin to chant in a way that sounds like crashing cymbals. "K! K! K! K!" When he faces reigning MVP Mike Trout for the first time today, this desire becomes impossible to suppress. Since Trout entered the league in 2011, his clashes with Hernandez have been some of the best showdowns in baseball. Coming into the game, no hitter with at least 40 at-bats against Hernandez has a better batting average than Trout's .367. Hernandez has won his share of these confrontations too, striking out Trout 12 times in 54 plate appearances. "It's always a battle, me and him, but it's always fun," Hernandez says.
Hernandez begins their first clash of 2015 with a 91 mph inside sinker. Trout tries to jump on it, but he's a hair slow and gets only a piece. Foul ball. Hernandez is fidgeting on the mound now, trying to focus. His second pitch is a nasty four-seam fastball, 92 mph, on the inside corner of the plate, and it freezes Trout, who suddenly finds himself down 0-and-2. The crowd is on its feet again. "K! K! K! K!"

"It's fun to face guys like that because
it's a challenge."
- Felix Hernandez
Hernandez has Trout exactly where he wants him, at the mercy of his changeup, maybe the best out pitch in baseball. (In 2014, according to FanGraphs, swings against Hernandez's changeup became ground balls 68 percent of the time, and players hit just .160 against it.) This, though, is where the riffing between two great soloists truly begins. Trout knows Hernandez wants to throw a changeup. Hernandez knows Trout is expecting it. Each man is calculating two or three moves into the future, strategizing, guessing and reacting in fractions of a second.
Hernandez comes inside once again, another hard sinker, but Trout isn't biting. Ball one. In their pregame strategy session, Zunino and Hernandez decided they would go after Trout with sinkers and fastballs, work both sides of the plate, keep him guessing, wondering when the changeup might be coming. The fourth pitch is another sinker, this time on the outside corner of the plate, and Trout fouls it off again. He fouls off two more fastballs, then watches Hernandez's first changeup of the at-bat dive at his ankles. On the mound, King Felix purses his lips. Damn, he thinks. Didn't bite.
The eighth and final pitch is a sinker that starts chest-high and doesn't sink. Trout pounces, hammering the ball toward the center-field fence. Hernandez spins and cranks his neck to the sky, hoping he's wrong, but deep down, he knows. He always knows, even a split second after the ball comes out of his hand. The ball was crushed. Home run. 1-0 Angels.
Safeco Field is as quiet as an art gallery as Trout trots around the bases. In King's Court, fans look sucker-punched. Hernandez strikes out Albert Pujols and Matt Joyce to end the inning, but as he ambles toward the dugout, he's shaking his head, still thinking about Trout.
He got me, Felix tells himself. Ain't happening again.
---
HERNANDEZ CUTS THROUGH the Angels' lineup, his curveball and changeup serving as scalpels, his sinker and fastball a pair of blunt-edged swords. Over the course of the next two innings, only one ball leaves the infield: a lineout to right field. David Freese strikes out looking. Chris Iannetta pops up meekly in the infield, as does C.J. Cron. Erick Aybar grounds out, as does Johnny Giavotella. The mojo of King's Court returns. Disco music blares. The Mariners take a 2-1 lead after an RBI triple by Seth Smith, then an RBI single by Robinson Cano. A man dances with a beer in one hand, a baby in the other. Thirteen-year-old Maxwell Gordon, who is dressed in a red fur-lined king costume, is awarded a giant turkey leg by the Mariners' marketing staff for his enthusiasm, and when the 11,425-square-foot video board shows him holding it triumphantly in the air, the crowd roars.
"I wear this every time I come to King's Court," Maxwell says. "Got to show him my support. Long live the King."
In the top of the fourth inning, Trout comes to the plate again, but this time King Felix does not nibble with fastballs. He's in a rhythm now. He's getting more movement on his pitches. "There's the adrenaline he just thrives on," Zunino says. "You know he's going to rise to the occasion." Once again, he jumps ahead 0-and-2. Trout fouls off a changeup at his knees to stay alive, but Hernandez comes back with it three pitches later. It's the nastiest pitch he has thrown all day, and Trout is badly fooled, flailing at a ball that skips in the dirt.
It's moments like this when Hernandez seems the most like an artist. He's feeding off the crowd and nailing every note.
text
Jose Mandojana, Rod Mar (2)
IT BOTHERED HIM, initially, to be called King. Growing up in Valencia -- a large industrial city tucked in the mountains of Venezuela, some 35 miles from the Caribbean Sea -- his parents were adamant that he never look down on others, that he treat everyone with kindness and respect. Being referred to as royalty made him uncomfortable. He was just a teenager, still working his way through the minor leagues, when a popular fan blog, U.S.S. Mariner, gave him the nickname. "I wasn't doing anything worthy of being called the King," he says.
He was scared. He can admit that now. The Mariners signed him when he was 16, then sent him to Everett, Washington, for rookie ball. He spoke no English and had no close friends in America. When he wasn't playing, he was watching cartoons in his hotel, trying to pick up English phrases so he could communicate with teammates. He called his mother every day, trying to hold it together. "I kept saying, 'Mom, this is so hard,'" Hernandez says. "She told me, 'Well, you decided to do this, so you have to pay the price. Now, go out and be good.'"
Today, the Angels put two runners on base in the fifth inning -- Aybar singles, then Hernandez hits Cron with a pitch that gets away from him -- but he doesn't seem rattled. He strikes out Iannetta, then gets Giavotella to ground into a double play to end the inning.
Every day, Hernandez thinks a lot about the boy he used to be, and the things he had to learn on his journey to becoming a man. "Now," he says, "I don't mind if they call me King."
---
BEFORE HERNANDEZ SIGNED his big deal in 2013, most of baseball seemed convinced he was as good as gone. National pundits talked and wrote about his departure as if it was inevitable. No way would he re-up with a team that finished last in the AL West three straight years. The team, opined a chorus of outsiders, needed to trade King Felix and get value for him while it still could.
The people who wrote and said those things, Hernandez says now, did not know him well enough to speak for him. He likes his neighborhood. He likes where his kids go to school. He likes his favorite restaurant, Chace's Pancake Corral. But beyond all that, his parents taught him that loyalty in life is important. In private, Hernandez assured Mariners general manager Jack Zduriencik that he had little interest in leaving. When he threw a perfect game in 2012, a 1-0 win over Tampa Bay, the Mariners decided to honor the feat by turning the entire ballpark into a version of King's Court for his next start. Everyone in the park got a yellow King Felix shirt and a strikeout sign to hold up, and on an overcast Tuesday in August, 39,204 fans showed up and screamed.
"That right there is why I never wanted to leave," Hernandez says. "That's why I want to win here."
His commitment, of course, made the 2014 signing of Cano a possibility instead of a fantasy. True, the $240 million contract played a big role too, but if Hernandez hadn't agreed to be the team's foundation, Cano says he likely wouldn't have even considered Seattle. "Felix is a great guy with a pure heart, and everyone loves him," Cano says. "That's something you're born with, I think. That's why people come to see him."
Trout comes to the plate one final time against Hernandez, in the sixth inning, with the Mariners leading 4-1. He ignores Hernandez's first offering, a curveball well outside the strike zone. He fouls off the second pitch, a fastball, then whiffs badly when Hernandez throws his best curveball of the afternoon. The crowd gets to its feet again. "I thought to myself, 'I bet he's sitting on my changeup. You know what? Let's go fastball.'"
There's something beautiful about Hernandez's delivery when you see it again and again, over the course of an afternoon. It's powerful and compact, but his leg kick is such an efficient trigger -- always the same, like a metronome. When he lunges forward and whips the ball, it's as smooth as anything in the game. As the fourth pitch comes, Trout hesitates for a microsecond, and by the time he begins his swing, it's already too late.
"I blew it past him," Hernandez says.
He finishes his day with 10 strikeouts over seven innings, pushing his Opening Day record to 6-0. It's the three at-bats against Trout, though, that linger in his mind after the game, even as he's wrestling with his son in the clubhouse. "It's fun to face guys like that because it's a challenge," Hernandez says. "That last at-bat, he looked at me, kind of smiling, and I looked at him like, 'This is fun, huh?'"
In the weeks to come, the Mariners will start slowly, struggle to score runs and hold leads. Anxiety returns. But each time it is King Felix's turn in the rotation, he is brilliant. He makes the sign of the cross, takes the ball in his glove, puts the team on his back and keeps a city's hopes alive.
Can you imagine, he muses, what a playoff game in Seattle would be like after all those years of longing? He has chills just thinking about it.
"This place could be like that every game," Hernandez says. "And you know what? It will be. Just watch."
Follow ESPN Reader on Twitter: @ESPN_Reader
Join the conversation about "The Untouchable Felix Hernandez."