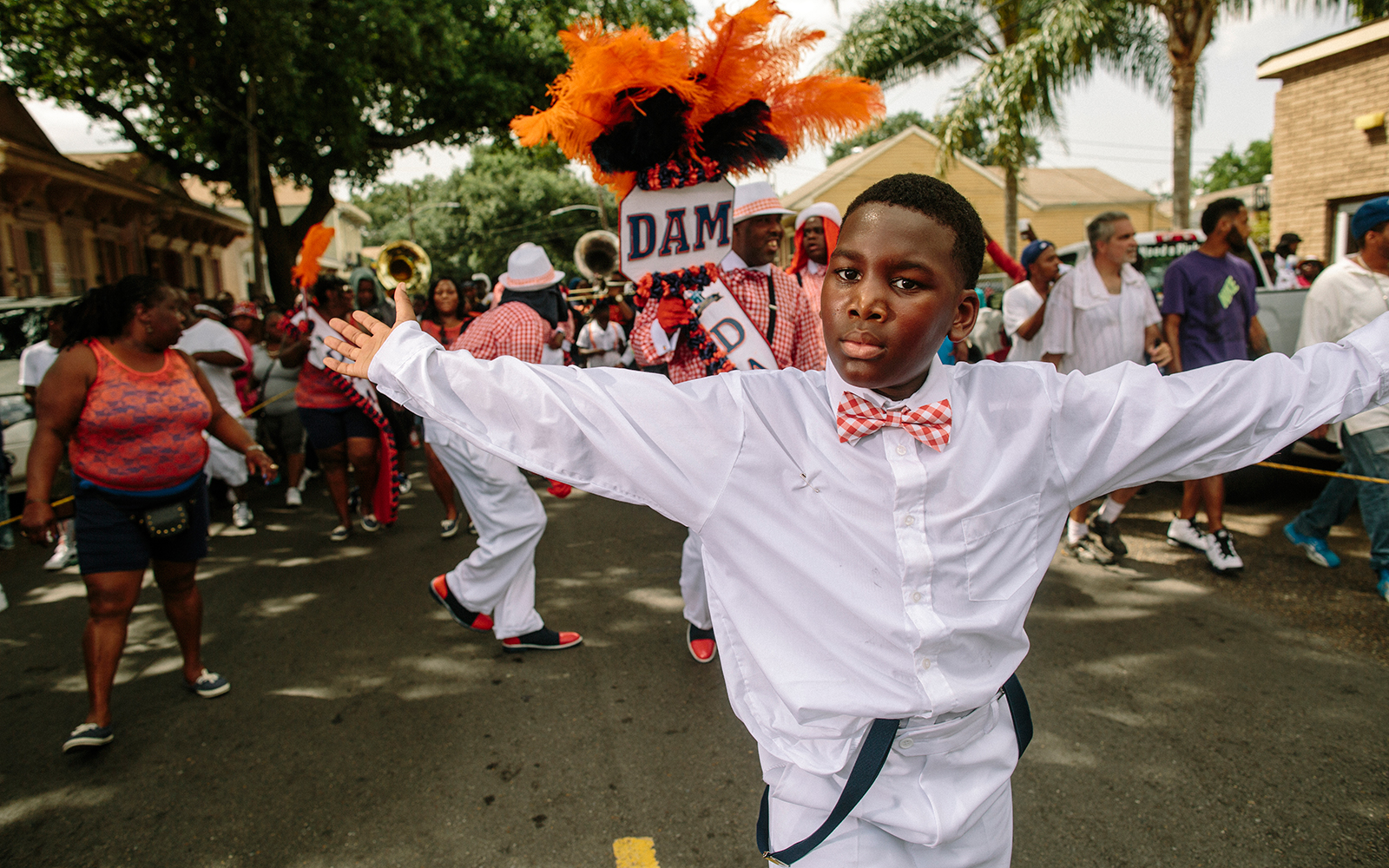 Beyond The Breach
A summer in search of saints, sinners and lost souls in the New Orleans that Katrina left behind.
Chapter I
The 10-Year Flood
Editor's note: This story contains mature language.
As part of the stories of the year collection, this piece is being resurfaced along with others in the coming days as ESPN Digital and Print Media closes out the year. Check out the full list here.
W
ith the air conditioner off for filming, the only noise in Steve Gleason's home is the breathing machine that keeps him alive. That's as good a place as any to start a Katrina story, with the wires and plugs and tubes strapped to the back of his wheelchair, a life-support apparatus doing the heavy lifting for one of the most fervently alive people the city has ever known. The city has known its share. New Orleans treasures hyperlocal folk heroes: Soulja Slim, the king of the street rappers before the storm, shot at least three times in the face and once in the chest, dead in his black Reeboks; Trombone Shorty, who closed out this year's Jazz Fest instead of Elton John or Lenny Kravitz; Chris Rose, the Pulitzer Prize-winning newspaper columnist who wrote the best stories about the storm until his life unraveled and he found himself waiting tables. Gleason is that kind of hero. In the team's first night back in the Superdome after the storm, he stretched out his arms and blocked a punt in the opening series of a Monday Night Football game. There is a 9-foot statue of him outside the Dome now, but the actual Steve Gleason is paralyzed, four years into an ALS diagnosis. Most people don't make it past five.
"OK, I'm rolling," the camerawoman says.
Gleason uses his eyes and an interactive tablet to highlight the first sentence of the text, one of a series of love letters to the city that a local nonprofit asked influential citizens to write on the 10th anniversary of the storm. Since he can no longer use the muscles in his mouth, he speaks through a computerized voice, his humanity blunted by a droning, syllable-centric machine. Nothing works but his eyes.
"Dear New Orleans," he begins, and when he finishes reading the letter, one of his assistants, Lauren, wipes Gleason's eyes and nose with a towel.
"I cry every time I read it," he says.
Lauren stays strong in front of Steve but when she gets around the corner into the kitchen, she falls apart, slipping into a bedroom to be alone. It's an ugly thing to watch someone fight a battle he cannot win. Living, then, is in the fighting. "No White Flags," it says on the Team Gleason foundation's T-shirts and wristbands.
Dear New Orleans.
No white flags.
---
REBIRTH HAS BEEN the standing field order of the past 10 years in New Orleans, a powerful force shaping the city in ways big and small. Everything is governed by this spirit of renewal, and everything is viewed through its lens, from the fervent love of brass bands to the New Orleans Saints, the standard-bearers of a city struggling back to its feet. But within this hopeful word an idea hides in plain sight: For something to be reborn, it must have first died.
One afternoon in August, the mayor of New Orleans, Mitch Landrieu, meets me at an old seafood market reimagined after the storm as a high-end culinary destination. He tries to explain how 10 years passes like a day.
"For those of us who were here, it was a deeply emotional, deeply personal, painful experience," he says. "I mean, it was hard. But we were in a near-death environment, so we didn't really have time to process it. We literally had to get out of harm's way so that we could stay alive. Then we immediately had to start rebuilding. And I'm not sure that a lot of us have had a chance to process it."
"Have you grieved?"
The question catches him off guard, and for just a moment he drops his smooth politician's front, closing his eyes, looking away.
"I really don't know the answer to that question," he says. "Probably not fully. You know, I find myself really getting choked up."
The hurricane lives in a complicated place. Everyone's experience is both communal and personal, obvious and hidden. The memory of the death is everywhere, buried in shallow and temporary graves.
---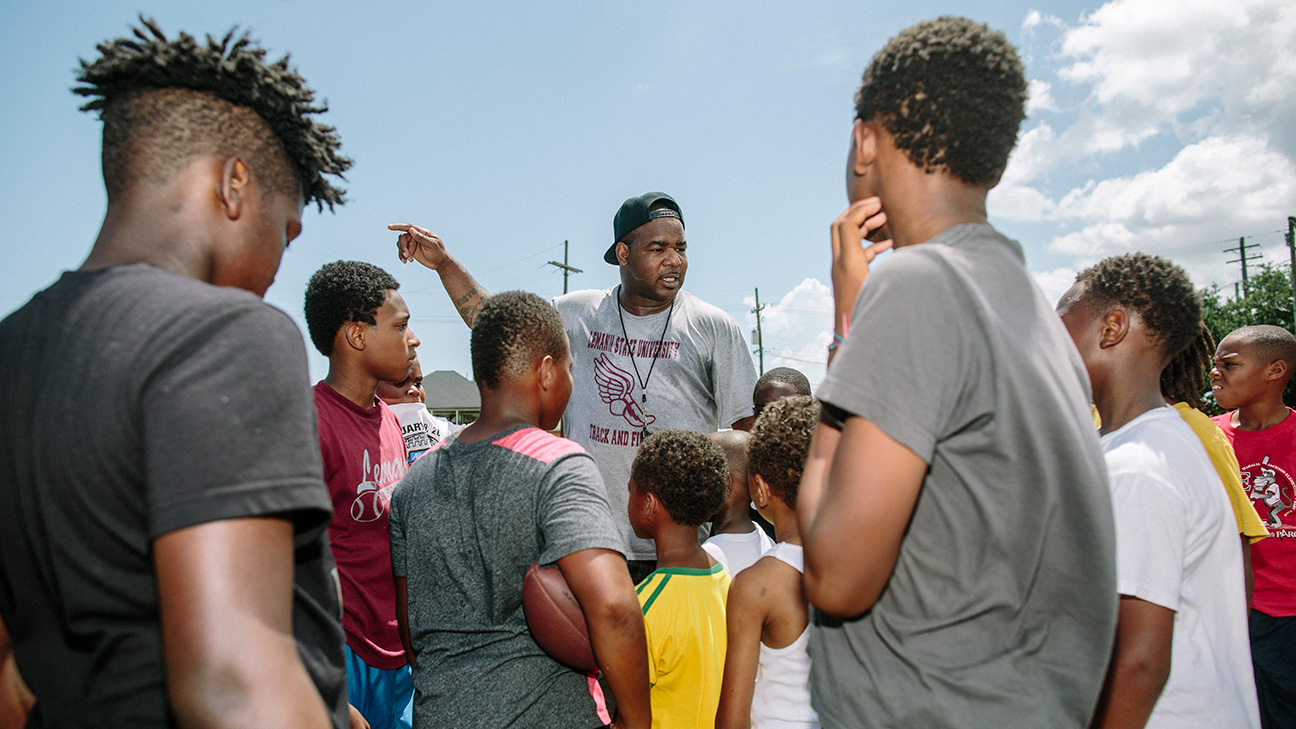 EACH SUMMER IN New Orleans has a soundtrack.
In the blistering, rainy summer of 2015, that soundtrack is provided by Boosie Badazz, formerly Lil Boosie, formerly prisoner No. 560699, home from a three-and-a-half year stay in the plantation fields of Angola for a marijuana charge. New Orleans has the highest incarceration rate in Louisiana, which has the highest incarceration rate per capita in America, which has the highest incarceration rate in the developed world. Eighty-five percent of the inmates at Angola never get out. They take a one-way bus ride to an eastward bend in the river near the Louisiana-Mississippi line. Boosie is one of the lucky ones -- he made the trip back south -- and now this summer his anthems of Louisiana street life throb out the windows of speeding cars, the floating hint of a hook giving away the track, drowning in cardboard subwoofer fuzz, trunks and rearview mirrors.
You hear the songs over and over again, like now in Shack Brown's pickup truck, headed out of town on Interstate 10. Brown is a youth football coach, driving to Jackson, Mississippi, to do a stand-up comedy gig, one of the many jobs that allow him to spend most of his time working with kids. He talks quietly with music in the background, until a remix of Boosie's "Show da World" comes on. Brown turns up the stereo and sings. God keep blessing me 'cause I'm a good father ... diabetes steady working on my kidneys, man ... hoping kids learn from my mistakes and take a different route. Brown got his nickname because he grew before the other boys, then quit growing just after his friends started calling him Shack. He's about 6-foot-1 -- and was as a seventh-grader. He's got a barrel chest and the gut of a man who never let his changing metabolism alter his love for fried food. His New Orleans East neighborhood smells like bread and coffee, from nearby factories. In the summer, the streets smell like crawfish.
Over and over, he listens to "Show da World," cuing it up when he needs a dose of self-confidence: "Lemme hit that Boosie," he'll say, and one line always makes him rise out of his seat and rap hard with the track, hitting an imaginary drum on each word.
"I'M A PROJECT NIGGA!" he shouts into the steering wheel.
Shack, who gets his name, if not its spelling, from the LSU basketball star, grew up in the Iberville projects. It is his armor and his weapon. Everything in the city rises on the ashes of something else, whether Shack Brown himself or the neighborhood where he was born. Before it was the Iberville, the streets between the French Quarter and what's now I-10 were the most famous red-light district in the country, Storyville, which the Navy insisted be closed in 1917. (At some point, big iron wrecking balls are cheaper than years of penicillin.) Only one or two of the buildings that were whorehouses and saloons still stand; an old jazz club is now Iberville's corner store, the New Image Supermarket. The older men drink beer on the sidewalk a block away at Basin Super Market Seafood and Grill. Sometimes Shack visits old friends, but mostly he stays far away from the Iberville, or what's left of it.
People in the projects respect Shack Brown because he survived the early '90s, when Iberville was at its worst. The cops in the nearby French Quarter ride horses, and Shack can still hear the pounding of hooves on concrete, like something from a dystopian Wild West movie. They followed purse snatchers back into the projects -- cops in shiny helmets brandishing sticks and guns, flying through the Iberville courtyards, the horses breathing heavy in the thick, wet air.
"I've watched older dudes steal Greyhound buses," he says, laughing.
The kids trust Brown because he was them. He sold drugs and tasted that life -- $10,000 a week, he claims -- which he realized would lead either to Angola or to a cemetery at the end of Canal Street. Mostly, he couldn't deal with the damage he saw himself causing, making a bad place worse instead of trying to make it better. He was a lousy drug dealer, letting people slide on credit, not cracking down on the addicts who couldn't pay. When he searched his past for men who'd done something positive, the only ones he remembered were coaches. They were respected, the lone alternative to the dealers. In New Orleans, especially, they are the front line in a fight to save just a few of the brightest young men in every generation. Shack started coaching, wanting to help kids but also hoping to feel good about his life, to wash clean the hurt he'd caused. So in the mid-1990s, he devoted himself full time to helping kids, trading the drug cash for $234 a month, working a straight job for Blair Boutte, another former Iberville resident, who today runs the most successful bail bonds company in town. Now 38, Brown works as many jobs as he can find, all while funding his youth teams.
He lives on the margins; until the price of oysters went up, he set up his cooker rig and chargrilled them at parades all over town. Now a croker sack costs $45 and he can't sell them for more than $60, which he says doesn't pay his expenses. During big events, like the Super Bowl, he drives a limo. He volunteers time and money for kids, spending his own cash on ice and water and mouthpieces. On game day, he cooks a meal for his players, who often arrive hungry. A po'boy here, a plate lunch there, feeding 9-year-olds, it adds up.
For a year after Katrina he sat in Houston, going through the motions of a new life, his thoughts never far from the kids in the projects he used to coach. They got so close, the boys latching on to any male influence they could find, and now that he was displaced, he found that he needed them too. He came back to New Orleans in August 2006, shortly before the Superdome reopened, coaching in Mid-City, working on setting up at a place closer to the Iberville.
Three years later, on July 18, 2009, he opened a football program in Lemann Playground, the only public green space between the Iberville and the Lafitte projects, both occupying the gray blocks northwest of the French Quarter. On the day the league officially began, a drill team of neighborhood kids he'd trained led a procession through the gates into Lemann. The adults released balloons. Across four age groups, 125 boys played football, Brown says. That was six years ago. Now the Lafitte projects have been torn down, replaced by mixed-income housing. The Iberville is almost gone, the last of the city's projects. He remembers the hope of opening Lemann Playground. On that sunny day in 2009, with a newspaper reporter taking notes and pictures, he didn't suspect that his football league would be killed by the very spirit of rebirth that rose from Katrina's receding waters.
---
THE NEXT MORNING, Shack drives back toward New Orleans. His comedy gig went well.
Halfway home, he passes the exit to Gillsburg, Mississippi, right on the state line, where the plane chartered by Lynyrd Skynyrd crashed in 1977. I start to tell the story, but after getting a blank look, I ask Shack if he's ever heard of the band.
"No," he says.
He asks about their famous songs, and I tell him "Freebird" and "Sweet Home Alabama." Nope, he says, those don't sound familiar. We laugh, because there are only 4 miles between the mostly wealthy, mostly white Uptown neighborhood where I rented a house, where everyone has heard of Skynyrd, and the mostly poor, mostly black neighborhood where he grew up.
Those 4 miles might as well be an ocean.
He's flipping through the radio stations. A fellow comedian named Blowfish is crashed out in the back, wheezing and snoring. The highway is a drone, and 103 miles from the city, Shack gets quiet.
"My life can't go nowhere but up," he says at last, "living in the Superdome ... " trailing off, pulled back in time.
Shack rode out the hurricane with 17 family members in the Iberville. The old projects stood strong. The storm didn't knock out the water or the gas, so his mom cooked Monday night as Katrina hit Louisiana. She made turkey necks and gravy, rice and peas. That's what they ate through Tuesday, watching the water rise, first above the parked cars, then above the street signs.
On Wednesday, the project's running water went off and Shack's mom told everyone it was time to leave. The streets were flooded, and all 17 of them linked arms and tried to walk to high ground. The sun hammered down, over 100 degrees, dead bodies floating in the muck. Shack found the mules of Mid-City Carriages still tied to a fence. That's how they tried to get people through the water at first, riding on top of the stolen mules. The mules hated the water and mules don't do anything they don't want to do, so Shack tied them back up. His family walked to the Orleans Avenue exit, rising steeply up to I-10.
They walked a mile and a half the wrong way down the interstate, his grandmother stopping often to catch her breath. The inside of the Superdome smelled like feces, and he held his 4-year-old daughter in his arms so she could go to the bathroom. The free water and blankets got stolen by local gangsters, who then sold them. Tweaking drug addicts wandered the stadium. Brown kept his family in a small corner on the plaza level. They took turns sleeping, someone always standing watch.
Two days later, he loaded his family onto a bus, getting the women on first, then making sure the boys made it, then working to help the police keep loading those still inside the Dome. Because people respect coaches so much in New Orleans, most everyone in the projects had at least heard of Shack Brown. As the sun set, a cop came to him.
"I held the bus with your family," the officer told Shack. "It's time to go."
That's how Shack Brown left New Orleans, riding down the empty interstate, passing small groups of people still walking to safety, like something from "The Grapes of Wrath." He doesn't think about it much, at least not on purpose. His memories aren't a cancer, slowly eating away, but a bomb that goes off from time to time without warning. Sometimes he'll be driving alone in his car and look into the mirror and see himself silently weeping.
He doesn't tell anyone about it.
---
ALL NEW ORLEANIANS can describe three moments from the past 10 years in cinematic detail: their escape from the storm, where they were when Gleason blocked that punt and where they were when the Saints won the Super Bowl. These are the tentpoles of biography since Katrina, and in telling them, people reveal their most unguarded selves. Like a love of the Saints, this is one of the few things in the city to bridge all the deep race and class divides: Everyone suffered through the storm; everyone cried when Gleason blocked the punt; and everyone still struggles to express the emotions they felt when the Saints won in Miami.
Shack Brown went to the Monday night game against the Falcons and saw Steve Gleason block the punt in person, and he doesn't talk much about that either, except to say that during the game he found the spot in the plaza where he'd huddled with his family.
Three years later, in February 2010, he sat with his grandmother in her nursing home as the Saints took the field in Miami. He'd promised her they'd watch the Super Bowl together if the Saints ever made it, the team's historic awfulness becoming a running joke about her mortality. On that Sunday, they sat side by side in front of the television. The game ended and the Saints won, and his grandmother exhaled: a deep, resonant sigh.
"Now I can get some rest," she said.
He made a joke about sleeping and she just looked at him, and then he understood.
"I saw it all," she said.
Her health started failing not long after, and she never really got well again. Near the end, Shack had a fourth son, Lorenzo, and he took his boy to meet his grandmom. The baby rested in her arms, and she rested in white sheets, her head on a white pillow. Two days later, she died. That night, Brown slept with Lorenzo on his chest, and around 3 a.m., the baby woke up gasping for air. The next morning Shack got the news about his grandmother, who'd passed away between 3 and 4 in the morning.
"That was them exchanging breaths," he says now, as he looks out the windshield at the long, blurred yellow line of the highway. He's gone from rocking Boosie to silence, the truck somewhere between Jackson and New Orleans, nothing but trees and swamp on either side of the road. His friend is asleep in the back, or at least pretending to sleep out of respect. A plastic butterfly pin hangs on a lanyard looped around his rearview mirror; they wore these pins at his grandmother's funeral. The wings are made from small pink and black feathers, and when he's stressed, he'll pluck a feather and say a prayer: "Grandmama, I need you to use your wings over me."
He plucked one a day or two ago.
His oldest son is now repeating the life Shack worked so hard to leave behind, the young man who carries his name, Leander Brown Jr., facing two aggravated assault charges in Georgia, to go with a long and violent rap sheet, the résumé of a habitual offender. Shack doesn't have any money or connections to find a decent lawyer.
"I don't want my child sitting in jail for the rest of his life," he says softly.
He's spent the past two decades trying to save kids, and he can't do a thing for his own. A few years ago, it all got to be too much, fighting the battle for his park, still dealing with the trauma of the storm. He told his wife he wanted to die, let this pain wash away.
"I have my moments," he says, "when I feel like I can't hold it no more."
---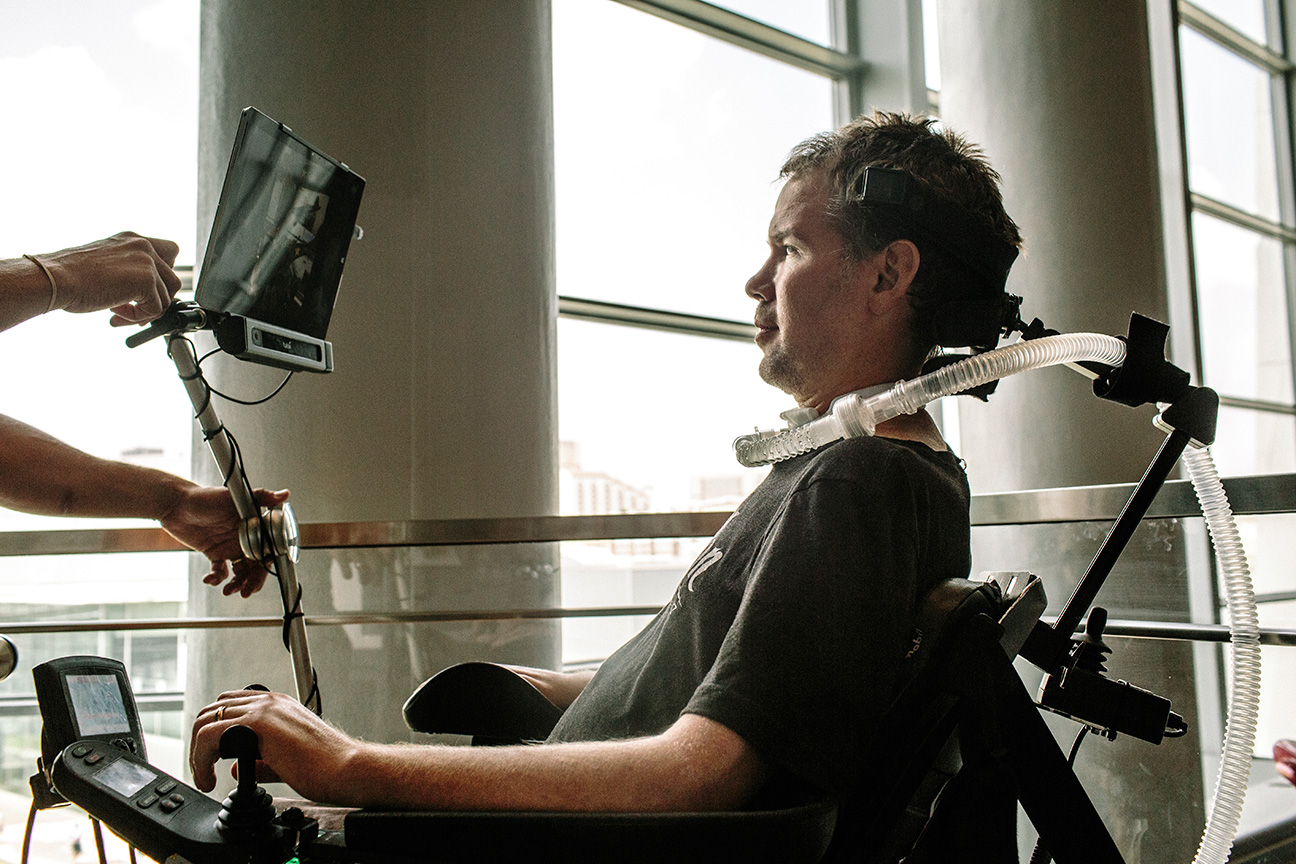 THE NIGHT Steve Gleason blocked the punt, Chris Rose was in the stands at the Superdome. It was his job to take the madness around him and somehow put it into words for The Times-Picayune. Nobody did it better. He was part of a team that won a Pulitzer Prize for its Katrina coverage, and he was nominated individually for a second, the poet laureate of New Orleans. Two days later, Rose's column about the game appeared, which was subsequently included in his best-seller "1 Dead in Attic," a collection of his work in the aftermath of Katrina. Two years ago, when the Super Bowl came to New Orleans for the first time since the storm, a local organization got Gleason to read that column on video. The link is still on the Internet. In it, Gleason's voice is slurred, the camera tight, the weight in his body already stealing his ability to talk.
... It is superficial and meaningless and a sign of total loss of perspective but I stand before you and I declare: It is good to feel like a winner...
Gleason's eyes are red and watery, as if he just finished crying or is about to start. A three-day stubble covers his face. This is not the future he'd imagined when he retired in 2008 from football and started pursuing an MBA from Tulane, hoping to read books and debate their ideas, working in his free time to rebuild neighborhoods destroyed by Katrina. Those dreams died with his ALS diagnosis. With whatever time he had left, whether years or decades, he decided he'd fight to not let his disease define him and to help others who didn't have the resources afforded to someone who once blocked a punt in prime time. He started a foundation, which did the usual things like raise money but also something uniquely Steve Gleason. It encouraged people to get out and live. A group of people, including his former Saints teammate Scott Fujita, carried Steve and another ALS patient to the top of Machu Picchu.
On the video, he continues to read Rose's column. ... And out my window today as I write this -- my open window, oh, glorious day -- I hear the same sounds I hear every day: chain saws and hammers and drills, and it would be foolish to suggest that the workers have more pep in their step today and that everything is going to be easier now because, well... because it's not...
Gleason's T-shirt says "No White Flags." When he swallows, the microphone picks up the noise. His voice is loose and childlike, sharp vowel sounds the first to go, his tongue heavy in his mouth. The book is held firm in his hands, the spine bent over. The man who lives forever in bronze at the Superdome -- the statue is named Rebirth -- remains inside him. Gleason's voice grows in strength for Rose's last line.
Only a game, you say? Like hell it was.
Steve Gleason stares into the camera until the shot fades to black.
---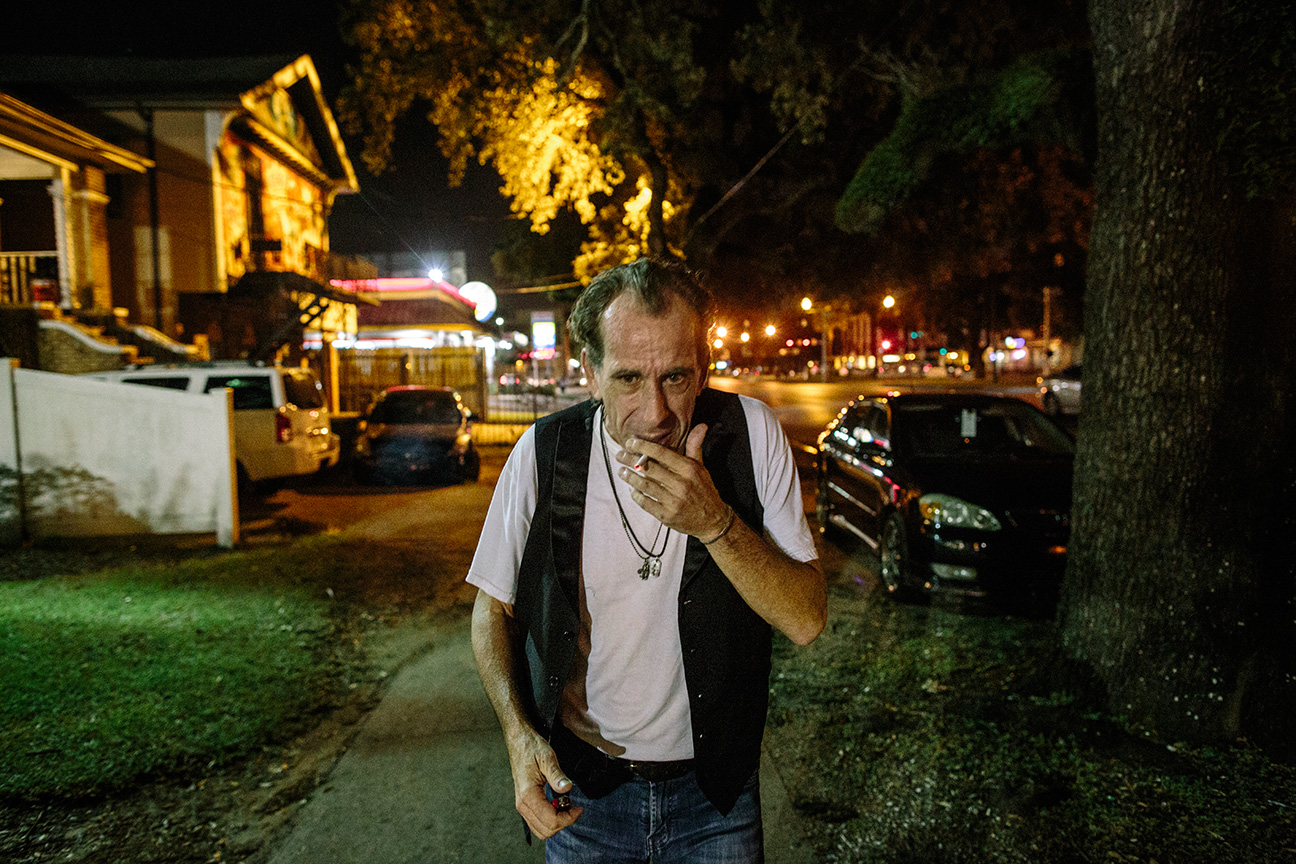 "SHIT, BETWEEN HIM and the archbishop," Chris Rose is saying, standing outside an Uptown corner bar, waiting for it to open. "'What's the archbishop say and what's Gleason say?" I mean, those are the two guys who people look to when we're confused about something. I mean, he's the -- literally he's the moral epicenter of this city."
Rose loves how Gleason weighs in on the important issues of the day, from the cuts at The Times-Picayune (against) to gay marriage (for), and how people look to him as the best of what the human animal does under duress -- almost the exact opposite of how people see Rose.
"The people of this city didn't turn on me," Rose says, sounding deeply grateful. "I feel the love every day when I walk around."
His voice sounds like tires crunching through an oyster-shell parking lot, and he moves with a herky-jerky walk, all arms and legs, like Keith Richards playing himself in a Tim Burton movie. His hair is curly, gray and wild, and his T-shirt has a quote from one of his old stories. It's a few minutes before 4. We check the door to St. Joe's Bar on the corner of Magazine and Joseph, but it's still dead-bolted. We can see people moving inside. The Roman candy man, a dollar a stick, click-clacks in his donkey-drawn cart. Wooden wheels on uneven streets. There's music coming from somewhere. One of those summer New Orleans storms hit a few minutes ago. Wide rivers of water rush through the gutters, the streets already starting to flood. Rose huddles beneath a vestibule awning, trying to stay dry.
At a little past 4, they let us inside.
"What everybody lost," he says, "was the stuff in the back of their closets, and shoe boxes full of photographs. You know, your letters from your uncle who served in Vietnam, or the awards you won when you were a child. There are people in this town who don't have photographs of their grandparents. It wasn't about couches and TVs and automobiles and Sheetrock. It was about your history being taken away from you. You don't have photographs, the images, the words, the awards, report cards, letters, mostly letters. Diaries. Imagine how much unpublished music was destroyed in that storm."
He lights a cigarette.
When people see him, they instinctively remember Katrina. Many feel compelled to share their own personal horrors. Afterward, they feel better and he feels worse. He doesn't go out much.
"I make a lot of people cry," he says.
"It feels like it happened a million years ago. On the other hand it feels like it happened yesterday. Its manifestations in my life are complete and total."
- Chris Rose
The hours slip away, sitting among the red Chinese lanterns on the bar's covered outdoor patio. Most of his troubles made the paper: depression, then drug addiction, $800 of Oxy a day. He took three trips to rehab and the third one stuck, but not before he lost everything. He lost his wife, then got arrested after stalking his new girlfriend. He lost his house; his ex-wife lives there with a new man. He lost his career. He left The Times-Picayune, taking a buyout from the place where he'd done his best work, then wrote for the alt weekly until that fell apart. He did television essays for Fox 8, until it sent him packing. He wrote the seminal work on Katrina, a New York Times best-seller, then spent all that money on opiates. He's broke.
"Destitute," he says.
That's why he started waiting tables a year and a half ago at a French Quarter fish restaurant. "I strapped that fucking apron on," he says. "There was no time to be proud."
New Orleans was being reborn, rebuilt, and the voice of the city's destruction had been left in the past. Many diners recognized him.
"Are you doing a story?" people would ask.
He shook his head.
"What are you writing these days?"
"I'm writing your order, that's what I'm writing."
The rain picks up now outside the patio, pouring hard and loud. He's quit his job at the restaurant and is looking for writing work again, hoping to find himself in the shadow of the anniversary. His biggest client is a magazine run by a local grocery store. He's still trying to get a local media company to take a chance.
He's making changes. Three days before Christmas, tired of living in the French Quarter, he rented a house in Bayou St. John, a quiet neighborhood north of his old one. The next day, he got a nice check from the grocery store. The day after that, Christmas Eve, he went and bought four bicycles, one for each of his three kids, ages 16, 14 and 12, along with one for himself. He put them under the tree, a father's promise that the future would be better. "The kids are why I'm alive," he says. "God knows what lessons I'm teaching them. I don't know, but I know I'm giving them hard shells."
The heavy raindrops look like a broken rainbow, falling through the prism of the late afternoon sun. It is sunny and pouring at the same time.
Rose laughs. His laugh is a treble machine gun.
"It's sunshine!" he says.
He's quiet, just listening, watching, sun and water and noise and light.
"That great Tennessee Williams line," he says finally. "'Every raindrop is a piece of time in your hands.' He got it dead-on. It's the only place I know that rains big drops like that when the sun is shining."
He's leaning against the bar, a curl of hair on his forehead. Because he used to be a newspaper reporter, a very, very good one, he's totally aware of what's happening, what I'm writing down about him and why. The beam of yellow light shining through the lattice to his left hits him on the arms, moving up to his chest, glittering off the gold letters on the T-shirt, bright on his face. Ten years come and gone.
"Almost everything's better," he says. "It feels like it happened a million years ago. On the other hand it feels like it happened yesterday. Its manifestations in the city are very few. Its manifestations in my life are complete and total."
---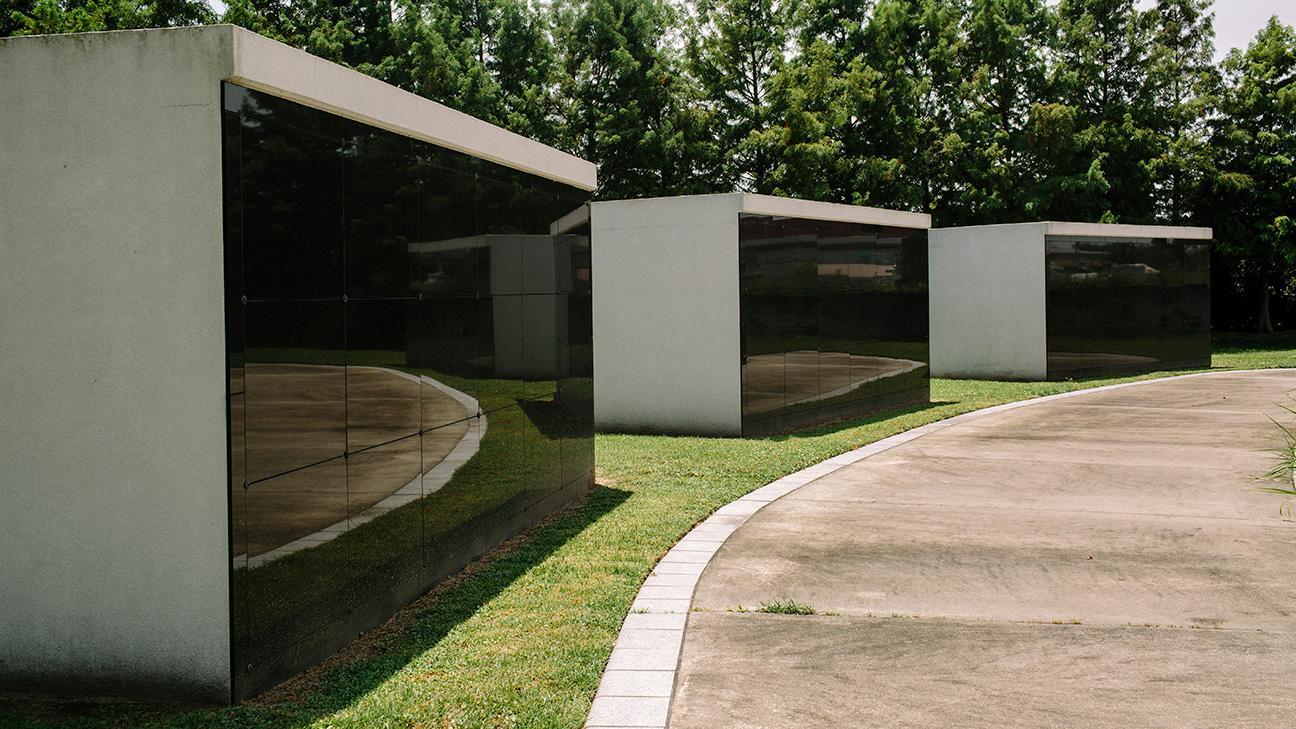 DURING THE SUMMER of the anniversary, Rose works on his latest writing assignment: a follow-up of perhaps his most famous piece, an odd experience given the way his life has changed in between. Ten years ago, just eight days after the storm hit, he wrote an open letter introducing the fleeing citizens of New Orleans to the communities around the nation taking them in. The same local nonprofit that got Gleason to write and record his letter reached out to Rose for a new version of his column. The group is called Evacuteer, and it created a website to collect the love letters and offer readers a way to donate. Rose plans to read his piece at an event near the end of May.
On the appointed night, an hour or so before his reading, a crowd starts to gather at a community center on O.C. Haley Boulevard, once a Central City no-go zone between the Magnolia projects, birthplace of the Cash Money record label, and the Calliope projects, where No Limit rapper and founder Master P grew up. The city tore down both, and now the neighborhood is a few months, maybe a year, from being acceptable to suburban white people. There is still violence. This summer, a hit man walked up to the St. John the Baptist Church and shot someone once in the chest; meanwhile, half a mile away, chef Adolfo Garcia, a culinary star in a city that treats a chef's coat like a low-slung guitar, just opened his latest place. It's across the street from Rose's reading, which folks are talking about at the bar. Chris is one of Katrina's many ghosts.
"They became whispers of themselves," says Caroline Fayard, a local attorney waiting on the event to begin.
"Hopefully this Katrina 10," Garcia says, making his rounds, "he can parlay that into something better."
Across the street, as the crowd files in, a woman on the stage plays a mournful tune on a cello. People sit quietly in the uncomfortable chairs. This is one of the first Katrina 10 events of the summer. Many more will follow, academic conferences and TED Talks and a Hot Boys reunion outside the Superdome. Economists and education specialists will gather all summer, quoting facts and figures, looking to the future.
The letter project also serves as a memorial to those who died in the storm, so their deaths will not have been in vain. Even 10 years later, nobody knows how many were lost. The best guess is 1,833, but that's just a guess. At the end of Canal Street, in a pauper's cemetery, there is a memorial to the dead. Six sleek marble mausoleums hold the remains nobody ever identified or claimed.
"Some have been forgotten," the marker reads. "Some remain unknown."
The cello on the stage makes the saddest sound, the people here occupying both cities, the one of the dead and the one of the living, trapped in between. That's what the anniversary is doing, one last time: forcing people to go to a place they've tried to avoid. Behind the stage hangs an enormous photograph of Louis Armstrong Park, named for the patron saint of the city, who made New Orleans music so popular that it remains so. Everyone who comes to town arrives at the airport bearing his name, but Armstrong didn't live in that New Orleans. He grew up in a violently segregated city -- his first cornet was given to him at a detention facility named the Colored Waifs' Home -- and while his deepest feelings about his childhood died with him, this fact is true: When Armstrong became famous, he moved to New York City and almost never returned. His body is buried in Queens. He sang "What a Wonderful World" as a prayer, a song about a place that didn't really exist. The only New Orleans he wanted to visit was the one he imagined with his trumpet, a vision of what the city still tries to be.
---
THE EVENT BEGINS. There's a strange feeling in the air, people avoiding eye contact, quiet and alone with their memories. Rose has been mingling, slouched at a James Dean slant, joints cocked, sleeves rolled up on his T-shirt. He looks every bit "the avenging angel of the 504," as a writer once described him. Ten years ago he wrote about New Orleans for the world, and now he's writing for 50 people in a room.
David Morris, from the nonprofit hosting tonight's benefit, welcomes the crowd and explains that five years ago people didn't have time for extravagances like public remembrance, focused as they were on rotting Chinese drywall and getting all their family members back in New Orleans. Ten years from now, the seniors in high school won't have even been alive during Katrina, and it will all fade away, like Hurricane Betsy in 1965, the flood of 1927, something studied by coming generations but not felt. "So on the 10th anniversary," Morris says, "we have this incredibly special moment where not too much time has passed, but just enough has, so we can pause and reflect for a second. I think in a lot of ways this is going to be the first and quite possibly the last collective and cathartic experience that New Orleans experiences together."
The first speaker, a local radio DJ named Fresh Johnson, reads Chris Rose's original story.
Dear America ...
Her voice is supercharged with the thrumming energy of the young. She's a can of Red Bull with dimples. Standing near the back of the room, Rose looks haunted. He jams his hands down in his pockets and rocks. Nobody bothers him. His body language repels people, and every now and then, as he listens to this dispatch from his former life, he blinks.
When you meet us now and you look into our eyes, you will see the saddest story ever told. Our hearts are broken into a thousand pieces. But don't pity us. We're gonna make it. We're resilient. After all, we've been rooting for the Saints for 35 years. That's got to count for something.
He laughs when Fresh mentions the Saints, and then, as she finishes reading his old words, Rose inches farther and farther from the stage, until he's alone and against the wall. There isn't anyone behind him. He closes his eyes. When the next speaker starts reliving her memories and pain, Chris quietly slips out and stands by the curb. He holds the script of his new letter in his hand, reading it again: "It's hard to believe it's been 10 years," he's written. "We may be haunted by our past but we are not bound to it."
A cloud of cigarette smoke rises above his head, and he leans against one of the poles holding up a balcony. A little tremor runs through his body, and his shoulders rise and fall. From behind, it looks like he's either coughing or crying. Inside, a deaf and blind woman talks about how she's found her own kind of vision and music in New Orleans, and outside, he's got neither.
He smokes and waits.
"It opens up a lot of old vulnerabilities," he says, shaking his head. Then his time arrives, and the crowd stands and cheers. He whispers to the musician onstage that he'd like her to keep playing while he reads. What he's got on the page isn't a letter so much as a ballad, a prayer like the ones written by Louis Armstrong. Rose, a native of Maryland, came here to work, and like many transplants, he cannot imagine a life anywhere else. The place has swallowed him, and on the stage, he finds his pace and rhythm. "The most important four-letter word in the English language is not love. It is home. Home, where the senses are filled with the comforting. Where the streets, the accents and the church bells are familiar. Where the air smells like coffee, sweet olive, fish fry, mule piss and sex."
Everyone in the crowd laughs.
He smiles, hoping this is the start of a future, not a nostalgia trip to a past forever gone. His letter is poignant, funny and sweet, and a common idea flows through every line. The hurricane isn't something that happened a decade ago. It's something that is still happening, good and bad. The anniversary isn't a commemoration of the past but a civic prayer that the city's longest day might finally come to an end.
Chapter II
The Problem With New Gods
IN THE COURTYARD behind the St. Louis Cathedral, which rises above Jackson Square, there's a statue of Jesus missing its thumb and forefinger. Katrina broke them off, and people here joke about Jesus using those missing digits to flick the storm away. At night, if you're walking down Royal Street, past the antique shops that sell Liberace's sterling serving pieces, a spotlight throws a silhouette of Jesus against the back wall of the cathedral. It towers above everything else, heaven and hell so close together. That's New Orleans. After Katrina, the church said it would leave the statue broken, out of solidarity, until the city had recovered. This year, on the anniversary, the archdiocese is reattaching Jesus' fingers.
With the recovery coming to an end, at least in the public dialogue, people are remembering how much the city invested in its football team, which is itself so closely aligned with the Catholic Church, from the name of the club to the Masses the Benson family holds in the Superdome before games. This summer, on the last day of a run of practices, Drew Brees takes off his helmet and signs autographs along a rope line of fans. One of the items waving at him from an outstretched hand is a copy of the Monday, Feb. 8, 2010, edition of The Times-Picayune, the day after the Super Bowl. The headline reads "AMEN!"
The day after that game, when staff members got to the newsroom, they found readers stretched around the corner, waiting. The paper sold 687,000 copies, more than double its typical circulation, people of all ages and races buying them by the bundle. The presses printed into the next night. People wanted to save these papers, pass them down to their children. That front page is now hanging in every imaginable establishment, from the inside of a food truck that sets up at Second Line parades on Sunday afternoons to the corner of the stand-up bar at Tujague's, whose interior always seems filled with a beautiful, strange yellow light. The framed cover is an anthropological document of sorts, capturing a specific madness that swallowed New Orleans in the years after the hurricane.
The city in that time suffered through Ray Nagin's two terms as mayor -- like many Louisiana politicians before him, he is now in federal prison for a litany of crimes, including bribery, conspiracy and money laundering. Nagin declined comment for this story, but when he left office in 2010, the city had a $97 million budget deficit. The police department was being investigated by the Department of Justice, and the FBI had set up an office inside the Orleans Parish School Board, so deep was the corruption (2,000 employees had health insurance for which they weren't eligible, according to Tulane researcher Doug Harris). New Orleans was a place struggling to stand up. And so it was that the people tied their personal and civic self-esteem to the play of a football team, as if 53 men and their coaches predicted whether the city would get off its knees.
People call New Orleans a Catholic city, but that's not really true, not anymore. With every census, the percentage of practicing Roman Catholics declines. The religious iconography laid over the rise of a football team would have been considered blasphemous a generation ago, and maybe even for this generation, had the people in New Orleans not needed to believe in something so desperately. The public institution that has replaced the church's ubiquity is the Saints, and so, "Amen," the headline writers decided -- the most beautiful and surprising gift for a city stripped of its faith: an answered prayer.
---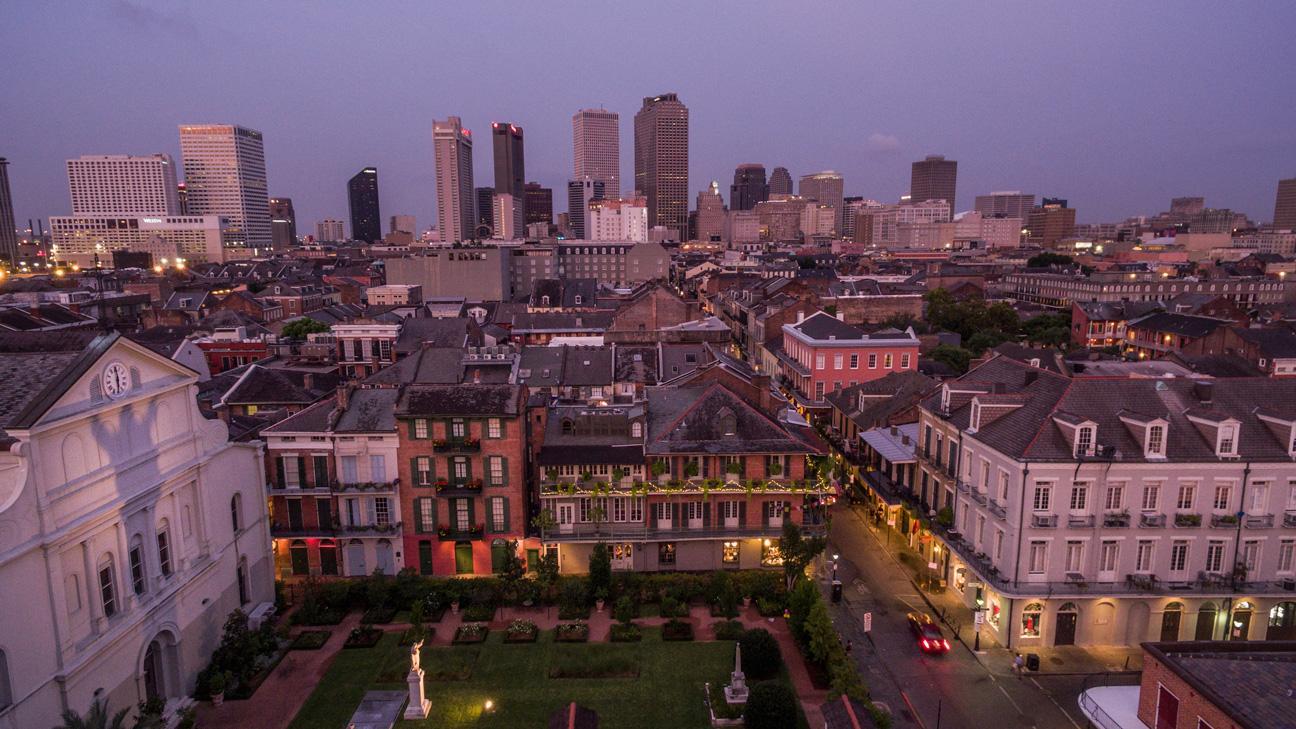 IF THE MOST VISIBLE day in the past 10 years was the day the Saints won the Super Bowl, the most impactful might have been the one before, a Saturday, when people went to the polls and overwhelmingly elected Mitch Landrieu as mayor. To many, his election is the moment when the city began its rebirth, dividing the past decade into two distinct halves: from the storm to the Super Bowl, and from Mitch's election until the anniversary. Landrieu's media advisers understood this, placing billboards around the city that tied his victory with the victory of the Saints. They read, "One Team. One Fight. One Voice. One City."
Landrieu took over where the Saints left off, and near the end of this past May, he walks toward the microphone to give his fifth State of the City speech to a packed room, where a gospel choir sings him onstage. The event takes place at a renovated theater across from what used to be the Lafitte projects and is now part of a major construction plan for the city, the Lafitte Greenway, a long public park and bike path connecting City Park and the French Quarter. In Landrieu's speech, he describes the summer's Katrina 10 events and celebrations, and the recovery the city has made. "When we took office in 2010, we inherited a mess," he says. "Simply put, five years after the storm we were struggling to make it."
Two weeks later, he's back in his office at City Hall, which is built on the plot of land where Louis Armstrong's childhood home once stood. He loosens his blue necktie, taking a short break between meetings. He was born and raised in New Orleans, brother of former U.S. Senator Mary Landrieu, son of a former mayor, Maurice "Moon" Landrieu, who integrated city government in the 1970s, hiring dozens of young black staffers, and was called "Moon the Coon" by angry whites. On Mitch's office wall, there's a framed newspaper editorial about his father, with the headline: "Can an honest man win?" There's a book on his coffee table called "How to Rebuild a City."
"We're going to build it the way it should have been if we would have gotten it right the first time," he says, for the third time in 20 minutes. "We're doing great. We're an ascendant city."
He sits on the ratty couches he inherited, along with a nearly bankrupt city, hit by a hurricane and then the criminal tenure of Nagin. "The governance wasn't good," Landrieu says. "Nobody was working well together. The recovery wasn't going well. Finally it started to jell the year before I got elected. And just that weekend, us winning the Super Bowl and then the new election."
Today, he carries precincts in the projects and on tree-lined old-money streets. Landrieu is the first white mayor in three decades -- the last was his father -- and he has the trust of most of the city's black population; in his last election, he defeated two African-American candidates. Saints coach Sean Payton, who is politically conservative, believes in the mayor too. "Both Landrieu and [Gov. Bobby] Jindal, agree or disagree with their politics, they're not going to be arrested someday for it," he says. "They're trustworthy."
Landrieu has a vision for what New Orleans might be by the time his children inherit the city. He points to the nearly completed Lafitte Greenway, almost three miles of public space, with energy-efficient lighting, fully compliant with the Americans with Disabilities Act. There's a crushed-stone walking path and more than 500 trees providing shade on those hot summer days. It'll be a beautiful, modern centerpiece of the city, running through a place that was blighted and dangerous before the storm. Landrieu's interest is complicated. He is trying to drive an economic rebirth while rebuilding the city itself, but when you hear him talk about things like the greenway, his excitement seems to be about something simpler: He remembers a New Orleans that looked and felt like a city on the rise, and he wants to leave that city behind when his time as mayor is up.
The new University Medical Center and VA hospital, the biggest medical construction project in the country, are positioned near the Lafitte Corridor, and the hospitals fit into the modern design, with no parking visible from the street. This summer, a developer bought nearby land to convert into restaurants and shops. A Whole Foods recently opened near the path of the greenway, right on the edge of Treme, the corner of Bienville and Broad. The neighborhood is already filling with tourists. Pedestrians walking from either direction will be able to step off the greenway into Dooky Chase's Restaurant and Willie Mae's Scotch House, two of the most famous soul food places in the city.
This is one of the oldest and most important African-American neighborhoods in the country. Free blacks lived here during slavery, and in its clubs, jazz was born. Some call it Treme, and others call it Lafitte, after the former project. Its original name best expresses its place in the minds of the white citizens who named things back then: "Back of Town."
Now it's the front yard of the New New Orleans.
---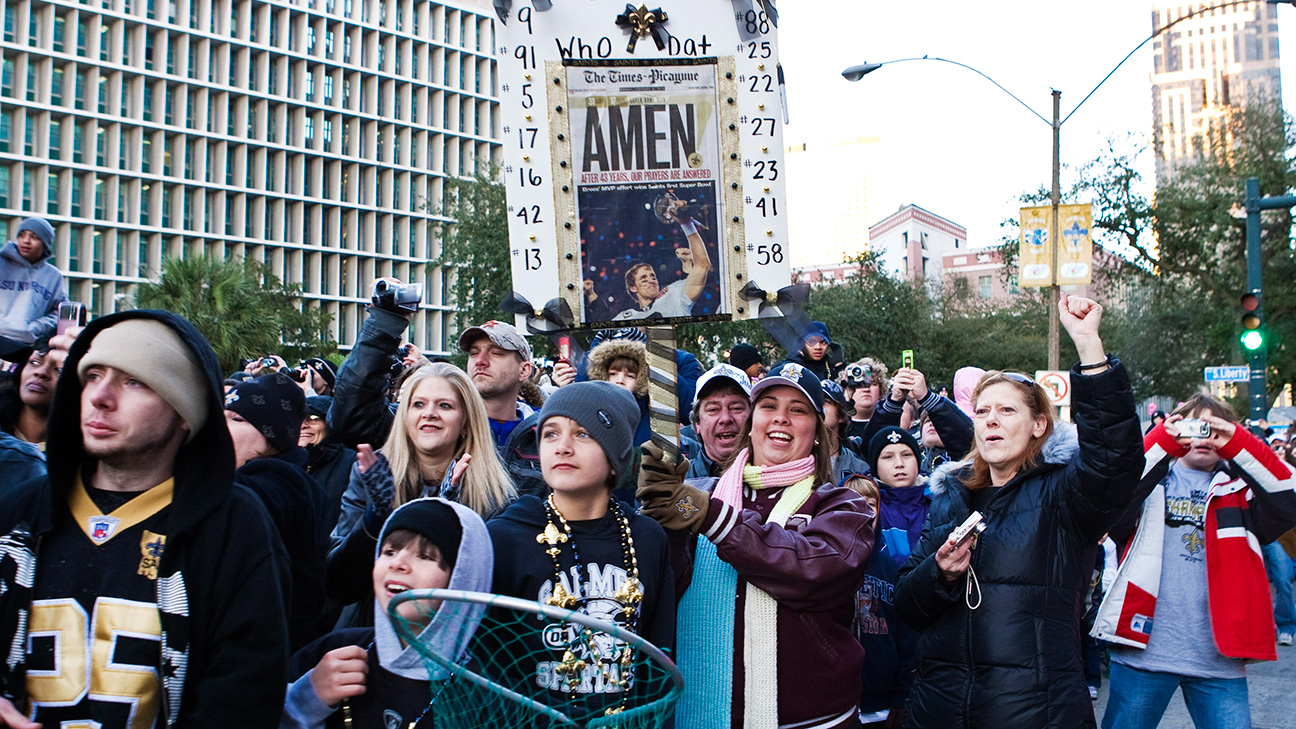 MITCH LANDRIEU WAS in New Orleans during Katrina, the lieutenant governor then, walking through the crowds in the Superdome while Ray Nagin locked himself in a hotel suite and literally wept, as his aides looked at him in shock. When Steve Gleason blocked that punt, Mitch was there too. To him, it felt cathartic and cleansing, like the team had taken the Superdome back from Katrina. Three and a half years later, the day after he won his election, he went to church and then to his brother's house in Lakeview to watch the Super Bowl. The whole family was there, and when the game ended, and the Saints had won, his 80-year-old mother led the family out of the house, dozens of Landrieus running around the block in rapture.
---
KATRINA BROUGHT the two central players of the Saints' journey together.
Sean Payton took the job five months after the hurricane, after the Green Bay Packers turned him down. He instinctively understood how the flood might unify the team; the Friday night before the first game back in the city, he gathered the Saints at midfield and played a video showing the devastation of Katrina. The Dome felt like a church. Payton said that the same people suffering in those images would be back in the stadium the next evening and that the Saints needed to remember these pictures when they played because those were the people in the stands cheering.
Payton signed a quarterback nobody but the Dolphins wanted, Drew Brees, who was coming off potentially career-ending shoulder surgery and still unable to throw. The team flew in Drew and his wife in March 2006, and after pitching them on the Saints, Payton drove them around, only he got lost, and the carefully curated tour of New Orleans turned quickly into a war zone. They passed houses ripped off foundations, with boats and cars at odd angles. They passed houses with the fluorescent orange X's painted on them, the utilitarian National Guard system for keeping track of what got searched and when.
Ten years later, the X's mean different things in different neighborhoods. On Magazine Street, they are something from the past, almost ironic now, or at least a way for survivors to nod at each other in solidarity and silence. Across town, driving into the 7th or 9th Ward, dozens of abandoned houses still have X's painted on them, one more divide in a city separated by money and opportunity, as well as time and race. Life in white New Orleans is much different from life in black New Orleans, no matter what Landrieu's billboard says.
Near Carver High School, Marshall Faulk's alma mater, an abandoned lot of graffitied cop cars looks like a scene from "Mad Max," a square of official government land, left in the panic of full retreat. Trees grow out of windowless houses. Carver still isn't finished, even 10 years later, the students attending class in white trailers. Near the old Desire projects, the Savemore Supermarket is boarded up, with a graffitied warning: "Do not make this mistake again." Near Humanity Street, a rooster walks and clucks through the neutral ground. An X says a house was searched on 9/6, another on 9/15. The street names remain: Abundance, Benefit, Pleasure. The nearby Press Park complex is abandoned, just shells and skeletons, each collapsed in its own way, snowflakes of blight.
This is the kind of destruction Drew and Brittany Brees saw on their drive through the city, and instead of feeling repelled, they felt called. They didn't move to the suburbs like most players and coaches, instead rehabbing a big white house in Uptown, near St. Charles. And when Drew wasn't practicing or playing football, he was donating or raising money, much of it aimed at the 9th Ward. He wrote a $100,000 check for the new field at Carver.
When the team started winning, kids would write signs and tape them to the iron fence at his property line, like something that might happen to the high school quarterback. After the Super Bowl, Brees arrived home to find a few six-packs of beer on his front walk. He took them inside. Hidden among the big poster-board and butcher-paper banners, there hung a note signed by the Argus and DiPaola families, written on printer paper torn in half: "My family lost everything in August 2005. Last night you and our beloved boys gave us everything back."
---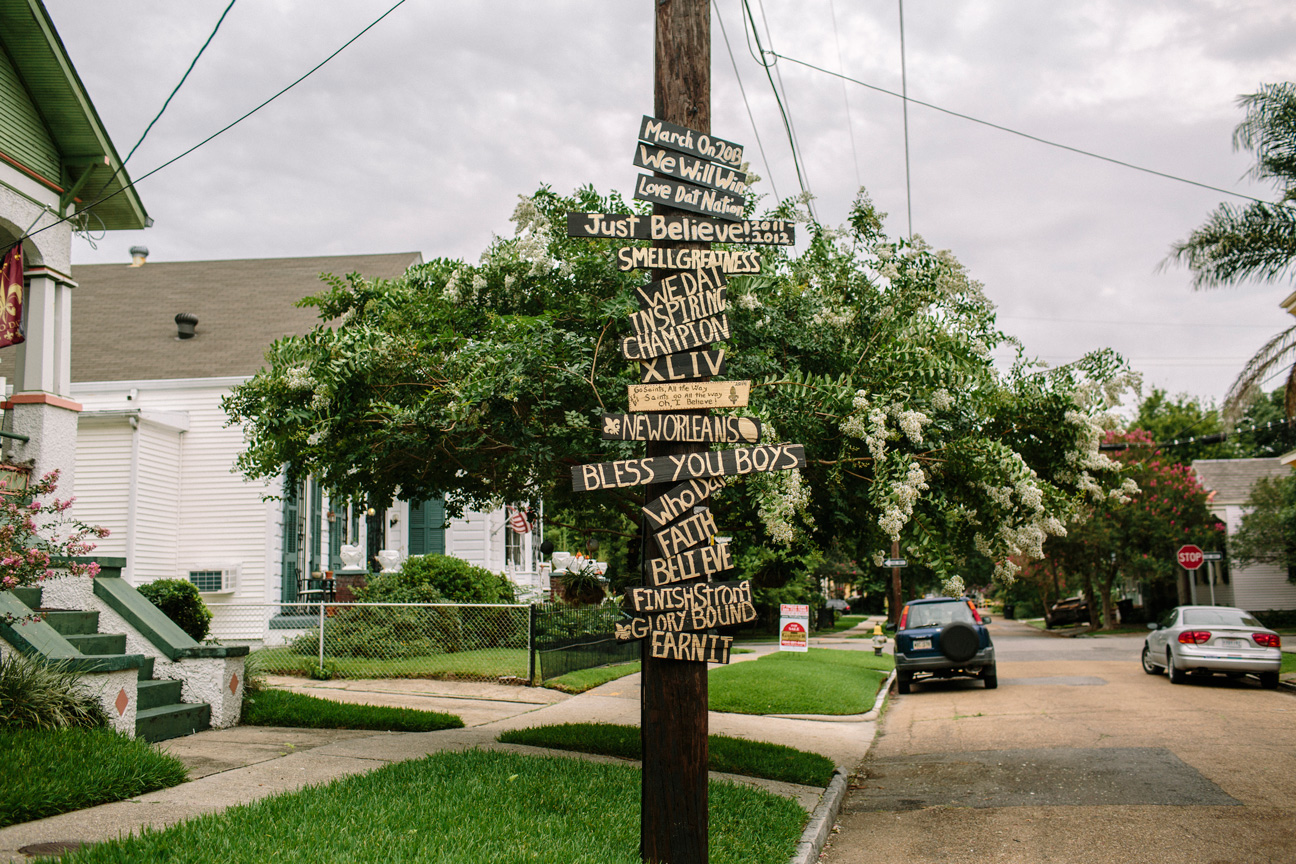 THE SAINTS MATTER DEEPLY to the people of New Orleans, but in the year after the storm, the man who owned the team did not. Tom Benson became public enemy No. 1 because people saw him threatening to move the team to San Antonio. Fans booed him when the Saints played at LSU's Tiger Stadium, and he threw a temper tantrum over the abuse. With the city filled with rancid refrigerators, a meme emerged: People spray-painted them with the words: "DO NOT OPEN: TOM BENSON INSIDE."
Former NFL commissioner Paul Tagliabue said that Benson wanted the team based in San Antonio for the 2006 season and that team officials were telling employees to prepare to move. The mayor of San Antonio pushed for the relocation. One of President Bill Clinton's Cabinet secretaries -- HUD director and former mayor of San Antonio Henry Cisneros -- reached out to the commissioner, arguing on behalf of moving the franchise. The Saints fiercely deny the team tried to move. "It was the priority of Tom Benson to get the Saints back to New Orleans as soon as feasibly possible," Saints spokesman Greg Bensel says. "His only public statement back in 2005 was that we were returning home and that we would lead the charge to rebuild. In fact, many other businesses did not and have not returned. But following Katrina, we can proudly argue that Tom Benson has led a renaissance in our city."
Citizens worried because Benson kept a ranch in Texas and spent much of the time there. He is not, however, a Texan. He grew up poor in New Orleans' 7th Ward, near the corner of North Johnson and Elysian Fields -- on the wrong side of a divided community, in one of many blue-collar families who made the rich elite of St. Charles Avenue richer and more elite. Anyone who expected him to be civic-minded in the immediate aftermath of the hurricane does not know Tom Benson. The city exists in his memory as a place he escaped. He fought his way out. Call it greed or focus or drive. The ancestors of the blue bloods who curry his favor today would have looked right through his father, who worked as a clerk in a department store and would give Tom 7 cents to ride the streetcar to school.
Tom walked and saved the money.
"It takes three-fourths of the owners to move a team; there's no owner out there who is prepared to abandon New Orleans."
- Former NFL Commissioner Paul Tagliabue to Saints owner Tom Benson
Much of Benson's past remains hidden, and only a 2001 profile in The Times-Picayune managed to partially reveal him. He served in the Navy, a yeoman on a battleship in the months after Japan surrendered, and when he returned home, he started work as an accountant at a local Chevrolet dealership. He moved up, managing the office, then the sales staff and soon his own dealership. He turned one into more than 30, the start of a sprawling financial empire. He hired his three best friends from the 7th Ward and fired two of them -- ultimately cutting ties with all three. Nobody would stop his rise to success. Eventually, he'd spend much of his time on a ranch in Texas, the open space as far from the cramped streets of a New Orleans slum as a little boy could travel. The Saints coaches and executives of the past decade are a reflection of Tom Benson's bruising approach to business and life -- the Bountygate scandal, and the team subsequently shrugging off the NFL's inquiries, a perfect Bensonian moment.
In Tom Benson's mind, Tom Benson is a winner, and he doesn't care whether people like him, which is lucky because after Katrina nobody did. Even before the storm, he'd been publicly pushing for a new lease, saying he needed millions in concessions from the state to stay competitive in the New Orleans market. His offensive burned bridges, and after Katrina, the business community believed he was using the disaster as the final piece of leverage. Tagliabue decided to meet businessmen from New Orleans to hear directly from them. He'd heard the Saints complaining that the storm had made the tough economic climate in the city even more difficult. Another NFL owner, Robert McNair of the Texans, set up the meeting. They gathered at the river camp owned by shipping magnate Thomas Coleman, at one of a dozen exclusive shacks built on the thin, fragile strip of land, called the batture, running between the levee and the river. Generations of New Orleanians have used these shacks, just a couple of miles from Audubon Park and the mansions on St. Charles, for whiskey drinking and holding meetings too secret for the public exposure of an office.
Everyone ate dinner and admired the Louisiana folk art on the walls. No politicians were invited, just businessmen and bankers. Tagliabue listened to the men's belief in New Orleans and their frustration with the Saints. Their hope for the city underscored what he already thought and what he'd told Benson. In a recent phone interview, Tagliabue recounted the conversation.
"There is no way this team is going to be in San Antonio for the 2006 season," Tagliabue said.
"How can you say that?" Benson responded.
"It takes three-fourths of the owners to move a team," he replied, "and there's no owner out there who is prepared to abandon New Orleans."
---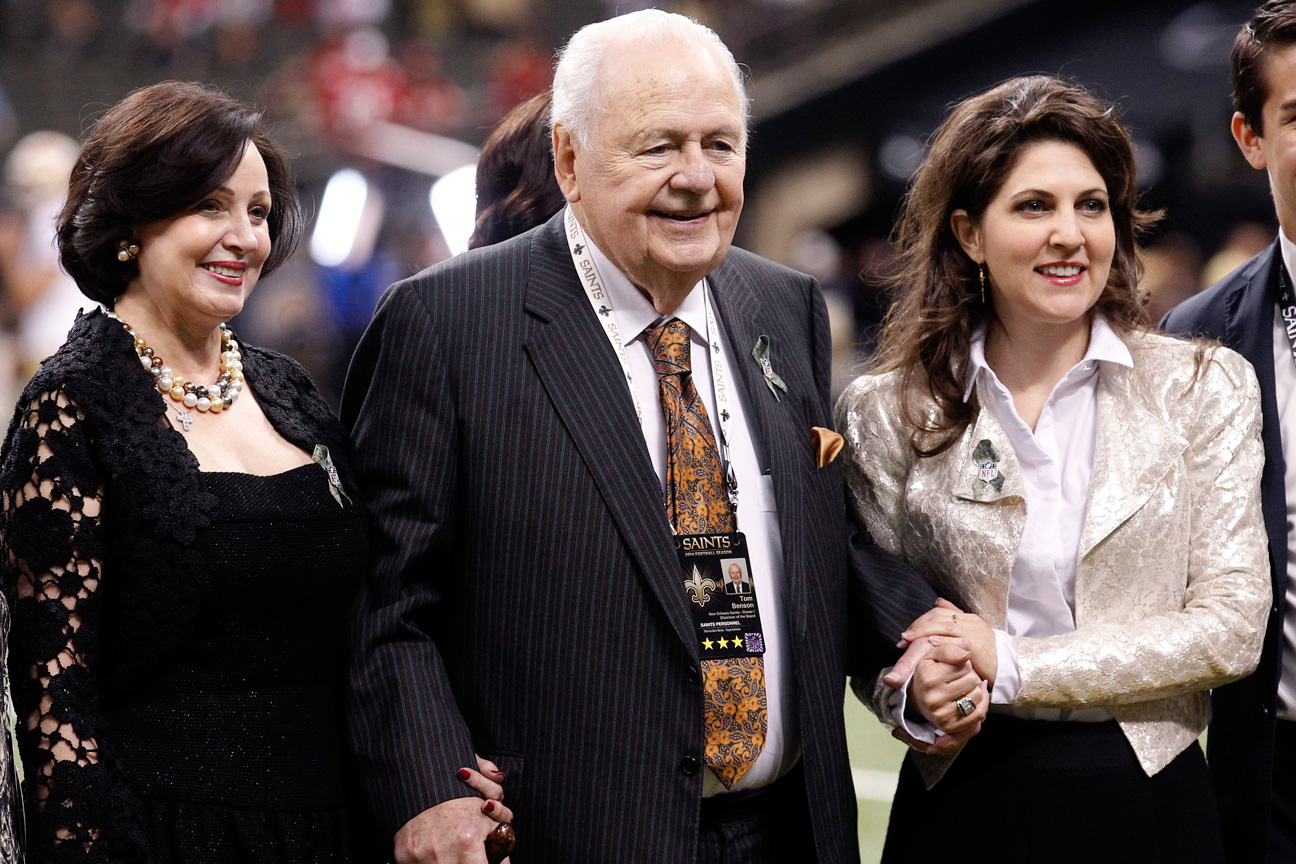 TWO WOMEN helped change the way New Orleans felt about Tom Benson after the Saints returned. The first, his granddaughter Rita Benson LeBlanc, made him finally seem in tune with the city. Rita's rise to power in the organization was primarily about repairing relationships between the family and New Orleans.
She grew up in Texas, spending summers running around the Saints' practices, until she went to college and spent her summers interning at the NFL office in New York. Tom Benson, whom she called Paw-Paw, adored her and saw in her his best chance to turn the Saints into a family dynasty. With each year, he gave her more responsibility and the titles to go with it. Between 2006 and 2010, when the Saints were still building toward something, the now 38-year-old Rita became the public face of a youthful, modern corporation, fully in tune with the city it represented. Actors and celebrities watched the games in her suite, everyone's place arranged according to a seating chart she closely managed. The art museum wanted her for its board, and she found herself at the nerve center of the city, drinking whiskey and talking politics in James Carville's living room.
Better than anyone else at the Saints' facility on Airline Drive, Rita saw the connections between the town and the team in the years after Katrina, and talked about them in ways that weren't ham-fisted and trite. At a meeting as the team prepared for its first season back in the Superdome, she listened as marketing people pitched pop-culture slogans and themes that ignored the drowning elephant in the room. She said the team's slogan needed to be something that reflected the goals of a football team and, subtly, of New Orleans itself. They hung a banner on the Superdome that said, "Our home. Our team. Be a Saint."
Over the years, in the news stories leaked to local reporters by the Saints, a counter-narrative has emerged. Rita has been described as a tyrant, burning through dozens of personal assistants. Even in the run toward the Super Bowl, she showed signs of the strain that would come out in later years; after one big victory in 2009, she got agitated when a guest in her suite, a famous painter from New York, opened the bottle of Perrier-Jouet Fleur de Champagne that had been icing down during the game. The bottle was hers to open.
The night of the Super Bowl, she reveled in her glory, holding court at the team's victory party inside Miami's InterContinental Hotel, dancing with her friends by the stage to New Orleans frat-rock band Better Than Ezra. She'd protected and resurrected her family's name in the community, especially with Uptown businessmen who never trusted her 7th Ward grandfather. The party raged all night. Jimmy Buffett laughed with Carville out in the hall, and Sean Payton cradled the silver Vince Lombardi Trophy, now covered with smudges and fingerprints. He took a picture with anyone who wanted one.
That victory party was the end of the Saints as the standing army of the Rebirth of New Orleans, less a pro sports franchise and more the 1980 Olympic hockey team, a vessel for hopes and dreams. The team had served as a life-support system, nearly as essential as the one strapped to Steve Gleason's wheelchair, keeping the city breathing until it could breathe on its own. Rita danced and Payton raised a glass, and in the city of New Orleans, and everywhere its sons and daughters had been scattered, people remembered their journey away from the flood.
---
TOM BENSON MET the other woman who's shaped his past 10 years, his third wife, Gayle, at Mass. They married a year before the storm, and in the decade since, she's made him into one of New Orleans' most generous philanthropists, giving away the millions he worked so hard to make. The couple gave $5 million to Team Gleason. Tens of millions have gone to hospitals, churches, high schools and universities. He cried when the team unveiled a statue of him outside the Dome, and in all the photos, Gayle was by his side, wiping away the tears. The years between spray-painted refrigerators and a big bronze statue of Tom Benson were dominated by Gayle.
She herself is a character in a supermarket novel; married twice before, nearing financial peril and without prospects, and suddenly pulled into a world of privilege and luxury. She shares with Tom a deep Catholic faith; both clearly nurse the wounds and insecurities all poor kids carry with them through life.
She grew up in Old Algiers, directly across the river from the French Quarter, her father a janitor at a local store. They lived in a small shotgun house in a working-class neighborhood, where generation after generation tried to inch out of the mosquito bogs and sugarcane plantations. The money spent on the big Uptown mansions is made down here. The air smells like sugar or sulfur, depending on the wind and the century, and the flare stacks of the refineries throw shadows onto the fields and levees. You can always see the skyline of the French Quarter, and in the other direction you can see the cities of pipe and smoke out in the marsh, stretching mile after mile, bracketed by where you're going and where you've been.
Brenda LaJaunie says her sister always wanted a better life than the one they had growing up. Gayle barely appears in her high school yearbook, one of those nowhere girls who don't find a place with any group. "Sometimes people are sufficiently motivated to change their lives so thoroughly that they abandon any trace of their previous existence," says Dave McBane, who graduated in the Class of '66.
Gayle Benson says, through a Saints spokesman: "Mrs. Benson has provided for her family for years and now she continues to give and offer her time and focus to charities throughout our city. She has no comment about what others may say about her. Her focus remains taking care of her husband and doing what she can to help our city grow and prosper."
Rita Benson LeBlanc and Gayle Benson, it is fair to say, have never gotten along -- Rita, by many reports, was convinced that Gayle was using her grandfather for his money. Last December, during a Saints game versus Atlanta, the contentious relationship finally reached the public. Rita had learned that, for the first time in her life, she would not see Tom Benson on Christmas. Rita and her mother, Renee Benson, blamed Gayle for splitting the family apart. In the suite this past December, witnesses say Rita shook Gayle and screamed at her. Rita denies this, calling it a fabrication of the Saints' spin machine. She says she merely begged Gayle to let them see Tom during the holidays. Six days after that game, Tom Benson sent a memo to his daughter and grandchildren saying he never wanted to see them again because of, among other things, their disrespectful behavior toward Gayle. He also said he wanted to take the shares of the team out of the trust he'd set up for them and give the Saints to Gayle.
Before the memo, Gayle stood to inherit a few million dollars upon his death.
Now she stands to receive assets worth almost $2 billion.
---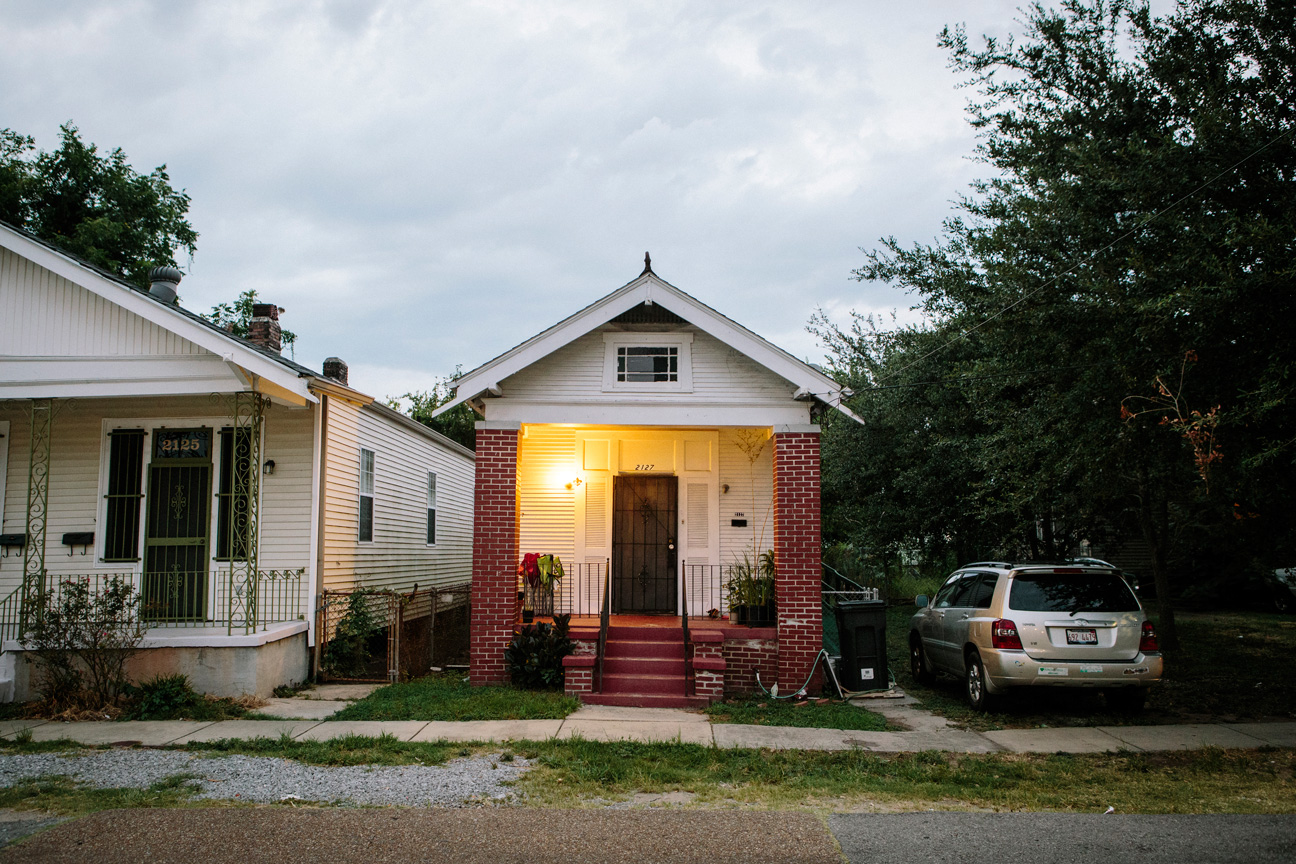 ON THE FIRST OF JUNE, the Benson family feud hits Louisiana district court -- the family tearing itself apart, in New Orleans and in Texas, through a series of lawsuits challenging Benson's competency and right to disown his daughter and grandchildren. Benson has placed shares in the Saints in an irrevocable trust, which means he'll need to replace them with assets or cash of an equal value. And before fighting over that amount, his daughter is taking him to court, challenging his mental capacity to make such a draconian decision. The battle, when whittled to its essence, pits Gayle Benson against Rita Benson LeBlanc, fighting over money, over love and out of spite.
"Psycho," an insider on Gayle's side says about Rita.
"Not sane," an insider on Rita's side says about Gayle.
It's the first day of hurricane season, and in another courtroom in the same building, a lawsuit over the 22 Katrina-related deaths at the Lafon nursing home begins. Family members of the dead believe the nuns and nurses who ran the facility effectively killed their patients by refusing to evacuate ahead of the hurricane. Nurses had stood in the streets and tried to flag down the passing National Guard. No one had stopped. A nun still wearing her habit had found a New Orleans police officer who'd promised to help but never actually did. Now, in the courthouse, nuns and priests walk through the lobby, some quietly waiting by the vending machines for their turn to testify. They carry rosaries.
The crowd of television cameras and newspaper photographers isn't there, though, for the nuns -- the 22 awful deaths holding none of the fascination of an intrafamily battle over billions, the whole scene feeling like a piece of performance art about the state of America. Reporters wait on the first day to finish, everyone turning to the elevators at the far end of the long hall whenever they open, waiting to hurl questions at a Benson. A black Mercedes pulls into the sally port and parks by the curb, and Tom Benson's driver, Jay, comes inside to wait on his boss. Upstairs, family members face one another, the first time they've all been in a room together since everything collapsed in January. Renee Benson, Tom's last living child and Rita's mom, clutches religious medals and photographs of their family, before money and time tore it apart.
---
OUTSIDE, people smoke on the steps of Loyola Avenue, two blocks from the corner where an 11-year-old Louis Armstrong fired a pistol and got arrested, learning to play the horn while incarcerated. He first performed in jazz clubs that were torn down to build this courthouse. Perdido Street was flooded during Katrina, and if you'd been here 10 years ago, you'd have ducked and covered from the noise and toxic spray of fan boats cutting through the water.
Their turbines threw a mix of human waste and chemicals into the air. The survivors from Charity Hospital a few blocks away were headed toward safety, finally. The staff had been abandoned for three days after the storm, watching helicopters land at every nearby medical facility where the patients paid for their care, the rescuers leaving behind those at the hospital where care was free. Among the last to leave Charity was NOPD Officer Daryle Holloway, who'd weathered the storm with his mother, one of the head nurses at the hospital.
Holly, as his friends called him, worked the Desire and Florida projects. The people in the community respected him and thought he was fair. His fellow officers still talk in hushed tones about the morning, years ago, when they responded to a shootout in the Florida project. They arrived to find total chaos, people bleeding and screaming. One of the gunmen's young sons had been hit in the crossfire and died. The boy's mother wailed over his body as the cops tried to figure out what had happened. They sent Holloway into the apartment of the dead boy to see whether anyone else was armed. Holloway saw four or five kids inside, looked around at the empty cupboards and fridge. He walked back outside, and everyone stopped for a moment to see him go into a corner store, buy cereal, eggs and milk, then walk back through the active crime scene to feed the hungry kids stuck in an apartment with no food.
That's Holloway.
In the days after Katrina, he and Charity staffers went out in a boat to find survivors. They passed a man sitting on his porch with his dog, drinking a bottle of Jack Daniel's. The man refused to get into the boat. They found girls on the roof of a house and brought them in the boat to the Superdome. On one trip, the prop hit a floating body and the body, filled with gases brought on by decomposition, exploded -- the foulest smell and sight any of them ever saw, and on the emergency room loading dock afterward, someone snapped a photo of Holloway, staring out at the city, his eyes empty and hollow.
The bonds of community, and even civilization, frayed and broke during those long days, but the bonds of family held strong. Holloway refused to leave his mother, even though he'd later be suspended by the police department for abandoning his post. On Day 3 in Charity, a nurse named Jewel Willis worked in what had turned into a sort of Civil War triage hospital: no power, little medicine, the big brick building an oven during the day and not much cooler at night. One day, a man with a thick Cajun accent showed up in his fishing boat. He'd somehow navigated his way through the disaster, pulling right up to the emergency room doors.
"I came to get my daughter," he said.
Willis came outside, and there he was. Her dad had come to save her.
"Get in the boat," he said. "We're going home."
She started crying and hugged his neck, then she whispered in his ear.
"I can't leave," she told him, and he understood, so they started running rescue missions, and he called a friend in the Louisiana Department of Wildlife and Fisheries who brought the fan boats to take the patients to higher ground. That all happened a few blocks from the courtroom where the Benson family tried to figure out how $2 billion might make five people happy enough to get along.
---
OUT AT THE SAINTS' facility on Airline Drive, there's a sense of remembering prompted by the approaching anniversary, along with the humbling experience of last season's 7-9 record. Each passing year in the NFL is a reminder that everyone and everything has an expiration date. It's been almost six years since Sean Payton coached the best team in the league. Payton watched the Warriors win the NBA championship and the Blackhawks win the Stanley Cup and he focused on the flash of joy in the seconds after the deciding games ended. He wants to feel that again, which becomes more and more unlikely every year. Drew Brees must also be considering the end of the most important relationship in his professional life, the undimming love affair between his family and the city that took them in. Both of them exist around town as pop-culture deities: T-shirts for sale that say "Free Sean Payton" or "The Krewe du Drew," or the signs pledging faith to "Breesus." These days of hero worship are numbered. One day, someone else will own the team, and Brees will live in San Diego, and Payton will be replaced by a new coach with the energy and hunger he used to have. He'll be content living on the coast of Florida, remembering when they were all young and invincible.
---
THE HEARING ENDS and, when the elevator doors open, Tom Benson passes security guards and takes a left, stooped and slow, an octogenarian helped into his car by his attorney. No less a moral arbiter than the archbishop said Benson's mind remains sharp, and Tom jokes with reporters. He carries a black and gold walking cane.
"I can't talk about nothing," he says before leaving. "I just feel good."
Renee, Rita and Rita's brother, Ryan LeBlanc, come down next, their attorney, Randy Smith, answering a few questions. Rita has a thousand-yard stare, audibly scoffing when one of the Saints beat reporters asks a question. She looks exhausted.
"We want the best for Tom Benson," Smith says.
The three of them walk down the steps, across Loyola Avenue, disappearing into the Central Business District. Watching the two sides go in opposite directions, as if the photo of them on the field in Miami were being ripped in half, feels like the end of something. Only five players from the Super Bowl remain. The Saints' front office has the highest amount of cap space taken by players no longer on the team, the barometer of a front office's ability to spend money smartly. It's all coming undone. The third day of the trial occurs on the 30th anniversary of Tom Benson buying the team, and now he's an 88-year-old man who will never see his daughter and grandchildren again, at least outside a courtroom. In a few weeks, Renee will try to call Tom on Father's Day and instead will get a letter from his attorneys, telling her to stay away.
Chapter III
The Downside Of Building Back Up
NEW ORLEANS HAS never been one static thing. The city has both died and been reborn with every agent of change that lands on its shores, immigrants and floods alike. Its people fled revolutions and dictators and famine, arriving in waves from Haiti and Ireland, Italy and Vietnam. The immigrants re-created the city, as did the levee breach of 1849, the flood of 1927 and Hurricane Betsy in 1965. That's how it's always been. New Orleans is a port city, a slave market, a river town and, since an assistant engineer of Sieur de Bienville's laid out the French Quarter's grid almost 300 years ago, a place that has never been sentimental about what it was. Ten years after the flood of '27, the local papers did not run a single anniversary story. Anniversaries are a modern invention, as is the idea of holding on to one New Orleans instead of just embracing whatever rises in its place. Katrina lives, and so does the New New Orleans, until another agent of change comes to erase them both.
The only television show to ever really get the city, David Simon's "Treme," revolved around a theme common to Simon's work: People in urban America aren't Shakespearean characters with free will but actors in a Greek tragedy, all subject to the whims of postmodern gods: cops, mayors, schools, newspapers, oil company CEOs -- and in New Orleans two more, Rebirth and Recovery, the most powerful local gods of all. They bless some lives, curse many others, controlling the future of people who are rebuilding what was taken away.
---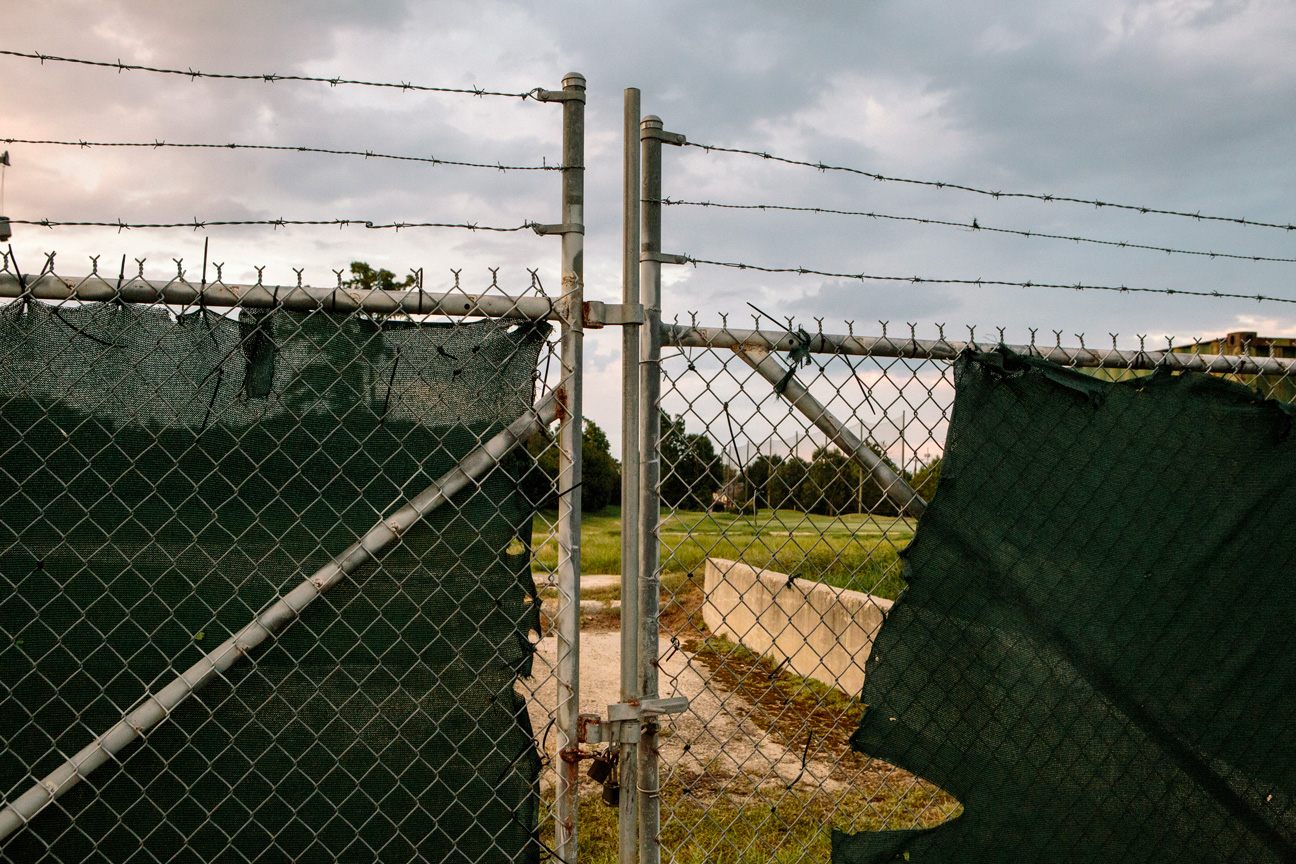 ONE MORNING, a rapper and producer named Nesby Phips says there's something he wants to show me. He's from Hollygrove, a poor 17th Ward neighborhood stretching between Uptown and the Jefferson Parish line. He has a Mayan amulet on his necklace and a Patience tattoo on his arm. He says he can reduce the entire ecosystem of New Orleans to one street corner. Academics quote statistics about the inequality of the city, the extreme prosperity so close to extreme poverty; a study last year puts New Orleans' wealth gap on par with Zambia's. Katrina didn't create this problem, but it did make it worse.
Phips can do better than calculating the Gini coefficient.
"I want to show you how much it changes within a turn," he says.
He starts to laugh.
"Because right behind this neighborhood is a fucking country club."
"Once you go past the golf course, they're selling drugs. Same ZIP codes. Same street names."
- Rapper and producer Nesby Phips, on the differing realities of New Orleans
He points at a chain-link fence on Hamilton Street covered in some green cloth or nylon so nobody can see inside the New Orleans Country Club. There are three lines of barbed wire on top. "This here's the golf course," he says, "them covering the fence like that, it's basically out of sight, out of mind. We don't cross that line. They don't cross that line."
Driving west, past the corner of Mistletoe and Peach, he winds around toward the clubhouse. Grass grows up around abandoned houses. There's an empty foundation, all facing the golf-course fence. The entrance to the club is at the intersection of Quince and Last streets. The security guard eyes Phips as he drives through the gate into the parking lot to turn around.
"Once you go past the golf course," he says, "they're selling drugs. Welcome to New Orleans, man. Everything is right up on each other. Same ZIP codes. Same street names. Country club right here."
He points back toward the neighborhood and the people who live there. "I guarantee you," he says, "these kids over here have never seen a golf tee, let alone the ninth hole."
From the club's parking lot, he sees some young white kids in polo shirts and khaki shorts, waiting between the clubhouse and the putting tee. Phips is sure they know every lyric on "Tha Carter III" but have no idea Lil Wayne grew up in the neighborhood on the other side of the fence, the green shade blocking the poor kids from seeing in and the rich kids from seeing out.
---
SINCE KATRINA, life on the wealthy side of that fence has improved. The New New Orleans really is a safer, wealthier place with more responsible institutions. "Almost everything's better," Chris Rose says. "You know, it's the one thing that no one can speak. Nobody dares write it ... but how many people said, 'It's the best thing that ever happened to New Orleans.' Now, here's the problem: It was rich white people who were saying that when we weren't even finished burying our dead. We still hadn't even found our dead and people were saying that. Now, you look back and you gotta think about what it was like in 2005, our crime, our corruption, our police, our education. They're all better now. Would they have improved had we not had this intense, overwhelming catastrophe, which forced us to not only rebuild and recover and repopulate but also reimagine ourselves? Would that have happened? I think it's safe to say no."
---
---
TO DRIVE THROUGH back-of-town neighborhoods to the intersection of St. Claude and St. Roch is to cut through the heart of pre-Katrina black New Orleans -- thriving decades ago, now battered -- only to find, at the corner on the Lake Pontchartrain side of the street, a new market that's gleaming and white inside, high, tall windows reflecting light on the tile floor.
This is the St. Roch Market, one of the places Mayor Landrieu likes to use as an example of what the city might be. As a kid, he remembers coming to the back to get crawfish for his mom from the Italian family who ran the place. He grew up, and the market fell into disrepair, eventually abandoned.
Now it's home to more than a dozen small businesses. The market sells things rich people like -- expensive balsamic vinegar, Negronis, fusion Korean food -- and for someone who lived in the city before Katrina, the sheer number of white people walking around this stretch of St. Claude is disorienting. One night, at a rap/funk show at a bar a few blocks away, a political black-nationalist rapper performs for a mostly white crowd in a place that sells "artisanal popsicles." Later a jam band noodles and solos over a sampled Malcolm X speech. It's just a whiter city than before. You see white people in places they never used to go, which the people who live in those places notice too.
The white population has grown, while the overall population has shrunk by more than 100,000 people, almost all of them black. More than half of the black males in the city don't have work. More than half of black male ninth-graders fail to graduate from high school on time. There are few jobs and fewer places to live -- none of the city's housing projects was seriously damaged in the storm, but all of them have since been torn down, which opened up the valuable real estate trapped beneath them. One study says there are now 3,221 fewer low-income units than before the storm. In 2005, a two-bedroom apartment averaged $676 a month. Now it averages $950. The city didn't replace the public housing units one-for-one, so poor citizens are being pushed toward the outskirts of town. The crime in suburban neighborhoods, like New Orleans East, is exploding. There are shootings and stabbings night after night.
With the lack of affordable housing, activists tried to save some of the projects, among them the Iberville, the last project to come down. One group came a few years ago to meet with Blair Boutte, Shack Brown's friend and former boss. They wanted his help in stopping the demolition. Boutte not only runs a prominent bail bonds company but also has built significant real estate holdings and a political and business consulting firm. He knows the streets better than anyone else, and politicians pay for that knowledge and influence. During the activist group's meeting, everyone sat around Blair's conference room table, in his office across from the Orleans Parish Prison in Mid-City. Only one or two people he recognized. Everyone else was from out of town. He listened and, when they finished, he asked one question.
"Why?"
A hush came over the room.
One person he didn't recognize answered, "That's our home, and we can't let them just come in and take it."
"Ma'am," Blair said. "Can I ask you a question? Where are you from?"
"I live here now," she said.
"Well," Blair replied, "where are you from?"
"I'm from Boston."
"How long have you been here?"
"A year."
Boutte took a breath, and before ushering everyone out of his office, he told the group his only regret about the Iberville was that he couldn't tear it down himself. "I discount everything you said," he told them, "because I realize you weren't here when the Iberville project was a death trap to many people. The poorest of the poor, the most uneducated, were all boxed into one geographic location. And we suffered through that. And for anyone to come in and suggest somehow that that is a great thing, that we should preserve it, they did not live through it."
Gentrification is a weaponized word, swung around New Orleans by all manner of people with all manner of agendas. There are no easy answers and no readily assignable villains or heroes. The Iberville should come down, and whatever rises in its place will not be designed to help the people who used to live there. Battling to save the projects is really a proxy fight against the helplessness that poor citizens feel. The decisions about their future will be made by unseen people in unseen rooms, then handed down like tablets, their tomorrows already carved in stone.
---
THROUGHOUT THE SUMMER, the state continues debating how to use the vacant Charity Hospital building on Tulane Avenue, even as its replacement hospital prepares to open just before the anniversary of the storm. The state fought FEMA in the halls of Washington and eventually secured around $475 million to build new hospital complexes for University Medical Center and the VA about a mile away. Although UMC's complex will continue to serve as the gunshot emergency room for the city, the spirit of serving the poor mostly died with the nuns whose ranks at Charity began to dwindle in the 1990s. Katrina merely destroyed what little of that mission remained. Charity stands empty now, while the new hospital stretches over three blocks in upper Treme, on the Mid-City line, which will soon be home to the Lafitte Greenway. The plan is working. Real estate prices in nearby Treme are the fastest growing in the city. This was a dangerous, blighted neighborhood before Katrina. In just 21 days this summer, from June 10 to July 1, the average price of a Treme listing rose a stunning $126,913, from $220,000 a house to nearly $347,000 a house. These prices will only continue to climb. In two generations, nobody will remember the dangerous back-of-town streets between Orleans and Esplanade -- or the people who died defending tiny pieces of forgotten turf -- and nobody who grew up in the shadow of Willie Mae's Scotch House and Dooky Chase's will be able to afford to live there again.
---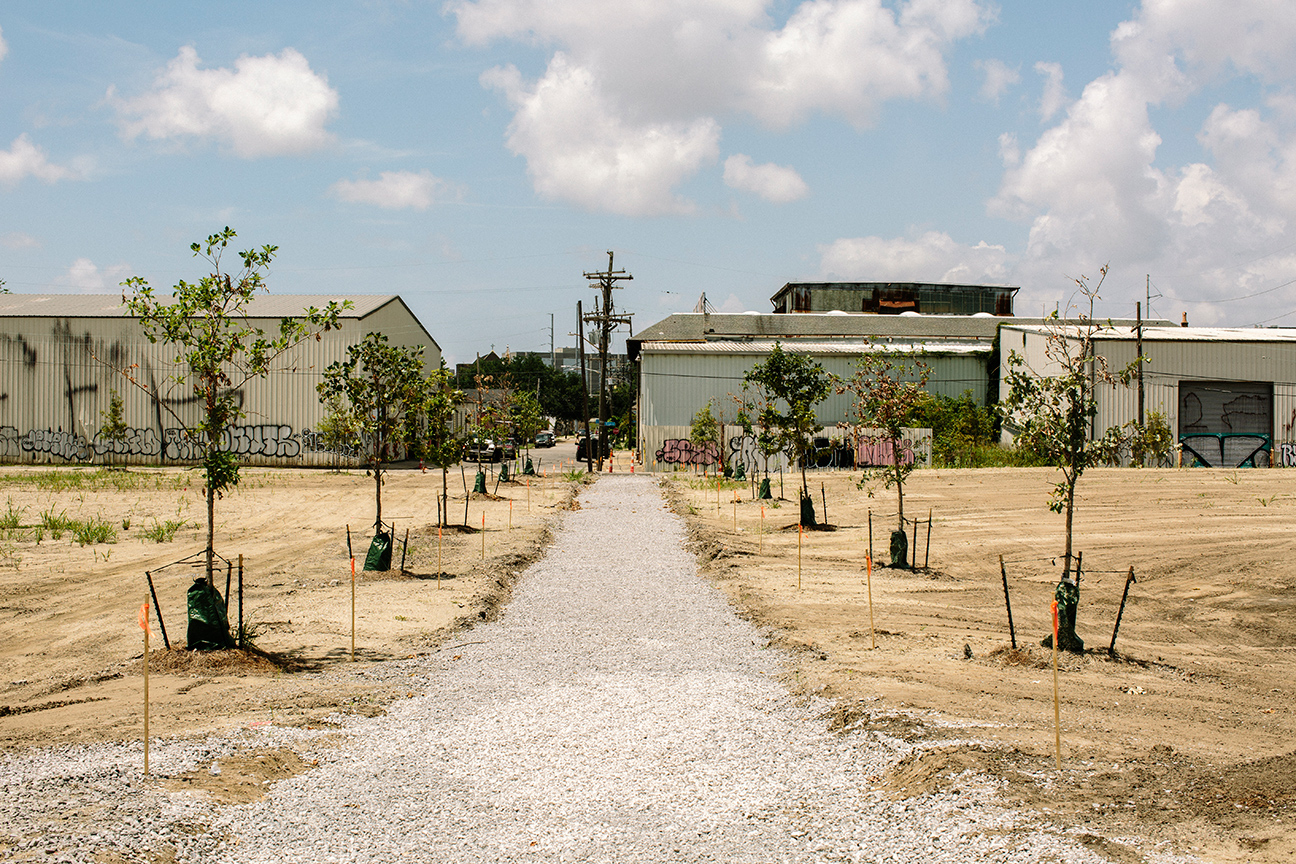 A MILE AND A HALF up Broad from Dooky Chase's, there's a music club on the narrow wedge of land where North Broad and Hope Street intersect.
Blair Boutte is waiting at a table in the back.
There's little he's not connected to in New Orleans. His bounty hunters can find bail jumpers who remain invisible to the police. The famous Rebirth Brass Band started in his house, he says, with Blair on the saxophone, and when he left the projects for college, the band re-formed without him -- was reborn, you might say, hence the name. In his office on South Broad Street, two photographs hang on the conference room wall. The first is Boutte with Nelson Mandela, taken when the South African leader visited Louisiana. The second is a close-up of the street signs at the intersection of Crozat and Iberville, so he can look up at that wall and remember how far he's come.
Boutte has brought me here because he has a story to tell.
"A tale of two parks," he says.
He leans toward the middle of the table and begins to talk. The parks in the city, he says, are the knife's edge. In a place where the most disenfranchised group is young black males, a good park is sometimes the only thing holding someone upright. "Let's not say making it," Boutte says. "Let's say surviving. It's about surviving in my neighborhood. It's about ... 'Who's gonna get the right break? Who's gonna be able to avoid the land mines?' There are many in the neighborhoods of New Orleans. Having a coach, having a team, having something to do after school can minimize the risk."
He points to the first park, Harrell, in Hollygrove, where the rapper Lil Wayne grew up. Coaches got together and raised money, building a thriving youth league, drawing kids from the neighborhoods in the 17th Ward: Hollygrove, Pigeontown and Gert Town, the last a shortened version of the racial slur that gave the place its name. They got a concession stand up and running, which allowed the park to become self-sufficient, and when the Super Bowl came to the city, the NFL installed a field. That's a success.
Then there's his friend Shack Brown.
"For anyone to come in and suggest somehow that that is a great thing, that we should preserve it, they did not live through it."
- Blair Boutte, on retaining the Iberville projects
In 2009, Brown came to Boutte asking for help. The men from the neighborhood wanted to start some organized sports at Lemann Playground near the Iberville projects where Blair and Shack grew up. "These are guys of very humble means," Boutte says. "Let's just talk candidly. When you're dead broke, now you're gonna try to figure out how to finance a playground? Helmets and shoulder pads and jerseys and mouthpieces, the whole deal from scratch. I admire these guys. They came to me: 'Blair, how do we get the money?'"
He gave them the first donation.
Shack Brown took on this impossible task and damned if he didn't get the park running. They had four to five age groups playing football by 2013, more than a hundred kids running around.
Then Shack and Blair began dreaming bigger.
They figured the boys and girls needed restrooms. First they tried a port-a-potty, but it got filled with junkies and drug needles. Blair decided to build a cinder-block concession stand, which would provide restrooms and a way for the park to make enough money to survive. He got an architect involved while Shack found bleachers to set up by the field. Boutte wanted the kids in the Iberville to have the same opportunities available to the boys and girls growing up around Blair's new neighborhood Uptown. He says the biggest threat to a child's future is the two hours after school and before practice. Empty warehouses sat useless across the street from the field, and Blair made plans to buy or lease them. He wrangled retired teachers and started thinking of tutoring programs to go with the field. By the overpass, in between the old Iberville and Lafitte projects, he says, a little organic miracle was flourishing.
Then it all fell apart.
"We're gonna run the Lafitte Greenway through that park," the city told Brown and Boutte. The parks department tore down the makeshift concession stand and forbade them from building a permanent one, according to Brown. Without a way to support itself, Shack's football program died. The people who'd spent their own money on the league felt powerless and impotent, as if they weren't residents of a neighborhood but a problem to be solved so the neighborhood could reach its potential. They felt in the way, which they were.
Now the program that Shack built is gone. By the time the greenway is completed, Boutte and Brown won't be able to find all the scattered kids.
Sitting in the jazz club, Boutte sighs.
"What they are calling 'a better New Orleans,'" he practically sneers, before regaining his composure. "You know," he says, smiling, "we got all these new people who moved to town, with their fancy little hats. They want to ride bicycles everywhere. Journalists and artists. All the ists are in town. These people need a green space to walk and ride their bikes on."
He stops for a moment. There is a point he wants to make clear. The choices are tough, and he understands. Even inside himself, he's torn, happy to see Iberville come down and nice mixed-income housing built in its place, even as he mourns the same rush of progress crippling Lemann Playground. For Blair, two contradictory ideas are true at the same time; there aren't good guys and bad guys, but there are certainly winners and losers. A public green space is part of a modernizing city. Boutte knows that. He also knows that park could have saved a lot of kids.
He imagines the boys he saw flying around the field, disciplined in their gap assignments. Parents filled the bleachers during games. Now that's all gone. Only the best two or three athletes get taken to a different park, since coaches can fit only a few in a car. The best kids find a new team, and the rest fade away.
"You know where they land?" he says. "On the stoop out front. You know the story. These guys are in an uphill battle with cement shoes on, and it's slippery. We send them right back to the jungle. And we tell them, in our most authoritative voice, 'Be good. Do well.'"
---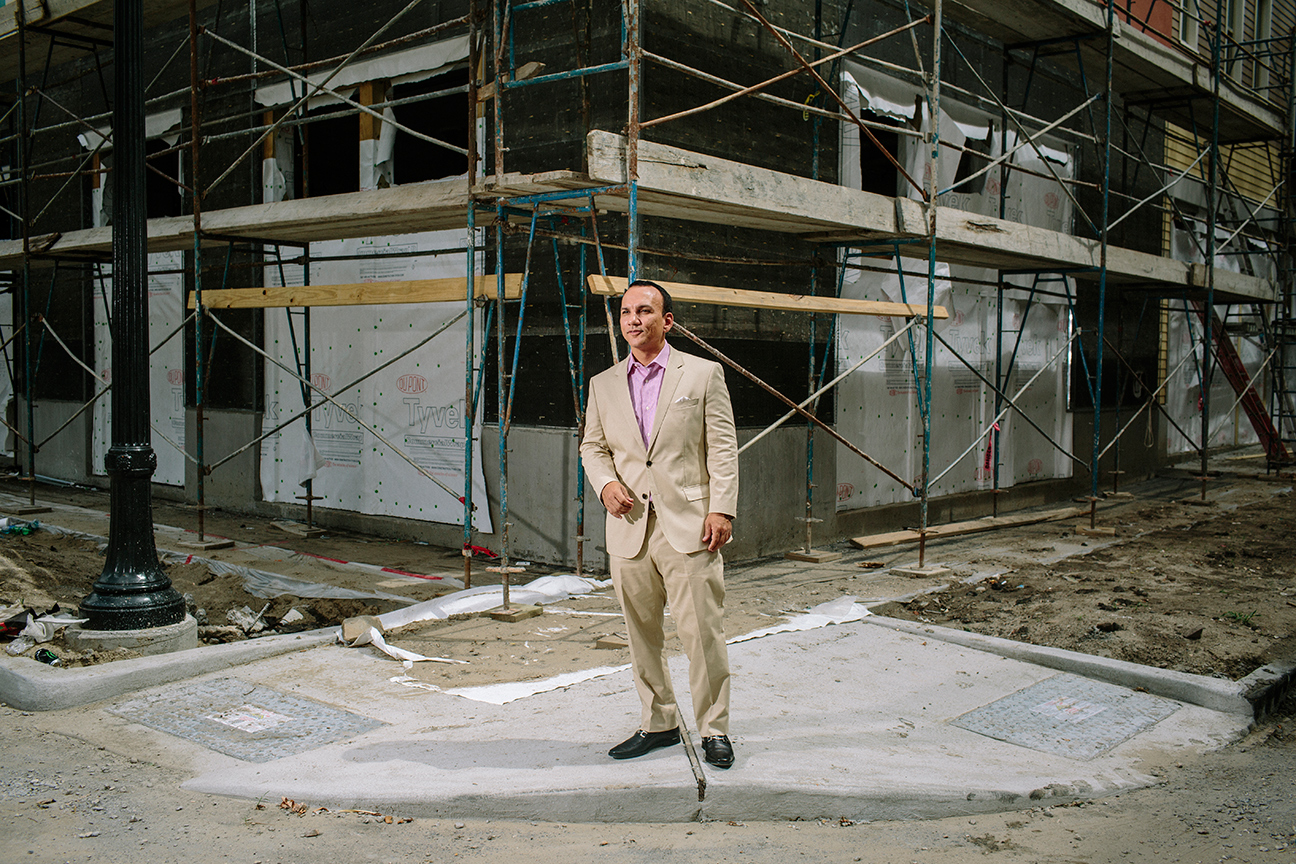 SHACK BROWN STANDS in the empty Lemann Playground.
It's an early afternoon in June. The field is a narrow patch of green near the interstate. When he closes his eyes, he can see how it was before. The kids playing ball ranged in age from 5 to 14. Every year, he says, at least one had a parent murdered, and Shack watched helplessly as the boys slipped through his fingers. One of his player's dads threw his body over his children during a shootout. He died, and they survived. Shack tried to fill the hole in their lives. The playground served as a safe haven, which it will undoubtedly be again. An official with the city's recreation department insisted that there'd be youth football in Lemann in 2015, although parents and coaches in the neighborhood don't seem to know anything about it. Everything in New Orleans happens over and over, so this is perfect, really, the idea of something new trying to find a foothold in the same place where something beautiful has been destroyed.
Trees line the edges, one taller than the rest, on the right if you're facing the old projects. Brown heads over to the Iberville, parking on the side street between the two corner stores. Some guys hang outside the New Image Supermarket. One of them, a kid named Spencer, rushes over.
He played for Shack at the Lemann, even went out of town with the team. The boys on those trips still talk about the foreign experience of staying in the host families' houses. They'd never heard of a breakfast casserole, or seen big backyards with swings and pools.
"I'm an alumni of that park," Spencer says. "Went to Nashville, everywhere."
He played offensive line and linebacker, decent but not good enough to find a new place to play. Many more like him suffered the same fate when the park shut down, collateral damage of the city's new urban corridor. Now he's just on the corner, and soon enough, we find out why. Shack heads into the store and buys two Big Shot sodas and when he swings the door back open and steps outside, he walks right into what looks like a drug deal in progress. Spencer is making some sort of transaction with an old junkie. The older guys hanging by a truck a few feet away look embarrassed and try to shoo the junkie away, at least until Shack leaves. The whole time, Spencer's mother is standing a few feet away, stone faced, looking at him and then at Shack. She doesn't smile, the only one who doesn't seem happy to see her son's old coach.
---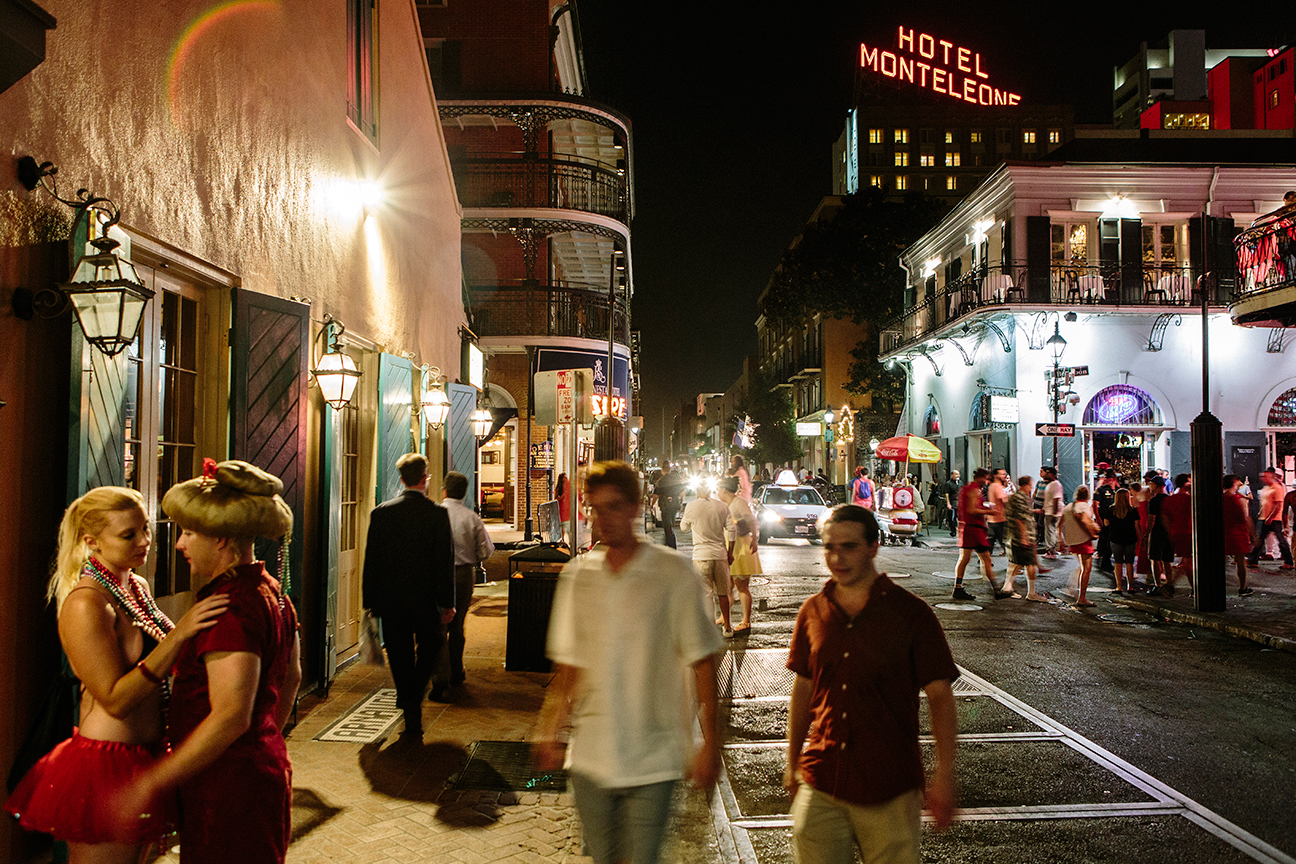 THE PARTS OF the city falling further behind were in trouble long before Hurricane Katrina formed over the Bahamas. New Orleans is one of many American cities that rely on tourism and sales tax to support themselves. To survive, New Orleans needs mega-events and massive entertainment districts, and an aggressive police presence in places where consumers gather. Sociologists describe this as post-Fordism, the economy of a place after the death of manufacturing jobs. The new focus divides a community into consumers and criminals. Most post-Fordism economies see a rise in zero-tolerance policing and incarceration rates.
That's exactly what has happened in New Orleans since 1970.
During roughly that time frame, half the city's white population moved to the suburbs while the murder rate grew by 329 percent. Between 1981 and Katrina, the incarceration rate increased by 173 percent. The city lost 13,500 manufacturing jobs between 1970 and 2000, and the low-paying service industry grew by 136 percent. All the while, the city's most famous institutions were born. The Saints started playing in 1967. The Jazz & Heritage Festival began in 1970. The New Orleans Jazz NBA franchise formed in 1974. The Superdome opened in 1975, created as part of the city's new vision of itself. New Orleans as a carnal playground famous the world over didn't happen on its own; it was a calculated and sophisticated marketing campaign. Mardi Gras made the city $4.3 million in 1986 and $21.6 million in 2000. In 2014, direct spending for Mardi Gras totaled $164 million. The city closing those housing projects closest to booming entertainment districts isn't an accident.
The rich stayed rich in this new economy, but the poor trapped in the housing projects were almost exclusively a financial engine for tourism. The jobs available didn't pay to build a middle-class life. The city needed its black people to shuck oysters and pour drinks but chased them back to the Iberville on horseback at the slightest provocation.
---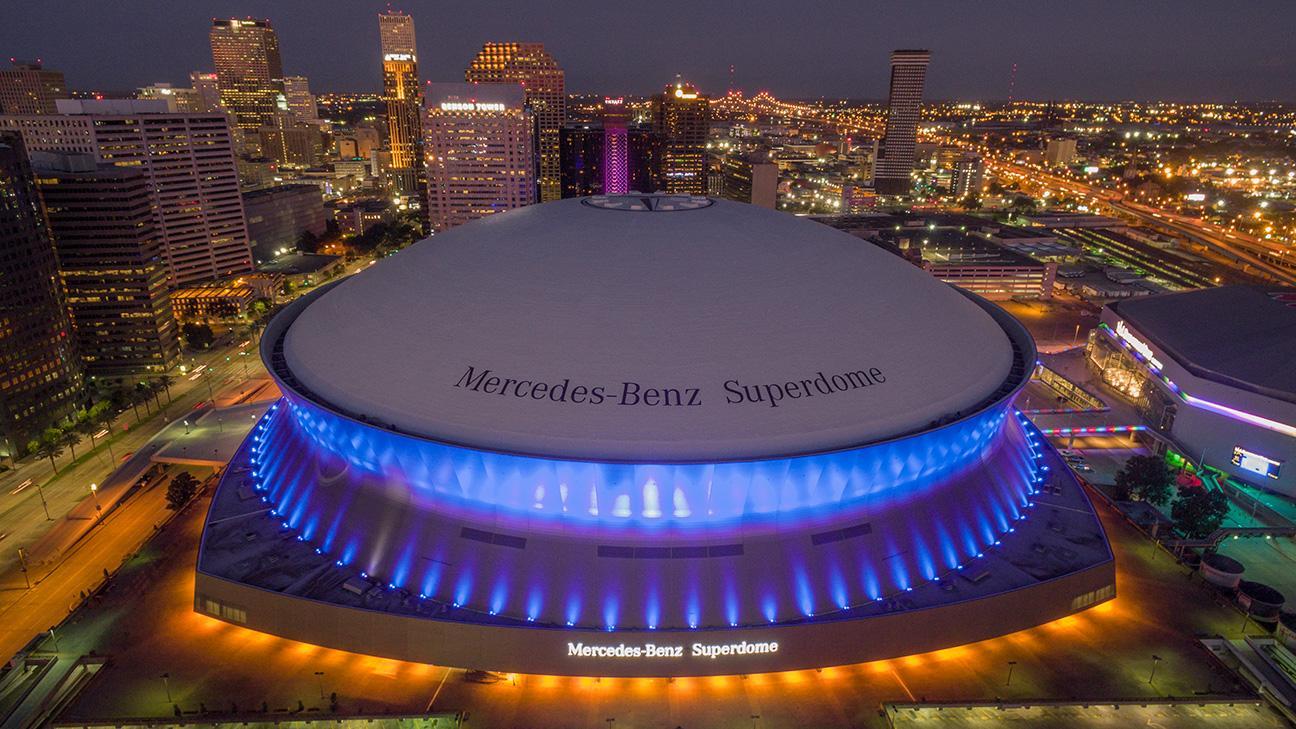 BOUTTE DRIVES down Basin toward Iberville Street, where a few blocks away, the sign from the Hotel Monteleone dominates the sky. If you lived in the Iberville, you saw that sign every day of your life and never once went inside unless you carried bags or cleaned rooms. The glowing sign is always there, a reminder that four blocks is a nearly impossible distance to travel in this life.
Boutte rounds a corner and sees the first flash of red brick.
"There she is," he says, the Iberville coming into view.
He stops in the New Image and talks to some guys hanging outside. Being back here reminds him of his own rebirth, of death too. One afternoon we sit in his office, in the room with the photo of him and Mandela. He describes the project as "quicksand," then says, in a voice quieter than before, "I ended up in all of that."
He's deciding how far to go.
"My story is a bit different," he says. "We can touch on that if you'd like. I very seldom talk about it."
The only sounds are the air conditioning compressors and the rain outside.
"I went to prison," he says. "I had a very ... I don't like to go back here."
He's talking slowly, considering every word. "I had a really bad night after I graduated from college," he says. "Like I said, this was a very bad place."
He settles in to tell the story. Blair Boutte's mother raised him and his three siblings by herself in the '80s and '90s in a New Orleans housing project. She never drank or did drugs, never bought herself new clothes. Everything Blair wanted to do, she supported. "If you understand a single mother living in the housing projects of New Orleans," he says, "bringing up four boys alone. Sometimes working two jobs, sometimes not being able to work at all. It's a pretty rough ride. And my brothers and I, we weren't singing in the church choir, all right? We were typical New Orleans boys growing up in the housing projects in every sense of the word. And she fought and she fought and she fought, and she scratched, and she toiled, and she basically became the anchor to whatever good we had. She never wavered. She never abandoned ship. She never gave up."
Blair got out of the Iberville, made his way to Grambling State University. His mom came up for his graduation. They had a party at a local restaurant, and while everyone celebrated, he looked over and saw her in tears. He didn't understand. After graduation, he got a full ride to Tulane Law School, and before classes began, he went back to the projects. "It's not like I had a credit card to go buy an apartment Uptown," he says. "So I came back from school like any other kid. What do you do? You go back and you live with your parents, right?"
The first thing he did was buy a gun. The city was a dangerous place, around 250 murders a year. He went and registered the firearm, wanting to both protect himself and be legal. On April 10, 1988, Blair walked through the Lafitte projects and a drug dealer nicknamed Two Pistols drew both guns and tried to rob him. Blair pulled his gun and fired, and the man fired back.
In his office, a universe away from that night, he looks haunted.
He's almost whispering now.
"I had to make a very tough decision," he says, "and it didn't end well. At the end of the day, I ended up pleading guilty to manslaughter. An innocent bystander was actually the one who died."
He looks down, thinking about Charles Martin, the 14-year-old boy he shot. Tulane took away Boutte's scholarship, and he did three years, nine months in jail. When he came out, he started his business. It grew into an empire, with real estate holdings and his B3 Consulting firm. Few people in New Orleans understand more about the goings-on in the shadow city.
"I know the streets," he says. "They talk to me."
---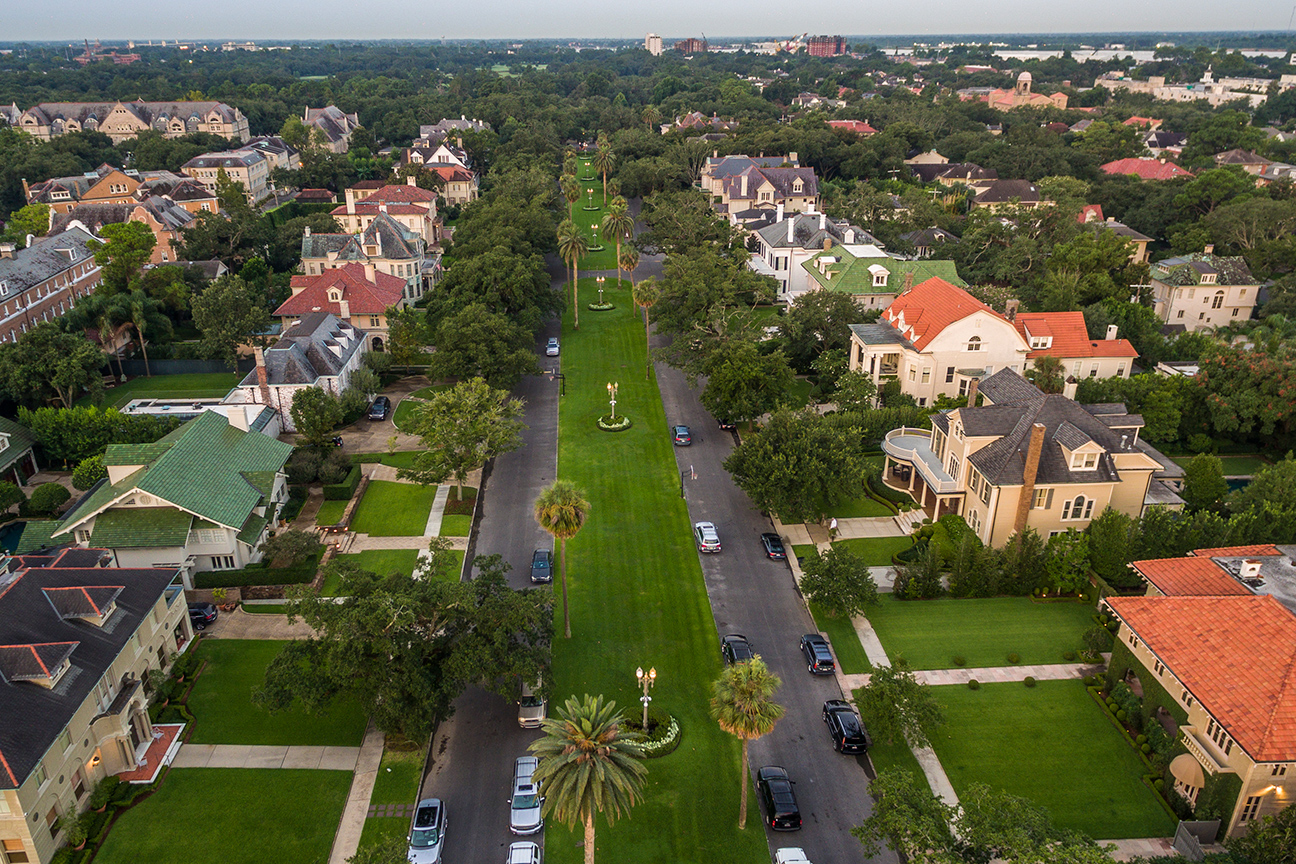 THE MOST EXCLUSIVE STREET in New Orleans tells the same story as the intersection of Iberville and Crozat -- the history of a city where some people pull the strings and other people move at the end of an invisible wire -- just from a different point of view. The fortunes might come and go, but the houses on Audubon Place remain. They are monuments to the way things have always worked, and the way they always will.
At No. 16, with six white columns and a fleur-de-lis above the front door, Gayle and Tom Benson live a life impossibly far away from the one they knew growing up poor in New Orleans. He'd never wanted to live Uptown, but she wanted a home on Audubon.
The houses there all tell similar stories too. The sugar-and-coffee baron who built No. 16 left home just past his 15th birthday, moving to Indianapolis and building a fortune from nothing. The man who lived at No. 2 left his farming family in Russia at 14, taking a boat to America and changing his name to Samuel Zemurray. He built an empire, as well, United Fruit, overthrowing governments in Central America, commanding a private standing army of mercenaries and cutthroats. His soldiers terrorized a village where a young novelist grew up; the book based on the massacre is "One Hundred Years of Solitude."
Gabriel Garcia Marquez's novel shined a light on United Fruit, which later changed its name to Chiquita. Zemurray died in 1961 and gave his house to Tulane University, and the school's president now lives there, talking about social justice while walking the same halls as the man who gave the world banana republics. The architect who drew the United Fruit house also designed the Bensons' home, as well as the Hotel Monteleone, the one whose glowing sign dominates the sky in the Iberville projects.
A hidden world plays out behind the stone and wrought-iron entrance to the street, where a guard approves everyone in or out. Last year, parents threw a debutante party for their teenage daughter that required building a structure on an empty lot near their family's mansion. The guests, the sons and daughters of dynasties, made their way through a so-called Gallery of Stags. Through another set of doors, the ballroom waited, where the girl's family had flown in Maroon 5. They were the opening act, because the family also flew in Wiz Khalifa, who rapped and smoked joints in the bathroom with future Wall Street titans. The party cost millions of dollars and lasted one night.
James W. Hearn built the Bensons' home in 1902, his reward for the coffee-and-sugar empire he'd created. His money came from the same plantation parish where Gayle LaJaunie's father lived. There's nobody from Hearn's family left in New Orleans, an empire built and lost. The house changed hands four more times before Tom Benson bought it, the history of the city's financial health told through the transfer of deeds: a bank president to a railroad man to a real estate developer to an oil-field equipment supplier to the owner of a football team. A tech billionaire will surely buy it next.
Gayle oversaw the interior decoration of the house, no expense spared. A golden stained-glass window in the stairwell, with deep greens and airy lavenders, accents the gold walls and the heavy valances. A painting by Miro hangs over a table with a statue by Remington. There's a Salvador Dali and photos of Popes Benedict and Francis above the umbrella stand. It looks like a pre-revolution French aristocrat's dollhouse brought to life. Her china pattern is Spode Stafford White, the same table settings used on the television show "Downton Abbey." It's everything a girl from Old Algiers could have wished for and more. On a table, there's a photograph of Tom holding the Lombardi trophy, and over a marble fireplace, Gayle hung an enormous oil portrait of herself.
---
DREAMS DO COME TRUE. At the end of May, Boutte and 25 family members fly to see his daughter graduate from Brown University. He's got a hat that says "Brown Dad," and he keeps it in his office, the same room as the Crozat and Iberville photo, a reminder of the distance a family can cover in a generation.
"A looong way," he says. "Longer than you could ever imagine."
"How does a family go from Iberville to Brown?"
Boutte tries to speak, sitting at a table at a bar near his office, but the words don't come. Suddenly, he stands up and excuses himself, and the other people at the table, who know him well, look at each other, stunned. They've never seen him like this, Boutte crying alone in the bathroom. He returns to the table when he has composed himself, makes a joke about the onions from the red beans cooking in the back and continues.
"That's a tough question," he says. "It's something I've asked myself a lot, as you can see. It's an emotional thing for me because, you know, I feel like ... "
He pauses again and thinks about his mother crying at his own college graduation and how he was too young to understand what she felt. All this past year, she asked Blair over and over about their plans to attend the Brown graduation, worrying, calling to make sure he'd booked tickets and made the reservations. His phone would ring and she'd be on the other line.
"When is the graduation? I don't want to miss it."
"Mom, you're gonna be there," he'd say, which made her relax until she decided to check again.
They traveled north together, his mom telling every person she encountered where she was going and why. In the hotel the night before, he couldn't sleep. His mother joined him in the lobby.
"I want you to know something," she said. "I'm very proud of you."
Blair just looked at her.
"What did I do?" he asked.
"You got her this far," she said.
Sitting in that lobby, he understood finally what his mother had felt all those years before.
"You know what," Blair said. "I'm proud of you."
His mom looked at him.
"I got her this far because you got me this far," he said.
Both of them cried then, feeling the weight of their past and also feeling somehow free from it. His mother raised four boys in the worst kind of hell America can throw at a family, and Blair has mirrored her devotion and belief. His children grew up in the city's affluent Carrollton neighborhood. His daughter graduated from the city's most elite private prep school, the alma mater of Peyton and Eli Manning. In one generation, the Bouttes had made it to this hotel in Rhode Island. The next morning, Boutte wore white pants with a pink shirt and a pink pocket square, bucks on his feet -- "looking like a Southern gentleman," he says, smiling -- and the whole family waited on the college green as the seniors marched through the old stone and iron gates. Red and white balloons floated everywhere. The graduates came on campus in procession, and Blair looked to find his daughter first in line, holding the sign that read "Brown University."
He felt everything slow down. It was a perfect day, 82 degrees, blue skies. Most of the time, he just watched his mom take it all in.
"She was in her glory," he says.
The old stone buildings, some of the oldest in an old-money world, rose around them. You couldn't get farther from the Iberville, and that's what Blair thought about and couldn't articulate: He was watching a family change its arc. No Boutte would ever live in a housing project again. And when the ceremony ended, the degrees awarded and the hats thrown, the Bouttes, from the corner of Iberville and Crozat, took out an iPad and cranked up the Rebirth Brass Band. They made their own Second Line that day, dancing through the crowd, waving hankies embroidered with Elaina Boutte's name.
"Where are you guys from?" one lady asked.
"New Orleans," Blair Boutte said proudly.
Chapter IV
The Cycles Of The City
THERE'S A MAP on the Internet of the city's worst flood before Katrina, in 1849, when a levee ruptured on a sugarcane plantation west of town. Water rushed in, and if you look at the map of that flood and a map of the areas flooded by Katrina, they are almost the same. The United States invested millions of dollars, following plans drawn by the best scientific minds of the day, the construction coming at a great cost, both financial and human, and in the end, it didn't matter. Katrina flooded the same areas, almost down to the block. The high ground along the banks of the river, raised by a thousand years of floodwaters depositing silt, stayed dry in 1849. The land farther back, what is now Lakeview, New Orleans East, Chalmette and the Lower 9th Ward -- all that was then empty marshland. That's how it would have stayed, except that in the 1890s humans created the ability to drain swamps so that more people could build homes and lives. By 1915, the first phase of the draining project was complete and new neighborhoods grew unchecked until Katrina turned them back into brackish swamps. But the drainage had an unintended side effect. As the pipes and pumps drained the water table, the land compacted, and the city began to sink. Today, almost everyone knows that New Orleans resides below sea level, but very few know that it didn't start that way. The city and its people, trying to survive and expand, literally sank themselves. In New Orleans, a place of self-inflicted wounds and unalterable cycles, the past repeats itself over and over, whether in the city's struggles against the water or against the hundreds of murders year after year, all immune to police action and prayer vigils and nonprofit intervention, as constant a threat as the water that surrounds it.
---
---
THE MAYOR KEEPS a stack of red three-ring binders on the floor by his desk.
"Those books are all the people who've been killed in my city," Mitch Landrieu says.
Every murder while he's been in office is in there, with a photograph of the deceased. One victim, a 5-year-old girl named Briana Allen, lives in a frame on a table in his office. She had pigtails.
To understand the city's violence, go now to a different map. This one shows the location of each murder in 2015. The heart of Uptown is a big rectangle, bracketed by Napoleon Avenue and South Carrollton Avenue, Freret and Tchoupitoulas. Inside this enormous swath of bungalows, shotgun shacks and mansions, there have been zero murders. In the Central Business District, from the Superdome down to the casino, there have been zero murders. In the French Quarter, there have been two.
Now go to the other New Orleans.
The 5th Police District, which includes parts of the 7th and 9th wards, has long been the toughest assignment for cops. Daryle Holloway, who rode out Katrina at Charity Hospital with his mother, is stationed there. The 5th District was home to arguably the worst housing project, Desire, and to the Florida projects, where Holloway bought cereal, milk and eggs for the hungry kids whose brother had been shot. Clusters of red markers appear on the district's map, each identifying a murder, and here they come in bunches -- in time and in geography. Four shootings over the course of one night, then 11 in 11 days. Four murders within a block or two of Elysian Fields and Claiborne and nearly a dozen in the corridor between St. Claude and Claiborne. Four in the small square formed by St. Bernard, Claiborne, Elysian Fields and St. Claude. Two dozen and counting in New Orleans East.
This summer, a man got shot two blocks from the New Orleans Country Club in Hollygrove, the second murder in the city within an hour. The shooting happened around 5 p.m. The dead man was the 93rd murder of the year. His name was Bradley De'Penis, so obviously he got teased in school. He was born on a Thursday in 1980. He died on a Thursday too. He was 34. When Steve Gleason blocked that punt, De'Penis was back in the city rebuilding, and three years later, he went to Miami for the Super Bowl.
He left behind a mother and a son.
Three hours later, a 22-year-old named Jermal Jarrell was shot in front of A.L. Davis Park off 4th Street in Central City; he died at the hospital. Some people die in New Orleans without fanfare or public mourning, just names and addresses in a news story, the dead come and gone on B6 in the Metro section, a paragraph, two if they're lucky.
2100 block of Governor Nicholls. Dominique Cosey. He was 27.
6000 block of Boeing. Gerald Morgan. He was 17.
1400 block of Desire. Margaret Ambrose. She was 72.
1600 block of Elysian Fields. Daryle Holloway. He was 45.
---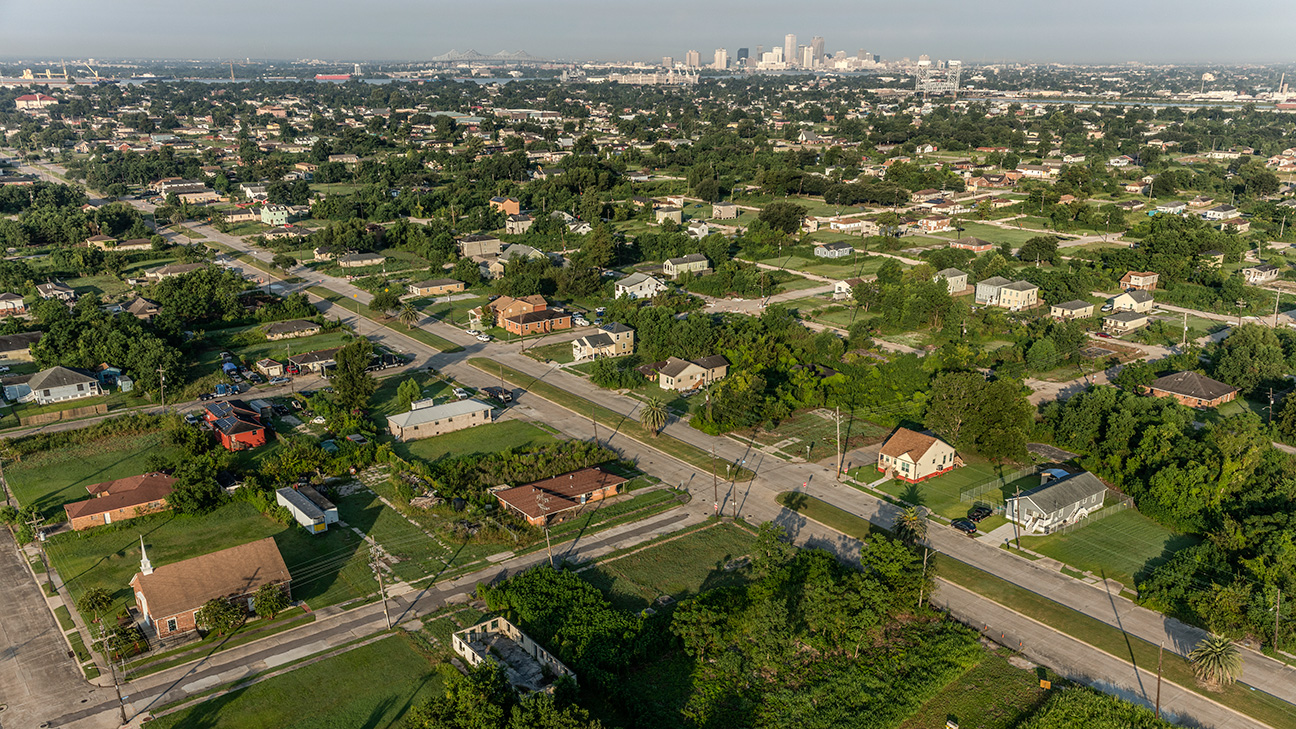 ON THE MORNING HE DIED, Officer Holloway arrived for his shift in the 5th District. A divorced father of three, he'd had a big bowl of Rice Krispies for breakfast. His first task of the day was transporting a suspect from the precinct to central lockup on South Broad Street.
The suspect, Travis Boys, had somehow hidden a .40-caliber semi-automatic pistol from the arresting officers on the scene, one of whom recovered a box of .40 cartridges and still didn't do a full pat-down to look for the gun. Holloway then loaded Boys into the back of a car. They drove down North Claiborne Avenue. Nearing the intersection of Elysian Fields, Boys reached the gun through the partition between the front and back seat and fired a single shot that entered on the right side of Holloway's chest and exited the left. The bullet pierced his heart and lungs.
With Holloway bleeding and the car still moving down North Claiborne, Boys climbed into the front seat through the opening in the partition. He reached for the passenger door. Holloway, pumping blood from his wound, grabbed the escaping Boys and held firm with one hand while driving with the other.
"Let me go before you kill yourself," Boys yelled three times.
Holloway refused to let go, fighting and wrestling with the prisoner in the last moments of his life, bleeding out in the front seat of an NOPD cruiser. He held tight until he lost consciousness. Then his fingers went limp and Boys slipped out of the moving vehicle, heading into the 8th Ward on North Claiborne Avenue. Holloway's body camera recorded the out-of-control transport vehicle crashing into a utility pole outside a Shell station at the corner of Elysian Fields and North Claiborne. Holloway died a short time later at the hospital.
The morning after the shooting, a Sunday in late June, Holloway's cousin drove down there. She went to the utility pole outside the Shell station where his patrol car came to rest. She tied two Mylar balloons to the pole. Both read "Happy Father's Day." The rain from the night before kept falling. Cops found Boys; uniformed officers saw him in a gas station in the Lower 9th Ward buying a hot sausage po'boy. The monument grew at the Shell station, people writing messages in marker on the pole, or leaving flowers, stuffed animals or balloons.
At an Uptown fried-fish and crawfish joint named Frankie & Johnny's, oyster shucker Juan Pujol put down his knife and focused on the television, broadcasting news of Holloway's death. The stereo played a sad, funky tune, a perfect and mournful eulogy. The rain fell hard. The downpour outside sounded like part of the song, accenting the white spaces. Juan couldn't turn away, living right around the corner from where Holloway died. He talked about wanting to move, even a few blocks, above Esplanade, find some breathing room. Get his kids out of the goddamn shooting gallery. So many dead in the city, so many dead. A 1-year-old shot and killed in the arms of her baby sitter. A 5-year-old girl shot at her 10-year-old cousin's birthday party. So much rain, washing away nothing.
---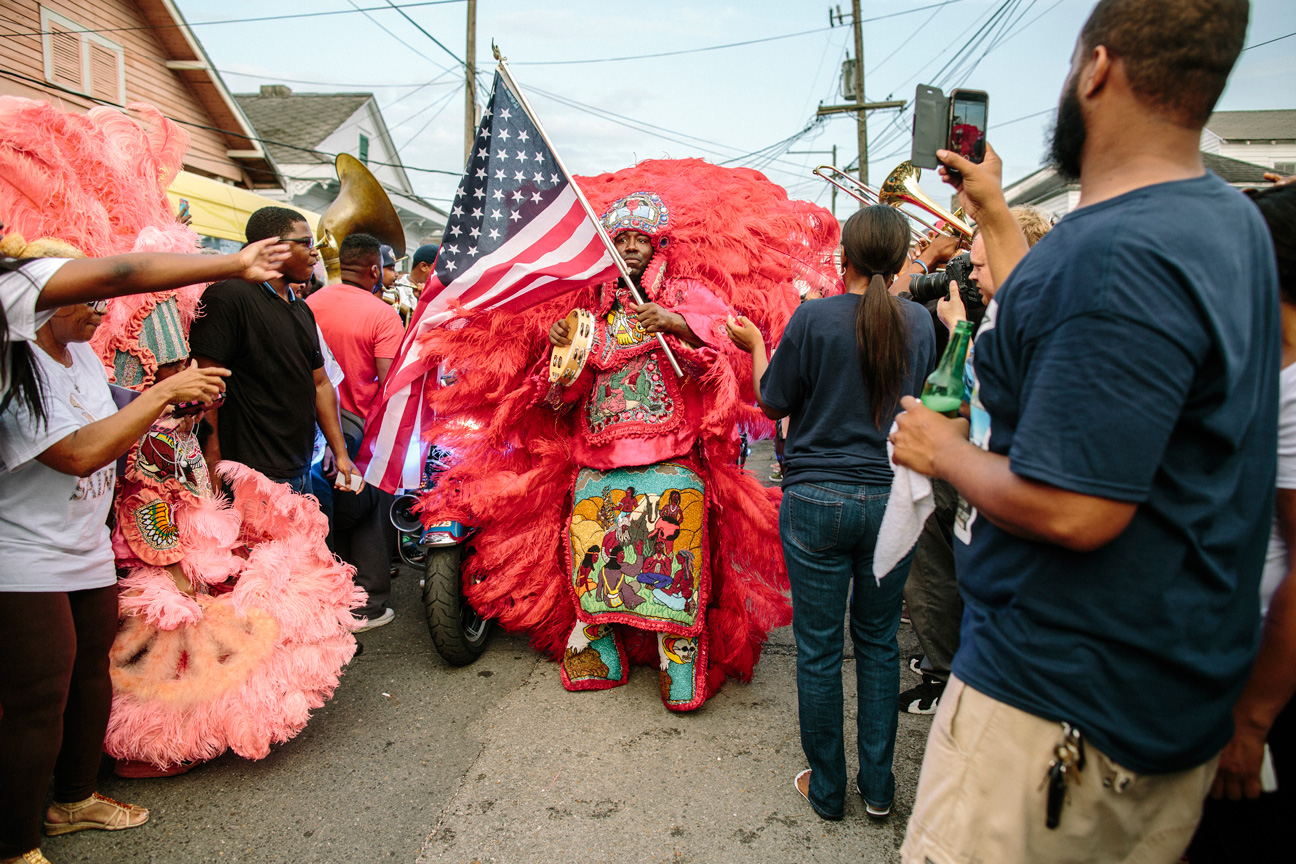 SOME TRACES OF WHAT came before cannot be scrubbed away. They're layered beneath the current iteration of New Orleans, one sprawling metaphysical capital built from the overlapping maps of the past three centuries. Crackpot locals once devised a plan to rescue Napoleon from exile and bring him to live in the French Quarter; the house they'd planned to give him is now a restaurant. The house of New Orleans founder Bienville is an insect museum between a Marriott and a Morton's steakhouse. Mitch Landrieu works on the spot where Louis Armstrong lived as a child, and four blocks from the Shell station where Daryle Holloway lost consciousness is the house where Tom Benson grew up. The small shotgun at 2127 N. Johnson is still standing, although thieves stole all the wiring and pipes not long ago. An old man, Antonio Anderson, lives next door. He is a Mardi Gras Indian chief.
The Indians started appearing during Mardi Gras in the 1880s, led by Chief Becate of the Creole Wild West tribe. Their roots lie in Congo Square, across Rampart Street from the French Quarter, where owners allowed their slaves to dance on Sundays. These dances were the few moments of freedom in a life of bondage, and every Mardi Gras Indian carries the spirit of those enslaved ancestors. In the brightly colored suits made of shiny stones and feathers, these Indians are not subject to earthly constraints like time. Elaborate rituals and customs have developed, the spy boys and flag boys, tribes battling each other, often beset by the police.
Inside Anderson's house, the walls are red and the heat is stifling. He sits in his chair most days and sews, not far from a framed photo of Barack and Michelle Obama. After his stroke, he struggles to talk. He's a chief in a small tribe in the 7th Ward. Last year's suit is hanging from a wooden stand, green, white and pink feathers, with elaborate beaded grasshoppers and alligators on the headpiece. Next year's suit is coming together, and he's doing small detail work, running his needle and thread through a cardboard mold he made. Eventually, the suit will become a peacock.
There's something magical and rare about spotting a Mardi Gras Indian in full regalia, as if the soul of the city has somehow taken on a physical form, the man in the suit a vessel for something old and mysterious.
Parades are not scheduled or announced. The dancers just appear, mirages almost, envoys from a long-ago city. When they turn a street corner, shaking pastel feathers and bright flashing beadwork, dancing to a frenetic beat of a brass band, the rhythm that produced horn players and bounce rappers comes alive. Benson came from the same street as a Mardi Gras Indian, and although he looks frail now, the frenetic energy that drives the Big Chiefs also lives in him, the very same passion that once pulled him out of poverty, giving him the strength and callousness to crush anyone who tried to stop his rise. Friends and enemies alike agree: Don't fuck with Tom Benson. The judge in New Orleans this summer ruled he was of sound mind, which isn't a surprise, really. Disowning family he no longer likes is completely in character. This latest legal action is exactly something he would have done as a young man, risking the destruction of all he built in pursuit of what he wants. His final court battle is the fitting end to a life of combat, and to a decade that has seen many things rise, and just as many fall.
---
A RELIC FROM Steve Gleason's own fading past is parked outside his house: a 1965 Ford Mustang, black with gold racing stripes, a Saints logo in place of the blue oval on the grille. You should hear it in the driveway, a 302 bored up to 311, Holley four-barrel carburetor, Edelbrock intake manifold, shifter kit, roller rockers, 300 horsepower. His grandfather bought it off the San Jose line 50 years ago, Jan. 12, 1965, metallic pea green, and when he died, he left the car to Steve in his will. After his diagnosis, Steve had it turned into a Saints-themed Mustang and sold it to raise money. Not long ago, the buyer fell on hard times and called the Gleasons, asking if they wanted to buy it back.
Steve told his wife, "I want to buy it and give it to Rivers," their 3-year-old son.
"It doesn't seem to be something a 3-year-old should need to learn."
- Former Saints player Steve Gleason, on telling his son about his ALS
They'll get it all fixed and then it will sit there and wait for the boy to turn 16. Rivers will climb inside and bring the engine to life. The rumbling block will be a father's whisper from the beyond -- the car a way for Steve to stay in his son's life, one more reminder of the ugly truth that hovers over Gleason's resilience: His health is fragile, and he's aware of his impending extinction. Not long ago, he talked with a child psychologist about the right time to explain everything to Rivers.
"It doesn't seem to be something a 3-year-old should need to learn," Gleason says.
Already he's approaching the edge of an ALS patient's usual life expectancy. With his access to the greatest care in the world, and the sense of purpose his foundation provides him, he might live a long time. Stephen Hawking is still alive 52 years after his diagnosis. Gleason and his caregivers monitor every vital sign carefully, and Steve can tell when something inside his body isn't right.
One of Steve's oldest friends from high school, J.D. Ward, picked up the '65 Mustang in Pensacola a day or two ago and drove it back to New Orleans. They grew up together in Spokane, Washington, hitting the Four Thousand Holes record shop, spending hours discussing the relative merits of Pearl Jam's Atlanta show in 1994 or the Bridge School Benefit later that year. They're making a playlist for the band's XM channel, and the thing has taken on the scope and seriousness of an invasion plan. J.D. wants to work on it now, but Steve says he needs to go into his room and write a speech. He seems anxious. His wife, Michel, puts up a good front but is clearly overwhelmed, visibly stressed.
"What's he writing speeches for?" J.D. asks when Steve leaves the room.
"Money," one of the caretakers says.
While Steve works, J.D. takes the car for a spin, turning onto Carrollton with the windows down, past the working-class Parkview Tavern. He's emotional, grappling with watching his friend cry earlier. Before ALS, he saw Steve cry exactly twice. Once when they lost a high school football playoff game in double overtime to Eisenhower, and the second time during a baseball game when Steve's father screamed at him while he sat in the dugout. Now he's watching his friend lose the fight. Death by ALS is an ugly thing, and people who've seen it kill a family member will inevitably struggle to block out the memory of someone they love begging to die.
After a stop for a beer, J.D. cranks the car and heads back toward Steve's house. The Pearl Jam show that happened just after the levees broke plays on the car's stereo.
He points to his arm.
"Chill bumps," he says. "Are you kidding me?"
He smiles.
"I'm driving Steve's Mustang with an open container," he says, then nods at the thumping speakers. "Hurricane Katrina was going on through this whole concert."
The show happened at an amphitheater built above a deep gorge in the Columbia River, in Washington state, looking down at the canyon carved by the water. It was green and blue and magnificent. J.D. was there, and a few hundred miles south, Steve stood on a sideline in San Jose during a moment of silence. They were both young and invincible then, blind to how much could be taken away.
---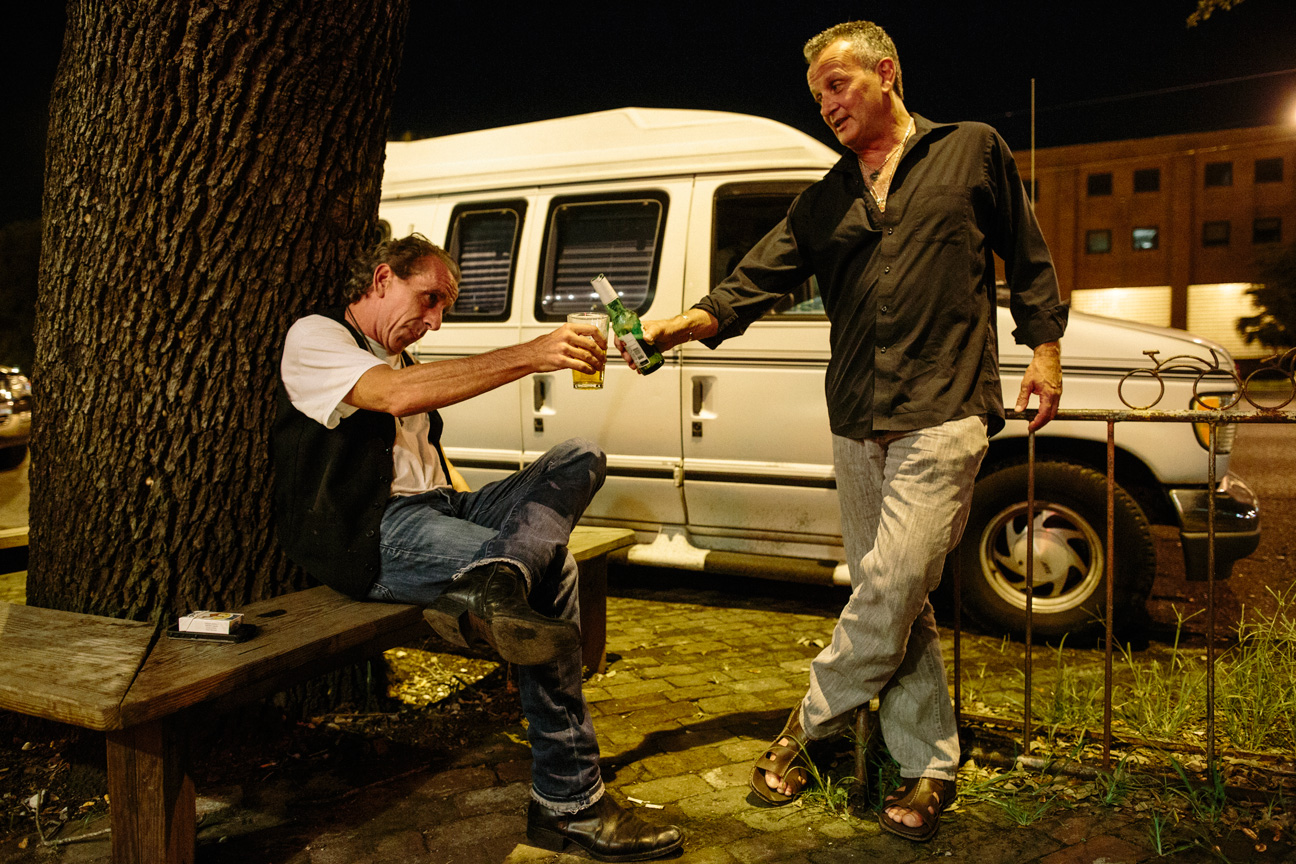 CHRIS ROSE is going out tonight.
A group of old friends invited him. Walt Handelsman, the Pulitzer-winning cartoonist who worked at the Picayune, wrote a song about the newspaper staff during the hurricane. Some other friends were playing -- Paul Sanchez, formerly of the local rock band Cowboy Mouth, and a singer-songwriter named Lynn Drury -- and they'd asked Walt to sing his song.
Standing on the sidewalk outside the club, as traffic passes on Canal Street, Rose postpones the awkward hellos with a cigarette. He's excited about the show; Drury wrote his favorite Katrina song, "City Life," and he's hoping she'll play it. Inside, the band covers Bruce Springsteen's "Atlantic City": Everything dies, baby, that's a fact. But maybe everything that dies someday comes back.
He's wearing a white T-shirt and a black vest, cool in black, leather Skechers. A bunch of reporters hang out at a table next to the wall. They all wrap him up in hugs and ask where he's been hiding.
"A Rose sighting!" Handelsman says.
The bar is dark, but people start to notice.
"I think I see Chris Rose standing out there," Sanchez says from the stage, and the crowd cheers.
Sanchez tells the story of a hurricane party for Andrew, in 1992, when they all played cards and drank whiskey as the storm blasted the city. He's got that blue-collar New Orleans accent, the Irish Channel thick on his tongue. That night, Paul passed out in the pantry and woke up cradling a can of creamed corn and a bottle of scotch. Outside, he found Rose and some other folks wrestling in the mud. They were all on mushrooms. Rose drove a 1963 convertible with the top down through the torrential, sideways, Exodus-style downpour, just tripping his face off, passing cops who just waved. They all laughed at hurricanes then.
"I wasn't there," Rose calls from the darkness of the audience.
Walt gets onstage to perform his song, about the Times-Picayune staff coming back to report from the wounded city. He sings about Rose's columns, about "the rage, the fear, the tribes, the tears."
"Oh, God," a voice in the crowd says softly.
By the stage, Rose asks Drury to play his song, but she says she opened with it. He steps outside, smoking cigarettes and holding court. The newspaper reporters start telling Katrina war stories, about cops at a looted Wal-Mart. One cop stepped up as people were smashing a jewelry case. "Free bracelets!" a man had screamed, holding the fake diamonds above his head. The officer stepped in front of the case. A reporter taking notes thought, Finally, some order. Instead, the officer wrapped his hand in a bandanna and just cleared out the jagged pieces of glass so people could loot safely and efficiently.
"Protect and serve," the reporters joked.
Rose is happy, everything about him looser and softer, even his voice and the lines on his face. He looks like he swallowed one of the lightbulbs hanging over the sidewalk outside the bar. He'd told his kids he'd be home by 9:30, but 10 has come and gone and 11 is hanging out there, tempting. They're rolling now, jokes about photographers never leaving the office without a broken doll and a tattered American flag in the trunk, in case a picture needed punching up. Nostalgia is as addictive as opiates, and almost as dangerous.
Standing outside the bar, a nervous, middle-aged woman named Cathy McRae approaches Rose.
"I just want to say how much you meant to New Orleans," she says.
She gives him a big hug. He seems fragile in her arms.
"Ten years later," he says.
She starts to cry, a little at first, telling him how often she's failed to tell people in her life what they meant to her, then she completely breaks down.
"From all of us," she says, almost gasping. "You really made a difference. When we were in exile, you really kept us connected."
"Ten years later," Rose says. "You're gonna get me crying."
"Don't," she says.
"I cry every day," he says.
---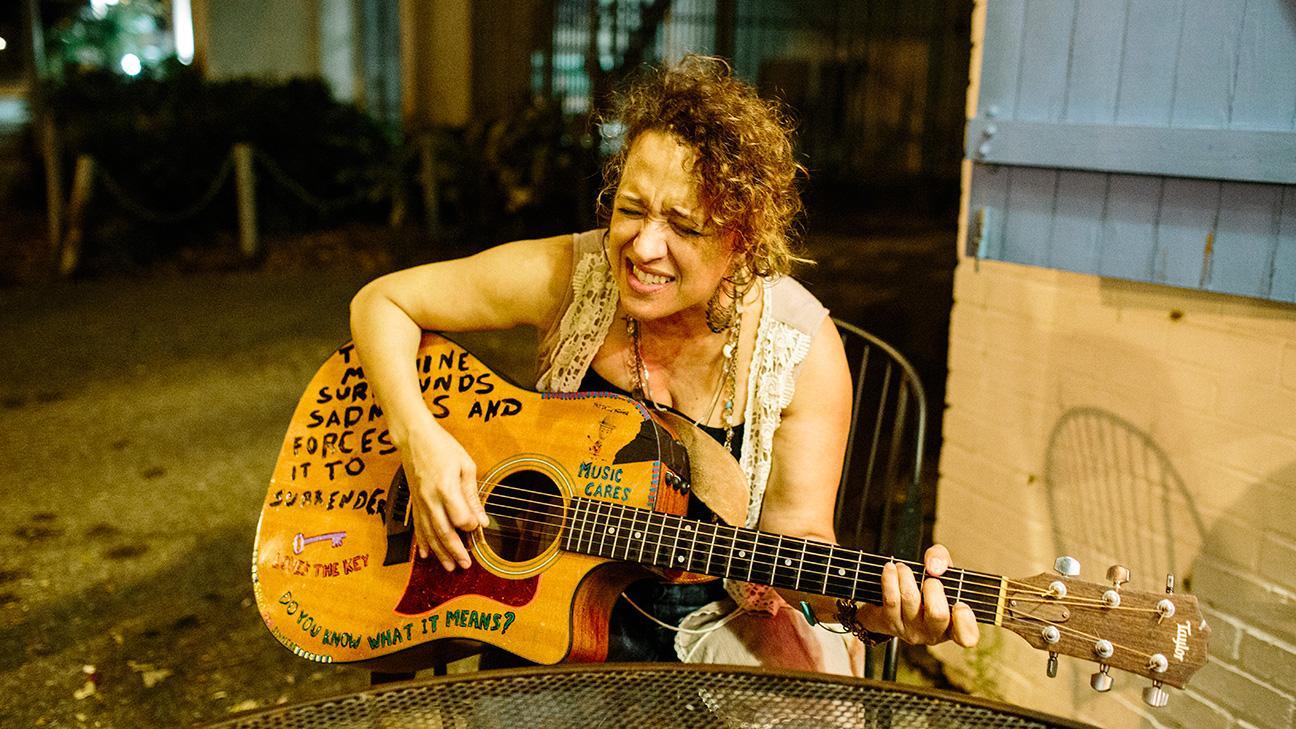 HIS FRIENDS PAY their tabs and come outside, happy to have seen him. They pose for pictures with Rose, leaning into each other with the ease of people who've done battle together. They ask him how his search for work is going and whether he's quit waiting tables. They talk about minivans and leave with heartfelt goodbyes. As they walk down the sidewalk, it's clear they've moved on and lived an entire decade since the hurricane, and Chris, standing back on the sidewalk outside an emptying bar, has been living the same day over and over. Their hurricane ended and they moved on. His did not. Somehow he got stuck.
"You look great," Sanchez says when they're alone.
"It's dark," Rose says.
Sanchez's guitar is in its battered case on the sidewalk. Drury comes out, and Rose looks at her, then at the guitar, then back at her. He asks if she'd mind playing the Katrina song he loves so much. She takes out Paul's guitar.
"Got a pick?" Lynn asks.
She strums, bobs her head and sings.
I love this city life, and the dust, and the dust-covered trees.
Sanchez sits and shakes his head slowly, from side to side, while Rose stands and sways. He gently touches the back of Paul's head.
They glitter like diamonds from somebody's broken windowpane.
Somebody keeps time on a beer bottle. Lynn plays muted chords then full strums. The streetlights are yellow balls of fire. Cars speed by, tires on wet pavement.
I guess, I guess I'd rather be ... , she sings.
... messed up than pretty, the table sings back.
I guess, I guess, I guess ... I'd rather be messed up than pretty ... , she sings
... just like this city, everyone sings together.
Rose sways and dances and turns. The bottom edges of his black vest flare when he spins. Cigarettes look like stage props wedged between his fingers, the avenging angel of the 504. The song washes over him, and a streetcar rattles past. There is no pain as long as Lynn keeps singing. Paul closes his eyes. Chris looks around him in rapture, and says, "God, I love this town."
They sing the line, Messed up is better than pretty.
The last chord lingers. Chris and Paul toast Louis Armstrong, then they toast each other. At some tables, the conversation always slides back to the storm, to a time when their pain made sense, or was at least shared by everyone around them. The people who loved the city the most got hurt the worst.
Sanchez looks right at me, with soulful eyes and a wide fighter's nose.
"The despair was deep enough," he says, "guys like me and Chris, we're never gonna recover. It was an amputation. It's a scar that's never gonna heal. I still think that leg is there. It's not, you dig?"
They sing a few more songs and the bar moves the table inside. Paul Sanchez packs up his guitar again and walks to the parking lot in the back. In the dark, he quotes Shakespeare, to sleep, perchance to dream, and nods toward his friend out front. He remembers the Chris Rose tripping on mushrooms driving a muscle car convertible through a hurricane, the cockiest motherfucker you ever met in your life, lean and dangerous like a switchblade. That man is gone, and a weathered, humbled, loving father of three remains, making beef stroganoff out of a box, still trying to put back together what his poor choices and a hurricane broke apart. No media company in the city will hire him. He writes for a grocery store. Perchance to dream, indeed, for in that sleep of death what dreams may come.
"That's a shell of a man," Sanchez says, "hanging on by a thread. My heart breaks."
Chapter V
The Morning After The Longest Day
THE U.S. FEDERAL GOVERNMENT has spent billions on new hurricane barriers in the past decade, doubling down on the belief that a city can be protected from the forces surrounding it. While this might seem like common sense on the surface, the plan ultimately will be as successful in eliminating the threat of nature as mixing a garbage can of rum and fruit juice and watching the clouds roll in. Building elaborate levees and defenses is the folly, while a hurricane party is a fairly sensible response. At least the party acknowledges the unavoidable truth of both life itself and of the city of New Orleans: It is fragile, hanging on to existence in a violent world, and although the people who live there cannot control the water around them, they can control how they respond to it. The citizens in New Orleans, generation after generation, have chosen hope and joy in the face of disaster and oppression. Everything unique about the city is a reflection of that choice. They choose to spend a year making a suit of brightly colored feathers to dance for one glorious day. They choose strong coffee and fried fish. They choose Mardi Gras and Jazz Fest. They choose to eat gumbo in white linen suits because fuck it. They choose music.
---
IN THE SUMMER of the 10th anniversary, they come to mourn Officer Daryle Holloway, but something amazing happens instead. His family asks the community to stop by their house in the 7th Ward for a candlelight vigil. They publish the address in the paper, and people start to arrive late that afternoon.
A patrol car parks out front. The department rotates shifts standing watch on the family home, 24 hours a day since Daryle died, a show of respect. One of his daughters needs to fly in from New York, and when she arrives at the airport, a police officer meets her there. The cops get her luggage and put her in the front seat of a cruiser and bring her home. Now Daryle's 19- and 16-year-old daughters and 13-year-old son greet visitors on the porch, generations coming together. This block has been the center of this family for generations; Eunice Belfield moved here in the 1940s. She sewed costumes for the all-white Mardi Gras Krewe of Proteus. Her son grew up to be the King of Zulu, the prestigious and mostly black krewe.
"Nobody celebrates the life and the death of our people like we do."
- Eric Belfield
Holloway's cousin Eric Belfield sits on a stoop next door. After Daryle's divorce, the cousins moved in together to save money. Eric is a chef at a hotel in the Quarter. Someone brings him a plate of food and a bottle of water. The day Daryle died, Eric found the empty bowl of Rice Krispies by Daryle's bed, next to the previous night's supper, a fish plate. Reminders are everywhere. When he cut on the television this morning, it was on the last channel Daryle watched: the Cartoon Network. Daryle was a big kid. He loved Legos and cartoons, and the DVR light keeps switching on, recording shows that won't ever be watched. The family sent Eric to get a clean uniform for the funeral. Sitting on the neighbor's stoop, he starts to cry. He picks at a chicken thigh on a disposable plate.
Uniformed officers bring loads of balloons into the house. Staff members from the Walgreens on Elysian Fields and St. Claude, where he worked security, arrive and are fed. The family feeds anyone who's hungry, friends in the backyard dipping chicken into cornmeal and dropping batches into a pot bubbling on a propane burner. This is why they moved back after Katrina, Belfield says, pointing at the crowd gathering outside the house.
The most powerful four-letter word is home.
"Nobody celebrates the life and the death of our people like we do," Belfield says. The neighbors across the street put out big speakers, and a radio station sends a DJ. Music pours onto the street. Eric dances with his sister and twirls her on the brick sidewalk. A young girl plays a plastic trumpet.
A man, James Wilson, walks up to the house with his bike. Leaning against a trash can, he looks broken. He worked at the Superdome with Holloway. James did concessions and Daryle did security, and last Saturday, when Holloway didn't show up for his shift at 1:45 p.m., James knew something was wrong. He rode here from City Park, and he looks up at the front porch of the house, where Eunice sits in a chair and sees how many people loved her grandson.
---
"This is so sad," Wilson says.
Daryle's mother, a nurse at the old Charity Hospital, sits on the porch too. Women fan her with the plastic plates. A crowd from the 9th Ward arrives, and people from the old Desire and Florida housing projects. Every off-duty cop in the city walks onto the street, which is almost full. They're white and black, in combat fatigues and dress blues, names like LeBoeuf, DeSalvo and Jones. The detectives wear suits out of central casting, with loosened ties, big guns and cigarettes dangling from their lips. On the sidewalk, a group of teenage girls Nae Nae. Police officers stand side by side with people from the projects, locking arms, and if they can come together for a day, then anything is possible in New Orleans.
The chief of police, Michael Harrison, looks out at the sea of citizens.
"I have never seen a community do something like this for a police officer," he says.
Olander Holloway asks to speak, and a hush comes over the crowd.
"That was my baby boy," she says. Hundreds of people pack the street, shoulder to shoulder. Mourners gasp and sob. "I cannot believe this is for my son."
Those gathered light candles and sing "Amazing Grace." The sun hasn't set and it all blurs together, noise and laughter and singing and tears. A brass band comes down Kerlerec Street in full swagger, the tuba bobbing above the crowd. Belfield, who plays drums, bangs on a cymbal with a screwdriver. Motorcycle engines rumble. Olander Holloway is on the porch, watching, holding it together. A police cruiser rides slowly down the street. In front of the house, the officer hits his siren.
She starts to cry.
The band marches and the motorcycles rev and then it happens.
Mardi Gras Indians, two Big Chiefs, one in pink and the other in red, round the corner onto Kerlerec. A spy boy dances and yells in front of them. One chief comes from Creole Wild West, one of the oldest tribes in the city. The other comes from the 9th Ward, marching in someone else's territory for a day, a repayment of respect for a police officer who showed it to them when he walked their streets. No turf wars today.
It's madness on the block, brass and stereo speakers and revving engines. Balloons float into the sky over Esplanade Avenue. Smoke rises from motorcycle burnouts. People hold up T-shirts with Holloway's picture on them. Police officers hit their sirens. The Big Chiefs move slowly, to the rhythm of the brass band playing Bob Marley, the trill roll of a snare drum, the deep bass of the tuba. They march to the house and salute the family on the porch, two Mardi Gras Indians dancing in the light of a setting sun.
---
IN JULY, a local radio station hires Chris Rose.
He says getting the job feels like the first day of the rest of his life. Work is starting to find him. New Orleans Magazine gives him a column called "Me Again." He guides people on tours of the city for big paydays, sharing his hard-earned knowledge. One book, a biography of fried-chicken king Al Copeland, is nearly finished, and Rose is thinking of writing a memoir of the past 10 years. At least one high-powered New York agent is excited at the prospect of taking it to market. He's grinding, pushed by deadlines for the first time in a while. Rose writes on his front porch in Bayou St. John, sitting in a chair with a towel around his neck.
He wrote an obit for Copeland when he died. That's how the book came about. The family loved it and sought Rose out during his darkest time. Sitting on the porch, he finds the obit online. It ran two-plus years after the storm, and in it, he ends up back in Katrina, talking about the first Christmas after. In addition to founding Popeyes, Copeland strung up the most Griswoldian Christmas lights display at his house, and traffic backed up on Folse Drive, people riding by slowly to gawk. Rose wrote: "My kids and I were driving around town to see what Christmas lights we could find. Naturally, we ended up at Copeland's house. It was as it always was. A fairy tale. Over the top. The Great Escape. There was a sign in front of the house that year. It was signed by Copeland and it had an inscription about how it was more important than ever before that he put on a show for the children of the community. It had words like 'sacrifice' and 'spirit' and 'gratitude' and all the right notes. I cried when I read it. I cried a lot back then."
"Do the levees work now? Who knows? Nobody knew before. What you see around this entire city is blind faith."
- Chris Rose
Rereading the column, Rose gets quiet, remembering his children 10 years ago, young and still believing he was the strongest man alive. That little girl is a teenager now, inside the house wearing headphones, smiling and rolling her eyes at her dad when he does things like pour coins into a jukebox.
Earlier today, he listened to the radio station where he'll soon work, and it ran a program about preparing for this summer's hurricane season. When his next freelance check comes in, he says he needs to go load up on water, candles, batteries, everything he'll need. One day, another hurricane will arrive.
"We'll never rebuild," he says. "We can't. We've rebuilt the city. Just like before: Do the levees work now? Who knows? Nobody knew before. They were never tested, and there's no way to test them. You can only put 4 million metric tons of water against them and see what happens. And the first time they were tested ... it turns out they didn't work. Now they say, 'We got it now; we're all good.' What you see around this entire city is blind faith."
He's laced through with that faith, some left over, some found anew. A beat-up black-and-white United cab is parked across the street with a broken trunk, beneath the spaghetti tangle of wires running overhead. You can't worry about a hurricane, he's learned the hard way. It will hit New Orleans or it will turn, but until then, the new city created by Katrina lives.
"Now we wait," he says.
He's got a shopping list, carrying with him the lessons of the past.
"We go to Home Depot and we get our candles and duct tape," he says.
On the edge of his porch, little clay pots show the first sprouts of life. "I grow flowers," he says. The colors are pastel, bright, going well with the sunflower he brought home. A thunderstorm passed through earlier, and around the city plants look green and healthy.
"They look so much happier today."
---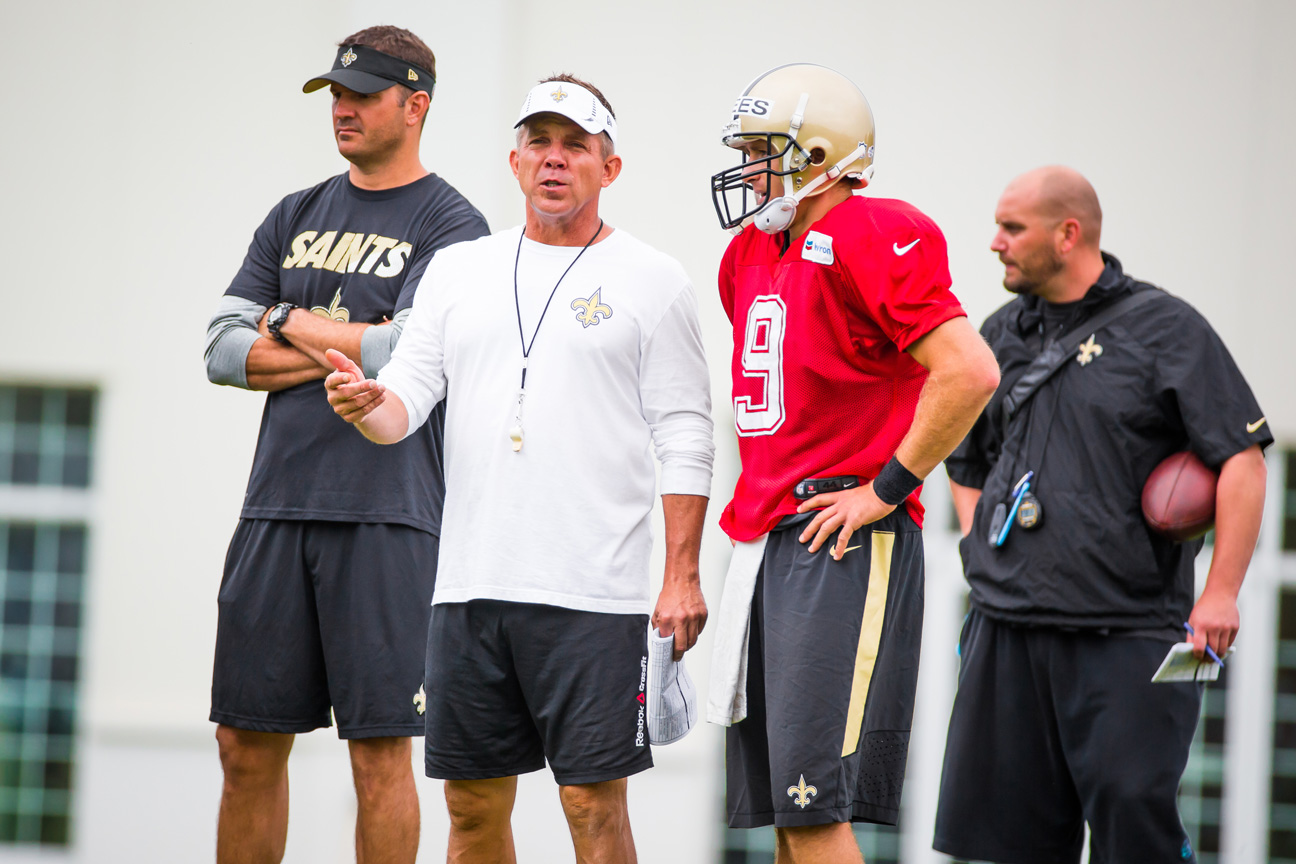 SITTING IN HIS OFFICE preparing for the upcoming season, Sean Payton feels a glow. The Saints' facility smells like cinnamon potpourri as players stop by to talk about the offseason weight program. Payton asked an assistant earlier today to make a list of everyone who'd been part of the Saints for all of the past nine seasons, the players and coaches who arrived just after the storm, when nobody knew whether there'd even be a city of New Orleans. There are four of each.
"We'll walk together forever," he says.
As a thank-you for the past nine years, Payton is buying each of them a Rolex and hosting a dinner. He's not telling them why he's called them together, excited to see how long it takes the room to figure out what it is they all have in common, especially the players: Drew Brees, Marques Colston, Zach Strief, Jahri Evans. The anniversary of Katrina is making even the most type-A strivers take a minute to consider their lives.
Just yesterday, it seems, he left the stadium in Miami after the Super Bowl, climbing onto bus No. 1. Traffic snarled around them and the buses headed back to the team hotel, and he remembers so clearly sitting in the front seat, wishing the drive would take forever.
Two years later, he got suspended for his role in Bountygate. In private, he raged about a year being taken away from him in his prime; he and his son watched the NFL draft like any fan, sitting in a suburban Fuddruckers, helpless. But something else happened that fall. He coached his son's sixth-grade football team in Texas, the offensive coordinator and playcaller.
Payton cut oranges, mixed Gatorade and signaled in plays, using simplified versions of the same calls he made for the Saints, the sixth-graders running Right 34 Bob, or Fake Right 35 Bob Poly. His deep anger faded on the sideline of the Liberty Christian Warriors, who dominated opponents until running into a team from Springtown called the Orange Porcupines, country boys from about an hour outside Dallas. "Listen," Payton says, laughing. "They had a real good coach. It was one of those single-wing guys. You know it's like a little clique."
His team couldn't stop Springtown's single-wing attack. Convinced they'd meet the Porcupines again in the playoffs, Payton reviewed the film that one of the dads recorded, then got Bill Parcells on the telephone. Together, they broke down a sixth-grade team's offense.
"Penetration kills the single wing," Parcells said, and they worked out a plan. Liberty Christian did meet Springtown again in the Super Bowl for the sixth-grade football league. Payton's team played better, and much harder, and he remembers being on the sideline watching his players make the right reads -- following Parcells' advice -- spilling the guard and making the tackle for a loss. He felt proud of his team's effort, not bitter over the eventual defeat.
Payton told his young players that he needed them more than they needed him, and he meant it. The essence of football, that's what he felt connected to, and in his office on Airline Drive, back in New Orleans, he pulls out a scrapbook someone made for him, pictures from that season. Even back in the grind of the NFL, he gets that glow describing his favorite moment. A kid named Paulie, who was in the band, wanted to be on the team. "We put a play in for Paulie," Payton says, "Fake Right 34 Bob O, and the fullback, the O, pulled around and we handed it to the Z around left. And he scored a 15-yard touchdown walk-in and his mom was in tears on the sidelines and Paulie just threw the ball up and it was like when Lucas scored. And I'm telling you, it was one of the best memories ever. I had a play designed, they executed, and Paulie walked in."
Something else has happened since Katrina.
When Payton arrived in New Orleans, he lived in the suburbs, where things are scrubbed, orderly and boring. Then his marriage failed in public, and he lost his team for a year, and along the way, he fell in love with the city, as the city has fallen in love with him. A year ago, he bought a condo Uptown, eight blocks from Clancy's Restaurant and six blocks from St. Charles Avenue. Now he's got a goldendoodle named Murphy, and he likes to walk Murphy up Webster to St. Charles, turning left through the park. A long row of houses fronts the park, with the tall oak trees and walking paths as a lawn, and he and his dog enjoy the shade and air. People leave him alone. Sometimes he stops for a sno-ball. At night he loves Clancy's, the clubhouse for the neighborhood. The women who answer the phones have a list of customers who are always to be given a table, regardless of how packed the reservation book might be. Payton, like any sensible person, orders the panned veal atop the pasta -- Veal Annunciation, it's named -- and looks forward to dessert. "I want the frozen peppermint ice cream that sat in the back of the freezer," he says.
Ten years ago, Sean Payton arrived in New Orleans young and hungry, willing to do anything to reach his dreams. Some of those dreams have come true, and some of them have not. Whatever happens now, a strange thought occurred to him not long ago: He will never sell that condo.
Some part of him will always consider New Orleans home.
---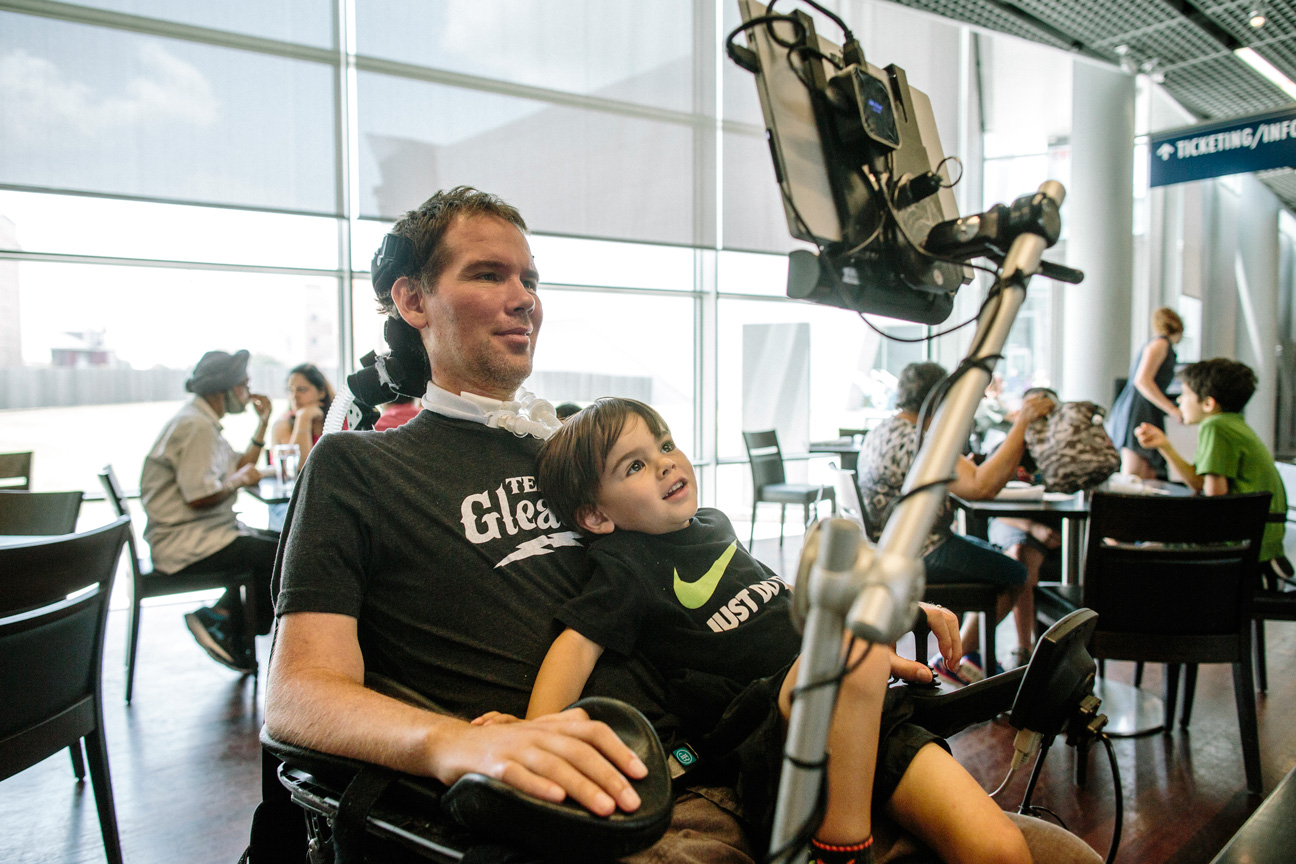 STEVE GLEASON IS 38. Rivers Gleason is 3. They're both kids.
Every Tuesday, they do something fun together. They call it Dude's Day. The plan today is a big warehouse filled with trampolines named Sector6. They've been before, and Rivers refused to go off the trapeze. That's the goal for today.
"Awesome ain't easy," a painting in Steve's living room declares. Rivers is at his swimming lesson up the street. Gleason is getting his trach hole swabbed with hydrogen peroxide. It hurts, but he doesn't complain. The light in the big windows makes his house open and airy, the bookshelves a window into the broad and diverse life being crushed by his disease: "The Goldfinch," "Catch-22," "The Lords of Discipline," "The Road," "One Hundred Years of Solitude," the book about the town brutalized by United Fruit. Blair Casey, a former college athlete who works for Steve, mixes coffee with coconut water and injects it into the feeding tube.
Casey loads Steve into the front seat of the big black custom van -- black rims and tinted windows -- and locks him in place. They pick up Rivers, who bounds across the lawn and into the back seat.
"You wanna go to Sector6?" Steve asks.
"Trapeeeeeze!" Rivers yells. "I be a good boy!"
Casey straps Steve's head in place for the bumpy ride, and Rivers gets quiet in the back seat. He pays close attention whenever his dad needs help; even at 3, he is aware that something is different. The graphs and gauges on the back of Gleason's chair give constant readings, and Rivers watches them too: H2O, 19.7, Peak Flow, 41.5.
"Rivers, what's our rule on Dude's Day?" Steve asks.
"No crying!" Rivers says.
"No crying or we have to go home," Steve says.
Casey drives up a ramp, onto the interstate, rain pelting the windshield. Steve uses his eyes to call up a playlist called Rivers' Sing Along Songs, and he hits play.
"Put me in, Coach, I'm ready to play!" Rivers sings.
Three-year-olds sound like they're drunk when they're singing. It's hilarious, and impossibly cute. The "Lion King" song comes on.
"I just can't wait to be king!" Rivers sings.
The third song is "Release," by Steve's favorite band, Pearl Jam.
"Rivers, who's singing?" Steve asks.
"Eddie Vedder!" Rivers says, a grinning stick of 3-year-old dynamite, vibrating with an energy that every one of Steve's former teammates would recognize. Today, Rivers will try to confront his fear. He wants to jump off the trapeze, flying through the air toward a pool of foam blocks, looking oddly like a grown man laying out for a punt.
---
RIVERS GLEASON wasn't alive during Hurricane Katrina. He wasn't alive when his dad blocked a punt on Monday Night Football, and he wasn't alive when the Saints won the Super Bowl. Those things are just words to him, stories he'll hear as he gets older. He doesn't understand them, just as he doesn't understand that his father has a fatal disease. There are other things he needs to learn that his father might not be around to teach. That bothers Steve, who has solved the problem as best as he can. On a hard drive at the house, there is a series of five-minute videos, hundreds of them, for when Steve dies and Rivers needs a daddy. Little tutorials, things like how to whistle, or change a flat tire, big things like drugs and alcohol, or what to do when your heart is broken -- things a son should learn from his father. Things that need to be passed along, in stories and code, when one generation takes over where the previous one left off. Rivers Gleason, like his hometown, must learn from the past and remain unafraid.
---
SECTOR6 IS a personal injury attorney's chicken dinner. Kids fly through the air, doing flips and landing akimbo, slinging dodgeballs at one another's faces. Rivers gets inside and tears off through the trampolines.
"Rivers, are you gonna do the trapeze?" Steve asks. "Are you ready?"
Rivers nods.
"Me, too," Steve types.
Rivers does backflips into pits of foam blocks, and he dances to the music. Saints fans ask Steve for photos, and he takes the time to type out hellos to them. One young boy comes over and says, "No white flags."
Gleason suddenly struggles to breathe.
"You need to cough?" a friend asks, calling to Casey to come help. As Casey gets the electronic machine to help Steve cough, the friend rubs Steve's arm, talking softly, reassuring him. Steve is shaking.
"Coming right now," his friend says.
Casey hooks up the coughing apparatus, and Steve returns to normal.
"Rivers," he says, "I want to watch you on the trapeze."
He's been pushing him, encouraging. Last time, Rivers made it as far as the platform in the air, looking down at the pit before refusing to jump. Today Rivers heads up and stands in line.
"He's going up the steps," Casey says.
Steve motors his wheelchair so he can get a clear view. He is laughing with his eyes, and Rivers grabs the rope and jumps off into space, flying through the air. He did it. Climbing out of the foam, he runs straight to his dad, slapping his right hand.
"Did you see me!?" Rivers asks.
"Nice job, Rivers," Steve types. "The trapeze isn't scary anymore. I'm so proud of you."
The car ride back is quiet. Rivers is exhausted, falling asleep, while Steve watches him with his tablet's camera. One day Rivers will understand. People will tell him stories about his father, a brave man who did so many things. Big things, like changing the way people with ALS live their lives, and small things, like blocking a punt. Rivers' eyes flutter and close.
"Done," Steve says.
The van rumbles over the awful New Orleans roads, passing the bayou and the levee wall. Mardi Gras music plays on the stereo. At the house, Casey carries Rivers to bed, the boy's sleeping head resting on his shoulder. Then he goes back outside to unload Steve. Rivers wakes up and tiptoes around the corner, slipping back to the van to get his blanket, which he can't sleep without. Steve sits in the space between the foyer and kitchen. Casey is mixing the shake for lunch. Now it's Steve's turn to sleep, his eyelids heavy. Rivers sees that his dad's head has fallen forward, hanging limp. And after looking around and seeing Casey at the counter, he decides to handle this all by himself. Rivers puts his tiny palm on his father's forehead and gently pushes him back into place.
A senior writer for ESPN.com and ESPN The Magazine, Wright Thompson is a native of Clarksdale, Mississippi; he currently lives in Oxford, Mississippi. Previously, he worked at The Kansas City Star and the New Orleans Times-Picayune. In 2001, he graduated from the University of Missouri School of Journalism.