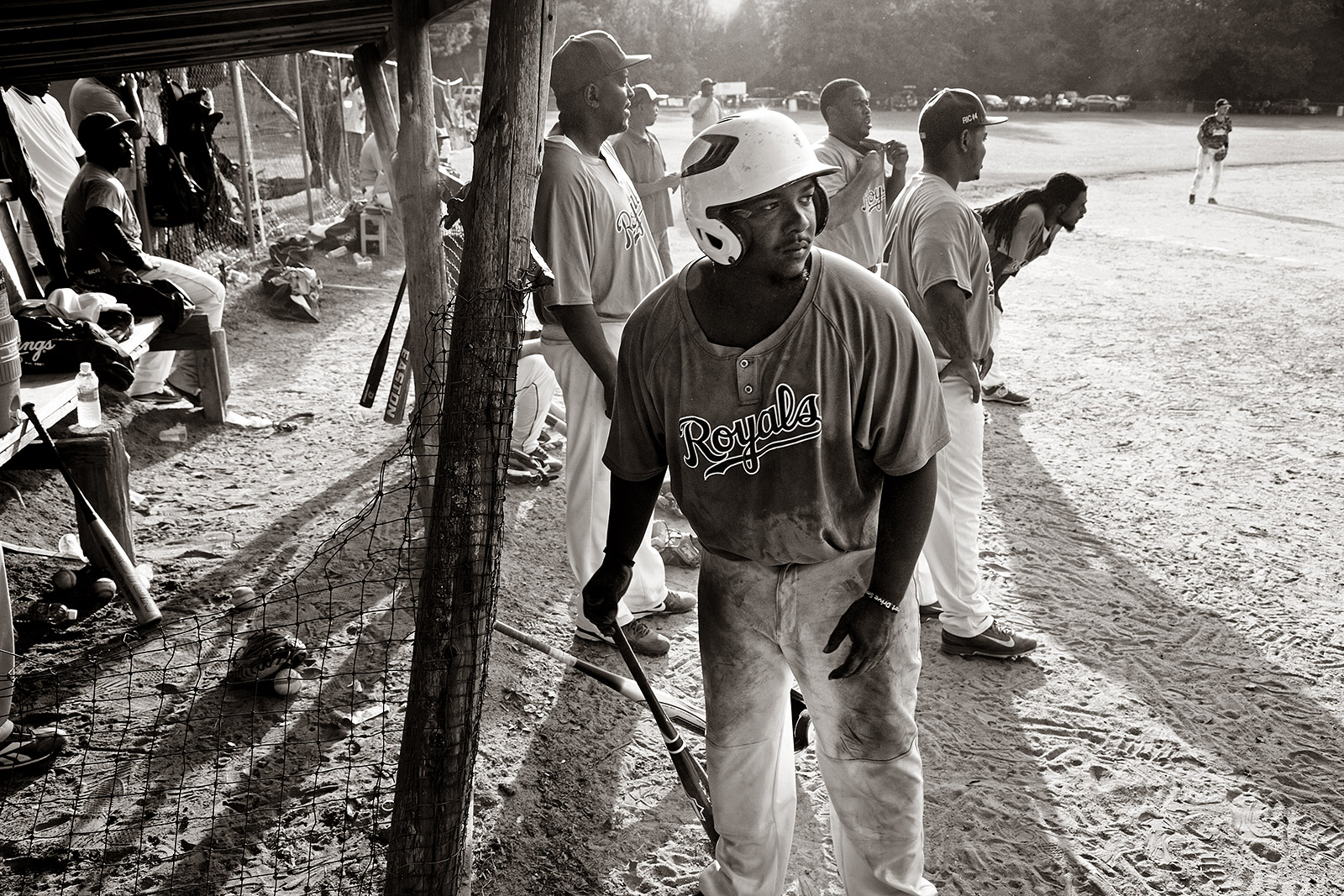 Diamonds in the Dust
On these dirt lots, players from 15 to 61 gather on weekends to play in the Community AllStar Baseball League, which grew from the sandlot tournaments in the 1940s that replaced the Negro Leagues after integration broke them apart.
F
or the past 75 years -- and maybe even longer, people here say -- folks in these communities have congregated every weekend in a family reunion fashion on forgotten fields. Children parade their innocence, laughing and chasing one another. Adults sit on makeshift benches, some sipping on strong drinks. Cigarette smoke swirls around the scent of fried okra and BBQ ribs in the air. Neighbors of all ages have come together for decades, for fun and food, but most importantly, for baseball.
Here the spirit of Negro Leagues isn't dead.
Teams from 12 communities in western South Carolina and Georgia made up the Community AllStar Baseball League this season, which ran from March until September. Players range in age from 15 to 61. A few are Latino, and a couple are white. But the league is distinctly and unapologetically black. And it doesn't cost much to watch.
"You charge people to come in, park and view the game," league umpire Brian Shumpert explains. "But usually it's a buck or two dollars. It's never been more than that."
In the 1940s, the league got its start with the church. Stands have always been filled with black folks. What has changed, however, is the talent. As its popularity has grown, so, too, has the performance of the players. It is not uncommon to see HBCU baseball players spending their summers on these fields.
Nor is it rare anymore to see a pro player who got his start here. C.J. Edwards, 24, entered this season on Baseball America's Chicago Cubs top-10 prospects list before being called up in September. He learned his craft here, starting at age 15. Ironically, it gave him an unfair advantage.
"I feel like I was better for it because I was playing against older guys," Edwards says. "And then to play in my competition and my level, it made me a lot better than other kids."
It wasn't merely age differences that were valuable to Edwards. It was what he heard, too. It forced him to grow up, to mature -- quickly.
"It was an experience dealing with the trash talk," Edwards says. "But not cursing, not that kind of trash talk. It's more like, 'Oh, you're too young to be out here. We 'bout to hurt this little boy's feelings.'"
Those older guys? They include people like Kenneth "Duck Titty" Sims Jr., a former Triple-A pitcher in the Orioles organization. They are colorful and delightful and unafraid to challenge the youngsters and intimidate them with a fastball when need be. Sims, by the way, doesn't know why folks started calling him Duck Titty, just that his father went by the same nickname, and by the time Junior was 7 or 8 years old, he was Little Duck Titty and his old man was Big Duck Titty.
"Still they call me that," Sims says. "And I'm 40 years old now!"
Sims is just one character. The league features dudes with nicknames that include the following gems: Patty Melt, Pig, Skeet, Black Knight and, of course, Cream.
Fun and games aside, the league means something different: the preservation of a deep love of baseball in the black community. Things have stayed the same here despite racial tension in the area and around the country. It's an irreplaceable sense of normalcy. Life wouldn't be life without baseball here.
"Even if this league wasn't here, we would still find a way to play," Sims said. "We love the game too much."
I just got a love for baseball. It's my first love."

Rodney "Duke" Jones
It's like a Blues thing. Baseball has always been in the black community."

Brian "Uddie" Shumpert
Since I didn't make it to the pros, this league is all I got, So I play like it's the last game of my life."

Roman Marcano
We were straight-out country boys. You just played wherever there were games."

Edward "Pap" McGowan
---