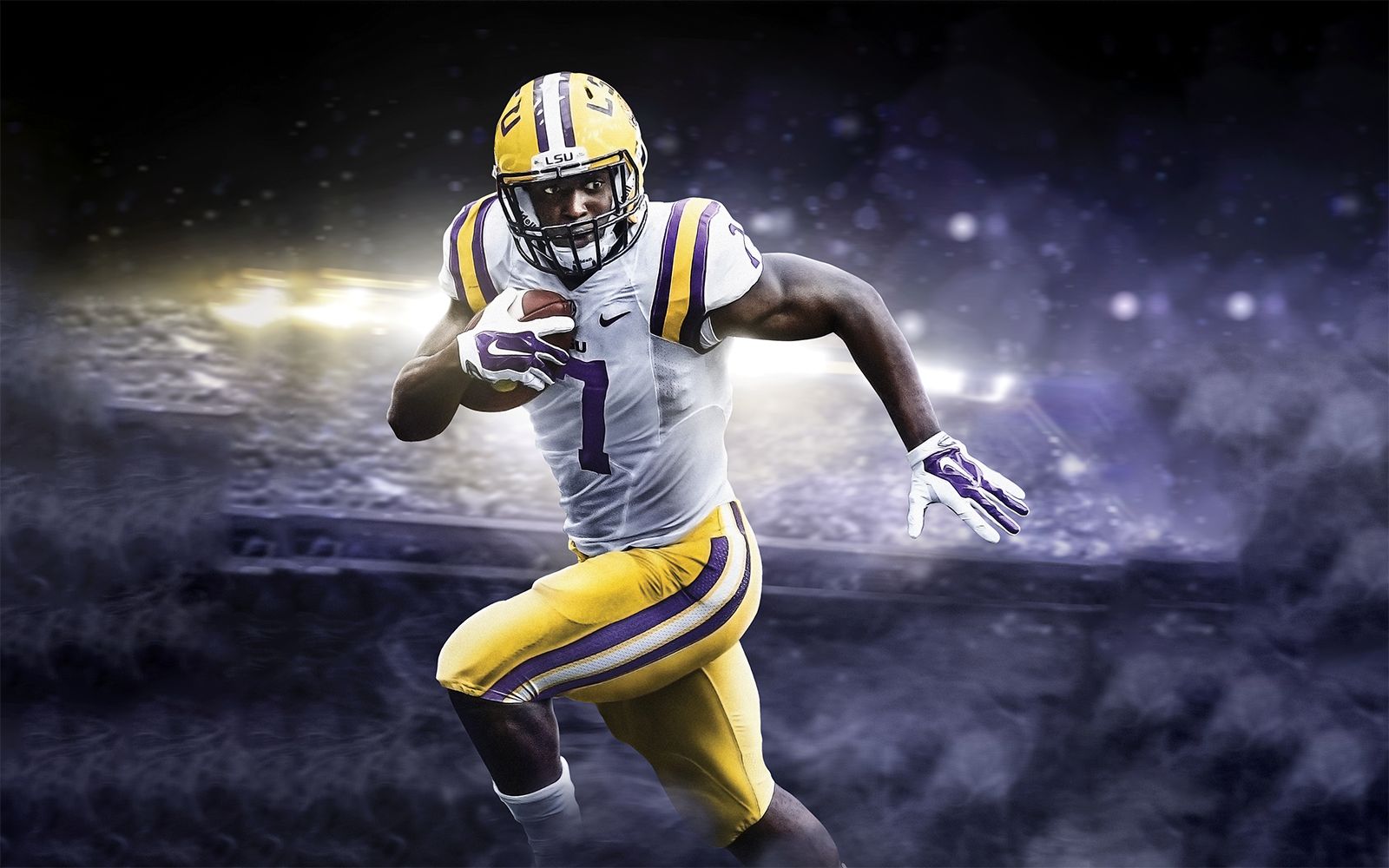 The Young Man, The Myth, The Legend
LSU running back Leonard Fournette is making history, but what will history make of him?
H
is teammates leave through the locker room doors at the north end of Tiger Stadium, but Leonard Fournette waits for a state trooper and a campus police officer to escort him out alone. His sudden fame is always separating him from someone or something, one of the casualties of the mania that has settled over Baton Rouge. A crowd has gathered, wanting an autograph, a picture, a touch, and if he exits with the rest of the Tigers, he might not get home for hours.
The trooper goes first, a bull of a man named Bryan Madden, all biceps and pecs, himself an offensive lineman for LSU 23 years ago. His day job is working the security detail for Gov. Bobby Jindal's family. Everything from his shaved head to his holstered Glock says: Try me. They walk out through the tunnel, in the opposite direction of Fournette's departing teammates. An hour after the South Carolina game, the stadium bowl is empty. Fournette looks around, commenting about the strangeness of seeing the place so quiet. It seems much smaller when the spell is broken.
He makes a quarter turn and heads into a concourse. The only sounds are the metal clap of folding chairs and the voices of concession guys trying to give away the last of the food to co-workers. Madden opens a gate, and Fournette climbs into the front seat of an unmarked police car. As Madden turns on the flashing lights and pulls out past the basketball arena, Fournette scrolls through the women mentioning him on Twitter. Blue lights reflect off the campus buildings. Through the tinted windows, he sees a student he knows walking home in the dark. The student can't see him. Madden heads up the hill toward the old athletic dorm, where he lived as a player.
"You never been in Broussard Hall?" he asks.
"Nah," Fournette says, clearly pleased both to have avoided that simpler past and to crack on Madden about it.
"I should sue for hazard pay," Madden says.
"Times change, huh," Fournette says, almost giggling. He's got a great laugh, a wide, easy smile, which is the same at a news conference as it is alone with his parents. He hasn't been separated from that. Madden tells Fournette stories about the old days, about an infamous Broussard Hall fight that started between Shaquille O'Neal and a defensive back but ended up with basketball coach Dale Brown and football coach Curly Hallman almost coming to blows. Madden saw it, but since this happened before modern sports fame turned college stars into a kind of public property, the brawl never made headlines. "No Twitter," Madden says, and though it's dark in the car, his voice sounds like he is smirking. "It's just a rumor now."
He wheels back behind Fournette's apartment building, where the sophomore gets out and walks upstairs to meet his family. There's a party going on, with Popeyes chicken and his mom's fried rice, both pork and shrimp. The next morning, he drives from Baton Rouge along I-12 to Slidell to have lunch. His mom, Lory, and two sisters join him at a suburban chain rotisserie place. It's relaxing and easy. Nobody bothers them during the meal, at least not until the Fournettes get ready to leave. People start cheering, calling Leonard's name, chanting. At first his mom thinks something is wrong, and then she realizes. A restaurant is giving her son a standing ovation as he heads toward the door.
---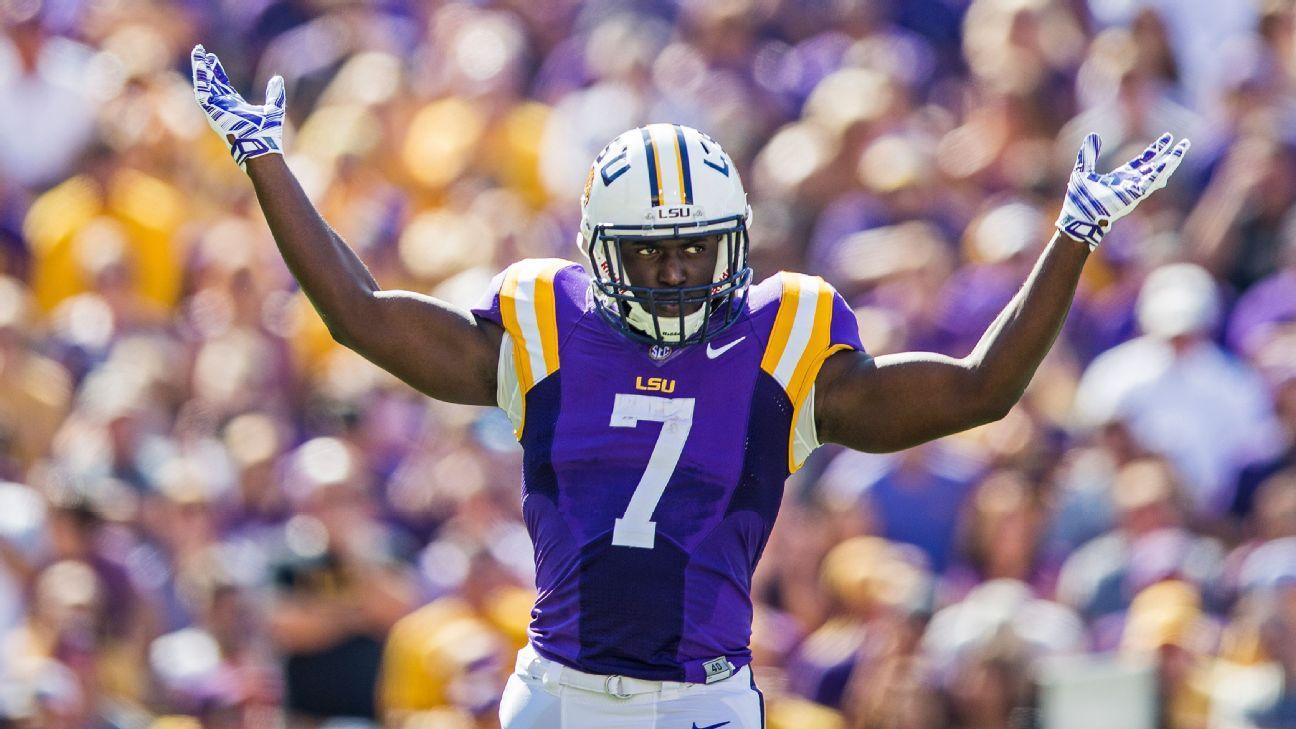 TWO DAYS LATER, Lory Fournette sits in her living room and tries to make sense of her son's football season. It's been a strange fall.
On Sept. 12, when LSU opened, the Fournettes were parents of a well-known running back. By mid-October, they were witnesses to a living myth, which neither they nor Leonard can fully comprehend or control. He'd just passed 1,000 yards faster than Bo Jackson and Herschel Walker ever did, and this coming Saturday, he'll literally punch a would-be Florida tackler off him with his free hand. Not only does he gain a record number of yards, he gains them with an almost cartoonish brutality. He is becoming a football folk hero, like Bo or Herschel, Joe Namath or LSU's only Heisman Trophy winner, Billy Cannon.
No matter what happens in the rest of Leonard Fournette's life, he'll struggle to escape the wake of this season, and if his career peaks at the Heisman ceremony, he'll be forever shadowed by the avatar of who he used to be. A few years ago, Cannon was spotted by a younger LSU fan who couldn't possibly have seen him play, and the fan stammered and gushed and finally asked, "Are you Billy Cannon?"
Now an old man, Cannon smiled and said, "I'm what's left of him."
Lory says she doesn't worry much, not even about injury, quoting Proverbs 18 as an explanation: "Death and life are in the power of the tongue." What kind of God would give a boy the ability to be the best at something and then not allow that talent to find its fullest expression? She has faith.
Two things do scare her, she finally admits.
As a child, Leonard stuttered. She knew his dreams, so she would stand him in front of a mirror and make him address an imaginary audience. "If you're gonna be an NFL player," she told him, "you're gonna have to learn how to speak." He faced the mirror and practiced, and even though he long ago stopped stuttering, she worries sometimes. He's just on TV so much. It makes her proud to see him act the same in an interview as he does at home.
"Don't ever let anybody take that from you," she tells him all the time.
She worries about Leonard feeling lonely too, so she calls three or four times a day, keeping a line open, maybe passing along a Bible verse. "To let him know," she says. "Sometimes when you're in the limelight you can really feel alone. Even though you have all these people around, you can really feel like everything is closing in on you. No matter what's going on, he can always call us."
It's all she can do now; watch, offer a few words of support, make sure he's got something comfortable and familiar when he gets home from a game. In a few days, she'll head over to Baton Rouge with pans of her son's favorite foods. They tailgate at his apartment this season, just a block from campus. It's easier that way. The family famously endured Katrina on an I-10 overpass, but that memory isn't as powerful a force as the way Leonard's life has changed this season, and the speed with which that change has come. All his life, he has stood out on whatever team he joined, but this is different: He is leaving the promise behind and stepping into whatever comes next.
He's always been full of potential. When people looked at him as a young man, they imagined what he might become. The living room around Lory is a testament to that potential. Every star athlete's childhood home is basically the same, the ones who grow up to drive trucks and those who end up in the NFL. Awards cover every flat surface, from the Touchdown Club of Atlanta, from a playground in New Orleans.
Leonard's mom has magazine covers and plaques from the SEC on the floor, long ago running out of places to put them all. Some look slick and professional; others are flimsy and tarnished. Only later will meaning be assigned, the trophies serving as either proof or taunt. Against South Carolina, Fournette became just the 10th running back in college football history to gain 1,000 yards in five games. Only three of the other nine remain household names, each a Heisman winner, and while Ricky Williams flamed out, Barry Sanders and Marcus Allen are in the Pro Football Hall of Fame. The rest have faded from memory.
---
AT THE CENTER of the madness, Fournette is having the time of his life. He doesn't seem stressed or overwhelmed. Everything is new and exciting, the brief window when fame is a joy and not a burden. There's a New Orleans rap song named after him, recorded on the ultracool label 0017th -- "Fourth down, Les Miles, let's go for it ... Leonard Fournette" -- and he was recently on the cover of Sports Illustrated being compared to the greatest running backs who ever lived. Tom Cruise came to see him play. A sign at Tiger Stadium read THE BOOGEYMAN CHECKS UNDER HIS BED FOR LEONARD FOURNETTE. He's good with all of it.
It's the Monday after the South Carolina game. Relaxed and calm in the lounge across the hall from Coach Miles' office, Fournette smiles when former LSU star and Pro Bowl safety Ryan Clark stops by to say hello. Just a moment ago, it seems, he was playing ball in a park with his friends. "I was in seventh grade, and I'm 20 now," he says, sounding a little stunned. "Time doesn't wait for anybody."
Fournette wants to do things right. During news conferences, he'll look over at the media relations guy for help if he's unsure. This summer, he went through rigorous media training, sitting for mock interviews in which the questioners aggressively hammered away on his perceived arrogance. They got pretty rough with him, says LSU business school professor Tommy Karam, who runs the sessions, rougher than any actual reporter will get. Once, when he saw Fournette mumble and blow past two visiting trainers in the LSU weight room, Karam confronted him and told a fib: Those were Heisman voters, he said, and everyone is always watching you. Fournette never did it again. A few weeks ago after a game, he won a weekly MVP award, which he then gave to fullback J.D. Moore, who Fournette said deserved it more. Miles says it was the first time in his entire coaching career he'd ever seen that happen. One local radio guy called it a "blessing" to cover someone who always does the right thing, which is how the trouble always begins. Leonard Fournette has some weakness or skeleton that hasn't yet become public -- "There is always something," the fictional governor of Louisiana said in All the King's Men -- and when he fails, he'll be held to a standard he didn't create and couldn't have prevented. There's no media training for that, beyond duck and cover.
Risk is everywhere. Three days earlier, Fournette's Georgia rival, fellow sophomore Nick Chubb, tore up his knee, ending his season. Their boyhood homes likely look the same, trophies piled up around the living room, and they'd both been on the same trajectory. Chubb's mother surely trusted that God would protect her son and his talent too. Now Chubb is slipping behind, part of the inevitable winnowing. After their games ended, Fournette sent Chubb a message. "I'm praying for you and a speedy recovery," he wrote, then urged the running back to listen to a gospel song that gives Fournette comfort during tough times: Fred Hammond singing Isaiah 54, "No weapon formed against thee shall prosper."
"It's like a dream. It's happening so fast. It's not slowing down."
- Leonard Fournette
When asked whether he has injury insurance, Fournette refers the question to his mom and dad, saying he doesn't really deal with anything but football. (According to Dennis Dodd of CBSSports.com, the Fournettes have purchased private insurance until next year, when their son becomes draft-eligible and the NCAA-financed insurance kicks in.) Leonard is focused and somehow free of the anxiety all the adults around him feel. That makes sense. He's never truly failed at anything in his life, so of course he expects to succeed. "It's like a dream," Fournette says. "It's happening so fast. It's not slowing down. I try to be cautious with every decision I make. I never thought I'd be one of the headlines of football."
His 10-month-old daughter, Lyric, just started crawling. Fournette says this almost made him cry, which is tough football player code for he wept harder than Lyric at bedtime. The past few months he has taken a lot of pictures so he has something to show her when she grows up. (Lyric lives with her mom.) Her birth wasn't planned, and Lyric's mother, Jamie Jones, was seven months pregnant before Fournette worked up the nerve to tell his parents. "I kept going back and forth," he says. "I'd get on the phone with them and choke. I'd just change the subject. I was terrified."
Taking the baby home from the hospital -- Oh my god, they just let us leave with a tiny human! -- it hit him. He was a father, an adult, and he started thinking about the responsibility and pleasure of buying her first car and paying for school. College football is a childish thing he'll have to put down, and he knows already that he'll miss it. In a year and a half, he will leave this place and begin his life's work. That's why he stood in front of a mirror as a boy and fought through a stutter, so he could go to the NFL and try to be the best there ever was. College is prelude, and while many people around him are counting the days until he turns pro, Fournette is feeling nostalgic for something that isn't even gone yet. He knows that some of the players in the locker room will be his friends for life, the people who stand up at his wedding, yet he also knows that once they leave Baton Rouge behind, something will be lost forever. Fame separates. He's once in a generation, and his path is taking him somewhere they can't go.
"You're not gonna see them again," he says.
Fournette is 6-foot-1, 230 pounds, but he looks boyish in his braces, which he got as a senior in high school. They're finished straightening his teeth, but he can't find time to have them removed. His schedule is too packed. His mom is always calling to remind him that his car needs an oil change, but he can't find time for that either. Since he'll certainly forgo his senior season, he's taking classes year-round, during all intersessions and summers, on pace to graduate in three years. From seventh grade, he got up at 6 in the morning, made the long ride across the lake to school, then practiced football and made it home for dinner and bed. Then he went to college, where the schedule got busier. The pace has been unrelenting for years and won't let up for many more to come. Who will Fournette be when he finally is able to take stock of the changes that began this fall? Will he be surprised when he looks in a mirror? Right now he's 20 and in full bloom. His team is undefeated. Alabama is next. He's got all he can handle with today to see much further into the future.
---
Fournette's rushing yards through first seven games vs. past 10 Heisman-winning RBs*
AFTER PRACTICING FOR Florida, Miles gets in his Escalade to drive across town. It's always disorienting to hang with him, this Groundhog Day effect, because no matter how many years pass, inside the LSU football ops building his life never really changes. Miles did recently stop drinking caffeine, and he went on this crazy fad diet. His secretary ordered him a new couch. His kids are older. He got a new windbreaker. Otherwise, everything is the same, almost down to the minute.
Every Wednesday night for 11 seasons, Miles has done his local radio show, which never changes either, from the boy who brings him a jar of blueberries to the girl who drops off a single yellow rose. The repetition can lull, the routines hiding the fact that even though this year seems to be like the ones that came before, it is very different. Fournette is like no player he has ever coached. Miles feels an almost parental obligation to protect him from the madness, even if he isn't quite sure how to do that.
He's not even sure Fournette wants protection.
Driving along I-10, passing the sign for a dive bar named Ivar's, Miles channels Fournette's reaction to his restrictions on access and attention: "'Really? Are you kidding me? I'm in my 20s, and everyone in the world loves me. And you want me not to communicate with people? Explain that to me.' He just had a big smile on his face: 'OK, Coach.' You could just sense that he was sitting there thinking, 'I'm good with this. This is new.'"
Miles is 61, the veteran of many wars of public opinion, and he knows adoration can quickly become toxic. Once during a radio show commercial break, he pointed to his microphone and said that one day another coach would sit in that chair and the boy would bring that guy the blueberries: The king is dead; long live the king. He wants to keep Fournette from getting too high so the inevitable fall doesn't crush him.
"I explain it to him: 'If it ever gets to a point where this is too much, I'm the bad guy,'" Miles says. "'And I'm good with that. You should be able to go to college and not have all the distractions that are befalling you because of sudden fame.' That will be an issue for him, but he's got the immediate shut-off switch and that's me."
Miles changes lanes, glancing back to make sure he doesn't clip the car he's cutting off, getting ready to exit on Acadian. He loved college, and part of his ability to connect with generations of players is his memory of the years he spent in Ann Arbor. "I think back to me," Miles says. "I lived all of my 20s, and for that matter 30s, in real anonymity. I was a very average player on a great team. I could hide when I wanted to hide. If I wanted to go get a beer, I could get a beer. All the things. I want to make sure he realizes that it's something he can do."
Miles has seen what happens when fame turns, and it always turns. The best he can do is delay the inevitable a bit. Nobody knows what will happen to Fournette after Baton Rouge, or whether he'll even make it through the 20 or so games he's got left without an injury. He might win the Heisman, and he might win it twice. He might go first in the draft and flame out. He might be the greatest running back who ever lived or the subject of a "Where Are They Now?" story in 50 years.
Fournette's high school strength coach made him learn about Marcus Dupree, the highly recruited running back in the '80s who was the subject of a 30 for 30 documentary titled The Best That Never Was. Dupree drives a truck now. Nothing is assured, least of all something as intangible as the kind of greatness Fournette wants. That's the tension laced beneath this magical season at LSU, which has seen a young man with potential become a folk song: Everyone is watching the first act of a great drama, and nobody has a clue how it will end.
---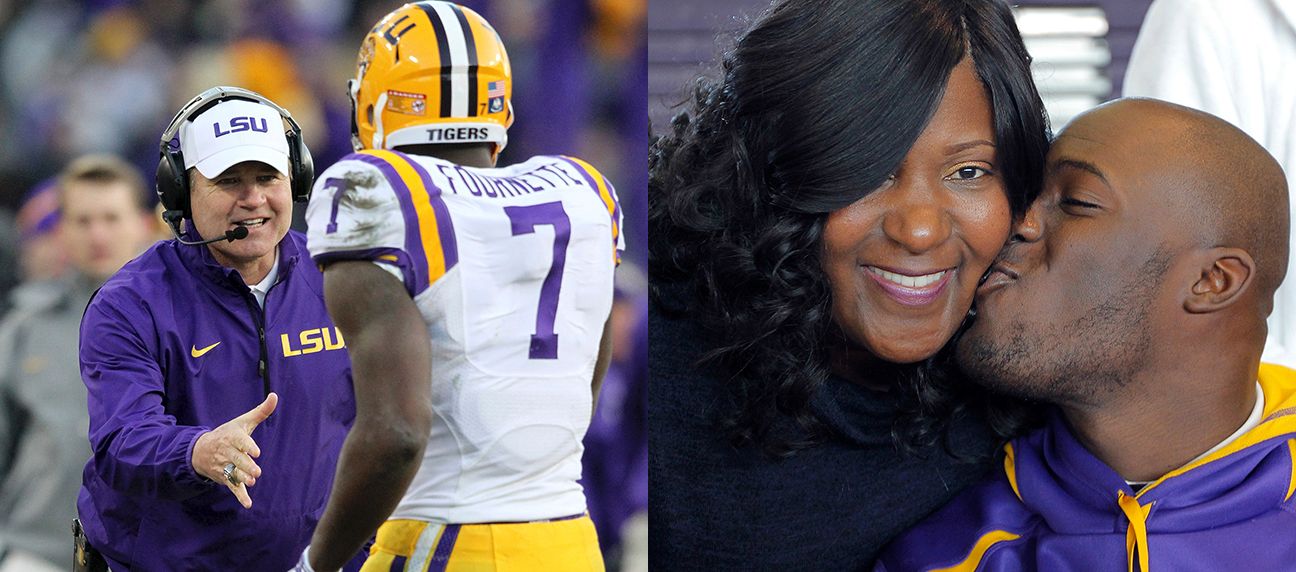 THAT'S NOT EXACTLY true. One man does.
Sixty miles north of Baton Rouge, the Angola Prison dentist sits in the visitors center and museum for his lunch break. His name is Dr. Billy Cannon, 78 now and still seeing patients. Two women in the gift shop smile and flirt with him.
"Thirty years ago," he jokes, and all three laugh.
"He's gonna have temptations and peaks and valleys."
- Billy Cannon
No one else in Louisiana so fully understands what will happen to Fournette in the coming years and decades, or what he'll find in the mirror when it is all done. Cannon lived it. A forgotten rockabilly sensation once wrote a song about him -- "Look out, there he goes ... Billy Cannon" -- and Sports Illustrated called him "strong as a young bull" and a "model student and citizen." He got a standing ovation in a restaurant too. No LSU Tiger has won the Heisman Trophy since 1959, when then-Vice President Richard Nixon handed Cannon the award. He became a legend, the once-in-a-generation kind, his most famous play a fourth-quarter punt return touchdown through the mist and fog on a Halloween night. But nobody rises as high as he did without a fall. Even with a successful dental practice, he became obsessed with his real estate holdings and finding the same success in business as he did in football. When the market crashed in the early 1980s, Cannon got involved in a counterfeiting scheme to pay his bills. The feds caught him, and he did three years, losing his reputation, even his self-worth. He disappeared for nearly two decades, working in the prison as a sort of penance, and only recently did he realize that LSU fans forgave him long ago. That helped him forgive himself. Cannon used to be all sharp edges and ego, and now he's a sweet old man who is thankful his ambition didn't cost him more than it did. He survived his own legend. Many do not. "It drifts away," he says. "You're not as impressed with people as you once were, and you don't care if you're impressing anyone else. It happens so gradually, you don't know it's happening."
At an LSU scrimmage, Cannon met Fournette, and when he looked at the hopeful, powerful, confident young man, he saw himself: all of it, the highs and lows, spread out in front of him. He knows exactly what Fournette is feeling, as well as something Fournette won't feel for many, many years. Cannon has seen what the myth looks like on the other side. Money once consumed him, and now he turns down raises at the prison, passing them along to his staff. He knows not to confuse friends and acquaintances. He knows it's a blessing that his family survived, that his kids love him and bring the grandkids around, and that he and his high school sweetheart are still married, 59 years in November. Dot Cannon waited for him to get out of prison the same way she waited outside the locker room on Saturday nights. Life isn't nearly as simple as it seems when a restaurant gives you a standing ovation.
"He's gonna have temptations and peaks and valleys," Cannon says before walking outside to drive back through the prison gates to his patients, who call him "Legend." He stands beside his F-150 and turns around before opening the door, wanting to make sure Fournette will be treated with kindness. Cannon understands that a story is both a chronicle of hype and an instrument of it.
"Nothing controversial," he says.
"He won't get torn down until later," he's told.
Cannon smiles and nods. He's lived this all before.
"Only if he's built up too high," he says.
A senior writer for ESPN.com and ESPN The Magazine, Wright Thompson is a native of Clarksdale, Mississippi; he currently lives in Oxford, Mississippi. Previously, he worked at The Kansas City Star and the New Orleans Times-Picayune. In 2001, he graduated from the University of Missouri School of Journalism.