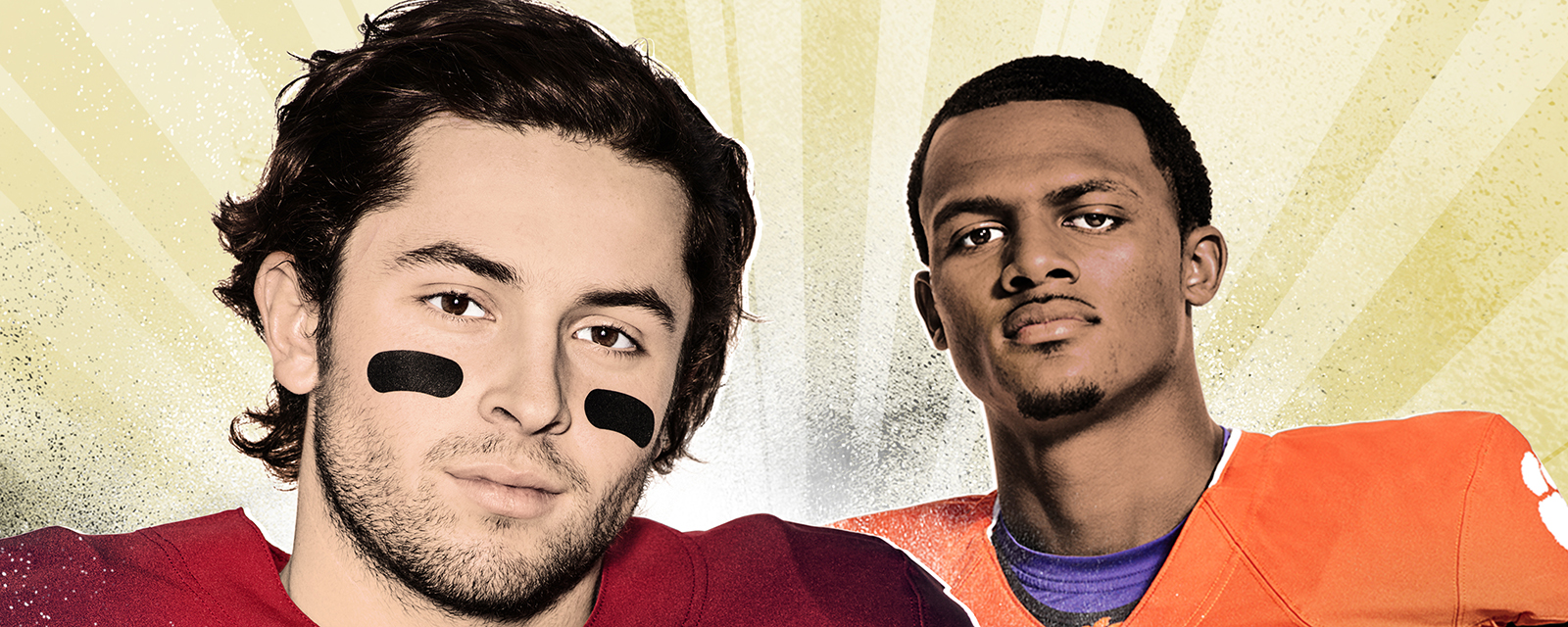 (4) OKLAHOMA VERSUS (1) CLEMSON
The Sooners and Tigers started the year on the outside of the top 10 looking in. They end the year squaring off for a shot at the title.
T
he paths for Clemson and Oklahoma to the College Football Playoff were relatively similar: score a ton of points and ride the arm (and legs) of their signal caller. But the paths taken by Deshaun Watson and Baker Mayfield to college football stardom couldn't have been more different. This time two years ago, Watson was the No. 1 QB prospect in the nation; Mayfield was a walk-on for Texas Tech who wound up winning the starting job and Big 12 Freshman of the Year.
Then Watson suffered through a sub-par freshman season at Clemson with a bum knee then a torn ACL, while Mayfield transferred after not being offered a scholarship and sat out a year at Oklahoma. But during their bouts with adversity, both quarterbacks had something in common: coaches who believed in them. On New Year's Eve, in the Capital One Orange Bowl (4 p.m. ET, ESPN), their paths will cross for the first time, and they will share one more thing -- a shot to play for a national championship.
---
Don't count out
Oklahoma's

Baker Mayfield
Playing against the No. 1 team won't faze the Sooners' latest hero -- he's used to being underestimated
TENNESSEE'S PUBLIC-ADDRESS announcer has just declared that a decibel record has been set at Neyland Stadium, which makes sense because Baker Mayfield and his Oklahoma Sooners can't hear a damn thing. The crowd is so jacked up that in the first quarter, the Vols' coach, Butch Jones, had to wave his arms in the air to remind fans to quiet down when his offense is on the field. But Mayfield gets no reprieve. For three quarters plus, he is chased and harassed, and the roars only grow louder.
It's his second game as the Sooners' starting quarterback, and people in Oklahoma aren't sure what to make of him yet. Is he the fun-loving ringleader from a dance video that went viral last spring? (It's gotten nearly a quarter-million hits, which actually freaks out Mayfield.) Maybe he's a cocksure gunslinger who'll do anything to win? "I'm feelin' real dangerous," Mayfield says whenever someone asks him how he's doing, quoting his favorite line from American Sniper.
And still this question: Does Baker Mayfield even belong here? His whole football life, he has struggled to find his place. The Sooners had already rejected him once. He went on a visit to Oklahoma four years ago, but when he stood in a hallway with three assistant coaches, and their eyes sized him up, Mayfield's dad, a former QB at Houston, knew that look; he knew it was over. Nobody would return James Mayfield's calls after that. His son was too small.
But Baker has grown as tough as titanium from all the snubs. He's grown literally too: a couple of inches to 6-foot-1 (allegedly). And now he is here, trying to lead the Sooners to an unlikely comeback in a deafening Tennessee stadium. "Stay in the moment," his 32-year-old offensive coordinator, Lincoln Riley, tells him on the sideline throughout the game. "Don't worry about what's happened before." His dad, hidden in the mass of orange and white in the stands, is worried. He doesn't think the Sooners can win, especially when they're down 17-3 in the fourth quarter. But then, he didn't see Baker winking and smiling on TV as he was warming up at halftime.
"Interacting with him on the sidelines when he'd come over," Riley says later, "you'd think we'd scored 30 points."
That's the unwavering optimist side to Mayfield. There's this side too: his relentless -- maybe even reckless -- drive to win. Still down by two touchdowns with less than nine minutes to go, center Ty Darlington hurts his knee and is lying in the grass, punching the ground in pain and frustration. Mayfield leans over and talks in the senior captain's ear.
"Get up," he tells Darlington, along with a few expletives. "We need you. You're staying in the game."
Darlington is incredulous -- he's hurt badly enough that he'll miss the next game -- but he lumbers to the line. On the next play, Mayfield scrambles and fires a touchdown pass to Samaje Perine. Mayfield throws another touchdown strike to tie the score with 40 seconds to go, and Oklahoma goes on to win in double overtime.
Sooners coach Bob Stoops hugs his quarterback and calls it one of his favorite wins ever, and Mayfield struts to the locker room and does the Dougie while his teammates chant his name.
It's the first glimpse of what the Sooners -- and their quarterback -- could become.
---
THERE WAS A time, just a few years ago, when Baker Mayfield looked beat. He'd poured his guts out at Lake Travis High School in Austin, Texas, leading the Cavaliers to a 25-2 record and a state championship over two seasons as a starter. But he might as well have been invisible to recruiters. The months kept passing, and coaches weren't calling.
His father tried to use every connection he had. He had a friend call Texas, and when James Mayfield was informed that the Longhorns already had five scholarship quarterbacks, he fumed.
"Tell Mack he has five quarterbacks who couldn't play at Lake Travis!" James told the friend.
Rice, Florida Atlantic, New Mexico, Army and Washington State were interested, and they eventually offered scholarships. Mayfield figured, screw it, he'd go to Florida Atlantic. James would have none of it. He reminded his son of his dream of playing big-time college football.
"[My dad] was the one who kind of sat me down," Baker says. "We actually got into a fight about it. [He said] I needed to walk on." Baker hated the idea -- "It was almost insulting to me that I needed to walk on," he says -- but ultimately he'd follow his father's advice.
Fellow Lake Travis alum Michael Brewer, who was a quarterback at Texas Tech at the time, encouraged Mayfield to walk on in Lubbock. The Red Raiders had just hired Kliff Kingsbury, who was Johnny Manziel's offensive coordinator at Texas A&M. Mayfield and Manziel have drawn comparisons because of their scrambling ability and penchant for fun, and Kingsbury would run a wide-open offense like the one Mayfield enjoyed at Lake Travis, so it seemed like a good fit.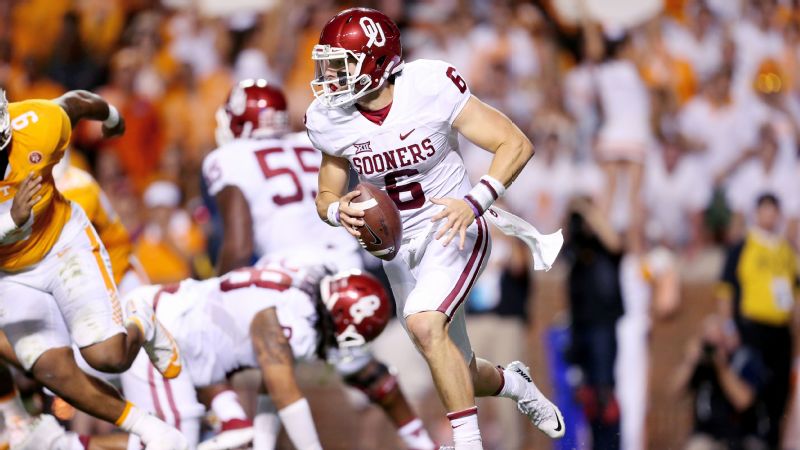 At Texas Tech, Mayfield started way earlier than anyone planned, playing in the opening game of his true freshman season in 2013. Brewer had hurt his back and couldn't suit up, so Mayfield stepped in and threw for 413 yards and four touchdowns (rushing for another) in a win over SMU. He led the Red Raiders to a 5-0 record but suffered a hairline fracture below his knee at Kansas in October. Things went downhill from there. James claims that Kingsbury pigeonholed his son as injury-prone and wouldn't talk to Mayfield for weeks while he was injured. (Texas Tech declined to make Kingsbury or any of his assistants available for this story.)
Mayfield came back after a month and started a couple of games, both losses, and Kingsbury announced that he was opening up the quarterback job heading into the team's bowl game. Around the same time, Mayfield, who was barred from eating at the training table because he was a walk-on, found out he still wouldn't be guaranteed a scholarship for the next season. He called his dad.
"What do you want me to do?" James asked.
"I don't want you to do anything," Baker told him. "I want to get out of here."
Texas Tech would later refuse to release Mayfield to transfer within the Big 12, which meant he likely would have to sit the 2014 season without a scholarship. He'd also lose a year of eligibility.
"I think Kliff's a punk," James says. "I know it's like saying your mama wears boots or something. It wasn't about the scholarship. We didn't care about the damn scholarship. It was the way it was done. It was insulting. It was an amateur deal."
---
ALTHOUGH HE WAS in the University of Texas' backyard, Mayfield's favorite team growing up was always Oklahoma. His dad was friends with some old Barry Switzer assistants, and he'd take Baker and his older brother, Matt, to Norman at least twice a season to cheer on the Sooners. There's a picture of Baker as a kid, mugging for the camera in his white-and-crimson Quentin Griffin jersey. He idolized Griffin, Mark Clayton and Jason White.
Despite getting the cold shoulder from the Sooners in high school, Mayfield figured he'd try again, now that he was the Big 12 Offensive Freshman of the Year.
"You don't see many guys around the country like Baker. He just doesn't hold back."
- Bob Stoops
And so in January 2014, Mayfield registered for classes in Norman. Stoops says he heard rumors that Mayfield was coming but wasn't sure. (It is against NCAA rules for a school to recruit or even encourage a transfer without permission from the athlete's current school.) When Stoops held the team's first meeting, in March, Mayfield walked up and introduced himself, and Stoops welcomed him.
"You'll have every opportunity everyone else has," Stoops told him.
The idea of going to Oklahoma, on paper, didn't seem too smart. Trevor Knight was just coming off a Sugar Bowl MVP performance and a victory over the Crimson Tide. Another quarterback, Cody Thomas, had been recruited by the likes of LSU, Notre Dame and Alabama.
But Mayfield was undaunted. He made a good enough impression for Oklahoma to offer him a scholarship even as he sat in 2014, and he watched the Sooners go 8-5. They were desperate for a spark. They needed more toughness -- physical and mental.
Mayfield, with his curly brown hair and boyish grin, might not look the part, but by the time fall camp started, his teammates knew he had what it took to lead them. It also helped that he had an uncanny ability to rescue plays on the fly and make things happen -- Stoops says that's why he gave him the starting job in August. He's different from the star quarterbacks Oklahoma has had in the past, on the field and off. Sam Bradford and White, who have statues outside of Memorial Stadium, didn't scramble and run the field like their hair was on fire. They didn't look as if they were having near the fun Mayfield is, either.
"You don't see many guys around the country like Baker," Stoops says. "He just doesn't hold back. That's his personality every day, and he just lets it go. You love it. But it has to be natural within a person, and it is with him."
Maybe the best example of that came in OU's final game of the regular season, against Oklahoma State: On a handoff in the second quarter, running back Joe Mixon got swarmed in the backfield trying to go left, so he cut back toward Mayfield. While most quarterbacks would have stood idly by, Mayfield sprang into action as a lead blocker, throwing the block that sprang Mixon for a 66-yard touchdown.
"I ran down the field after that play and told him he was a legend," Ty Darlington says. "Our relationship is very much that we talk trash to each other in every opportunity, but I had to give him props for that. That was awesome."
Mayfield's three additional touchdowns -- two in the air, one on the ground -- helped the Sooners to a 58-23 victory and got them the conference championship. After the game, Mayfield was so excited that he did a Lambeau Leap into the stands, his body barely making it up the concrete wall.
A few days after the game, Darlington says it: Mayfield is a badass.
"But don't tell him I said that," he adds.
---
ON DEC. 7, one day after the Sooners found out they'd made the College Football Playoff, Mayfield was in Arkansas accepting the Burlsworth Trophy, which goes to the top college football player who began his career as a walk-on. It was in the airport, on his way back to Norman, that he found out he wouldn't be invited to New York as one of the finalists for the Heisman.
Mayfield had done everything to put himself in the conversation, throwing for 3,389 yards with 35 touchdowns and just five interceptions, and running for 420 yards and seven touchdowns.
Among those stunned by the snub: Mayfield's roommate, fullback Jaxon Uhles. Uhles, also a walk-on, was so confident in Mayfield that before the season, before the quarterback had thrown a pass, he kept asking him where he was going to put his Heisman when he won it at the end of the year. Mayfield finally played along, and they decided they'd place it on the bookshelf of their home, near Richard the Chicken, a kitchen ornament-turned-video game trophy.
"I thought he kind of got hosed by that deal," says Hank Carter, his high school coach at Lake Travis. "He took it in stride and just said his focus was on getting ready for the playoff game. He said all the right things, but I would imagine deep down, he probably felt slighted."
For Oklahoma, it probably wasn't the worst news. After all, Mayfield is at his best in these situations. He will look at the New Year's Eve semifinal game against No. 1 Clemson and consider the Sooners the underdogs, even though they're favored by more than a field goal.
"I've had a lot of people doubting me my whole life," Mayfield says. "Middle school, I was backup quarterback; freshman year, I was backup until the other guy got hurt ... I have a very big chip on my shoulder just because people said I couldn't do it. And that's ultimately what fuels me."
And so on Dec. 31, he will run onto the field with his blue-chip teammates, and his short, muscular legs will take off, sticking it to every coach who made the mistake of sizing him up.
---
---
How Dabo Swinney and Deshaun Watson brought
Clemson

to the dance
The bond between coach and QB runs deeper than the playbook
HIS POSTGAME SPEECH isn't rehearsed. It isn't really a speech at all. What it is, is a release -- and a relief.
As midnight nears on Oct. 3, Dabo Swinney is standing midfield at Clemson's Memorial Stadium, doing what he always does when a live mic is shoved in his face after a win: He takes advantage of his platform. Clemson has just beaten No. 6 Notre Dame in a 24-22 nerve frayer by stopping a two-point attempt with seven seconds left. The Tigers, off to a 4-0 start, will climb from No. 12 to No. 6 in the AP poll by morning.
Despite the dramatic finish, Swinney speaks calmly at first. "It ain't always perfect ..." But then he feels the orange-clad crowd start to swell around him. Tradition says anyone can stroll onto the field after Clemson games. But these fans aren't just strolling. They're spilling, jumping and soon chanting, "Da-bo! Da-bo!" After too many years of falling short in big games -- what haters call "Clemsoning" -- the celebration is not so much a cheer as a release.
"What I told them tonight," says Swinney, glancing beyond the camera toward The Hill, taking in the students sliding down onto the field, "we give you scholarships, we give you stipends ... [his voice rises a little] meals, a nice place to live ... [louder still] we give you nice uniforms ... [shouting now] I can't give you guts! I can't give you heart!" Wind whips in, tossing the rain under his hat and into his eyes: "TONIGHT IT WAS BYOG ... BRING YOUR OWN GUTS!"
The downpour has filled Death Valley all day and night. It has soaked Howard's Rock (taken from the actual Death Valley in California) and forced some Clemson players to tiptoe, rather than run, down The Hill during their legendary stadium entrance. Throughout South Carolina, the hurricane rains have washed out roads, stranded residents and forced a state of emergency. Gov. Nikki Haley, a Clemson grad whose face is on some of the Tigers' playcall signs, had pleaded for fans to stay home unless they just had to attend. The stadium, of course, was full.
"And thank you to the good Lord and my dad," Swinney says in closing, "who was with me tonight!" To hear him tell it, God has always been by Dabo Swinney's side. Even when his own father was not.
---
THE REFORMATION OF Clemson football has been preached publicly by Swinney in that rain-soaked BYOG soliloquy and the on-field halftime "You be who we are!" speech caught on air at Miami in late October -- when Swinney's Tigers were up 42-0 -- and when Swinney blew up at a reporter for uttering that word: Clemsoning. It was captured by his endless locker room dancing on YouTube (Dabo hitting the Dab, get it?) and when he dug into his Pelham, Alabama, drawl to describe the Tigers in the College Football Playoff as "the rednecks that moved into the nice neighborhood."
The country-fried act is endearing, sure, but it belies an intelligence and work ethic that's anything but aw-shucks. The 46-year-old Swinney is a shrewd CEO disguised in a short-sleeved windbreaker, corporate-trained and ruthless. When he was named interim coach after Tommy Bowden's midseason ouster in 2008, Swinney already had a plan in place -- and he'd share his stack of three-ring binders with anyone who stopped by his office, from boosters to administrators to newspaper columnists. Even though it wasn't really his office yet.
Amid assumptions that Swinney was simply a lame duck until a real headman was hired, the former wide receivers coach frantically gave everyone the hard sell. He outlined where he'd spend money, if given it, whom he'd hire, if allowed to, what style of offense he wanted to run, if handed the reins. Every page out of those three-ring binders, notes taken during his 10-year stint as a player, grad assistant and wide receivers coach at Alabama (1990-2000), as well as his five and a half years under Bowden, was presented to Clemson brass as part of a business plan.
The opus, Swinney believed, was a road map to finally lead the Tigers out of two decades of staleness. Folks around town still sported 1981 national champions bumper stickers on their trucks. But those stickers had long ago faded from proud orange into a washed-out white.
"We were so behind in so many ways," Swinney says now. "We'd gotten behind in facilities. We'd gotten behind in recruiting. Everything looked old. So I had to start selling. Not just to people on the outside but to people on our own campus."
Selling, it turns out, comes naturally. It's his learned trade, not a position handed down from Daddy. His father, Ervil, owned a washing machine repair shop in Pelham and could fix about anything. But Ervil couldn't fix his own business plan and turned to alcohol as a full-time gig.
Despite the long odds, the youngest of Big Erv's three boys, William Christopher (Dabo is a Southernism for "that boy," as pronounced by one of his brothers), went down to Tuscaloosa and earned a bachelor's in commerce and business administration and then an MBA -- and a starting spot as a walk-on wide receiver for the Tide's 1992 national title team. In between his tenures as an assistant at Bama and Clemson, the only three years of his adult life not in football were spent selling commercial real estate. "Let me tell you something," Swinney says. "If you can convince a couple of women's clothing stores to play nice and share the same address, it's no sweat to walk into the athletic director's office and say, 'Man, we need to double our support staff, I need a checkbook to go hire some coaches and, oh, by the way, we need a practice facility!'"
So those first couple of months in charge, he wore out the door of the man who promoted him, worried that local cries for a national search would doom him. "Dabo immediately asked for this, asked for that," says Terry Don Phillips, who retired as Clemson's AD in 2013. "I'd say, 'Why do we need to have that?' And he'd always say, 'Because Alabama has it.'"
"People see those crazy postgame speeches and some of them think, 'Man, that can't be real.' But it is. That's Coach."
- Deshaun Watson
As construction crews went to work on new digs, Swinney went to work on his staff. When the offense didn't move fast enough, he threw $450,000 at Texas high school coaching legend Chad Morris, who took Clemson's offense from 82nd in 2010 to 16th in 2011 and instantly got a raise to $1.3 million. That year the Tigers also won their first outright ACC title in two decades but were thumped 70-33 by West Virginia in the Orange Bowl. Swinney quickly canned defensive coordinator Kevin Steele, replacing him with longtime Oklahoma DC Brent Venables, who was lured to Clemson for $800,000. In 2011, the Tigers ranked 81st in scoring defense. This season Venables (who now makes $1.35 million) coached that unit to 18th -- it gave up nine fewer points per game (20.2).
But Swinney's best work takes place in the living room, where a salesman must shine. In 2007, the year before he became head coach, Clemson's recruiting class was ranked 18th by ESPN RecruitingNation. In 2015, Clemson's class ranked fourth and included 13 players ranked in the ESPN 300. The No. 8 prospect for 2016, defensive tackle Dexter Lawrence, has already committed to Swinney over Bama, Ohio State and a host of ACC teams.
"When Steve Spurrier got to South Carolina, he made that place cool," says a longtime in-state high school coach. "Then Spurrier started looking old, Clemson's offense got rolling and look who's cool to these kids now."
No one gets a bigger kick out of "being cool" than Swinney, who quickly refers to his dance moves as "proof that I ain't all that cool." But he can't deny that his reputation has changed among 18-year-old recruits. Just ask Deshaun Watson.
"People see those crazy postgame speeches, and some of them think, 'Man, that can't be real,'" says the sophomore quarterback. "But it is. That's Coach." Watson swats his hand, dismissively, and lets out a guttural laugh. It was three autumns ago when Watson, then the No. 1 prep QB in the country, sidestepped Bama, Auburn, FSU and USC, all of whom have won national titles during his lifetime, to choose Clemson. "I ended up here because of [Coach Swinney]," says Watson, a native of Gainesville, Georgia. "That's the guy who convinced me. He's genuine. He's done everything he promised when we first met."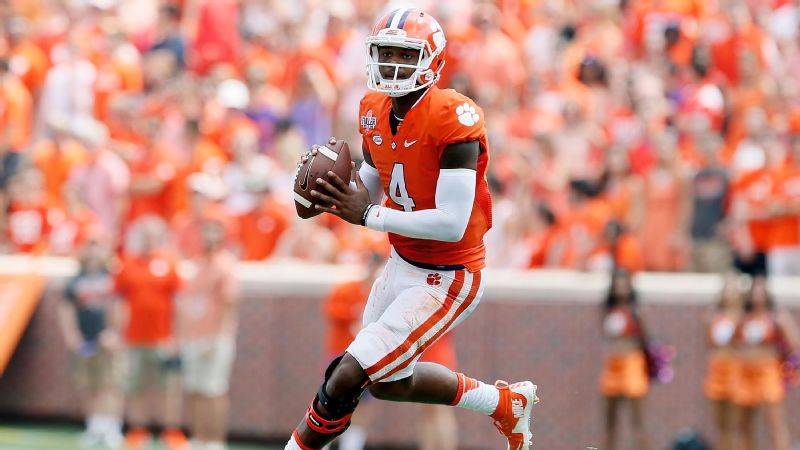 Swinney promised that Watson would be the face of the program. Check. He promised that Watson would lead a wide-open offense. Check. But what truly sold Watson was Swinney's story. The coach himself calls it his man-with-nothing-to-lose story.
The two men, coach and QB, have exchanged memories of police knocking on the door late at night, tears shed over the unknown, ironclad mothers and the drive to push for something better.
Watson was raised by Deann, a single mother with four kids who worked all day, then put in nearly 300 hours of community service to qualify for a Habitat for Humanity home. The Watsons persevered and left behind public housing, only to find out Deann had tongue cancer. She survived but lost part of her tongue. Similarly, Swinney grew up in a single-parent home after his alcoholic father bolted, forcing his mother, Carol, to bounce through evictions with three boys, one of whom Dabo would one day put through rehab on his coaching money.
"My father figures were my coaches," Swinney says. "For too many of these kids, it's the same thing. So when I tell a mama I'm going to look after her little boy, that I'm going to make sure he can take a step toward that better life, then I'm going to do it. And they know I am."
Watson doesn't have a relationship with his father. Swinney didn't until he became the first in his family to graduate from college, when a repentant, proud Ervil came back into his son's life. He was too late to be a father but still had time to be a grandfather to Dabo's three sons. Ervil lived out his final sober years repairing washers and dryers at an old hardware store near Pelham, surrounded by Clemson memorabilia and fighting lung cancer. He spent game weekends at Clemson with his new wife, sleeping in one of Dabo's guest rooms. Carol and her new husband slept in the other. "We were as broken as broken could be," Dabo says. "If you can fix that, you can fix anything."
Big Erv died in August, just as the Tigers started practice. He'd been gone only two months, nearly to the day, when Dabo stood there in the rain and spoke of his father. As the fans started bouncing and the "Da-bo!" chant built, Swinney wrapped up his interview, nodded to his police escort and gave the marching orders: "Let's find my wife and boys ... and let's find Deshaun. It's time to hug some necks."
Merrill is a senior writer for ESPN.com and ESPN The Magazine. She previously wrote for The Kansas City Star and the Omaha World-Herald.
McGee is a senior writer for ESPN The Magazine and a frequent contributor to ESPN.com, Insider, SportsCenter and ESPNU.