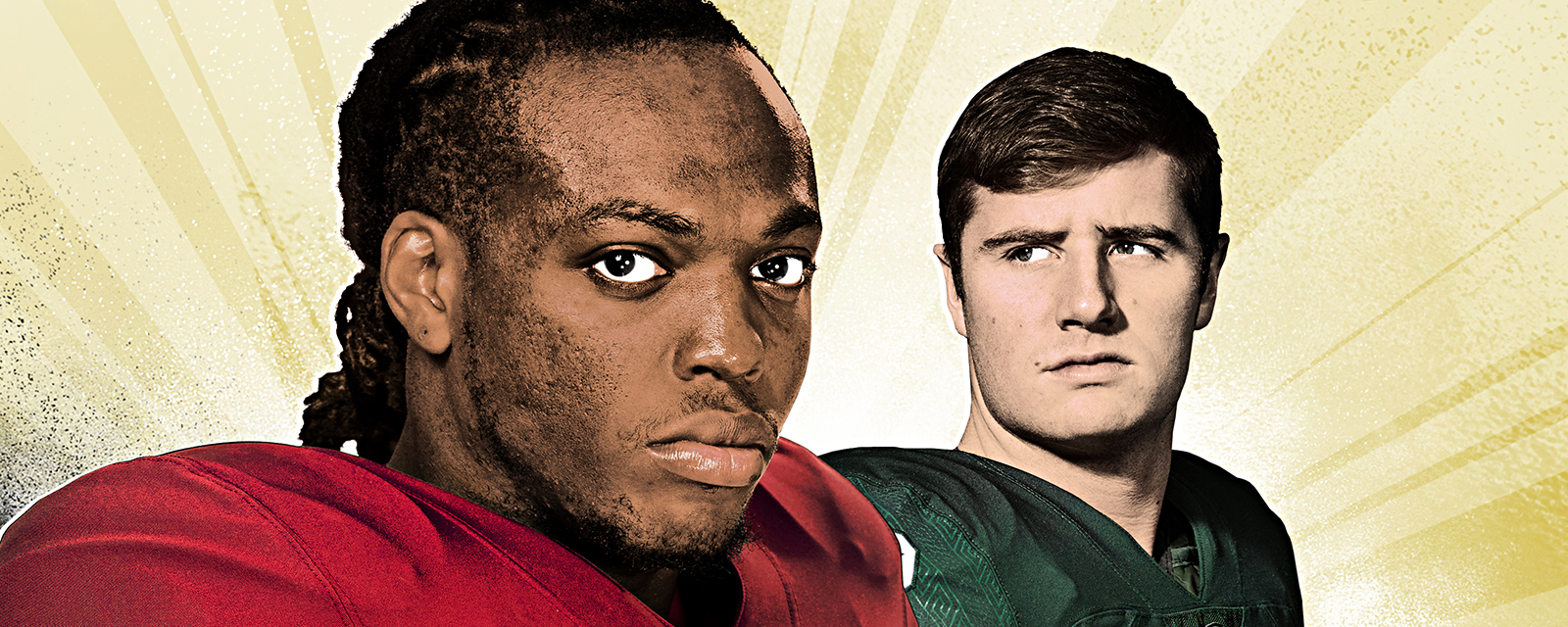 (3) MICHIGAN STATE VERSUS (2) ALABAMA
Student tackles teacher as the Spartans' Mark Dantonio faces his mentor in the Crimson Tide's Nick Saban.
T
he last time Nick Saban and Mark Dantonio met on the field, at the 2011 Capital One Bowl, professor annihilated pupil. Michigan State could muster just one score, and that came only after Alabama had hung 42 unanswered on the Spartans. No doubt, it was a low point for Dantonio, who was a defensive backs coach for five seasons at MSU under Saban. But despite the embarrassment, Saban's disciple didn't waver from his plan -- and perhaps now Dantonio's perceived stone-faced stubbornness should instead be thought of as patience. Because over the last three seasons he has won two Big Ten titles and his total of 36 wins is second only to Urban Meyer and Jimbo Fisher (37) -- and one more than Saban.
Of course, Saban, who remains unbeaten (8-0) versus his former assistants, hasn't exactly changed his ways either. Why would he after winning a pair of national titles and reaching last season's first-ever College Football Playoff? He's succeeded by relying heavily on NFL-caliber running backs, and this year is no different. The Tide personify their coach's resolve, feeding Derrick Henry down after down, waiting for defenses to eventually surrender a crease for the Heisman Trophy-winner to burst through.
Teacher will again meet student on this New Year's Eve in the Goodyear Cotton Bowl Classic (8 p.m. ET, ESPN), and we'll see if Dantonio can finally be the one to school Saban.
---
Patience Pays Off For
Michigan State's

Mark Dantonio
In his ninth season, Sparty's head man has the program positioned to win its first title since 1966.
ON A TYPICALLY rain-doused Big Ten evening in Columbus, Ohio, the Michigan State offense gets the ball late in the fourth quarter of a tie game with a chance, finally, to earn respect.
Despite five seasons with 11 or more victories under head coach Mark Dantonio, the Spartans had entered this game against Ohio State as 13-point underdogs -- low expectations that reflect a general lack of enthusiasm for MSU's patient, almost drowsy, style of play. Compounding matters, a shoulder injury has kept Michigan State's Connor Cook, this year's Big Ten Quarterback of the Year, off the field. Then there is Ohio State itself, the defending national champ, winner of 23 straight. Few observers gave MSU much of a chance.
And yet, with 4:07 remaining and the game tied at 14, the Spartans take possession at OSU's 48-yard line. With Cook on the sideline, Dantonio has converted to an option attack, and on MSU's first play of the drive, freshman tailback LJ Scott runs, predictably, for 3 yards. In a shocking turn of events, the next play is a pass: a 6-yard completion to Aaron Burbridge, this year's Big Ten Receiver of the Year. It is MSU's first completed pass of the second half. It will also be its last. From there, the Spartans revert to form. "Coach D had been challenging the O-line," offensive line coach Mark Staten says afterward. "He'd been challenging them about being able to run the ball, to control the clock, to do what we consider our trademark. And that's 'Pound, Green, pound.'"
Over a string of no-frills plays -- an off-tackle run, a QB keeper, another plunge up the gut -- MSU bleeds the clock, with Scott ultimately shouldering the ball to the 23-yard line. With three seconds left, Dantonio calls timeout.
Michigan State junior Michael Geiger was the No. 1 kicker in the country coming out of high school in Toledo. Still, as one of 29 Spartans from Ohio -- most of whom had attracted little interest from the Buckeyes -- Geiger, just 5-foot-8, is a living embodiment of Michigan State's underdog stature.
Dantonio has lined up the field goal attempt from the right hashmark, remembering how in the second quarter Geiger had hooked a kick wide left of the opposite uprights. And after Geiger connects, sure enough, the ball hooks left. This time, though, he has aimed out to the right, allowing the kick to ride a crosswind in a display of patient meteorological faith, and the ball sails through the uprights. Geiger sprints to the far end of the field, his right arm windmilling over and over, as if winding the game clock that has already expired. He's the latest in a line of unlikely Spartans to seize a final moment and outlast another foe.
---
GEIGER DISPLAYED MORE charisma in that celebration than his head coach has in a decade's worth of sideline shots. For a man in a position of visible leadership, Mark Dantonio is nothing short of an introvert. "There are many coaches looking to see where the camera is in order to get there as fast as they can," says Mark Hollis, Michigan State's athletic director. "Because of that, you sometimes don't get that public sizzle that maybe some of the other coaches are getting."
"We call our offseason program the fourth-quarter program for a reason. We put a lot of stock in that."
- MSU linebacker Darien Harris
Dantonio apprenticed under two head coaches who let their wins do the talking: Nick Saban at Michigan State in the '90s and Jim Tressel at OSU the following decade. It wasn't until age 47, after nearly 20 years as an assistant at eight programs, that Dantonio landed his first head-coaching job, at Cincinnati. By then, stoicism had baked its way into his DNA, his public appearances disarming in their lack of charm.
For the son of a high school principal, the younger brother of a tax attorney, temperance is a familial trait. So it was when Michigan State contacted Dantonio to be its new head coach with two games remaining in the 2006 season. He told the school to be patient. He was still the coach of Cincinnati. No matter the opportunity before him, he refused to engage another school while his own season was in progress. Michigan State, which had last won a national title 40 years earlier, could wait a few weeks.
When he did arrive, he brought eight of his nine assistants with him, a buttoned-down staff about to sell its brand of perseverance to a group of players that the blue-chip programs had disregarded. "Limitations are brought on by your mind," says Staten, who has followed Dantonio from Ohio State to Cincinnati to Michigan State. "We never came here thinking there were any limitations."
Perhaps they hadn't checked a map.
---
IT HAS LONG been MSU's misfortune to share a state with the most victorious program in college football history. But in this Year of the Spartan, the Michigan game on Oct. 17, five weeks before Ohio State, especially encapsulated Sparty's good fortune.
Through 59 minutes and 50 seconds, MSU, on balance, outplayed Michigan, outgaining the Wolverines by 156 yards. Still, the Spartans never led and were down 23-21 with just one Michigan punt remaining, from the MSU 47-yard line. But punter Blake O'Neill flubbed the snap, then compounded his predicament. He tried to scoop up the ball and kick it but was mauled by freshman backup safety Grayson Miller and sent spinning, his arm somehow colliding with the ball, batting it sideways like the world's worst lateral, to MSU's Jalen Watts-Jackson. He caught it midair and midstride, with a wall of Spartans around him.
Thirty-eight yards later, Watts-Jackson fell into the end zone and was consumed by a pile of Spartans -- unfortunate, as his hip was fractured and dislocated on the play. For the little-used sophomore defensive back from outside Detroit who got scant interest from any other FBS program, the season was over. But thanks to him, a midlevel recruit patiently waiting his turn to shine, Sparty's season was not.
"Life gets flipped upside down," Dantonio said after the 27-23 win, almost betraying a hint of emotion. "We come out on the top end of it. I hope our program's been validated now. We're not the weak sisters there. We can play."
---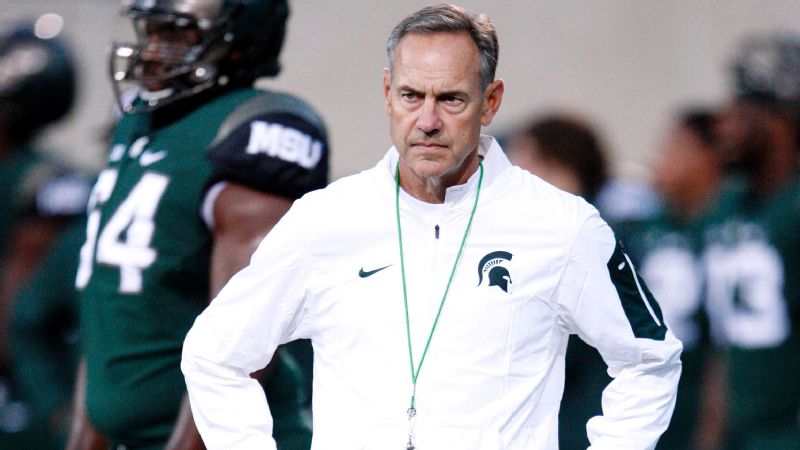 IF DOUBTERS REMAINED, then they just haven't been paying attention. Since 2010, Michigan State is tied for the fifth-most victories in the country and has won three Big Ten titles (to Ohio State's one). And as much as the Spartans love to pummel the Wolverines, whom they've topped seven of the past eight years, their national reputation now hinges more on beating the Buckeyes.
Dantonio is 3-4 against Ohio State, with all three wins coming in the past five years. But his patience as a coach has never been more pivotal than this year, forging ahead without his star quarterback, Connor Cook.
Late in the third quarter at Columbus, down 14-7, the Spartans get the ball at their own 25. With his offense scoring just once while in the hands of backups Tyler O'Connor and Damion Terry, Dantonio never loses faith in his approach. Calling a dozen running plays (the one pass on the drive was incomplete), MSU soaks up six and a half minutes to plod down the field until, on second-and-goal from the 2, tailback Gerald Holmes wriggles free from two defenders before reaching across the goal line for the tying touchdown.
"That drive is not only indicative of the season," Staten says. "It is the core of what this program is."
---
NO ONE IS expecting fireworks two weeks later as the Spartans take the field in Indianapolis for the Big Ten title game against the conference's other blunt force, Iowa. Michigan State's unsexy persistence, the ability to run the ball and bleed the clock, is no longer news.
Trailing once again late, 13-9, MSU gets the ball with 9:31 left and 82 yards to go against a Hawkeyes team that hasn't trailed in the fourth quarter all season. In what Spartans fans will forever refer to as The Drive, MSU calls five passes and 17 brutalizing runs, converts five third downs and one fourth, and packs a game's worth of drama into one possession.
As Michigan State inches down the field, a sense of inevitability overcomes Lucas Oil Stadium. "I just said, 'We've been here before, we know how to do this,'" Hollis says. "That's what Coach Dantonio emphasizes all along."
The optimism detectably shifts among the 60,000 fans from Iowa's faithful to Michigan State's. The Hawkeyes are wearing down under Mark Dantonio's withering waiting game, which will see the Spartans hold the ball for an eternal 9:04.
"We call our offseason program the fourth-quarter program for a reason," says senior linebacker Darien Harris. "We put a lot of stock in that. It means we've got to outlast teams in the fourth quarter, when it really matters. We can't get tired. We've got to play our best ball in the fourth quarter. Game in and game out, we show we have the ability to do that."
With 33 seconds remaining and a berth in the College Football Playoff at stake, Michigan State is at Iowa's 1-yard line. The ensuing play, "Jack across," calls for center Jack Allen, who has lined up at tight end, to motion left. This is a feint. At the snap, LJ Scott takes the handoff and dashes right, behind fullback Trevon Pendleton.
Scott is hit first at the 3 by linebacker Josey Jewell, but he sheds that tackle and another lunging effort from outside linebacker Ben Niemann. Turning toward the goal line, he is then met in force by defensive back Desmond King and linebacker Cole Fisher, both men having pursued from across the formation to collide, almost simultaneously, with Scott. For a second, the three are locked in stasis, the two Hawkeyes straining against the Spartan. Scott, twisting away, rights himself and -- as Jewell and Niemann rejoin the fray, four Hawkeyes clinging to him -- lunges for the goal. And then this: Iowa senior defensive end Melvin Spears, having lined up on the opposite end of the line, is now laterally sprinting across the goal line toward Scott.
But the game seems to slow down for Scott, who eyes Spears and pauses in the pile to raise the ball in his right hand, letting Spears fly under it. Then he reaches out, breaking the plane of the goal line as five Hawkeyes tumble around him -- an astonishingly patient final play sending the astonishingly patient Michigan State Spartans into the College Football Playoff.
The wait is finally over.
---
---
Why
Alabama's

Nick Saban loves Derrick Henry
Even the most stoic coach in America can't hide his affection for the kid who carried the Tide back to the playoff.
CAUGHT UP IN the moment after Alabama throttled LSU 30-16, Nick Saban reached out during a postgame interview and actually tried to hold hands with Derrick Henry. When the junior Bama back demurred, a beaming Saban simply tucked his left arm into the crook of Henry's elbow like a cotillion escort and reeled in his reluctant running back.
The slightly awkward postgame embrace was the only time all day that Henry had shied away from contact. In a game that was supposed to be just one more SEC showcase for LSU's Heisman-in-waiting, Leonard Fournette, Henry stole the show with a relentless 210-yard, three-touchdown performance that rescued Alabama's season and catapulted him over Fournette and into the national spotlight.
Given the Heisman implications of their showdown, it was fitting that on a 40-yard romp, Henry flashed that famous trophy's stiff-arm not once but twice -- rag-dolling LSU safety Jamal Adams at the 30 and then one more time for good measure at the 15, before finally going out of bounds at the 2. The rest of the game, while a forlorn Fournette sputtered to 31 yards on 19 carries, Henry alternated between elusive on one carry and physically overpowering on the next. The highlight: a 13-play drive in which Henry ran the ball 10 times for 78 yards and a 29-yard tear through the heart of the LSU defense on third-and-9.
After this performance, Henry would go on to win every major national award, averaging 209 yards rushing against his final six SEC opponents and shattering Herschel Walker's 34-year-old SEC single-season record with 1,986 yards rushing. He'd also lead the nation in fourth-quarter rushing (521), yards after contact (836) and awkward embraces with his coach.
The uncharacteristically smitten behavior by the normally gruff Saban, who occasionally refers to his players by nothing more than their jersey numbers, first blossomed this past spring when Saban referred to Henry as the MVP of the Tide's offseason program and later declared: "I love Derrick Henry." It escalated some more after a win against Tennessee, when Henry posed with Saban in the Bama locker room while smoking a victory cigar. And then, after Henry ran for 189 yards in the SEC championship game in Atlanta, Saban, in his 22nd year as a coach, confessed that of all the teams he's been associated with, including three national champions, this one, led by Henry, whom he called a "fabulous human being," was the most special to him.
The next day, when Henry's friends and family back in Yulee, Florida, started asking him about the budding bromance with his coach, the Bama back texted the only answer he could think of: a string of laugh-until-I-cry emojis. "We've all noticed, and it cracks us up how Saban's man crush on Derrick has grown this season," says J.T. Medley, a mentor and father figure to Henry in Yulee, a small, unincorporated town 30 minutes north of Jacksonville. "It says a lot about Derrick that he's the one who can turn Nick Saban into a softy. But at the same time, Derrick's a pretty easy player to fall in love with."
Maybe it's the fact that Saban is now a grandpa. Maybe it's the realization that, at 64, his time in the game is finite. Or maybe, four years after Trent Richardson left, Saban the tactician is just grateful to know he has found the ultimate prototype workhorse who is the key to his ground-and-pound philosophy. But whenever Henry's time in Tuscaloosa comes to an end (and those close to the back say he's likely to turn pro in 2016), he will leave Alabama knowing he earned something almost as rare as a Heisman Trophy -- the admiration of Nick Saban.
Just recently, in fact, the coach confessed to Henry that he saw a lot of himself in the running back. "He said, 'You want to be perfect in everything you do,' " Henry says. "And he said, 'I'm driven the exact same way.' Coach Saban just works and doesn't really say much. That's me too."
---
WHEN SABAN AND Henry met for the first time, inside the conference room at Yulee High in December 2010, Saban was nervously gnawing on the lip of his foam coffee cup. In the middle of a cross-country recruiting trip, an impatient and highly caffeinated Saban tapped his foot nonstop on the thin gray carpet. He made small talk, mostly about how Yulee, a former logging town full of fruit stands and cinder-block churches most people race by on their way to the beach, reminded Saban of his own upbringing in the rural coal-mining town of Fairmont, West Virginia. "Derrick and Saban are a perfect match," Medley says. "Small-town guys. Quiet. Driven. Serious."
In Yulee, Henry is known as Shocka, a nickname his grandmother Gladys gave him after she learned that her teenage son, Derrick Sr., and his 15-year-old girlfriend, Stacy Veal, were about to have a baby. At age 60, after raising her own 14 children, Gladys took Derrick Jr. into her small, tidy home located down a dirt road near Yulee High. She raised him with the help of dozens of relatives and several coaches. Henry also remained close to both parents. Although his father has been arrested several times for possession of marijuana and cocaine and served a few months in jail, he ended up being one of the biggest influences in Henry's life, providing a daily reminder of the path the younger Derrick didn't want to take. "That's no life," Derrick Sr. told his son when he was a 6-foot-1 eighth-grader who could already dunk a basketball. "You have a chance to be somebody."
Henry lived with an aunt and his dad off and on from the sixth grade until just before his sophomore season at Yulee. Physically and emotionally mature far beyond his years, Henry realized he needed a more stable environment to make his dad's prediction come true. So he reached out to Medley, a former Navy sailor with a master's from Florida State who had taught, mentored and coached Henry since middle school. "My wife and son and I moved him in that same night, and he's lived with us ever since," Medley says. "It's called being a teacher, I guess."
Henry flourished under the distinctly old-school, small-town guidance of Medley and his running backs coach, Pat Dunlap, another military-man-turned-mentor who lived by this creed: Talk less, work more. Eventually, Henry became the consensus 2012 national high school player of the year after breaking Ken Hall's 51-year-old national prep record with 12,124 yards rushing. That June, Henry made an official visit to Alabama. Rumors were swirling that the coach planned to convert him to linebacker. When the topic came up in Saban's office, the coach leaned back in his giant leather executive chair, his arms folded across his chest as if trying to restrain himself. After a while, Saban couldn't take the conversation anymore. Good thing, it turns out, because the stern, direct approach that's so irksome to many is what Henry liked the most about Saban. "There's one person in this whole building who makes every damn decision -- me!" Saban shouted, rocking forward and bounding to his feet. "And I'm telling you: You are an Alabama running back."
For most of his freshman year, though, Henry had to take Saban's word for it. Henry scored 55 touchdowns as a senior in high school; his goal as a true college freshman was 1,500 yards rushing. Instead, by December 2013 he was fourth on the depth chart and had carried the ball just 28 times. When he was back home in Yulee during Christmas break, there was a summit in Medley's living room to discuss Henry's growing desire to transfer.
Henry's mom was adamant -- she wanted him to leave. His other mentors told him to stay put. "You're a man now," Medley told him, "the final decision is yours."
When Henry got on the plane to return to Tuscaloosa, "none of us were sure what he was gonna do," Medley says. "It could have gone either way."
If he was going to stay in Tuscaloosa, one thing was certain: The guarded Henry would have to open up to people outside of Yulee, starting with Saban. It was a huge step for the introverted freshman, who, even at popular gathering spots such as Murray's Grille in Yulee, would often ask coaches and friends to walk with him so he wouldn't have to talk to anyone.
Back on campus, a meeting was arranged. There in Saban's office, staring across a presidential-sized wooden desk featuring three national championship rings the size of paperweights, Henry looked his coach in the eye and politely but firmly conveyed his frustrations. Then the damnedest thing happened. Saban agreed. Instead of exploding in a rage, Saban quietly explained that Henry needed more time to learn the finer points of being a college back, such as blitz pickup, audibles and route-running (elements of his game, pro scouts would soon note, that he struggles with to this day). "He talked about how he felt, and I talked about how I felt, and everything worked out," Henry says. "He told me I'm the kind of player he wants to represent the program."
Saban meant every word. Elevated to the No. 2 running back for the Sugar Bowl, Henry ran wild. He piled up 161 all-purpose yards and two touchdowns. After the game, Medley's phone rang back in Yulee. "It's funny," Henry said, "how one game can change your life."
---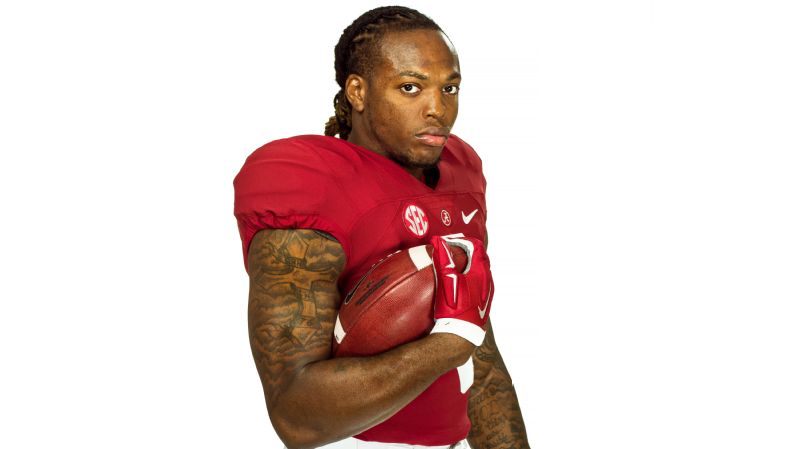 THE NEXT SEASON, while technically the backup to T.J. Yeldon, Henry led the 2014 Crimson Tide with 990 yards rushing. In January, Yeldon declared for the NFL draft. A few weeks after Alabama had been upset by Ohio State in the national semifinal, Tide H-back Michael Nysewander was headed out of town for the weekend when he realized he'd left his wallet in his locker. At 5:30 the next morning, the entire Bama football facility was deserted and dark when Nysewander slipped in to grab his wallet. As he was walking out, he saw a sliver of light in the distance and heard the sound of clanking steel coming from the weight room. Nysewander crept up and peeked around the corner. It was Henry, all by himself, his trademark ponytail dreads soaked in sweat, halfway through a workout. "The kind of person he is, the work he does," Nysewander says, "anyone is gonna love and respect the heck out of Derrick, including Coach Saban."
"It says a lot about Derrick that he's the one who can turn Nick Saban into a softy."
- J.T. Medley, a mentor and father figure to Henry
For the Bama coach, it goes back to Sept. 19, to the way Henry and the rest of the team responded after a 43-37 home loss to Ole Miss in which Alabama struggled at quarterback, turned the ball over five times and gave up 433 yards on defense. "I never thought this team, after the Ole Miss game, would make it," Saban says. After Bama's other running back, Kenyan Drake, broke his arm on Nov. 14 against Mississippi State, Saban says Henry put the team on his back, allowing the Tide to double down on Saban's formula of ball-control offense and a swarming, nasty defense.
For the strategy to work, Henry had to average 35 carries a game against his final six SEC opponents. When he broke Bo Jackson's Iron Bowl record with 271 yards and a TD on 46 carries, Ohio State's Ezekiel Elliott tweeted, "40+ carries ... Must be nice lol." It was working, though. In the SEC title game, with a 22-point lead midway through the fourth quarter and the Bama defense holding Florida to 15 yards rushing and zero conversions on third down, Saban tried to sit Henry. But when the Gators scored on a three-play drive, Saban conceded to an unhappy Henry and put him back in the game. He then carried the ball eight straight times to secure Alabama's first back-to-back SEC titles since the Bear Bryant era.
A few moments later, while standing with Saban on the postgame podium, Henry received the game's MVP award. As "Sweet Home Alabama" played and the Crimson Tide student section chanted "HEIS-MAN, HEIS-MAN," Henry left Saban's side, walked through the Alabama end zone and climbed into the stands. Leaning over the railing, he embraced his father and handed him the MVP trophy.
A week later in New York, Henry's father, alongside Saban, watched as Henry became just the second Alabama player to win the Heisman. "He did as much for his team as anybody could have done or ever has done for any of our teams," Saban said, before posing for pictures.
And there, as Henry and Saban stood together in the spotlight, hip to hip and beaming, all the glowing praise and warm embraces didn't seem awkward at all.
Forrest is a senior writer for ESPN.com and ESPN The Magazine.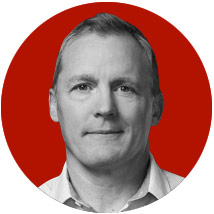 Fleming is a senior writer for ESPN The Magazine and FlemFile columnist for ESPN.com.