ESPN.com 05/26/2016
Grave Matters
These four sporting legends have been gone for years, but they still get visitors. We explore the gravesites -- and the stories behind them -- of Babe Ruth, Bruce Lee, Bo Schembechler and Babe Didrikson Zaharias
Babe Ruth
Resting Place: Hawthorne, New York
B
abe Ruth has been gone for 68 years, and it's been eight decades since he swatted the last of his 714 career home runs in 1935. And yet hundreds of visitors still come from far and wide to the Babe's grave at the Gates of Heaven Cemetery in Hawthorne, New York, about 30 miles north of New York City, many of them drawn here because Ruth's larger-than-life exploits still register so strongly in their imagination.
But baseball historian and Ruth aficionado Charlie Vascellaro has a story different than most.
"You might think I'm crazy," Vascellaro said with a laugh, "but I think his ghost appeared while I was at his grave.
"You're not going to believe the photos I'm going to send you."
Vascellaro said his mystical experiences with Ruth began when he took a job in 2001 and 2002 driving a traveling exhibit around the country for the Baltimore-based Babe Ruth Birthplace Museum.
At a stop in New Orleans, Vascellaro let a minor league player take a few swings with one of Ruth's actual bats, something he did often to give young athletes a thrill. But this time, Vascellaro was amazed when he got that day's photos developed. (He was using a film camera, not a digital.)
"There was this transparent orb of white light right at the end of the Babe's bat," he said. "Only the camera caught it. There was nothing there that you could see with the naked eye."
Vascellaro thought it was odd, but he kept traveling and taking his usual 20 to 30 photos a day. The phenomenon reoccurred every now and then -- and always, he said, "at the most appropriate and opportune times."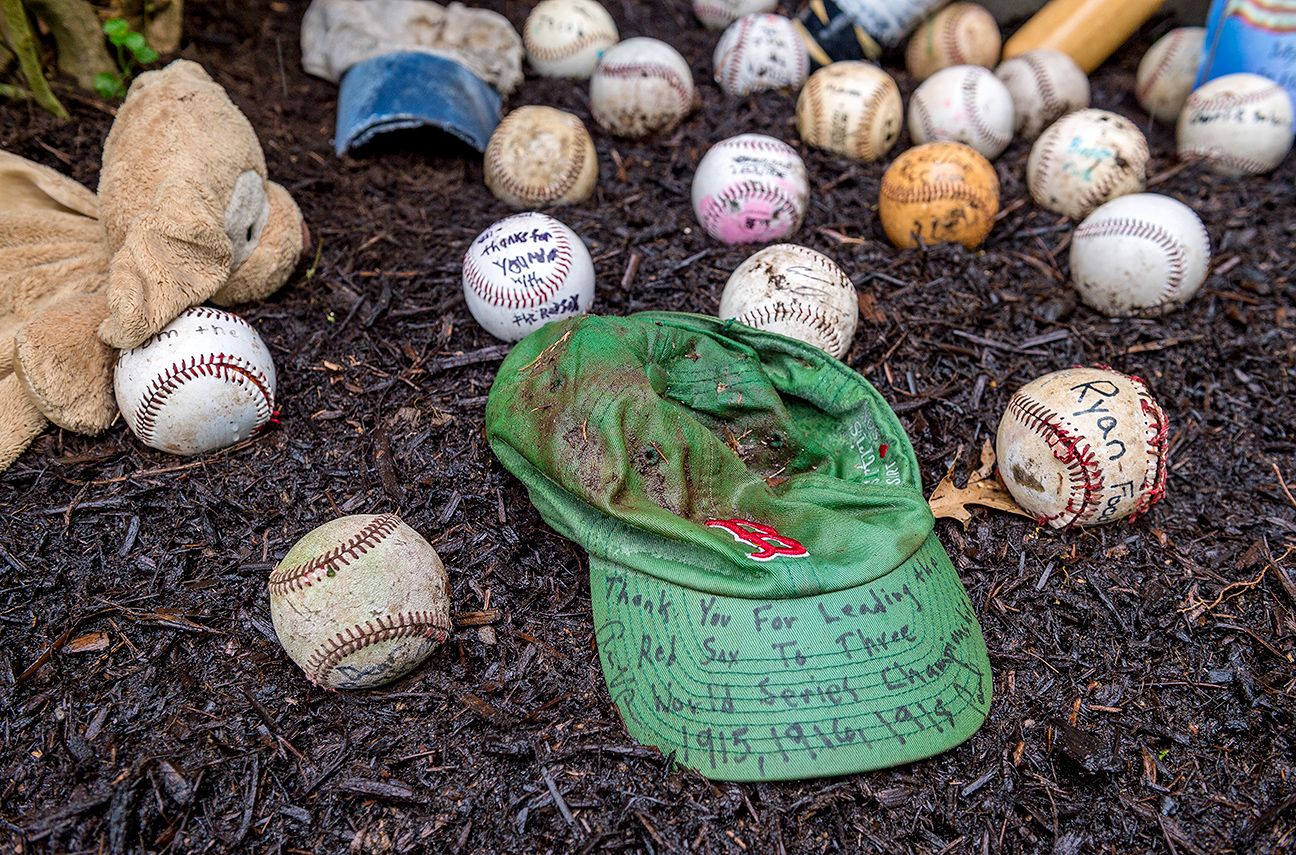 A Red Sox hat with a message thanking Babe Ruth for the team's World Series titles in 1915, '16 and '18 was left at the slugger's gravesite. Ruth won 89 games as a pitcher for Boston before he was sold to the Yankees.
In photos Vascellaro took of a Willie Stargell statue in Pittsburgh, the orbs appeared right over the Pirates slugger's face. They showed up again when Vascellaro took the life-size cutout of Ruth from the traveling exhibit and put it next to a statue of Gene Autry at the Angels' spring training ballpark in Tempe, Arizona. The spheres of light also showed up in photos Vascellaro took while passing through Sudbury, Massachusetts, about 20 miles west of Boston, where Ruth used spend time in the offseason and was known to throw epic parties and do a little ice fishing.
Vascellaro had decided to go to Sudbury after reading
a New York Times story
about a lesser-known Ruthian tale. According to local legend, one night an upright piano was moved out of Ruth's cabin during a party, and the Babe either hurled it off the porch, down a slope and into the waters of Willis Pond below to show off his strength -- or it simply plunged into the water after he and some friends moved it onto the ice while they were fishing.
Vascellaro was especially drawn by the news that some Sudbury residents, including one who owns a furniture restoration business, had the bright idea that if they could salvage Ruth's piano from the depths, maybe it would reverse the Curse of the Bambino on the Boston Red Sox once and for all. (This was in the autumn of 2002, and it would be another two years before the Sox rallied to beat the New York Yankees and then swept the St. Louis Cardinals to win their first World Series in 86 years.)
"And when I took a photo of the furniture company's building on my way out of town, guess what?" Vascellaro said. "There was another orb right over the threshold of their front door."
Still, the biggest convincer -- for Vascellaro, anyway -- that something paranormal was happening came a few days later, when he made a pilgrimage to Ruth's grave at Gates of Heaven, the Westchester County cemetery where Lou Gehrig, Billy Martin and Jimmy Cagney also are buried.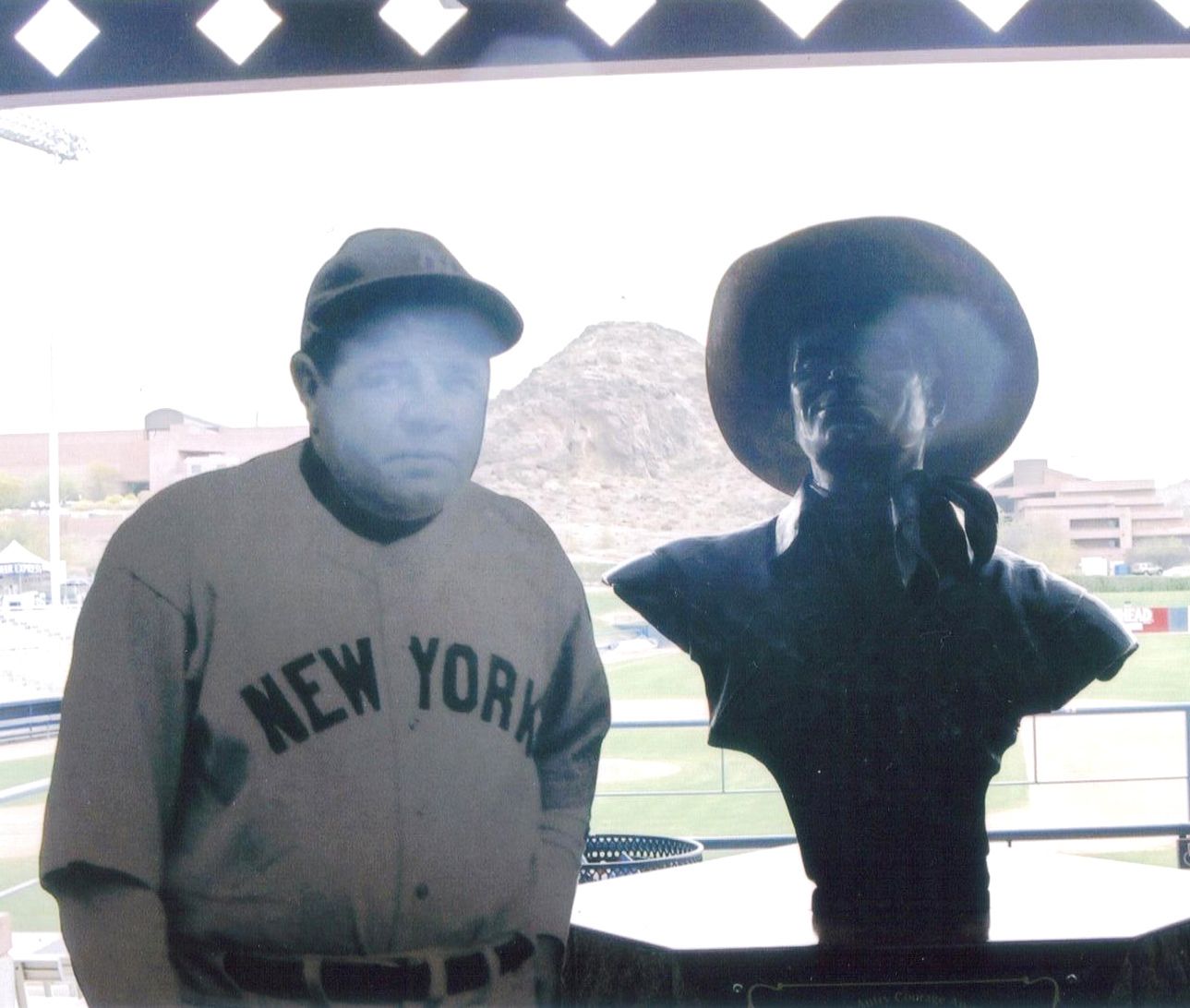 Orbs appeared in Charlie Vascellaro's photo of a Ruth cutout alongside a bust of Gene Autrey at the Angels' spring training stadium in Tempe, Arizona. (Photo courtesy: Charlie Vascellaro)
Since Ruth's death, many visitors to
his gravesite
have left behind memorabilia, newspaper clippings, personal photos and even handwritten notes with messages, such as "Babe, you're still the greatest Yankee ever" and "Please help the Yanks win the World Series this year!" Some leave mementos from their own lives, including balls, bats, a rumpled Yankees cap and a penny from 1948, the year Ruth died of cancer at age 53.
Greg Schwalenberg, curator of the Ruth museum from 1983 to 2014, got permission from Ruth's surviving family and cemetery caretakers to take some of the graveside ephemera back to Baltimore. He put together a 1998 exhibit for the museum to commemorate the 50th anniversary of the Bambino's death.
"I'm not at all surprised at the hold the Babe still has on people, because for one thing, Babe Ruth's name is still mentioned every time people talk about the greatest ballplayer or athletes of all time," Schwalenberg said. "I mean, even the term 'Ruthian' is in our language today when we refer to something amazing."
When Vascellaro visited Ruth's grave, he made his own offering.
"I left the Babe a Cuban cigar. It was a good one!" Vascellaro stressed with a laugh. "Then I took a little belt from a flask of whiskey that I had, and I poured one on the grave for the Babe."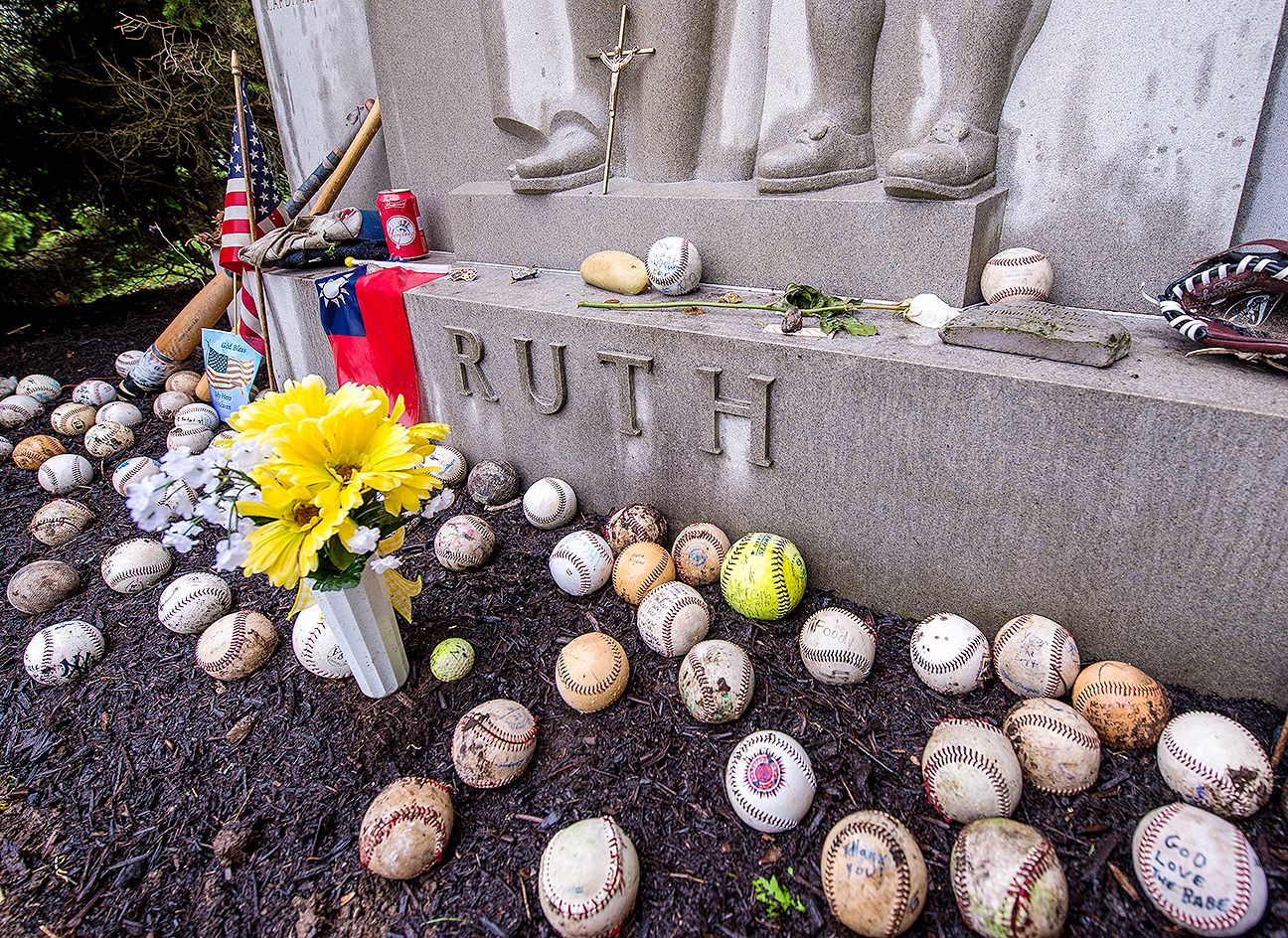 Balls and bats are among the items regularly left by admirers who visit Ruth's gravesite.
As usual, Vascellaro decided to take some photos before he left, mostly around the headstone.
"Sure enough, the orb showed up -- and in this case, not even just one orb," he said. "The Babe's second wife is also buried there. This time, two orbs showed up."
"I do believe in the idea that there is a sort of collective unconscious at work in the universe that is beyond our understanding," he said. "And I do think you have to believe in that, and that that's 90 percent of making these [images in the photographs] happen."
Vascellaro shows his Ruth-related photographs to people all the time, and he usually gets one of two sharply divided reactions.
"About half the people believe that it actually is Babe Ruth's ghost in the pictures, and about half don't," he said. "But I think it's more fun if you do believe. It actually makes it real. It seems like it has for me. I imagine that the Babe's spirit is present -- often. And I would be surprised if other people didn't have similar ghost stories to tell."
Bruce Lee
Resting Place: Seattle
W
hile paying his respects to Bruce Lee on a recent afternoon, Richard Kweka noticed there was almost no grass left surrounding the well-tended graves of the legendary martial arts master and his son, Brandon. The grass had been worn away by the feet of the countless visitors to this site at Lake View Cemetery in Seattle.
The number of visitors who come to view Lee's grave is astonishing. Within 30 minutes on this weekday spring afternoon, at least 15 people were at the grave, including a family from Orange County, California. A worker tending to the headstone said he counted at least 80 within a couple of hours during one summer day.
And the visitors come from all over the world. Kweka, for instance, traveled here from Sydney, Australia. He is originally from Tanzania, where he would go to the local cinema to watch Bruce Lee movies as a child in the 1970s. His friend, Hawa Hanson, likewise is from Tanzania. She lives in Seattle now, and the two hadn't seen each other for 20 years. She suggested they meet up here "and go Bruce Lee's grave!" And so they did.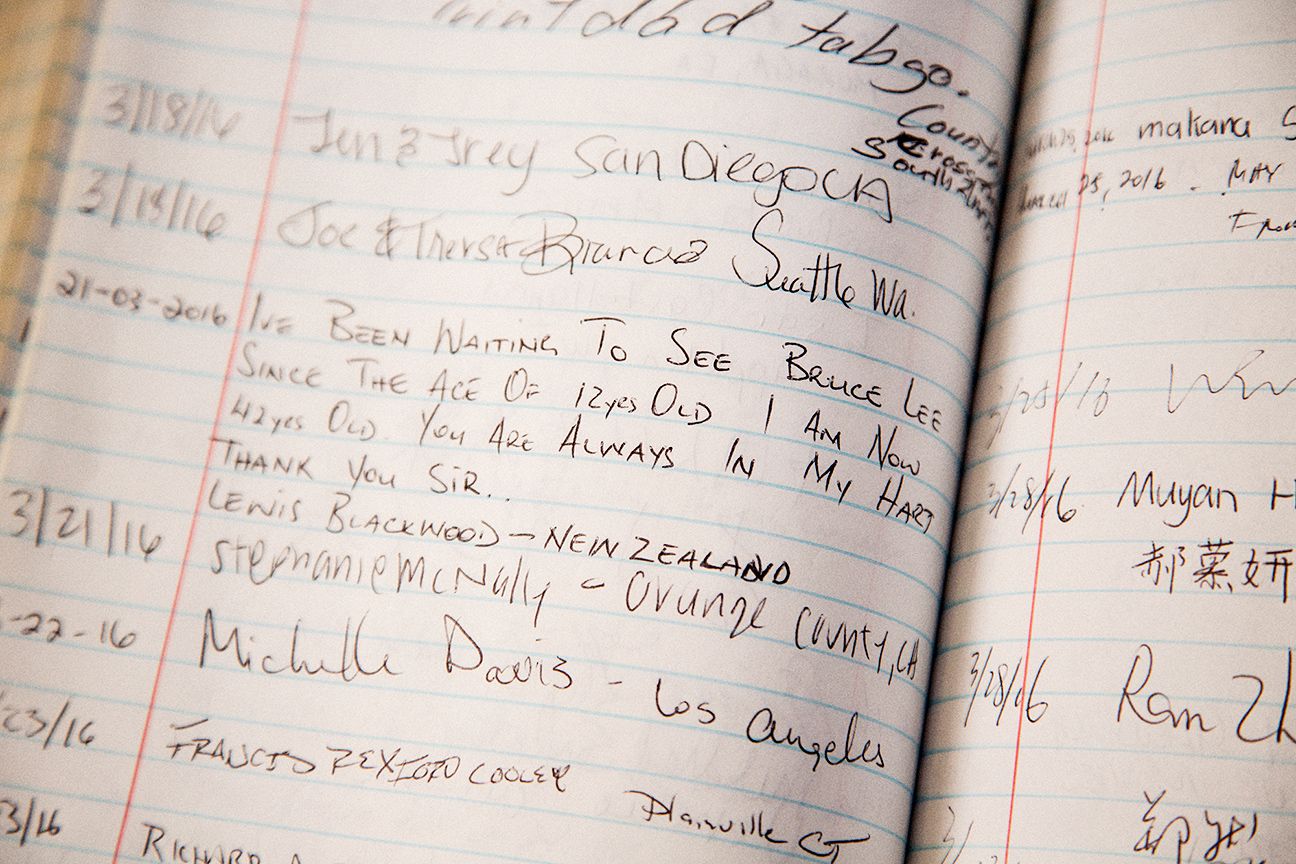 Some of the fans who make the pilgrimage to Bruce Lee's gravesite leave messages in a guest book in the office of Lake View Cemetery.
They were by no means alone. Just a few days earlier, a man from New Zealand visited the grave and left this message in the cemetery's Bruce Lee guestbook:
"I've been waiting to see Bruce Lee since the age of 12. I am now 42 years old. You are always in my heart. Thank you, sir!"
If you think traveling from Australia or New Zealand is a long trek to visit a grave, consider this: In 1993, a trio of martial artists from Mongolia hiked 3,700 miles over seven months and wore out five pairs of boots apiece to visit Lee's grave. (They took a plane across the Bering Strait.) "My legs are strong enough to make a big trip but so weak when I stand before [Lee's grave]," Purebsuren Batzorig told a translator that day.
Not all the treks are so grueling, but they can be expensive. A cemetery worker said a man from Colorado actually rented a plane to fly to Seattle just to see the grave.
No wonder Time magazine listed Lee's among the world's top 10 celebrity gravesites, along with those of Princess Diana, Elvis Presley and Marilyn Monroe.
Born in San Francisco and raised in Hong Kong, Lee moved to Seattle when he was 18. He graduated high school here and attended the University of Washington, where he studied drama and philosophy. He also opened a martial arts school in the city.
Lee has been described as the "grandfather of mixed martial arts." He learned the Wing Chun style from renowned teacher Yip Man and later became the founder of Jeet Kune Do. Lee was known for his incredible power, speed and flexibility -- he was so skilled he could do pushups using just
two fingers on one hand
. Among his students was Kareem Abdul-Jabbar, who fought him in the movie "Game of Death." Lee's martial arts expertise made him legendary on the silver screen, including in the global hit "Enter the Dragon."
Sadly, Lee died suddenly from cerebral edema (brain swelling, in this case thought to be caused by hypersensitivity to a medication) in 1973 at age 32, just days before the premiere of "Enter the Dragon." He was buried at Lake View Cemetery, with Steve McQueen, Chuck Norris, James Coburn and George Lazenby among the pallbearers. His son, Brandon, was accidentally shot and killed at age 28 while filming "The Crow" in 1993 and is buried next to his father.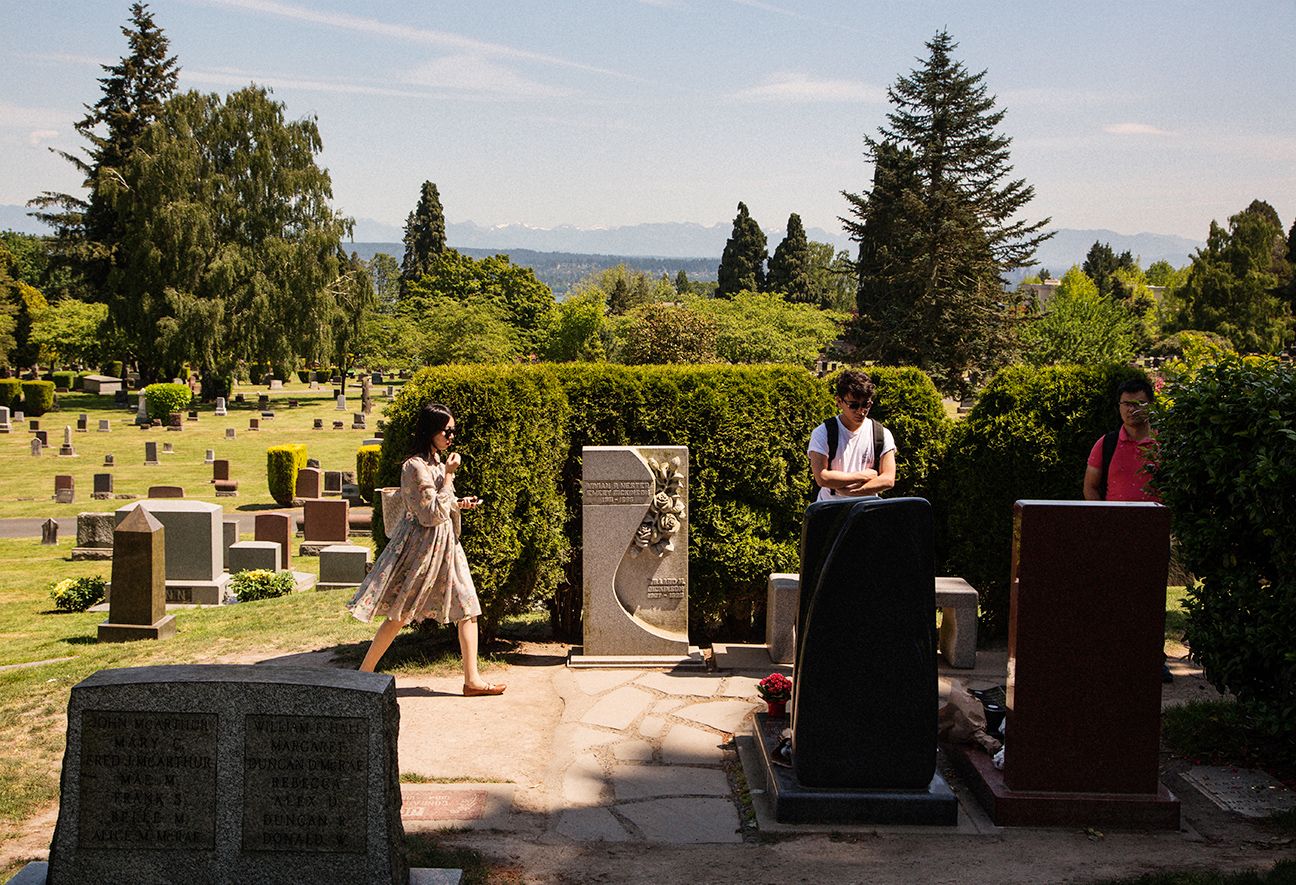 Lee and his son are buried side by side. Bruce's headstone is burnt sienna, and Brandon's is dark gray.
Lee's global popularity is clearly evident from where many of his visitors have traveled: Malaysia, Indonesia, Germany, China, Russia, Bulgaria, Armenia, Tunisia, Italy, Great Britain, Japan, France, Mexico, Spain, India, Denmark, Belgium, Australia, The Philippines, Bosnia, Romania, Guam, Czech Republic, Finland, Colombia, Thailand, South Africa, Poland, Singapore, Vietnam, South Korea, Guatemala, Austria, Switzerland, Venezuela, Brazil, all across the United States and Canada, and the list just goes on.
And these countries are just from the messages written by the small percentage of visitors who know about the guestbook and make a point to walk across to the Lake View Cemetery office to sign it.
"I worked hard to save money and to spend for this trip from Kazakhstan to USA. WA, Seattle. The only purpose of my trip was to visit Bruce Lee's grave and his son's."
It was Yugoslavia, sometime in 1977. I was 13-year-old teen, and 'Enter the Dragon' came. Now it is Zagreb, Croatia, but memories are still here, and respect and sorrow that you didn't see your son growing old. ... Thank you for inspiration and genuine spirit you showed to all of us in your 33 years here."
"We are proud of you, who made Chinese people stand up in the West. Thank you, Bruce Lee!"
"Like [Charlie] Chaplin, you have helped struggling immigrants and lost people learn their own path."
"You are my God!"
The vast majority simply walk up to the grave and lay down flowers, photos, messages and other items while paying their respects.
Bruce's grave has a tall, burnt sienna-colored headstone with his picture and his name in English and Chinese. Brandon's stone is dark gray. Kweka and Hanson stood respectfully before the stones. They gazed at more than a dozen bouquets that had been laid at the site. And they read the inscription on Brandon's grave.
That inscription begins: "Because we don't know when we will die, we get to think of life as an inexhaustible well." And it ends: "How many more times will you watch the full moon rise? Perhaps twenty. And yet it all seems limitless."
"I love what that says," Hanson said. "It really touches my heart. It is a powerful message."
Bo Schembechler
Resting Place: Ann Arbor, Michigan
T
he headstone itself is, as you might expect, lacking in frills. It's not the largest or most ornate grave at this particular bend in the trail of Forest Hill Cemetery. If not for the small block "M" football tucked into a carved-out corner, folks that don't already know the Schembechler name would wonder why so many people make their way to this site on the outskirts of Michigan's campus each year.
Bo Schembechler won 13 Big Ten titles in his 21 years coaching the Michigan Wolverines and brought one of sports' best rivalries -- the annual meeting with Ohio State -- to its zenith, along with Buckeyes coach Woody Hayes, in the 1970s. The no-nonsense, blue-collar coach left a hallowed legacy in Ann Arbor that makes the journey to his grave a common pilgrimage for Michigan fans.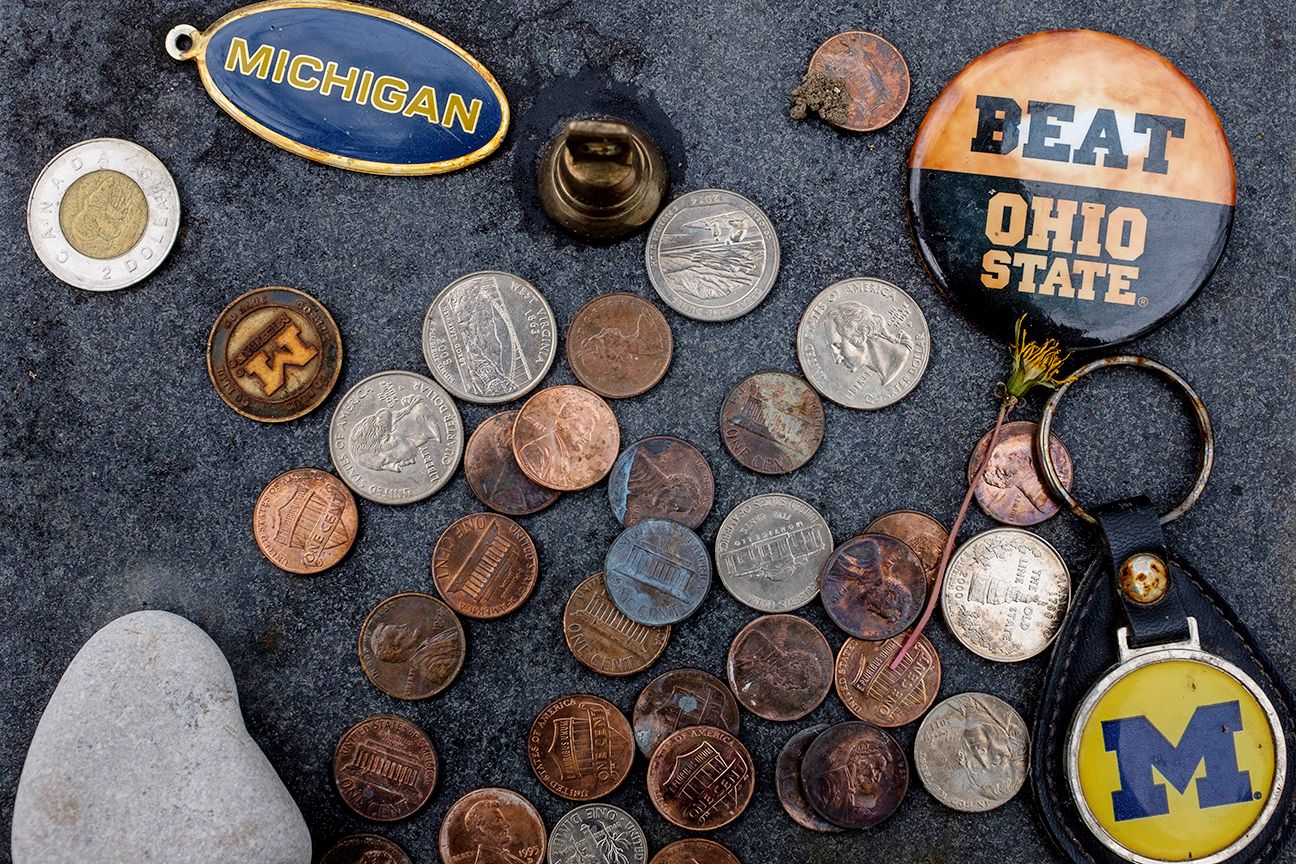 Coins and a Beat Ohio State button are among the doodads left at Bo Schembechler's gravesite.
The cemetery groundskeepers say that during most weeks there are a few maize and blue trinkets at the foot of Schembechler's grave, but traffic really picks up in football season. On a spring day this year, there were a pile of pennies, a few Canadian dollar coins, a bell, a blue foam football, a couple of rusty "Beat Ohio State" buttons and an egg keeping Bo company. No one is quite sure what the deal is with the egg, but the best guess is that Bo often liked to jab at his guys by calling them "ham-and-eggers" when they weren't being as productive as they should be.
Forest Hill Cemetery is the permanent address for several famous Michigan Wolverines -- including Fielding Yost, Bob Ufer and Don Canham. Jeff Holzhausen started visiting their graves as a freshman at Michigan in 1992, well before Schembechler checked in in 2006. Holzhausen originally came and went on his own, but eventually he started bringing his master's classmates along for an educational field trip.
Holzhausen, who also is known as the
Original Michigan Super Fan
and has three degrees from the university, now leads an annual excursion (the crowd has grown into the dozens) during the week of the Ohio State game in late November. The group starts at the campus' iconic bell tower shortly after sunset and makes its way to the cemetery, stopping to pay homage at each famed grave. The grand finale comes when a hammer is used to smash a few Buckeye nuts on the ground near Schembechler's marker, a tradition that would certainly earn a grunt of approval from Bo.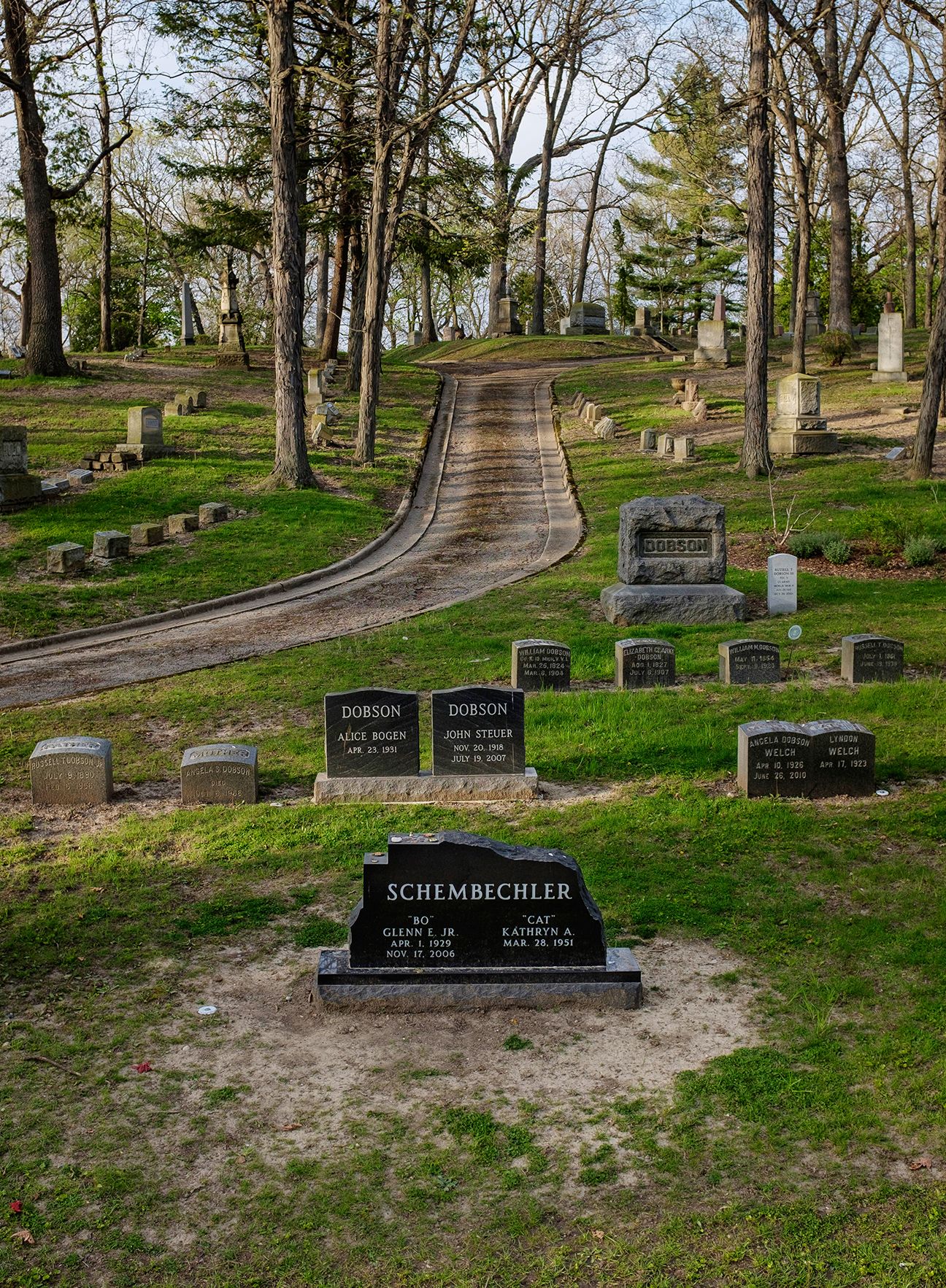 Schembechler is one of several prominent Wolverines buried at Forest Hill Cemetery in Ann Arbor.
"Most people associate graveyards with being creepy, but for whatever reason, that graveyard has never felt that way," Holzhausen said. "There's definitely a magic to it."
The magic ramped up during the fall, when new Michigan head coach Jim Harbaugh, who played for Schembechler, made an unannounced appearance during the trek. Harbaugh and his father, Jack, who was an assistant on Schembechler's staff, said some words about their former boss before taking their turn with the hammer.
While Harbaugh's cameo will likely cause a spike in attendance during this November's trip, his arrival at Michigan might end up decreasing Schembechler's visitors at other times in the year. That's because many fans would stop by with a flower and a prayer when the Wolverines fell on rough times over the past decade in hopes of currying some favor with the football gods. Since Harbaugh's return last year, a lot of those prayers have been answered.
Babe Didrikson Zaharias
Resting Place: Beaumont, Texas
B
eneath a stand of oak trees at Forest Lawn Memorial Park in Beaumont, Texas, there's a modest gravestone that's easy to overlook:
MILDRED "BABE"
DIDRIKSON
ZAHARIAS
1911-1956
WORLD'S GREATEST WOMAN ATHLETE

Standing directly behind the marker is a 3-foot-high marble statue of an open book engraved with these words: "It's not whether you win or lose but how you played the game." The famous Grantland Rice quotation is attributed to "Babe" in the inscription, but Didrikson never said such a thing. It's a mystery how the line came to be engraved in the stone marking her final resting place. What's clear is, the trash-talking, all-sport phenom didn't believe it.
"I don't see any point in playing the game if you don't win," she would say. "Do you?"
Near Didrikson's burial site is another marker, erected by the Texas Historical Commission nearly a half-century ago. This too is engraved with lies. The sign states Didrikson was born in 1914, a fib she had peddled successfully most of her life and one reflected in some of her obituaries. The marker also notes she was 18 years old when she won two gold medals and a silver at the Olympic Games in Los Angeles in August 1932, when she was, in fact, 21. And the marker falsely reports that Didrikson was named after Babe Ruth; the nickname was given to her as a baby by her parents and siblings.
It shouldn't surprise anyone that even at Didrikson's gravesite, there is misinformation and confusion about her life and legacy. After all, in the 60 years since her death at the age 45 of cancer, Mildred Ella "Babe" Didrikson Zaharias has become America's all-but-forgotten sports superstar.
Her diminished place in sports history is felt strongest in Beaumont, where she grew up playing football and baseball on dirt fields against the boys, hopped hedges along Doucette Street and learned how to play golf at Beaumont Country Club, just across the street from the cemetery where her remains are buried.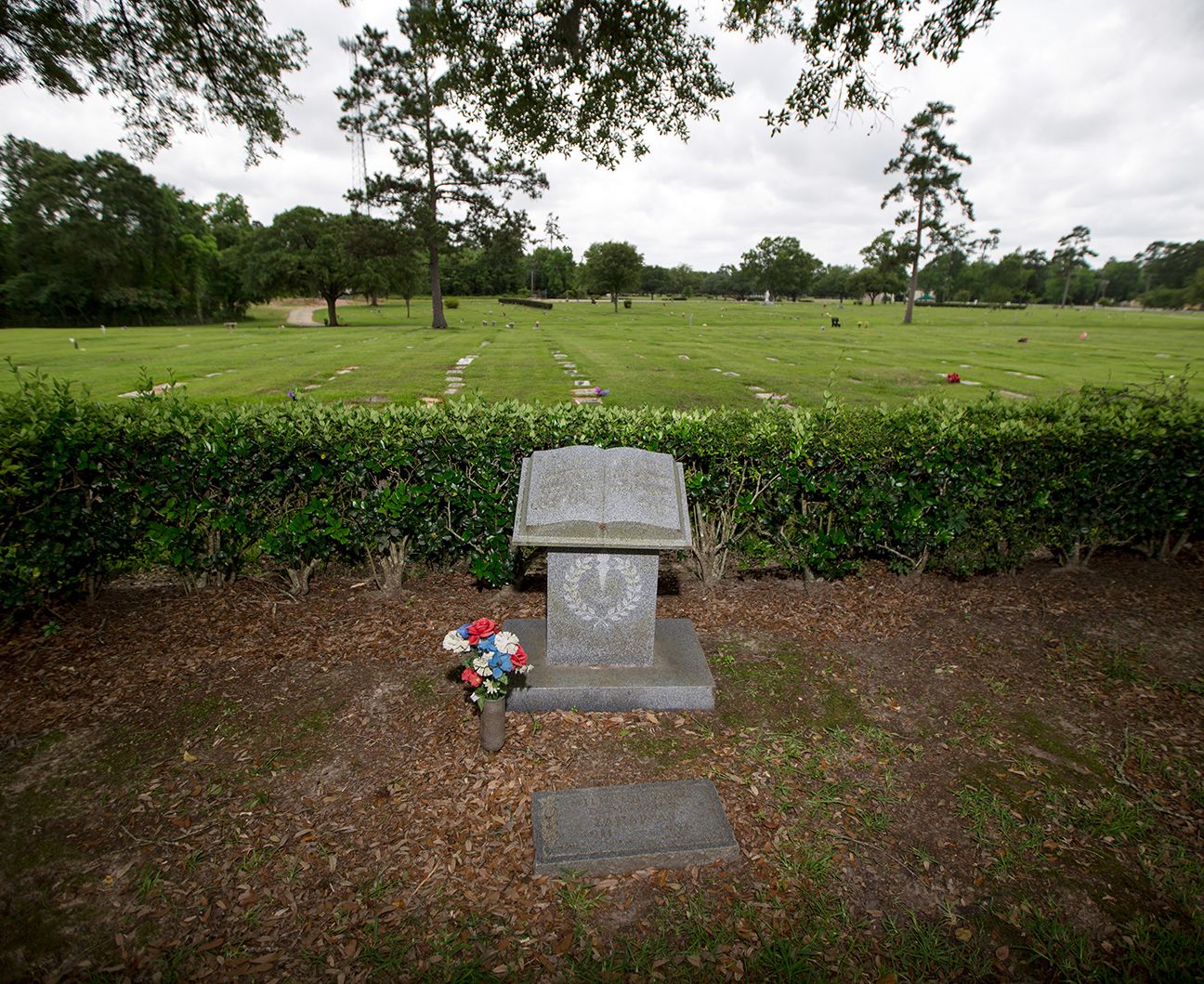 A statue of an open book stands just behind the marker at Babe Didrikson Zaharias' gravesite.
Not far from her gravesite, off Interstate 10, is a circular brick museum built in 1976 as a tribute to Didrikson. It too is easy to miss. Inside, glass cases are stocked with the trophies, cups and medals that Didrikson collected during her magnificent sporting life. There are also her golf clubs, photos of her smiling with Dwight D. Eisenhower and Babe Ruth and a 6-foot-high golden key to the city of Denver given to her in 1947, after she became the first American to win the British Women's Amateur Championship, in Gullane, Scotland. And there are dozens of yellowed and fading get-well telegrams, cards and letters from housewives and schoolchildren, prime ministers and presidents. Open every day except Christmas, this museum attracts only a few visitors on a good day. On many days, no one steps inside.
But a visitor discovers that Didrikson was very likely America's greatest all-around athlete, male or female. No other athlete reached the pinnacle of as many sports and games. She was an All-American basketball player, a two-time Olympic track and field gold medalist and a golf champion who won 82 tournaments, including an astonishing 14 in a row. One of the 13 founding members of the Ladies Professional Golf Association, Didrikson was the first woman to play against men in a PGA Tour event, at the Los Angeles Open in January 1938. She also excelled in baseball, softball, tennis, billiards, swimming, diving and bowling.
Most of all, Didrikson had grit, charisma and an indomitable will to find a place to play when there were few opportunities for women to compete -- as professionals or even as amateurs. She spent her life overcoming hurdles and sidestepping ridicule from chauvinistic sports fans, sexist sports reporters and class-conscious golfers. Despite all that, she never lacked confidence or the bravado to express it to the world. "The Babe's here!" she would tell her women competitors before a golf tournament. "Who is going to finish second?"
Didrikson's most spectacular athletic achievement occurred at the amateur track and field championships in Evanston, Illinois, on July 16, 1932. As the "one-woman track team" of Employers Casualty Insurance Co. of Dallas, she competed against company teams of 12, 15 and even 22 women. On a sweltering track over three hours, Didrikson hustled from event to event, barely having enough time to catch her breath. She won five events -- javelin, shot put, 80-meter hurdles, broad jump and the baseball throw -- and tied for first in a sixth, the high jump. By amassing a total of 30 team points for Employers Casualty, Babe single-handedly defeated the second-place team, the Illinois Women's Athletic Club, which needed 22 athletes to score 22 points.
Two months later, Didrikson competed in the 1932 Los Angeles Games, winning gold medals in the javelin and the 80-meter hurdles and a silver in the high jump. Overnight, she had become the most famous female athlete in the world.
But she quickly struggled thereafter, playing the harmonica on the vaudeville stage at Chicago's Palace Theater and pitching for the barnstorming House of David baseball team.
It wasn't until Didrikson took up golf in the mid-1930s that she found her favorite, and best, discipline. She proved that in sports, as in anything in life, it's all about the reps. She practiced golf until her hands were bloodied and blistered. In 1946 and 1947, she won 14 consecutive tournaments, a record that still stands.
Perhaps her most lasting legacy is as a founding member -- and the first star -- of the LPGA. Founded in 1950, the women's tour was created, in large part, to give galleries the opportunity to watch Babe show off her booming drives. With a mock shrug, she would tell the crowds, "I just loosen my girdle and let the ball have it."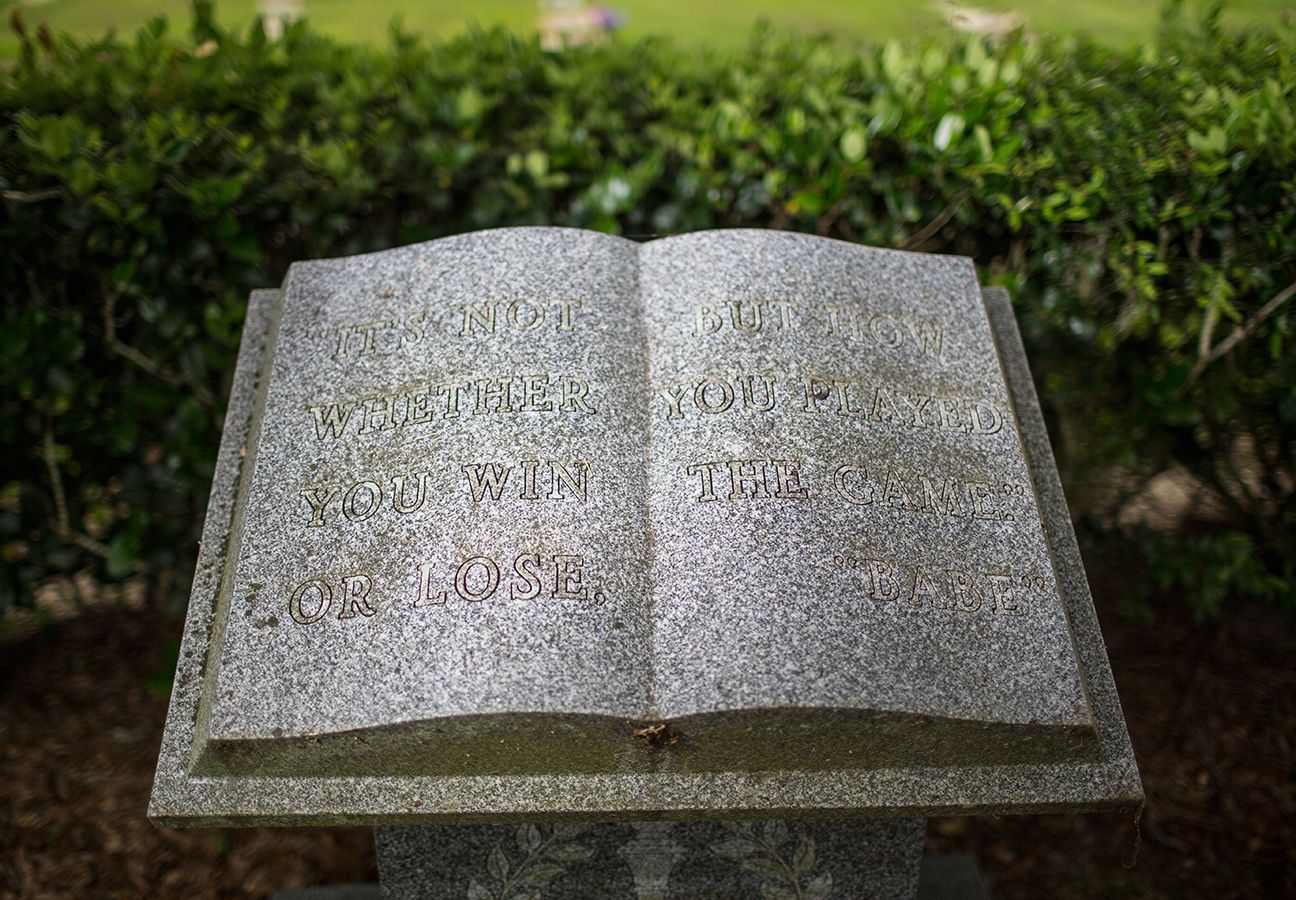 The book at Didrikson's gravesite is engraved with a famous Grantland Rice quote, but it's attributed to "Babe."
In April 1953, Didrikson was diagnosed with colon cancer. Doctors told her she would never play golf again. But she quickly vowed publicly that she would not only play tournament golf again, she'd win again.
Fifteen months after a colostomy, Didrikson won the United States Women's Open at Salem Country Club in Peabody, Massachusetts, by an astonishing 12 strokes. She shared her victory with her doctors and the thousands of cancer patients who had written letters to her and rooted for her comeback. In an era when public figures with cancer rarely spoke about the disease or even divulged they had it, she became a tireless anti-cancer crusader and fundraiser.
Two years later, Didrikson lost her fight against cancer. Hours after she died in a Galveston, Texas, hospital on Sept. 27, 1956, President Eisenhower began his news conference in Washington with this salute: "She was a woman who, in her athletic career, certainly won the admiration of every person in the United States, all sports people all over the world, and in her gallant fight against cancer, she put up one of the kind of fights that inspire us all."
None of those words, or even that sentiment, are visible today at Babe's final resting place; even in her hometown, few people remember. But there's no doubt that, even now, Babe Didrikson Zaharias earned the title on her gravestone: WORLD'S GREATEST WOMAN ATHLETE.
back to top