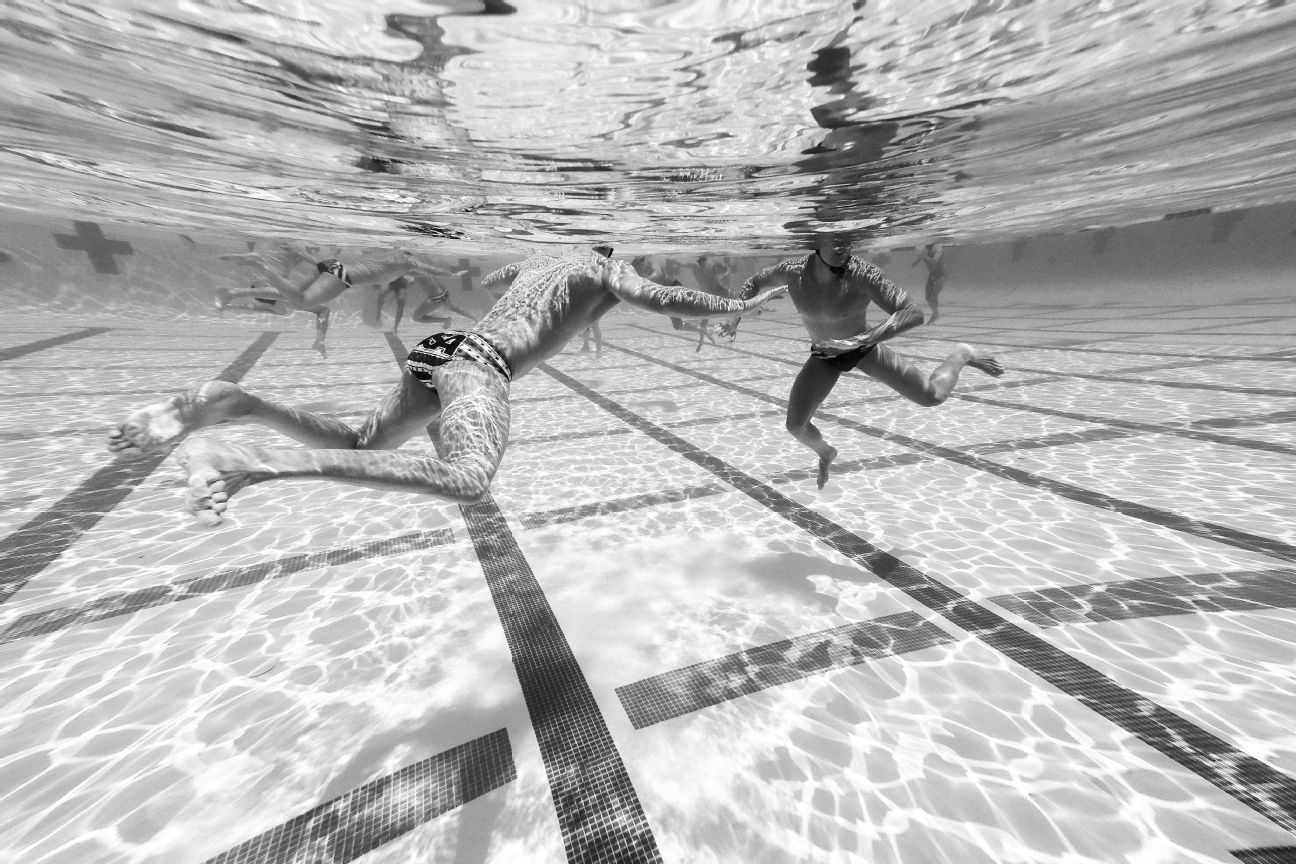 The underwater world of water polo
For four grueling 12-hour days in the spring, the U.S. men's water polo team trained in and out of the pool. The end goal? A podium finish at the Rio Olympics (Aug. 5-21).
U
nder the bright Southern California sun, in the pool at Segerstrom High School in Santa Ana, 15 of the best water polo players in the U.S. are divided into three groups -- each group with one goalie and four field players. Three nets are set around the pool. The players take turns catching the ball with one hand, moving side to side into position and shooting for a goal .
From the far goal, shouting erupts and a player leaves the group to swim laps on his own. "If you hear them yell -- 'Club!' -- that means they missed [the shot] and have to swim Russians," says Carling McMichael, the sports medicine trainer. "They can get pretty into it. Any chance they have to get competitive, they really go for it."
On this April day, the U.S. men's national water polo team is in the midst of a four-day training session that starts daily at 6:30 a.m. and ends at 7 p.m. This time together is important for their Olympic hopes -- both as a team and individually. In less than three months, on July 7, the 13-man roster for the Rio Games (Aug. 5-21) will be named.
And after an eighth-place finish at the 2012 London Olympics -- a big departure from the silver won in 2008 --the U.S. is aiming for a podium finish in Rio. "It's a two-week tournament, not one game," says 38-year-old goalkeeper Merrill Moses, who competed at both the 2008 and 2012 Olympics. "You have to be at your best for the whole two weeks. You have to give everything to prepare and put yourself in the best possible situation. It's the biggest stage in sports and you train for four years for those two weeks."
For now, though, it's about avoiding the collective shout of "Club!"