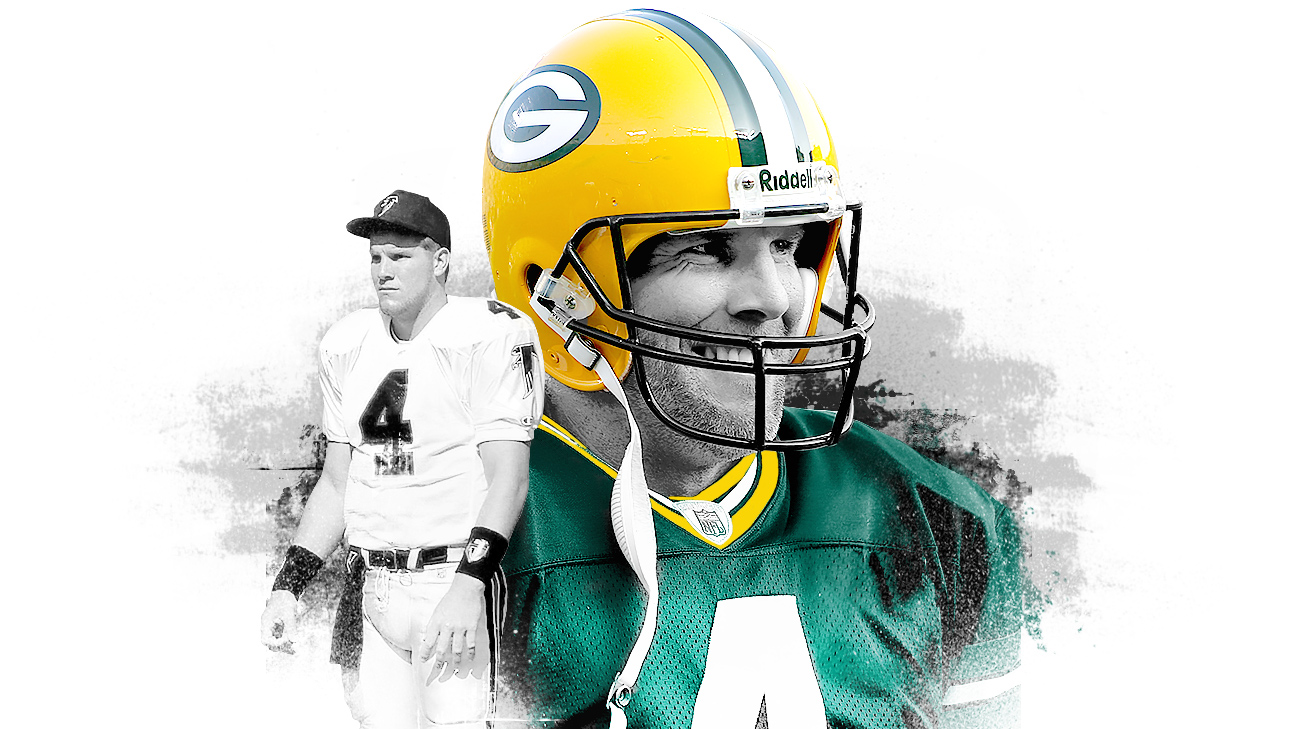 The Great Favre gamble
This is the story of how an out-of-shape third-string quarterback named Brett Favre got traded to the Green Bay Packers, changing the course of NFL history.
G

eneral manager Ted Thompson calls it one of the greatest trades of all-time, but the deal to send Brett Favre to the Green Bay Packers almost got nixed. Twice.

As the franchise languished in more than two decades of futility, a cautious doctor and a wary executive committee expressed skepticism about then-GM Ron Wolf's decision to trade a first-round pick for a quarterback with health and character concerns.

Yet somehow, on Feb. 11, 1992, in one of his first moves as Packers GM, Wolf struck a deal with the Atlanta Falcons to get his quarterback.

It did not take long for the Packers' fortunes to turn. Favre took over three games into the 1992 season and never gave up the job until 2008. He won 160 regular-season games, three NFL MVPs and the Packers' first championship -- Super Bowl XXXI -- since the Vince Lombardi era.

With his induction into the Pro Football Hall of Fame on Saturday, ESPN takes a look back at the trade that brought Favre to Green Bay through the words of those closest to the action at the time.
---
Early Road Blocks
Favre had suffered a well-known hip injury in the East-West Shrine Game following his senior year at Southern Mississippi. (And before his senior season, he had 30 inches of his intestines removed after a car accident.) When NFL physicians examined Favre before the draft, some determined the hip injury was as bad as the one that ruined Bo Jackson's career.
Ken Herock, Atlanta Falcons general manager, 1987-1996: They said he'd have a tough time playing five or six years in this league. When you're doing this, the doctors are always trying to protect themselves and would say some things. As long as they said he could pass and play here, I was fine.
Brett Favre: The diagnosis, the general consensus, was avascular necrosis, sort of like what Bo Jackson had -- I say sort of. Avascular necrosis can spread or just kind of lie in wait, or it can deteriorate the bone very rapidly. It's when a blood supply is basically cut off to a joint or something along those lines. And so, I had that diagnosis, so teams were turned away -- Seattle being one of them. Atlanta, I did MRIs, I did X-rays for numerous teams. Some said, no, we're just not going to take that chance. Others said we will take that chance, and Atlanta was one of them.
---
text
Dysfunction in Atlanta
The Falcons' quarterback, Chris Miller, had won just three starts each in 1989 and 1990, yet then-coach Jerry Glanville thought Miller could become successful if surrounded with some weapons. When the 1991 draft rolled around, he had his eye on a receiver and took Mike Pritchard at No. 13 before taking Favre with the sixth pick of the second round. Favre appeared in two games as a rookie, throwing four passes. Two of them were intercepted. Twenty-four years later, Glanville and Herock still can't agree on how the Favre trade went down. What they can agree on: It was the other guy's fault.
Jerry Glanville, Falcons head coach, 1990-93: I liked Favre, but I said I've got to get the wide receiver first, and everyone said, "Then you'll never get Favre." And lo and behold, in the second round, Favre was there, and I wanted him as much as anybody in the second round. I said we had a great draft. We got Favre and Pritchard. Anybody who says I didn't want him is a bold-faced liar. My brother was sitting in the room, my assistant coaches were sitting in the room and they'll all tell you I wanted Favre, but I didn't want him until I got the receiver.
Ken Herock: [Favre] would never play for that coach. When I was drafting, I liked to pick players for the coach, you know, who could work together. And there was animosity built up right away after the pick.
Jerry Glanville: If you look in the encyclopedia under the word "bulls---er" [Herock's] picture is there. That's obviously 100 percent false, but he sort of reminds me, if his lips are moving it's hard to come out with a true statement. He's a cover-your-ass guy. That's who he is. Unfortunately I had no authority to make the trade, and I had no authority to draft him. All of a sudden when this happened, I had all this authority.
Ken Herock: When I picked Favre, [Glanville] didn't want him. And I didn't care because I thought I was picking a great player. During the whole year after I drafted him, it was partly his fault -- Favre was always late for meetings, drinking a lot, didn't even know the scout plays. He couldn't even run the scout team, they were telling me. I'm not there every day, I might be there through Tuesday and then I'd go out [to scout] for a couple of days, and every time I'd come back they'd say, "Oh, you should see what your guy did today." It was always my guy. It wasn't our guy. It was my guy. And I had no defense. I couldn't come back and say, "This is what he can do."
Favre has admitted many times that he was a train wreck as a rookie. He partied, missed meetings and team functions and knew he had fallen into Glanville's doghouse. Meanwhile, Miller turned things around, throwing for more than 3,000 yards and 26 touchdowns in 14 starts. The Falcons went 10-6 and won a wild-card game.
Jerry Glanville: Favre was a young guy in a big city, and I went to all the bars where he went and I asked them to quit giving him drinks. I flew his mom and dad into my office. Does that sound like a guy who didn't like him? I paid to fly in his mom and dad in to help me talk to him. They said nobody cared more about him than me. But was I ever happy with him there? He hadn't grown up yet. But we've all been there. Guess what? If I was that age, I'd probably be the same guy.
June Jones, Falcons offensive coordinator, 1991-93: Favre never got an opportunity because Chris Miller was playing lights out. He was the best player in 1991, and we played really well. [Glanville] wouldn't have played him ahead of Chris Miller, I know that. Chris had a phenomenal year. His numbers in 1991 were incredible and then in '92, his first six games were unbelievable, too, and then he was just running and nobody hit him and he tore his knee up.
Ken Herock: We met at the end of the season to go over personnel, and I've got the head coach and the coordinator telling me he can't play. And I'm thinking, "I've got to be wrong." Everybody on our team is telling me he can't play, I'm not going to say he can. First of all, I didn't think I was wrong. But you have to finally give in. I told the owner, Taylor Smith, I said, "Taylor, there's two guys here who are going to tell you about Favre. I'll tell you what I think and then we'll go on." So they say he can't play. I say, "Well when I drafted him I thought he was going to be a great player. Sometimes things don't work out. I must be wrong." I said I can trade him. And I knew I could trade him. I could sense what was going on during the season and I told Ron Wolf -- we played Green Bay that year down at our place -- I said if you're interested in Favre, and I knew he liked him, you better go look at him in pregame warmups because you won't see him anymore.
---
Enter Ron Wolf
Four days after team president Bob Harlan hired Wolf as general manager, the Packers played at Atlanta. It was in the press box at Fulton County Stadium on Dec. 1, 1991, when Wolf first informed Harlan of his plans for Favre.
Bob Harlan, Green Bay Packers CEO, 1989-2007: The week we hired Ron, he still had some scouting responsibilities with the Jets. We hired him in midweek, and he said he was going to meet us in Atlanta and then come back to Green Bay with the team. So I'm sitting in the press box on Sunday morning before the game and he comes up, puts his briefcase down next to me and says, "I'm going to go look at Atlanta's backup quarterback in warmups. If his arm is still as strong as it was coming out of college, we're going to make a trade for him." And then he walks away. So the first thing I did was take the flip card and turn it over to see who Atlanta's backup quarterback was. And I thought his name was Fav-RAY.
Mike Reinfeldt, Packers CFO, 1991-2003: Ron had gotten word that if he wanted to see Favre at all, he needed to get down on the field early. But the Green Bay media cornered Ron near the elevator coming out of the press box and they grilled him with a lot of questions. Ron couldn't break away, and by the time he made it onto the field, he was too late. He never got his exclusive look at Brett Favre.
Ron Wolf, Packers general manager, 1992-2000: I never did [see him throw before the game]. But I didn't need to. The thing I find so hard that people don't understand is this was a guy I personally rated the best player in the draft in 1991. So it's the next year. Actually it's still 1991. To have an opportunity to get a player of that caliber, in my opinion, a person's just lucky. I went back and looked at him [on film], but every time I saw him play, I saw him play well.
Brett Favre: Thank goodness he didn't look at my waistline and say, "I'm not going after this guy."
Ken Herock: You should've seen the guy. If you would've seen what he was doing, you'd say you'd be lucky to get a seventh-round pick for him. Nobody else wanted him but Ron. I told him, "I'm not parting with Favre without a first-round pick."
Bob Harlan: Ron comes back within a half hour and all he told me is we're going to make a trade for Brett Favre [and asked], "Are you OK with that?" I said, "Ron, when I hired you, I told you it was your team to run, and I promised you no interference from the board or the executive committee."
---
Committee Interference
At the time, the Packers' executive committee met every Tuesday, and two days after the game in Atlanta, Wolf found himself in front of the members explaining his plans. Little did he anticipate, there were some skeptics on the committee.
Ron Wolf: I told Bob that I'd have to give up our No. 1 [draft pick]. Not only did I tell Bob that, but Bob told me when we go back [to Green Bay], we have an executive committee meeting on Tuesday and [we'll] just talk it over with them.
Bob Harlan: There was some concern about giving up a No. 1 draft choice for a third-string quarterback who doesn't play. But the way I felt, I knew I could never even hire Ron without giving him that control. Because you know he interviewed here before [in 1987], and I knew what he didn't like about the situation then, and I knew I would never get him if I didn't promise him full control and absolutely no interference from the board of directors because he was concerned about it. Like I told him, I'm not going to interfere with the first decision you want to make.
Ron Wolf: I came in, made my pitch, told them why we're doing it and what I thought he'd do and what I thought he'd mean to the franchise. But I wasn't aware of [any opposition].
Don Harden, executive committee member, 1985-2005: Bob was absolutely right; we should not have interfered. I was never a naysayer, but I think there were some. But we needed to win, I knew that. If Ron and Mike liked him, and if those guys were for him, that was good enough for me.
---
text
Vote of Confidence
Meanwhile, Wolf apparently wanted one last reassurance he was making the right move. Or he was testing one of his new scouts, Ted Thompson, who was hired on Jan. 17, 1992, less than a month before the trade.
Ted Thompson, Packers scout, 1992; current Packers general manager: [Wolf] wanted to me watch him [film of Favre]. He left me in a dark room, and I watched some of it and he comes back in and he goes, "Well, what do you think?" And I said, "What do you think?" And he goes, "I like him, I think I'm going to trade a No. 1 for him." I said, "I think you ought to do that." He didn't need any help, but I've said this before: Brett, that limited time he got to play in Atlanta, it wasn't all pretty. But it was pretty when he got to the Green Bay Packers.
I wasn't smart enough to think, "You're crazy." It was, "Whatever you say, Ron." But it turned out really good and one of the great trades of all-time, probably.
---
Pass Him, Doc
The Packers' team physician at the time was Clarence Novotny. According to the Milwaukee Journal Sentinel, he was not an orthopedist like most NFL teams have now. As is customary after player gets traded, Favre had a physical with the team.
Mike Holmgren, Packers head coach, 1992-98: Our doctor is there, and he is talking to Ron and I'm there and he is going, "Well, he didn't pass his physical." Ron says, "You gotta pass him." And the doctor goes, "I can't pass him. He had this automobile accident, had this hip problem and he is not going to last any more than three years." And so Ron said, "Well, OK." The doctor leaves. Ron said, "Do you believe this guy?" Ron is getting fired up. I said, "He's a doctor, I don't know."
Mark Schiefelbein, former Packers public relations assistant: There is the whole thing about Brett failing the initial physical with the Packers because of a hip injury, which has been reported, but what I didn't know until talking to Ron further was that Ron had agreed to waive the contingency clause. Typically in any trade, the trade is contingent upon the player passing the physical. Well, Ron wanted Brett so bad that he took that clause out of the contract. Now you make the trade for Favre, you give up a No. 1 pick and now the doctors come up and tell you that there is an issue with the hip. Ron was kind of stunned. He said the doctors left his office, he went and shut the door to his office, and he just had a moment. He was very emotional. He thought, "My God, I just made a trade for this guy, waived the contingency on passing the physical, he failed the physical, I'm going to be let go, my career is over."
Mike Holmgren: It's really unusual to waive the contingency for a physical. You don't do that during a trade. The guy has to come in, make sure he has all his fingers and toes and everything. I'd talk to the doctors and say, "I know he has had this knee, but he can play." The doctor still has to be honest about it. He can say, "This is a problem, it could affect the player."
Brett Favre: I was traded then to Green Bay and was re-evaluated that year. I more or less flunked it, if you will, and Ron overruled that. He said, and I'm not quoting him on this, but more or less [he said], "I'll take whatever good years that he can possibly give us."
Mike Holmgren: Then about two weeks later we had a big meeting with all the medical people and Ron made the change. We got new doctors. He hired Pat McKenzie, who is still the Packers' team physician, a wonderful doctor and a good friend of mine. He became the orthopedic surgeon for the Packers. And so then, of course, Favre lasted more than three years.
---
The Rest is History
Even though Wolf and Herock talked five days a week for more than a month before the trade was finalized, Favre had no idea it was in the works.
Brett Favre: The first person who called me when I was traded was June Jones. I was in my kitchen at mom and dad's house, and [my brother] Scott and I were in the kitchen eating something, and June Jones calls and we small-talked for a minute or so. Then he said -- and June and I got along great, he worked tirelessly with me after practice and watching film and I got along with him great -- and he said, "In some ways I'm excited for you, and in other ways I'm disappointed." And I said, "What do you mean?" And he said, "Well, we traded you to Green Bay." I was kind of shocked. I wondered if this was for real or a joke. He said, "I wish you the best. I enjoyed working with you. I hope you have a great career. This is a great opportunity for you."
Then next person who calls is Ron Wolf, and of course I didn't know who Ron was. He said, "Look, I'm the GM in Green Bay and we just traded for you, and I want you to know that we're very excited about having you and having you lead our team." From Day 1, there was one thing about Ron, he was always ultra-positive with me. Of course, Holmgren as a coach, you see things a little different. You want to win football games with whoever you see fit, and he knew that Ron wanted me to play and at times Mike was extremely tough on me. But Ron was always kind of like grandfather to me even though the other players probably would have seen him different. I always felt this sense of comfort that no matter what, Ron's got my back. I know now looking back, the business side of it, that's not always the case. I just had that feeling not that I couldn't do any wrong, but that Ron was in my corner and that was the right person to have in your corner.
Jon Gruden Packers assistant coach, 1992; current ESPN broadcaster: I'm the guy who picked Favre up at the airport. The Falcons drafted him and they couldn't pronounce his name on draft day. So Lee Remmel, who was the Packers PR guy at the time, he walked in and said, "Remember, it's Brett Faaaarrrrve, Faaaarrrrve." He said it about six times, Brett Faaaarrrrve. I said, "I got it." I picked Brett up, and that's how it all began. It's amazing where he went and what he accomplished.
Mark Schiefelbein: It's all history now and Brett is headed for the Hall of Fame, but back then, there were fans who didn't even know Brett's name.
Ken Herock: It's like a nightmare almost when I talk about this trade because I grew up in Pittsburgh, and Pittsburgh let go of a great player -- Johnny Unitas. And I used to always think, "How could anybody be so goddamn stupid to let a player like that go? What was wrong with them?" So when I was in the league doing this, I always told myself never to give away a great player. It was one of my principles because I always thought of Johnny Unitas. So when this was happening, I'm thinking of Johnny Unitas.
I could still hear the remark from the coach. He said [imitating Glanville voice], "You get a first-round pick for him, you're a genius." And I was a genius just like the Pittsburgh Steelers were when they cut Johnny Unitas.
ESPN's Mike Sando contributed to this report.
Rob Demovsky is ESPN's Packers reporter for NFL Nation.