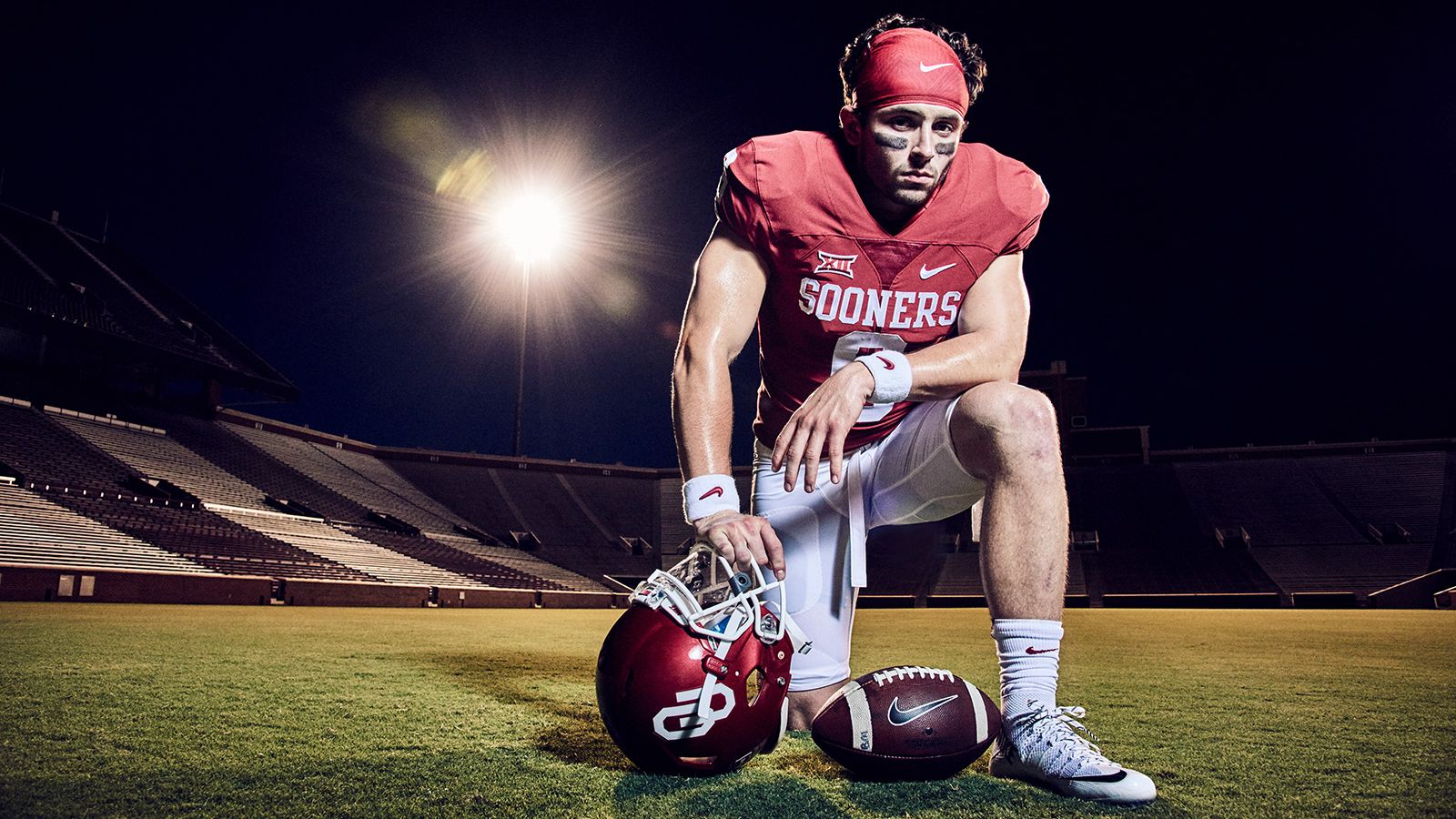 All He Needs Is Hate
Baker Mayfield is used to defying critics. In fact, he's not sure how to play without them.
Baker Mayfield is short. Lord, is he ever short. Really short. So short you sometimes have to go looking for him even when you can hear his voice right in front of you. If you take your eyes off him, you have to follow the voice, tracking it like a scent, until you can relocate him.
His hands are small, much smaller than hands you would expect to throw a football accurately at long distances. They're so small they almost shrivel into his wrists. Shaking hands with him feels like grabbing a set of keys. He's practically a kangaroo.
He's slow too. Don't let everything else distract you from that. You watch him run and you wonder what happened. Is he really trying? It's kind of cute if he is -- disturbing if he isn't. He once got tackled from behind by Baylor's Shawn Oakman, a 6-foot-8 Doric column. If you go to an Oklahoma game, you'll notice he gets to run out of the tunnel a minute or two before the rest of the team, and the guys in front still worry they might run him over.
He's spoiled. Add that to the mix. He grew up in Lake Travis, a tony section of Austin, Texas, where he spent an entitled childhood being fed peeled grapes -- probably because his tiny hands couldn't hold them -- and drinking only water flown in from a pristine lake on the southern tip of Chile. A plane would land every two or three days on the private airstrip on the property, and an army of servants -- dressed, for some reason, like the cast of Chariots of Fire -- would rush the water from the plane to a climate-controlled building, careful to make sure its temperature didn't rise more than 2 degrees.
To think that this young man -- really nothing more than a collection of athletic inadequacies -- can be the quarterback of the Oklahoma Sooners, and that he finished fourth in the Heisman voting a year ago, and that he might end up being one of the most productive quarterbacks in NCAA history, is nothing short of laughable.
---
I KNOW. THIS isn't what you expected. You expected the traditional ventriloquism, including but not limited to: bland platitudes and rote testimonials from coaches and teammates; quirky anecdotes that illuminate the subject's pious devotion to his chosen expertise; and a montage of adversities overcome that now serve as motivation and foster newfound perspective.
There is a protocol for stories like this one, and it doesn't include a ritual slandering of a personable and disarming 21-year-old whose easy composure has a way of making you realize how aimless you were at that age.
But what if that 21-year-old abhors comfort and actively seeks conflict? What if Baker Mayfield needs to feel unappreciated and underestimated? What if slander becomes its own form of praise?
---
REST ASSURED: OVER the next several months (and quite possibly the next several paragraphs), there will be plenty of opportunity for the standard hagiography. Protocol will be followed. There will be highlight packages set to inspirational music, fawning quotes from Big 12 coaches, stories like this one, profiles that check all the right boxes.
They'll include the announcement he made at 3 years old, when he and his mother were watching Saturday-morning cartoons. "From now on," Baker said, "I'm only watching ESPN." He changed the channel in a way Gina Mayfield says not only was final but carried a hint of ceremony.
They'll tell you that 3-year-old became the 10-year-old general manager who spent summer mornings writing rosters for the games he and his buddies would play in his backyard. He'd assign teams, call players and make sure his mom made cookies. "Baseball, football, jump in the pool," Gina says. "Baseball, football, jump in the pool."
You'll read that before Mayfield's freshman year, Lake Travis High coach Hank Carter saw this tiny kid running around with near-feral exuberance. "He was 5-5 or 5-6, a little fart, but he stuck out because of how charismatic he was," Carter says. "I remember thinking, 'Well, if li'l ol' Baker would ever grow, he'll probably be a stud.'"
You'll learn how the little-rich-boy theme collapsed in Mayfield's senior year, when his father, a private equity consultant, hit hard times and had to sell the family home. "We hit a serious rough patch," James Mayfield says. "It was stressful." Baker, big brother Matt and their parents moved from rental to rental -- four in Baker's senior year alone.
"I always have that in the back of my head -- the idea that I've been spoon-fed because of where I'm from," Baker says. "I think that's one of the main things that drives me to work harder to show that, in reality, I haven't been handed anything."
Yes, the confidence. You'll learn about that too, and about what it might feel like to break the karmic chain to live a doubt-free life, to scoff at the idea of a safety net because you never expect to fall.
---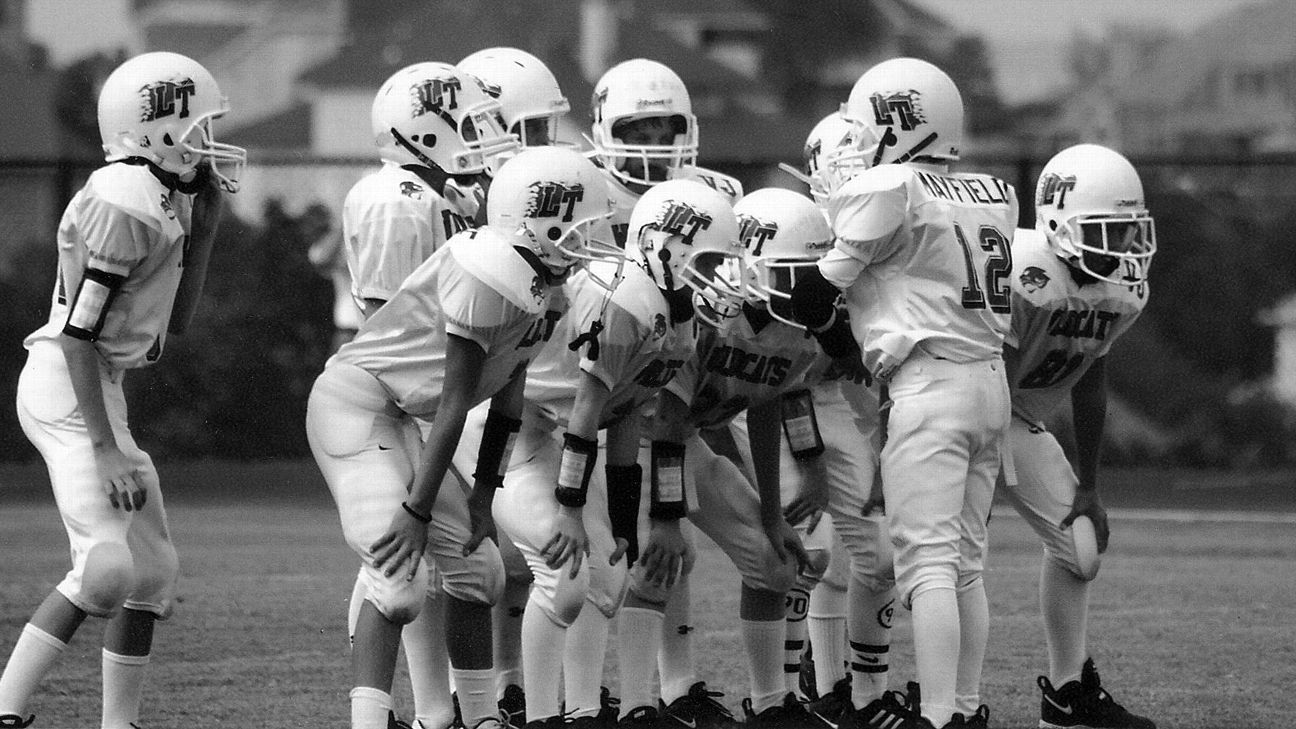 COULD IT BE genetic? Was Mayfield's mentality -- the easy charisma, the caustic edge -- passed down by a certain tall, white-haired gentleman with an elongated face and the bearing of a character actor who always gets the role of governor of a Southern state? James Mayfield was a quarterback and punter at the University of Houston from 1967 to '69, never lettering, and still carries himself with the certainty and ease of an old athlete.
It's clear right away that James resides permanently on the verge of saying something he might regret. His wife, Gina, finishes a lot of his sentences, which feels less like a habit than a series of pre-emptive strikes.
Ol' James can tell a story, that's for sure. When Baker was a high school junior, James took him to OU to see old coaching friends (he's seemingly on a first-name basis with every coach in the Southwest) and ran into two Sooners assistants.
"We're standing around telling stories, and I see them size him up," James says. "At the time, Baker was 5-11, 185. I'm looking at them and thinking, 'This isn't going well.'"
"He didn't pass the eye test," Gina says.
"Of course we didn't hear from OU again," James says.
There is a casual knowingness in his voice and a hint of forgiveness for OU's ability to rebound from its original mistake. After all, the Sooners aren't the only team that disappointed the Mayfields. Twice James encouraged his son to bet on himself, showing up on Big 12 campuses that didn't deem him worthy of a scholarship. He became the starter both times.
"The idea that he was not recruited has been a little overplayed," Carter says. "He was recruited, just not by the schools he wanted to play for." It's true: Mayfield was not the complete unknown that fits so conveniently into its assigned narrative slot. He chose to walk on at Texas Tech rather than accept a scholarship offer from Washington State, Rice, New Mexico or Florida Atlantic.
"I easily could've gone to a place like Florida Atlantic, but my dad pushed me to realize that my dream was to play somewhere big," Mayfield says. "He was right." At Tech, he became the first true-freshman walk-on QB to start an FBS season opener and was Big 12 freshman offensive player of the year.
It looked like the first draft of an answer to all those critics, but the plotline shifted over the course of the season as Mayfield's relationship with head coach Kliff Kingsbury deteriorated. There were communication mishaps, injuries and James Mayfield's assertion that Kingsbury -- "in his infinite wisdom" -- decided Baker couldn't stay healthy enough to be the starter.
Shortly after Kingsbury declared a three-way competition for the starting job in the Holiday Bowl, Mayfield called home and said he wanted out. He quit Lubbock in December, added another enemy to his list and went to Norman. Tech refused to grant Mayfield his release -- cue the ominous bad-guy music one more time -- even though Oklahoma and the Mayfields argued that walk-ons should not be subject to the Big 12 rule that requires intraconference transfers to sit one year and lose a season of eligibility.
Mayfield spent much of his mandatory scout-team year dominating the intramural circuit in a way that suggests an almost unhinged competitiveness. An all-state first baseman at Lake Travis, he moved to short for a team that won its first game 41-1 in two innings and never won by fewer than 12 runs. Mayfield agreed to play flag football, but only at receiver. His team was trailing late in its first game, and -- (no doubt seething at the possibility of defeat -- he threw a wide receiver pass that won the game. A protest was filed- that an intercollegiate athlete shouldn't be allowed to play intramurals in his sport, and Mayfield was banned. "Great," he said. "I can't play on Saturdays, and now I can't even play for fun?"
During a pickup basketball game ("I'm just awful," Mayfield says), an opponent lashed out, calling him Frat God. To Mayfield's ear, this sounded a lot like spoon-fed. "I lowered my shoulder into his chest with a dribble and put him on his back," Mayfield says. "But if I wasn't playing a sport, I'd be in a frat. So I guess I can't knock him too hard for that. I need to apologize, but I don't know who he is, so ... hey, if you're out there."
Mayfield played Halo for hours on end, engaging in the same Xbox therapy that carried him through much of his tumultuous senior year in high school. He calls it his "nerdy side." Later that fall, when he was quoted by the university's website as saying he was the best Halo player on campus, he was flooded with challenges. "I whipped the crap out of people," he says. "I had kids who were genuinely mad when they saw my claim, but they don't realize I spent hours with that game. I could have been a pro."
Brash is the word you hear most, but it seems too proper, almost Victorian. "At first I didn't like him," says junior wide receiver Jeffrey Mead. "He used to drive me nuts. Then I thought, 'Maybe he's doing this for a reason.' The more I got to know him ... OK, I actually like him. I just have to understand what he's doing."
Mayfield's confidence is somehow both blatant and disarming. Brash doesn't describe the guy who confronted Oakman after that tackle like he wanted to fight. His former center, Ty Darlington, dismisses the notion of a mismatch: "Which way? I ain't betting against Baker. Oakman said he'd fight him in the parking lot, and I think Baker would have kicked his ass."
Undersized player is motivated by slights real and perceived -- storylines don't get more conventional than that. But Mayfield needs to believe there is still a legion of nonbelievers. He needs it for sustenance.
If all doubt turned to praise, who would he be? How would he treat every form of competition as a referendum on his worth as a human being? How would he continue to consider every slight as the worst form of tyranny, so offensive that he penned a list -- a handwritten list!- -- that reads like the world's worst scouting report:
Too short
Too slow
Small hands
System quarterback
Spoiled rich kid
Seriously, it's nearly pathological. Silly, sure, but pathological nonetheless. He is no longer overlooked, but don't tell him. If no one doubts him, what's the point of playing?
---
Rainer Hosch for ESPN (3)
MAYFIELD IS SITTING in a construction trailer as the hum of the air conditioner drones in the background. The trailer is temporary; it'll be gone as soon as the crews finish the suitably exotic end zone office complex on the south end of mellifluously named Gaylord Family Oklahoma Memorial Stadium.
There was an interview before this one and another to follow. He has quickly reached a point in his career where the doubts must be self-generated. His first year in a Sooners uniform was, by all accounts, a success: He was second-team All-American and led his team to the College Football Playoff, where it lost to Clemson. And this June, he became the patron saint of walk-ons when he fought the Big 12 and won back his eligibility.
"It's been crazy," Mayfield says. "In a three-year span, it's gone from people not knowing about me to sometimes people knowing way too much."
Aside from the trailer's Guantanamo vibe, everything seems to be going well. He's on the shortest of short lists for the Heisman. Oklahoma's offense is loaded. His father and brother have teamed up on a private equity business that is on a good run.
So what bothers him now?
"People, man," he says with mock exasperation. "I'm walking around and they tell me what I need to do for us to win a national championship. They ask, 'Are you going to win the Heisman this year?'" Here he begins speaking in Bull Durham canned-quote mode as voiced by a small-market news anchor. "'Well, I don't really know. I'm going to work for our team to get better and win a national championship, and if that comes with it? Then yeah.'
"I get it. It comes with the territory. I appreciate all the kids who come up and enjoy my play at OU. But everybody giving me their opinions is where I draw the line. If it's someone who hasn't been there before, I really can't handle it. It's 'Slide more.' 'Don't take as many hits.' 'Get out of bounds.' I know they have my best interests at heart. I just have to remind myself of that."
His batlike sonar is so acute it will hear advice as criticism. And the slights must remain in the present tense -- after all, a Mayfield never forgets. Back in Baker's senior year at Lake Travis, after dissuading his son from going to Florida Atlantic or Washington State, James took it upon himself to find his son a walk-on spot at a suitably large school. James says he floated the idea with some Longhorn Foundation friends at Texas, and they came back with a message from Mack Brown: "Tell James we already have five scholarship quarterbacks." To which James replied, in a line he is proud to repeat: "Tell Mack he's got five kids on scholarship who can't play at Lake Travis."
Gina pats James on the arm and says, "Now now," with a nervous laugh. She is smiling, but the look says: Dude, let it go.
"I know," James says, laughing at himself. "That was just my cheap-shot stupid talk."
"The idea that he was not recruited has been a little overplayed."
- Hank Carter
But it's TCU that holds a special place in the Mayfields' Rolodex of resentment. As a high school senior, Baker was so sure Gary Patterson was going to offer him a scholarship that he turned away other schools. Before the semifinal against Clemson, Baker made a point of saying that TCU "kind of hung me out to dry" and that Patterson "doesn't like me, and I have no comment about that."
Patterson responded by saying, "If Baker Mayfield wants to blame TCU for 128 BCS schools not offering him a scholarship, that's fine. But ask Kliff Kingsbury why he didn't offer him a scholarship at Texas Tech. Ask about Baker's dad. He's an arrogant guy who thinks he knows everything. If people knew the whole story, they might not have a great opinion of Baker and his father."
Reminded of Patterson's statement, James chuckles a bit and shakes his head. "Gary," he says.
"Gaaa-ry," Gina says, drawing out the syllables like a piece of gum. "He's like Newman from Seinfeld. We loved Gary. We really did."
James and Gina share a look. They both smile. There's clearly a secret language being spoken, perhaps centered on the idea that Gary once mattered but no longer does.
OK, James says, here's the deal: Just before signing day he called assistant coach Chad Glasgow, who was recruiting Baker, and asked, "Chad, is this going anywhere?" Glasgow, according to James, said, "Well ..." To which James replied, "If you can't commit, we need to move on and do what's best for Baker." Glasgow, who refused comment through a TCU spokesman, suggested he come to Austin to have dinner with the Mayfields, to which James replied, "Why the hell would we do that?"
"I think I hurt Patterson's feelings by saying that," James says. "It wasn't a harsh exchange. Then he got mad at Baker because Baker was on the sidelines two years ago reading their calls."
Oh, yeah. There's that.
Current TCU co-offensive coordinator Sonny Cumbie left Texas Tech the week after Mayfield did. ("Left with impunity," James says.) That fall, while sitting out the season, Mayfield noticed that Cumbie hadn't changed the hand signals he used to call plays. Patterson and TCU quarterback Trevone Boykin said Mayfield was telling Oklahoma's defense what was coming. Oklahoma coach Bob Stoops denied it. "Oh, it's true," James says. "That's on Cumbie."
He laughs. That's his boy, the unapologetic competitor, the one who -- along with his dad -- is not content that people simply know they missed out. They must be subjugated. This is why everyone believes he'll stay for that year he fought to get: There might be a few more heretics who must bow before the truth.
This is not a kid trying to prove himself. This is a siege. After every big play he made in a 63-27 rout of Texas Tech last fall, he looked over at Kingsbury and shook his head in disgust. Look at me, Kliff. How could you let this get away?
Yes, things are going well. The critics have been silenced. Almost. But their doubts still echo in one place: inside Baker Mayfield's head. In there, he's still short, still slow, still li'l ol' Baker getting sized up and ignored. He's still the little fart, not a Heisman candidate or the leader of a team that has legit national championship aspirations.
But if it turns out that he wins one -- or both -- of those trophies, let's hope there's someone there who can hold it for him.
Keown is a senior writer for ESPN.