The astonishing story of how two wrestling teammates from Miami came to oppose each other in the cocaine wars -- one as a drug smuggler, the other as a DEA agent.
By Brett Forrest
ADDITIONAL REPORTING BY JON FISH
Editor's note: This story was originally published on Aug. 18, 2016 and contains mature content. Watch Pin Kings on Sunday's SC Featured at 2 p.m. ET on ESPN.
Kevin Pedersen's wrestling days were 15 years behind him, and yet he still couldn't let the sport go. Miami was full of change in the early '90s, not much of it any good, but these high school wrestling meets were locked in time, their rituals the same as Kevin remembered.
Kids in headgear, sizing each other up. Always some dad in the stands letting loose. A hush as a match began, and ultimately a ref raising a winner's hand. At every meet, a wrestler crying at the outcome.
There's no purer contest, Kevin thought. One guy against another, no teammate to draft off of or accuse: This is how you know if you measure up. Little Kevin Pedersen, 5-foot-4, buck-oh-five, smallest guy in the room. There had always been a champion inside of him. Without wrestling, he would have been the only one to know it.
And now here he was: a decorated agent for the Drug Enforcement Agency, with a gun on his hip and another tucked in his boot. Out there in South Florida, always on call, he saw the worst in people, the price paid for an undisciplined life. Back in these gyms, wrestling's ceremony reassured him, relaxed his mind enough to let him dip into his past.
But Kevin's past wasn't his alone. At the meets, someone would inevitably recognize Kevin and remind him of his curious bond with a teammate. What about Alex? Kevin would grin and gosh-dang along with them, reminiscing, although he could never understand the appeal of the outlaw.
---
IN THE WINTER of 1991, Alex DeCubas emerged from the arrivals lounge at El Dorado International Airport in Bogotá, Colombia, carrying a fake Dominican passport. Alex worked his bullish chest and shoulders into a brown leather coat as he scanned for his driver among the desperate faces of a country shattered by the cocaine wars.
The car left the capital, driving to the rural town of Cota, Cundinamarca, and to a compound set atop an imposing cliff. A high wall encircled the property, tipped with shards of glass, keeping thieves out, and others in. This was Jorge Gnecco's place.
Gnecco was the new face of brutality in the Colombian underworld, taking his cues from Pablo Escobar and the bloody Medellín cartel. Alex had gone into business with Gnecco, running a 2,000-kilogram load of pure Colombian cocaine through St. Lucia and into Fort Lauderdale. But in Florida, one of Alex's soldiers had betrayed him, running off with the majority of the load, at $18,000 per kilo. Gnecco summoned Alex, who hadn't heard about the theft. Alex stepped out of the car and moved to the compound's study, where Gnecco waited.
The drug lord lit into Alex. You were in on it, he yelled at him, slamming a fist on his desk. You got a debt. Twenty-five million. You're not leaving until I get paid.
Hundreds of millions of dollars in drug sales had passed through Alex's hands, but he wouldn't part with any of it for something he hadn't done.
In friendlier times, Gnecco had shown Alex his favorite photos, leafing through them like they were baseball cards: pictures of men Gnecco had kidnapped, in sets of two. In the first picture, a brutalized face looked startled by the camera flash, the man maybe expecting a bullet along with it. In the second picture -- a lifeless form, splayed out on the ground. Gnecco had always laughed at those shots.
Alex looked at Gnecco. I don't have $25 million.
And so Gnecco wouldn't allow him to leave. A rotating crew of his soldiers kept watch on Alex. For weeks, he'd spend his days pacing the patio, up and back on the Mexican clay tiles of his open-air prison, the high wall hemming him in. Most evenings, the guards turned on their favorite telenovela, and before they went to bed, they locked up Alex in a steel cage at the edge of the enclosed patio.
The days passed, 45 of them, Alex dropping weight like back in his wrestling days from the table scraps they fed him. How much longer until that sadistic prick pulls out the camera? he asked himself. If I'm gonna survive, I gotta escape.
One night, when the guards gathered around the TV for the series finale of their soap opera, Alex saw an opening. They had yet to put Alex in his cage, and now their eyes were getting heavy. Alex crouched at one end of the patio and gripped his leather coat. Still the athlete, he burst from his stance and raced 90 feet to the wall. He leaped, grabbing the top of it, his coat protecting his hands from the shards of glass. Pulling himself up, he tossed a leg over. Alex fell straight down the steep slope, landing in the hillside's rain-softened orange clay. He tumbled and slid to the edge of the road below. When he stopped, he was orange from tip to tail but uninjured. A car approached, the sign on its roof legible in the dusk: taxi.
---
KEVIN PEDERSEN AND Alex DeCubas were first linked to each other more than 40 years ago. They met at a Little League game in Miami in 1969, Alex glaring down from the mound, a hulking 11-year-old, as Kevin walked his slight frame into the batter's box and whipped through a few meager practice swings. Alex was known for striking out the side, but now he served up a walk, feeling sorry for the little guy. It just didn't feel right striking him out.
Their families lived in Miami's Palmetto neighborhood, and a couple of years later, the boys would attend Palmetto Junior High School together. They decided to join wrestling for different reasons. Kevin's father, Myron, had captained his high school team back in Des Moines, Iowa, before heading off to World War II. The Air Force lieutenant colonel, now stationed at the Miami airport and plagued with memories of the Pacific theater, had fallen into alcoholism. Alex's father, Luis, had fled Castro's revolutionary Cuba and had opened an upscale men's boutique in Coral Gables. He wore a different suit every day, projecting an image of success as he made his entrance to Alex's wrestling meets. El tigre! he would yell, encouraging his boy, layering his son's face with kisses after every victory.
When Alex and Kevin joined the high school team as sophomores, Alex had grown into a 5-9, 190-pound bruiser, legs and torso thickly arranged. Kevin admired his power -- how Alex latched on to bigger guys and slung them around like it was their first go on the mat -- and the ease with which he walked the halls and talked to girls. Alex respected Kevin's technique and discipline, the 105-pounder who lifted year-round, jogging laps in the Miami bake. The two ran in different circles, but in the wrestling room, they connected. Alex looked after his undersized teammate; other kids knew that if they provoked Kevin, Alex would be there to answer.
In 1974, both wrestlers went undefeated in the regular season, Alex as the varsity heavyweight and Kevin as a lightweight relegated to JV. At the final of the state championship meet, Alex scored a last-second pin on his opponent, an unbeaten senior, to earn Palmetto High its first state team title.
In 1976, the boys' senior year, Palmetto coach Barry Zimbler named Kevin and Alex co-captains. Before every practice, the two would square off, no matter that 100 pounds separated them. Alex would flip Kevin and grind his face into the mat. And Kevin would get tougher.
That spring, Kevin won the Florida state 110-pound championship, closing out an undefeated season. Alex won his second state title. They were both named All-American. Weeks later, the pair appeared in Sports Illustrated's "Faces in the Crowd," side by side, their bond for all the world to see.
---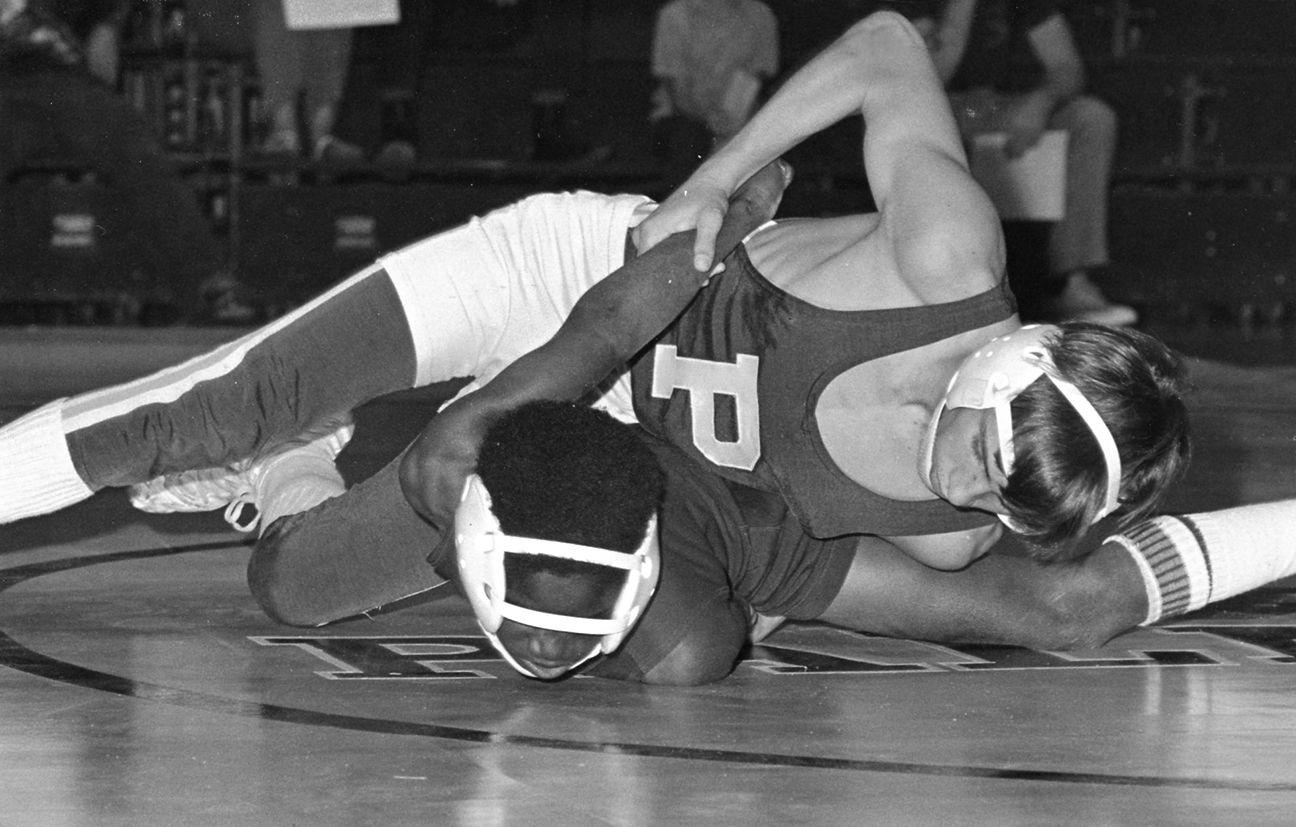 ONE NIGHT DURING Alex's sophomore year at the University of Georgia in 1977, while he crushed beers with his wrestling teammates, the phone rang. Alex picked up and began speaking Spanish. His father was ill, and Uncle Pedro would be waiting for Alex at Miami International.
The next day, the two men drove south down Palmetto Expressway. Baptist Hospital appeared up ahead -- but Uncle Pedro just kept on driving.
Tio, Alex said. Why aren't we stopping?
Your dad's not sick. Silence as the car kept going. Your father's dead. He shot himself.
Luis DeCubas' clothing boutique was practically bankrupt, and in the store's back office, he had taken out his Walther PPK, aimed the pistol at his chest and fired.
After Alex received the details, he and his brother, Luis Jr., drove to Coral Gables and their father's shop. The blood had curled up on the concrete floor. Towels in hand, the brothers scrubbed away the final indication of their father.
Luis left letters for his family. To Alex he wrote: You've made me so proud, my tiger. Now go be a success. Go out and grab life with gusto. In his grief, Alex struggled with how to apply his father's final words, the plea for his second-born son to be daring, to never settle for a pedestrian existence. Consumed with sorrow and hobbled by knee injuries, Alex left wrestling and Georgia. He returned to Miami, took a job at a tool store. The drug trade was sweeping through the city, and the adventure and easy money lured in Alex. He started selling small bags of weed and coke.
One afternoon, two guys walked into the tool store, their gold Rolex Presidentials catching the warehouse fluorescents. One of them had escaped communism, the other just Detroit -- Jaromir John, a Czech who went by J.J., and Sam Frontera. They were in the jewelry business, among other interests. As they looked over Alex, the pair decided to discuss their real work.
Hey, kid, J.J. said. You know where we can get some kilos?
He did. When Alex found what they were looking for, J.J. and Sam figured it was time to bring this kid in all the way. J.J. called Alex one afternoon.
Meet me in Fort Lauderdale. And bring your gun.
He went on to explain that he and Sam specialized in ripping: stealing drugs from dealers. That night, they would target a single-story home where two guys were sitting on 1,200 pounds of pot, worth $360,000. Alex liked the sound of the money, and he missed the adrenaline he once found in wrestling. And he figured nobody would call the cops.
Posing as DEA agents, they busted in and ordered everyone facedown on the tile floor. Kid, Sam said, go check the back bedroom.
Gun drawn, Alex cracked the bedroom door. A woman sat on the bed, stock still. Two pit bulls suddenly rushed into his peripheral vision. Alex unloaded. A couple of shots dropped the dogs; another bullet skipped off the tile floor and clipped the woman in the leg. J.J. and Sam ripped the stash, and they all got back on the road.
Alex was making $200 a week at the tool store, and now J.J. and Sam were bringing him in for $30,000 a score.
They continued ripping: pot, quaaludes, coke, cash. Whatever they could find, whatever they could steal, wherever it had to go down -- in a home, in a warehouse, on the shoulder of the highway. Alex had found his own path to success.
---
KEVIN PEDERSEN WAS back in Palmetto after graduating from West Point, class of 1980, when he sat down for a beer at a local joint, the Crown Lounge. Pedersen, wearing an Airborne T-shirt and his hair high and tight, sat alone at the end of the bar.
Hey, Ped, a man called out from across the lounge.
Kevin had heard the whispers from the Palmetto wrestling crowd, about how Alex had gone into the drug trade, and now they would come to life. Alex, with gold chains and a shaved head, was bigger than Kevin remembered, his frame filled out to 240 pounds. He smoked a cigar, surrounded by people who had the appearance of sycophants. He looks like a drug dealer, Kevin thought.
Alex walked over, gripping Kevin in a hug. They shared a drink, went over old times, and then Alex brought Kevin current. I know you're an officer in the Army, but I'm gonna do things my way, and I'm gonna be on top of the world. You just wait and see. Alex took a last pull on the cigar. Then he stubbed it out on his own forehead.
Kevin left the bar that night saddened to think, The Alex I know is gone.
---
ALEX AND LINDA'S wedding party cruised down the Intracoastal Waterway out of Fort Lauderdale. Getting married hadn't been in the plans, but Linda Lieberher's pregnancy changed things, and Alex wanted to do right by her. Alex laid out for the yacht, the food, the booze and the band playing Buffett covers. There'd be a honeymoon in Hawaii.
After three years, Alex had moved up in the trade, from ripping straight into smuggling. His crew would wait for a twin-engine Beech 18 from Colombia to drop bales into the water off the Bahamas. His men would gaff them onto a boat and run them to South Florida. At most, it was a few days at sea.
A kilo of coke cost $250 to produce in Colombia but ran $50,000 wholesale in Miami. It was constant, easy money. Back on land, Alex often began his evenings at the Trap Lounge, dropping $10,000 on strippers. At 3 the next afternoon, he would slide into Joe's Stone Crab, and everyone would already be there, the guys in the trade giving one another knowing nods over the beers that kept coming. Nobody kept a 9-to-5. Nobody went to an office. Everyone totaled out to zero for the IRS.
They didn't discuss the trade in front of civilians, but anyone would be blind to miss Alex's Mercedeses, Corvettes and Cigarette boats. He had stash houses sprinkled along the coast. What kind of guy owns a Cessna when he can't even fly?
Alex drove I-95, speaking his Spanish into parking lot pay phones from Boca to Homestead. Some nights he wouldn't come home, and when he finally showed, he'd never explain. He tried to keep Linda in the dark. But in the mornings, when he walked in, the weight of a score now swept off his shoulders, she began to understand whom she was marrying.
On the yacht, Linda looked vulnerable in her wedding dress, spun around the deck by a man who half the crowd knew was moving Colombian flake by the ton. At one point, one of Alex's partners beckoned him to the bar. They talked in the low tones of business. A load is coming in, steaming toward the Bahamas. Time to get saddled.
The yacht docked, and Alex's crew detached from their wives and girlfriends, gathering at the gangplank. Alex whispered to his bride, Gotta go, honey baby.
And oh yeah, about the honeymoon? Alex said. Why don't you take your mother.
---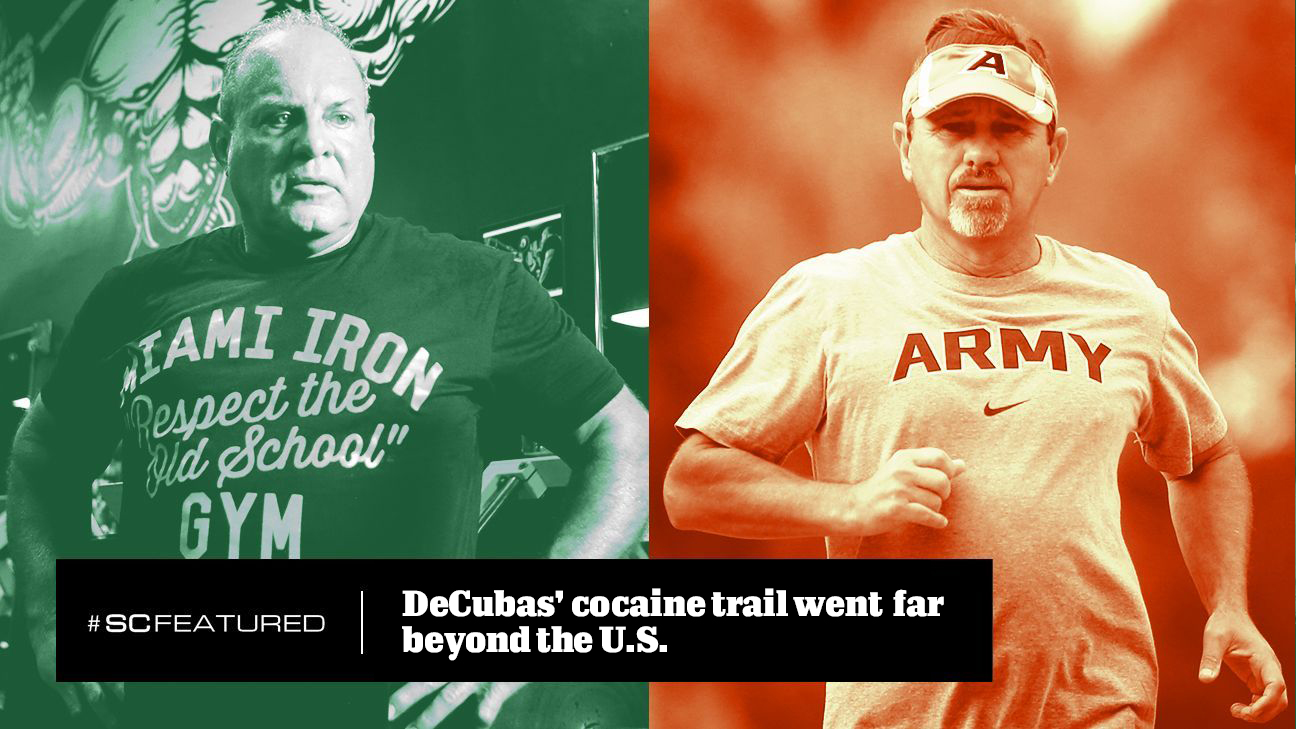 IT WAS THIS sort of obsession with the trade that spread Alex's reputation south to Colombia. In 1986, word reached Julio Cesar Nasser David, the head of the North Coast cartel, one of the country's four major trafficking organizations. Everyone called Nasser the Old Man; he'd been in the game since running cigarettes was the big score. Based in Barranquilla, along the Caribbean, Nasser was the freighter man, moving mass quantities by sea.
Nasser heard of an outfit that was bringing 600-kilo loads ashore through the Bahamas without losing any powder. The Old Man wanted to meet the head of this crew, Alex DeCubas.
Alex flew to Venezuela, careful to avoid the Colombia stamp on his passport, a curious marker to any Fed who was paying attention. Nasser's men drove Alex along the coast road over the border, farther into Barranquilla. Past midnight, the car pulled up to Byblos, a Lebanese restaurant. Several dozen soldiers of the North Coast cartel ringed the property, heavily armed.
Inside, Alex saw a long table, loaded with plates of fattoush. A belly dancer surged around the floor. A door opened, and in came the Old Man: Here was Alex's entry to the direct supply of the cartels.
The two men got down to it: load and capacity.
How many boats do you have? Nasser asked.
Two, Alex told him, though he could get others.
How many kilos can they take?
Six-fifty each.
How do you bring it in?
I don't take a load unless we move it in hidden compartments. I'm not gonna throw the package on the deck and cruise in at 2 in the afternoon with all these other bozos, just praying to make it.
Nasser smiled. He liked how the kid operated. From now on, you're not gonna need to work with anybody else.
As long as you keep me working, Alex said, I'm good with you.
The Old Man wanted to run the biggest loads of any cartel, and he had the boat to do it. The Nerma was 236 feet from stem to stern. Registered in Panama, it carried a Danish captain and crew. It had established a legitimate route too, hauling goods from Colombia to Jacksonville, Florida.
Alex and his outfit handled their first Nerma load on June 18, 1988. With the moonlight painting the swells, the Nerma slowed to 5 knots around the Berry Islands in the Bahamas. Alex's boats bobbed in the nearby darkness. One at a time, they tied up to the Nerma. The Danes operated the ship's crane, depositing portions of the load onto each boat. Bit by bit, the coke moved onto Alex's boats, 1,300 kilos in all -- $30 million on the street.
---
IN 1980, KEVIN reunited with his high school girlfriend, Betty Zalinsky, whose marriage had recently fallen apart. Her husband was in prison for selling cocaine, and Betty had her own history with the drug, a 1978 conviction for possession. Kevin was still in love with the Betty he knew at Palmetto. The couple married in 1982, with Kevin adopting Betty's son, Danny.
When Kevin found pot and coke in their home, he sat down his new wife. I'm an Army officer, he said. I can't have this around my family. As an officer's wife, Betty made her pledge: I'm clean.
He believed her.
Kevin left the Army in 1983 and took a job with his father-in-law in the tire business. Betty started using again, or maybe she'd never stopped. Her party drug had hardened into an addiction thanks to the endless supply that guys like Alex were bringing to the street. By the time Kevin was 30, he sat his wife down one last time: Betty, I'm filing for divorce.
Betty took Danny with her. Kevin lost the house in Homestead. His father-in-law handed him walking papers. Kevin was a West Point grad, a state champion, but that was all just more paper to tack onto the wall of the studio he was renting by the month. The line of Kevin's life was so thin. A wire is all it ever was, cinched tight between two tall ideas: success and failure. With the wire holding in the breeze, Kevin had to walk it. When that wire snapped, Kevin, free-falling, grabbed for air.
One night in 1989, Kevin picked up his Colt Commander 9 mm. He put it to his temple. He dropped to his knees in that lonely place. How had it all come to this? he wondered.
But instead of pulling the trigger, he experienced a sudden understanding, one he believed to be divine. He flung the gun to the far side of the room. His situation became clear -- the addiction of his ex-wife, the unraveling of his marriage and the role that outfits like Alex's played in it all. Kevin got to his feet with a resolution: I want to fight the war on drugs.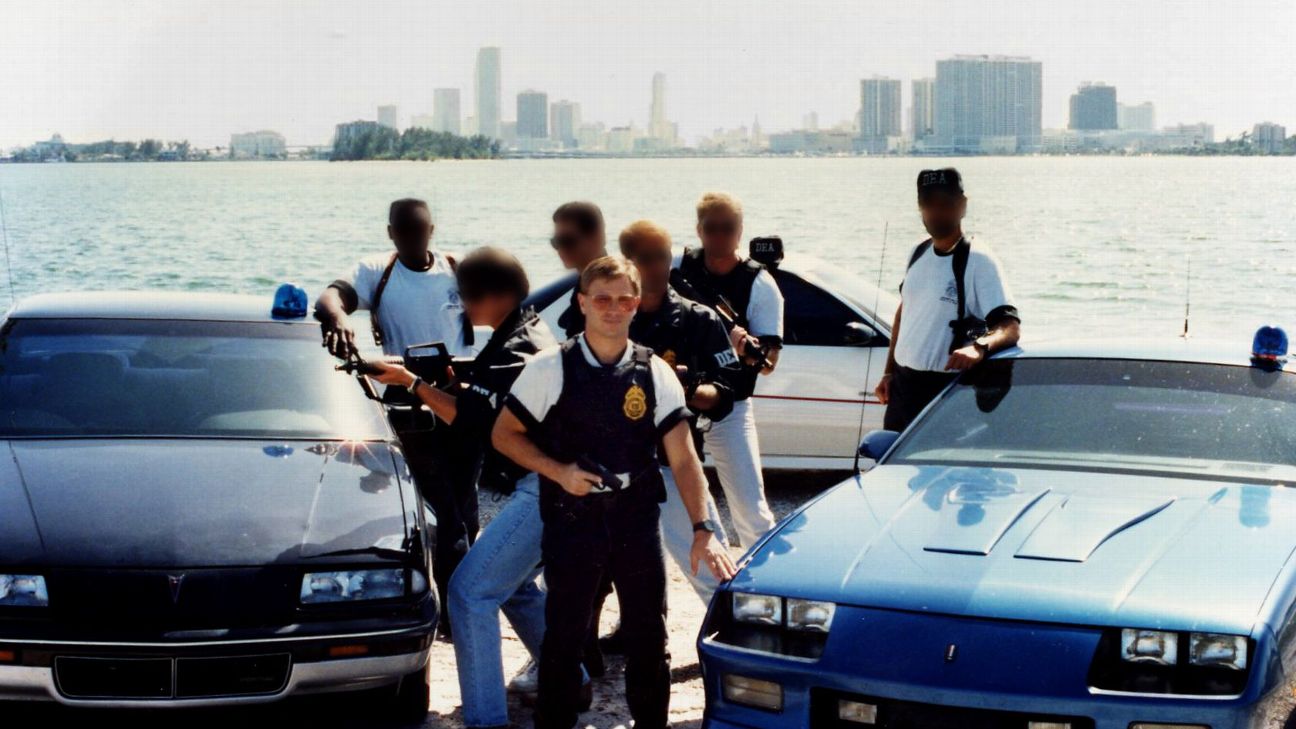 ---
AROUND 1986, THE game flipped. President Reagan handed the drug problem to his vice president, George H. W. Bush, and Congress made the money flow in his direction. Coast Guard, Customs, U.S. Marshals staffed up, and the courts stiffened, began routinely handing down 20-to-life stretches in place of the previous five or 10. Traffickers began flipping, making whatever deals they could with prosecutors, because 30 years was just too hard to do.
Alex didn't notice the tide turning against him. He had too much work off-loading bricks of coke, tossing them like footballs into a stash house, 2,000 kilos stacked in the garage, another Coupe de Ville pulling up the drive for a run to Chicago. Alex didn't realize that the Feds had busted a guy who knew about a freighter slowing round Great Stirrup Cay in the Bahamas.
Sept. 9, 1989, and the Nerma was carrying 5,500 kilos, $140 million worth, with Alex's boats riding up alongside it. This was all routine, Alex's crew well-acquainted with the Nerma by now. But tonight a Coast Guard helicopter hovered high in the darkness, an infrared camera trained on the Nerma. Alex's crew was hustling to stash the load when they heard a chopper above. That's weird, a crew member thought. I know we're not in any flight path.
---
THE MIAMI NEWSCASTS went live with it in July 1991. From the Old Man to Alex DeCubas and on down, a federal grand jury would indict more than 200 suspects in the Nerma operation. But by the time of the broadcast, Alex was gone, having disappeared on the highways of the American West.
After months on the run in an RV, Alex entered Tijuana, Mexico, in style, by limousine. By the end of 1991, he was in Medellín, Colombia, an international fugitive at 33, burrowing into the one place he felt safe, the most dangerous city in the world.
The head of the Medellín cartel, Pablo Escobar, was waging war against the government and his rivals in the Cali cartel. Assassinations, mass killings, bombings -- Escobar's tactics plunged Colombia into chaos. By the time Alex arrived, Escobar faced new government pressure. He agreed to do time but in a jail of one, a hacienda outside Medellín called La Catedral. There, he continued to conduct his affairs, now from behind a monsignor's desk.
Alex's Medellín contact, Felix Chitiva, a former partner of his with the Old Man, knew a guy who manufactured coke for the Medellín cartel. But no matter how much cocaine anyone processed, it was worthless if you couldn't get it to market. Alex was worth 1,000 hands plucking coca leaves on the Andean slopes. DeCubas remotely reassembled his frayed Florida network, and he and Chitiva resumed moving product into Miami, now for Escobar's Medellín cartel.
Ultimately, Escobar's network noticed the work of his new soldiers. To remain on Escobar's good side, Chitiva arranged a visit to La Catedral, sneaking past the government guards in a supply truck until he was face-to-face with the greatest trafficker of them all.
Pablo Escobar addressed Chitiva. I heard about you guys. You're good people.
Chitiva laid a $150,000 tribute on the desk to stay off of Escobar's hit list. He'd return to La Catedral time and again, always with a cut of the action.
But in the end, Escobar grew restless and fled his prison, and Colombia's many traffickers didn't see the point of paying extortion fees to a man on the run. Alex and Felix aligned with an equally dangerous outfit called Los Pepes. Instead of paying Escobar, Alex now funneled proceeds to this new group, renegades bent on destroying Escobar.
Now Escobar was the hunted. With information from Los Pepes and others, Colombian cops pinpointed his position in Medellín. Firing from many angles, they took his life on an orange-tile rooftop on Dec. 2, 1993. Escobar's bloated corpse signaled the end of an age.
Alex DeCubas would live on into the next.
---
KEVIN JOINED THE DEA on Oct. 4, 1991, not long after Alex had split Miami. The agents carrying the DeCubas case knew all about Kevin and his ties to the kingpin: the state championship at Palmetto, the page out of Sports Illustrated. And Kevin's DEA superiors believed his energies should be directed elsewhere.
They started him on local stings. He cruised with cops, making busts in counties across South Florida, which led to cash seizures in the millions, his name inching up the monthly bust rankings back at the DEA compound in Doral. Kevin infiltrated a ring that was moving product to Italy: He packed 30 kilos of coke in his bag to Rome, where he bartered for 10 kilos of heroin in return. At trial, the target, Giovanni Tummolillo, threatened Kevin and his new family -- his wife, two daughters and Danny, whose custody he'd won from Betty. Kevin was learning that a DEA agent lived and died by the quality of his confidential informants. This was all preamble to a first-of-its-kind DEA operation that would soon be his to lead.
---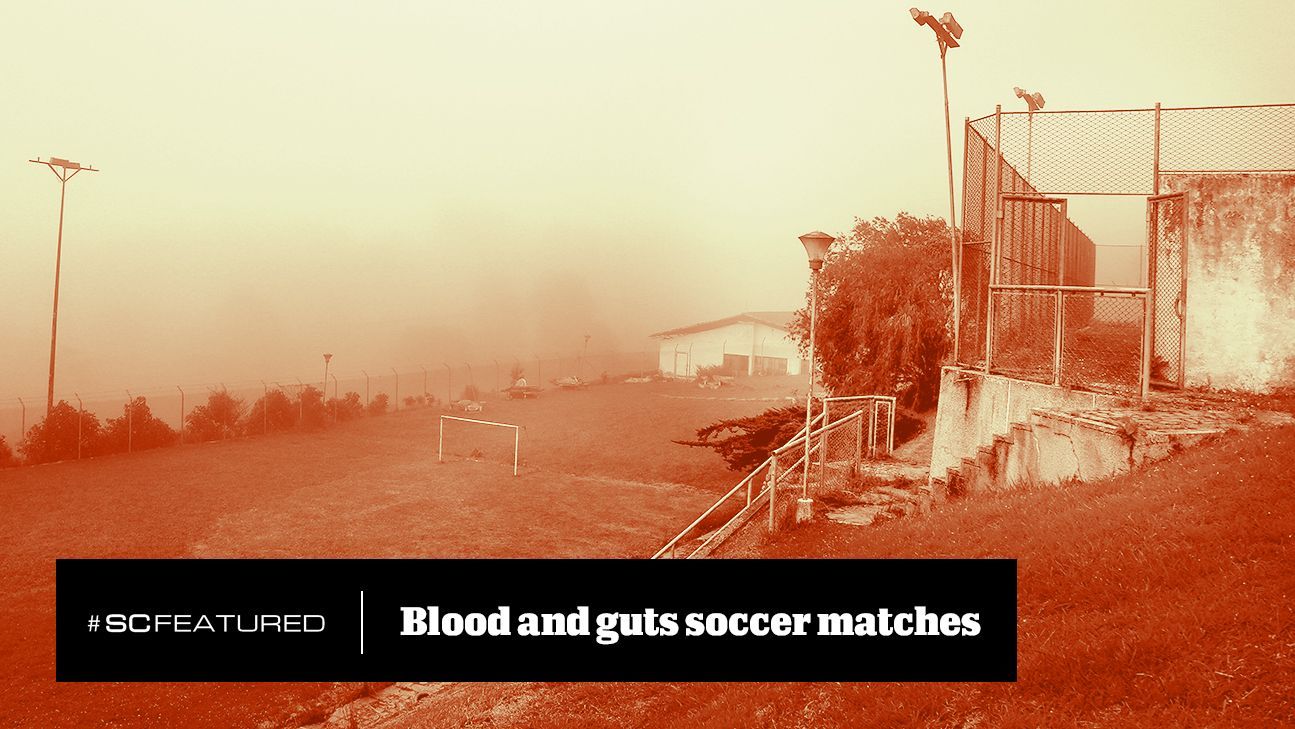 ALEX DROVE DOWN the Kilometer 18 Highway, heading toward the country retreat of the Cali cartel, which he had worked with in Florida. But now he was on their turf. The cartel's soldiers eyed Alex suspiciously when his vehicle emerged out of the Andean fog and came to a stop at the compound. Some of these men knew Alex as Juan. Some knew him as the transporter. Now they would put him to the test.
They tossed Alex a soccer uniform, and he followed them over to a groomed field along a plateau, lights punching through the night. They placed Alex in goal. His knees were shot from wrestling injuries, but his instincts and reflexes were still there. The Cali boys found that they couldn't get a ball by the big man from Miami. They played games until 2 a.m., downing shots of aguardiente. Alex DeCubas, shutout goalie of narco soccer -- the lieutenants of the Cali cartel took him in.
Over the next five years, Alex, working with various partners under various aliases, would expand their reach into Western Europe, then deep into the Mediterranean. Alex went to their weddings. He went to their funerals. And it was standing over a coffin, looking into the face of a murdered friend, when Alex wondered, Will this ever happen to me?
---
KEVIN BEGAN TO pose his own questions in those years, ones that everyone else had been asking: Where is Alex? Is he still alive? He would have to wait to find answers; his bosses had set him to work under an alias on Operation Cali-Man. This was new ground for the DEA, a covert money-laundering operation. On street corners in cities along the East Coast, he would pick up bags of cash -- $1 million, $2 million -- and then run these cartel funds through U.S. banks, wiring the money to accounts in South America. In the process, Kevin would compile reams of banking data that enabled the DEA to identify and target high-ranking members of Colombia's drug underworld.
The traffickers would often ask Kevin to buy goods and then send them down to Colombia by container ship. This was another way of laundering. Sometimes it was refrigerators, but usually they wanted cars. Sometimes those vehicles made it through to Santa Marta, Colombia. Other times Kevin had to inform a contact that the assets had been "lost." Kevin pulled into a Toyota dealership one afternoon and bought 10 new vehicles with the $1 million he had just brought in from Manhattan in a canvas bag. Kevin then persuaded a contact of his to plant a story in a Florida paper, reporting a tropical storm that had never reached land. Those Land Cruisers, fancifully washed into the sea by a phantom storm, were then put to use by the DEA.
One day in 1997, Kevin found himself on a flight to Bogotá, where he would oversee an informant during a cash drop. Kevin accompanied the snitch to the city's main shopping mall. He sat a good distance away from the target, inside the food court, biding time until the exchange. And as the people bustled all about, speaking a Spanish that Kevin struggled to understand, his mind turned to the familiar. He asked himself, Does Alex ever come to the food court?
---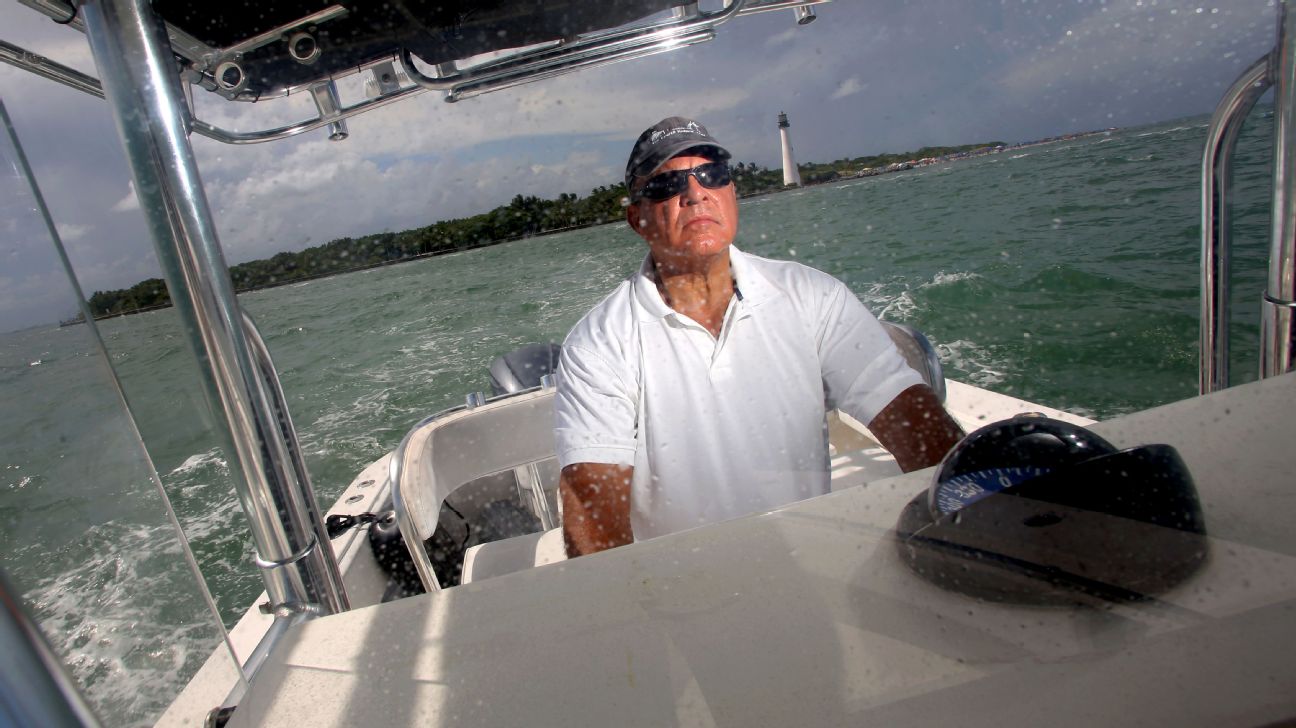 IN 1997, ALEX was in Cali, 300 miles west of Bogotá. Six years in Colombia and Alex wanted more control, a bigger cut. At a stoplight, a truck pulled up alongside Alex's Toyota pickup. It was a tanker, hauling a load of fuel in its cylindrical trailer. Alex looked at the fuel tanker and thought ... submarine.
If he could build one, and pack it with coke, he would be the greatest trafficker of all. Through his contacts at the port in Cartagena, Alex imported steel from Belgium. Outside Cali, a factory rolled the steel into three cylindrical sections, more than 100 feet long. Alex transported the hull to a cow pasture in Facatativá, a town outside of Bogotá. In a warehouse there, following designs for a diesel-electric WWII-era Nazi U-boat, Alex and his team began building a narco sub.
Alex took on an engineer who had served in the Russian navy. When the Russian arrived in Facatativá, he looked at what Alex had done and shook his head: Blyat. Aluminum had to come out; it'd kill the batteries. The fluid transference must be reworked to maintain proper ballast. But the hull was sound and the motor looked good. The work carried on.
Alex's submarine took three years to build. It cost him nearly $5 million. By 2000, the sub was 60 percent complete. It was designed to hold 10,000 kilos of cocaine. Alex planned to send it to the coast of Spain, 4,500 miles away, where a kilo cost $40,000. A single load's worth: $400 million.
But keeping a secret about a submarine designed to hold 10,000 kilos was nearly as impossible as building the sub itself. On Sept. 7, 2000, the doors to the warehouse flew open, and in walked the commanding general of the Colombian police and the local DEA chief. Alex was nowhere to be found. The authorities were mystified at what they'd discovered, until they brought in a naval attaché, who marveled: You got a submarine, and it's a big one.
---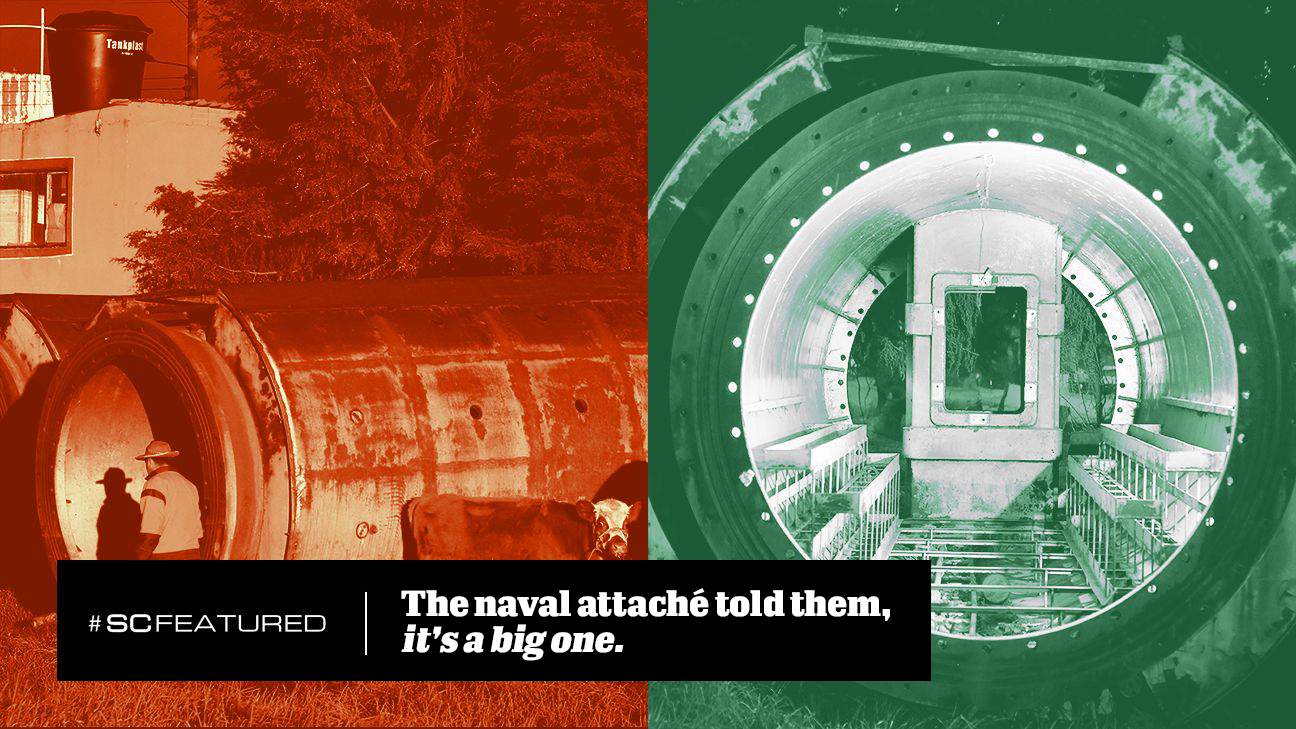 NOW ALEX WAS vulnerable: The submarine was lost, and so were the millions of dollars and hundreds of hours he had given to its construction.
He was running low on cash when a call came in from an old associate. He told Alex about a group from Cali that wanted to run an operation to Europe. Sounds good, Alex said. While we're at it, you mind lending me $40,000?
Sept. 2, 2003, was a hot day in Medellín. Alex put on a gray Armani Exchange T-shirt and hopped into his white Jeep TJ. He was 45 now, puffed out and balding. Life as a fugitive was showing.
Alex met a contact at Santa Elena Bakery, in the wealthy El Poblado section of Medellín. They went over the particulars of the Cali operation. It all sounded routine to a man who had run dozens of these maneuvers. Alex's contact slipped him an envelope with the loan inside it.
On his way home, Alex drove down the tree-lined Avenida Bolivariana. A man was waving his arms up ahead. There were flashing lights, a few motorcycles. As Alex drew closer, he could see cops in riot gear.
They directed Alex's Jeep to the side of the road. No big deal: Colombia was full of roadblocks, and most every cop was for sale. But now the cops led him to the local police station. They popped the hood of the Jeep, looking in and around it. Standing apart from the group, a man kept an eye trained on Alex, who reached for his wallet and ID, the one that referred to him as Francisco Cruz. The photo on this fake was Alex in a wrestling singlet, 1976.
Don't bother, said the senior cop. There's no need to do that, Alex. And then Alex knew; he hadn't heard his real name in many years. His contact had traded him in for a better fate of his own.
At a government security building in Bogotá, Alex realized that his 12-plus years on the run were over. A heavy metal door cranked opened, and in walked a DEA agent and a U.S. marshal. They explained how extradition would go. The DEA agent had another message: Kevin says hello.
---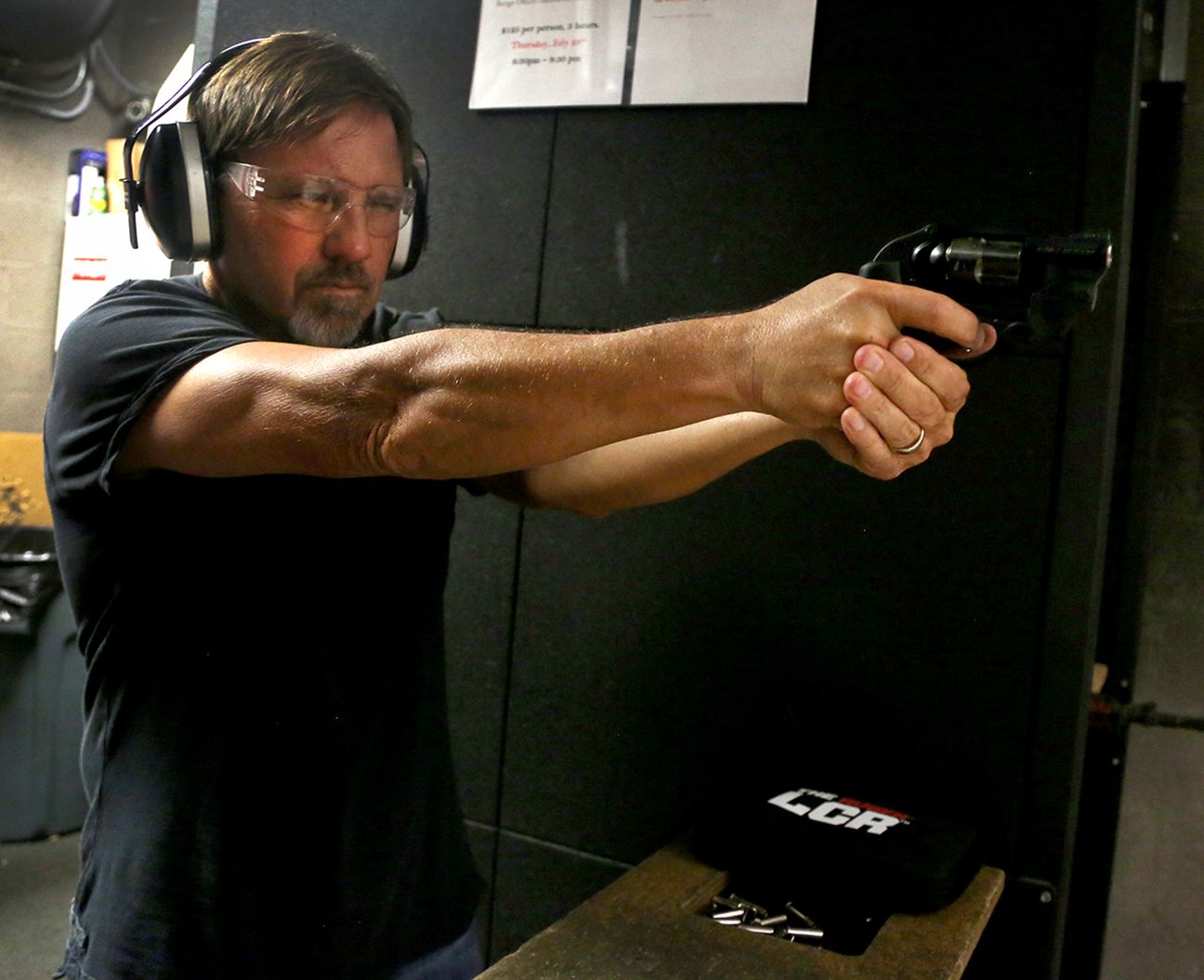 IN 2012, KEVIN PEDERSEN clocked out of the DEA after 21 years. He and his new wife, Michele, owned two tire franchises of their own, with a boat out back and a Mercedes in the driveway. His younger daughter, Lauren, was in middle school, and his older, Krista, was in college. His son, Danny, had followed Kevin to West Point and served in Afghanistan and Iraq. He'd received a Purple Heart and a Bronze Star. Two heroes in the family.
In December 2004, Kevin had attended Alex's sentencing hearing in federal court in Miami. Alex entered the courtroom shackled. When the old wrestling pals locked eyes for the first time since that night at the Crown Lounge in 1980, they exchanged smiles and a subtle wave. Alex pleaded guilty to smuggling 24 tons of cocaine with a street value of roughly $500 million. The judge hit him with 30 years in federal prison.
It was done; Alex was locked up. And there, for the first time, he reflected on his life. He'd be 76 years old when he got out of this place, so Alex decided to cooperate with the government and tell the authorities whatever they wanted to know. The Feds pared his 30 years to nine. With time served, Alex walked free in 2012, the same year Kevin retired.
With time on his hands, Kevin found himself back at the wrestling meets. He didn't know the kids, but that didn't matter. And soon he got an idea. He took a volunteer job at Westminster Christian School in Palmetto Bay as an assistant wrestling coach.
One night he got a call from his old coach at Palmetto, Barry Zimbler. He invited Kevin to a dinner party at his house, a reunion of his wrestlers. This would be a welcome-home party for Alex, who Zimbler felt needed support as he set out on his new life. At first, Kevin didn't want to go. Coach Zimbler had never thrown a party for any of the wrestlers who had lived within the rules. A wrestling teammate of theirs, Dom Gorie, had flown on the space shuttle, four times, and there had been no gathering for him when he returned to Earth. Alex was a hardened ex-con who showed little remorse for his actions. I had a good run, Alex would say of his decades in the underworld. The former DEA agent loathed his disregard.
But Kevin also knew the story of the prodigal son and its lessons of forgiveness. So he went to Zimbler's dinner and was surrounded by his old teammates. Kevin found Alex in the kitchen and was quickly wrapped in one of his old bear hugs, each man now barrel-chested. Alex and Kevin chatted, avoiding the heavier subjects of re-entering a society that had changed so much since Alex had skipped town 20 years ago. After the crowd had thinned, the old teammates talked about old times, and Kevin said, Hey, let me show you something. He pulled out his DEA badge, and they held it up for a picture, the laughs beginning to soften years of hard feelings.
Kevin wouldn't be able to shake the camaraderie that he felt at the dinner. He reached out to Alex and started rebuilding a lost relationship, occasionally calling on the phone or meeting for a beer.
When he became Westminster's head coach in 2013, Kevin passed along the rote lessons of sports to his team, about forging lifelong bonds, not placing limits on yourself, the rewards of discipline. He preached that a scrawny JV wrestler can become an All-American. And that even if a kid finds himself on the wrong path, it's never too late to turn around.
On March 19, 2015, the doors to the wrestling room at Westminster Christian School opened to the heat of a Miami afternoon. Kevin was beginning another practice when he saw a blue Jeep Grand Cherokee park outside the entrance to the room. The driver stepped out gingerly, and from the brightness of the day he walked into the dankness of the wrestling room. Kevin gathered his wrestlers.
Guys, Kevin announced, I would like you to meet Coach DeCubas.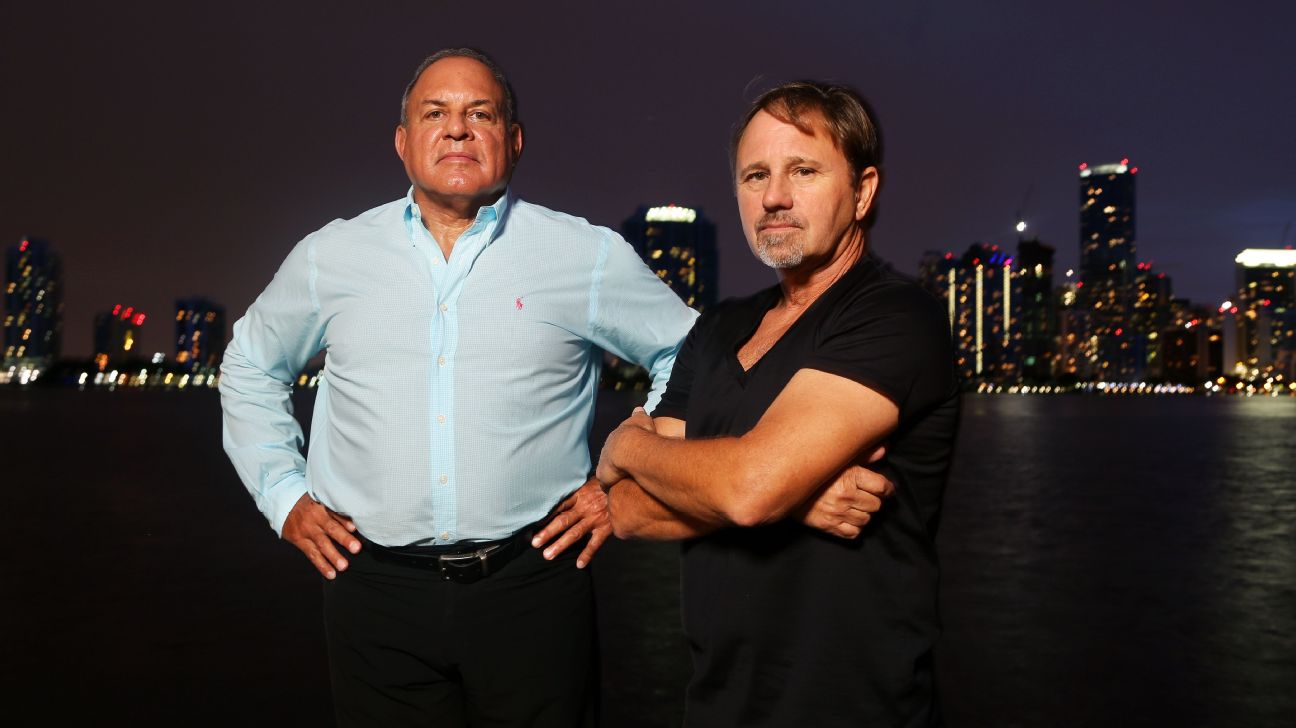 Illustrations by Alexander Wells
Forrest is a senior writer for ESPN.