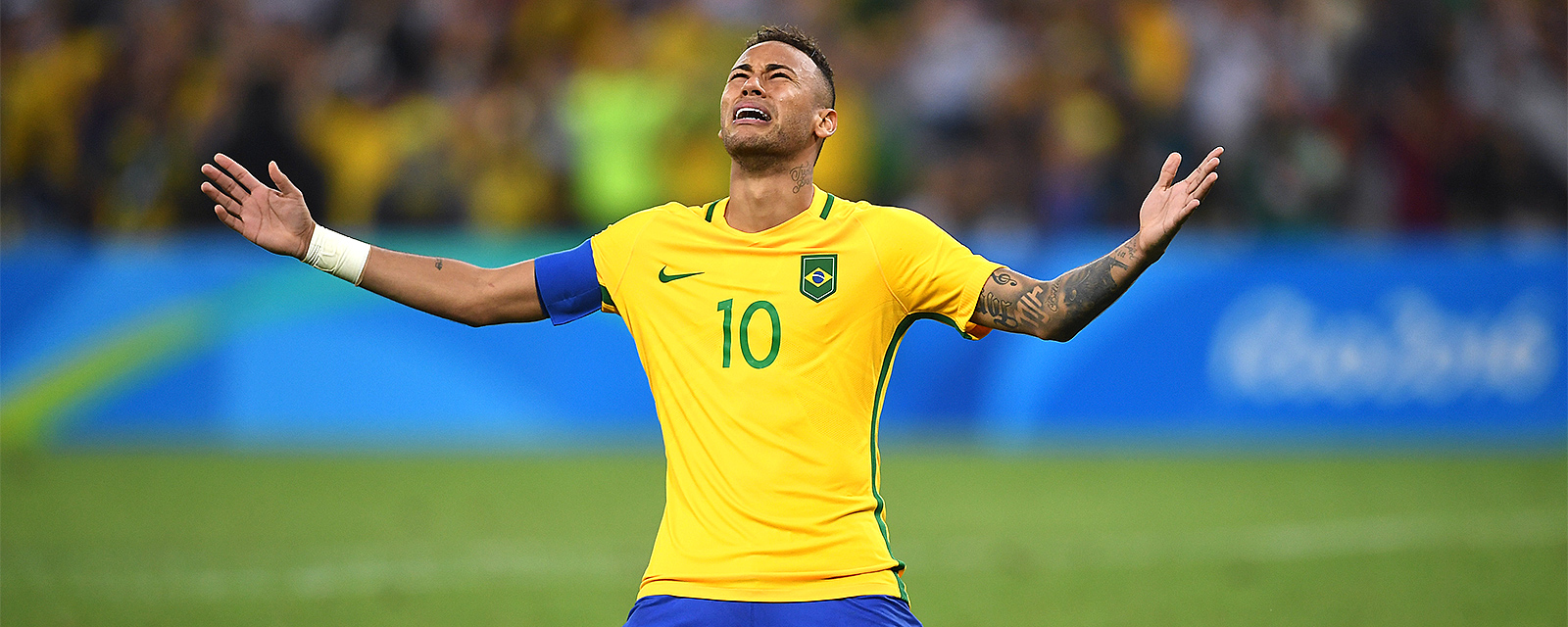 Around the world in 17 days
From the 200-plus countries and almost 12,000 athletes that competed in Rio, ESPN.com narrowed down the most memorable moments from the Olympics.
R

IO DE JANEIRO -- There is always something at an Olympics. There are the names you know (Michael Phelps, Usain Bolt, Simone Biles), and the names introduced to you (Andre De Grasse, Helen Maroulis, Ginny Thrasher).

And though the Games carry politics and controversy each cycle, there is no denying it. Many of the issues that hamper a city and country that host an event of this magnitude still exist long after the flame goes out. But there is usually at least one rallying point, one moment that pushes through the haze and serves as a glimmer of hope, even if it doesn't last forever.

Case in point: Neymar. As soon as the soccer ball left his foot in the penalty session of the Olympic men's gold-medal game against Germany, he knew it was in. Within a split-second, the Brazilian star was on his knees, weeping. If you had just turned the television on or booted up the video on your phone at that moment, you would have thought the hosts lost. But they didn't. Neymar's heroics allowed a city and a country to erupt in celebration, a must-needed diversion after months and years of struggles, on and off the pitch.

And while that moment will be a focal point for cariocas, it wasn't the only one to remember from these Games. ESPN.com's staff in Rio selected some of their favorites, and we bet they are some of yours, as well.
---
FIJI WINS FIRST OLYMPIC MEDAL
Heading into Rio 2016, Fiji had never won an Olympic medal, in any sport. But under the brilliant coaching of Ben Ryan, the men's sevens side fulfilled their potential and stormed to gold by beating Great Britain in the final. They are a remarkable team, one of the most talented groups of rugby players you'll ever see. And then came the ceremony where their custom back home of respecting superiors saw them kneel to receive their gold medals. They are proof you don't need resources to be successful; sometimes you just need great coaching and wonderful talent. -- Tom Hamilton
---
Alistair and Jonny Brownlee showed their brotherly bond after the British pair smashed the triathlon field to take gold and silver at Copacabana Beach. After more than 1 hour, 45 minutes of swimming, cycling and running in temperatures more than 86 degrees, they were exhausted but ecstatic as they became the first brothers to finish first and second at the Olympics since 1960. -- Leo Spall
---
This is the 12th Olympics I've covered and one of the most memorable and inspiring moments of them all was the second heat of the women's 5,000-meter run when both New Zealand's Nikki Hamblin and America's Abbey D'Agostino fell to the track. The two had never met but Hamblin put her hand on D'Agostino's shoulder and urged her to get up, saying they needed to finish because it was the Olympics. They helped each other up and ran the rest of the race even though D'Agostino had suffered a torn ACL, meniscus and strained MCL. "I am so grateful to Abbey for helping me,'' Hamblin said. "That girl was the Olympic spirit right there. I am so impressed and inspired by that.'' -- Jim Caple
---
Few Rio moments can top the early-round upset in men's tennis of No. 1 Novak Djokovic by Argentina's Juan Martin del Potro. The match was spectacularly played: Del Potro struck nearly 30 winners off of his forehand alone, mind-boggling for a two-set match; Djokovic competed like winning gold was as important to him as anything in the world. But what set this upset apart was the deep emotion displayed by the competitors and a singing, dancing, raucous crowd. This wasn't anything like tennis on the regular pro tour; this was more like World Cup soccer. Del Potro and Djokovic are Grand Slam champions and millionaires many times over. But they walked off the court sobbing, their faces awash in tears. Del Potro -- one of the games great talents, felled in recent years by injured wrists -- had shown he could still be a factor at the top of the men's game with his 7-6(4), 7-6(2) win. Meanwhile, Djokovic had been denied a chance to add to his growing legacy, a singles gold to put on the shelf next to his 12 Grand Slams. -- Kurt Streeter
---
When Simone Manuel won gold in the 100-meter freestyle and cried on the medal stand, the moment went deeper than being the first African-American woman to win an individual swimming medal of any kind at the Olympics. Manuel carried a difficult history into the pool with her that day, a history of whites-only pools, high rates of drowning for black kids, and the weight of constant questions about being a black swimmer. Her medal marks a turning point for the sport, when its doors are clearly open to all. "I'm super glad with the fact I can be an inspiration to others and hopefully diversify the sport," Manuel said. "But at the same time, I would like there to be a day where there are more of us, and it's not 'Simone the black swimmer.' The title 'black swimmer' makes it seem like I'm not supposed to be able to win a gold medal, or I'm not supposed to be able to break records. And that's not true." -- Jesse Washington
---
At times, it felt like the biggest threat Simone Biles faced heading into the Rio Olympics was under-delivering on the hype. She was already a three-time world champion and four-time U.S. champion. Though this was just her first Olympics, some legends of her sport had already called her the best gymnast they've ever seen. But from the moment she hit the floor, Biles was electric. She soared so high on the vault and floor exercise, she drew gasps from the crowd, and U.S. national team coordinator Martha Karolyi, Nadia Comenci's former coach, called the 19-year-old Biles' tumbling runs the highest she has ever seen. "She's a force of nature," Karolyi said after Biles won the all-round gold, as expected. Then Biles won three more individual medals -- two of them gold, one of them bronze -- before she was done. She leaves Rio as the most decorated gymnast on the best women's gymnastics team the world has ever seen. -- Johnette Howard
---
After winning triple golds in the 100, 200 and 4x100 relay at the 2008 and 2012 Olympics, Usain Bolt came into these Games with some slight injury issues that knocked him out of the Jamaican Olympic trials. Not that it mattered in the end. He won the three golds again -- the first to ever do so three straight Olympics -- and drew enormous cheers from the crowd that adores him. Bolt is 30 years old, so chances are he won't do it again in Tokyo. Even so, hopefully he's inspired a good number of young athletes over the past eight years to get into track. As decathlon champ Ashton Eaton said when asked who might fill the vacuum Bolt will leave when he retires, "I completely disagree that he's leaving a vacuum. If anything, he's launched a platform." -- Jim Caple
---
A DIFFERENT SIDE TO PHELPS
For the first time in his life, the Summer Olympics weren't all about winning for Michael Phelps. It was the process of getting there. Which is why those close to the swimmer are optimistic that the next chapter of his life will be far brighter than it might have once looked. For years, Phelps defined himself as nothing more than a swimmer. This time, Phelps insists it's different. He will no longer have swimming to keep his life within the boundaries -- to bring him happiness, contentment, sobriety. But he doesn't need it. He finally knows who he is beyond a swimmer. He no longer needs gold medals to define himself as a successful and productive human being. He has a fiancee, Nicole, who has been there through the good times and bad and loves him for the man, not the medals. He has a son, Boomer, who will blindingly care about him and has cried in recent days during FaceTime chats because he misses Dad. This time, Rio was closure. The end of Phelps' competitive career is anything but the end of his story. In many ways, it is only the beginning. -- Wayne Drehs
---
Brianna Rollins led an American sweep of the 100-meter hurdles and, with her teammates, became the first trio from one country to sweep the event at the Olympics since the event started in 1972. Rollins was unreachable, but it came down to hundredths of seconds for the other two medals. Nia Ali won silver with 12.59, and Kristi Castlin finished in 12.61 for bronze. There was the usual post-race tradition, with the athletes draped in American flags, rounding the track. Then, there was Titus. Ali's 15-month-old son stole the show, dancing and celebrating with his mother. -- ESPN.com staff
---
It was an unusual sight. David Katoatau finished his latest lift of 105 kilograms -- a movement that takes strength, timing and skill. He dropped his weights and then ... danced. He shuffled. He swung his arms. He spun around. He didn't just win a medal (he actually finished sixth overall). Katoatau was using the world stage to send a message: Save my country. Katoatau is from Kiribati, a Pacific island about 2,400 miles south of Hawaii. You think, tropical, palm trees, beautiful beaches and seas. But for Katoatau, he is thinking climate change and how rising sea levels are threatening the island. After winning gold at the 2014 Commonwealth Games, Katoatau wrote in an open letter: "I beg the countries of the world to see what is happening to Kiribati. The simple truth is that we do not have the resources to save ourselves. We will be the first to go." And that is why he dances. -- Joy Russo
---
A daylong duel between major championship winners came down to the final hole at the Olympic Golf Tournament, as Great Britain's Justin Rose hit the shot that Sweden's Henrik Stenson could not, pitching his approach to within 3 feet of the hole. When Rose, 36, converted the birdie putt, he celebrated with a lusty fist pump, earning the first gold medal awarded in golf in 112 years. -- Bob Harig
---
The noise when Neymar's winning penalty landed in the back of the net could only be described as spine-tingling. It made the raucous celebration after his regulation goal look like polite golf claps. Fans hugged, kissed and danced in the aisles. The party would go on indefinitely, with chants and cheers and a spirited rendition of the Brazilian national anthem during the medal ceremony. This was about far more than the most decorated soccer nation on the planet finally winning the one title that for so long had eluded it. Or doing it on home soil in the iconic Maracana. This was about restoring pride in a country built on a bedrock of soccer. Two years ago, the Selecao were humiliated in a 7-1 loss to Germany in the semifinals of the Brazil-hosted World Cup. That 7-1 score became woven into Brazilian culture, used to describe any sort of embarrassing outcome. Then the squad failed to impress at this summer's Copa Centenario in the United States. And it is currently sixth in World Cup qualifying in South America. In other words, when the Olympic soccer tournament began, morale was at an all-time low. Neymar's right foot changed that. -- Wayne Drehs
---
To get some sense of what the moment meant when Marta and the Brazilian women's soccer team took the field at the Maracana in Rio de Janeiro for an Olympic semifinal and saw more than 70,000 fans looking back at them from the stands, consider one simple measure of their reality. Within the lifetime of Formiga, the midfielder who played that day in her sixth Olympics, it was still illegal for girls and women in Brazil to play soccer. The law eventually changed. Attitudes proved more difficult to shift. Yet there the players stood, a venue their coach described as part of the culture of the country packed with people ready to celebrate them. The day went astray, Brazil losing to Sweden in a penalty shootout and ultimately failing to medal. But to watch the team watch its fans belt out the national anthem, a team so marginalized that it hadn't played a game in the Maracana for nearly a decade, was to believe change is possible. - Graham Hays
---
American Helen Maroulis was only 18 when she was pinned by legendary Japanese freestyle wrestler Saori Yoshida in 69 seconds the first time they met. Five years later, when they met again in the 53kg gold-medal match in Rio, Maroulis had landed on a hunch of how to battle the 13-time world champion and three-time gold medalist, based on years of studying her. Said Maroulis, "From what I saw, she's just better at being patient [during a match]. Then I was like, 'When you're used to being patient, knowing someone panics, what happens when you're patient and someone matches you in that? Then you'll be the one to panic.' That's the thought I went into the match with."
And? "It happened," Karoulis said after her stunning 4-1 upset win made her the first American women to ever win gold in the event. -- Johnette Howard
---
It was one of the saddest moments of the Olympic Games, the 48-year-old brother of U.S. women's water polo coach Adam Krikorian, a former water polo player and Silicon Valley entrepreneur who founded Slingbox, had died suddenly of an apparent heart attack after paddle-boarding. Krikorian left Rio for his brother's funeral and returned three days later determined not to let his grief interfere with the pursuit of a second straight Olympic gold medal for his team. The players' appreciation and his emotions afterward as the U.S. team took a victorious group dunk in the Aquatic Stadium pool after their gold-medal win over Italy, was also one of the great moments over these past two and a half weeks. - Melissa Isaacson
---
Midway through Aly Raisman's floor routine during all-around finals, something felt different. We'd all watched Raisman perform her routine, which starts with one of the most difficult and innovative passes in gymnastics -- a round-off into a one-and-a-half-twisting layout step-out into a round-off back handspring Arabian double tuck into a front layout -- countless times. But for some reason, her music sounded more emotional that night, her movements more transfixing, her tumbling more precise. Even from the lofty Section 3 seats of the media tribune and without the benefit of television close-ups, we could tell -- no, feel -- that Raisman was having a moment. When she landed her final pass, threw her arms into the air and burst into tears, it was hard to fight the urge to stand with the rest of the fans in the arena in celebration of her incredible career and in acknowledgement that, in a sport known for its stoicism, Raisman shared with us all a rare moment of unbridled emotion. It's a performance I won't soon forget. -- Alyssa Roenigk
---
The U.S. women's basketball team set the standard for the Games and did not apologize for it. And these athletes did it in such a classy, team-first, professional way. I love these ladies. -- Julie Foudy
---
P.V. Sindhu carved a permanent place for herself in Indian sporting history by clinching the silver medal in women's singles badminton. The 21-year-old is only the fourth Indian to win an individual silver and the first woman to do so. On her way to the final, she beat three higher-ranked players before falling to world No. 1 Carolina Marin. She lost a thrilling three-game final, but her remarkable run was celebrated across the country and she is now, without a doubt, among India's most sought after athletes. - Gaurav Kalra
---