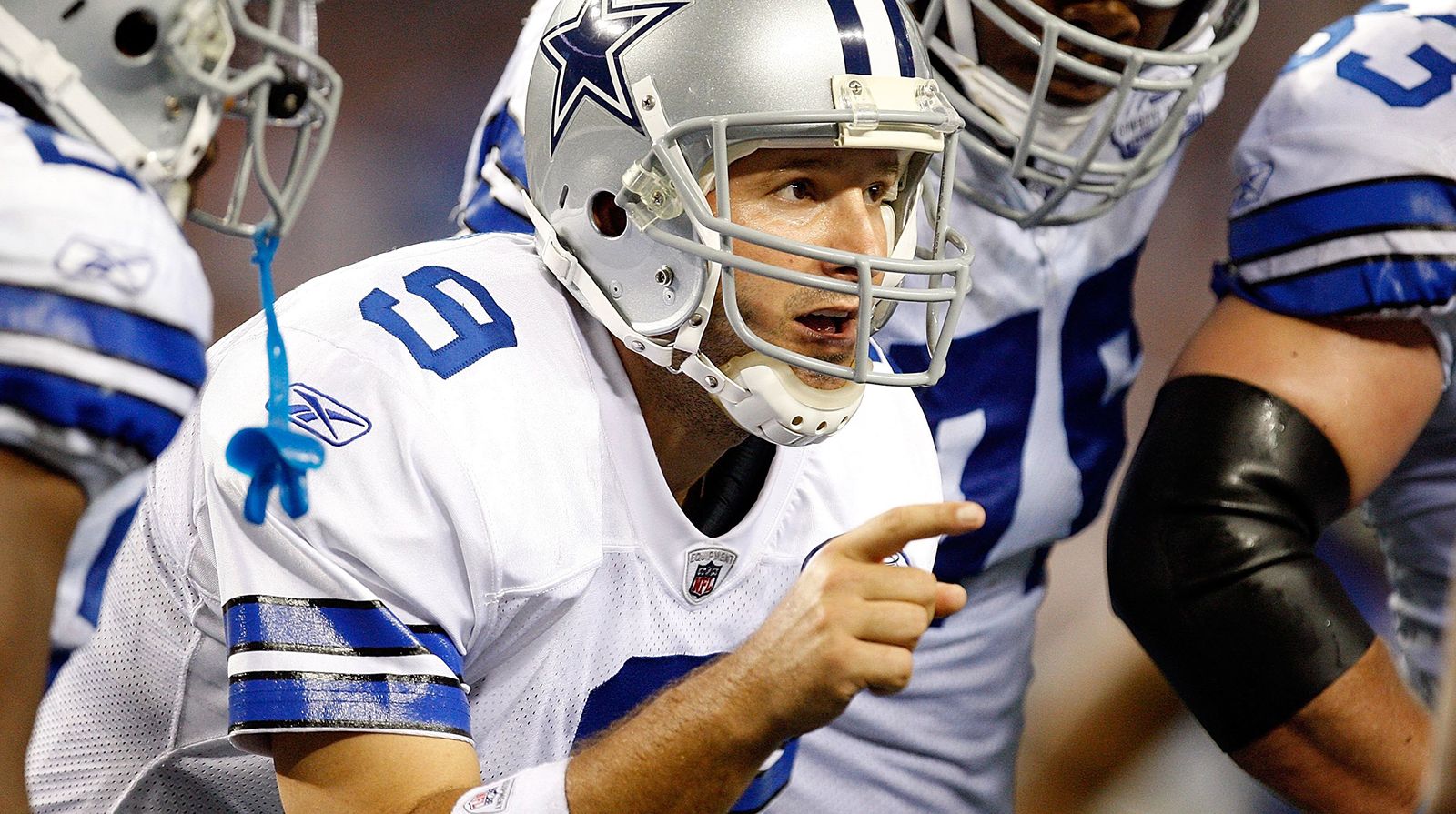 How A Star Was Made
From undrafted free agent to understudy to starting quarterback of the Dallas Cowboys, this is the oral history of the rise of Tony Romo, 10 years after he won the job.
T
en years ago this week, Tony Romo was in Dak Prescott's position. He was the young quarterback Dallas Cowboys fans clamored to see on the field. He was the heir apparent, the dude who represented hope for a franchise desperate for a quarterback.
Romo was an unlikely star of America's Team.
He had no FBS scholarship offers out of high school in Burlington, Wisconsin. After winning the Walter Payton Award as the FCS' best player as a senior at Eastern Illinois, he received a late invite to the NFL combine, then went undrafted. He spent 3 1/2 seasons as the backup to a second-round bust, two former minor league baseball players and two has-been No. 1 picks.
Then Bill Parcells gave him an opportunity -- and Romo promptly threw an interception.
These days, Romo owns every notable passing record for a franchise with an illustrious quarterback history. He's 78-49 as starter -- though only 2-4 in the playoffs -- and has passed for more than 34,000 yards with 247 touchdowns against 117 interceptions. Only two quarterbacks in NFL history have a higher passer rating than his 97.1.
As Romo confronts the possible end of his tenure in Dallas, we're reflecting on his improbable NFL journey. From undrafted free agent in 2003 to his move up the depth chart to the moment Parcells turned the team over to him on Monday Night Football on Oct. 23, 2006 -- 10 years ago this week -- teammates and coaches who watched Romo's ascent up close discuss what they saw in the quarterback and what landed him the job.
---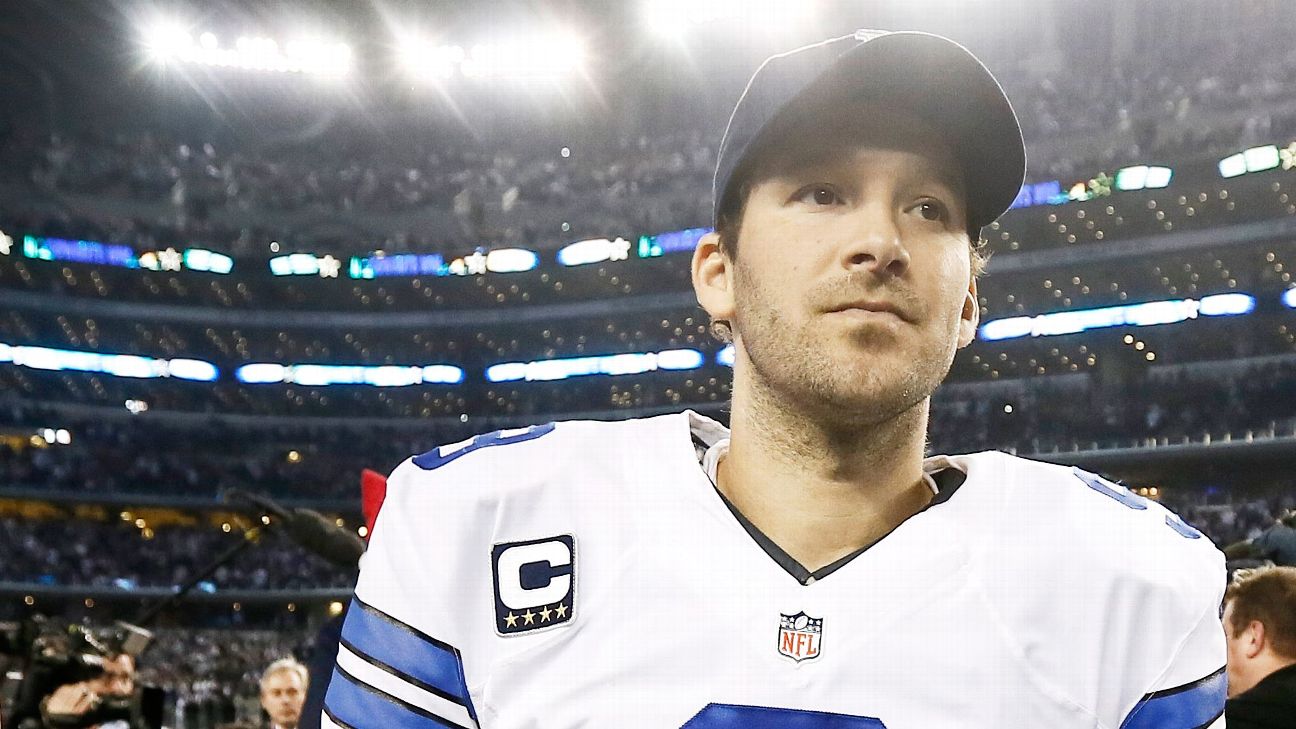 The team
When Romo went to the NFL combine in 2003, he did more than other aspiring draft prospects. The league needed extra quarterbacks to throw to prospects who went through drills, so Romo stayed around longer than the rest of the group. The Cowboys were impressed with Romo's arm but not impressed enough to draft him. The Denver Broncos were among the teams trying to sign him as an undrafted free agent.
After Parcells was hired as the Cowboys' coach in 2003, he brought in Sean Payton -- like Romo an alumnus of Eastern Illinois -- as his quarterbacks coach.
Sean Payton, Cowboys assistant coach, 2003-05: "He was one of the guys at the combine that was there the whole week. Tony wasn't just throwing with the quarterbacks; he threw on Thursday, Friday and Saturday."
Tony Romo, Cowboys quarterback, 2003-present: "I did a very poor job at the combine. I wasn't a very good thrower of the football back then."
Larry Lacewell, Cowboys scouting director, 1992-2004: "I did not look at Tony in college until the day before the draft because he was a nobody."
David Lee, Cowboys assistant coach, 2003-06: "Sean and I both evaluated him, and we put him in the fifth round to draft. I remember my report said it was like he had eight sets of eyes in his head, and he never saw the rush. I hated his release point; it was clearly side-armed."
Stephen Jones, Cowboys vice president, 1989-present: "Bill [Parcells] liked him a lot. Of course, Sean loved him. If you really want to know who found Tony, it was Sean."
Bill Parcells, Cowboys head coach, 2003-06: "I had not been with my assistant coaches all that long to really determine who was a good evaluator and who wasn't."
Stephen Jones: "[Payton] was on the table to draft him. Sean kept going over to Jerry saying, 'We gotta draft this guy. He's a good player.'"
Sean Payton: "I'll tell you this, once the draft ended, there were a handful of teams all competing for his services, and, to his credit, I think Tony was wise about looking at the situation and the opportunity. I know he had more money to go out and play at Denver with [Mike] Shanahan, but he felt like he was going to be joining a new staff and a new head coach."
Mike Shanahan, Broncos head coach, 1995-2008: "When you offer a free agent $20,000, it means you're pretty interested because you just don't throw that kind of money around to free agents. They offered him $10,000, but they had a history of keeping three quarterbacks and we had a history of keeping two, and I think that's why he chose the Cowboys."
Tony Romo: "The money was a nonissue for me. I never make certain decisions in life based on money. I probably would not have gone anywhere where there was a young great player in position, just because eventually you want to grow into being that guy."
Sean Payton: "I remember right outside the draft room there was a lunchroom area, and we had just finished eating some barbeque and Jerry [Jones] said, 'I don't know you too well, but you just saved me $10,000. I'm beginning to like you.'"
---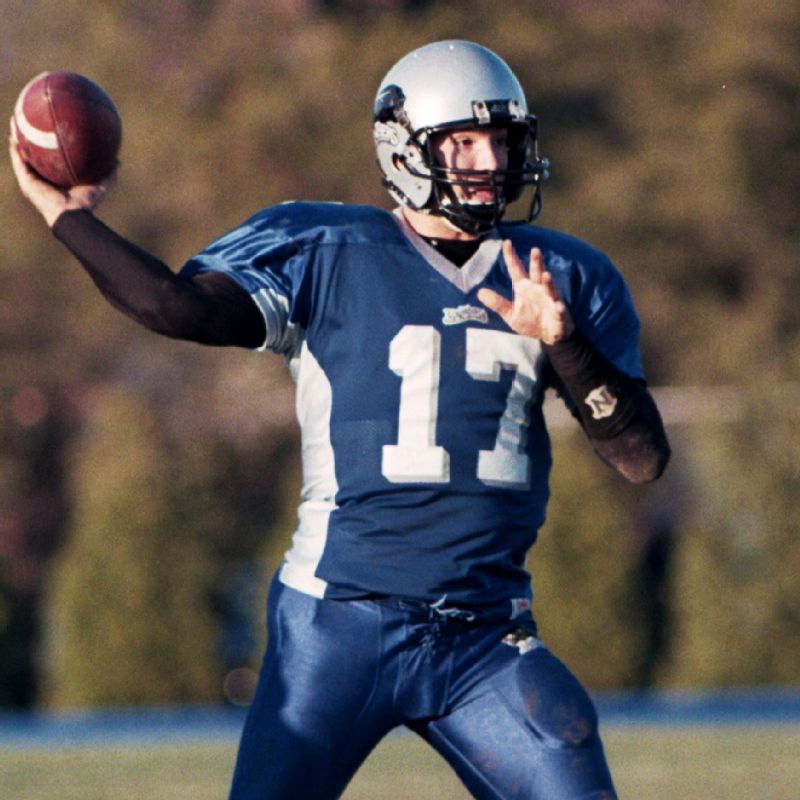 The beginning
At 6-foot-2, 230 pounds, Romo didn't have prototypical NFL quarterback size when he joined the Cowboys in the summer of 2003. A roster spot was hardly guaranteed, and the Cowboys still wanted him to fix his delivery. Romo regularly had three-a-day throwing sessions to try to change his muscle memory.
The Cowboys had four quarterbacks in training camp, including starter Quincy Carter, a second-round pick in 2001 who was benched in his second season, and pro baseball washout Chad Hutchinson, who had signed a lucrative deal. One of the four had to go. After Romo completed 9 of 17 passes for 134 yards with one touchdown and one interception in the preseason, third-stringer Clint Stoerner, who had started two games for the Cowboys in 2001, was released.
Randal Williams, Cowboys receiver/special-teams player, 2001-04: "You got a kid in Quincy [Carter], who was a second-round pick, and you got Chad Hutchinson, who just got paid a lot of money. There's no way [Romo] is ever gonna make it. He can put all the work in he wants, but it's all for naught because he doesn't stand a chance."
Quincy Carter, Cowboys quarterback, 2001-04: "To be honest with you, I thought he was gonna get cut. He was terrible. He couldn't even get the snap. He was horrible; he was absolutely horrible. He did bring breakfast sandwiches on time on Fridays, but he was terrible on the field."
Clint Stoerner, Cowboys quarterback, 2000-03: "I wasn't concerned about him from a physical standpoint. Hell, I'd been playing with Randall Cunningham, Troy Aikman and Chad Hutchinson ... and those guys were physically imposing. He didn't scare me at all."
Darren Woodson, Cowboys safety 1992-2004: "I didn't know who Romo was until training camp. I'm watching him throw balls against us in training camp, and his ball was better than Quincy Carter's, for sure. He was the most accurate of the bunch, and to me, he was the most athletic. He was more athletic than Quincy."
Zuriel Smith, Cowboys receiver, 2003: "I was actually shocked at how athletic he was. We were playing basketball on the courts by the practice field. ... He was dunking."
Sean Payton: "Tony was a willing worker. If you have work laid out, he'd do it."
Clint Stoerner: "He loved studying protections and loved studying the run. He knew everybody's assignment in the run game. Who does that? Obviously the great ones do."
Tony Sparano, Cowboys assistant coach 2003-07: "It was just interesting how everybody followed him. He showed up in the huddle and nobody knew who the heck he was, but he had this demeanor about him."
Stephen Jones: "I remember just how confident he was. He kept going to Bill and the coaches saying 'I'm your guy.'"
Clint Stoerner: "He was two or three reps into a 7-on-7 or team drill and he drops back, takes the snap and pulls the trigger, and I'm thinking, 'Where in the hell is he throwing the ball?' because I knew the playcall and I was reading it out myself. About that time, the receiver shoots out from behind the linebacker and in front of the safety, catches the ball in stride and cuts up the middle and gets tackled for an 18- to 20-yard gain. At that time, I knew he was going to be special, and I knew my time was going to be cut short."
Darren Woodson: "He had made the team and we were right there by the equipment room, and he was picking my brain about why we rotate in Cover 3, and I looked at him said, 'Listen, man, let me tell you something. You are by far the best quarterback on this roster right now.' The look he gave me was like, 'What?'"
---
The mentor
Parcells wanted his quarterbacks to have certain traits, and he wanted them to play a particular way. Parcells was hard on quarterbacks, and not all of them could take his demands on the position or his sarcastic wit.
Dan Campbell, Cowboys tight end, 2003-05: "When he was on the field, he had just enough gunslinger in him to make him pretty unique. That's what Bill really liked and what Bill tried to break him of."
Tony Romo: "I never thought a coach who yelled at me did anything but care. My high school basketball coach probably prepared me for that."
Sean Payton: "If you're a free-agent quarterback, it's not the harsh words that worry you, it's the silence."
Stephen Jones: "Bill was never in a hurry with Tony. Bill believes the best way to bring a young quarterback along is to let them watch."
Tony Sparano: "I remember Bill thinking this guy has a lot of ability and he can make plays, but we have to make sure he's ready when he went into a ballgame because there was no turning back."
Sean Payton: "We were playing a game in D.C., and it was freezing. It was rainy, wet, icy conditions -- about as cold as you could imagine without snow. Quincy was starting and it's early in the game, and Chad and Romo had whole ski masks on with just a little area for your eyes. We're getting ready to kick off, and Bill turns and looks, and he sees Chad. He says, 'I'll never put a quarterback in the game dressed like that.' As he's saying that to Chad, Tony's ripping his hat off his head, and the only evidence Tony was wearing one was the static cling that had his hair going straight up and down."
Bill Parcells: "When you have a young quarterback from a smaller school, you're not gonna throw this guy to the wolves. That would've been a disastrous decision."
---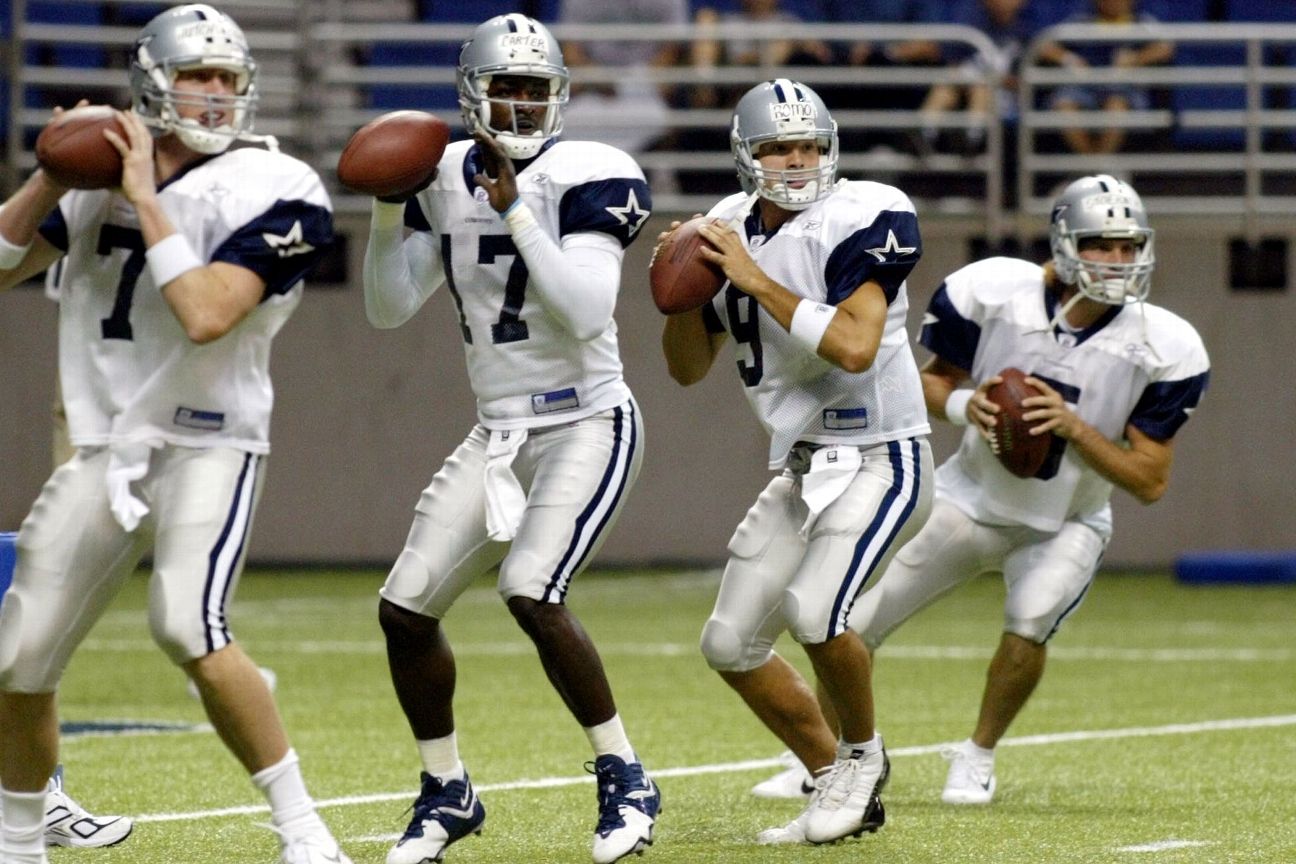 The scout-team superstar
In 2003, Carter started every game, and the Cowboys went 10-6 and lost in the first round of the playoffs. In a stunning move, the Cowboys released Carter in training camp in 2004 after he reportedly failed a drug test. That left 40-year-old Vinny Testaverde, whom the Cowboys signed in free agency, as the starter, Drew Henson as the backup and Romo as the third QB. Testaverde lasted only one season, and the Cowboys went 6-10.
In 2005, the Cowboys signed 33-year-old Drew Bledsoe, who had been to a Super Bowl under Parcells with the New England Patriots, after the Buffalo Bills released him. Romo was elevated to the backup spot, and Henson was the third QB. Bledsoe started every game, and the Cowboys went 9-7 and missed the playoffs.
Romo improved each preseason, combining for 47-of-76 passing for 523 yards with two touchdowns and two interceptions. On one memorable play in 2004, Romo led the Cowboys to a come-from-behind win over the Oakland Raiders after running a quarterback sneak for a touchdown with just six seconds remaining in the game. He had disobeyed Parcells, who wanted a different play. "We're kind of happy he scored, but Bill is mad," Payton said. There were rumblings that Romo was on the roster bubble.
Larry Lacewell: "Parcells wanted to bring in one of his old guys: Testaverde. That was my falling-out. I met Parcells in a scouting room, and I said, 'We don't see it.' Parcells said, 'Well, don't say anything to Jerry [Jones] about it,' which is just about the time Jerry walked in the room and said, 'What do you think?' Parcells said, 'God damn, I can coach him. I can bring him in here, and I know how to get the most out of him,' blah, blah, blah. About that time, I said, 'If you're such a great quarterbacks coach, take one of these young guys and make him a great young quarterback.' That about wrapped my deal up."
Bill Parcells: "Testaverde was a good role model for him because he was meticulous and detailed."
Tony Romo: "Vinny taught me more than anything else about the preparation side of the National Football League."
Vinny Testaverde, Cowboys quarterback, 2004: "He took notes -- he was very observant -- asked the right questions and seemed like he was a student of the game at an early age in the NFL."
Tony Sparano: "He's a football junkie. He can't get enough of it. He's in the office all the time. He's very curious about the plan and how we're attacking people."
Quincy Carter: "I could really see him getting better, but it's a little easier when you don't have any pressure."
David Lee: "Middle of his second year, I told him, 'You're going to beat all these guys out,' and he said, 'I know it.'"
Darren Woodson: "He's killing us in practice on the scout team -- this is during the season -- and I went over to Bill Parcells, who was at the back near the defense. I tell him, 'This kid is the best quarterback on the roster.'"
La'Roi Glover, Cowboys defensive tackle, 2002-05: "He was doing Brett Favre kind of stuff in practice."
Marcus Spears, Cowboys defensive end, 2005-12: "He wasn't a big talker, but when he got out there, man, he just seemed like a killer, and we started to notice it on the first-team defense."
Dan Campbell: "There was always something about Romo. He was different than most guys. He had this gunslinger attitude and this aura about him."
Patrick Crayton, Cowboys receiver, 2004-09: "Parcells had the three-year rule. First year, you get a pass while you learn. The second year, you gotta start showing me what you know. Year 3, I gotta see whether you can play or it's time to cut my ties with you."
Jerry Jones, Cowboys owner and general manager, 1989-present: "Never at any time did we have any thoughts of cutting him. It was just a question of getting him snaps, getting him oriented and in the system."
---
The turning point
Romo's career changed on Aug. 12, 2006, when Parcells started him in the first preseason game against the Seattle Seahawks and played him every snap. For an undrafted free agent -- now in his fourth season in the league -- it was like the Super Bowl. It was Romo's opportunity to show what he had learned while sitting on the bench and whether he could handle a bigger role with the Cowboys. He completed 19 of 25 passes for 235 yards and a touchdown. He finished the preseason 64-of-92 for 833 yards with three touchdowns, three interceptions and a 95.1 passer rating.
Sean Payton, meanwhile, had become the head coach of the New Orleans Saints. He made a call to his former team to try to trade for Romo. "When the topic came up, Bill told me to have a warm glass of milk and take a nap on the couch. It was never seriously discussed."
Brad Sham, Cowboys' radio play-by-play voice, 1976-94 and 1998-present: "I remember training camp in '06, I ran into him on the sidewalk from practice, and he was just gushing about his own future -- how improved he was, how excited he was to be here and how this was going to be his year."
Chris Palmer, Cowboys assistant coach, 2006: "When I came in, it was obvious that Bledsoe was going to be the starter, but Tony had to convince everybody in camp that he was the No. 2 guy."
Patrick Crayton: "He wasn't quite ready when Bledsoe showed up. Bill wanted to win games while he was getting this kid ready."
Chris Palmer: "He was up and down, and I remember one day Tony Sparano saying to him, 'We're counting on you to be No. 2, and I don't know if you're playing well enough to make the team.'"
Bill Parcells: "I think he'll tell you [the Seattle game] was the key game for him building his confidence and the confidence of coaches. Anyone who would tell you they knew conclusively about Romo before that is full of s---."
Tony Sparano: "The whole point is that we knew this gap was closing and we knew this guy was gonna be ready to play, but it was important for us to see him with the first group."
Chris Palmer: "Having worked for Bill in New England, that wasn't out of his norm. He wanted to find out how Tony was going to react to this."
Bill Parcells: "That night in Seattle was the one that made me say, 'I think this guy can do it.'"
Tony Sparano: "Tony, at the end of this, had to have 12 quarters in the preseason. If we have to make this move, we want to make sure this guy is ready."
Bill Parcells: "I talked to the powers that be. This guy is coming along, he's going to be a free agent next year. This guy could be the quarterback of the future for us."
---
James D. Smith/Icon Sportswire
The season
The Cowboys started 3-2 in 2006, but Bledsoe struggled. He threw three interceptions in each of the losses, and he was completing just 52.9 percent of his passes. Romo had thrown his first regular-season pass late in the Cowboys' rout of the Texans in Week 6, completing both of his throws with a touchdown. Next up was a matchup with the Giants on Monday Night Football.
Jerry Jones: "Bill said, 'You want to start him? Let's start him.' But I could see Bill wasn't convinced that this was the time to do it."
Bill Parcells: "Going into the 2006 season, I would definitely not be afraid to use Romo."
Marcus Spears: "I was a football fan, so I knew the history of Bill Parcells and Drew. They were close, and they were good friends. I don't think he thought he would have to play Tony."
Chris Palmer: "I was very close with Drew. We went to the Super Bowl with him in New England, and it's a hard decision, but you get paid to make that decision."
Tony Romo: "The hardest part is you root for all your teammates and your guys, and it's a bad deal if you're playing."
Marcus Spears: "It was an interesting dynamic because you saw [that] Bill wanted Drew to still be the guy that he knew, but it was time to give this young pup a shot because it wasn't going well for Drew -- taking hits, throwing interceptions and having people question his arm talent."
Patrick Crayton: "He started getting a few more reps in practice. You could get a sense that it might be a changing of the guard. Bledsoe was in Year 14. He's not here for the long haul."
Tony Sparano: "Prior to the Giants game, we had just finished practice, a two-minute drill and a heck of a period -- and Tony did what he always did, and I remember talking to Bill about it. 'I know you don't want my opinion, but my opinion is this: I just think this guy moves the football team, I think a lot of people believe in this guy and I think this is a lot closer than we think.'"
Jerry Jones: "To make a change, it's going to take an event. It could be poor play, it could be injury, but it's going to take an event. Those things are real hard decisions to make just because of a preference, so to speak. Obviously, you had the energy weighing to his youth, and Tony's career was ahead of him. You really need something to give you a better reason. Drew, as much as we thought about him, gave us the reason."
Drew Bledsoe, Cowboys quarterback, 2005-06: "Just no benefit to me in talking about it. If I told the truth ..." [Bledsoe declined to comment further.]
---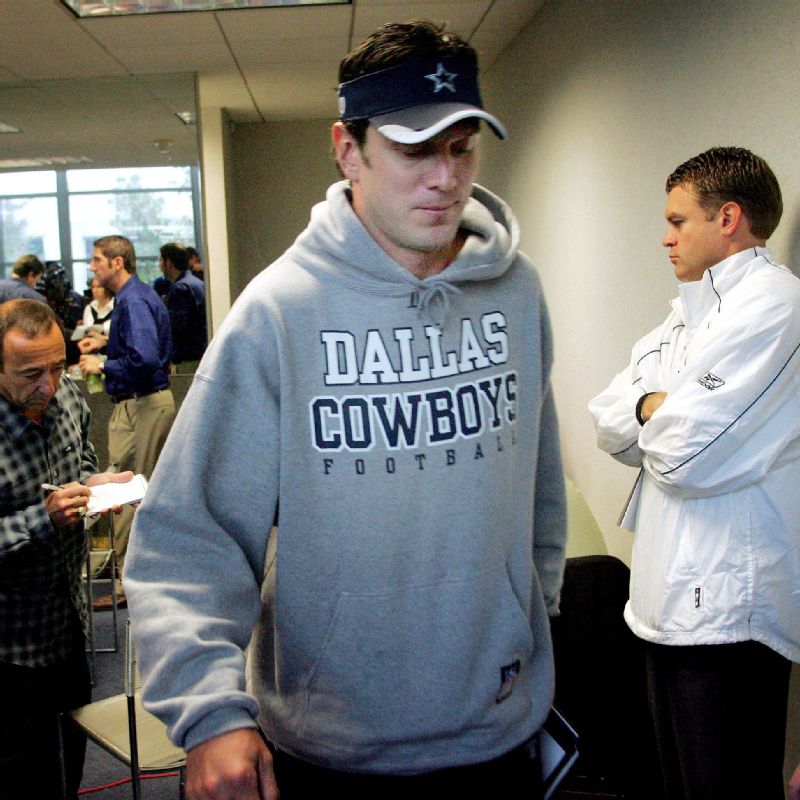 The moment
The Giants battered Bledsoe in the first half. They sacked him four times and intercepted his final pass. With the Cowboys trailing 12-7, Romo replaced him to start the second half. He never relinquished his spot.
Tony Romo: "I was walking out of the hotel [before the game], and Bill said, 'You ready to go tonight?' He's said that before. I was like, 'Yes, sir.' He said, 'Hey, be ready to go.' I was like, Well, that was different.' That was the first indication."
Chris Palmer: "I'm upstairs, and Bledsoe does some things that were uncharacteristic of him, so I think, 'Oh, maybe he got hit in the head.' I asked him on the phone, 'Drew, did you get hit on the head?' He says, 'No, I'm fine. Stay with me. Stay with me.'"
Patrick Crayton: "We were all like, I think he's getting ready to bench Bledsoe. He had such a horrible first half."
Tony Sparano: "We were almost drawing straws at that point. Who was gonna talk to Bill, and who was gonna say it?"
Bill Parcells: "We were in the red zone, and we had a pattern directed to the right side only. We had a couple of options on the right side, and the third option was to throw the ball away. Drew decided to improvise on his own and decided to throw to Terry Glenn, and he wasn't in the read at all and Sam Madison intercepted it."
Chris Palmer: "After the interception, I said to Bill, 'We need to make a change. This is not going well.' There was, like, dead silence on the phone."
Patrick Crayton: "At halftime, the coaches go into Bill's office, and then they come out. He kept them in there the whole time."
Chris Palmer: "We come down. I'm in the locker room, and Bill comes up and says, 'You still want to do that?' I said, 'Yeah.' He said, 'Well, you go tell both of those guys.'"
Jason Witten, Cowboys tight end, 2003-present: "We were sitting there in old Texas Stadium, and Chris Palmer walked through and said, 'Drew, you're down, and Tony, you're up.'"
Bill Parcells: "[Drew] didn't handle it very well. What do you expect?"
Tony Romo: "Obviously [a million different things are going through your mind], but you try to focus on the task at hand."
Jerry Jones: "I didn't necessarily see it as a monumental event. We're getting ready to see what Tony can do. These things usually don't start off impressive. It wasn't that way with Aikman, and it didn't evolve that way with Romo."
Tony Sparano: "Tony's first pass was a naked [bootleg]. We rolled him out, somebody tipped the ball and it ended up in somebody else's hands."
Tony Romo: "That whole half I played like a chicken with its head cut off. You're running. You're throwing. You're making people miss. You're throwing between two people. You throw two touchdowns and three interceptions in a half."
---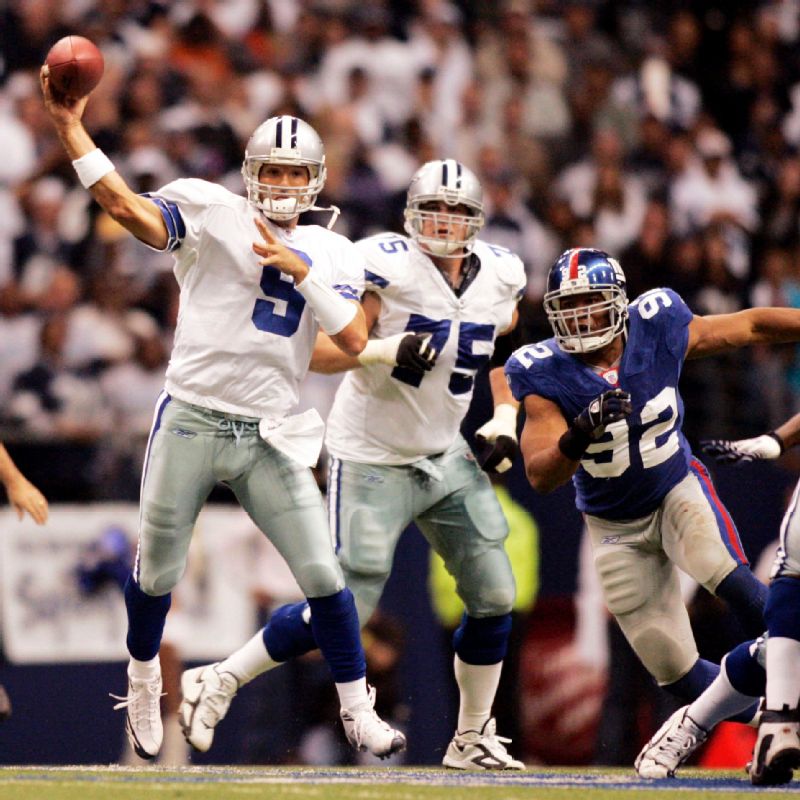 The aftermath
Romo finished 14-of-25 for 227 yards with two touchdowns and three interceptions, and the Cowboys lost 36-22. After the game, Parcells told reporters he had to "think that over" when asked who would start in Week 8. Bledsoe, however, never played another snap in the NFL.
Tony Romo: "It would be a lot easier if I didn't like Drew. I felt like it was tough for him. They pulled him pretty quickly in that season comparatively to someone of his stature and ability. If you look at it now, it was a very bold and aggressive decision at the time. The reality is, if you didn't have a really good player behind him, I don't think that happens."
Stephen Jones: "Jerry and I, truth be known, would've pushed to have him in there sooner, but we kind of had our deal with Bill on how things would work."
David Lee: "Bill called a staff meeting after the Giants game and said, 'I want to clear this quarterback thing up. What do you think, Bledsoe or Romo?' He went around the table and asked every coach."
Marcus Spears: "We had a team meeting, and I think [Bill] actually cried. He talked about how much respect he had for Drew and how tough the decision was. On the flip side, he said we're rolling with Tony, and I need you guys to rally behind him. There are gonna be some bumps and bruises, but this is our guy. But it hit him hard, man, it hit him hard."
Tony Sparano: "Really, everybody just followed this guy [Romo]. There really is something special about this guy."
Larry Lacewell: "The quarterback journey is a miserable son of a bitch. You're miserable when you're on that journey, and some of those teams have been on that journey forever and ain't found one yet. I've always said we were luckier than s--- to get Romo 'cause we ran through everybody else. Every baseball player, everybody."
Jerry Jones: "When Bill came, one of our goals is that, before he left, we would develop and find our next quarterback. That's one of the things we needed to accomplish. I said, 'I don't want you to leave here and leave me without a quarterback.'"
Taylor, a Dallas native, joined ESPN.com in August 2011. He has covered the Dallas Cowboys since 1995. He is co-host of Jacques & Will on ESPN radio 103.3 FM in Dallas.