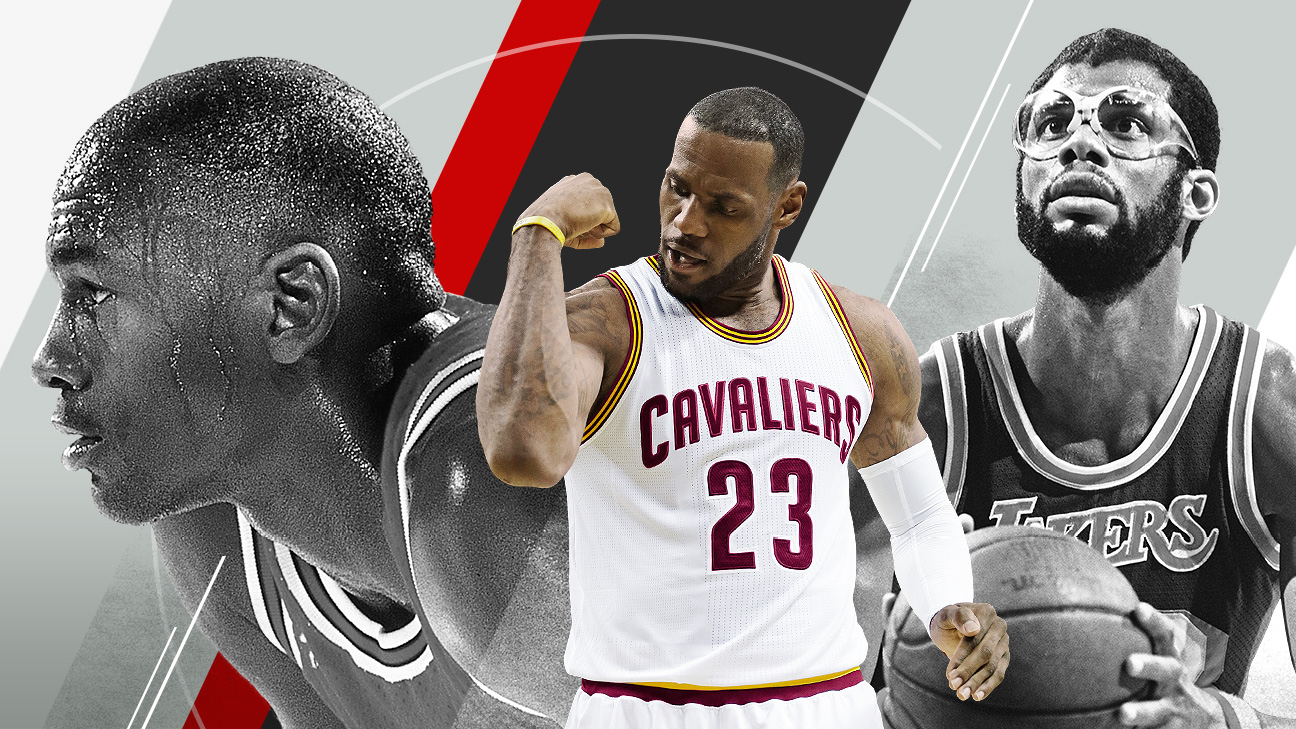 Can LeBron James reach No. 1?
LeBron James is the youngest to score 27,000 points in NBA history. See who LeBron passed on his top-10 journey and what it will take to catch Kareem.
Can LeBron James reach No. 1?
LeBron James, who joined the top 10 highest scorers in NBA history this season, has also become the youngest player in league history to score 27,000 points, a distinction previously held by Kobe Bryant. How did LeBron get here, and how much higher can he go? ESPN NBA Insider Kevin Pelton uses his SCHOENE projection system to explain why LeBron might not reach Kareem until 2024, when he turns 40
The top 10
Few players in the NBA have been as polarizing as LeBron James, but securing a spot as one of the 10 greatest scorers in league history is a cause for celebration.
As for whether he will ever reach the No. 1 spot, well, it looks like we have one more thing to argue about.
#
Player overtaken:
Dec. 2, 2010
Scores 24 of his 38 points in third quarter to lead Heat to win in Cleveland
Feb. 18, 2010
First NBA player to tally at least 43 points, 13 rebounds, 15 assists, 2 steals and 4 blocks in a game
July 8, 2010
After 'The Decision,' plays in six straight NBA Finals (spanning two teams)
Feb. 4, 2009
Has a Wilt-like 52 points, 9 rebounds and 11 assists vs. Knicks at MSG
May 4, 2009
Becomes first Cavalier to win MVP and finishes second in Defensive POY voting
April 2008
Wins first and only scoring title after averaging 30 points per game
May 31, 2007
In Game 5 of the East Conference finals vs. Detroit, scored 29 of the Cavaliers' final 30 points to win 109-107
March 22, 2006
First game-winning shot of career — a 20-footer in OT lifts Cavs past Charlotte
April 22, 2006
Wins playoff debut, recording a triple-double (32 points, 11 rebounds, 11 assists)
Jan. 19, 2005
Became the youngest player in league history to record a triple-double (20 years old)
March 20, 2005
LeBron scored a then-career-high 56 against the Raptors; his current career high is 61
May 2005
Youngest to make an All-NBA team (20) after averaging 27.2 points, 7.4 rebounds, 7.2 assists
Nov. 29, 2003
Drops 33 on the Memphis Grizzlies, the youngest to score at least 30 points in a game
April 2004
Like Mike and Oscar before him, averaged at least 20 points, 5 rebounds and 5 assists as rookie
April 20, 2004
First Cleveland Cavalier and youngest player in NBA history to earn Rookie of the Year
June 26, 2003
Youngest player to be selected with the No. 1 draft pick at the age of 18