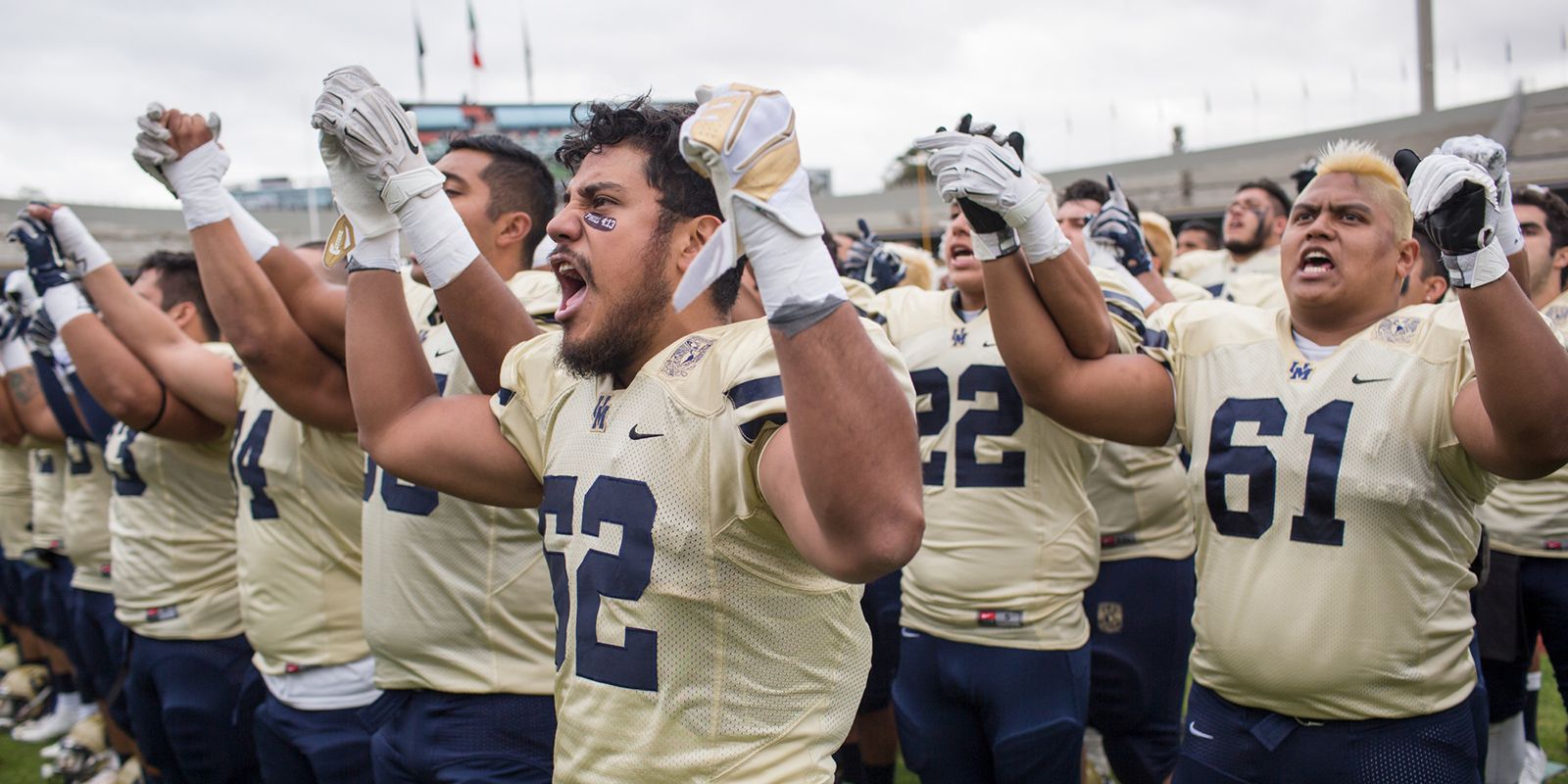 Fandom Without Borders
Why is the NFL in Mexico? A visitor to the capital city can sense right away why the league is so bullish on the country's potential.
MEXICO CITY -- Terry Bradshaw, Jack Lambert and Santonio Holmes are sitting at a table, yelling at Pittsburgh Steelers kicker Chris Boswell over a basket of wings. Ben Roethlisberger and his girlfriend, Tom Brady, are making mock-angry eyes at each other in a corner booth. A tiny Le'Veon Bell is playing Minecraft with his little sister.
It's Oct. 23, the Sunday afternoon that the New England Patriots are playing the Pittsburgh Steelers, and a couple of thousand miles away from Heinz Field, at a Buffalo Wild Wings near the Roma Sur section of Mexico City, members of Steelers Nation United Mexico are eating and drinking, living and dying, waving Toallas Terribles.
If you want to know why the Houston Texans are playing the Oakland Raiders in Estadio Azteca on Monday -- the first Monday Night Football game ever played outside the United States -- this is why.
The passion Mexicans have for American football is why tickets for the game sold out almost immediately. It's why renovations were done on Azteca's locker rooms to accommodate NFL-sized squads (the regular futbol tenants don't require nearly as much space) and the stadium's broadcasting facilities were upgraded. It's why four Mexican sports channels partner with the NFL, why nine games are broadcast in Spanish from Thursday to Monday of every week, why estimates put the number of NFL fans nationwide at over 20 million.
As Arturo Olivé, NFL Mexico's general director, says, "We're tremendously excited, not only for this game but for the future of the sport in Mexico. We haven't had a regular-season game here since 2005, but now I think we can have one every year. ... By every measure, we are seeing tremendous growth.
"While the Cowboys and Steelers are our most popular teams, the Raiders and Texans also have a great many fans, and every team has a following. The cake is getting better, and that means more slices."
Speaking of cake, Jack Lambert is digging into a gigantic slab of chocolate cake, covered in ice cream. That was preceded by a basket of wings and a giant cheeseburger. His real name is Sergio Perez, and he once played center in college. He and about 50 other fans have come to this restaurant, some wearing jerseys that would impress a fan in a Buffalo Wild Wings in, say, West Mifflin, Pennsylvania. Who knew Maurkice Pouncey, No. 53, could travel this far?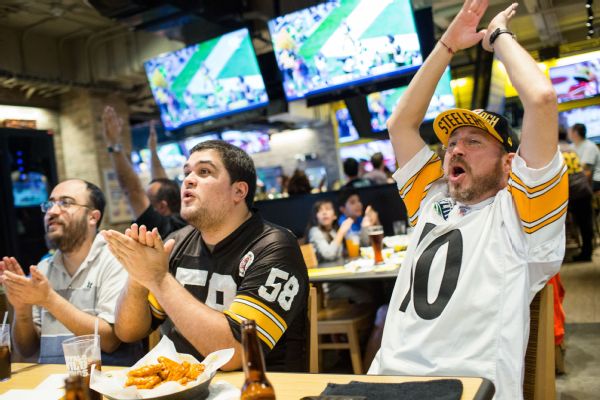 "We call this the Steel Cave," says Antonio Piñón, a stockbroker who heads the fan club -- and wears the Santonio Holmes jersey. "It's a shame Roethlisberger is not playing. Torn meniscus. We miss Cachetón."
Cachetón?
"It means 'Cheeky.' Like when your grandmother pinches your cheeks so they puff out. Don't you think Ben has those kinds of cheeks?"
Agreed. But even more striking than the quarterback's face is the cheek-to-cheek familiarity these fans have with the Steelers. "Pittsburgh held a two-day football camp last May in Mexico City," Piñón says. "A truly great experience, not only for us but for the Steelers. [People were] lining up as early as 6 a.m. The Steelers who came down -- Antwaan Randle-El, Willie Parker, Jerome Bettis, Alejandro Villanueva -- were truly kind, shaking hands, walking slowly so we could take pictures with them. Look, here's a picture of me with Bettis."
A quick count reveals that 17 of the 25 TV screens in the restaurant have the Steelers game on. The man in the Bradshaw jersey asks imploringly, "When are we ever going to sack Brady?"
He is Alberto Perez Schoelly, a government economist, and he has brought his two adult sons, one of whom is Sergio. Schoelly, like many Mexicans, became a Steelers fan in the 1970s, when the team was in its heyday and Imevisión (now TV Azteca) started broadcasting games on a regular basis. "Ah, the Steel Curtain," he says. "I remember the Immaculate Reception like it was yesterday."
Just then, the Steelers hit Brady. And Piñón leads the group in a cheer:
"Here we go, Steelers, here we go.
Here we go, Steelers, here we go."
Alas, the Steelers go on to get beaten rather easily 27-16. But the members of Steelers Nation United Mexico, members who officially number in the thousands, aren't just about winning. "The point of the club," Piñón says, "is to get people to leave their houses, get off their couches, to go somewhere for three hours to forget their troubles and shout and scream without having someone tell you to keep it down. That's what's so great about football."
---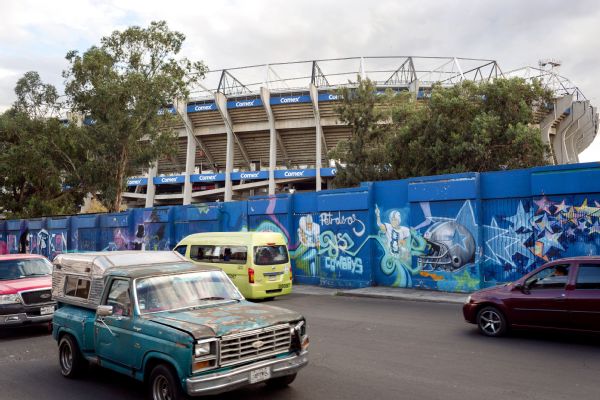 Mark Waller, the NFL's executive vice president for international, has said that in the next 10 years, "I think we will have at least one or two franchises outside of the U.S." Given the league's games in London and Mexico City this season, the front-runners would seem to be Great Britain and Mexico.
"Whenever I make a presentation," Olivé says, "I get kidded by my colleagues because one of the first slides is always a quote from Thomas Friedman of The New York Times. A few years ago, he wrote, 'In India, people ask you about China, and, in China, people ask you about India: Which country will become the more dominant economic power in the 21st century? I now have the answer: Mexico.'"
A visitor can sense right away why the NFL is bullish on the country's potential. A man in a Steelers jersey roller-skates in a park with his daughters in pink Steelers shirts. Billboards trumpet Monday's game. An Uber driver, Ulices Torres, says he's a Seahawks fan and really misses Marshawn Lynch. A panhandler in a Raiders stocking cap asks for spare change. An electric company employee, Fernando Navarro, hoists a glass at Hooters with an upper arm that has an exquisite tattoo of the Steelers logo on it. "I'm going to the Steelers-Cowboys game," he proudly announces.
And if the visitor wanders into a small shopping center in the Jardines del Pedregal section of Mexico City, he will find an immaculate store devoted to NFL merchandise. At Carlos Rosado Sports, jerseys from nearly every team are sold, as is playing equipment. High on the wall is a No. 15 New York Jets jersey. But it is not there to pay tribute to Brandon Marshall. It belongs to Carlos Rosado.
Once upon a time, the 2003 preseason to be exact, Rosado was a wide receiver for the Jets. Rosado, who had played his football at the University of the Americas in Mexico City, was a veteran of the now-defunct NFL Europe (the Barcelona Dragons and Amsterdam Admirals), and coach Herm Edwards brought him to Jets camp to see whether he had NFL potential.
Rosado lasted the whole preseason before getting cut -- the Jets already had Wayne Chrebet and Santana Moss at wide receiver. But he remembers the experience fondly. "Herm Edwards was very nice to me, and so were the quarterbacks, Chad Pennington and Vinny Testaverde," Rosado says. "I will never forget the thrill when I came out of the tunnel at Giants Stadium for the first time."
Besides being the proprietor of the store, Rosado also works as an analyst for Fox Sports, so he has seen the interest in pro football in Mexico skyrocket since he played. But there is one aspect of the sport that he and other NFL lovers in the country worry about. "The growth has been horizontal," Rosado says. "I think the next step is to make it vertical. We need to build better teams so that we can find players who can become stars in the NFL."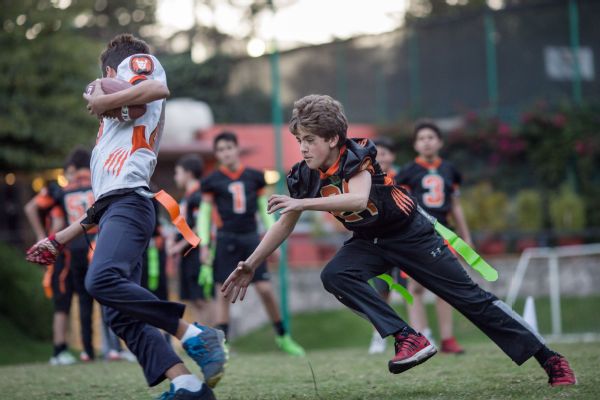 American football is not new to Mexico. Legend has it that the game was introduced in Veracruz in 1896, when college students home from the States and American sailors played some friendly games. By the 1920s, two Mexico City universities had teams: UNAM's Pumas Dorados and the Burros Blancos of Instituto Politécnico Nacional. There was even a 1962 movie -- "Juventud Sin Dios" ("Youth Without God") -- made about the priest who coached the Burros, Father Lambert J. Dehner.
In 1955, the Baltimore Colts drafted Alex Esquivel, a running back from Mexico City, in the 24th round. He didn't last long, but in subsequent years a string of Mexican-born kickers caught on: Efren Herrera, Rafael Septien, Frank Corral and Raul Allegre, who helped the New York Giants win Super Bowl XXI and now works as an NFL analyst for ESPN Deportes. Quarterbacks Joe Kapp and Jim Plunkett also became popular because of their Mexican heritage, but they were really products of the American football system.
A true Mexican football star is on Olivé's wish list, as well. "Remember Fernandomania?" the executive says. "When [Fernando] Valenzuela came out of Mexico and became such a sensation with the Dodgers in the early '80s, he did wonders for the sport and for this country. Can you imagine what would happen if we had a Fernando for football?"
To that end, the NFL has given significant support to flag football -- tochito -- leagues for younger players. And while the Mexican professional league that debuted in 2016 with four teams is nothing to write home about, there are signs that college football is getting better. In 2009, a Monterrey Tech team beat Blinn College 35-14 in an exhibition game, which was significant because (1) Blinn went on to win the national junior college championship, and (2) Blinn's quarterback was Cam Newton, who got the Carolina Panthers to the Super Bowl six years later. "They were so organized," Newton recalls about Monterrey Tech.
Top-notch Mexican college football is often compared to Division III football in the States, and judging from a Tuesday afternoon practice by the UNAM Pumas, that seems about right. Except that the Pumas have a little more size and speed for their spread offense than normal D-III schools, and they practice with more intensity than most small colleges. Hey, there have been Division III players in the NFL before.
"I think we would surprise fans from the United States," says Herminio Rojas, a senior running back and captain of the team. Asked whether he could play in the NFL, Rojas laughed and said, "Not me. My favorite player is LaDainian Tomlinson, and I would have no chance of tackling him. Besides, my ambition is to be a doctor."
Otto Ulrike Becerril, who took over for highly successful UNAM head coach Raul Rivera this year, says, "Mexican players are so much stronger and bigger than they were 10 years ago. I would not be surprised if we produced an NFL impact player in the next few years.
"Let me put it this way. The wall between the United States and Mexico is getting smaller in football."
And then he winked.
---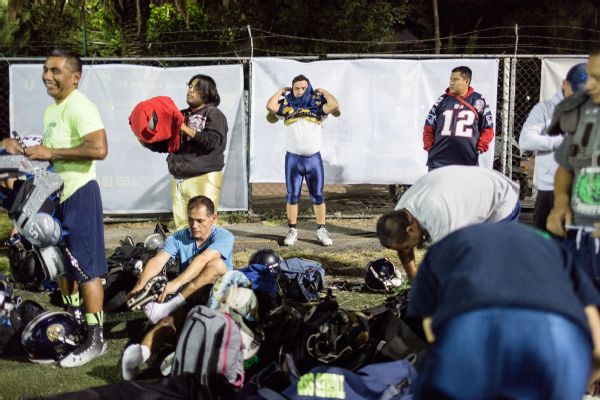 There's no getting around it. The future of American football in Mexico hinges in large part on the political climate on both sides of the border, and with the election of Donald Trump as President last week, the forecast is somewhat iffier than it might've been had his opponent, Hillary Clinton, won. (Mexican President Enrique Peña Nieto did phone Trump to congratulate him last week.)
Even with Trump as president, an NFL game in Mexico every year is quite plausible. The Steelers, recognizing their strong fan base to the south, have even said they would give up a home game to play in Mexico.
John Sutcliffe, the ESPN Deportes analyst who usually travels to every Monday Night Football game but gets to stay home this Monday, doesn't think the outcome of the election will alter the course of the future: "I don't think Trump winning will have a negative effect on the games the NFL will bring to Mexico."
But a permanent franchise remains a distant dream. "I would dearly love to have a team in Mexico," says Sutcliffe. "And I know we have the fan base to support it, millions of people who have fallen for the game the same way I did when I first heard Dandy Don and Howard Cosell. But economics and politics may prevent that from happening any time soon."
Getting enough fans to sell out one game is a lot easier than getting enough fans willing to buy expensive season tickets, which is the lifeblood of any NFL franchise. But as Olivé points out, the success of the NFL in Mexico does not hinge on whether it gets a franchise. "My goal is for the American people to come to see Mexicans for who we really are, vis-à-vis the image that is so often and so unfairly projected. And I think that our mutual passion for the NFL might open some eyes. If I can help do that, mission accomplished."
Here's another way to open a visitor's eyes. On any given Tuesday, Wednesday or Thursday night, drop by the badly lit soccer field at Magdalena Mixhuca Sports City, across from the velodrome used for the 1968 Mexico City Olympics. There you will find a sort of Star Wars cantina of American football: five or six touch football games, some co-ed, orbiting a practice for Los Tigres de Bengala, an over-40 tackle team in the police league.
It's 11 p.m., and balls are flying all over the place. Los Tigres are scrimmaging, laughing and whaling away at each other, mindless of the hour. Their coach, a dashing advertising man named Rodolfo "Batman" Garcia, is less interested in actually coaching than in telling you about the bikini football league he has organized.
Not all of the players are policemen, but almost all of them have two jobs, and that makes their dedication even more impressive.
"Why do they do this?" Batman asks. "Because they love football. Isn't that a good enough answer?"
Wulf is a senior writer for ESPN. A founding editor of ESPN The Magazine, he has written extensively for Time, Entertainment Weekly and Sports Illustrated. He began his journalism career at The Evening Sun in Norwich, N.Y., in 1972 -- which really does make him a senior writer.