Ready... Set... Playoffs!
BY BILL BARNWELL
By virtue of being the only single-elimination playoff among the major American sports, the NFL's postseason is a joyfully riotous crapshoot. The last time a Super Bowl winner was favored to win in each of its postseason contests was when the Steelers ran the table in 2008. So while predicting who exactly will win this year's Super Bowl is a fool's errand, we can still run through some key stats to know about each team.
Click the circles below to read more on your team. All odds to win the Super Bowl are courtesy of ESPN's Football Power Index.
New England Patriots
FPI's odds to win the Super Bowl: 43%
Seed: No. 1, AFC | Record: 14-2 | Up next: Texans/Raiders/Dolphins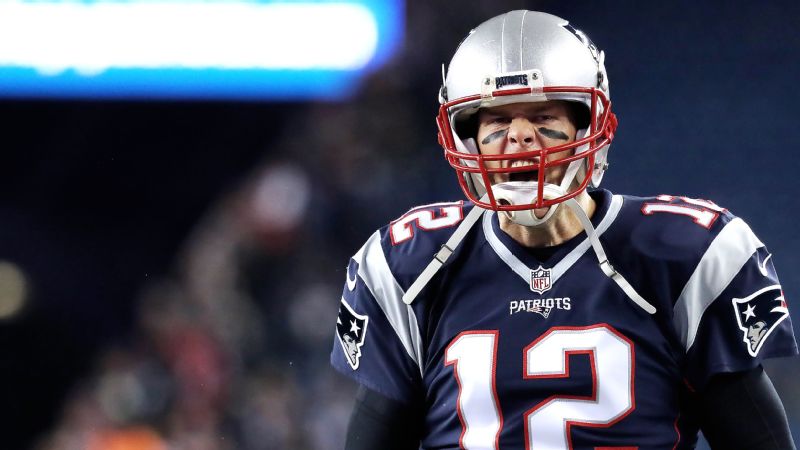 Getty Images
New England's season has been defined by overcoming absent contributors. First, it went 3-1 in the first four games of the season while Tom Brady was suspended. More recently, the Pats went 8-0 without star tight end Rob Gronkowski in the lineup. The Pats have run the ball more effectively than in years past and got an 18-touchdown season out of LeGarrette Blount, who came within one carry of becoming just the second Patriots back in the Bill Belichick era to finish with 300 rushing attempts in a season.
And yet, one of the reasons the Patriots have done so well in 2016 has been their ability to keep guys on the field. After returning third-string quarterback Jacoby Brissett to the roster in December, the Pats finished the year having placed just three players on injured reserve: Gronkowski, fellow tight end Greg Scruggs and linebacker Jonathan Freeny. The rest of the league averaged just over 12 players on injured reserve by the end of the campaign, while the 11 other playoff teams have an average of 9.7 players on IR.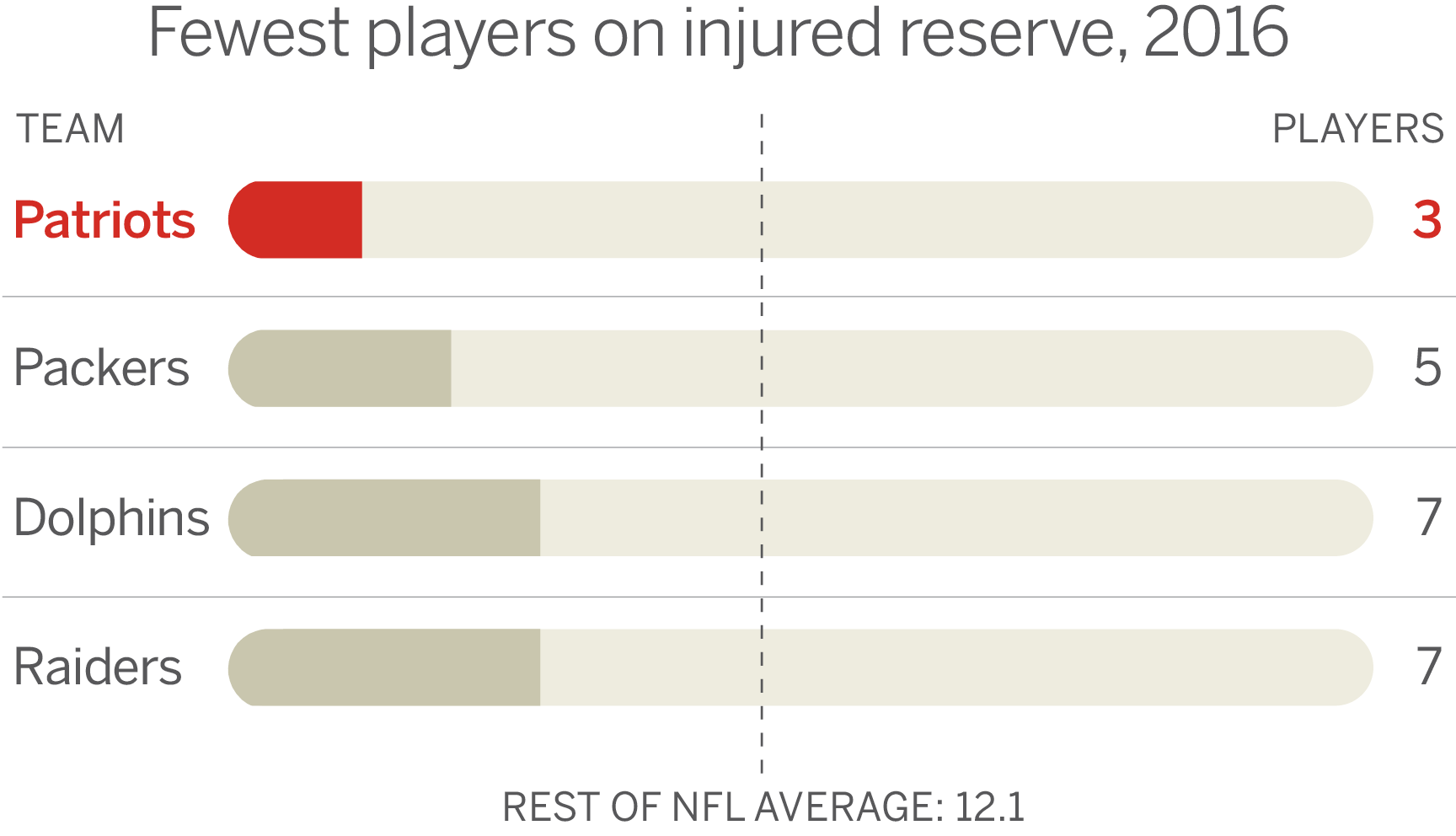 Brady has been able to keep a post-Gronk offense afloat, so the defense might determine how far the Patriots go this postseason. It looks great this season, having finished the year allowing a league-low 250 points, but Matt Patricia's defense isn't as good as it seems. It's a middling 16th in Football Outsiders' DVOA statistic, which accounts for down, distance, game situation and the quality of the opposition on a play-by-play basis. That final condition is important here: The Patriots played the easiest slate of opposing offenses in the NFL this season.
The offense also left New England's defense with the longest average starting field position in football to defend; opposing offenses needed to go 75.1 yards for a touchdown. The difference between the Patriots and a league-average team's field position amounted to 612 yards over the course of the season, which is a decent chunk of change for a team that allowed 5,223 yards this year.
Kansas City Chiefs
FPI's odds to win the Super Bowl: 9.7%
Seed: No. 2, AFC | Record: 12-4 | Up next: Steelers/Texans/Raiders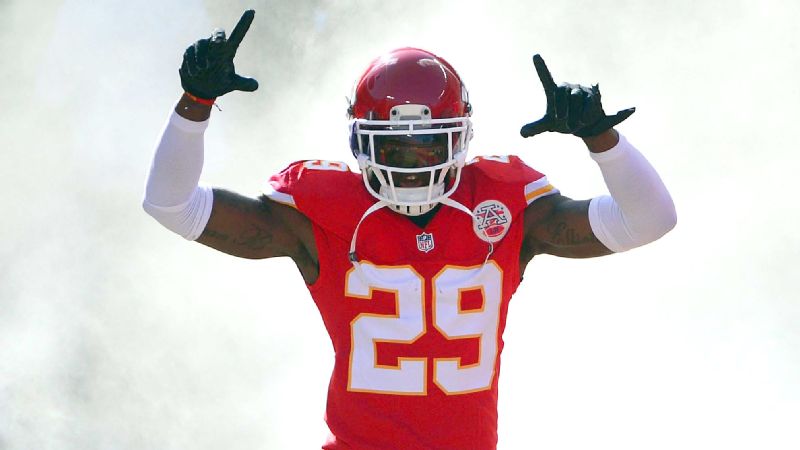 Charles LeClaire/USA TODAY Sports
The formula for the Chiefs to win football games is simple, but brutally effective: avoid turnovers on offense, play the field-position game, force the opposing team to drive the length of the field and create big plays on defense and special teams. It's old-school football with a twist, as Andy Reid incorporates a short passing game as an extension of their rushing attack.
With the help of rookie wideout Tyreek Hill and star safety Eric Berry, the Chiefs have been able to create more of those game-changing plays when their offense is on the sideline than anybody else in football this season. They've scored eight touchdowns on defense and special teams in 2016, six of which have traveled 40 yards or more. Throw in a safety and Berry's game-winning "pick-two" interception return of a two-point try in Atlanta, and the Chiefs have scored 52 points on defense this season. The league as a whole averaged 15 points scored on returns from defense and special teams this year.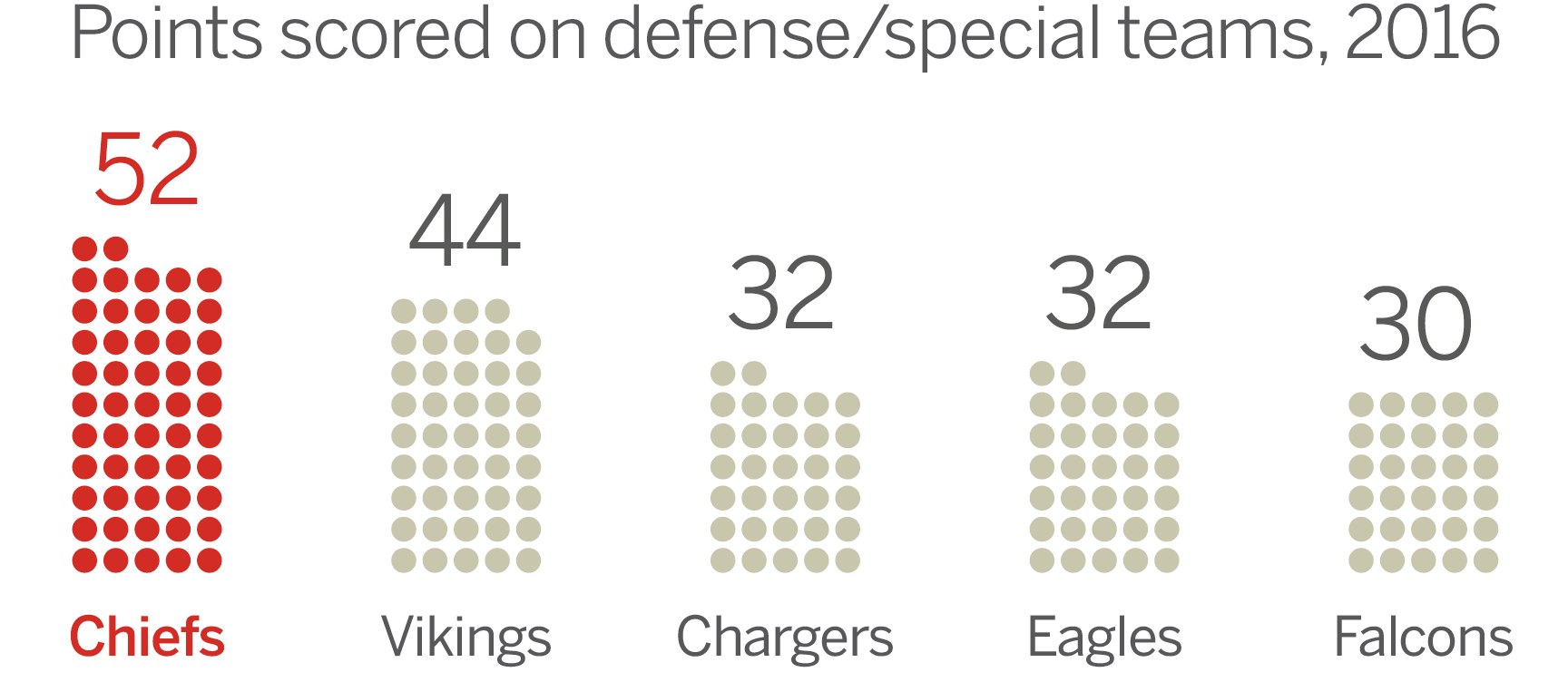 One disconcerting element for the Chiefs, though, has to be Alex Smith's surprising sloppiness in the red zone. Smith has generally been all business inside the opposition's 20, but he has thrown three interceptions on 63 attempts in the red zone this year. During the three preceding seasons with the Chiefs, Smith threw just three red zone interceptions in 190 passes. Two of those interceptions cost the Chiefs dearly, in two-point losses to the Buccaneers and Titans.
Finishing with the second seed is a boon to the Chiefs, who will host a playoff game for just the second time since 2003. Kansas City ended its eight-game playoff losing streak by blowing out the Texans in Houston last January, but the Chiefs' faithful haven't seen a home playoff win in 22 years. The winning quarterback on that day -- Jan. 8, 1994 -- was Joe Montana. Hill wasn't born until March 1 of that year.
Pittsburgh Steelers
FPI's odds to win the Super Bowl: 4.1%
Seed: No. 3, AFC | Record: 11-5 | Up next: Dolphins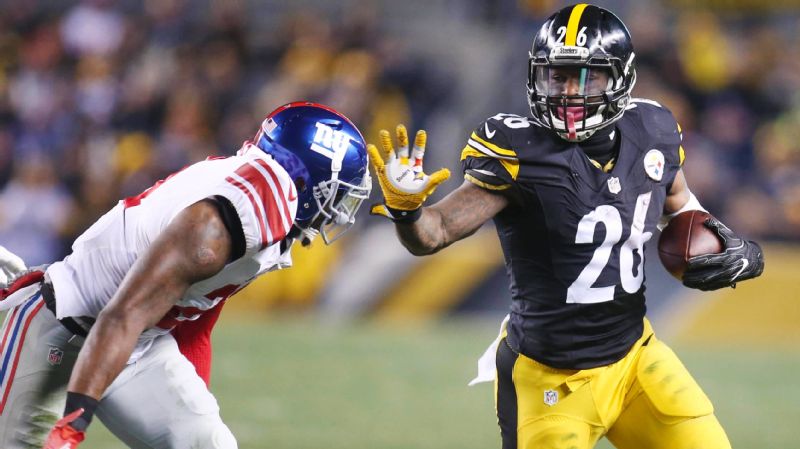 Jeff Curry/USA TODAY Sports
The Steelers are currently in the midst of one of the more obscure -- and incredible -- streaks in football: They haven't allowed an opposing defense to score on a fumble or interception return since Week 3 of the 2013 season. Now, they needed Browns defensive back Briean Boddy-Calhoun to fumble into the end zone for a touchback to keep their run going through the end of 2016 ... but still, it's the second-longest streak in NFL history.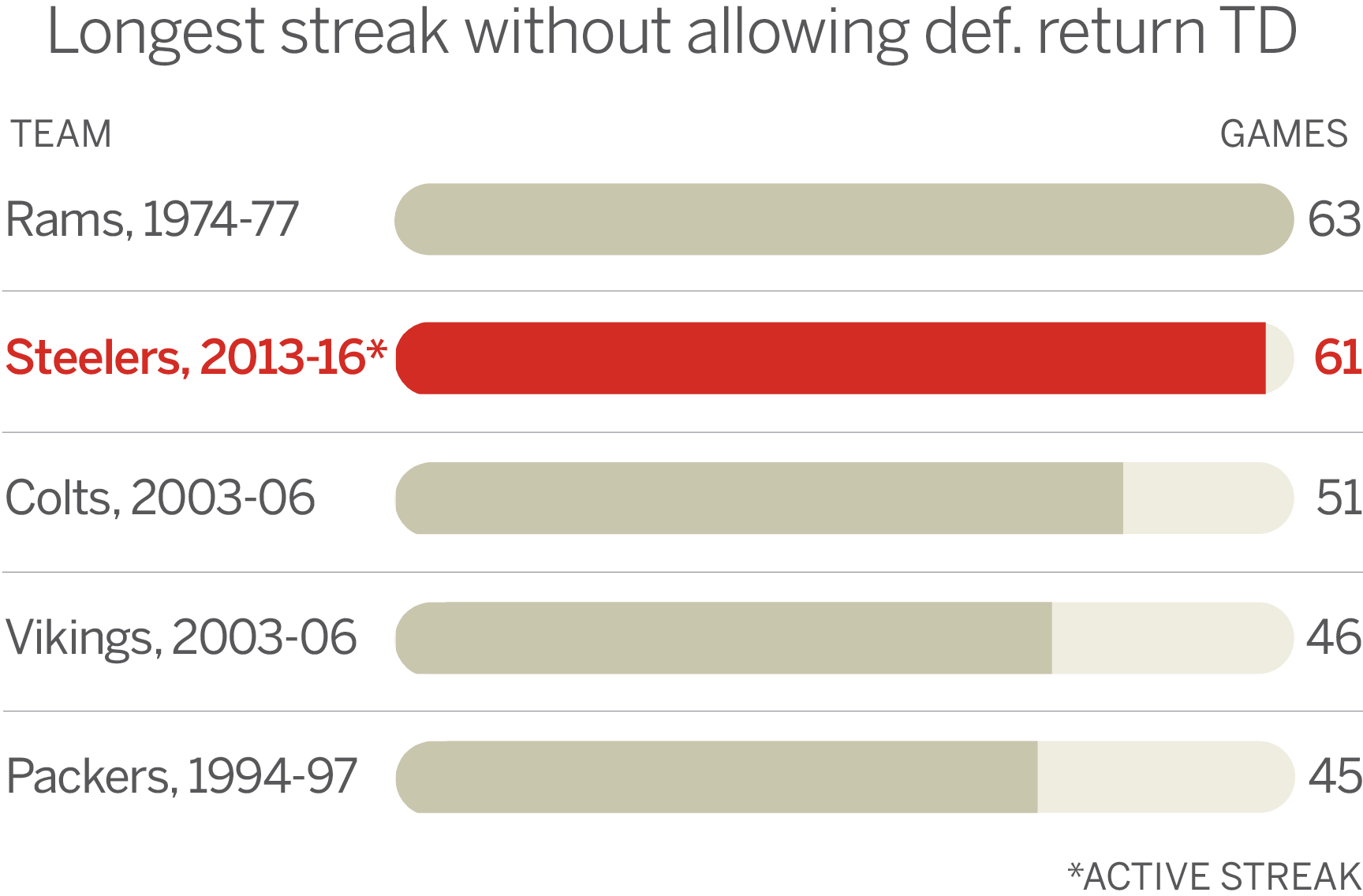 Pittsburgh's defense is a work in progress, thanks to an inexperienced secondary, disappointing performances from its young edge rushers and the absence of injured defensive lineman Cameron Heyward, who might be its best defender. The one place the Steelers have excelled, though, is inside their 20. Red zone performance tends to be random from year to year, but the Pittsburgh defense has been great against its own goal line two years running.
Since the beginning of 2015, Mike Tomlin's defense has allowed opposing offenses to score an average of just 3.74 points per red zone trip, the lowest figure in football. Given that only four teams have given up more red zone opportunities than the Steelers over that time frame, the work done by Lawrence Timmons & Co. has been enormously important to keeping Pittsburgh afloat. Kicking field goals against a Steelers team possessing one of the best offenses in football is a dangerous and often unsuccessful way to live.
Houston Texans
FPI's odds to win the Super Bowl: 0.8%
Seed: No. 4, AFC | Record: 9-7 | Up next: Raiders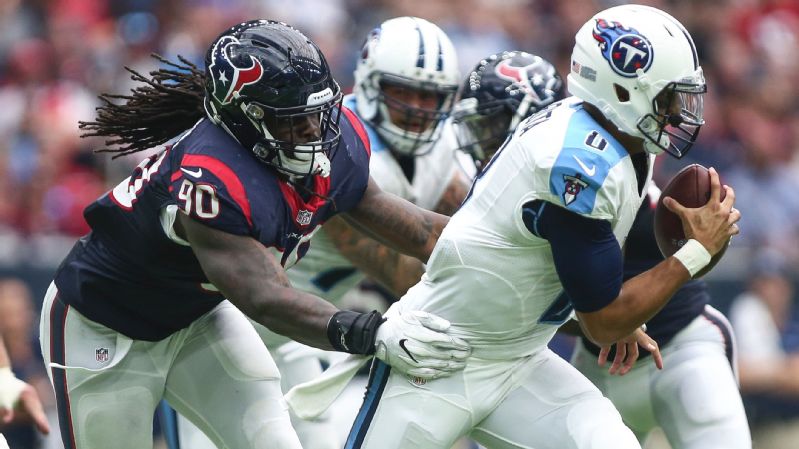 Troy Taormina/USA TODAY Sports
By most advanced metrics, the Texans are one of the worst playoff teams in recent history. They finished 29th in DVOA, falling between the Rams and 49ers, both of whom fired their head coaches this season. Their minus-49 point differential is the fourth-worst figure for a playoff team since the league went to its current divisional structure in 2002. (Texans fans might happily note that the three teams with a worse point differential each won a playoff game.)
Houston is here because it went 8-2 in games decided by seven points or fewer and nearly ran the table in the lowly AFC South, going 5-0 before losing a meaningless Week 17 game to the Titans. The Texans won just two games against teams with a winning record, one of which came versus the Chiefs in Week 3 during the one game all season in which J.J. Watt looked anything like his usual self. The other was a seven-point victory over the Lions, who were the Texans of the NFC and finished 27th in DVOA.
One thing the Texans do well, though, is stop the pass. They're fifth in pass defense DVOA this season, with Jadeveon Clowney and John Simon filling in to take some of Watt's pass-rushing duties. Opposing teams are averaging just 6.56 yards per pass against Houston this season, which is the second-best figure in the league behind the otherworldly Denver pass defense. And when the Texans get teams in third-and-long, Romeo Crennel's defense wins. The Texans have been among the best pass defenses in football when trying to push teams off the field, finishing in the top eight in QBR, yards per play and conversion rate on third and fourth down. They miss Watt -- it would be impossible not to -- but Houston's pass defense has been good enough to carry it to a second straight postseason.

Oakland Raiders
FPI's odds to win the Super Bowl: 0.8%
Seed: No. 5, AFC | Record: 12-4 | Up next: Texans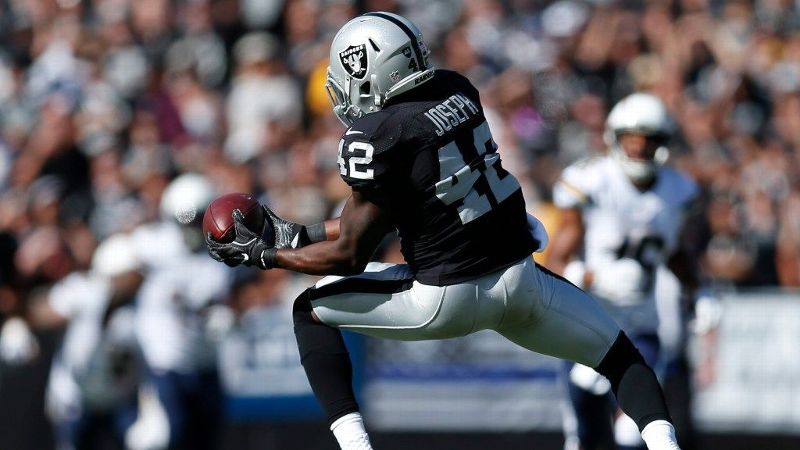 John G. Mabanglo/EPA
The Raiders will obviously not be the same without MVP candidate Derek Carr, who fractured his fibula in Week 16 and might have only an outside chance of making it back if the Raiders advance to the Super Bowl. Backup quarterback Matt McGloin promptly suffered a shoulder injury when he started in Week 17, turning the game over to rookie third-stringer Connor Cook, who predictably struggled in his professional debut against the Broncos' dominant pass defense.
While their ceiling with Cook is unquestionably lower, the Raiders aren't necessarily doomed. The Texans were able to survive a similar transition in 2011, when Matt Schaub's injury opened the job up for Matt Leinart, who was then hurt in his first start and gave way to rookie fifth-rounder T.J. Yates. Yates was uneven in five subsequent starts, but he was competent enough to avoid turnovers and win a playoff game against the Bengals in the wild-card round.
Cook will have some help, too. The Raiders have one of the NFL's best wide receiving corps, with Amari Cooper, Michael Crabtree and Seth Roberts. Unsurprisingly, for a team that invested so much in its offensive line over the past several seasons, the Raiders also do a great job of protecting their quarterback. Bill Musgrave's offense allowed Carr & Co. to be sacked on just 2.9 percent of their dropbacks this season, the best rate in football.

The Raiders also will get rookie safety Karl Joseph back for the playoffs, and they've been a different defense with him on the field. Joseph spent the first two games of the year on special teams and then missed the final four games of the season with a toe injury. With Joseph off the field, the Raiders have allowed a 76.2 QBR, which would be the worst figure in the league by nearly 10 points. That's compared with a 51.2 QBR allowed with Joseph on the field at safety, which would be the best figure in the league by nearly 5 points.
Miami Dolphins
FPI's odds to win the Super Bowl: 0.3%
Seed: No. 6, AFC | Record: 10-6 | Up next: Steelers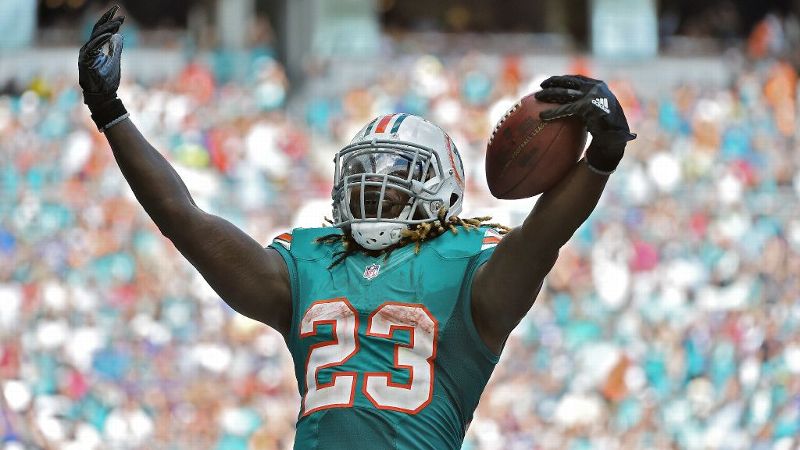 Jasen Vinlove/USA TODAY Sports
Sometimes, it's better to be lucky than smart. The Dolphins tried to upgrade at running back this offseason with no success. They gave C.J. Anderson a four-year, $18 million offer sheet with $10 million guaranteed, only for the Broncos to match. They signed Arian Foster, but Foster suited up only four times before retiring. As recently as Week 4, the Dolphins' backfield was a four-way split, with four players getting between seven and 14 snaps. Head coach Adam Gase characterized that rotation afterward as "poor coaching" and vowed to find a better solution.
Enter second-year back Jay Ajayi, who blew up with a 204-yard game against the Steelers two weeks later and hasn't looked back. Since that Week 6 contest, it's Ajayi -- not Ezekiel Elliott, David Johnson or Le'Veon Bell -- who leads the league in rushing yards with 1,155. The Dolphins also have given him a league-high 229 carries over that timespan, but Ajayi is averaging 5.04 yards per pop. The Dolphins have ridden Ajayi to a 9-2 record over that stretch and an unlikely playoff berth.
What has been most impressive with the 229-pound Ajayi has been his ability to throw off tacklers and continue for extra yardage. Among backs with 15 carries or more per game, Ajayi is averaging a league-best 2.52 yards per carry after first contact. To put that in context, ESPN Stats & Information has data on yards after contact going back through 2006. The only backs over that time frame to average more yards after contact in a season are Adrian Peterson during his MVP campaign in 2012 (2.93) and Marshawn Lynch in 2014 (2.53). The Dolphins will need Ajayi to keep it up to advance far this postseason.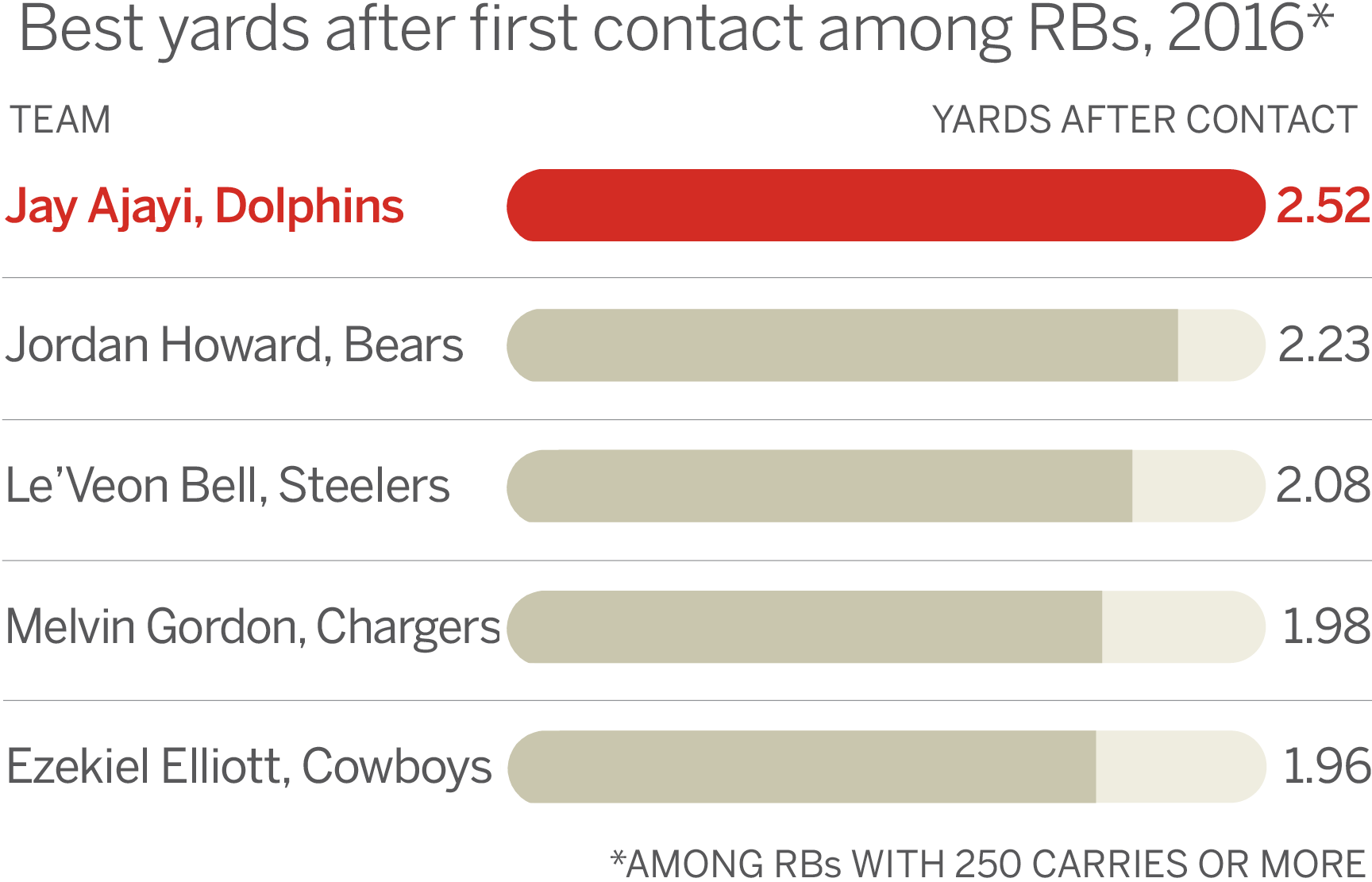 Atlanta Falcons
FPI's odds to win the Super Bowl: 20.7%
Seed: No. 2, NFC | Record: 11-5 | Up next: Seahawks/Packers/Giants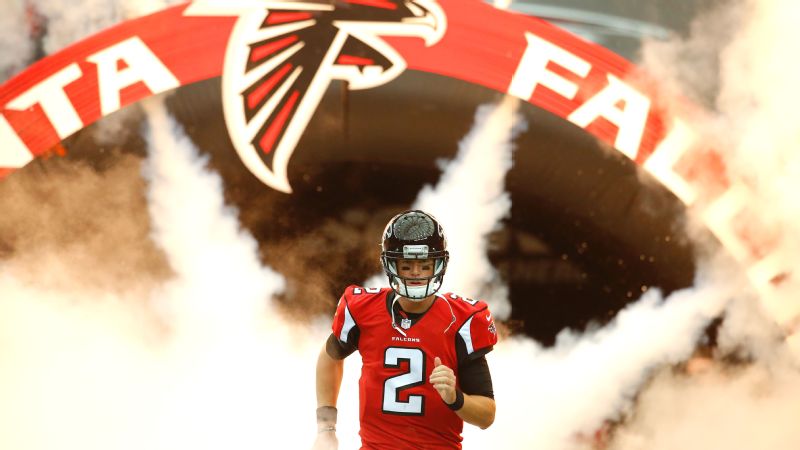 Todd Kirkland/Icon Sportswire
The Falcons don't have a good defense -- they rank 27th in Football Outsiders' DVOA -- but that hasn't slowed them down, because nobody has been able to stop their offense. Atlanta scored 540 points in 2016, the eighth-highest single-season total in league history. Even after you account for the scoring levels of 2016 and the 16-game schedule (which went into effect in 1978), Kyle Shanahan's 2016 offense finished 2.66 standard deviations better than the average NFL offense. That's also good for eighth best since the AFL-NFL merger of 1970.
The Falcons are good at just about everything an offense might be asked to do with the ball, but they particularly excel on first down. They're averaging 7.58 yards per play on first down, which is absurd, given that the next-best team, the Bears, was nearly a full yard behind at 6.70 yards per play. ESPN Stats & Information has down-by-down data going back to 1996, and the Falcons pace the field there, too, beating out the 2006 Eagles by more than a full half-yard. Given that teams are averaging more yards per play over the past 10 years than they have in any previous stretch in league history, it's extremely likely the 2016 Falcons were the best first-down offense in the history of the NFL.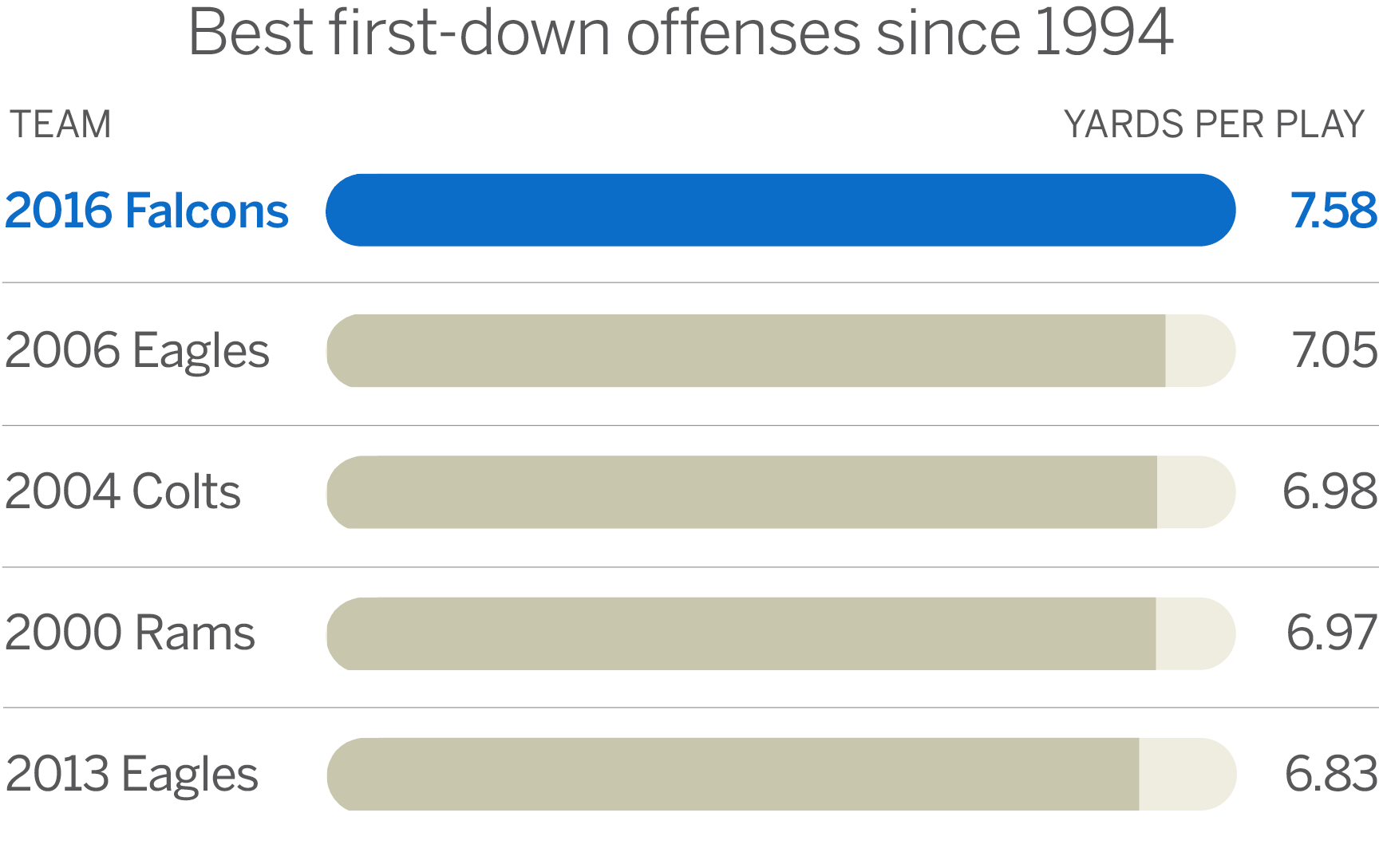 Unlike in previous years, Matt Ryan has been just as good throwing the ball to his secondary receiver as he has been throwing it to superstar wideout Julio Jones. From 2013 to 2015, Ryan produced a 101.3 passer rating on throws to Jones, but only a 92.0 rating on throws to his other receivers. This year, he has flipped things around. Ryan is still putting up numbers with Jones (105.4 rating on 127 passes), but he has been otherworldly throwing to his other receivers. On 389 passes to his non-Jones receivers, Ryan has produced a 126.3 passer rating.
Dallas Cowboys
FPI's odds to win the Super Bowl: 11.3%
Seed: No. 1, NFC | Record: 13-3 | Up next: Packers/Giants/Lions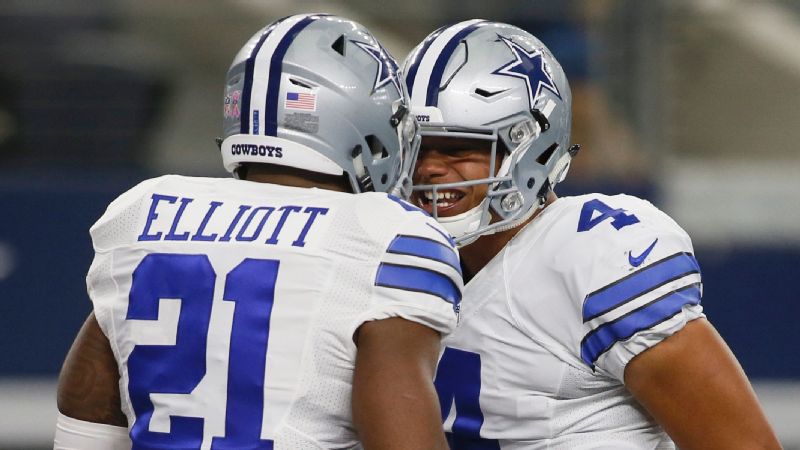 Tim Heitman/USA TODAY Sports
Nobody expected the Cowboys to go 13-3 after Tony Romo went down during the preseason, but there were plenty of signs that the 2015 Cowboys were unlucky to go 4-12 and likely to improve. Last season's Cowboys went 2-6 in games decided by seven points or fewer; this season's bunch went 7-2 in those same contests. They allowed five touchdowns on defensive returns in 2015, but didn't allow a single one this season. Dallas blew a league-high five games it led at halftime in 2015, but threw away only one such game this season.
Most notably, though, the Cowboys completely flipped their turnover margin. Last season, Dallas' margin of minus-22 was the worst in the league by a comfortable amount, with nobody else topping minus-14. This season, the Cowboys were plus-five, which was ninth best in the league and good for a 27-turnover swing from year to year. While much of the improvement came from the Cowboys' offense, it was their defense that has been deeper on the roller-coaster ride. The Cowboys posted the league's best takeaway rate in 2014, then the league's worst rate a year ago. Predictably, they regressed toward the mean in 2016 to give their offense a few extra short fields.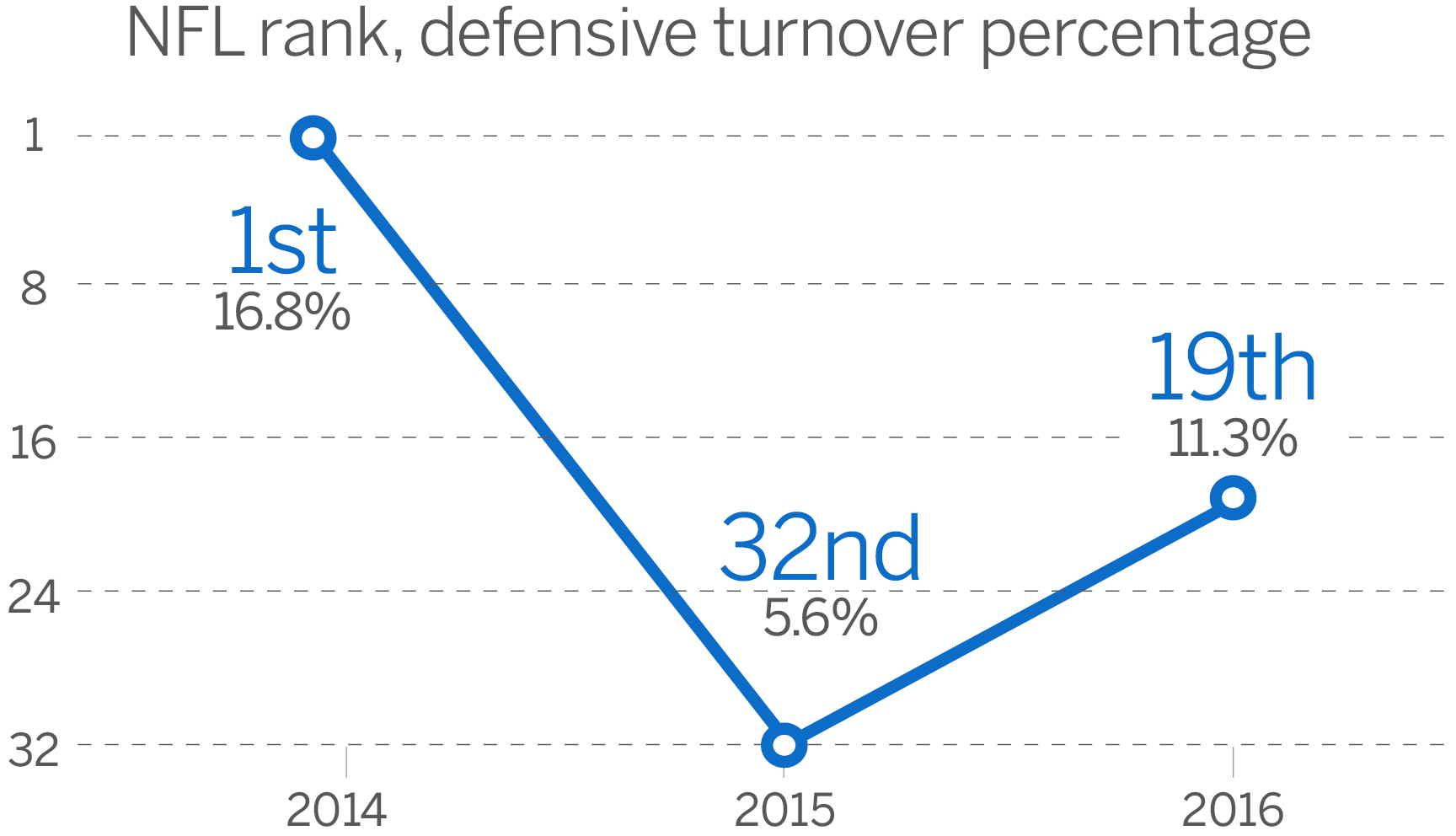 With good reason, the incredible Dallas offense took center stage for most of the campaign. The Cowboys didn't create a ton of big gains -- they had 11 plays go 40 yards or more, right around the league average of 11.5 -- but they were tough to get off the field and impossible to stop in the red zone. Dak Prescott, Ezekiel Elliott & Co. averaged 4.8 points per red zone trip this season, second best in the league behind the Titans. If they end up in an NFC Championship Game matchup against the second-seeded Falcons, that red zone prowess could come in handy. Atlanta's defense allowed just under 5.0 points when offenses got inside its 20, which was the worst rate in football.
Green Bay Packers
FPI's odds to win the Super Bowl: 4.2%
Seed: No. 4, NFC | Record: 10-6 | Up next: Giants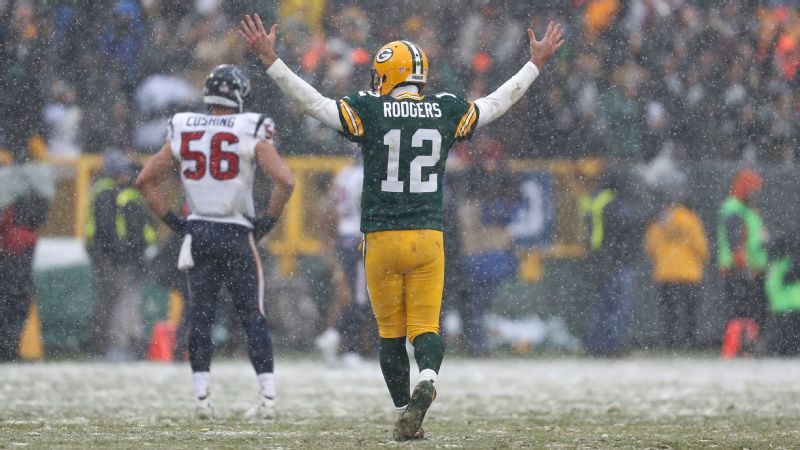 Stacy Revere/Getty Images
Aaron Rodgers threw for 15 touchdowns without a single interception during the 6-0 "run the table" stretch he called for in November, leading the Packers back to the top of the NFC North in the process. Rodgers had been distressingly ordinary during the first 10 games of the year, making his sudden leap even that much more remarkable.
Teams had limited the two-time MVP to 6.53 yards per attempt and a 63.1 percent completion rate through Week 10. Those figures ranked 29th and 20th in the league, respectively. Starting with Green Bay's Week 11 loss to Washington, though, Rodgers was unstoppable. He averaged 8.37 yards per attempt, good for fourth in the league, while completing 69.7 percent of his passes, which ranked fifth. His passer rating jumped from 15th to second, and his QBR improved from fifth to second, trailing only Matt Ryan.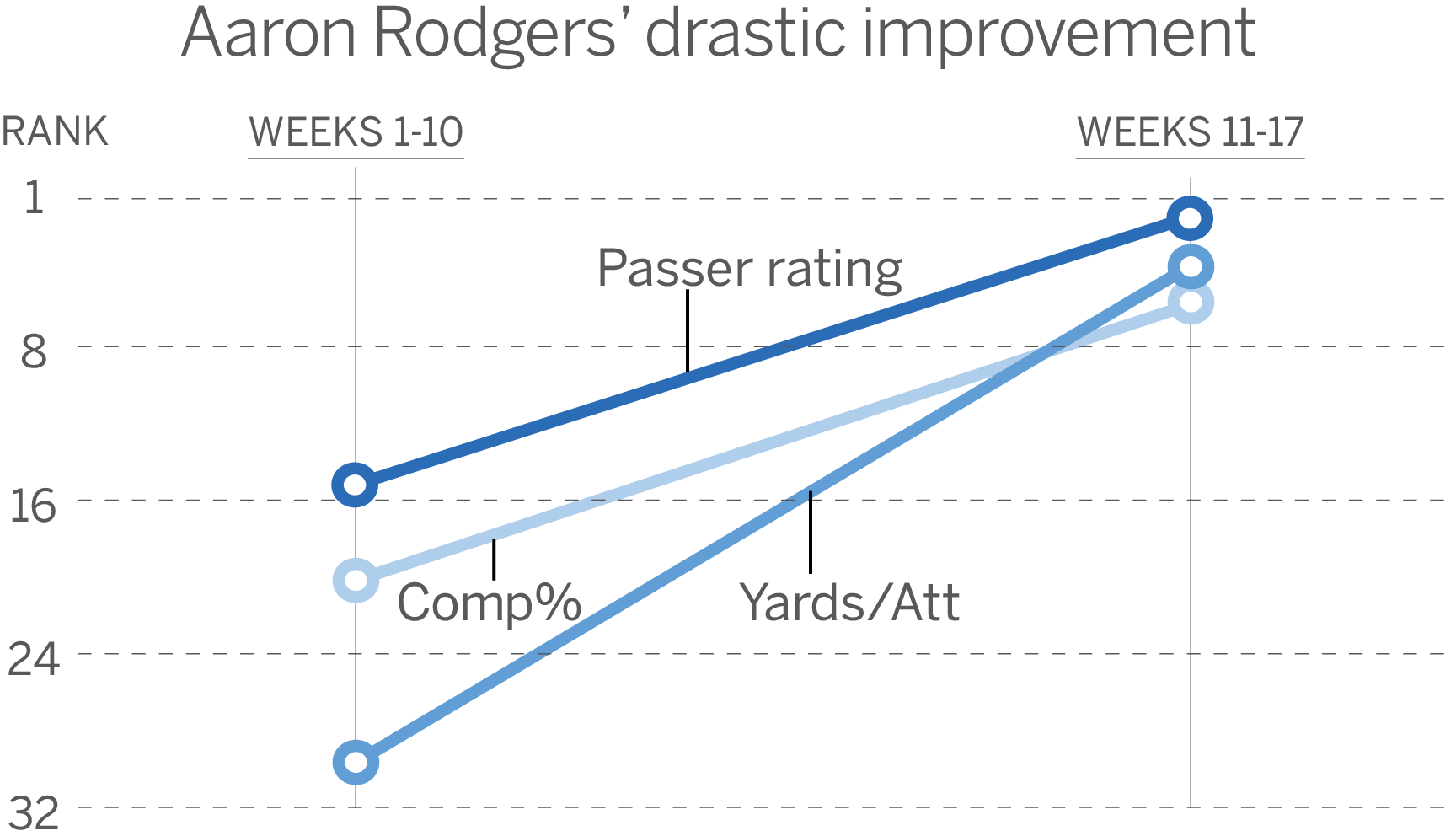 Jordy Nelson has deservedly been given a ton of credit for Rodgers' resurgence, but there's another receiver whose presence has paid off for the Pack: tight end Jared Cook. When Cook has been healthy and on the field, Rodgers is averaging 8.4 yards per attempt, with 17 touchdowns versus just one interception and a passer rating of 119.5. With Cook off the field, Rodgers averaged 6.8 yards per attempt, with 23 TDs versus six interceptions and a 97.1 rating. Coach Mike McCarthy has to be happy Cook will be suited up when the Packers play the Giants this weekend.
Seattle Seahawks
FPI's odds to win the Super Bowl: 4.4%
Seed: No. 3, NFC | Record: 10-5-1 | Up next: Lions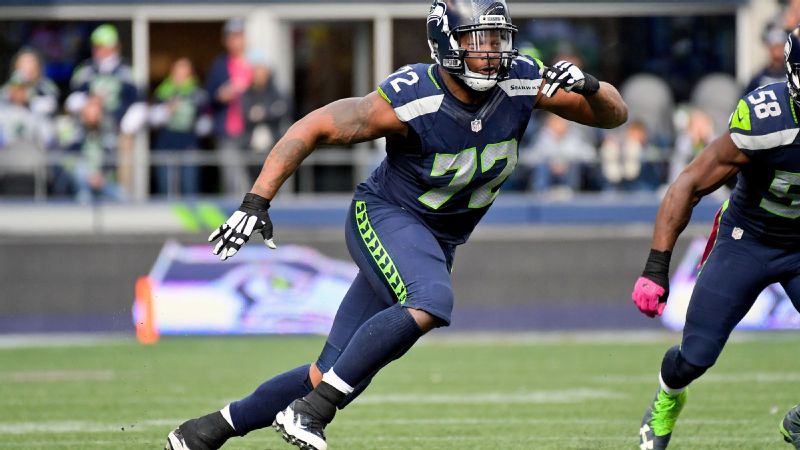 Kirby Lee/USA TODAY Sports
The Seahawks have been a different defense without Earl Thomas occupying his role in center field as the team's free safety. Thomas, who's out for the season with a broken leg suffered in Week 13, is an essential part of Seattle's frequently used Cover 3 scheme on defense. There are few players in football who could even come close to matching his range, and none is on Seattle's roster. Steven Terrell is trying his best, but he's not a future Hall of Famer like Thomas.
With Thomas on the field, the Seahawks have allowed seven passing touchdowns this season, intercepting 10 passes and allowing a passer rating of 77.8, which would be the third-best mark in football. With Thomas off the field, Seattle has allowed nine passing touchdowns and intercepted just one pass. The 99.5 passer rating it has allowed would be the third-worst rate in football, just between the Jets and Browns.
Seattle's offense took off without Marshawn Lynch in the second half of 2015, averaging a remarkable 32 points per game, but its success hasn't carried over to 2016. The Seahawks have averaged a mere 22.1 points per game, with their running game finishing a lowly 23rd in DVOA. Much of that has to be blamed on an offensive line that has failed to meet even modest expectations heading into 2016. Only one lineman, guard Mark Glowinski, started all 16 games for the Seahawks, as Tom Cable dealt with injuries and desperately shuffled the line around throughout the season.
Expectations are low because the Seahawks have clearly decided to save money on their line and spend elsewhere. As ESPN's Sheil Kapadia noted before the season, the Seahawks have committed just $6.2 million of their salary cap to their offensive line this season, the lowest figure in football by a significant margin. The typical NFL team has spent nearly four times as much on its O-line.

New York Giants
FPI's odds to win the Super Bowl: 0.8%
Seed: No. 5, NFC | Record: 11-5 | Up next: Packers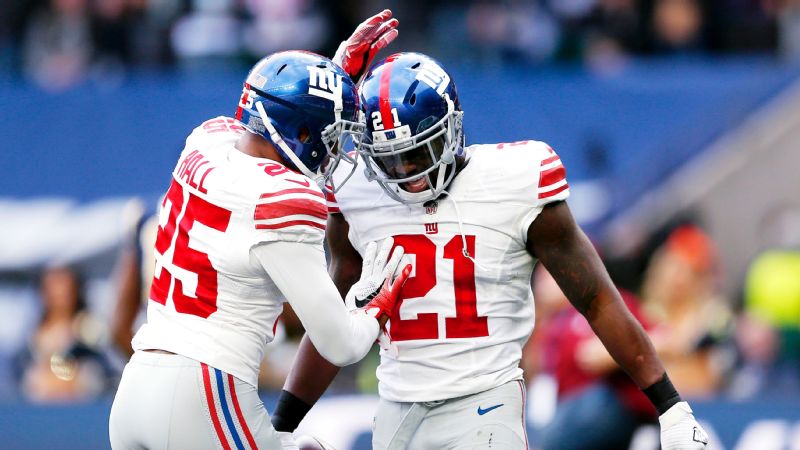 Matthew Childs Livepic/Action Images/Reuters
The Giants go three-deep with talented cornerbacks in Eli Apple, Janoris Jenkins and Dominique Rodgers-Cromartie, and it has helped them excel just about everywhere against the pass. They rank seventh or higher in DVOA against throws to No. 1 wide receivers, No. 2 wide receivers, slot receivers and running backs. The only exception: tight ends, against whom they are 26th in DVOA this season. Only four teams allow more yards per game to tight ends than the Giants (69.7) have this season.
The Giants have improved from 30th in defensive DVOA to second, and much of their resurgence has come down to the additions they made this spring. In addition to using their first-round pick on Apple, the Giants went on a spending spree to add Jenkins, nose tackle Damon Harrison and defensive end Olivier Vernon. With those three making up most of the spending, the Giants committed a staggering $104 million to their defense this season, the only team in the league making their way into nine figures.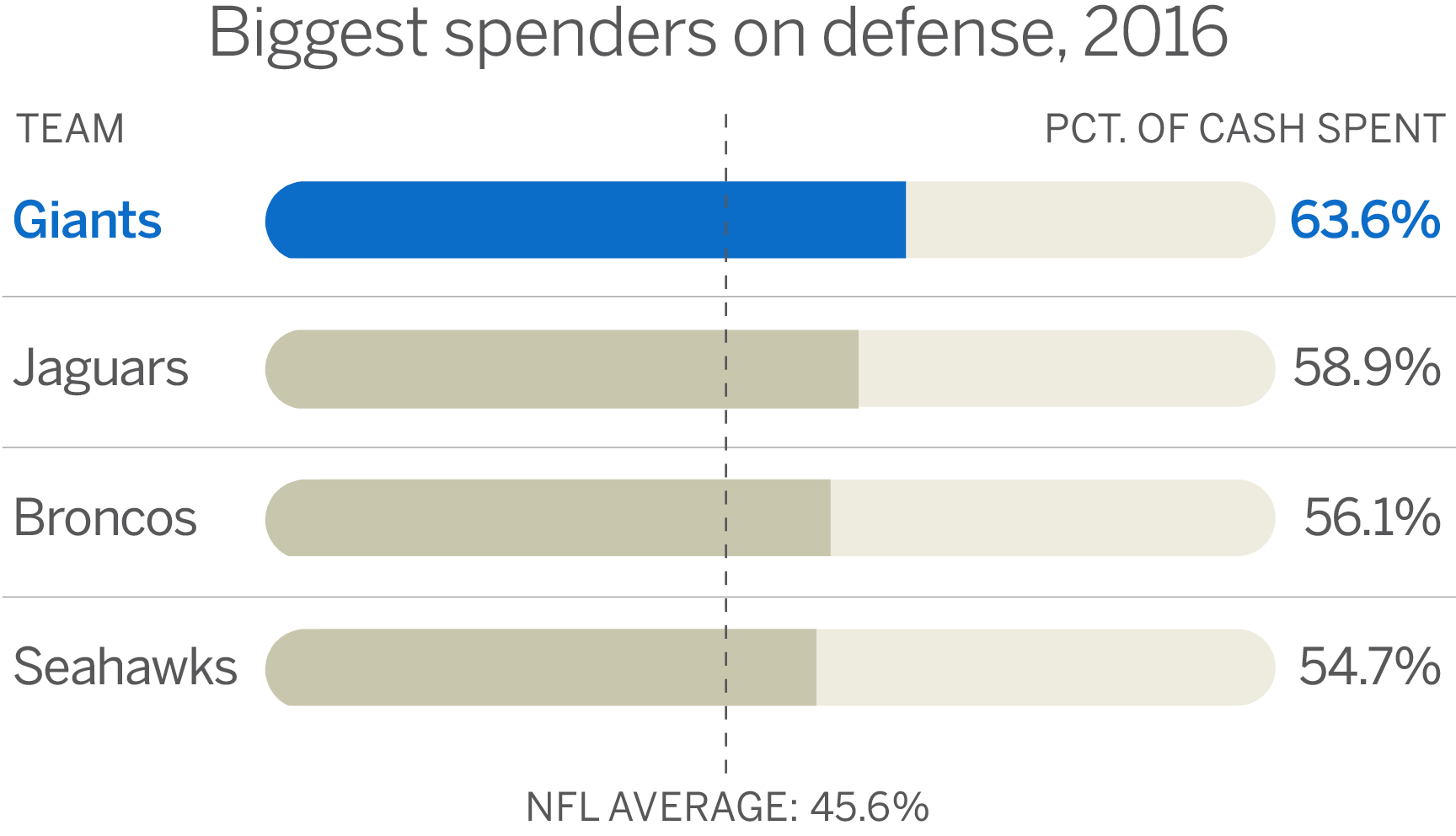 The Giants also have been much healthier on defense. During each of the previous five seasons, the Giants' defense had ranked no better than 28th in Football Outsiders' adjusted games lost stat, measuring how many games each team's defenders had missed or struggled to play in, adjusting for the importance of the player. AGL numbers aren't finalized for 2016, but including Rodgers-Cromartie as a fifth defensive back, the Giants' 12 would-be defensive starters have missed a total of just 10 games all season.
Detroit Lions
FPI's odds to win the Super Bowl: 0.2%
Seed: No. 6, NFC | Record: 9-7 | Up next: Seahawks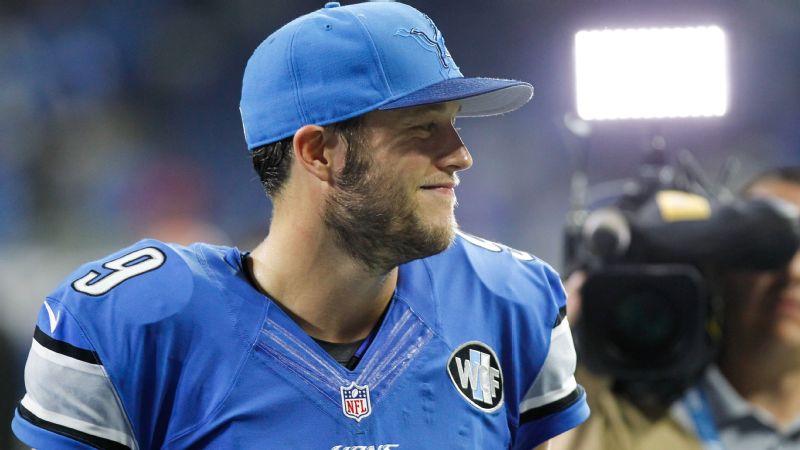 Scott W. Grau/Icon Sportswire
Although they weren't able to hold onto the NFC North title, the Lions sneaked into the postseason by repeatedly pulling a rabbit out of a hat in the fourth quarter. Detroit went 8-5 in games decided by one touchdown or less this season, and it trailed in the fourth quarter in each of those eight victories. Detroit's 28-13 victory over New Orleans in Week 13 is its only one all season in which it led start to finish in the final stanza.

If eight comeback victories seems like a lot, that's because it is. Matthew Stafford was credited with those eight victories this season after recording just eight in the first four years of his career combined. Pro Football Reference keeps track of comeback victories, and no quarterback since the 1970 merger has ever recorded eight or more comebacks in a season the way Stafford has in 2016. In fact, only three other quarterbacks in the past 46 years -- including Derek Carr this season -- have rang up seven comeback victories in a year.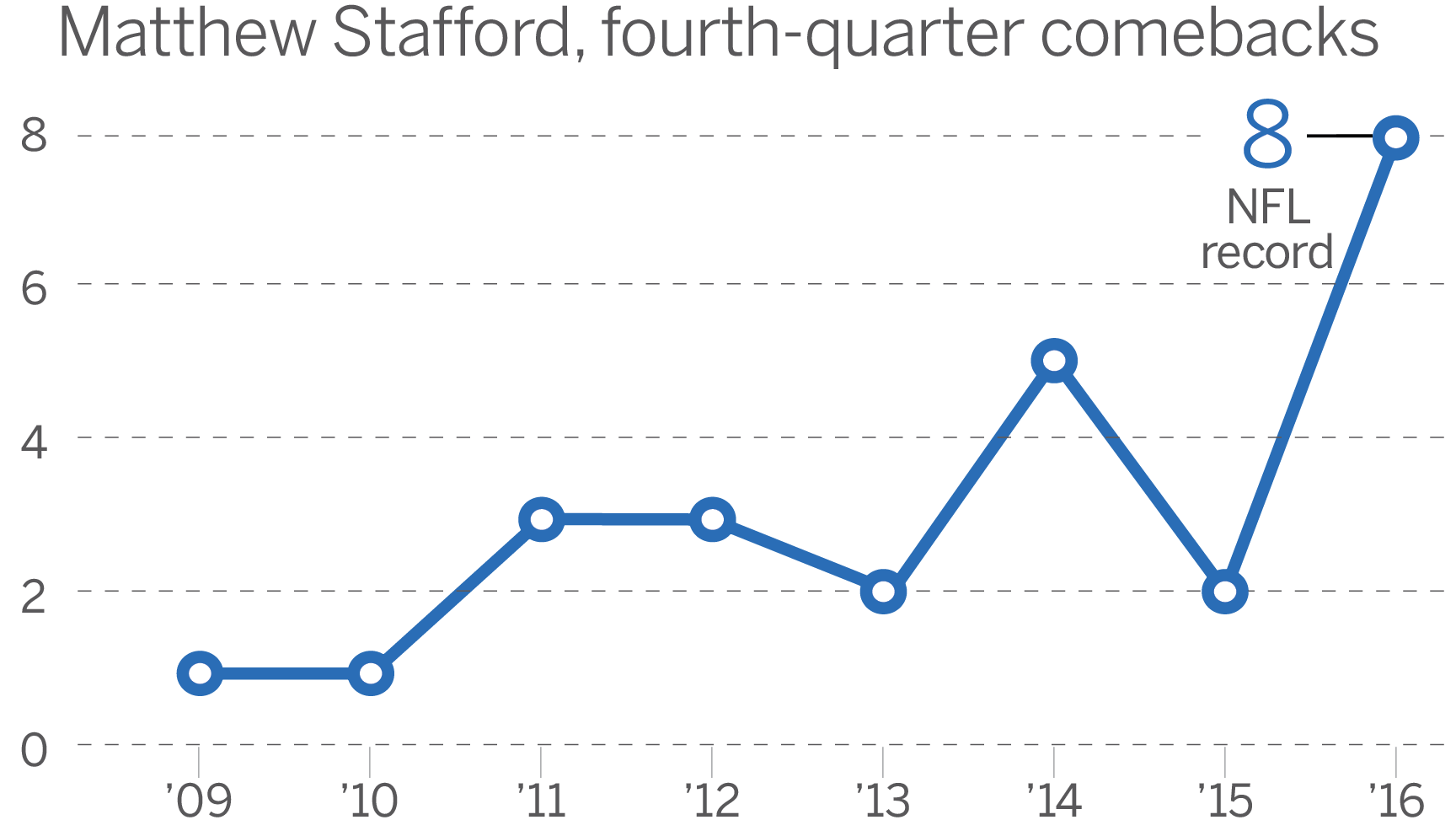 Meanwhile, the Lions are one of the worst defenses to make the postseason in recent memory. They finished the season dead last in defensive DVOA and pass defense DVOA, an ill-advised combo in a league where teams pass more than ever before. Teams attempted to throw the ball on 59.3 percent of plays this season, and the five most pass-happy seasons in NFL history have come in the past five years.
The presence of cornerback Darius Slay will be crucial if Detroit has any hope of making a deep playoff run. "Big Play" Slay has only two interceptions this season, but the Lions can count on him to be competitive with the other team's top receiver (he held the red-hot Jordy Nelson to six catches for 66 yards in his return last Sunday). With Slay on the field this season, the Lions have allowed a 24-9 touchdown-to-interception ratio and a 74.7 QBR to opposing quarterbacks. That's not great, but consider how dreadful it looks when Slay is off the field: nine TDs versus just one interception and an 84.8 QBR.