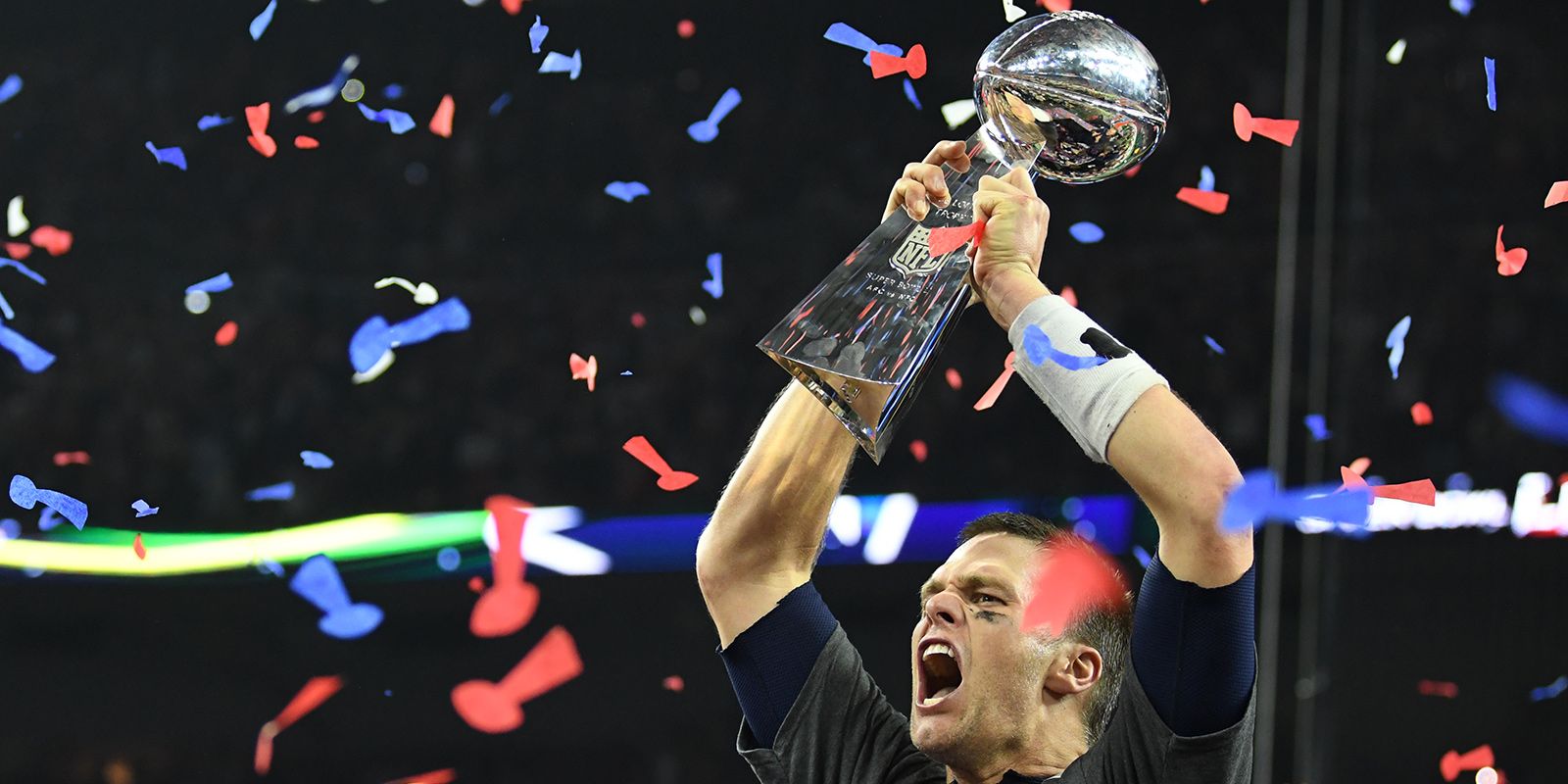 For The Wins
The Patriots' stunning comeback was just the latest in an epic string of championship games -- we take a look back.
A Series Of Unforgettable Events
---
Anatomy Of A Miracle: How The Pats Came Back
Super Bowl LI, Feb. 5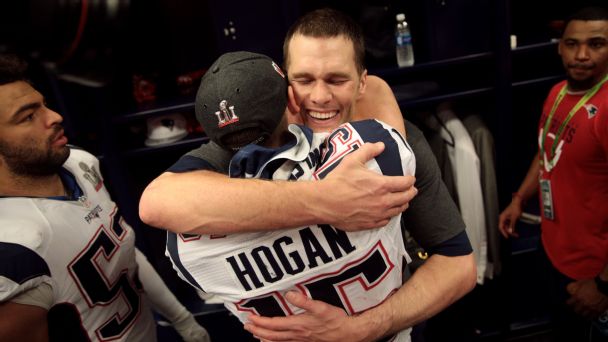 By Bill Barnwell
It's still hard to believe the Falcons actually lost this game. They're the first team in Super Bowl history to lose with a pick-six in its pocket, one that felt like an unlikely gift given that it came from Brady. Some will throw around the "choker" label, which is inelegant at best and condescendingly incurious at worst. If choking means running after a quarterback on 68 dropbacks until there's hardly any air left in your lungs, the Falcons choked.
Instead, it's fairer to say the Falcons never shut the door. They had several chances to finish this game off and never really took advantage of any of them, leaving a tiny opening that most teams wouldn't have been able to exploit. Even the Patriots, as good as they are, needed fortuitous timing with penalties and turnovers plus one of the all-time legendary catches in football history from Edelman to stay within range.
---
Roger Federer's GOAT Chase
Australian Open, Jan. 29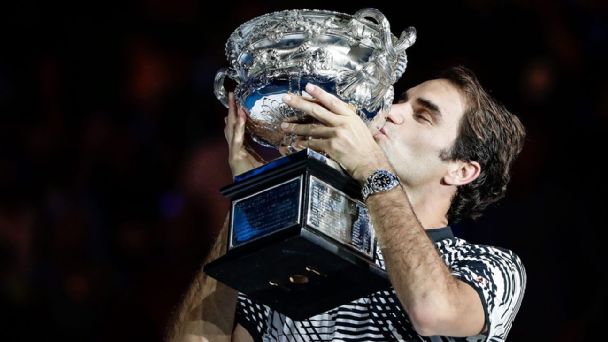 By Johnette Howard
Sunday night in Melbourne, Federer, 35, and Nadal, 30, played a championship match at the Australian Open that was billed as the most important in men's tennis history. Legacies were on the line -- and a chance they would never advance this far again.
But the feeling after Federer outlasted Nadal 6-4, 3-6, 6-1, 3-6, 6-3 in a 3-hour, 38-minute classic was actually the opposite of finality: The chase for the greatest men's tennis player of all time didn't end here. It feels like it's "game on" between them again.
---
GOAT Debate Over: It's Serena
Australian Open, Jan. 28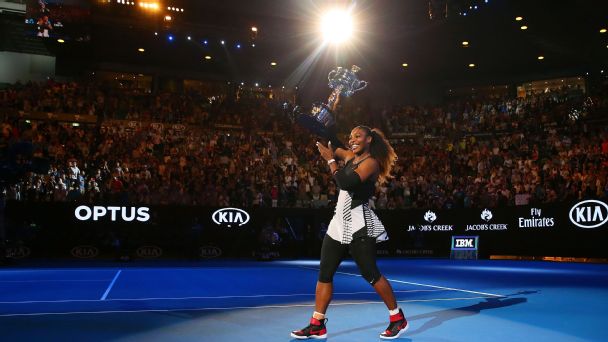 By Johnette Howard
MELBOURNE, Australia -- If anyone still dared to argue anymore, even in private company, that Serena Williams and Steffi Graf both remained in the running for best female tennis player ever before this match, this history-making night at the Australian Open should quash any whisper of that debate, from the barbershops in Compton, California, all the way to the beer halls lining the town squares in Graf's German hometown of Mannheim, and everywhere in between. That discussion is over. Now and forever.
Williams made that unimpeachably official Saturday night in Melbourne, when she broke a tie with Graf and seized the 23rd Grand Slam singles title of her career, a record for men or women in the Open era. And there was something fitting about the way Williams accomplished it, with her 36-year-old sister, Venus, across the net for the ninth Slam finals meeting of their career. It drove Serena to yet another pinnacle -- making Venus feel she was never able to relax -- on the way to an emotional 6-4, 6-4 win that also restored 35-year-old Serena to the No. 1 ranking in the world and established her as the oldest woman ever to win a major.
---
Deshaun Watson's Epic Title-Winning Drive
CFP National Championship, Jan. 9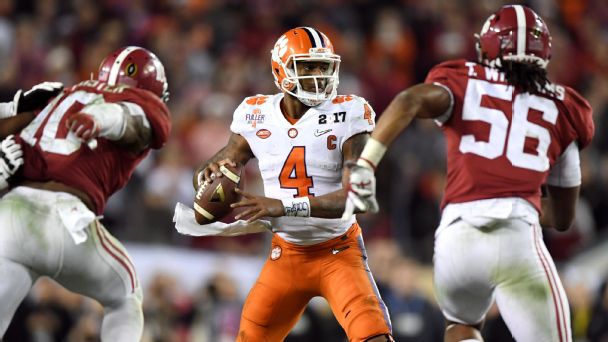 By Andrea Adelson
Nobody on the Clemson sideline doubted. Not with Deshaun Watson under center. Everybody wearing orange and purple firmly believed they had the best player in the country on their side, Heisman or no Heisman. They reminded everybody: Heismans are voted on; championships are won.
"I'd seen the two minutes and one second on the clock, and I just smiled and I just knew," Watson said after the College Football Playoff National Championship. "I told myself, 'They left too much time on the clock.'"
---
The Wait For A Cubs Win Mixes Joy And Sorrow
World Series Game 7, Nov. 2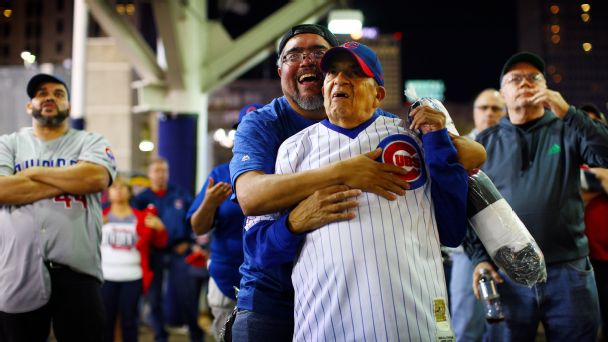 By Wright Thompson
CHICAGO -- Cubs fans awoke Wednesday to one last wait, with little to do before Game 7 but think, about themselves and their families, about the people who've come and gone during these 108 years of failure. Hundreds found themselves drawn to Wrigley Field, where workers were already breaking down the concessions and cleaning out the freezers. Some people said they didn't even mean to come. They started off on a trip to the store and ended up standing in front of the stadium's long brick wall facing Waveland Avenue. Many wrote chalk notes to the dead. Some dedicated messages. This one's for you, Dad. Others wrote names. Dan Bird. Ben Bird. Eugene Hendershott. A man with a bright smile but melancholy eyes wrote the name of his late wife, Andrea Monhollen. They met four blocks from here, on Racine. She's been gone six years.
---
A Classic End To A Riveting WNBA Finals
WNBA Finals Game 5, Oct. 20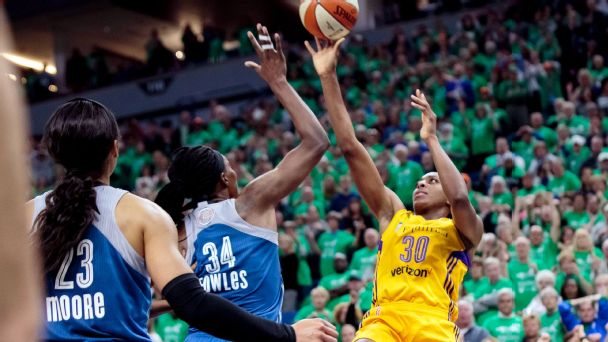 By Mechelle Voepel
This series was exactly what the WNBA was hoping for with its changes to the playoff format. Doing away with conference affiliation and seeding the top eight teams by record meant that the two best teams had the chance to meet in the WNBA Finals, despite both being West teams.
The result was a hard-fought, exciting series where momentum was fleeting because both teams were so good. It figured that the last game would come down to the closing seconds, because so little separated the Lynx and the Sparks, which won twice in Minnesota but then failed to clinch the series at home at Staples Center in Game 4.
---
Cavs End Cleveland's Long Drought
NBA Finals Game 7, June 19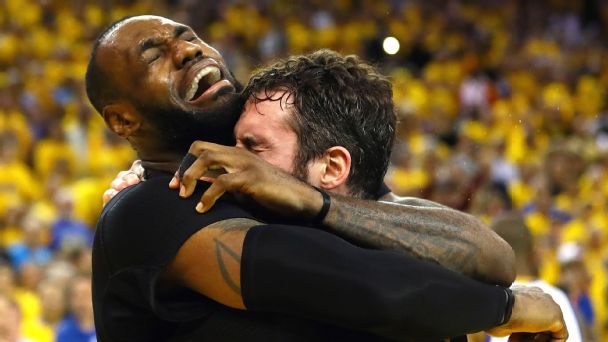 By Dave McMenamin and Brian Windhorst
With each step, champagne squishing in his sneakers from the postgame celebration that was but a teaser for the rager that awaits the Cavs back in Cleveland, the best basketball player in the world verbally replayed the sequences of the most important basketball game of his life.
He started by focusing on a miss, a 5-footer in the lane with 1:25 to go and the game tied at 89, cursing himself for leaving it short after re-enacting the spin move that got him free to attempt it. Paul, walking alongside, steered James' mind back to the positive, bringing up the block -- to be forever known to Cavs fans as The Chasedown -- he had on Andre Iguodala the possession before.
"Iguodala is a bad m-----f-----," James snapped. "I had to go chase it down."
---
Leicester City's Incredible Win
English Premier League, May 2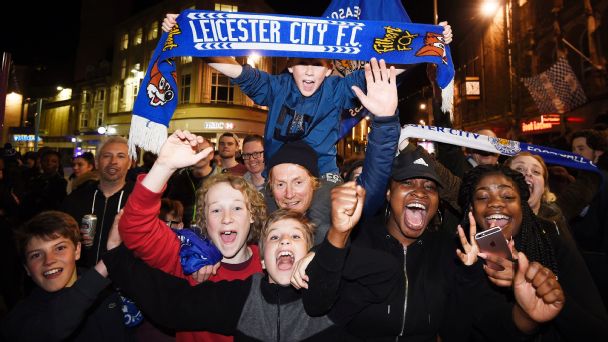 By Wright Thompson
They needed only two of those games, and so, on Monday night, when Tottenham threw away a 2-0 first-half lead and tied with Chelsea 2-2, it was done. Leicester City, in last place a year ago April, was the champion of the English Premier League. Fans left their homes and left the pubs where they'd been watching and started to converge on the center of town, blaring horns and waving at each other. Everything stopped. One group looked around for the celebration, finding the streets mostly empty at first.
"Solemn, this is," one said.
Then they heard it, a vibration almost at first, then a noise, roaring, coming from somewhere in the distance. This was the release they'd been chasing for the past few months, once they realized that the season was for real, and that a title might actually wait at the end of the road. They stopped and tried to figure out where the noise was coming from, as it echoed off the narrow streets surrounding the clock tower. A Japanese cameraman appeared around a corner, and the Leicester fans rushed toward him.
---
How Kris Jenkins' 3 Happened
NCAA national championship, April 4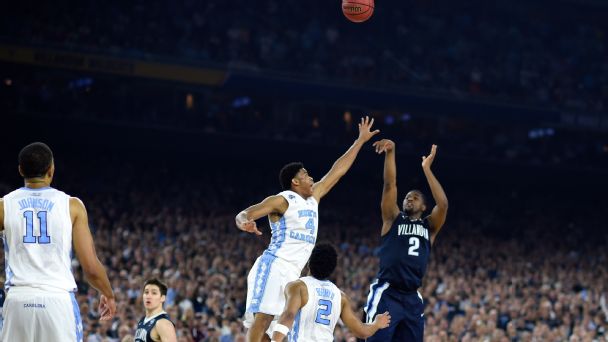 By Dana O'Neil
And time paused, if it didn't stop altogether, as nearly 150,000 eyeballs inside the building turned to the basket as the ball flicked off Jenkins' fingertips and headed on its trajectory toward the rim.
... "I knew it was good. I knew it was in before the red light went off,'' said Villanova team chaplain Father Rob Hagan, who at Mass earlier in the day spoke about the vines and the branches and how they must stay connected to bear fruit.
"He takes those shots all the time and sometimes I want to kill him,'' Jay Wright said. "But sometimes he makes them too.''