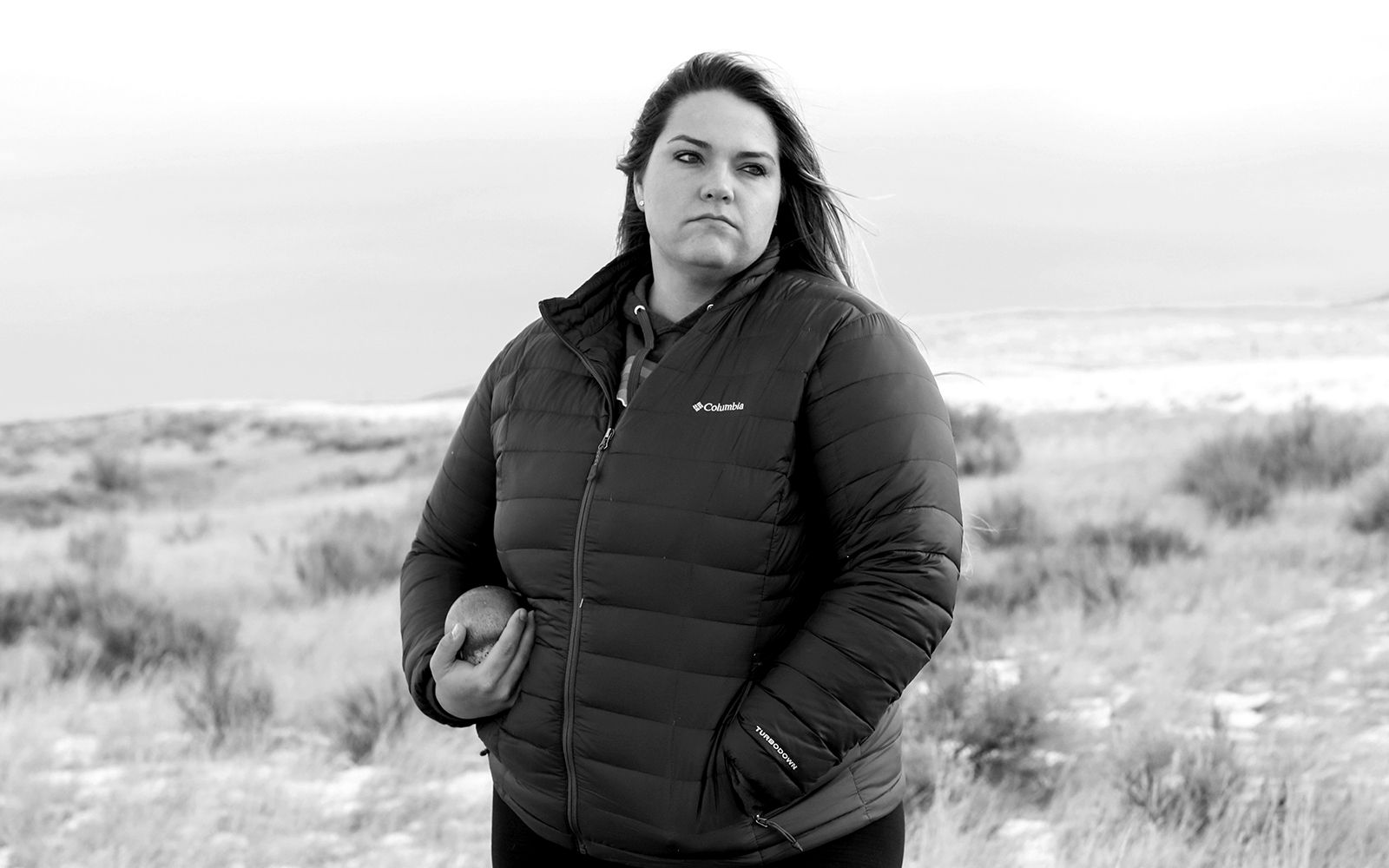 Track & Fear
The pair had been meeting secretly for sex for nearly three years. The coach says it was consensual. The athlete says he was blackmailing and abusing her.
A University of Arizona coach threatened one of his athletes with blackmail, violence and death. Could the school have stopped him?
WARNING: THIS STORY CONTAINS EXPLICIT LANGUAGE AND IMAGES.
---
"I don't care if I kill you and then kill myself. I don't care."
Craig Carter
Craig Carter would not stop threatening Baillie Gibson: over email, over text and over the phone. He threatened to rape her, and he threatened to kill her. "If the cops are called it won't matter," he'd texted her. "I will pull my gun on them so they kill me but not before I let every f---ing person that you know what you have done to me."
On the morning of April 21, 2015, Carter parked his car outside Gibson's house.
For nearly three years, Carter, a track coach at the University of Arizona, and Gibson, one of his athletes, had met secretly for sex -- inside Carter's school office, in the Wildcats' track and field team room and while traveling in team hotels. Gibson, who competed in discus and throwing events, says that Carter forced her into the relationship with blackmail and threats. Carter, a married father of four who is now 49 years old, says everything was consensual. University of Arizona policy clearly forbids coach-athlete relationships of any kind, but despite receiving early warnings that Carter and Gibson might have been engaged in one, school officials had done little to investigate.
As Carter pulled up to her house, Gibson had particular reason for fear. A day earlier, she had gone to his office to try to end things. But the conversation quickly turned violent -- Gibson had managed to escape her 6-foot, 270-pound coach, but now he was back.
Carter approached the house and knocked hard on the door. Gibson's roommate, best friend and fellow thrower, Julie Labonte, remembers him looking through the windows, trying to see through the blinds.
Gibson and Labonte say they ran into a bathroom and locked the door. Gibson recalls grabbing a hammer for protection, the only thing she could think of. "He was texting me, 'I'm waiting for you to leave,'" she says. "And he's banging on the door."
---
"He says, 'I'll treat her like she was my daughter.'"
BERNIE GIBSON, BAILLIE'S FATHER
From the time Baillie Gibson picked up a shot put and discus in her freshman year at Natrona County High School in Casper, Wyoming, she was hooked on throwing. The youngest of Bernie and Billie Jo Gibson's three children, Gibson set state records in the shot put and discus as a freshman, which she surpassed each year she was in high school.
Stepping into the throwing ring gave her an emotional high, a sense of control she never experienced in team sports. "You're talking about a girl that when practice is over, it wasn't over for her. She'd stay, and she'd throw, and she'd throw, and she'd throw. It was her life, and she loved it," Billie Jo Gibson says.
In the fall of 2009, her senior year, Carter visited Casper to recruit Gibson. He was a former standout thrower himself, inducted by Utah State into its athletics hall of fame. When Fred Harvey, Arizona's head track and field coach, hired him as an assistant three years earlier, he'd told the student newspaper that it was largely because Carter, a devout Mormon, was deeply committed to family life and embraced a positive coaching style.
Gibson's parents were quickly won over. "He says, 'I'll treat her like she was my daughter. I won't let anything happen to her,'" Bernie Gibson recalls. On her recruiting visit, Baillie fell in love with the desert campus.
As a college freshman in Tucson, Gibson flourished under Carter, earning All-America honors in 2011 and setting the school's freshman record in the discus. She dreamed of making the U.S. Olympic team someday -- a realistic goal.
Carter enjoyed success of his own. In June of that season, he was named the national women's assistant coach of the year by USA Track & Field, largely because of his successful recruitment of elite throwers.
In Gibson's sophomore season, though, she struggled through injuries and ended up red-shirting. She also started to notice a change in her coach. "He stopped coaching," Gibson says. "He got meaner, more aggressive too."
Carter suffers from depression, according to court documents later filed by his lawyers. In future conversations with Gibson, he would say that the illness, or failing to take his medication, caused changes in his behavior.
Labonte says Carter's mood could suddenly swing from "completely fine" to "totally angry." She says it was commonplace for Carter to make sexually inappropriate comments to his athletes. She recalls him, for instance, injecting himself into a conversation some of the women on the team were having about sex toys. "It was very awkward," Labonte says. "He would make other sexual comments."
Labonte, who represented Canada at the 2012 London Olympics, says she helped organize a meeting between the throwers and their coaches, Carter and Harvey.
In the meeting, Labonte recalls, Carter broke down in tears as he explained to his throwers that he simply wanted to be involved in their personal lives so that he could be a father figure to them. He pledged to change, which Labonte says satisfied Harvey. The head coach declined to comment for this story.
Within weeks, according to Gibson and Labonte, Carter reverted to his old behavior.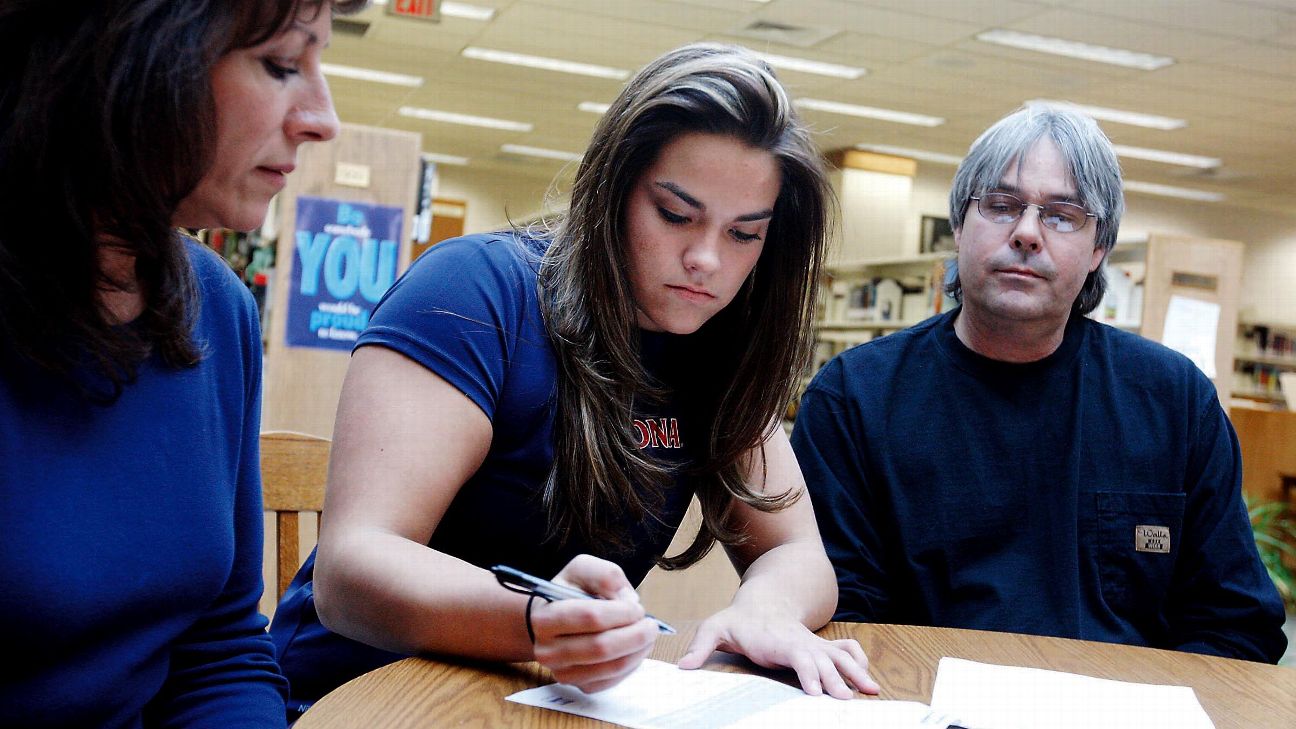 ---
"He was the person in charge. He crossed the line."
BILLIE JO GIBSON, BAILLIE'S MOTHER
In June 2012, after her disappointing and injury-filled sophomore season, Gibson competed at the U.S. track and field Olympic trials in Eugene, Oregon. She finished 12th in the discus and ninth in the shot put.
On their last night in Eugene, Gibson and her teammates attended a house party, where she drank heavily. Gibson says Carter had always instructed team members to contact him if they had been drinking and needed a ride, so Gibson, 20 years old at the time, called him for a lift back to the hotel.
"I remember getting in the car, and then I don't remember really what else happened," Gibson says.
The next morning, Gibson says Carter showed her pictures he had taken on his phone of her naked and engaging in sexual acts with him in his car.
"I wanted to throw up," Gibson says. "How could I do that? How does he have that?"
Gibson says Carter threatened to send the photos to her mother and father and post them on the internet. He also threatened her physically, she says, unless she submitted to his future sexual demands.
"He was going to post all of the pictures online so everyone could see what a whore I was," Gibson says. "He just said that I would lose my scholarship and I would have all these pictures out and it was going to be bad if I said anything."
When reached on the phone by Outside the Lines, Carter said he "100 percent" denied that he sexually assaulted Gibson. He also denied blackmailing her. Carter said that what happened that night was consensual and, in court documents, has insisted that Gibson initiated it.
"It's gonna be amazing when all this comes out, because they got all the forensic stuff off my phone, and the conversation about us hooking up that night is all on the phone," Carter told Outside the Lines.
Regardless of how it all started, the sexual encounters continued. Carter and Gibson would meet secretly dozens of times, including in the coach's office.
Sheldon Blockburger, who served as the combined events and jumps coach at Arizona from 2005 to 2015, shared an office wall with Carter. Now at USC, he says he never suspected what was going on.
"Even if she was [consenting], we all know if you have contact with any person on your team, male or female, you're gonna get fired," Blockburger says. "You gotta do the right thing."
Roughly a month after the incident in Oregon, Gibson says, she tried to tell Carter that she'd no longer submit to his sexual advances. She says Carter responded by once again threatening to send the photos that he'd taken of her that night in Eugene to her family. More physical threats also followed.
Feeling trapped, Gibson says, she continued to meet Carter for sex.
---
"He took away my college years. He took everything away from me."
BAILLIE GIBSON
As the sexual encounters with Carter continued into her junior year, Gibson says her coach's treatment of her in practice changed even more. Labonte also couldn't help but notice.
"Baillie would tell me, 'OK, I'm not allowed to talk or smile today. Don't joke around too much because he's not going to be happy,'" Labonte says.
"There's days I couldn't practice, because he'd be mad at me because I wouldn't meet up with him," Gibson says. "I couldn't laugh, I couldn't smile, I couldn't do anything with the other athletes. I couldn't be me."
The NCAA considers the power differential between college coaches and their athletes so great that the organization has said there should never be sexual or romantic relationships between them. In April 2012, just a few months before the night of the party in Eugene, the NCAA published a model policy on the issue, intended as a template for schools to adopt. According to the policy, even consensual coach-athlete relationships "constitute sexual abuse."
"There's no balance of power, there's power one way, which is the coach has all the power and the athlete does not," says Nancy Hogshead-Makar, a 1984 Olympic gold medalist in swimming and the CEO of Champion Women, a nonprofit that provides legal advocacy for girls and women in sport. "He has her scholarship, her ability to continue her education."
While Carter certainly held power over Gibson, he contends it was limited: "I had no control over her scholarship whatsoever," he says. "I'm an assistant coach. Coach Harvey is the head coach, and he makes those calls."
"They're portraying me to be this guy that raped this girl for three years, when all along it was consensual. ... If it was rape and it wasn't consensual ... then why is there over 40 to 50 pornographic pictures and over 50 pornographic videos that she has sent me?"
Gibson's lawyer acknowledges that her client did send sexually explicit messages to Carter, though she contends that it was not as many as he says. The lawyer says it was a way for Gibson to satisfy her coach, in hopes that she would not have to meet him for sex.
While Outside the Lines has not seen all of these messages, it has reviewed court records of dozens of other texts and emails that Gibson sent Carter. The messages often contained affectionate language:
"I love you and want you and if you can't trust that then whatever I don't know what else you want me to [do]."
"I am sorry your so down. But tomorrow we will see each other and we can make it all better! I love you. I do. Our relationship is hard."
"I am saying I don't want to be done ... I want you."
"I don't want to end this with you I love you."
---
"Coach, we need to speak to you about some troubling information ..."
LEGAL DOCUMENT ADVISING UNIVERSITY OF ARIZONA AD GREG BYRNE ON HOW TO ADDRESS CRAIG CARTER
One day in the fall of 2013, during Gibson's fourth year at Arizona, a member of the Arizona track and field administrative staff knocked on Carter's locked office door. She grew suspicious when Carter was slow to unlock it and then finally appeared, in disheveled clothing.
The staff member saw Gibson sitting on the couch inside Carter's office.
The incident is described in court records, filed by Carter's attorney and obtained by Outside the Lines. The staffer never responded to requests for comment.
According to the court documents, that was not the only time the staff member suspected that Gibson and Carter had sex. She eventually told the University of Arizona's Office of Institutional Equity that "she had observed facts indicative of Craig Carter and [Gibson] having sexual intercourse in Carter's office at the McKale Center on at least three occasions."
On Nov. 5, 2013, Carter was called into a meeting with Arizona athletic director Greg Byrne to discuss what had been reported. The head coach, Fred Harvey, also attended the meeting, Carter says.
Prior to that meeting, according to court records, Byrne sought the advice of university attorneys. In a memo, they advised the AD to say the following to Carter:
"Coach, we need to speak to you about some troubling information we have received that relates to you. ... We have received reports of information that may indicate you are having or had a romantic or sexual relationship with a student athlete on the team."
The memo to Byrne was included among the court documents, and though some of it is redacted, it is possible to make out his handwritten notes from the meeting. In one margin, Byrne scribbled the name "Baillie Gibson."
Arizona's policy on relationships between a coach and a student-athlete was clear:
"No University employee shall engage in a romantic or sexual relationship with a student who is enrolled in that employee's course, or whom the employee supervises or whose work s/he evaluates. ... Violation of this policy by an employee is misconduct subject to disciplinary action, up to and including discharge or termination."
With his job on the line, according to documents, Carter denied having any sort of sexual relationship with Gibson. Byrne wrote in his notes that the coach said that Gibson simply "comes to him for support."
Later, in the same meeting, Byrne was instructed by university lawyers to ask Carter:
"What will Baillie tell us if we talk to her about what you have said?"
According to Byrne's notes, Carter responded, "I can imagine people speculating because we have been alone together, talked a lot, I'm not denying that." For those at the meeting, that response appears not to have raised any further serious questions. In November of 2013, nobody from the University of Arizona ever spoke in person with Baillie Gibson about a suspected inappropriate relationship with Carter. Not Greg Byrne. Not Fred Harvey. Not anybody from the athletic department.
Instead, on the same day that Byrne met with Carter, the school's Office of Institutional Equity, responsible for investigating Title IX issues, emailed Gibson:
"Our office has received a report from a concerned individual that you may be, or may have been involved in a personal relationship with an employee of the University. The individual who made the report to OIE did so out of respect and concern for you in the event any relationship you may have (or had) is not welcomed by you."
Email from SevaPriya Barrier, Assistant Director, Office of Institutional Equity, sent to Baillie Gibson on Tuesday, Nov. 5, 2013
But Gibson never replied to the email. Shortly after Carter's meeting with Byrne, she says, her coach warned her against talking to anyone. "He had told me that someone had talked to him, and that if I said anything, if they ever called me in or anything, he would kill me," she says.
The Office of Institutional Equity followed up with a second email 10 days later, on Nov. 15. Once again, Gibson did not reply.
The university should have done far more to reach out to Gibson, Hogshead-Makar says. "There should have been an investigation for the benefit of her," she says. "Not only talking to her, but asking [Carter] for his phone, determining what type of communication they had with one another. An investigation is more than just: 'Well, did you do it? No? Well, OK.' Their job is not to protect the coach. It's their job to protect her."
"The failure of them to talk to her at all, it goes against common sense," says Scott Lewis, a partner with the National Center for Higher Education Risk Management, a legal and consulting firm that specializes in Title IX cases involving sexual assault and harassment. "I think it certainly speaks to a lack of thoroughness."
When asked about his meeting with Byrne and what other investigative steps the University of Arizona took in November 2013, Carter told Outside the Lines: "I have no idea. All I know is after that conversation, that was the last I heard about it."
---
"I honestly thought he was going to kill me that day."
BAILLIE GIBSON
In early 2014, Gibson says she went to Harvey in tears to request a transfer. In their meeting, Gibson says she did not tell her head coach the full story about Carter -- only that she butted heads with him. But because of her injuries, transfer options never materialized, according to her attorney.
As Gibson made her way through the next school year, her fifth and final at Arizona, she continued to struggle on the field. The Olympics no longer were in the picture.
In April 2015, having kept a dark secret for nearly three years, Gibson finally broke down in tears and told Labonte all that had happened. She showed her roommate some of Carter's text messages and emails.
"I was in shock. I was so mad." Labonte says. "I lived with her, and I didn't see those signs."
With her time at Arizona coming to an end, Gibson decided to confront Carter to tell him it was over.
On April 20, around 5 p.m., Labonte waited outside the McKale Center on Arizona's campus while Gibson went in to confront Carter in his office. Several minutes passed.
"I had that feeling that something was going really wrong," Labonte says.
According to an account Gibson later gave to police, she explained to Carter that she'd soon be leaving Tucson and that she never loved him. She told him his threats were the only reason she'd been involved with him. That's when Carter reached inside a bag near his desk and pulled out a box cutter.
"He jumped up and he grabbed my shirt and I pulled and then he pulled the front end like where my bra and like upper shirt was, pulled it and then like put me on the couch. Put his hands around my neck, or his hand around my neck and then the razor blade was in his right hand because he was facing me, but in his right hand and he said, 'I should just cut your face up and cut your eyes so that no one can see those pretty eyes.' And he was choking me but I was like, I felt my head was like filling with blood. And it was like, it was starting where I couldn't breathe and then he like let go and then he kind of collapsed on my side and like started crying."
Excerpt from Baillie Gibson's interview with University of Arizona Police on May 1, 2015
Gibson tried to leave while the coach was crying beside her, but he was able to block her path, according to her account. Carter then told her he couldn't live without her and raised the box cutter to his own neck. "I'm going to kill myself, and you're going to watch it," he said, according to Gibson's statement.
Eventually, he lowered the box cutter. Then, according to Gibson's statement, he noticed the time -- 6:30 p.m. -- and told her he had to leave. He did not want to be late getting home to his wife.
As Gibson walked out, she says he told her, "You better not say a word."
Carter acknowledged to Outside the Lines that he physically assaulted Gibson and threatened to cut her face with a box cutter that day in his office.
"I'm in a lot of trouble," Carter says. "I never touched her in my life, until that day ... There's no excuse to do that, there's really no excuse. But I was told, you know, a lot of things for three years ... and you don't know that she got in my face and was pushing me and saying, 'Hit me! Hit me! Hit me!'"
Gibson denies provoking her coach that day. "I was on the couch the entire time. I didn't ever push him," she says.
When she finally emerged from the McKale Center, Gibson told Labonte what had just happened. But she wasn't yet ready to go to police. She says she felt unsafe and didn't know how quickly, or even whether, they would arrest Carter.
The next morning, April 21, Carter showed up outside Gibson and Labonte's house. The two teammates recall huddling together in the bathroom, terrified.
"We were both shaking, shaking like immensely, and crying," Gibson says.
Phone records show that Carter sent a flurry of texts and voicemails when he was outside the home. In one voicemail he said, "It's a good thing your house is locked up good and tight."
"I just remember being so terrified. I thought he was going to come in and just shoot us or something," Labonte says. After more than 30 minutes, Labonte and Gibson say, Carter finally gave up and left the house.
In the hours after his visit, Carter continued to send Gibson threatening messages, including one with a picture of him with what appeared to be the barrel of a gun in his mouth. Carter would later claim it was a pipe, though the accompanying text read: "Well after sitting there for 20 min I d8dnr have the balls to pull the trigger. You win."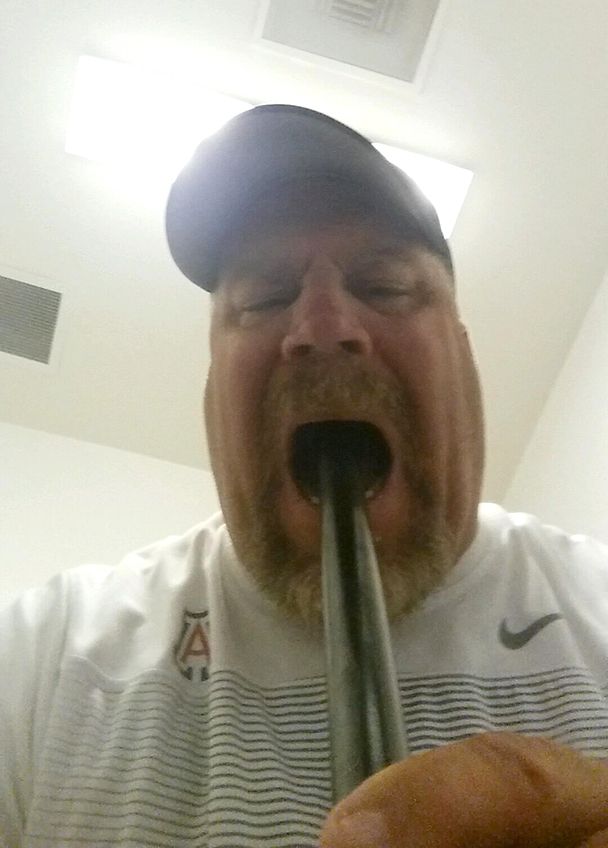 The frequent texts and emails continued in the following days. On April 24, Carter left a voicemail telling Gibson that he was going to anonymously send CDs with sexual photos and videos of her to family and friends. Other times, he threatened to anonymously post them on Facebook. "I think I had about eight, eight or nine pictures. And uh, six videos if I remember. All burnt off, getting ready to ship 'em out," he said on the voicemail. "You wanted to go get ugly. And, it's going to get ugly."
Two days later, at Labonte's urging, Gibson recorded more than an hour of a phone call with Carter. During the conversation, he threatened Gibson, her family and Labonte. The recording is now in the hands of police.
The coach continued trying to persuade Gibson to meet him in person. Fearing for her safety, Gibson borrowed a gun from her cousin for protection, according to her lawyer. She still wasn't ready to go to police, but she also did not want to leave campus. Despite the threats and violence, Gibson says, she was determined to finish her degree and graduate the next month.
In one of his messages, Carter let Gibson know that he had scouted out her class locations.
"I saw you today when Julie picked you up. I was watching you. I'm like a mountain lion, who stalks his pray before he kills."
Email from Craig Carter to Baillie Gibson sent on Monday, April 27, 2015, at 7:01 p.m.
"Once again you had a chance to bring this to a close but chose to be a f---ing stupid b---- like always... You know I got thinking I'm not going to hurt you, I going to hurt your mom, but before I do, I'm going to f--- her and tell her all about us while she is tied up. See, I'm going to take something away from you that means a lot like you did to me."
Email from Craig Carter to Baillie Gibson sent on Monday, April 27, at 10:17 p.m.
"Hey you f---ing c---, what's it going to be. I going to f--- you up so bad and then blow my head off. You will look so bad when I'm done with you but still be alive so you have to suffer everyday like I am or would. I will cut your face up.... Be ready, have your gun ready because your going to need it."
Email from Craig Carter to Baillie Gibson sent on Wednesday, April 29, at 1:26 p.m.
On April 29, shortly after 3 p.m., Carter was waiting for Gibson again, this time outside one of her classes in McClelland Hall. It was the first time he'd seen her in person since the physical assault in his office, nine days earlier.
"He like grabbed my arm, and I like pulled it away. And then he said, 'You've f---ed up, you've really f---ed up,'" Gibson later told police.
LeAnne Shoemaker, the manager on the track and field team and another one of Gibson's roommates, was with Gibson that day inside McClelland Hall. By then, Shoemaker also knew about Carter's violent threats and his attack on Gibson.
In a letter filed as part of a court case, Shoemaker describes being "numb with fear" as she saw Carter approach and grab Gibson.
When another concerned student called 911, Carter left the building.
Minutes later, Carter emailed Gibson from his phone. The subject line of the email simply read: "You just dug your grave."
A few hours later, Carter emailed Gibson again from his University of Arizona email account, telling her in part, "If I get a phone call from Coach Harvey because Leanne said something or you told them what was going on then I will blow me f---ing head off."
In Shoemaker's letter to the court, she said she went home from class "terrified that [Carter's] car would be at my house." Shoemaker wrote that the next day she told Harvey, the head coach, about what had happened. "He kept repeating 'Oh my god LeAnne. Oh my god.' He told me to stay away from campus for a while until he called me to say that it was safe," Shoemaker wrote.
It is unclear what other actions Harvey took to address the situation.
---
"I can't do this anymore! I'm telling everything."
EMAIL FROM BAILLIE GIBSON TO CRAIG CARTER ON APRIL 30 at 8:44 A.M.
After the incident outside the classroom, Gibson flew to Las Vegas to meet her mother at a relative's house. It had been nine days since Carter attacked her in his office, but she still hadn't spoken to police, she says, because she didn't feel safe doing so while in Tucson.
Once in Las Vegas, she told her mother the details about what had happened.
On May 1, Gibson spoke at length for the first time with a detective from the University of Arizona Police Department. Over the phone from Las Vegas, she described in detail the sexual encounters with Carter, the threats, the box cutter incident.
Carter was arrested and booked into the Pima County jail that same day. He admitted to police that he had pulled the box cutter on Gibson.
Less than two weeks later, Carter was indicted by a grand jury on four felony counts, including aggravated assault with a deadly weapon and stalking. He eventually posted a $40,000 bond and was released after two weeks. He was ordered to have no contact with Gibson.
Gibson's roommates, Labonte and Shoemaker, sought and received protective orders of their own against Carter. In August 2015, Carter was accused of violating his order with Labonte by reaching out to her via Facebook and Skype, which led to four additional felony charges of aggravated harassment.
In November 2015, under the name "Jane Doe," Gibson filed a civil lawsuit against Carter, AD Greg Byrne, head coach Fred Harvey, the University of Arizona and its board of regents and the state of Arizona. The lawsuit alleges that the university, coaches and top athletic officials failed to protect Gibson from "acts of rape, assault, inappropriate sexual conduct and abuse."
"Her cherished athletic career and dreams of competing in the Olympics have been shattered," the lawsuit states. Though Carter's arrest made local headlines, this account is the first time Gibson has revealed her identity.
In February 2016, Carter responded to Gibson's lawsuit by countersuing both Gibson and her Tucson-based attorney, Lynne Cadigan. Carter's countersuit contends that he was publicly defamed by Cadigan and that he and Gibson had a consensual affair. It states:
"Jane Doe initiated, instigated, and actively, aggressively, and enthusiastically pursued her sexual relationship with Craig Carter with reckless disregard of what she knew to be the near certainty that it would destroy his career and/or severely damage or destroy his relationship with the members of his family."
As of April 27 of this year, $335,463.92 in Arizona taxpayer money has been used to pay for Carter's civil defense, according to billing records filed with the Arizona Department of Administration. Because Carter was a state employee at the time of the alleged assault and harassment, the state must pay for his representation.
A representative of the state agency says no state money has been used to pay the legal fees for Carter's countersuit.
Carter's attorney in the civil cases, John Munger, is a former member of the University of Arizona board of regents. Munger declined to comment about either case to Outside the Lines, as did Dan Cooper, the Tucson-based defense attorney handling Carter's criminal case.
Outside the Lines requested interviews with multiple University of Arizona employees, including Harvey and Erika Barnes, the senior associate athletics director and the NCAA-designated senior woman administrator. Gibson even signed a privacy release, enabling school officials to speak about her and provide documents related to her situation. Still, the school denied those requests and declined to provide evidence of any investigation. Instead, it issued a prepared statement:
"As soon as the student athlete informed us of Carter's actions, we immediately turned that information over to law enforcement and suspended him. University staff then worked with the student and her advocate on accommodations for her education and well-being. Based on the information it received, the athletics department began the termination process against Carter, who resigned his position during that process.
"The UA athletics staff were shocked and horrified when they were informed of Carter's actions towards a valued member of the Track and Field family. The University and the athletics department condemn his behavior and the impact it had on the student."
Chris Sigurdson, vice president of communications, University of Arizona
---
"I still look over my shoulder."
Baillie Gibson

Baillie Gibson returned to Arizona to finish her degree, marching in graduation. She feared the whole time, though, that Carter was in the crowd.
Moving on from the ordeal has been difficult for her. But for the officials responsible for overseeing Carter and Gibson, there has been no apparent fallout.
Fred Harvey remains in his position as the University of Arizona's track and field head coach.
Greg Byrne, the Arizona athletic director who met with Carter about his relationship with Gibson, has since moved on from the school. In January, he took one of the most sought-after jobs in all of college sports: athletic director at the University of Alabama. Through an Alabama representative, Byrne declined to comment for this story.
Craig Carter, who remains with his wife, recently told Outside the Lines that he had been working a $10-an-hour sales job. He's awaiting his criminal trial, set to start on Aug. 1. If convicted on all counts, he could receive a maximum sentence of 29 1/2 years in prison.
Gibson is now back in her hometown of Casper, Wyoming, where she has enjoyed a relative degree of anonymity. She understands that will change once stories are published identifying her.
She says her experience with Carter robbed her of her love for throwing, her sense of personal security and much more. "I still look over my shoulder. I still see a car that he had, even here in Wyoming, and I think it's him and my heart stops," she says. "It's been almost two years now, and he still can roam around and do whatever he wants, and it's not OK. I mean, how am I ever going to feel like I'm safe if justice isn't done? He took away my life. He took away my college years. He took everything away from me."
For more, stream the full episode of Outside the Lines on
WatchESPN
. Parental discretion is advised.