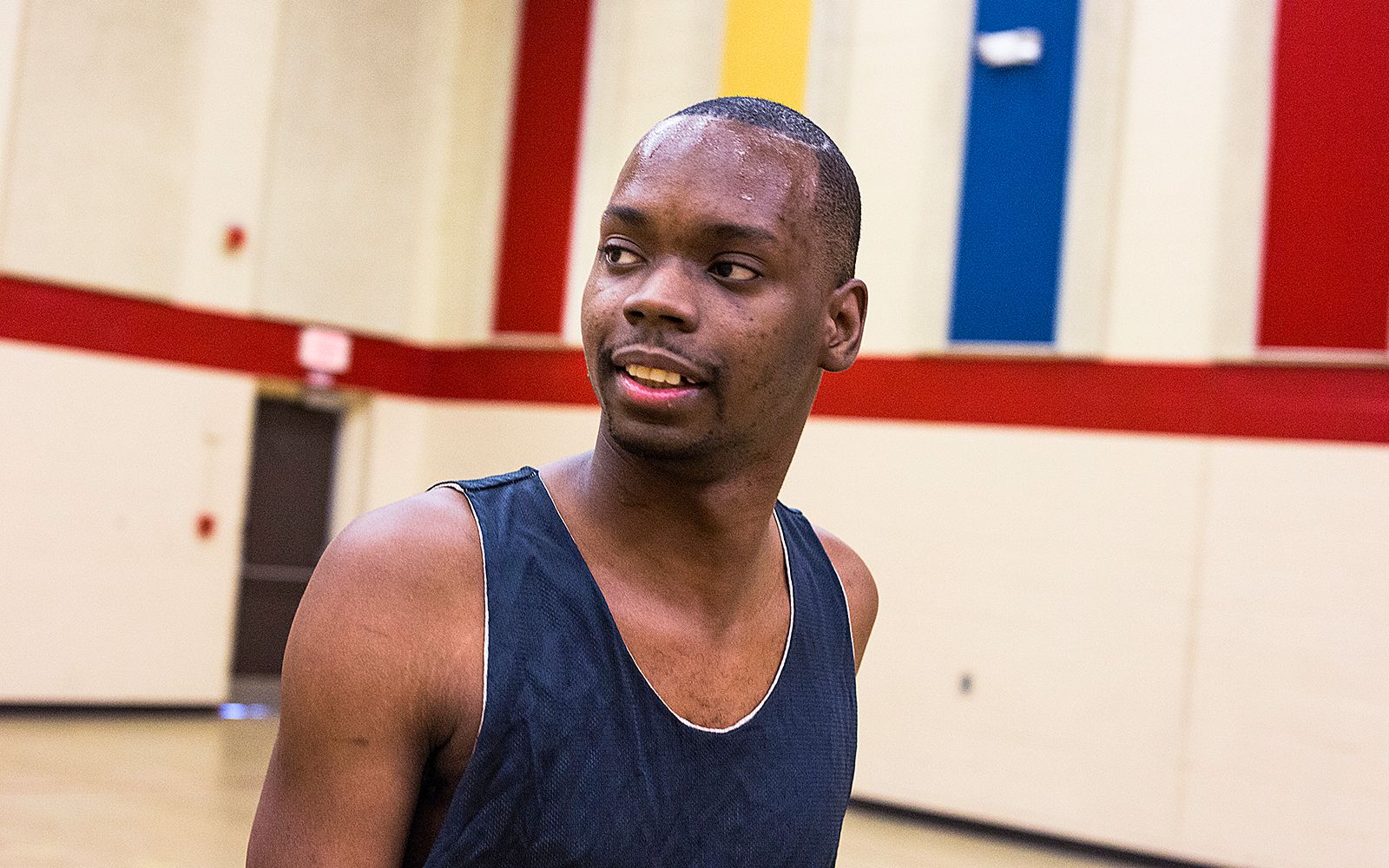 'I Run Like a Cheetah'
The friends of Special Olympics snowshoer Nick Hilton also compare him to an Energizer Bunny, and with a track record of winning lots of gold in his sport, he has earned those nicknames.
The snow could be too wet or too icy. A strap might come loose, or the back shoe could overlap the front shoe. There might be something under the snow that could trip you up. The person next to you might drift into your path.
There are lots of reasons a snowshoer could fall, so it's essential to know how to get back up. And Nick Hilton is very good at getting back up.
He's also very good at sprinting through the snow. The 24-year-old from Lansing, Michigan, will be one of approximately 2,700 athletes from 106 nations who will compete in the Special Olympics World Winter Games in Austria (March 18-24). He is a snowshoe racer, and his events are the 200 meters, 400 meters and 4x100-meter relay. He rarely loses, but even if he does this time around, Hilton has already won.
"I'm goin' to Austria, baby," he says. "I'm representin' the USA and Lansing."
He's also representing the family, teachers and coaches who saw the gifts that others might have overlooked. "I've known Nick for a really long time," says Anne Goudie, director of special education athletics for the Lansing school district and one of his teachers at the Beekman Center, which serves students with intellectual and emotional challenges. "He's very spirited. Around school, he's known as an Energizer Bunny. But he's also very endearing and kind and conscientious of his other fellow students. He's always the first one who wants to lend a hand."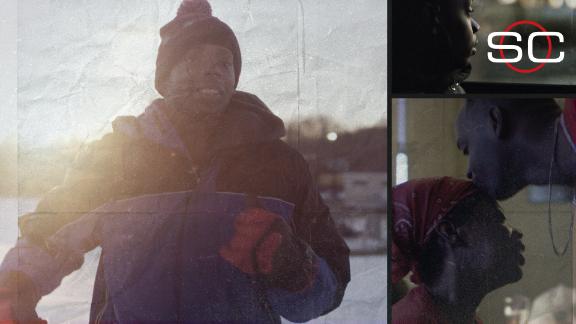 That spirit -- and his long legs -- have helped him become an exceptional snowshoer. Introduced to the sport in 2010, the 5-foot-11 Hilton has won more than his share of gold medals in the Special Olympics. "One of my friends back home says I run like a cheetah," he says.
There was a time, though, when the idea of Nick running at all seemed impossible. He was just 3 pounds, 12 ounces, when he was born prematurely in 1992. His mother, Ola Mae Hilton, says, "I thought he was gonna die, you know? But he was a little fighter. The doctor said he came out fighting, his fists all balled up."
He was diagnosed with attention deficit hyperactivity disorder early in life. He was a handful for Ola Mae, a single mother who worked nights as a custodian at a hospital while raising Nick and his older brother, Marcus. She still remembers the time she used a laundry basket filled with clothes to fence in Nick, and he crawled over to it and emptied all the clothes. "The doctor did say he was going to be a special little kid," she says.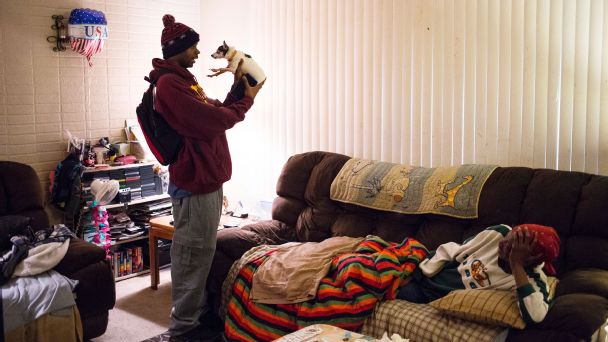 As Nick grew older, his learning disabilities became more apparent. But Lansing has an educational program for children with special needs, and he was given medication to help with the ADHD. Ola Mae still worried, though, about the social challenges Nick faced. "He just wanted to have friends, you know? And they was turnin' him away, being mean to him. It just hurt my feelings. But Nickolas, it didn't bother him. He'd just climb a tree. I mean -- he can climb a tree."
His athleticism was apparent in every sport he played: basketball, poly hockey (which is floor hockey played with a doughnut-shaped puck), taekwondo, bowling, bocce, swimming, track. He was full of surprises, and not just athletic ones. When Nick was in his early teens and he and his mother were living alone, Ola Mae suffered the first of two heart attacks at home. "Nick was there," Ola Mae recalls. "I thought he was gonna panic. I thought he wouldn't know what to do. But he got on the phone, called 911 right away and told the people the address and everything. And he called my sister. He called my son. For a moment, I forgot about my heart attack -- it's gonna make my cry. I'm just grateful. He saved his mother's life."
But that was only fitting since she has sacrificed so much for him. As Goudie says: "When she comes home, he's getting ready to leave for school. And when he comes home, she's getting ready to leave for her job. But they make it work. They may have only a few hours a day together, but when they are together, they connect, and they touch base."
So how does a young man raised in the inner city -- someone who idolizes John Cena and Stephen Curry, who loves Grand Theft Auto -- become a natural in a sport meant for the woodsy set?
Well, one winter day in 2010, Paul MacDowell, one of Nick's teachers at Everett High School, took Nick to the Grand Traverse Resort to learn snowshoeing. "We were both learning, actually," MacDowell says. "Special Olympics coaches taught us the rudiments of the sport, and Nick took to it like a fish to water, although that's not quite the right metaphor.
"He is a terrific athlete who doesn't like to lose, and at first he would literally run right out of his shoes. But once he got the hang of it, there was no stopping him. And year after year, we would go to the state Special Olympics up there in Traverse City. And he would come home with gold medals."
Last February, after another strong performance in the state Winter Games, Nick was named an alternate to the U.S. team headed to Austria. But because of state and sport allocations, Nick was still considered an alternate when the Beekman Center resumed school. So he would check in with Goudie daily to see whether he had made the team. "Usually within the first hour," she says. "He'd ask, 'I don't want anyone to get sick, but did someone get sick yet?'"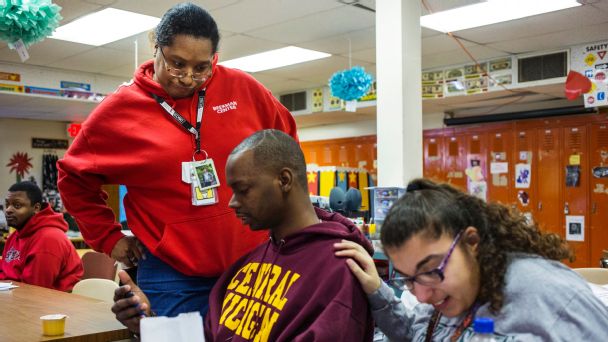 Finally, in November, word came that Nick had made the team. So Goudie convened a pep rally at Beekman, during which she announced that Nick would be representing the school in Austria -- but not before going to Killington, Vermont, to train with the team. "I've never been on a plane before," said Nick, wearing a Beekman Bobcats T-shirt. "So I might get nervous." He also promised to bring home a gold medal from Austria.
The moment brought tremendous pride to Beekman, its students and its teachers. "I get so much joy from working with all the Special Olympics [athletes]," MacDowell says. "But with Nick, there's a little extra. He's such a good athlete and such a good man. He's already won the gold as far as I'm concerned."
Going to Austria also meant getting a passport, but Ola Mae didn't have much documentation for Nick: His best proof of residency was a cable shutoff notice. So Goudie guided him through the process, and it "turned out to be a great learning experience for him," she says.
So was the trip to Killington. One of his coaches was from Colorado -- and appropriately named Aspen DeField. "I was struck by how much he wanted to win," she says. "But I was also impressed by how he adjusted to being out of his comfort zone. It was more than being in an unfamiliar place. He was being asked, for the first time in his life, to share a room with somebody he had only met two hours before. He's a rock star as far as I'm concerned."
Says Goudie: "When he got home, I asked him how was Vermont. And he's like, 'Miss Goudie, I could have stayed there forever.'"
Now he's off to the Austrian Alps. Traveling to the Games is no small expense, but fortunately, the Lansing community has a golf outing every year sponsored by longtime state Attorney General Frank Kelley, former Michigan State football coach George Perles and former ambassador to Italy Peter Secchia. The last one raised the $15,000 necessary to send Nick and cross-country skier Leslie Venema to Austria.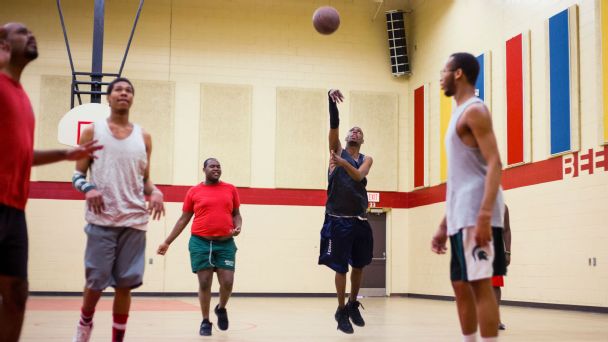 "I tell him every day how proud I am," Ola Mae says. "This is the first time anyone in our family has gone anywhere like this."
Because of the demands of her job and the travel costs, Ola Mae had never actually seen her "little superstar" compete in a snowshoe race. Not until ESPN sat mother and son down for interviews for a video piece to run during the Games. That's when Ola Mae saw footage of Nick winning a race.
"Wow, look at that," she said.
"Watch this, Mom," Nick said. "I think this is when I dove at the finish."
"Oh, my goodness."
And with that, she lovingly touched Nick on the head.
Ola Mae won't be going to Austria; she has to work and needs to take care of Nick's dog, Poncho. She will be able to watch highlight shows from the Special Olympics on ABC and ESPN2, of course. But that doesn't really matter.
She and Nick have always been there for each other.
Wulf is a senior writer for ESPN The Magazine and ESPN.com. Before coming to ESPN in 1997 as one of the founding editors of The Magazine, he wrote for Sports Illustrated, Time and Entertainment Weekly.