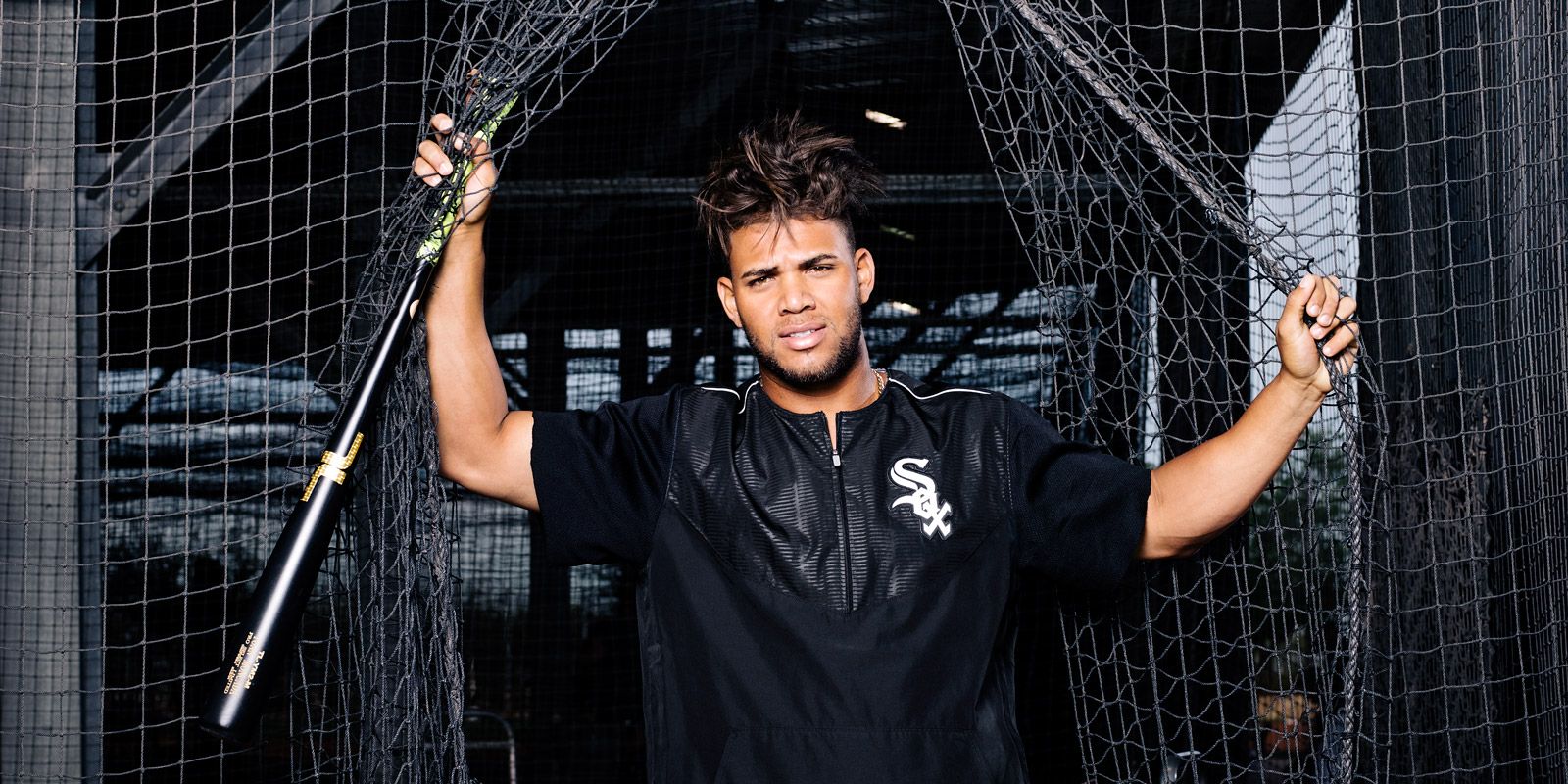 "You Sure You're Ready for This?"
At 19, Cuban slugger Yoan Moncada became the highest paid prospect in MLB history. But two years later, he's still acting like a kid.
This story is also posted in Spanish. It appears in ESPN The Magazine's April 10 MLB Preview Issue. Subscribe today!
Alex Vega has built his auto business in Miami fulfilling outlandish demands from the rich and famous, but one day in the winter of 2015 he got a call from a client with a request Vega could hardly fathom.
"Ten cars?" Vega remembers asking the caller, trying to suppress his disbelief. "You want to start out with 10 customized cars?"
On the other end of the line was Yoan Moncada, an entirely unproven teenager who was also the highest-paid 19-year-old in the history of baseball. He had been in the country for a handful of months, and he had yet to play a major league game in the United States. His last means of transportation had been his older sibling's hand-me-down bicycle, which he had pedaled 3 miles each day down a dirt road to a baseball stadium on the southern coast of Cuba. Now he planned to drive his new fleet of cars under his baseball agent's insurance policy.
Moncada told Vega he wanted to begin by purchasing and customizing a BMW i8, then a Lamborghini Huracan and a BMW X6 -- more than $500,000 in all. Moncada said he wanted the luxury cars souped-up and ready for spring training. Then he made one last request: He asked that each car be stamped with a personalized logo of his initials.
"Are you sure you're ready for all this?" Vega asked him.
It is the same question many in baseball now pose to Moncada, whose talent has developed with a hyperspeed that's forced the rest of his life to catch up. In less than two years, he's moved from Cuba to Ecuador to Guatemala to the United States. At 19, the switch-hitting second baseman shattered MLB's record international signing bonus, earning a $31.5 million payday -- four times more than what he could have earned as the first pick in the MLB draft. "New family, new language, new friends, new life, new rules," Moncada says now through a translator. "I knew I wanted to come here to play baseball, but I never thought about dealing with all of this."
Moncada begins this season with yet another transition, this time to the White Sox, who traded pitcher Chris Sale to the Red Sox in December for Moncada and a few other prospects. Moncada will start the year in Triple-A, but by making the trade, the White Sox staked their future on a prospect who could still break either way. Moncada is the player the Red Sox trusted with $31.5 million but could never trust to show up on time for his mandatory English classes. He is a versatile defender with natural speed and a sculpted upper body, and yet his agent says Moncada has sometimes mowed through 85 Twinkies in a week. And, just months after he arrived in the U.S., he was on the phone with Vega, negotiating for cars even though he didn't have a driver's license.
Vega has worked on cars for rappers, NFL players and even Alex Ovechkin, the Capitals star who he hoped would open up the hockey market. But his biggest business is in baseball -- he estimates he's worked with about 300 players, most of whom had a desire to show the money they could burn. Mets star Yoenis Cespedes asked Vega for a different luxury car to drive each day of the week. Hanley Ramirez wanted a $550,000 Lamborghini that would literally spit fire from its exhaust. Yasiel Puig asked about a tricked-out helicopter that would get him to the stadium on time. Juan Uribe had come looking for a limousine van with a wraparound couch and two big-screen TVs.
"Usually, we come up with a bigger-than-life idea and then I make it happen," Vega says. But this time, with Moncada, Vega found himself as the rare salesman who had to become the realist. He told Moncada to save some of his bonus. He could do a few cars, he said, but not 10.
"It's a long career," Vega remembers saying. "I want to work with you for a long time. We'll get to 10 eventually, but not yet. You need to slow it down."
---
It was not advice Moncada was used to hearing, since his very arrival in the United States had always depended on urgency and vigilance. There are so many routes for a baseball player out of Cuba, and as Moncada matured into one of the island's top prospects playing for Cienfuegos, he spent his teenage years considering each possibility. He paid attention to the stories of Puig being detained by a Mexican drug cartel and Jose Fernandez jumping overboard to save his mother at sea. He knew about Aroldis Chapman defecting from the Cuban national team during a tournament in the Netherlands and about Jose Abreu eating his fake passport while on an airplane to Miami.
What all of those stories had taught Moncada was that he would leave Cuba only under one condition: "The legal way or not at all," he says. "I wanted it to be safe and simple."
And so began a journey that turned out to be every bit as complicated and unconventional as the rest. Moncada says he asked Cuba for permission to leave in 2013, but the government delayed its decision and stalled for more than eight months. During that time, Moncada fathered a child with an American woman who had once worked for baseball agents. (She would later deny that she played any role in helping him leave Cuba.) He also reconnected with an old Cuban friend, Carlos Mesa, who had played some minor league baseball in the United States. Mesa told Moncada that he knew someone who might be able to help.
Mesa spent a lot of time in St. Petersburg, Florida, at a nearby restaurant called Habana Cafe, a place popular among baseball players during spring training, and he had become friendly with the owner, Josefa Hastings. She was a former flight attendant who used her fluent Spanish and her Florida business connections to help a handful of Cuban baseball players navigate their new lives. She had come from Cuba herself at age 4 and had spent her career training and hiring Cuban waiters and cooks. "My main skill is that I understand how big the gap is between those two countries, and I know how easy it is to fall into that gap," she says.
Mesa asked her to help Moncada, and Hastings says she occasionally spoke with the prospect on the phone in Cuba to discuss the logistics of visa applications and paperwork. When Moncada finally procured his legal permission to leave Cuba, the only country that would give him a travel visa was Ecuador, so Hastings and Mesa flew to meet him in Quito, the capital city.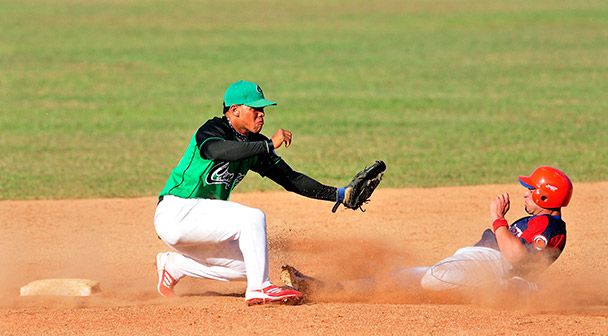 What Hastings knew about Moncada then came mostly from the whispers she overheard in her restaurant: a five-tool franchise player, a switch-hitter, a natural speedster with a power hitter's physique. Hastings arrived in Ecuador expecting to find a finished product. Instead she met a 19-year-old who could barely summon the composure to look her in the eyes.
"Here's a kid who had just left behind the only thing he had ever known, and he was like a dog with its tail between its legs," she says. "He was shy, skittish, lonely, confused. He was just so unbelievably scared."
Within days, news of Moncada's departure from Cuba had spread throughout the baseball world. "He was this shiny $50 million diamond that everyone was looking for," Hastings says, and so she and her husband, an accountant named David Hastings, hired a former police officer to live with Moncada in Quito. Moncada spent two months living and training there -- working out with Mesa on a youth soccer field, because there were no public baseball fields -- until he was granted another visa, this time to travel to Guatemala, where he could find better baseball facilities. He spent six months there, establishing residency so he could qualify to enter the majors as a free agent.
In November 2014, Josefa and David flew down to plan a showcase for Moncada. As soon as they announced the date and his location became public, Moncada's safety was in jeopardy. More than once, David says, including on the date of the event, cars chased him through the streets in kidnapping attempts.
As about 75 scouts made their way into the stands to watch Moncada, Josefa Hastings found him sitting in the dugout, stoic and alone. He hadn't faced live pitching or played in front of a crowd for nearly a year. Now a few hours of batting practice and timed running drills would determine the difference between tens of millions -- and whether he'd be able to leave behind this life, in which he'd grown accustomed to a state of constant fear.
In the dugout in Guatemala, Hastings sat down next to Moncada and tried to teach him an expression in English.
"Go big or go home," she said, but all he did was stare back at her blankly before walking out onto the field.
---
All 30 teams left Guatemala impressed: Moncada had explosive speed on the bases and the muscular build of an NFL linebacker. Some scouts compared him to Mike Trout. Others said they were reminded of Robinson Cano. He had the versatility to play anywhere in the infield, and he could hit for raw power from both sides of the plate. Best of all, unlike some Cuban players who didn't defect until their late 20s, Moncada had his entire prime ahead of him.
It had all the makings of an obvious bidding war in the open market of foreign free agency, and in the end it came down to the Yankees, Dodgers, Padres and Red Sox. Moncada came to the U.S. at the end of 2014 and moved in with Josefa and David. David, a CPA who'd never worked in baseball, became his agent and represented him in negotiations. The previous record signing bonus for an international amateur was $8.27 million. By late February, the Red Sox had increased their offer for Moncada to $31.5 million, and they had to pay another $31.5 million to the league for exceeding its spending limit for foreign signings.
"I feel totally exhausted," David said, standing in the family's St. Pete kitchen, once the deal was finally signed.
"I feel so rich!" Moncada responded.
It took him awhile to understand just how much money he had already earned. David explained that Moncada had just made the equivalent of 656,250 years of work, based on his $4 monthly salary playing for Cienfuegos. Still, when Moncada got his first check, the total was much less than what he'd been expecting, and he came to David in a rage, convinced he'd been robbed. "He didn't really know about the concept of taxes," David says. "I had to print out a pay stub and show him why it was 35 percent less than he thought."
Even at 65 percent, Moncada had money to spend on drones, video games, toys and clothes. He sometimes spent $1,500 or more during nights out, David says. After he purchased the second $200,000 car, Josefa tried to talk some sense into him. "You are being an idiot, just wasting all this money," she told him. "What are you even thinking?"
"Go big or go home," he told her with a smile.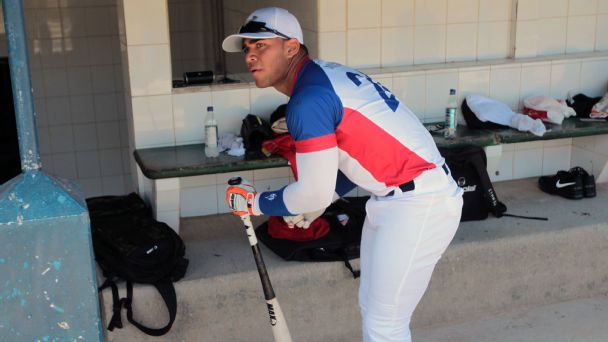 "They are like my American parents," Moncada says of Josefa and David, and to them it sometimes felt as if they were raising a moody teenager. They called Moncada "the kid," and often he could be sweet and endearing, staying up late to video-chat with his family in Cuba. But he could also be stubborn and frustrating. David let him drive his 10-year-old Toyota Sienna, and Moncada sped away so fast he "practically got that car up on two wheels," David says. Moncada discovered Twinkies at Wal-Mart and started consuming them by the box, sometimes eating more than 10 in a single sitting even as the Red Sox were trying to counsel him on diet and nutrition. When David took Moncada to the dentist in the winter of 2015 -- the first dental visit of Moncada's life -- he had about 15 cavities, David says.
And then there were the mornings when Moncada simply wouldn't wake up, which drove Josefa crazy. As a former flight attendant, she had been taught that being late meant losing her job. "You aren't worth $31 million to anybody just staying all day in bed," she would tell Moncada, and sometimes she would beat him with a pillow to get him out of bed for practice.
But once Moncada finally got to the ballpark, his coaches and teammates gushed about his willingness to work in the batting cage and field extra grounders. "The only place I'm comfortable is on the field, so I'm always going to stay as long as I can," he says. His progress was evident: He stole 94 bases in his first 187 minor league games and flashed enough power to rise quickly through Boston's system.
From extended spring training, to Class-A, to Class-A Advanced, to Double-A, every move brought another seismic cultural transition. He asked the Red Sox to sign Mesa to a $200,000 contract, and Mesa traveled and played with Moncada in the minor leagues. The two friends ate at Chipotle almost every day because Moncada had mastered the menu and he could reliably order in Spanish.
Whenever he moved to a new city, the Hastingses would go there first to find him an apartment, take care of any paperwork and deliver his cars. Then they would go back home to Florida and hope. "It's always just kind of, 'OK, good luck, fingers crossed,'" David says.
What David usually worried about most was Moncada's money: "I look at his bank account each morning to see if he's making big mistakes or little mistakes," David says.
What Josefa worried about most was his reputation: "If I was in his position, there would be no girls, no clubs, no cars," she says. "I would be either on the field or locked in my room. But that takes wisdom, and unfortunately that's something all of his money can't buy."
Between each of his frequent moves, Moncada would usually come back to Florida to see Josefa and David. He purchased a house on their street and spent afternoons sitting at Josefa's restaurant, where a gigantic map of the world hung on the wall. Sometimes, Moncada and Josefa would stand together under the map and she would point to where he was going next. "Hot or cold?" he would always ask, and then once in a while he would put his finger on the map and trace the distance between his new destination and Cuba.
---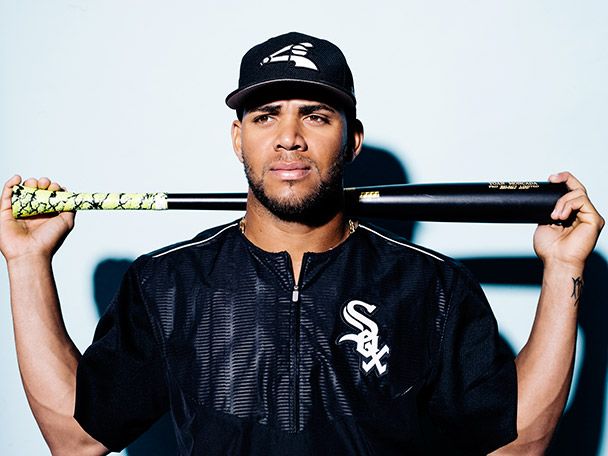 Then, in December Josefa was suddenly pointing him to Chicago, and at first Moncada was devastated. He had barely made it to the major leagues in Boston, playing during a handful of games with the Red Sox last September, but he had imagined spending his career there. In 25 years, no team had ever traded away the No. 1 prospect in baseball, and now Moncada and a few others had been swapped for Sale, an ace entering his prime. "It's fair to say that Yoan took it as a very personal rejection," David says.
But that first night after the trade, Moncada received a text message from one of his new teammates, All-Star first baseman Jose Abreu. The two men had once played together in the infield for Cienfuegos when Moncada was 17, and now over text messages Abreu told Moncada about the White Sox's deep Cuban tradition, having featured nearly 20 Cuban-born players, including Minnie Minoso, Orlando Hernandez, Jose Contreras and Alexei Ramirez. "This team gets it," Abreu texted that night.
Abreu believed Moncada was a future All-Star. Moncada, meanwhile, saw in Abreu a "mentor and friend whose example I can only hope to follow." Abreu had transitioned to life in the U.S. more quickly than almost any other Cuban player, defecting to Haiti by boat in 2013 and earning a spot in the MLB All-Star Game less than a year later. Like Moncada, he had been made instantly rich, with a $68 million contract that was the largest in White Sox history. Like Moncada, he had also spent some of that initial money buying luxury cars from Vega. "He's helping me navigate the game but most of all the culture," says Moncada, whose locker was side-by-side with Abreu's at spring training. "He's a few years ahead of me in that. I try to follow whatever he does."
Moncada will start this season in Triple-A Charlotte, with the potential to come up as early as April or May (though almost certainly not before a mid-April series against the Twins, allowing the White Sox to save a year of Moncada's service time). Throughout spring training, he showed off his power but also struck out in 14 of his first 41 at-bats and made a few routine errors at second base. And so he spent extra time with Abreu in the batting cages and worked to widen his fielding stance. In his final seven games in Arizona, he went 10-for-22 with four doubles, three home runs and 11 RBIs.
One night this spring, after most of the team had already left the facility, Moncada finished in the cage and walked alone to the team's parking lot, where one of Vega's cars was waiting. It was the BMW X6, with forged wheels and red-and-white trim. On the front of the hood was Moncada's personalized logo, an artful combination of his initials, which he had also recently inked onto his neck.
He had a body built for baseball and a car built for speed, and in both places his tattooed initials looked clean and natural. He started the car's ignition and zipped out of the parking lot, logo leading the way, even if it wasn't yet clear exactly what that logo would come to represent.
Saslow is a senior writer at ESPN The Magazine and a Pulitzer Prize-winning staff writer at The Washington Post.