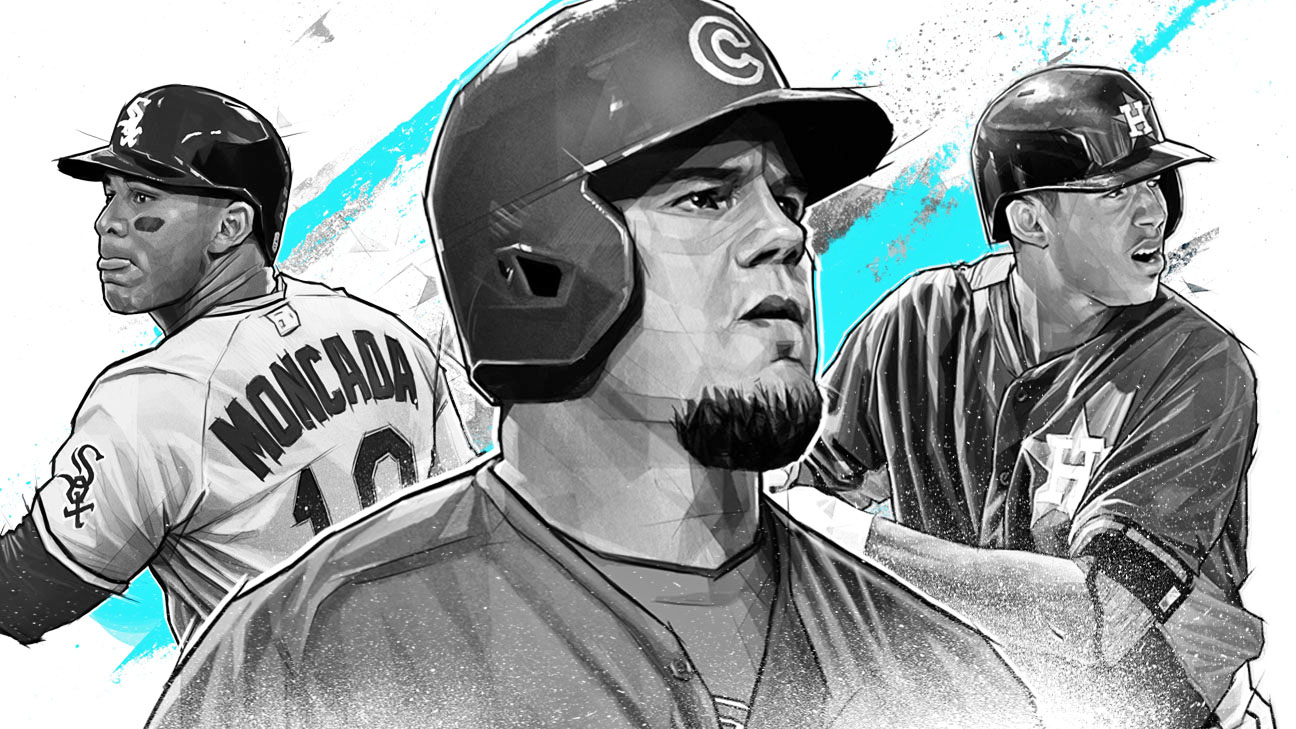 The new faces of baseball
Big Papi, A-Rod and Jeter have all retired. But if you liked those superstars, there's a new generation of players ready to take their place.
The new faces of Baseball
Sure, the days of Big Papi, A-Rod and Jeter are gone, but if you liked those superstars, there's a whole new generation of players ready to take their places.
If you liked
Derek Jeter ...
... You'll love
Francisco Lindor
Both Jeter and Lindor made their postseason debuts at 22, and both hit .300 in the regular season and the playoffs. But the big bonus with Lindor? That defense! He ranked second among AL shortstops last year with 17 defensive runs saved and has become an internet favorite while doing it. Jeter, on the other hand, compiled a minus-152 DRS over his final 12 seasons. Just speaking the truth, Yankees fans.
War in Age-22 season
If you liked
Alex Rodriguez ...
... You'll love
Carlos Correa
Correa and A-Rod are the only shortstops to hit 20 homers twice through their age-21 season. A-Rod started his career at short before moving to the hot corner, and Correa might soon do the same. He has compiled a 10.1 WAR in just two seasons; the only other shortstops with better numbers at this point in their careers were Rodriguez, Cardinals star Rogers Hornsby and Pirates legend Arky Vaughan.
War through Age-21 season
If you liked
David Ortiz ...
... You'll love
Kyle Schwarber
Ortiz put up numbers, but it was a larger-than-life personality to match his large frame that made Big Papi a baseball icon. Schwarber hasn't been around long enough to rack up eye-popping stats yet, but his World Series appearance alone shows that the "it" factor that propelled Ortiz to stardom in Boston has been passed along to Schwarber, who -- like Papi -- just so happened to enter the national stage as a key cog in a curse-breaking lineup.
Listed weight
If you liked
Bo Jackson ...
... You'll love
Yoan Moncada
No, Moncada doesn't have a Heisman Trophy sitting at home like Jackson did when he entered the majors. But take one look at his 6-foot-2, 205-pound frame and it's not hard to imagine he could hold his own on the football field, too. So what does the White Sox's next big thing have to do with Bo Jackson in his prime? In addition to their size, their games on the field appear to have similarities, too, with big raw power, speed and a healthy dose of swing-and-miss to go along with it. Even if the K's pile up, Moncada, who will start the year in the minors, should be electric to watch.
Slugging Percentage (Jackson in majors vs. Moncada in minors)
If you liked
Johan Santana ...
... You'll love
Julio Urias
Like Santana, Urias is a hard-throwing southpaw with a flair for off-speed stuff. In May, at just 19, he became the second teenager this century to start a game. And you have to love his attitude: He had multiple surgeries as a child to remove a benign mass on his left eye, which left him with a droopy eyelid. "That's how God works," Urias told the L.A. Times. "He gave me a bad left eye but a good left arm."
K/9 as a rookie