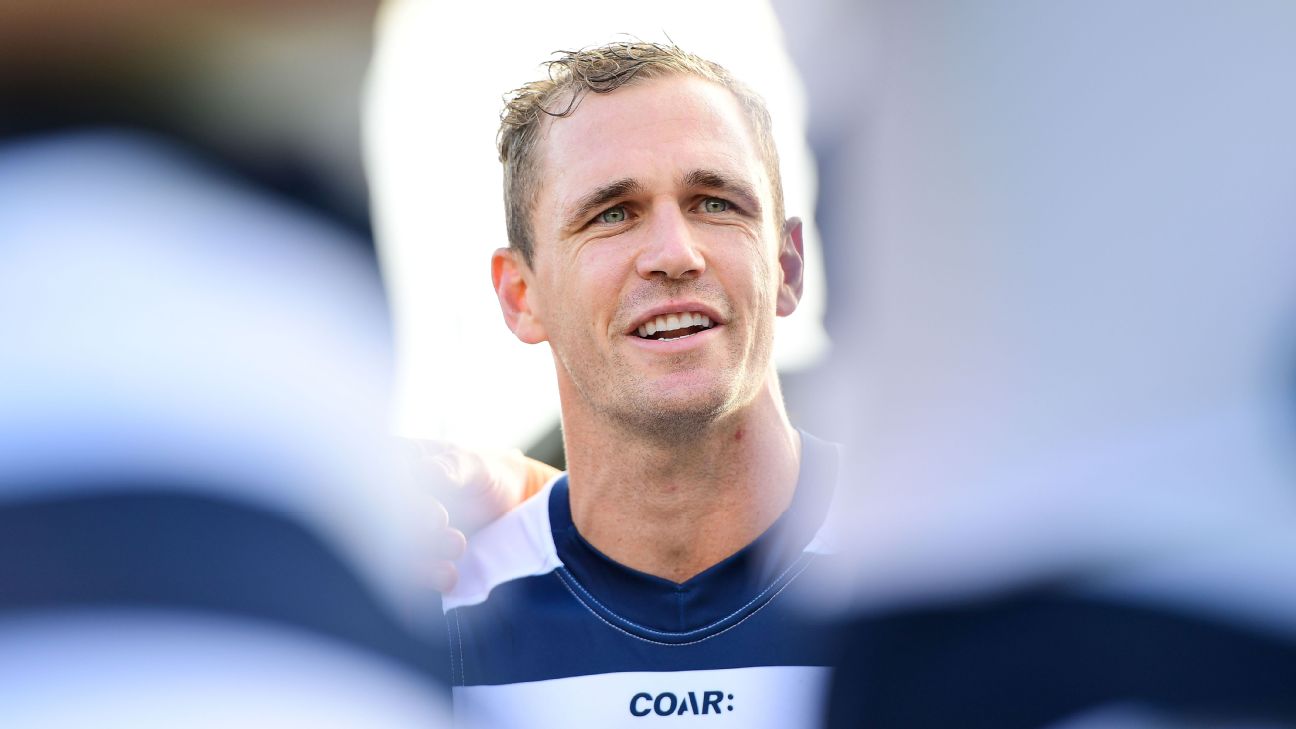 Footy Forensics: C'mon, umpire!
Umpires are easy targets for frustrated AFL fans. But stats can help us understand why some players and teams get the rub of the green.
Sydney fans were seeing red, St Kilda supporters had smoke coming out of their ears and Adelaide tragics were baffled on another weekend where AFL umpiring came under the spotlight.
All teams, playing interstate against the Western Bulldogs, West Coast and Hawthorn respectively, were on the end of lopsided free kick counts - with the Swans (18-31), Saints (8-23) and Crows (11-22) all getting the raw end of the pineapple.
It left many fans, coaches and experts wondering about the effect of hometown crowds influencing umpires' decision-making, especially when a team hosts an interstate rival. Statistics do show that home teams tend to win more free kicks than visitors, but not all sides benefit equally from this skew towards the locals.
In recent years, home teams have averaged around 1.5 to 2 more free kicks than their opponents each game. Last year, the average free kick differential between home and away teams hit 2.1 - the highest figure since the early 1990s. Strikingly, in the first two rounds of the 2017 season, home teams have averaged 3.6 more free kicks than their opponents, but it's too early to conclude much from that.
---
Free kicks in the AFL: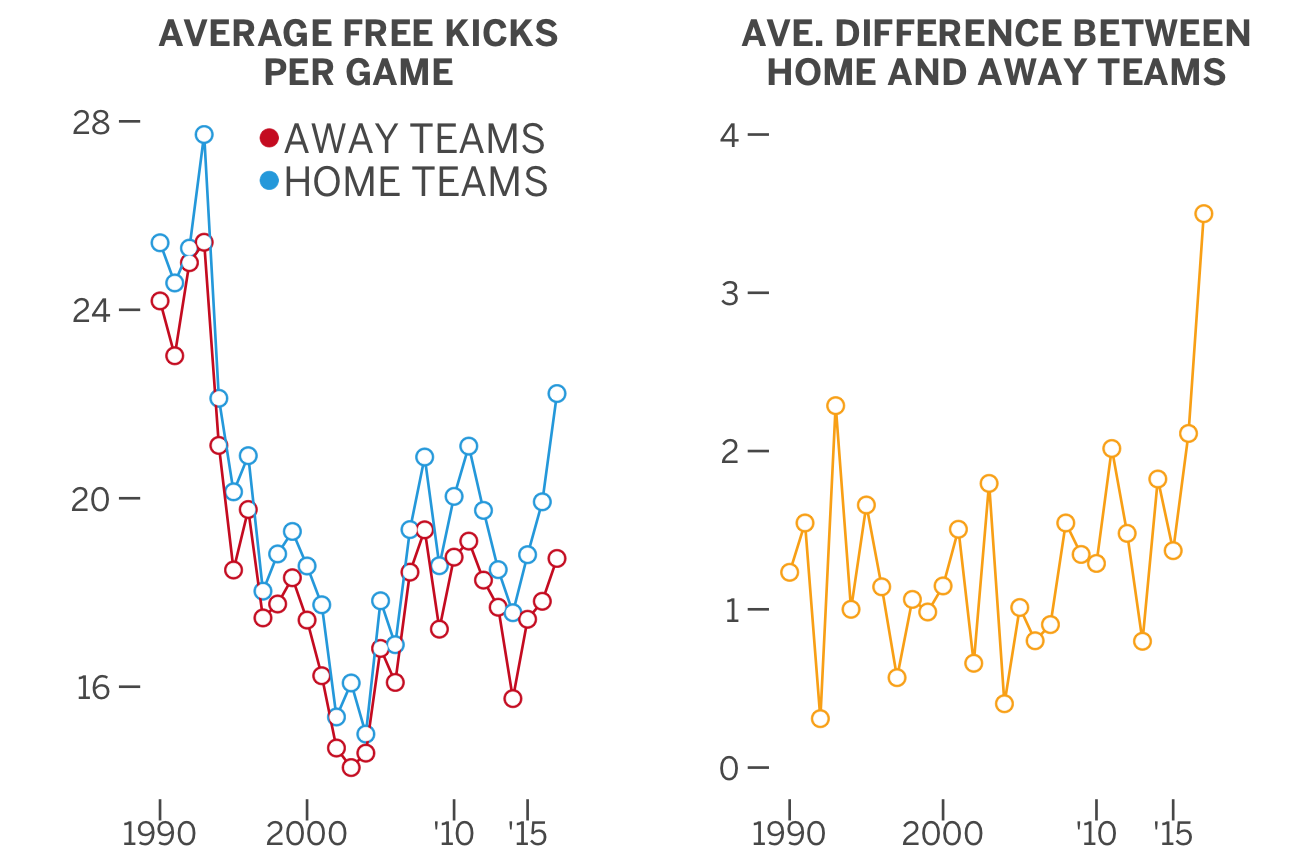 Home clubs tend to win the free kick count, but not all teams fare equally well with the umpires. West Coast have done particularly well over the years, securing an average of 4.4 more free kicks than their opponents when playing at home since 2000. The Bulldogs, too, have received a sizeable leg-up - they have averaged 2.8 net free kicks in their home games this century. But at the other end of the spectrum, the Hawks at home have tended to get slightly fewer free kicks than the away team, leaving them with a negative average net free kick count; the figures for Brisbane and Melbourne are also negligible.
---
Average net free kicks: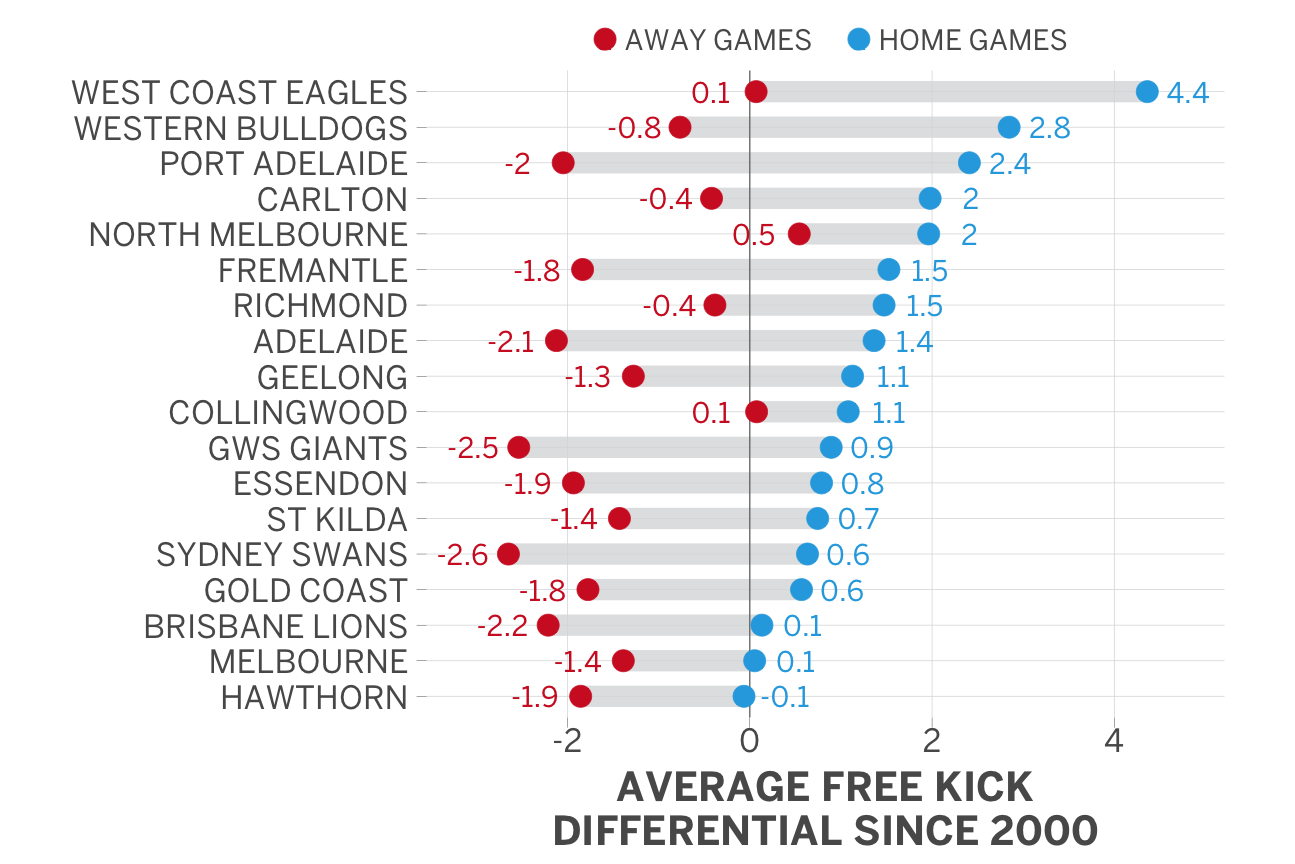 Of course, we shouldn't expect free kick counts to be even in individual games. A fairly adjudicated game isn't one in which both sides walk off the ground having received the same number of frees; it's one in which the umpires paid legitimate free kicks and didn't pay any that weren't there. But it's a little surprising that some teams seem to get such an advantage when it comes to free kicks, even when we average over the 16 and a bit seasons of this century.
So why do certain teams seem to do well on free kicks? One theory is that clubs win more free kicks because they're better teams. Maybe the Bulldogs and Eagles do well out of the umpires because they play quality, clean football.
But the problem with this is the net free kick count seems to have no relation to a club's quality. There's no relationship between the difference in teams' pre-game Elo ratings and the difference in the number of free kicks they receive in that game. Similarly, if we look at the Eagles and Bulldogs over the years, we see that there doesn't seem to be a relationship between the teams' quality and their average free kick differential when playing at home. The Eagles' best two years for free kicks this century were 2008 and 2010, both years in which they limped home to four wins. Their quality can't have been the reason for their large advantage in free kicks at home in those years.
Similarly, the Dogs had a better home free kick differential in 2003, when they won the wooden spoon, than they did in 2016, when they won the flag. Not only does the average free kick differential not have any relationship with the side's quality, but it doesn't seem to relate to the style of play, either; the Eagles of 2006 and 2016 were very different beasts, but their average net free kicks at home in each season were quite similar. If teams' style of play were a big factor, we'd expect to see outfits like the Eagles and Bulldogs maintain similarly large free kick differentials when they play away from home, but they don't.
---
Relationship between free kick differential and team quality: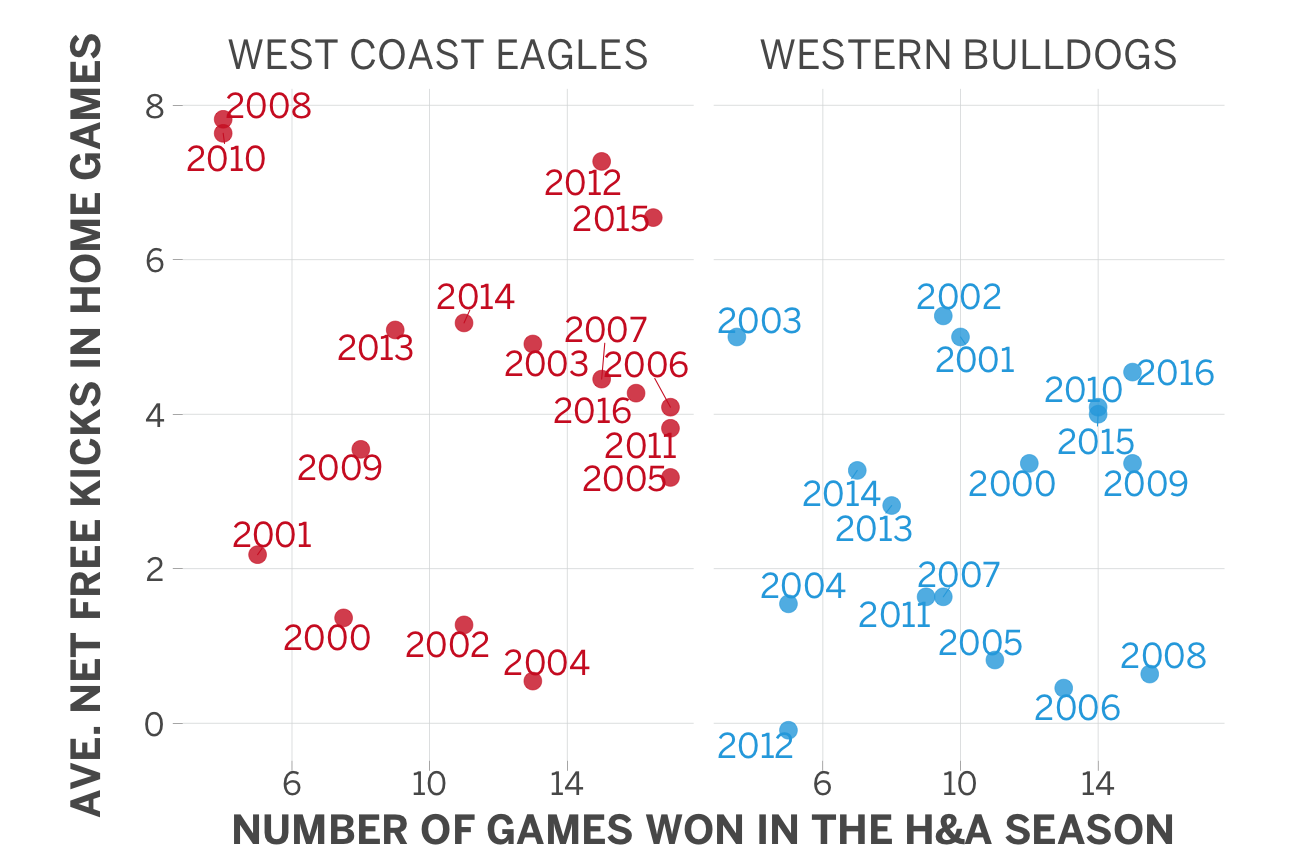 So the free kick differential doesn't seem to be all about quality teams doing well from the whistle. What else could it be? Another theory is that free kicks are all about being first to the ball. Win contested possessions, the theory goes, and you'll win free kicks. There is actually quite a bit to this theory, but it doesn't nearly explain all of the story when it comes to free kicks.
If we take a look at individual players, we can see that there is a relationship between how many contested possessions you accrue and how many free kicks you receive. On average, each extra contested possession that a player averages in his (we don't have AFLW data) career is associated with an extra 0.09 free kicks per game. If a player averages 10 contested possessions a game, he can expect to receive about 1.18 free kicks per game. But there's big variation in this figure - Joel Selwood, for example, averages 11.4 contested possessions a game, but comes away with an average of 2.64 free kicks each match, well above the average for a player who wins that amount of contested ball. Selwood gets a similar number of contested possessions each game as Trent Cotchin, but averages significantly more free kicks. Winning the contested ball generally wins you free kicks, but there's clearly a lot more going on.
---
Players' career average contested possessions and free kicks received: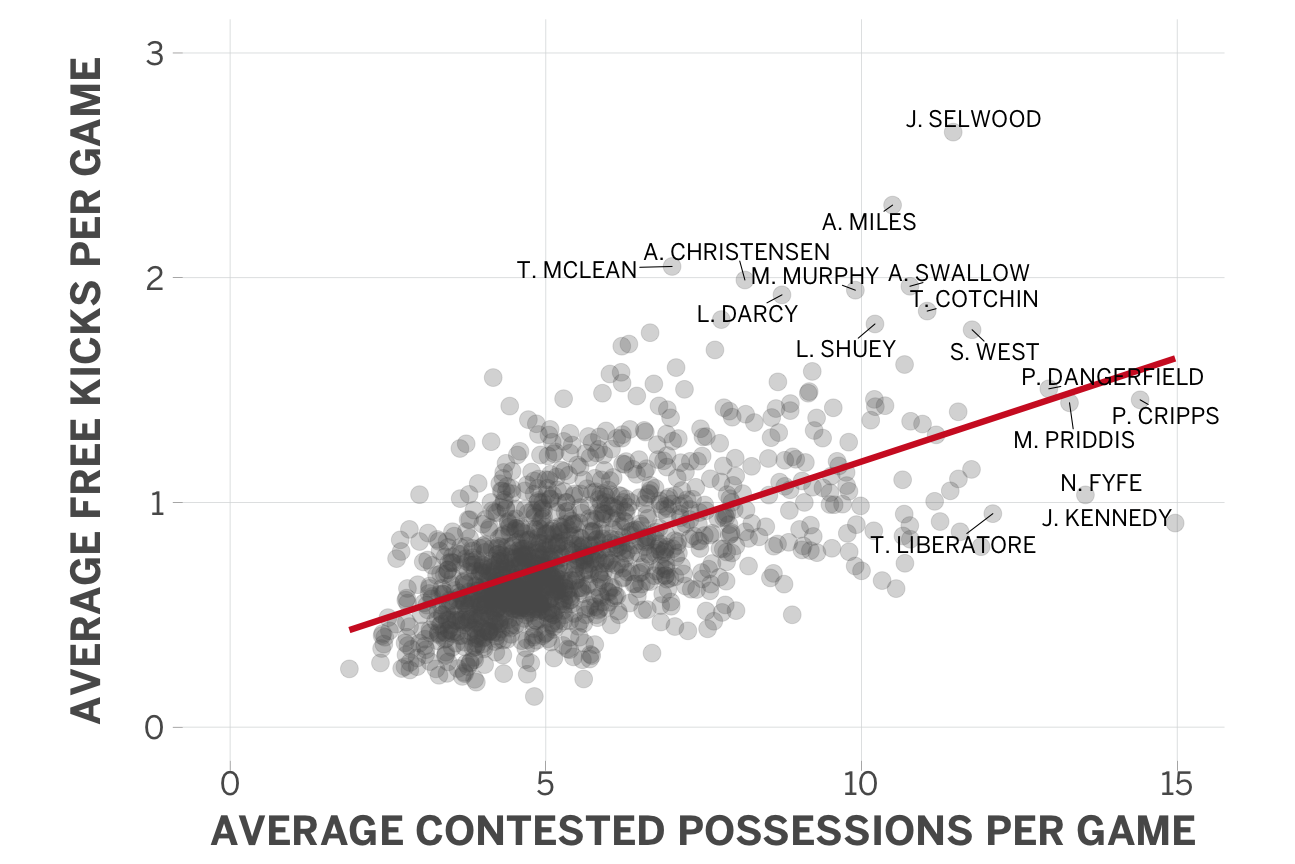 The story's similar when we look at teams, rather than players. The graph below shows the relationship between clubs' contested possession differential and the free kick differential; each dot is an individual game. You can see, looking at the red line, that the relationship between teams' contested possession differential and free kick differential is positive, but you can also see that the relationship is weak and noisy. In statistical terms, the contested possession differential only explains about 6 percent of the variation in net free kicks that home teams receive.
---
Relationship between home teams' free kick differential and contested possession differential in each game: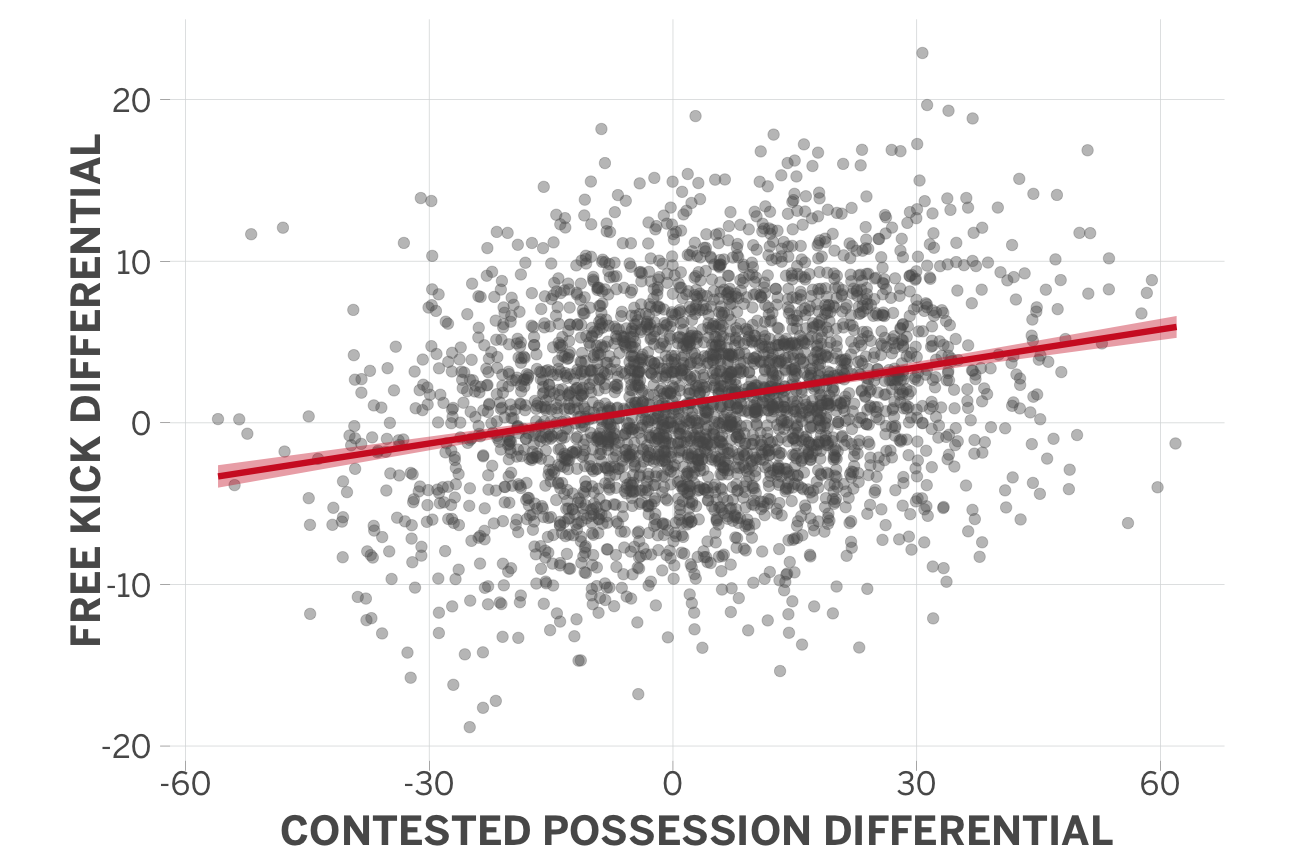 Free kicks don't just go to the better team. They also don't just go to the side that's first to the ball - the contested possession differential only goes a small part of the way towards explaining the net free kick count.
There's clearly a lot of other things going on. To try and figure out what else might contribute to explaining free kick differentials, we can build a simple model. Contested possessions aren't the only statistic that's correlated with winning more free kicks. Tackles, kicks, uncontested possessions, one percenters and contested marks also have a statistically significant relationship with free kicks. If we add these things to our free kicks model, as well as a variable indicating whether the away team is playing out of their home state, we can explain about 10 percent of the variation in net free kicks, quite a bit more than when we use contested possessions alone.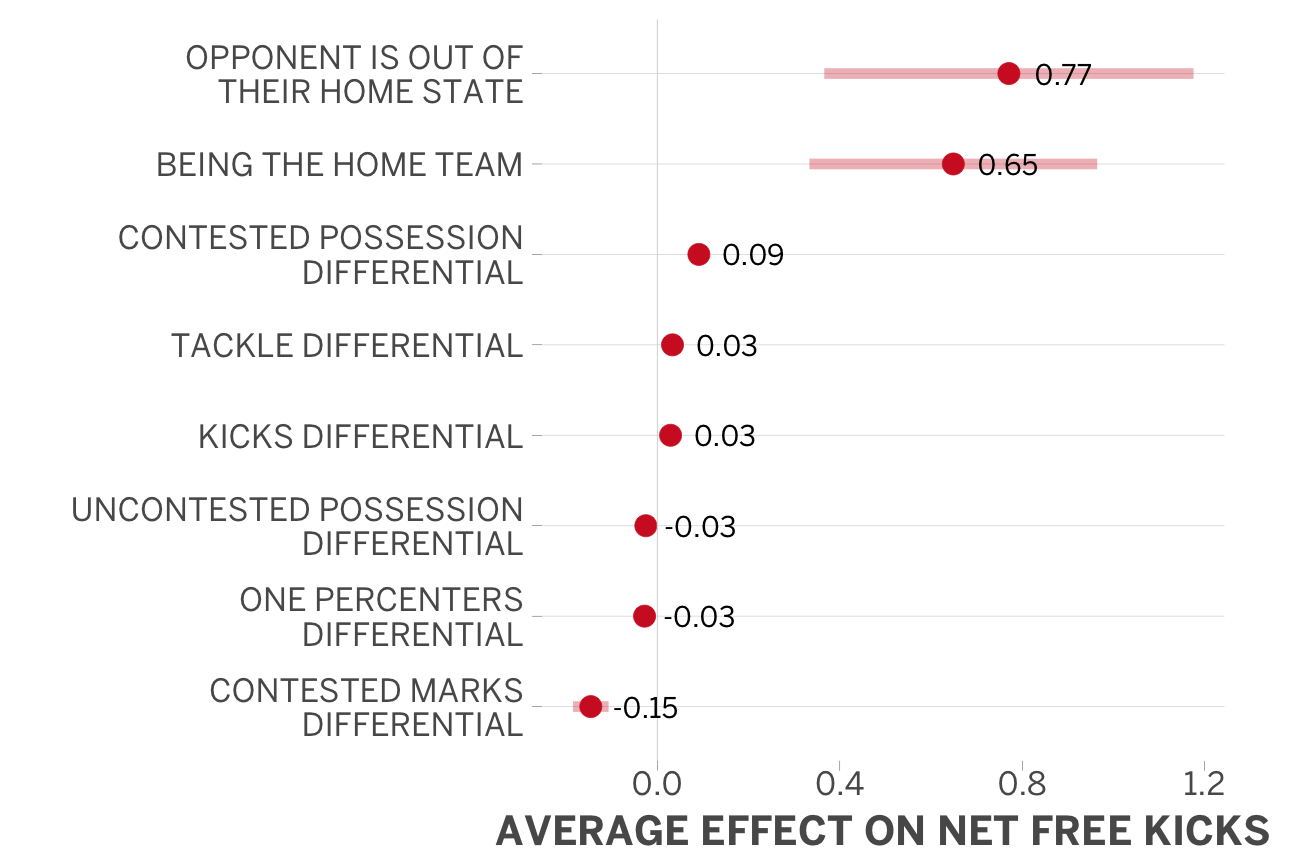 The graph above shows that a home side, on average, can expect to win the free kick count by 0.77, all other things being equal. If they're playing at home against a side that's travelled interstate, the expected free kick differential rises to 1.42. For each extra contested possession the home side gets over their opponents, the net free kick count rises by 0.09. Somewhat surprisingly, the relationship between net tackles and net free kicks is positive; if a team tackles their opponents one more time than they're tackled in return, this raises the expected free kick differential by 0.03.
So the way that teams play does have an effect on their free kick counts. But even after we take into account the contested possession differential, the differential in kicks, and other factors that have a relationship with free kicks, some teams' advantage persists. On average, the Eagles have received 2.3 more free kicks per game than the model predicts. Remember that the Eagles average 4.4 free kicks per game more than their opponents when playing at home; about half of that differential remains after we've controlled for contested possession differentials and all the other things in our model.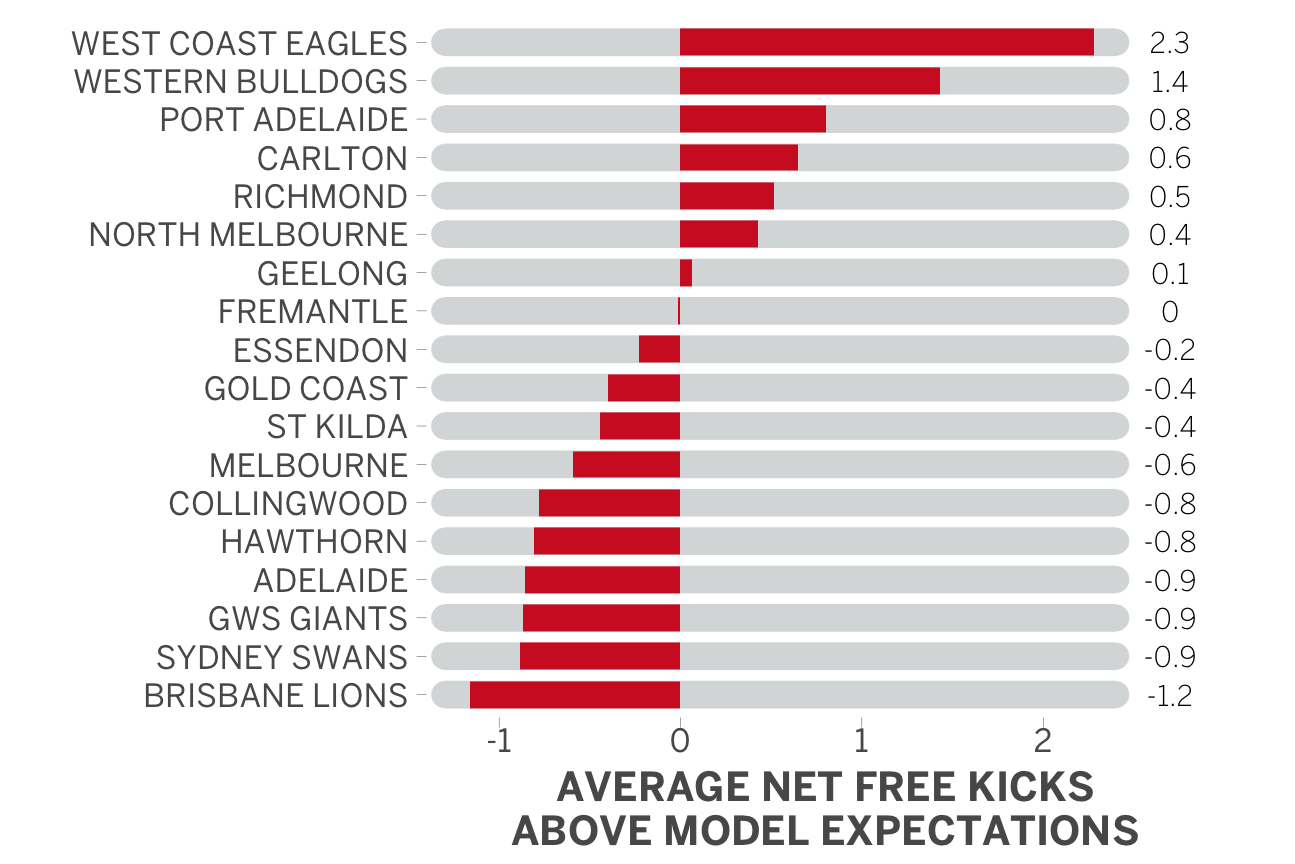 So why do the Eagles get so many free kicks at home, even after controlling for contested possessions and other factors? The perhaps obvious answer might be that the Eagles play in front of a near-sold-out, one-eyed crowd every time they take to the turf in Subiaco. West Coast's free kick advantage might stem from the effect - subconscious, I'm sure - that crowd noise has on the umpires' propensity to blow their whistles.
If this is what it boils down to, AFL football umpires are no different from their counterparts in other sports. A range of research over the years in sports from basketball to soccer suggests home crowds have a small but significant influence over umpires' behaviour, and this difference in umpiring is the main factor behind home-ground advantage. Footy's home-ground advantage is around the middle of the pack when it comes to professional sports; the home side wins about 58 percent of the time.
---
Games won by the home team (percent):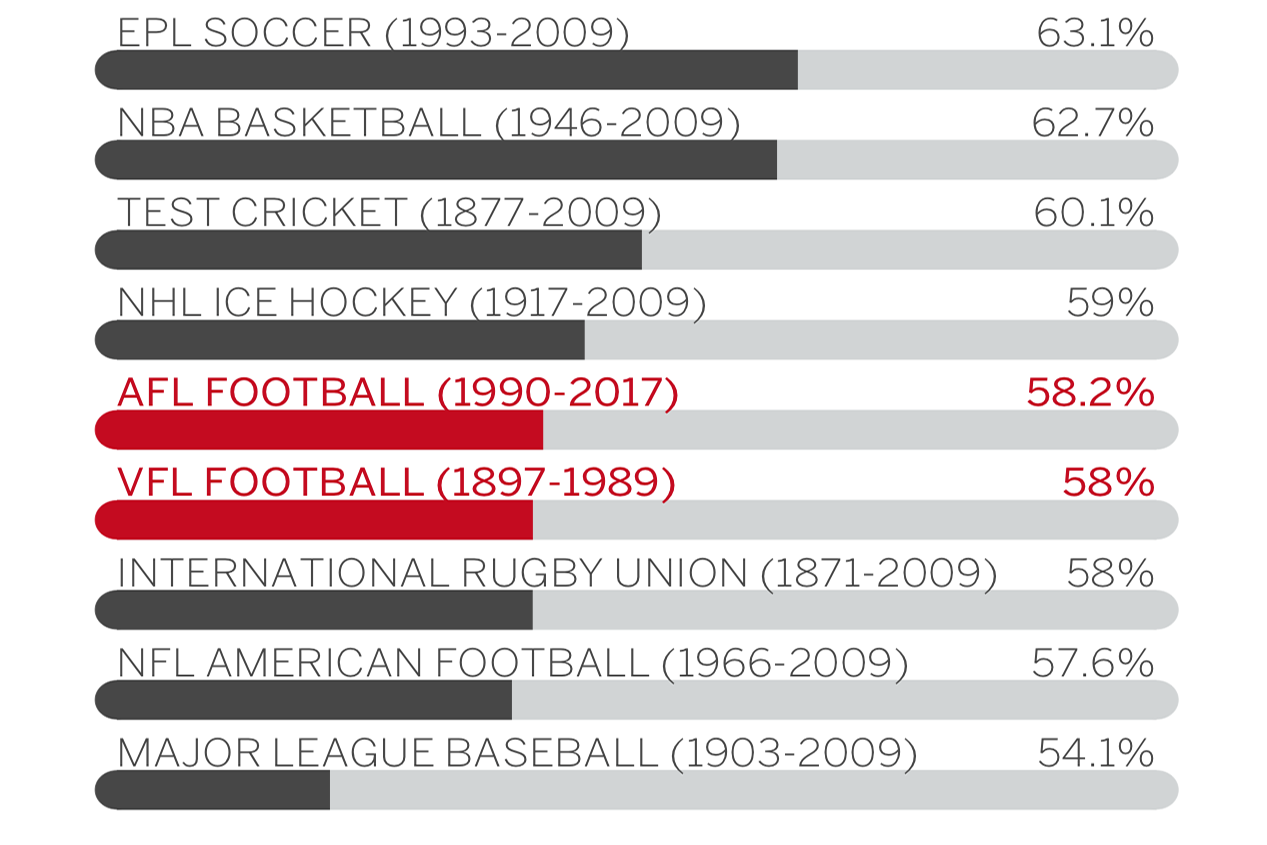 So perhaps the most important message to fans is to turn up to see your team play - your cheers and jeers might matter more than you think. Even if the players aren't affected by your outbursts, the umpires just might be.